Energy snack brand Clif Bar has expanded into a new category with snacks for dogs, and its first line of dog food products, Clif Pet, is now available at 1,500 Petco stores nationwide. The line's three plant-based jerky dog treats are available in three flavors (Sweet Potato & Blueberry, Pumpkin & Apple, and Butternut Squash & Cranberry) in five-ounce and 12-ounce bags, with prices ranging from $8.99 to $16.99. Clif Bar formulated each recipe with just seven ingredients to promote easy digestion.
The vegan jerky product launch is the first venture for Clif Bar's Trailblazers Incubator program, which aims to identify and build on disruptive and sustainable innovation opportunities. Petco is Clif's first, exclusive partner in the company's expansion into pet products.
"When preparing to launch Clif Pet, we knew we wanted to work with a retail partner that shares our values and spirit of innovation," Greg Lok, Head of Incubator, Clif's in-house new ventures group, said in a statement. "Petco's commitment to sustainability and [its] efforts to prioritize brands that promote wholesome nutrition make this a great fit for us and for pet parents. We couldn't be more excited about expanding the reach of Clif Pet through Petco's channels so dogs everywhere can enjoy the reward of our nutritious, tasty treats."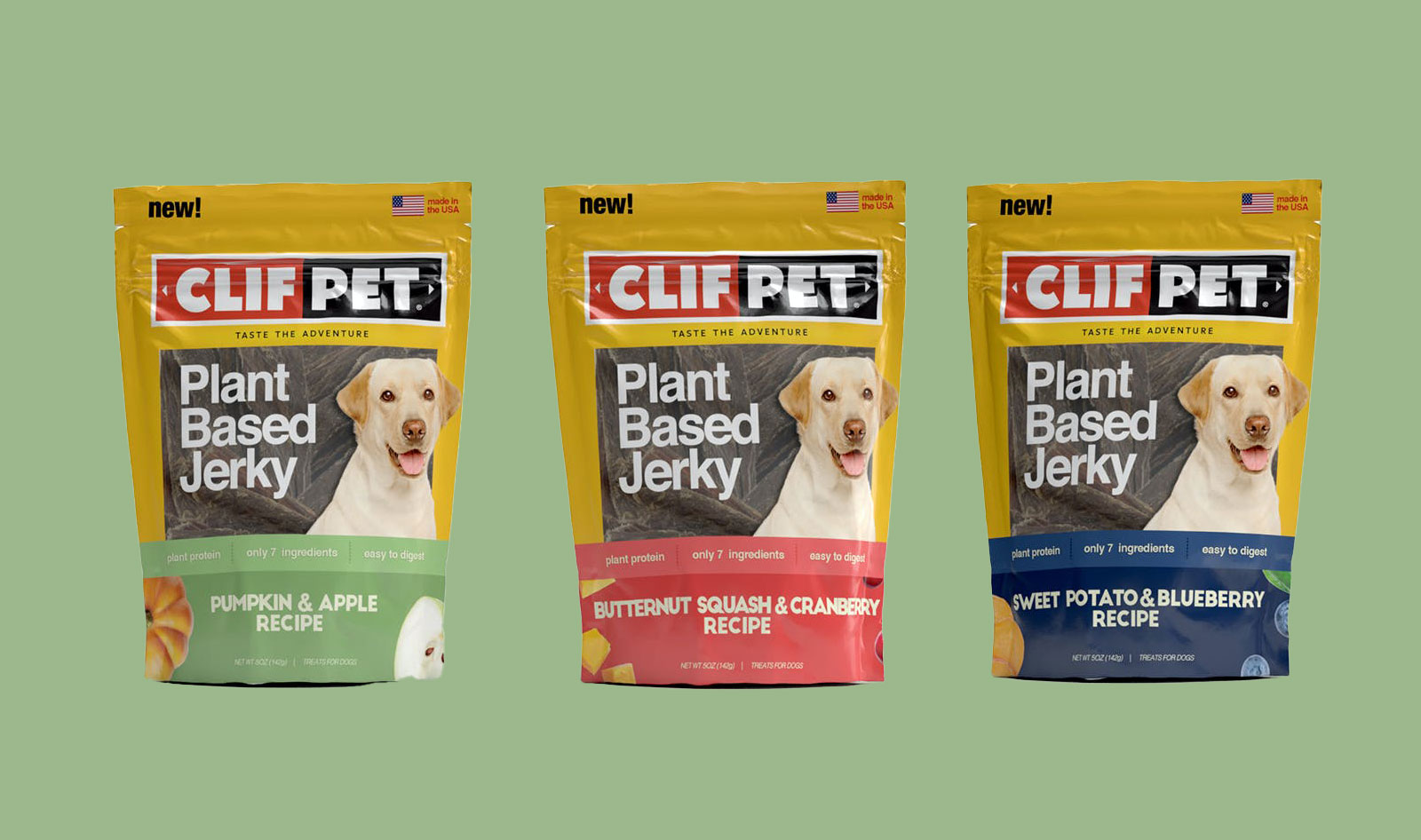 Clif Bar gets into vegan jerky for dogs
Clif Bar entered the dog food category because of the dramatic increase in companion animal adoptions during the COVID-19 lockdown, along with the emerging demand for higher quality food for companion animals. Dog food is often made with low-grade animal-based ingredients that pose health risks due to bacterial contamination and the presence of antibiotics. The company says that because companion animals are considered part of the family today more than ever before, the category represents a significant growth opportunity.
"With more than 11 million US households bringing a pet home during the last 18 months of COVID, the category is exploding and ripe for new offerings," Lok said. "What makes this launch unique is the combination of speed and discipline to bring an innovative, relevant product to market during a global pandemic. We are truly blazing new trails by applying best practices from tech start-ups to our expertise in consumer insights and packaged goods—it's a winning combination."
For humans, Clif Bar predominantly focuses on energy bars under its Clif, Clif Kid, and Luna brands, of which many are vegan—including Clif Bar flavors such as White Chocolate Macadamia Nut, Chocolate Brownie, Vanilla Almond Latte, and Peanut Toffee Buzz. While most of its products use soy protein, a few products contain animal-based whey, including Clif Whey Protein, Luna Protein, Zbar Protein, and Clif Recovery Protein Drink Mix.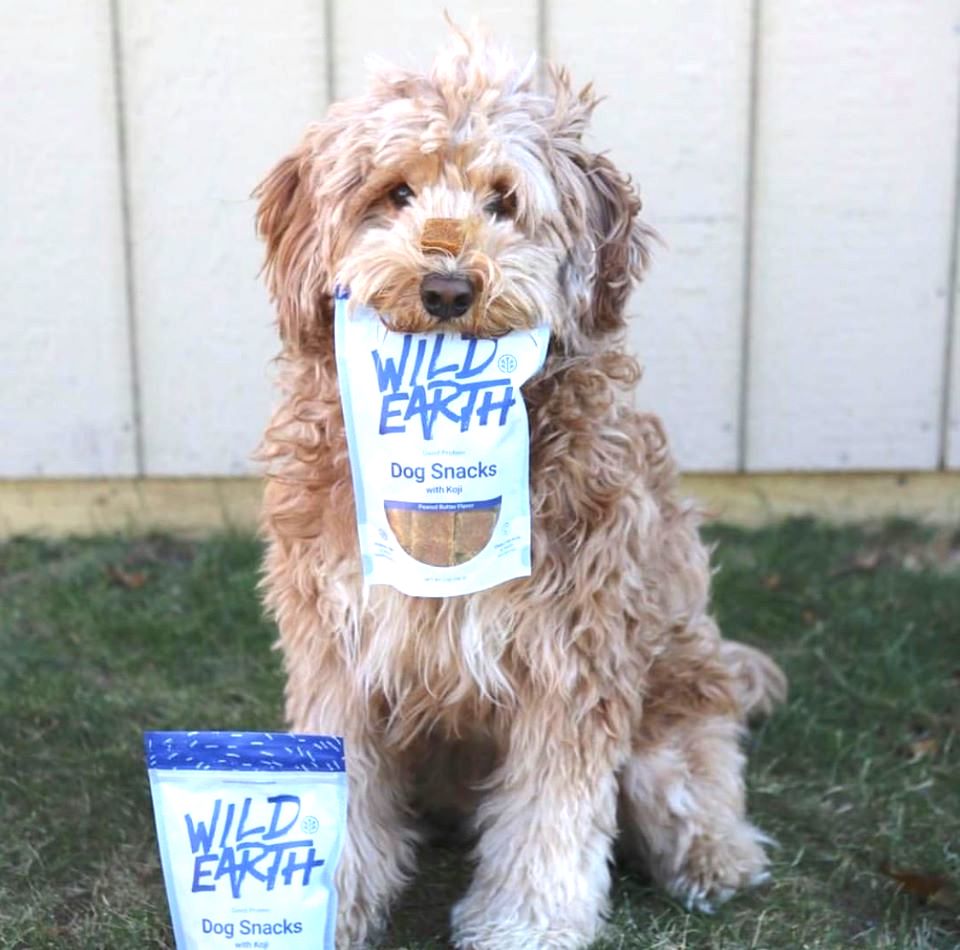 Innovation in vegan dog food
In recent years, there has been increased interest and innovation in plant-based food products for companion animals. California-based startup Wild Earth, a dominant player in the category, is on a mission to create better companion animal food that does not include slaughtered animals, is healthier for companion animals, and leaves a lighter environmental footprint. It offers plant- and fungi-based food for companion animals as well as products made with cell-based meat (made from a small amount of animal cells that are grown in bioreactor).
In 2019, Wild Earth debuted a unique dog treat made with cultured koji—a type of fungus that it grows in a lab-setting using a proprietary process that contains more protein than steak.
Last year, the company secured a $23 million investment led by a team that included Shark Tank's Mark Cuban, vegan actor Paul Welsey, and a handful of investment firms. Using the new funding, Wild Earth will develop beef, chicken, and seafood from cell-based meats using its proprietary technology with the aim to release new dog and cat foods this year.
For the latest vegan news, read:
Ice Cream Brand Eclipse Raises $40 Million to Transform the Dairy Industry
Ocean Pollution's Impact on Fish Now Linked to Skin Cancer, New Study Finds
How Vegan Cookies Made With Miyoko's Leftover Butter Fight Food Waste