Celebrity chef Gordon Ramsay—who was previously a staunch critic of veganism—recently shared a new recipe for a vegan steak dinner on his YouTube channel. The recipe is one of a growing collection of vegan recipes in which Ramsay teases going vegan and shows viewers new ways to cook plants.
In the short one-minute video, Ramsay shows viewers how to toast spices, char an eggplant over an open gas stove flame, and season the peeled eggplant. Next, he reduces red wine in a pan with butter—"vegan butter" he makes sure to note—and then bastes the eggplant while continuing to cook it. Finally, Ramsay shows viewers how to plate the dish starting with mashed potatoes and greens and topped with a slice of the vegan steak and garnished with mushrooms and red wine sauce.
"Vegan steak dinner, happily done," Ramsay said in the video. "I'm turning vegan, for lunch … only."
Gordon Ramsay goes from vegan hater to plant lover
In previous years, Ramsay used to frequently joke about vegans and once stated that he was allergic to them. But the celebrity chef now seems to be embracing veganism, as seen with the inclusion of vegan chefs on his cooking competition shows and more vegan dishes showing up on his restaurant menus.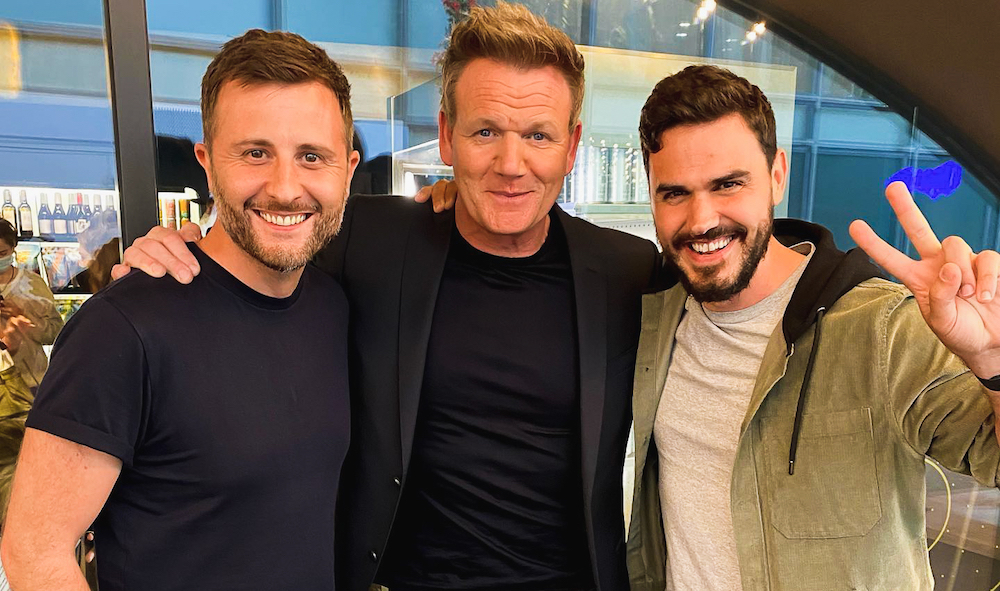 BOSH!
Ramsay's newest competition show, Future Food Stars—which is in its first season on the United Kingdom's BBC One—recently featured Ian Theasby and Henry Firth, the duo behind viral vegan sensation BOSH! The show offers 12 up-and-coming entrepreneurs in the food and beverage industry the chance to compete for mentorship and a £150,000 ($185,000) investment from Ramsay himself. In a semi-finale episode last month, Theasby and Firth acted as judges for a vegan-focused challenge that tasked the remaining entrepreneurs with creating a 30-second TikTok video promoting Ramsay's self-proclaimed "favorite subject," veganism.
Last spring, Ramsay welcomed Josie Clemens to season 20 of the cooking competition show Hell's Kitchen, making her the first vegan contestant in the show's 17-year history. The Michigan-born chef revealed that her connection with Ramsay first began on social media after she tweeted, "When are you going vegan, mate?" at him, sparking Ramsay to follow Clemens on Twitter.
Vegan options at Gordon Ramsay restaurants
At his more than 35 restaurants, the Michelin-starred chef has introduced countless vegan dishes. In 2019, Ramsay kicked off Veganuary by launching a vegan menu at his London restaurant, Bread Street Kitchen. Last year, the chef opened his first restaurant in Chicago and made sure vegan burgers had a place on the menu. The eponymously named Gordon Ramsay Burger restaurant is built around eight signature burger creations, one of which is the Vegan Burger. The entirely plant-based burger is made with a vegan patty, bib lettuce, tomato, avocado, egg-free garlic mayonnaise, and is served on a vegan bun. For an additional $6, the vegan patty can also be substituted in place of meat in any of the other burgers.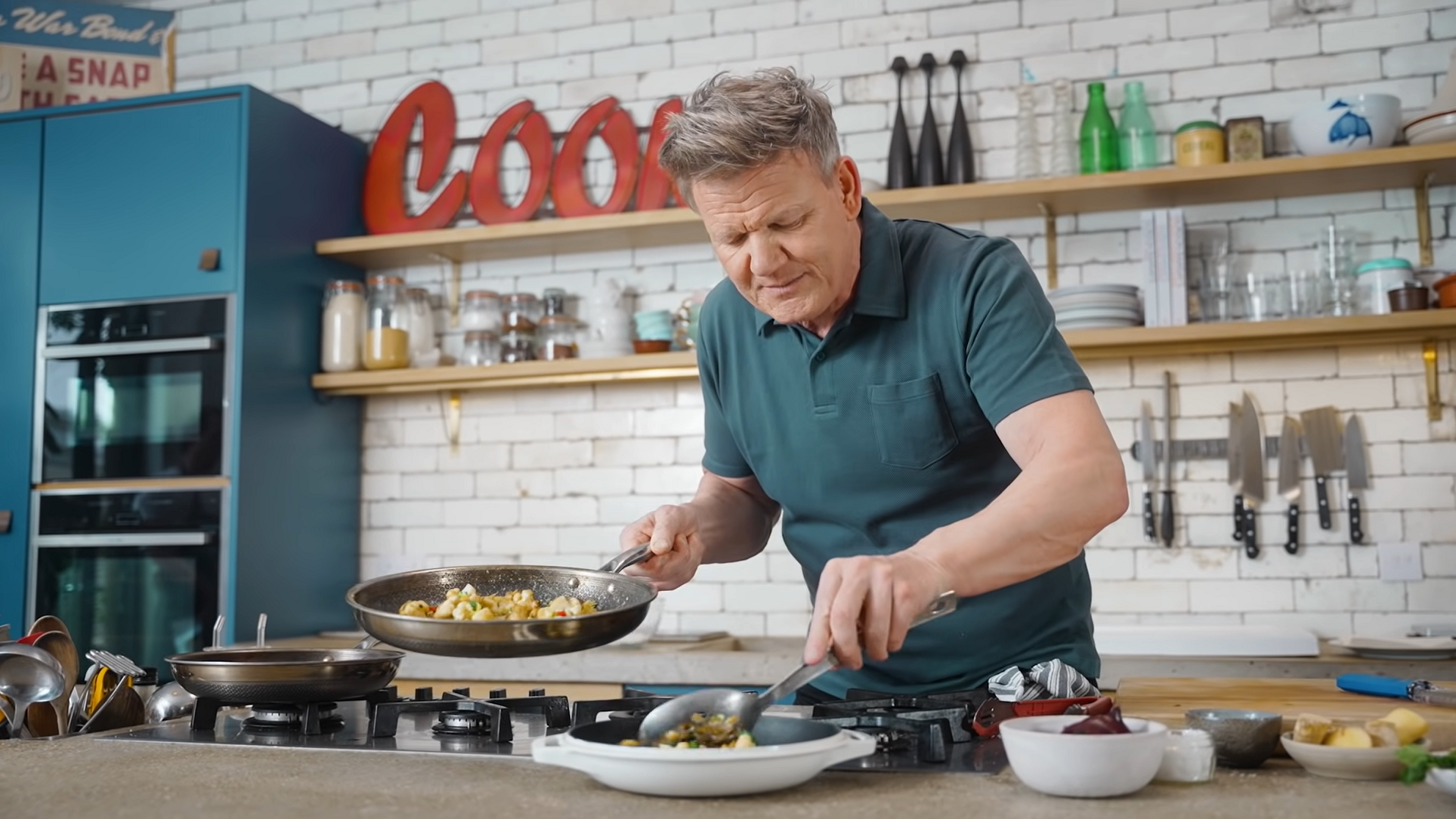 Gordon Ramsay/YouTube
Ramsay has also been seen promoting vegan products. As an ambassador for a campaign for vegan milk, the chef was part of a promotion for vegan brand Silk's oat milk. The G.O.A.T. campaign promoted Silk's oat milk as the Greatest of All Time (G.O.A.T.) milk and featured celebrity ambassadors who are the G.O.A.T. in their own right. Ramsay, who was named the G.O.A.T. of Yelling in Kitchens, took to social media to promote the campaign.
"Well, it took my kids getting on me, but now I really enjoy cooking more plant-based dishes at home and in my restaurants," Ramsay said. "Let me tell you, I know greatness when I taste it, and I am loving Silk Oatmilk for both sweet and savory recipes."
In addition to the eggplant steak recipe on his YouTube channel, Ramsay has captivated digital audiences with other vegan recipes such as crispy vegan bacon and vegan bang bang cauliflower.
For the vegan bacon recipe, Ramsay uses rice paper which is marinated and baked and then used to make a vegan BLT sandwich. And, as with many of his YouTube videos in which he shares a vegan recipe, he ends the video with his new cutline: "I'm turning vegan … for lunch."
For the latest vegan news, read:
How This Woman-Owned Bar Is Making Sports and Food More Inclusive
Veganz Opens Vegan Salmon Factory as Demand For Seafood Alternatives Rises
Mark Cuban-Backed Vegan Bacon Just Launched at These 3 Restaurants