Portland, OR-based Jewish vegan deli Ben & Esther's is expanding to Seattle, WA in September. The deli offers vegan versions of traditional Jewish deli items such as fresh bagels slathered with flavored cream cheeses; prepared deli salads by the pound; noodle kugel; matzo ball soup; and sandwiches such as Reubens, Turkey-Bacon Clubs, lox bagels, and Tuna Melts.
Ben & Esther's already has two locations in Portland and one in San Diego, CA. In addition to the new Seattle location in September, the deli is also opening in Oceanside, CA this summer. Ben & Esther's owner Justin King also hopes to eventually expand to the East Coast.
When King first opened Ben & Esther's—named after his grandparents—in 2019, it was designed to be a traditional Jewish bagel shop which King, who was vegan, thought made business sense. But he soon realized how much he struggled with selling food made with animal products.
After one year of running the traditional deli, King slowly started taking meat off the menu. The Ben & Esther's team started creating vegan versions of the deli's existing items, transforming salt-roasted carrots into lox, swapping the whitefish for brined and smoked hearts of palm, and making rugelach and babka with Earth Balance instead of butter. Last fall, the shop became fully vegan.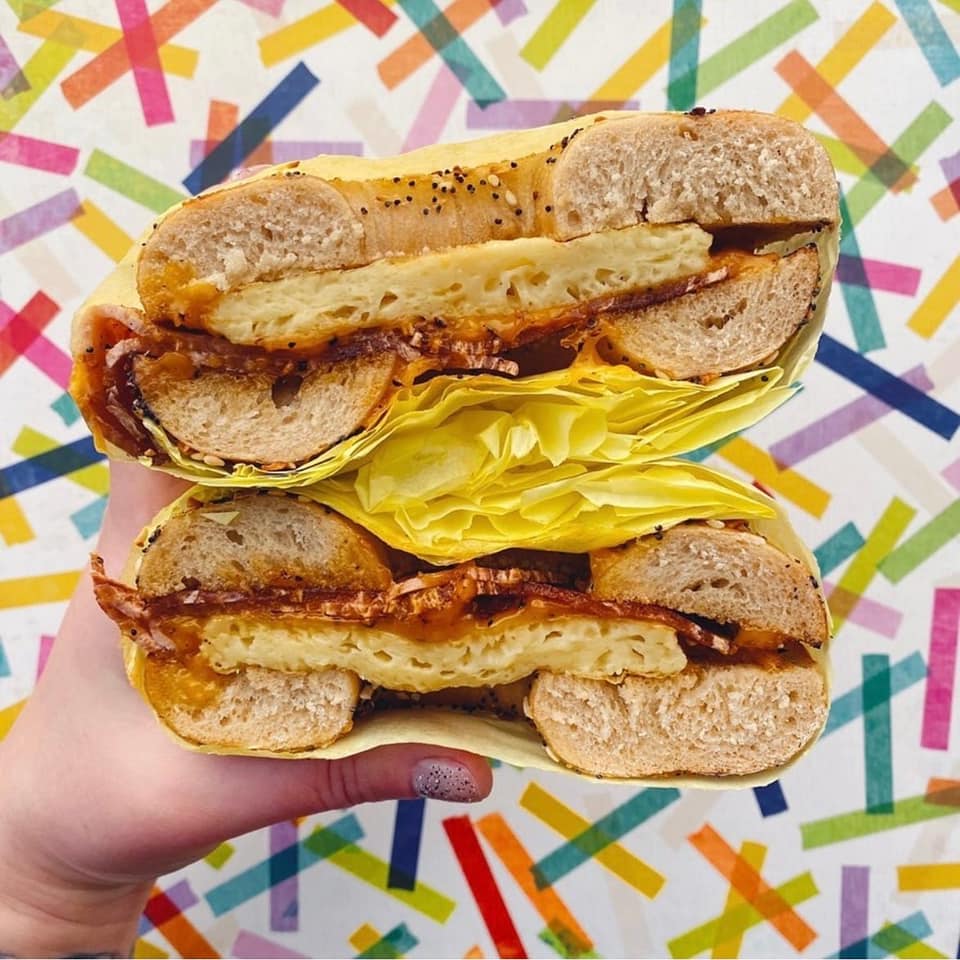 Ben & Esther's
By expanding the now mini chain, King wants Jewish vegan deli food to be accessible to everyone—and make Jewish vegan delis the norm instead of a niche market. King says Seattle seemed like the natural next step in his expansion plans. "Seattle is a natural parallel because of its close proximity and similar mood to Portland," King told VegNews. "There's a great vegan scene in Seattle with lots of support for Ben & Esther's and our goal is to establish a location in every major city in the US."
Making Jewish vegan food accessible
Few Jewish vegan delis exist around the country. In Chicago, Gina Marino-Kalish and Andy Kalish opened Sam & Gertie's in early 2020 next door to their popular vegan diner Kāl'ish. Named after Kalish's maternal grandparents, the deli serves plant-based versions of traditional Jewish delicatessen items, including smoked salmon, bagels, baked goods, knishes, latkes, egg and tuna salads, as well as hot sandwiches filled with brisket and schmaltz.
In Los Angeles, Jewish vegan deli Mort & Betty's launched as a monthly pop-up and catering service in 2018. Created by Megan Tucker, the pop-up serves a menu inspired by Israeli and Mediterranean cuisine featuring vegan versions of classic Jewish dishes such as Mushroom Pastrami Sandwiches, Carrot Lox Bagels, White Carrot Whitefish Salad, and holiday favorites such as Potato Latkes, Challah, and Rugelach.
"As a chef, one thing that makes Jewish cuisine so interesting is how it has picked up flavors of other cuisines as it's migrated," Tucker previously told VegNews. "Two dishes that celebrate this in the context of LA are Corned Beet Reuben Tacos and Matzoh Ramen. In the latter, components of classic Matzoh Ball Soup and Japanese ramen combine to create a new dish."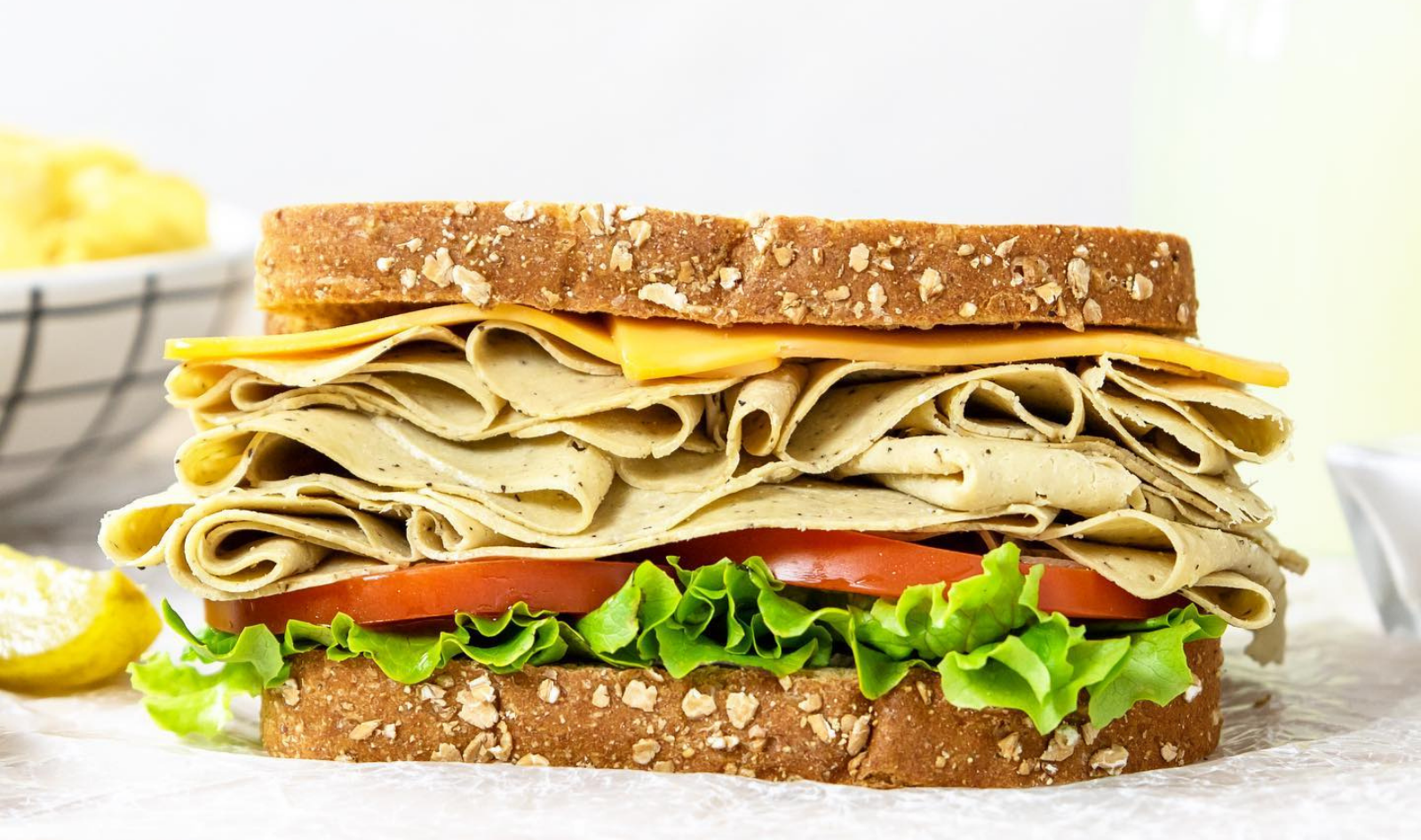 Unreal Deli
Vegan deli meat takes over menus
While not taking the traditional deli shop route, vegan deli meat company Unreal Deli has Jewish roots with its owner Jenny Goldberg, who founded the company with the mission of making vegan versions of the classic New York-style deli meats she grew up eating. The great-granddaughter of New York delicatessen owners, Goldfarb's brand now offers three styles of vegan deli meat: corned beef, roasted turkey, and steak slices.
Since receiving $250,000 in funding from Mark Cuban on a 2019 episode of reality investment show Shark Tank, Unreal Deli's products have quickly expanded to retailers and restaurants nationwide. The company is best known for its vegan corned beef, which launched at 58 Whole Foods Markets in the Southern Pacific region as one of the brand's first major partnerships. Last month, Unreal Deli entered the big box store channel when it launched 1.5-pound combo packs of its three deli meats at 40 Costco locations.
Unreal Deli's corned beef is also making its way to restaurant menus. In 2020, it debuted at 16 Seattle locations of fast-food chain Quiznos, following a launch at Veggie Grill locations nationwide. Last year, Unreal Deli introduced a Reuben burger at plant-based burger chain Next Level Burger and launched a first-of-its-kind vegan sub delivery chain in six major cities across the country in partnership with delivery-only virtual brand Acelerate. Goldfarb is now working to expand further into the foodservice industry with the goal of having Unreal Deli shops across the country.
For more about vegan Jewish food, read:
How to Make a Vegan Passover Seder
The VegNews Guide to Essential Vegan Hanukkah Dishes
7 Jewish(ish) Vegans We Want to Celebrate Hanukkah With