Snack brand HIPPEAS is making the world of vegan snacks more fun this summer with the release of limited-edition Minion-inspired packs of its chickpea puffs. Four-ounce bags of Minion-themed HIPPEAS chickpeas snacks are available in Vegan White Cheddar, Nacho Vibes, Sriracha Sunshine, and Bohemian Barbecue. Larger 10-ounce and 14-ounce bags, along with a bulk-buy size of six packs of 1-ounce bags, are available in the Vegan White Cheddar flavor. All of these vegan snacks are available at retailers nationwide and online (from now until August 2022) in time for the July 1 theatrical release of Minions: The Rise of Gru.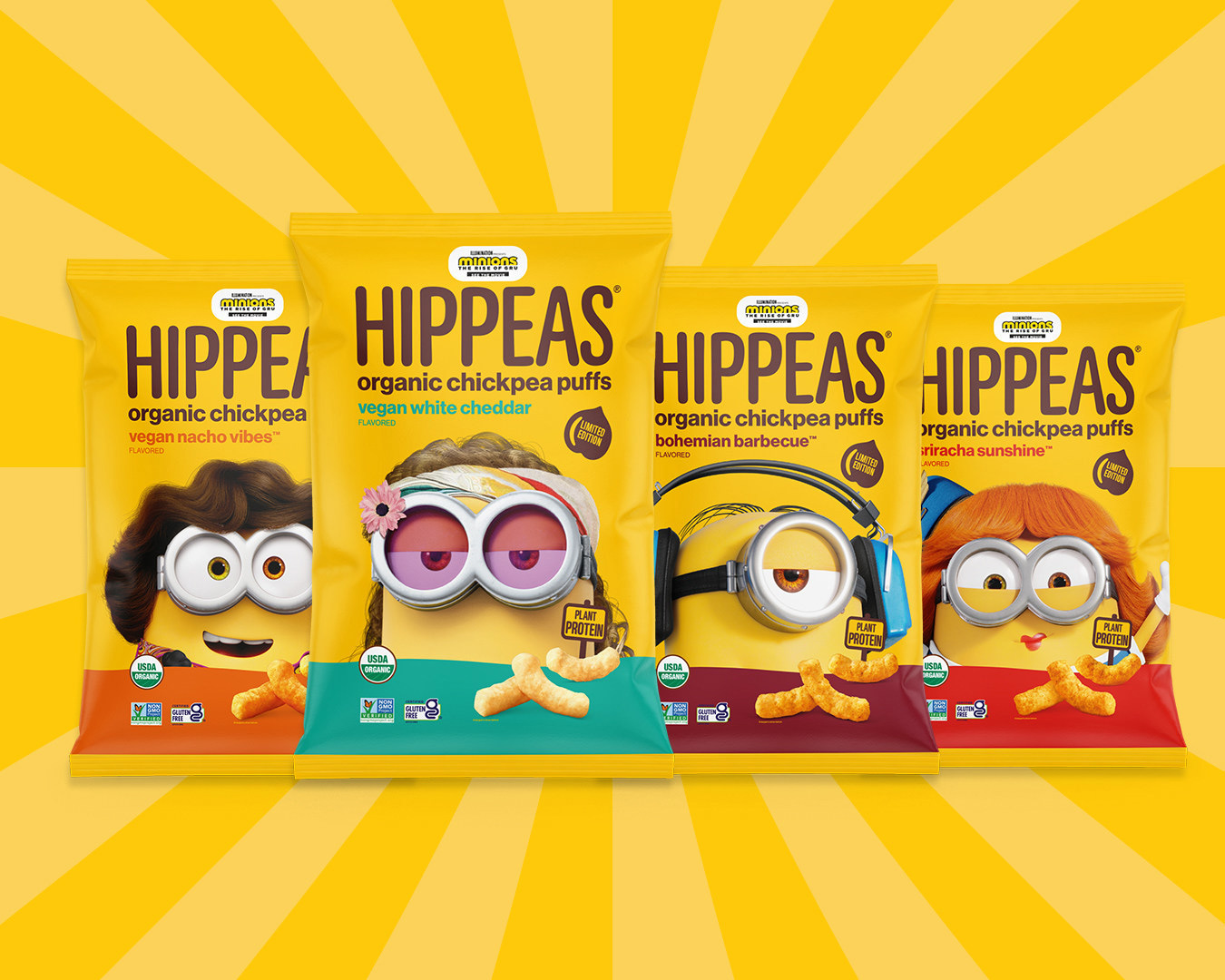 HIPPEAS
The collaboration—which features Minion characters on bags of HIPPEAS—makes perfect sense because the characters and chickpea snacks both share a similar yellow hue. "Minions are a global pop-culture phenomenon, and we could not be more thrilled to collaborate with Illumination on this limited-edition release of our HIPPEAS Organic Chickpea Puffs," HIPPEAS CEO Paul Nardone said in a statement. "The combination of these two iconic and colorful brands —HIPPEAS, known for its bright yellow bag, and Minions, the beloved mischievous yellow scene-stealers—feels so joyful and fun. We can't wait to share these snacks with consumers of all ages this summer."
As fun as HIPPEAS is, the brand is also serious business and secured an investment in an undisclosed amount from prominent actor and environmentalist Leonardo DiCaprio in 2017 and raised $10 million in funding shortly thereafter.

For more about vegan snacks, read:
World's First Dairy-Free Cheese Balls
Trader Joe's Peanut Butter Caramel Popcorn
Cheeseburger Bites by New Iron Chef Ming Tsai