It is no secret that traditional meat production is far less sustainable than producing plant-based meat and Beyond Meat is looking to widen that gap with a new partnership. The California vegan brand recently partnered with Einride, a freight technology company that works with brands across industries to reduce emissions by optimizing their shipping networks.
Heavy freight contributes to seven percent of CO2 emissions globally and shifting to electric fleets can have great impact. During the first phase of their partnership, Einride will develop, install, and build the infrastructure necessary for Beyond Meat to use five Einride connected electric freight trucks within its shipping network. Doing so will reduce Beyond Meat's CO2 emissions and operational costs while building additional shipping capacity.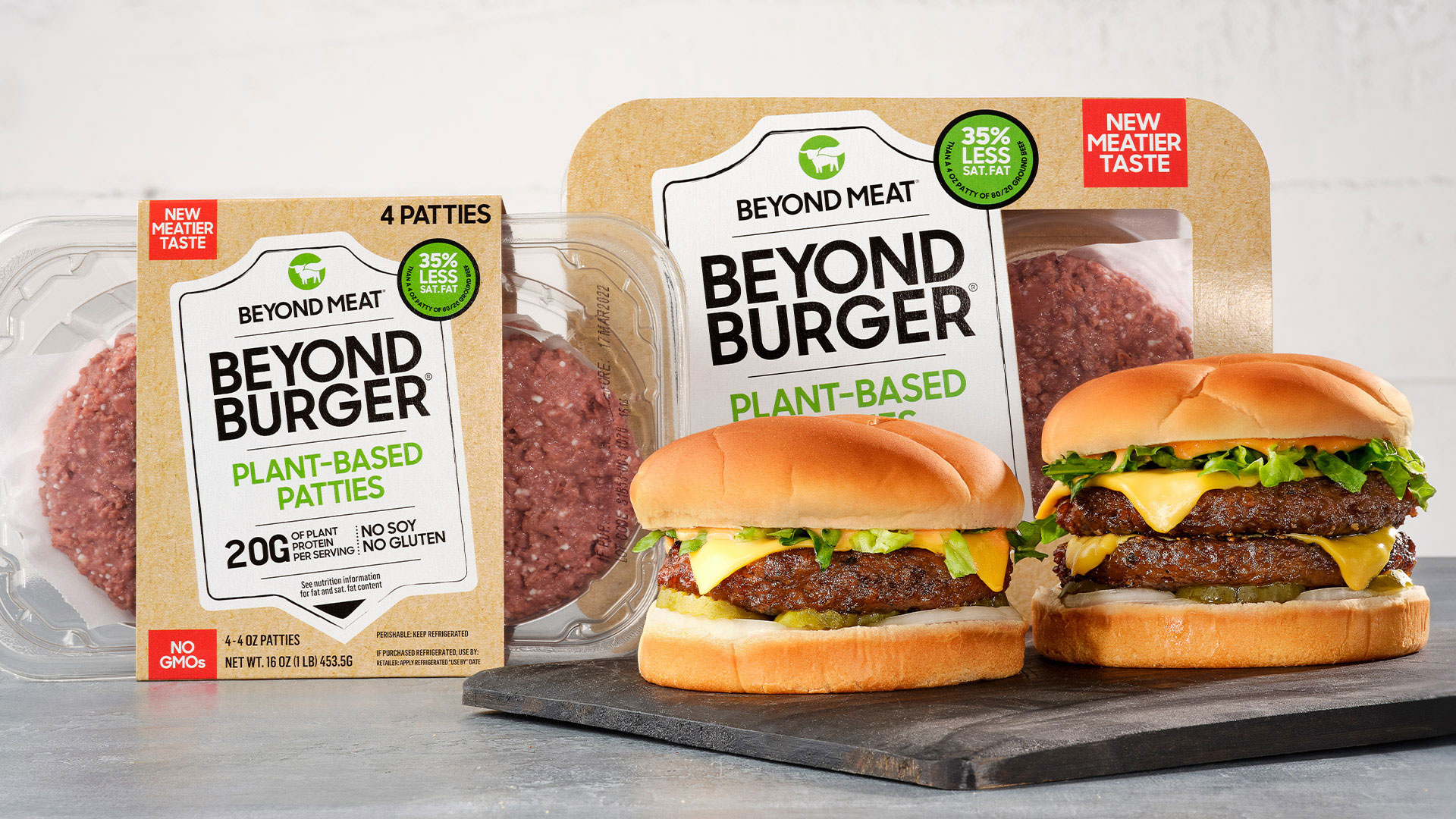 Beyond Meat
"Achieving a sustainable future requires collaboration and cooperation among brands from every industry and we're thrilled to add Beyond Meat to our growing network of US companies committed to creating a clean and efficient supply chain," Einride's Niklas Reinedahl, General Manager of North America, said in a statement. "Working with Beyond Meat was a natural fit given our aligned efforts to offer actionable products rooted in creating a more sustainable future. By offering our services to help build a more intelligent shipping system for Beyond Meat, we'll be able to reduce CO2 emissions."
In the next five years, Einride and Beyond Meat will expand this electric truck network across all of the vegan brand's US operations, greatly reducing its carbon footprint.
Making vegan meat even more sustainable
We have a general idea that animal meat is less sustainable than vegan meat but by how much? In recent years, researchers have compared the two on various metrics to better understand how traditional animal agriculture is damaging the environment.
For instance, if we're examining dietary choices on a personal level, meat-eaters produce nearly 60 percent more greenhouse gas emissions than vegetarians, a 2021 study published in PLOS found. On a per serving basis, one portion of red meat is associated with at least 20 times as much greenhouse gas emitted and 100 times as much land use compared to a 100-gram portion of vegetables, a 2019 study found.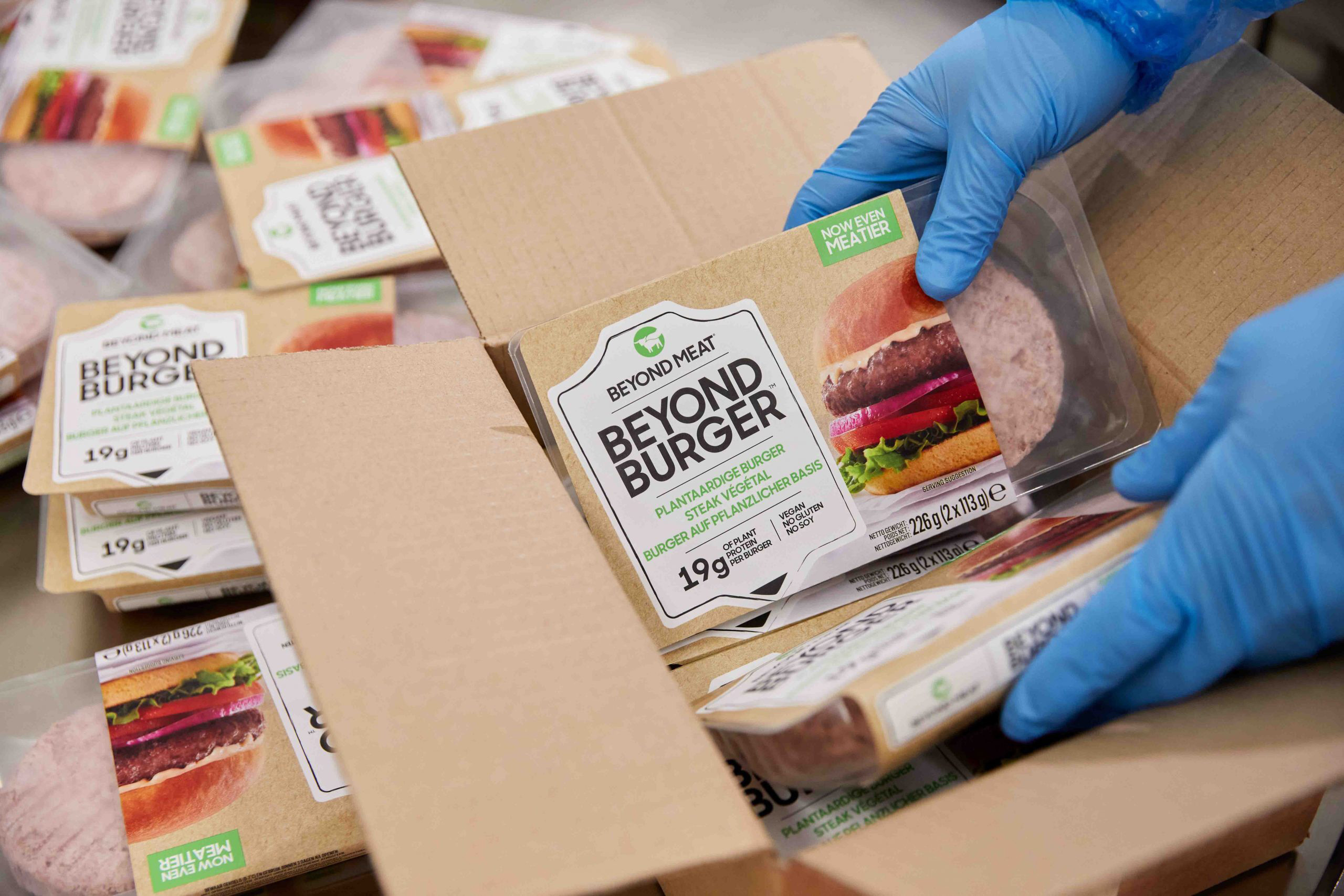 Beyond Meat
For Beyond Meat's part, a peer-reviewed study conducted by the University of Michigan—commissioned by the company—found that the Beyond Burger uses 99-percent less water, 93-percent less land, and 46-percent less energy in its production when compared to a quarter-pound beef burger. The company's new partnership with Einride will expand its sustainability metrics beyond its vegan meats and into new areas where every company can find better sustainability solutions.
"At Beyond Meat we recognize the importance of not just focusing our sustainability efforts on our products, but incorporating this mindset across our business operations as well," Christopher Pimentel, Director of Environment, Health, Safety at Beyond Meat, said in a statement. "We are committed to optimizing the journey our products take to reach consumers' plates to make it more sustainable, and our partnership with Einride is one of many steps we are taking to make that a reality."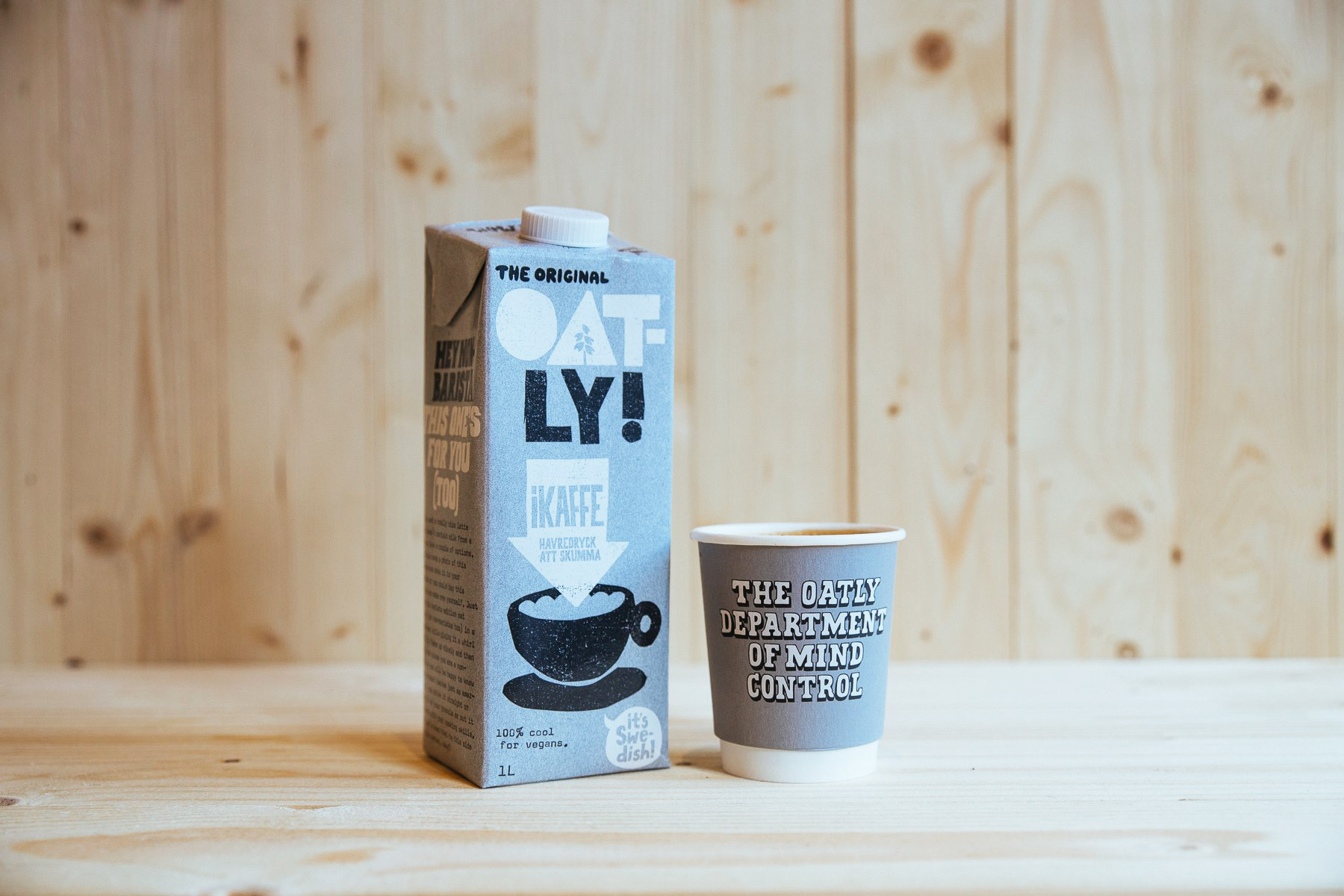 Oatly
Oatly goes electric, too
Einride was founded in 2016 with the mission of helping companies across industries reduce their transportation-related emissions. In 2019, the company became the first to deploy an autonomous electric truck on a public road through its driverless pilot test in Europe.
In addition to Beyond Meat, other vegan companies are looking to Einride to help improve their sustainability efforts, including Swedish oat milk company Oatly. While using oats to make milk instead of exploiting cows already has its sustainability benefits, Oatly partnered with Einride in 2020 to transition to all-electric vehicles along its commercial transport route—making it one of the first companies in the world to do so.
Einride now supports the transport of Oatly's finished oat-based products in electric trucks from its production facilities in Sweden, to intermediate destinations within the market, giving the company detailed real-time data—such as shipping volume and distance driven—through its Freight Mobility Platform to help Oatly reduce future costs and carbon impact from shipments. This shift saved Oatly 10,500 kg of CO2 compared to diesel within the first month of operations.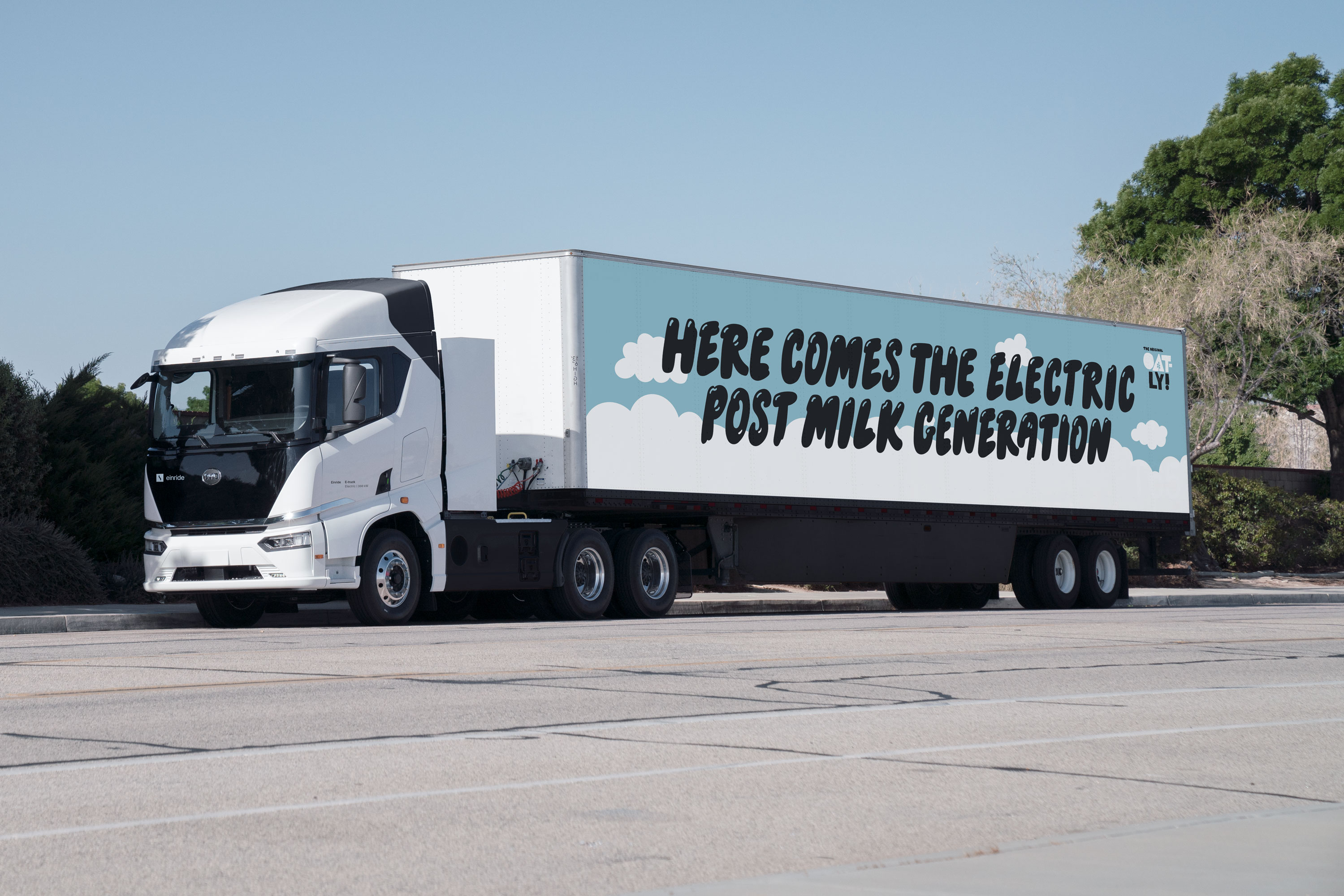 Einride/Oatly
In June, Einride and Oatly expanded its partnership to North America to further reduce emissions and support its mission of shifting to 100-percent sustainable ground transportation by 2029. Similar to what Beyond Meat is now doing, in the US, Oatly will transition to using five Einride trucks and supporting infrastructure, which is estimated to save the company 400,000 kg of CO2 over the next year, as compared to diesel trucks on the same routes. This equates to an 87 percent reduction in carbon emissions on select routes with diesel trucks.
For the latest vegan news, read:
Quinoa Can Help Prevent Type 2 Diabetes, New Study Finds
How Vegan Ribs Help Anheuser-Busch Make More Sustainable Beer
Why Beyoncé Swapped Her Birkin Bag With a Vegan Leather Tote