If you missed your flight to Indio, CA for April's Coachella music festival, it may be time to book your tickets for Baltimore, MD's three-day Vegan SoulFest for a celebration like no other. Back for the first time after COVID-19 forced the festival into a two-year hiatus, Vegan SoulFest is a three-day celebration of Black businesses, changemakers, and vegan living in partnership with the first annual We Give Black Fest. The festivals will take place simultaneously and are held from August 19 through August 21 at Baltimore's West Covington Park.
Guests are in for vegan food, cooking demonstrations, expert panels, and a wellness village—all against a backdrop of beats by Vegan SoulFest's largest musical lineup to date. Grammy-award winning artist Bilal is set to headline day one alongside Mumu Fresh. Daley and Jade Novah take on day two, while Ro James and Grey are headlining day three. Collectively, 25 artists will grace the stage for the music-filled event.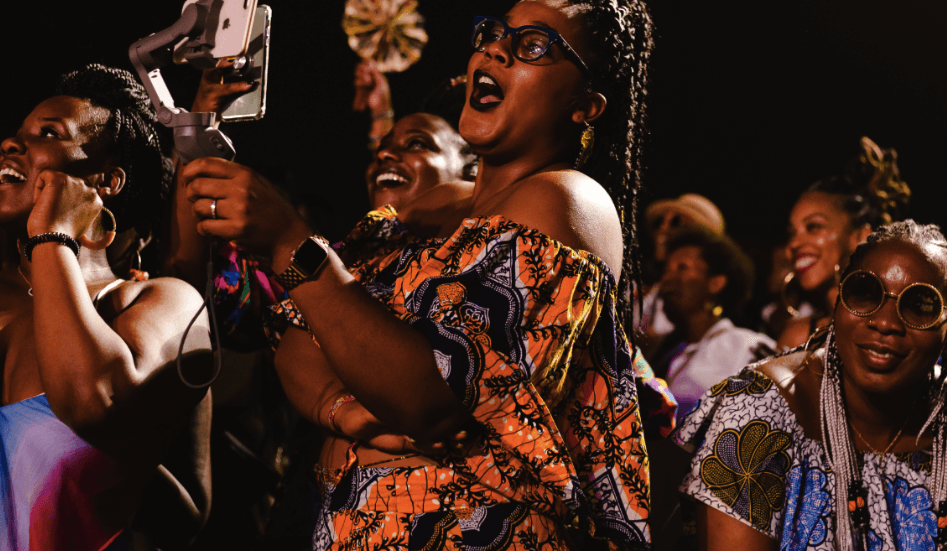 We Give Black
This year's vegan food vendors include soul food bistro Land of Kush, burger brand Everything Legendary, soy-free comfort food staple Good As Green, cashew milk ice cream shop Cajou Creamery, and deli The Greener Kitchen alongside 28 other food businesses.
"We decided this year to take the festival to the next level," Brenda Sanders, co-founder of Vegan SoulFest, told VegNews. "It's already a food festival. Music has been a part of it before, but it's never been a big part of it. What if we could have a music festival that was all vegan? That's not really a thing that's happened. Vegan SoulFest deserves to expand, grow, and pivot to something that has never been done before."
A vegan music festival that has it all
Sanders and her fellow VegFest co-founder Naijha Wright-Brown partnered with social impact strategist Jamye Wooten to bring this year's festival to fruition. Wooten—founder of CLLCTIVLY, a social change nonprofit committed to uplifting Black narratives, empowering social networks, and mobilizing resources—launched We Give Black Fest to celebrate Black Business Month and Black Philanthropy Month in August.
The three-day festival will bring together CLLCTIVLY's signature events, beginning with We Give Black Quest. From August 17 through the 21, this city-wide scavenger hunt leads players throughout Baltimore for sightseeing, trivia, and visits to local Black-owned retail businesses. The first day of We Give Black Fest, August 19, coincides with the launch of CLLCTIVGIVE, a 48-hour crowdfunding campaign and community-driven "celebration of giving" that raises money to help support Black-led social change organizations across the Greater Baltimore area. And on August 21, the festival closes out with the Changemaker Awards, a celebration of Black leaders uplifting their local communities.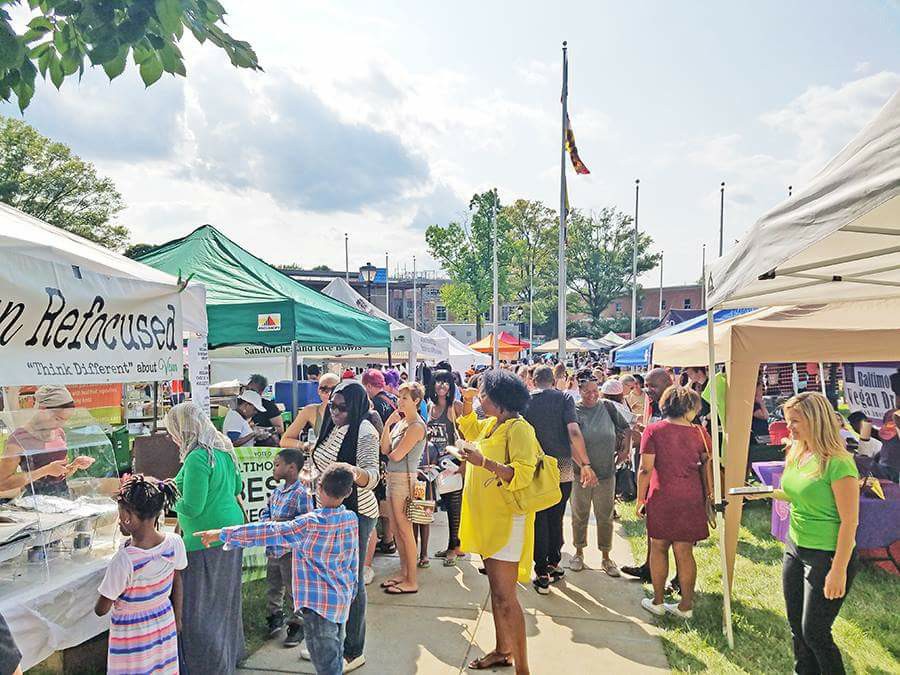 Vegan SoulFest
For Wooten, CLLCTIVLY's wellness values align with Vegan SoulFest's commitment to making veganism more accessible and culturally relevant. "In thinking about just the health and wealth of our community, everyone's not vegan," Wooten said. "I think this is a great opportunity for us to be an on-ramp and introduce veganism to our community. Health and wellness are definitely a part of our mission and values."
Tickets for Vegan SoulFest and We Give Black Fest start at $89 for single-day general admission, $149 for two-day general admission, and $199 for three-day general admission. Single-day VIP admission runs for $225, while two- and three-day admission tickets are priced at $349 and $399, respectively.
By Baltimore, for Baltimore
Sanders, Wright-Brown, and Wooten are no strangers to Baltimore locals.
An award-winning activist, Sanders recently celebrated 25 years of vegan living, and has dedicated herself to decades of food justice activism. Sanders, who was born and raised in Baltimore, actively promotes veganism as an overarching solution to health, environmental, and social issues that often plague marginalized communities. An activist first and foremost, Sanders is the founder and president of Afro-Vegan Society, co-founder and co-owner of The Greener Kitchen, and co-founder and co-coordinator of Thrive Baltimore, a community resource center.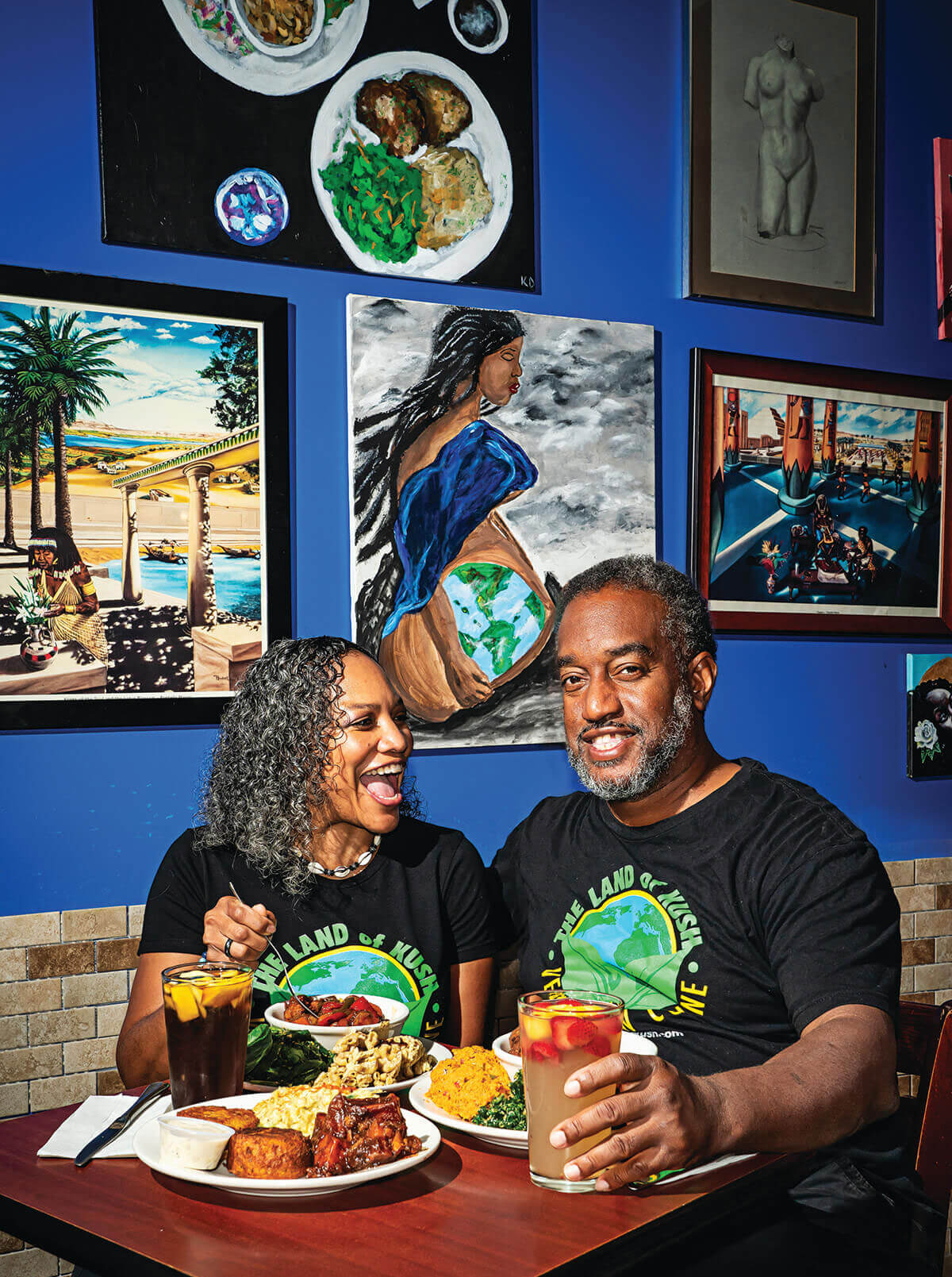 Scott Suchman
Sanders and Wright-Brown, a powerhouse duo who have now collaborated on seven VegFests, first crossed paths at vegan soul food bistro Land of Kush. Owned by Wright-Brown and her husband, Land of Kush was a favorite of Sanders, who often held business meetings at the plant-based restaurant. Sanders reached out to Land of Kush in hopes of having the restaurant cater a conference she was hosting. Almost immediately, she hit it off with Wright-Brown—a New York native who relocated to Baltimore for work 17 years ago. And just three months after the idea for Vegan SoulFest first arose, locals were lining up to attend.
And it's Land of Kush that also connected Wright-Brown—named an Enterprising Woman of Excellence by the Baltimore Business Journal—to Wooten. Like Sanders, Wright-Brown and Wooten have gained local celebrity status for their commitment to empowering their communities. Wright-Brown currently serves as Executive Director for Black Veg Society and is the co-founder of Maryland Vegan Restaurant Week. And on his end, Wooten—who first stepped into activism through his work with Trans Africa's anti-apartheid movement—has helped mobilize Black-led businsses and nonprofits through CLLCTIVLY with microgrants.
While this year marks We Give Black Fest's inaugural run, it won't be the last. Talks for a national festival are already in the works, Wooten shared.
For the latest vegan news, read:
Can the Vegan Food Industry Save Animal Agriculture Jobs?
With New Electric Fleet, Beyond Meat Is Even More SustainableWhy Beyoncé Swapped Her Birkin Bag With a Vegan Leather Tote