For everyone who wishes that vegan food was more readily available at hospitals, schools, and prisons, a new program is here to help. This fall, vegan chef Dustin Harder—host of vegan cooking series The Vegan Roadie—and nonprofit organization Physicians Committee For Responsible Medicine (PCRM) are touring across the United States to promote its Universal Meals program, which offers vegan meal tips and training to schools, hospitals, and prisons. The new plant-based food program is designed to be free from the top nine allergens, making it easier for everyone to eat and cook vegan.
The program, including recipes and instruction, is being offered at no cost to any institution. A fall tour featuring dining hall pop-ups with tablings and taste testings will begin on October 4 at North Carolina State University and continue through November, visiting the University of Miami in Miami, FL; Georgia State College and Emory University Hospital in Atlanta, GA; Washington State University in Pullman, WA; and Notre Dame University in South Bend, IN.
To launch the tour, Harder is opening the International Conference on Nutrition in Medicine in Washington, DC today with a presentation on why Universal Meals is so important, the design of Universal Meals, how to turn guidelines into meals, and the application and future of Universal Meals. Joining him to further expand on the program is registered dietician Lillian Correa from NYC Health and Hospitals/Bellevue and Chef David Kamen from the Culinary Institute of America.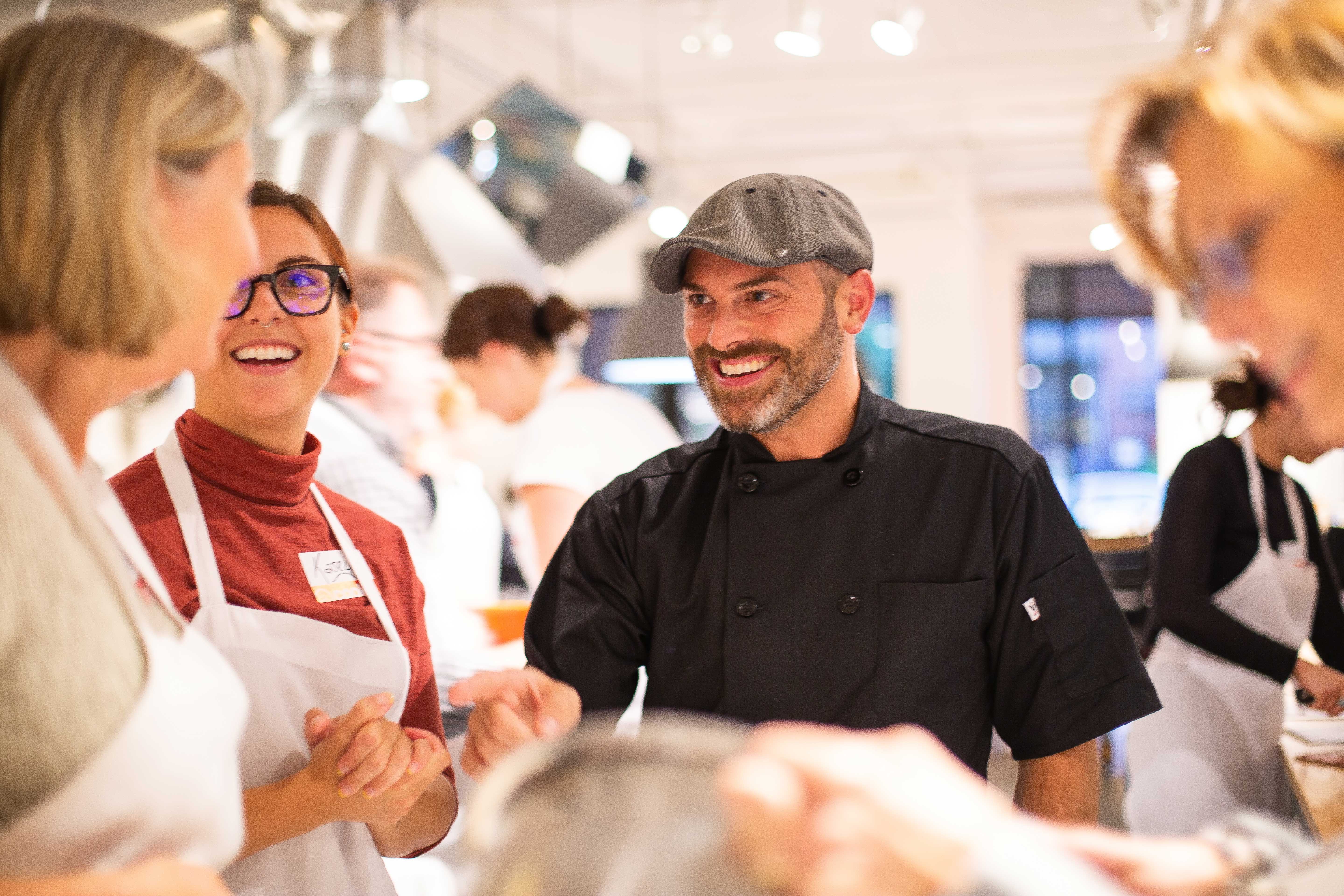 Adaptable vegan meals for everyone
As the culinary specialist for PCRM, Harder developed the program with an aim to make it easily accessible and adaptable. It includes recipes by the Culinary Institute of America, Spork Foods, Inc., DC Vegan Catering, and Harder that appeal to virtually everyone, regardless of their dietary requirements. "I was inspired to work with PCRM on Universal Meals because of their commitment with this program to create a seat for everyone at the table," Harder tells VegNews. "The recipes streamline production for institutions, including recipes that are cost effective, easy to produce, and most importantly, delicious."
The program's offerings also include tips on how to adapt an institution's current meal offerings to align with Universal Meals guidelines, and free marketing materials to advertise Universal Meals to clients. Unique to this vegan meal program, Universal Meals recipes are free of milk, eggs, wheat, sesame, tree nuts, soy, fish, shellfish, and peanuts and do not contain animal-derived ingredients, gluten-containing grains, or alcohol. The program's fall tour will offer tastings of recipes such as Mac and Cheese with Presto Pesto and Shiitake Bacon; Cauliflower and Chickpea Masala; Spinach and Artichoke Flatbread; and Pineapple Basil Sorbet.
The Universal Meals program was created to meet the diverse needs of people who follow a specific diet motivated by health, the environment, animal welfare, allergies, cultural or religious traditions, and more. In addition to being adaptable for schools, prisons, and hospitals, it can also be incorporated into other high-volume businesses and institutions such as hotels, airports, long-term care facilities, restaurants, and others.
"My hope for the future is that institutions that serve high volumes start to navigate from a place of empathy for those living with food allergies and that diners will be able to order food with trust in how it is prepared," Harder says. "I would love to see Universal Meals offered far and wide in hospitals, universities, airports, prisons, and even restaurants."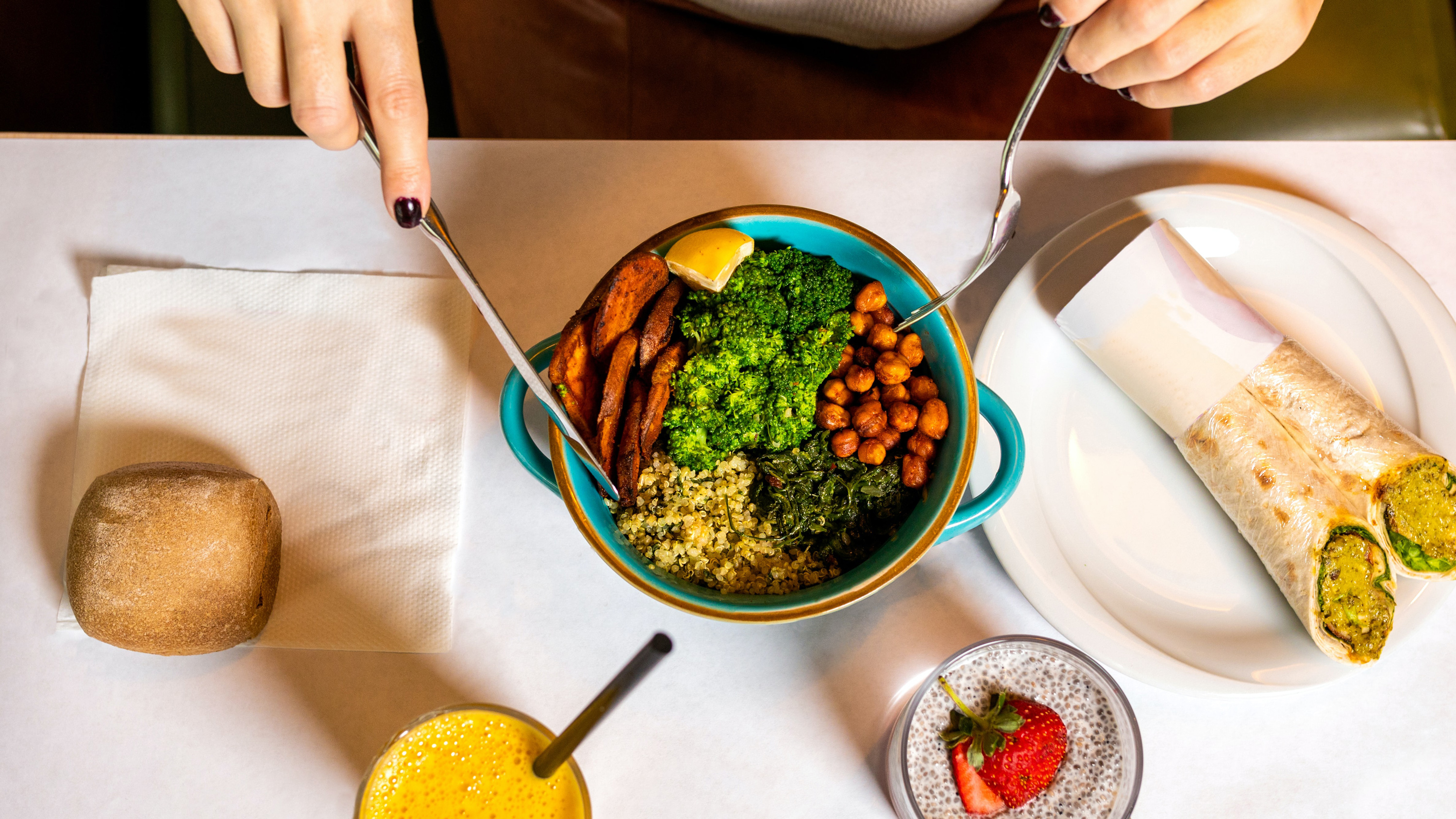 Promoting a plant-based diet in hospitals
PCRM, which promotes preventative medicine, has been championing a plant-based diet for health since its inception. The nonprofit organization is also part of a coalition of five non-profit organizations that work to provide hospital patients across the US with plant-based meal options to help combat illnesses such as diabetes, obesity, and heart disease. For its part, PCRM's registered dietitians, nurses, and medical doctors offer lunch-and-learn and employee wellness programs in hospitals to provide education about evidence-based plant-based nutrition.
In addition to offering free programs, PCRM has also advocated for appropriate dietary guidelines for people of all races. In 2020, the group called on health officials to recognize the health risks of dairy among people of color before formulating the 2020-2025 Dietary Guidelines for Americans. "To describe cow's milk as required or as the default option reflects racial bias that is presumably unintended but is nonetheless inappropriate and harmful to public health," PCRM doctors, nurses, and dieticians wrote in a recent letter to the US Department of Agriculture and Department of Health and Human Services.
The letter points out that dairy products are unnecessary and warns of their particular health toll on people of color. "Unhealthful foods contribute to a wide range of health problems, many of which take a particular toll in Black and Latinx communities," the letter states. "Federal nutrition policy, including the Dietary Guidelines for Americans, has played a role in exacerbating these disparities."
For the latest vegan news, read:
New Vegan Girl Scout Cookie Raspberry Rally Is Joining the 2023 Season
How This New Vegan Bluefin Tuna Provides an Ocean Sustainability Solution
Will Climate Change Bring an End to Animal Agriculture?