Every industry, including tourism and hospitality, is undergoing a transformation in light of the climate crisis, and some are looking to plant-based food to help them meet their sustainability goals. That's the case with Club Med, an all-inclusive resort chain that has been in business for 72 years.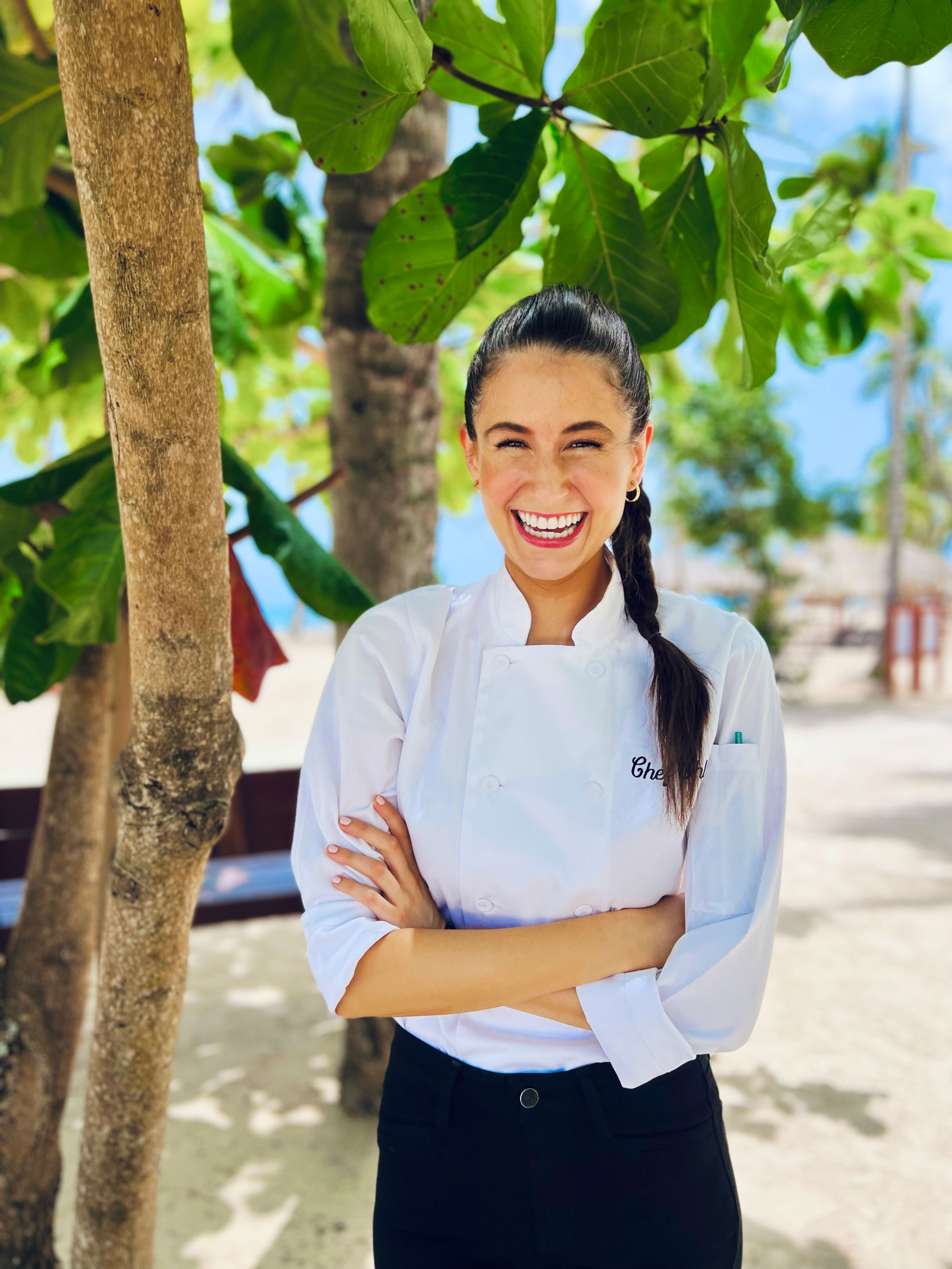 Club Med
Club Med teamed up with beloved vegan chef Chloe Coscarelli to help the company add thoughtful plant-based meals to its menus at all eight of its all-inclusive resorts in Mexico and the Caribbean. This move not only fills a demand for more plant-based options, but gives Club Med a chance to lower its carbon footprint by using less animal products.
"Over the years, we noticed more guests were observing plant-based diets, so we wanted to ensure they had plenty of culinary options to choose from that were of the same caliber as other menu items we offer," Carolyne Doyon, President and CEO of Club Med North America and the Caribbean, tells VegNews. "We also found great importance in implementing plant-based menus as an additional way to uphold our mission in pioneering sustainable tourism. Since our conception in 1950, we've held a strong belief that experiences should never be lived at the expense of others or of nature."
Chloe Coscarelli puts vegan food on the menu
Chef, author, and entrepreneur Chloe Coscarelli has been a mainstay in the vegan culinary community for more than a decade, and many know her as being the first vegan chef to win Food Network's Cupcake Wars with her delectable cupcakes.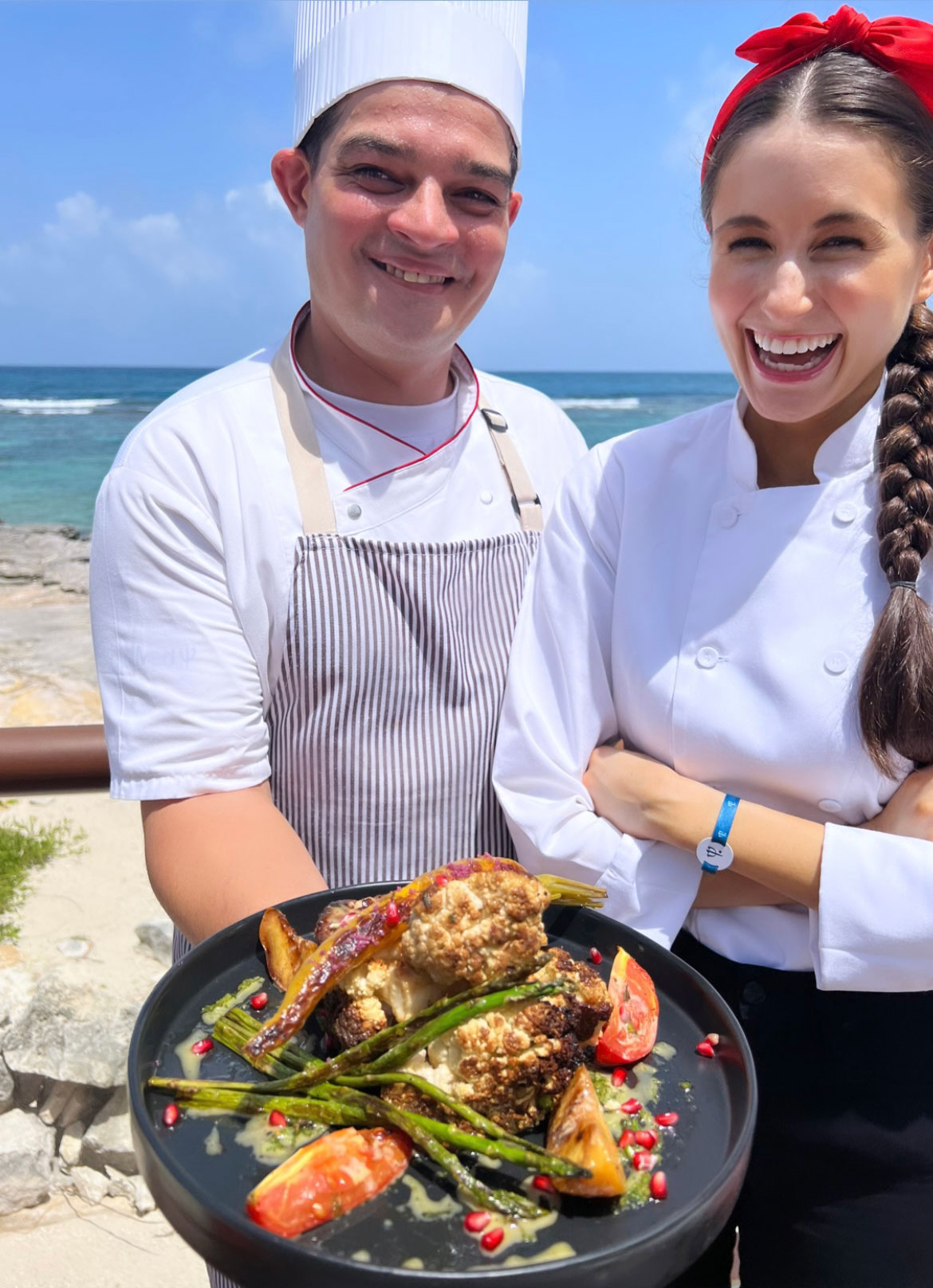 Club Med
The chef's most recent venture with Club Med was inspired by her desire to make a global impact. Over the summer, Coscarelli worked one-on-one with Club Med food and beverage teams to impart her vast knowledge of vegan ingredients, techniques, and tips so that the teams could independently create plant-based dishes that would delight guests.
"It has been an exciting opportunity to work with a company as well-known as Club Med, especially given the wide-reaching global scale of their resorts," Coscarelli tells VegNews. "It was an honor to work in the kitchen with their incredible chefs from around the world and dive into vegan recipes and culinary education together."
Under Coscarelli's guidance, the teams developed new menu items such as beetroot bourguignon, tomato tartar with vegan feta cheese and pesto, and grilled avocado with pomegranate and truffle vinaigrette—which will be among the dishes served at Club Med resorts.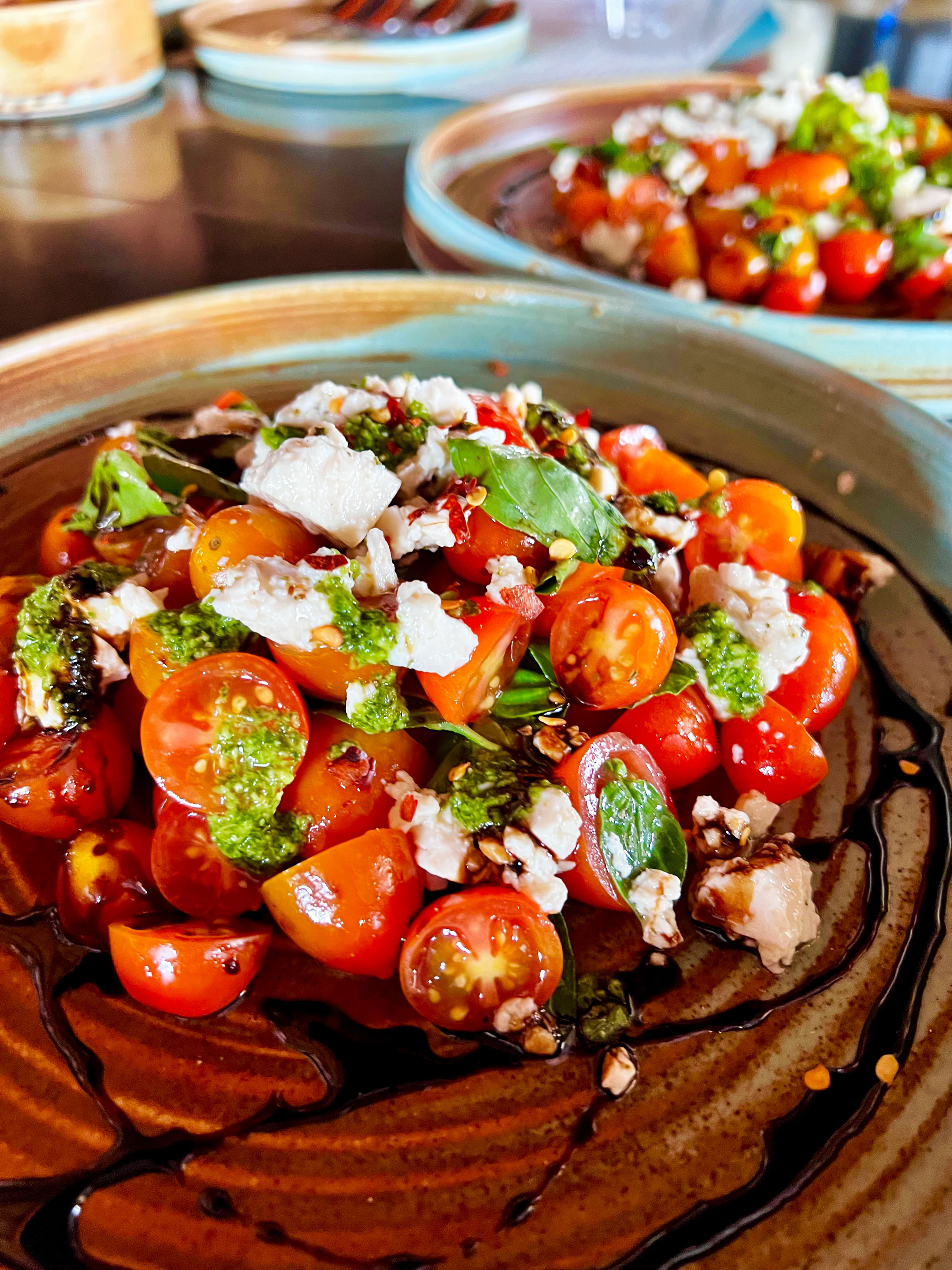 Club Med
"Our culinary offerings go beyond what is typically expected of an all-inclusive resort, with beautifully arranged single plated dishes," Doyon says. "In our efforts to offer more plant-based options, we looked to Chef Chloe for her expertise as her contributions to the plant-based community are unrivaled. We wanted to give our guests more diverse food options that cater to any dietary needs, and Chloe is well-known for her fresh and exciting plant-based recipes that, true to her motto, aren't just good enough to be vegan—they're just plain good."
Club Med's sustainability commitments
Tourism is a notoriously environmentally damaging industry that puts pressure on local resources and generates pollution in the form of plastic, food waste, sewage, and carbon emissions. However, making improvements in the food served at resorts—by swapping environmentally damaging animal products for more sustainable plant-based alternatives—is a step in the right direction.
In 2019, Club Med announced its "Happy to Care" commitments that address an array of issues such as eco-certifications, elimination of single-use plastics, energy management, food waste, animal welfare, cultural preservation, and local development.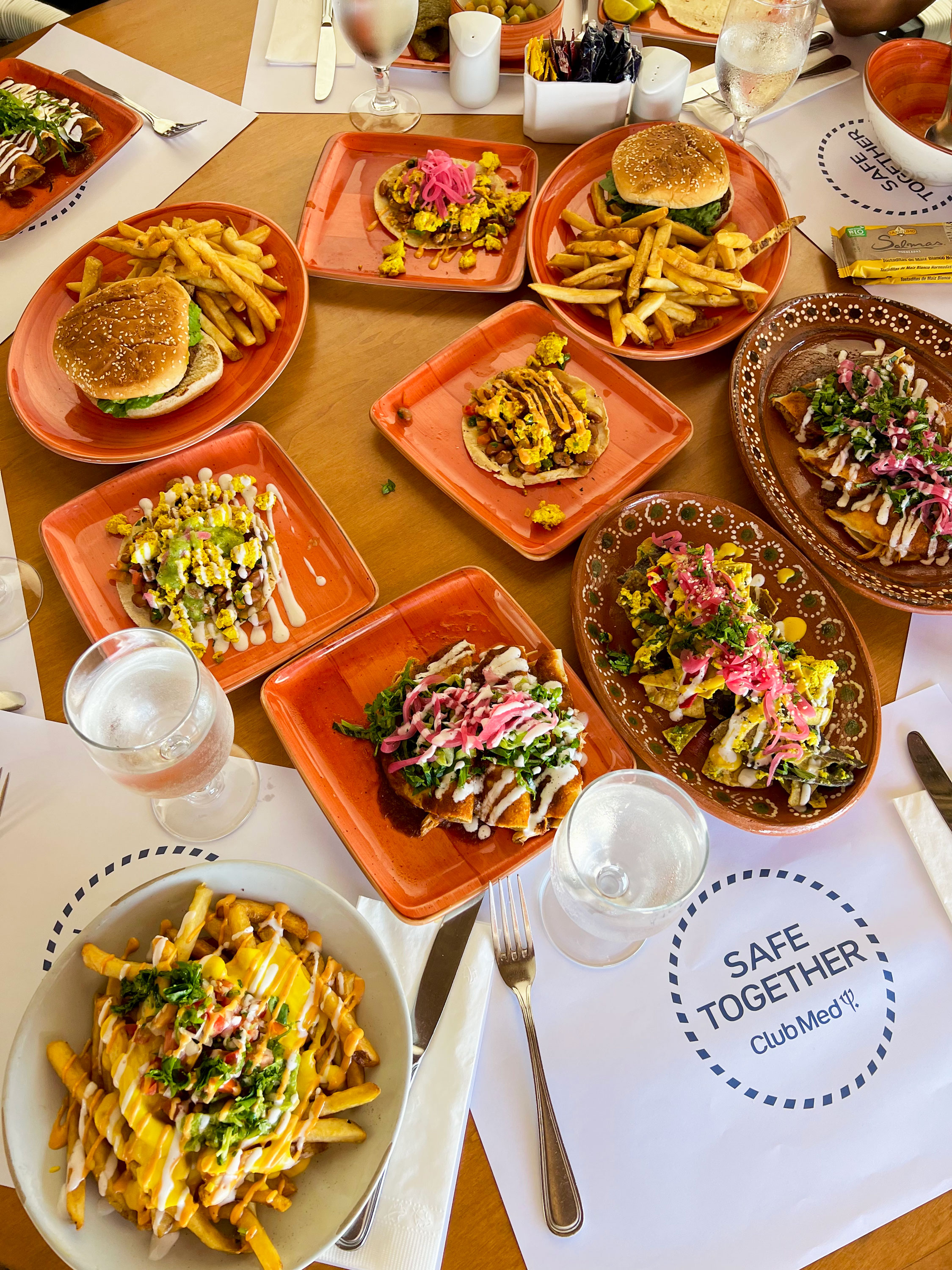 Club Med
In April, Club Med added to those commitments with new initiatives, including an announcement that Beyond Meat products would be rolling out to its Club Med Michès Playa Esmeralda in the Dominican Republic, with a goal of adding the vegan meats to all of its North American resorts by the end of the year.
The menu development program between Club Med and Coscarelli is an extension of its Happy to Care commitments. Coscarelli was also on hand to help chefs showcase Beyond Meat's vegan products in exciting ways.
"The main goal was to make the new vegan options delicious and exciting so that they appeal to all guests," Coscarelli says. "We drew inspiration from the local fresh produce and ingredients available to each chef, as well as brought in new vegan techniques and products (like Beyond Meat) for the chefs to work with."
"We want vegan guests to feel included and well-fed, while relaxing at the resorts, so the key was to take any guesswork out of the vegan ordering or buffet experience," Coscarelli says.
While the dishes will vary from resort to resort with locally sourced ingredients, the motivation for offering plant-based options informed by Coscarelli's training will be infused into the food ethos at Club Med.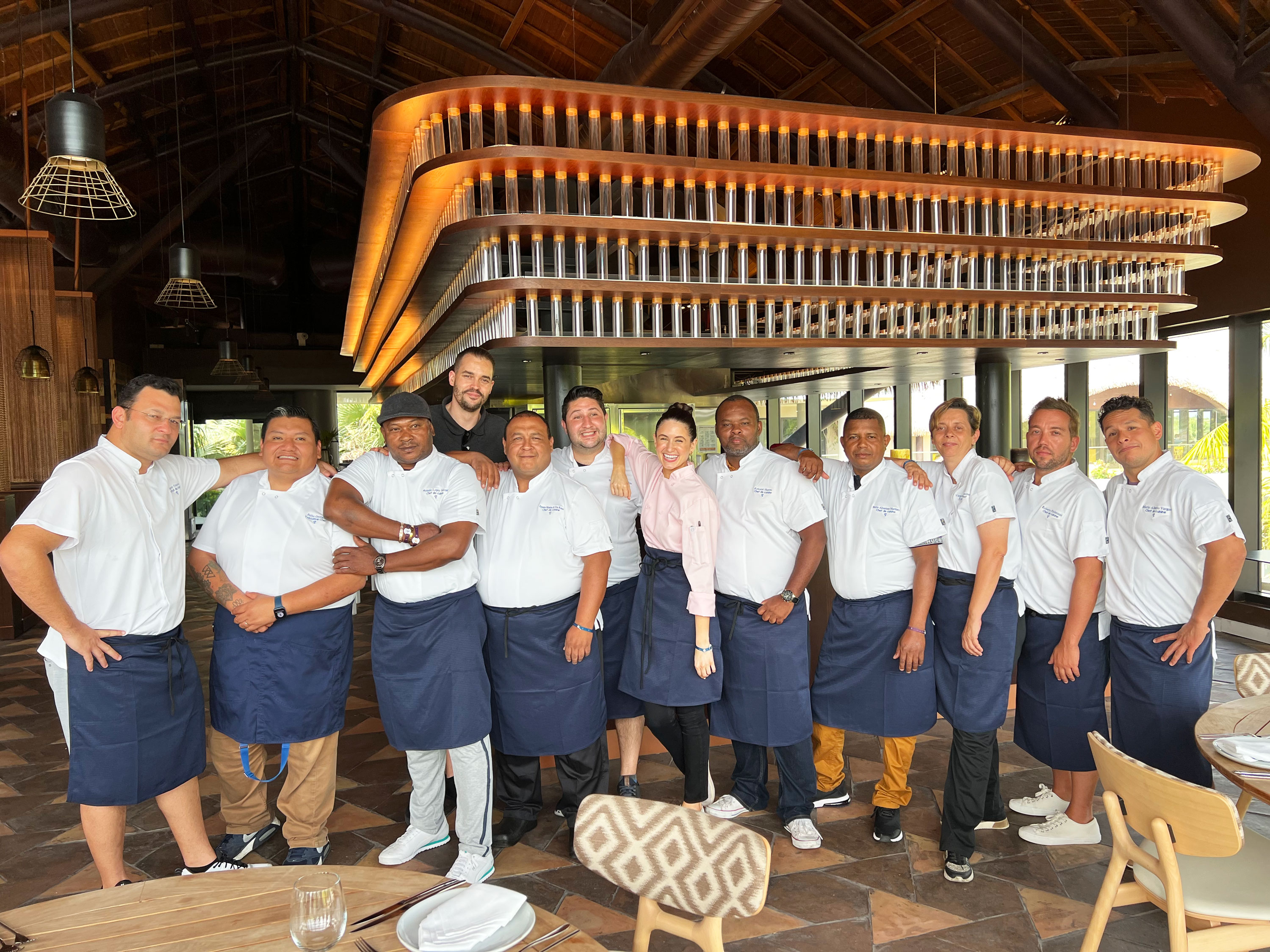 Club Med
"Our chefs learned a lot of insight from Chef Chloe during their intensive training, and are using their new-found learnings to develop enticing and creative plant-based dishes," Doyon says. "Moving forward, guests can also anticipate plant-based dishes that feature specialty international flavors, as our chefs hail from all over the world and enjoy customizing their culinary creations."
What's next for Coscarelli? The chef is working on more exciting brand partnerships and, after her work with Club Med, plans to explore additional projects in the hospitality industry.
For the latest vegan news, read: