It seems that every week in the world of vegan food news is more exciting than the last and this week is no exception. While summer might be winding down, new vegan ice cream flavors from Trader Joe's, Ben & Jerry's, and Dear Bella Creamery are in full swing. Swiss chocolatier Läderach Chocolatier Suisse expands its vegan flavors with cashew milk chocolates. Vegan fast-food pioneer Next Level Burger just opened its first Colorado location to a long line of hungry customers. Read on for more.
1New vegan ice cream for fall
Trader Joe's is at it again with new vegan options, this time in the frozen aisle where a new dairy-free ice cream was spotted by Instagrammer Big Box Vegan. Priced at $3.99 per pint, the new Very Chocolate with Fudge Brownies flavor is made with a base of oat milk. While initially spotted in a California store, the new vegan flavor is now available for Trader Joe's managers to order for their stores nationwide.
Over in the United Kingdom, Ben & Jerry's is stirring a commotion with its newest flavor: Chocolatey Love-a-Fair, a flavor made for its UK market in partnership with Dutch ethical confectioner Tony's Chocolonely. The new limited batch flavor is available in both dairy and non-dairy varieties in the UK and helps to end child labor and modern slavery in the chocolate industry by sourcing cocoa beans through Tony's Open Chain. VegNews has reached out to Ben & Jerry's to inquire if the non-dairy variety will be available outside of the UK.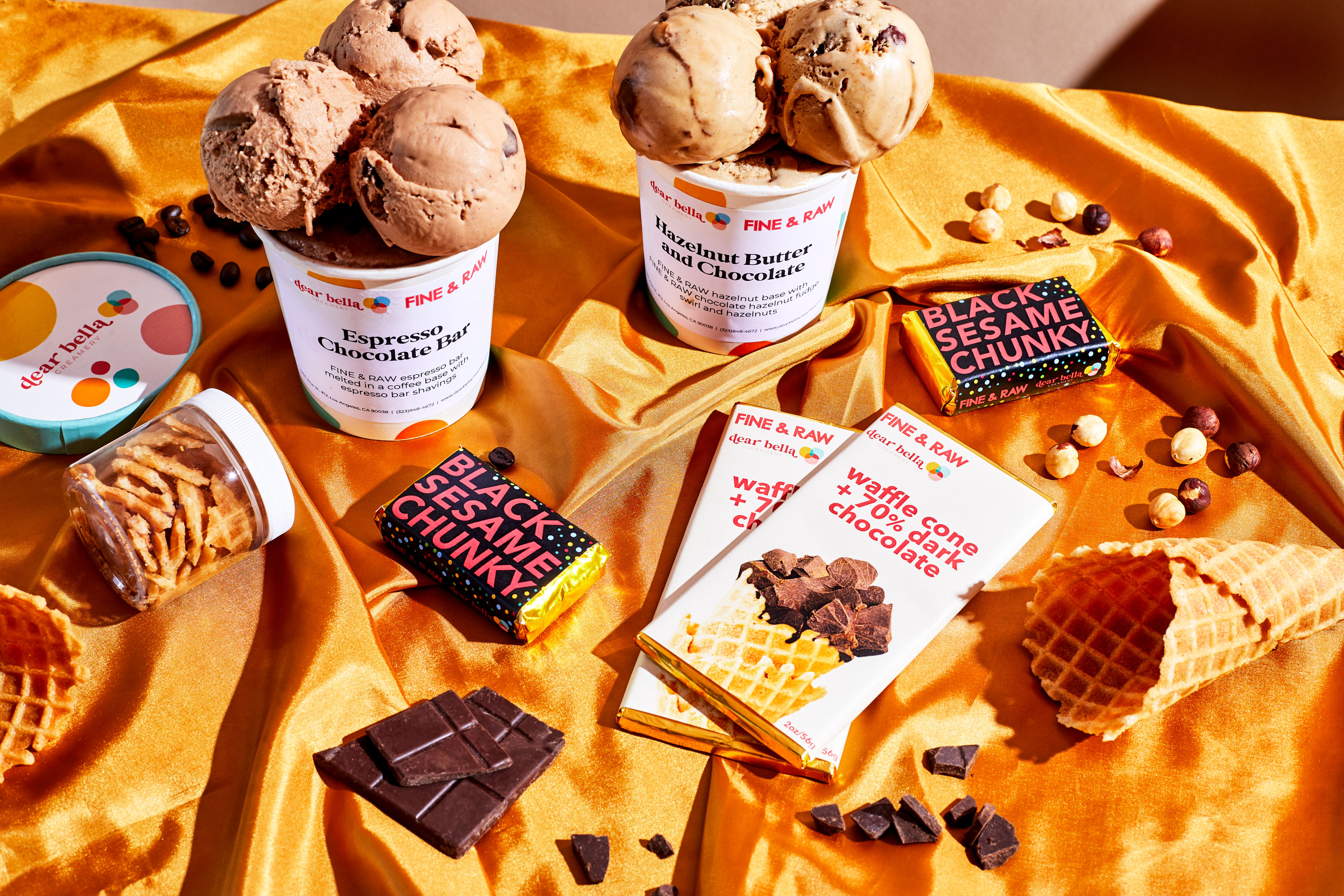 Katrina Frederick
If a United States-based chocolate and ice cream collab is what you're after, Los Angeles' cult-favorite vegan ice cream shop Dear Bella Creamery is teaming up with chocolate brand Fine & Raw this fall to co-create flavors of both treats. On the chocolate side, Dear Bella and Fine & Raw collaborated on two limited-edition bars: a 70-percent dark chocolate bar with waffle cone pieces and a Black Sesame Chunky bar. On the ice cream side, Dear Bella is using Fine & Raw espresso and hazelnut bars as mix-ins for two new co-created pint flavors: Espresso Chocolate Bar and Hazelnut Butter and Chocolate. These items are available for nationwide shipping as a set (pre-ordering starts on September 20) through Dear Bella and the chocolate can be ordered as a bundle through Fine & Raw.
2Vegan ganache cups
If frozen treats in the fall aren't your thing, this week, other vegan desserts made moves. California brand Bon Dévi recently expanded its vegan ganache cups to select locations of retailer Harris Teeter. There, shoppers will now find two flavors, Choc and Vanilla, of the devilishly good vegan dessert cups.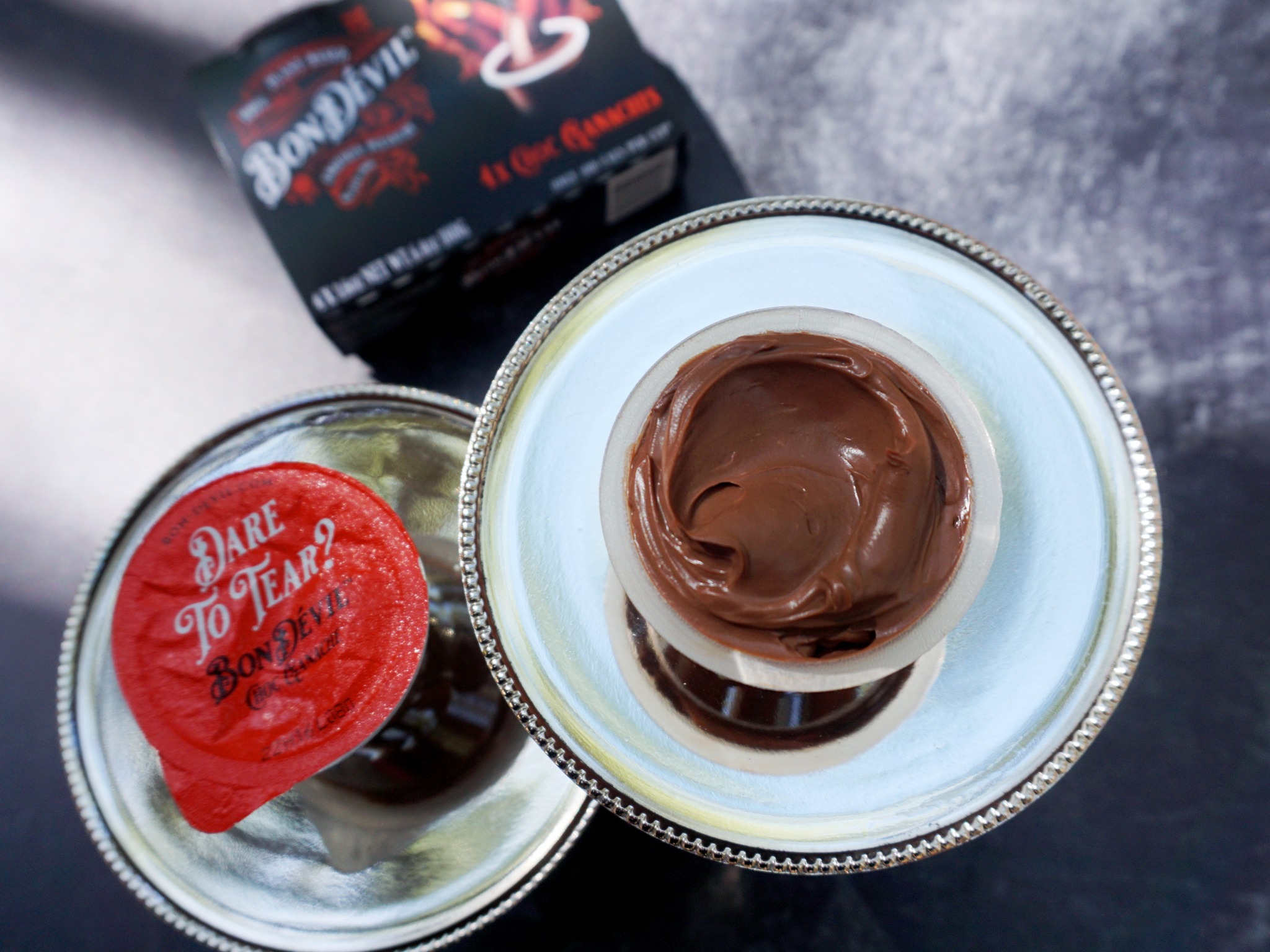 Bon Dévil
"We're excited to share Bon Dévil with the Harris Teeter family," Bon Dévil founder James Averdieck said in a statement. "We know the consumers of Harris Teeter will love these wickedly delicious desserts that not only taste amazing but happen to be completely vegan."
The company's entire line of vegan ganache cups includes two additional flavors: Salted Caramel Choc and Caramelized Banana.
3Cashew milk Swiss chocolate
Is your sweet tooth more into chocolate bars? Läderach Chocolatier Suisse, a gourmet Swiss chocolatier known for its slabs of chocolate bars (or FrischSchoggi), announced the launch of a new collection of vegan chocolates made with cashew milk instead of dairy and coconut blossom sugar instead of traditional sugar (which sometimes contains animal-derived ingredients).
The new offerings are Creamy Cashew Tablet; FrischSchoggi Vegan Cashew; an assortment of vegan FrischSchoggi in a small pouch; and Creamy Cashew Vegan Popcorn. Available in 40 stores across the US and Canada, these new offerings bring the brand's vegan options to 22.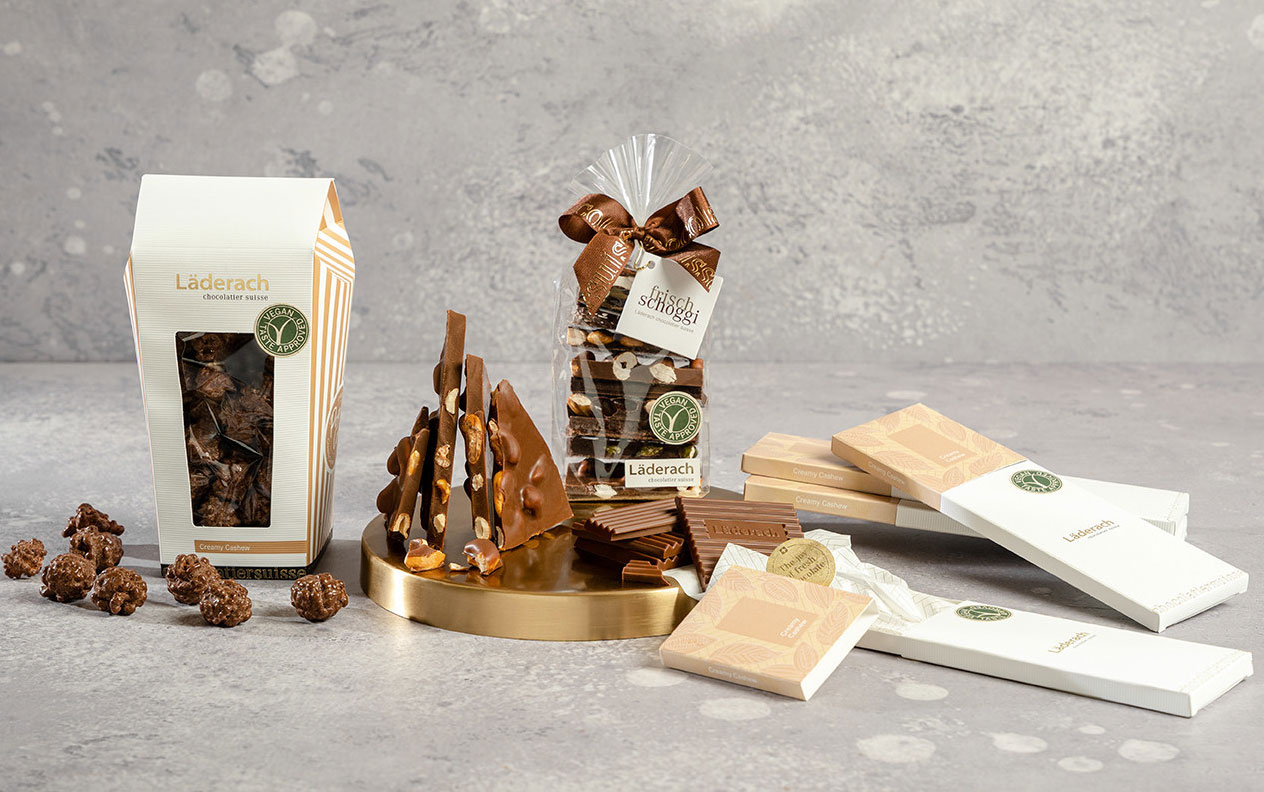 Läderach Chocolatier Suisse
"Our Läderach team is proud to offer the vegan community delicious new premium fresh artisanal vegan chocolates made bean-to-bar in-house and delivered directly from Switzerland," Nathanael Hausmann, president, Läderach North America, said in a statement. "With our unique ingredients and extreme attention to craftsmanship, our new vegan chocolates can unlock a rewarding five sensory experience and compliment any occasion well, synonymous to our existing Läderach premium chocolate collection."
4Colorado's first Next Level Burger
Next Level Burger (NLB) was doing vegan fast food before it was cool and just opened its first Colorado location in Denver. Customers stood in long lines to sample the Oregon-based chain's plant-based takes on American comfort classics all made with organic vegetables and non-GMO ingredients. Menu highlights include burgers made with either a mushroom-and-quinoa patty or Beyond Burger; towering vegan chicken sandwiches; loaded fries; and hand-spun shakes.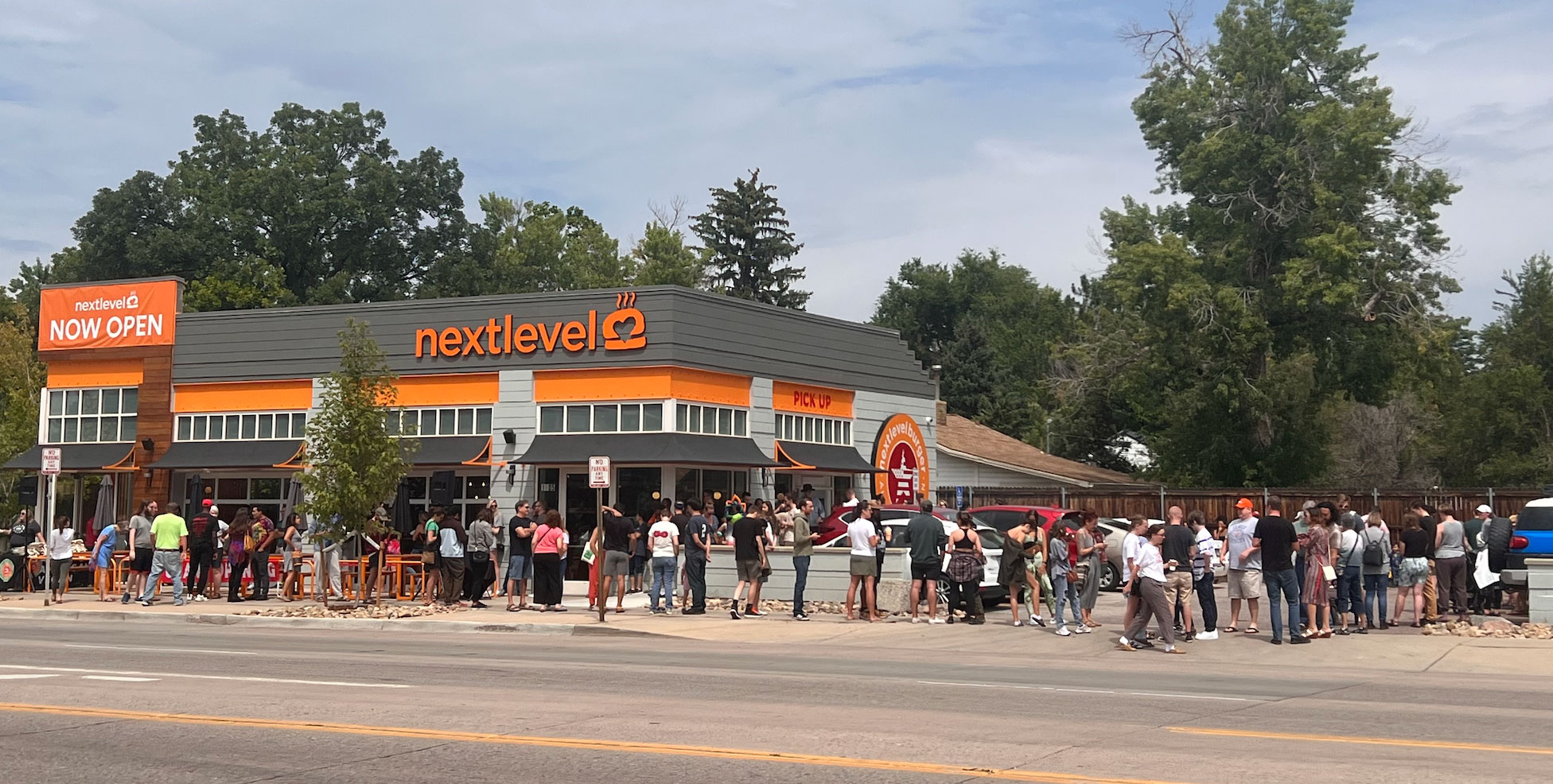 Next Level Burger
NLB was founded in 2014 by married couple Matthew and Cierra de Gruyter to set a new standard for fast food, one that was beneficial to humans, animals, and the environment. The new Denver location is sentimental as Matt de Gruyter grew up in the city and the couple met when they were both attending Metro State University.
"Next Level Burger is all about fighting climate change, cultivating sustainability, and promoting an awesome lifestyle," Matthew de Gruyter said in a statement. "Our curated, expansive menu truly offers something for everyone, whether you're vegan, sustainability-minded, or just looking for an awesome, delicious meal. We're out to re-invent the burger joint for the 21st Century."
NLB is delivering the future of fast food to the masses with locations in Oregon, Colorado, Washington, California, New York, and Texas. This fall, NLB will continue its expansion with a 10th location planned this fall in Seattle.
5Greggs gets into vegan chicken
British chain Greggs captured the world's attention when it launched a Quorn-based vegan sausage roll at its 1950 stores in 2019. Since then, the chain has been adding other vegan items—such as steak bake, glazed doughnuts, and a ham and cheese sandwich—to keep up the momentum.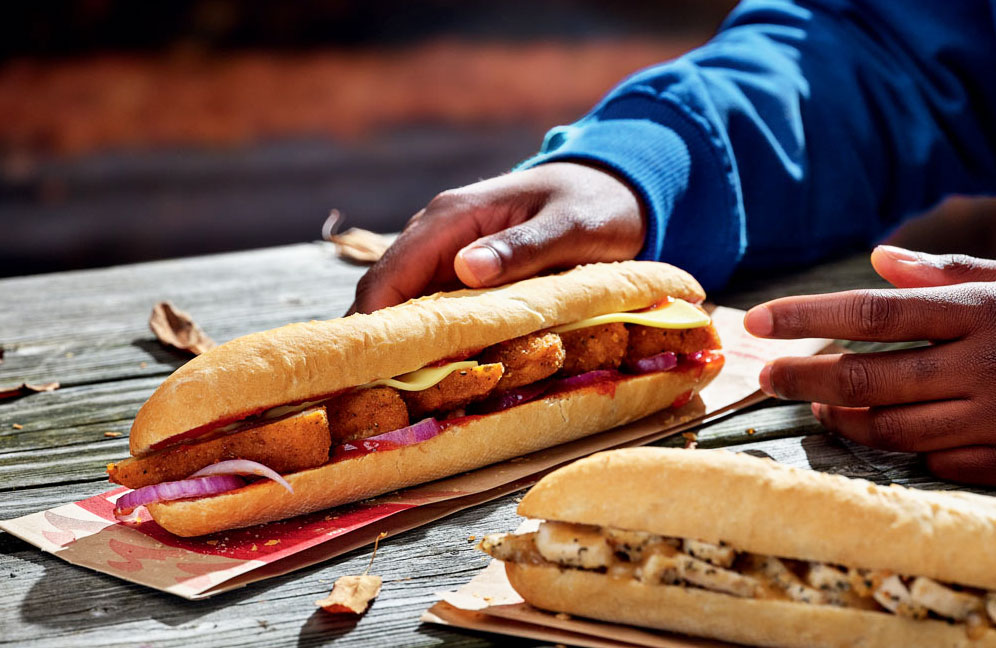 Greggs
This fall, Greggs is getting deeper into plant-based options with the Vegan Southern-Fried Chicken-Free Baguette, a plant-based take on its popular sandwich made with vegan cheddar cheese, red onions, and chipotle chili sauce. On September 15, the chain will also release Vegan Fried Chicken Goujons as an item that can be ordered on its own. Rounding out the fall menu is the Vegan Bean and CheeZe Toastie made with classic baked beans and grated vegan cheese.
Who's coming with us on a last-minute summer road trip to the UK?
For the latest vegan news, read:
Lawsuit Challenges AHA's Claim that Meat Is Heart Healthy
The Only Legal Foie Gras In California Hits the Menu at LinkedIn HQ
Impossible Foods Launches 8 Vegan Frozen Meals