On February 2, 2023, Smithfield-owned slaughterhouse Farmer John will slaughter its last pig before shuttering for good. Located just outside of Los Angeles in Vernon, CA, the slaughterhouse—the largest of its kind in the Southwest—has been in operation for more than 90 years.
Smithfield announced the closure of the slaughterhouse—where pigs are turned into Dodger Dogs—last summer. To explain its decision, the meat giant cited the rising costs of doing business in California, a state that is currently implementing measures to give animals basic welfare measures under Proposition 12.
For the last six years, activists from LA Animal Save and Animal Alliance Network (AAN) have been engaging in what is called "bearing witness," a peaceful demonstration where they give animals water and other comforts during the last moments of their lives.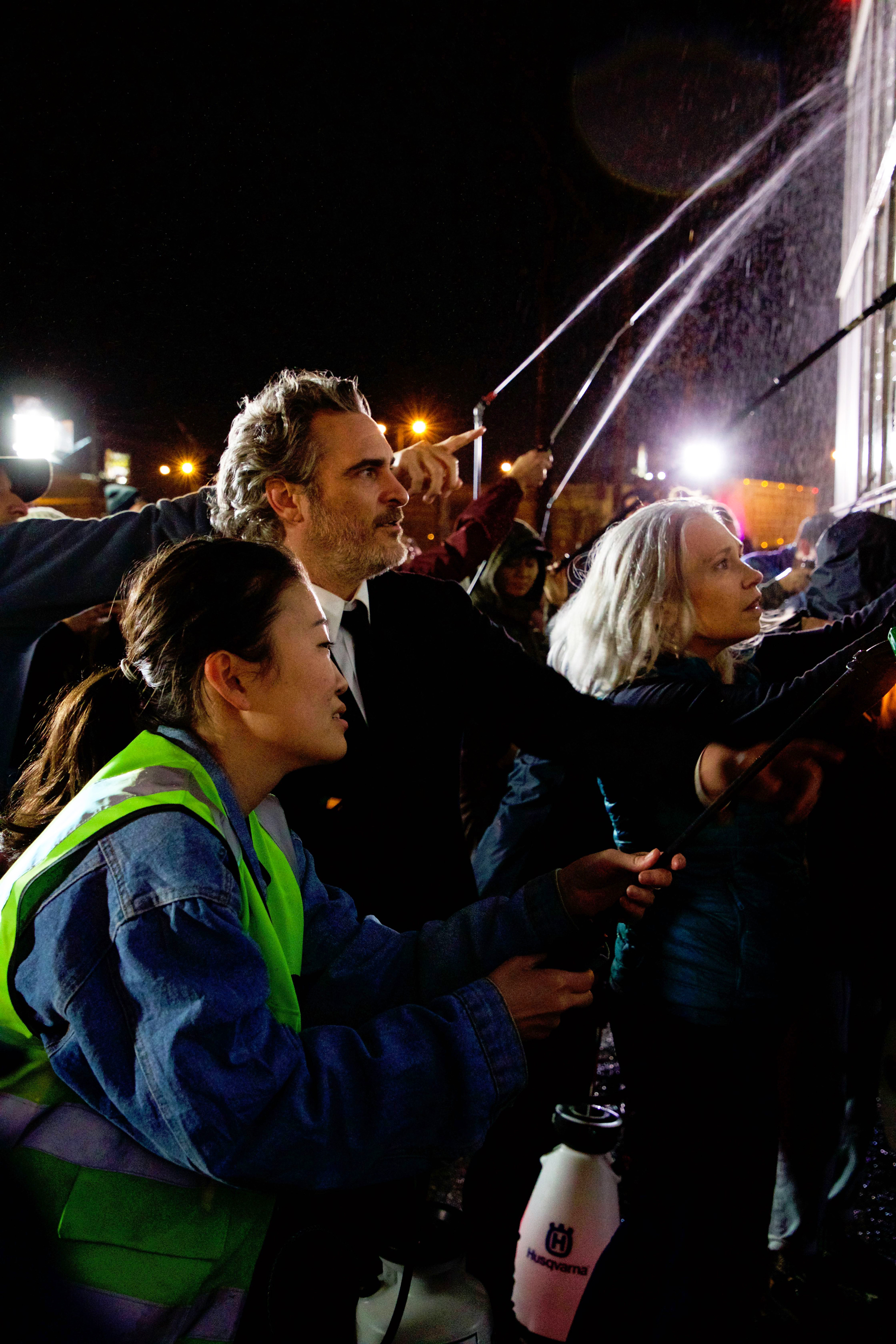 Robert Sud
One activist who regularly attends these vigil-like events is Joaquin Phoenix. The Oscar award-winning actor is currently in the midst of filming musical thriller Joker: Folie à Deux but made sure to send a message from the set about the end of operations at Farmer John.
"The closure of the Farmer John slaughterhouse is only the end of a chapter in a book that is still being written, a book in which we continue to advocate for the liberation of all animals who suffer in these oppressive systems," Phoenix said in a statement sent to VegNews.
"I am thankful to LA Animal Save and everyone in this community who has shown these animals the only kindness and respect they have ever known," he said. "You have taken the pain of bearing witness, and turned it into effective, peaceful, diplomatic advocacy for animals."
Joaquin Phoenix's fight for animal rights
Amy Jean Davis, founder of LA Animal Save, says that while the closure of Farmer John is a step forward, the slaughter of pigs continues elsewhere as meat consumption grows. She also points out that the exact reasons behind Smithfield's decision to close this slaughterhouse are not known.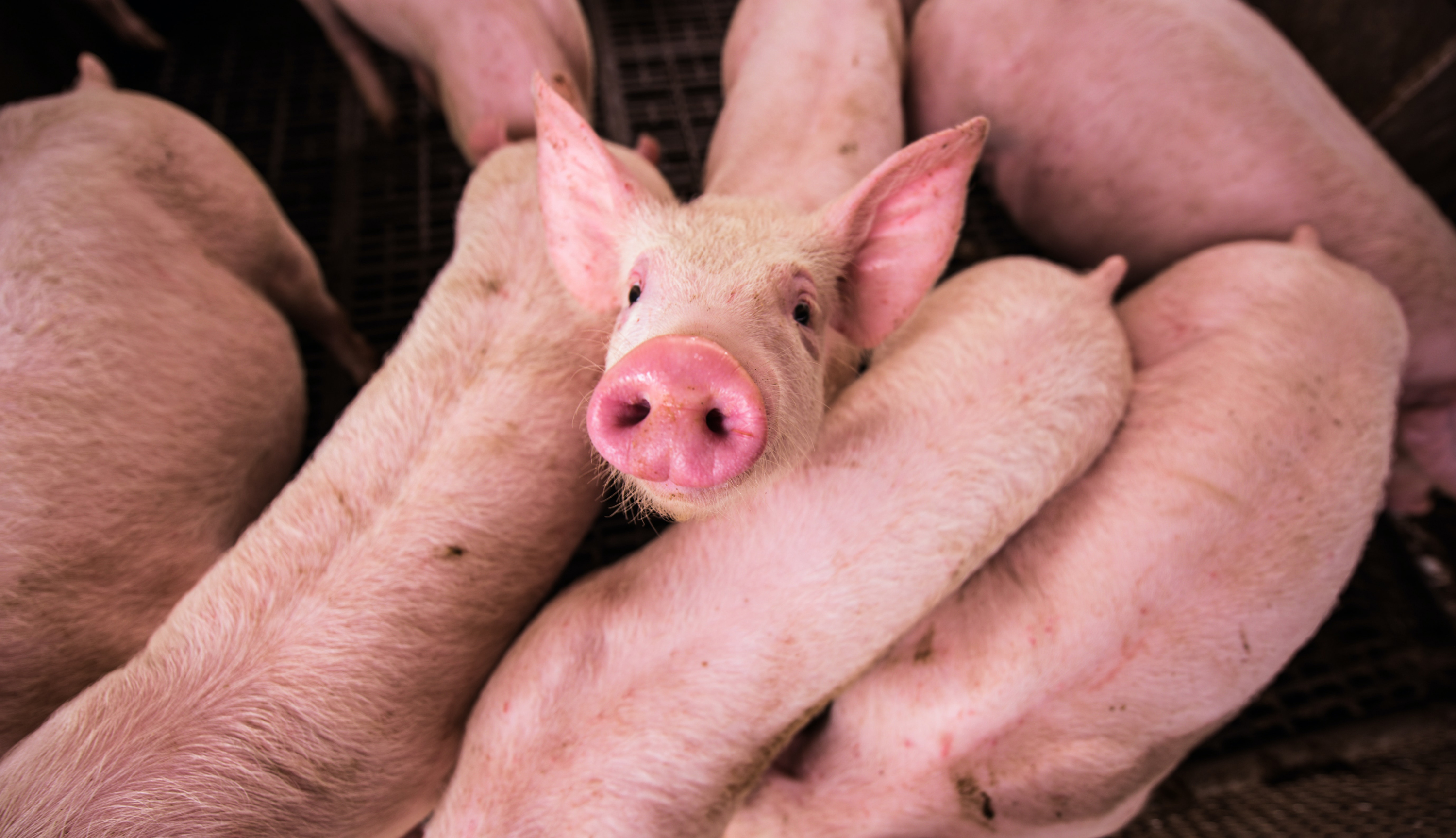 Unsplash
"We must stay focused on bringing the public awareness of the horrors that the animal agriculture industry commits to animals, to the environment, to the (mostly immigrant) workers, to communities of Indigenous Americans, and people of color," Davis tells VegNews.
"There is every reason to shut down animal agriculture, and we hope the public will consider joining the cause," she says, adding that endorsing the Plant Based Treaty—a doctrine created to advocate for a global shift away from animal agriculture—is one way to continue the fight.
This week, LA Animal Save will host a series of vigils to bear witness during the last days of Farmer John's operations. On the last day, February 2, vigils will be held for 12 hours or until the last pig arrives.
Speakers scheduled to make appearances include musical artist Moby; actors Greg Cipes, Tiffany Lonsdale, and Danielle MacDonald; State Assemblymembers Ash Kalra (D-San Jose) and Laura Friedman (D-Glendale); and journalist Jane Velez-Mitchell.
Phoenix has become a regular at these vigils on Sunday nights, including immediately after his Screen Actor's Guild (SAG) award win for Joker in 2020. That Sunday, Phoenix rushed to the LA Animal Save vigil at Farmer John, still dressed in his tuxedo from the show.
Phoenix expressed his regret for missing this week's final vigils but reassured activists that he will not give up his fight for the animals.
"Although it saddens me that I can't be there at this time, it's been my privilege to stand alongside these activists, and it's our duty to continue this fight," Phoenix said.
Having a high-profile individual such as Phoenix use his platform to spotlight this important cause has been instrumental in spreading awareness about the plight of animals in factory farms.
"Joaquin Phoenix is a celebrity and an outspoken activist," Davis says. "This is a rare combination, and we are so grateful to him that he uses his power to bring awareness to the crises affecting animals, humans, and the natural world. He has made the connection between all of the 'isms' that create havoc and suffering in our lives."
Davis explains that Phoenix's involvement here has put the pig vigils on the front page of the Los Angeles Times, attracted television and other media programs to attend and cover the vigils, and has helped draw "the biggest crowd of any vigils on the planet."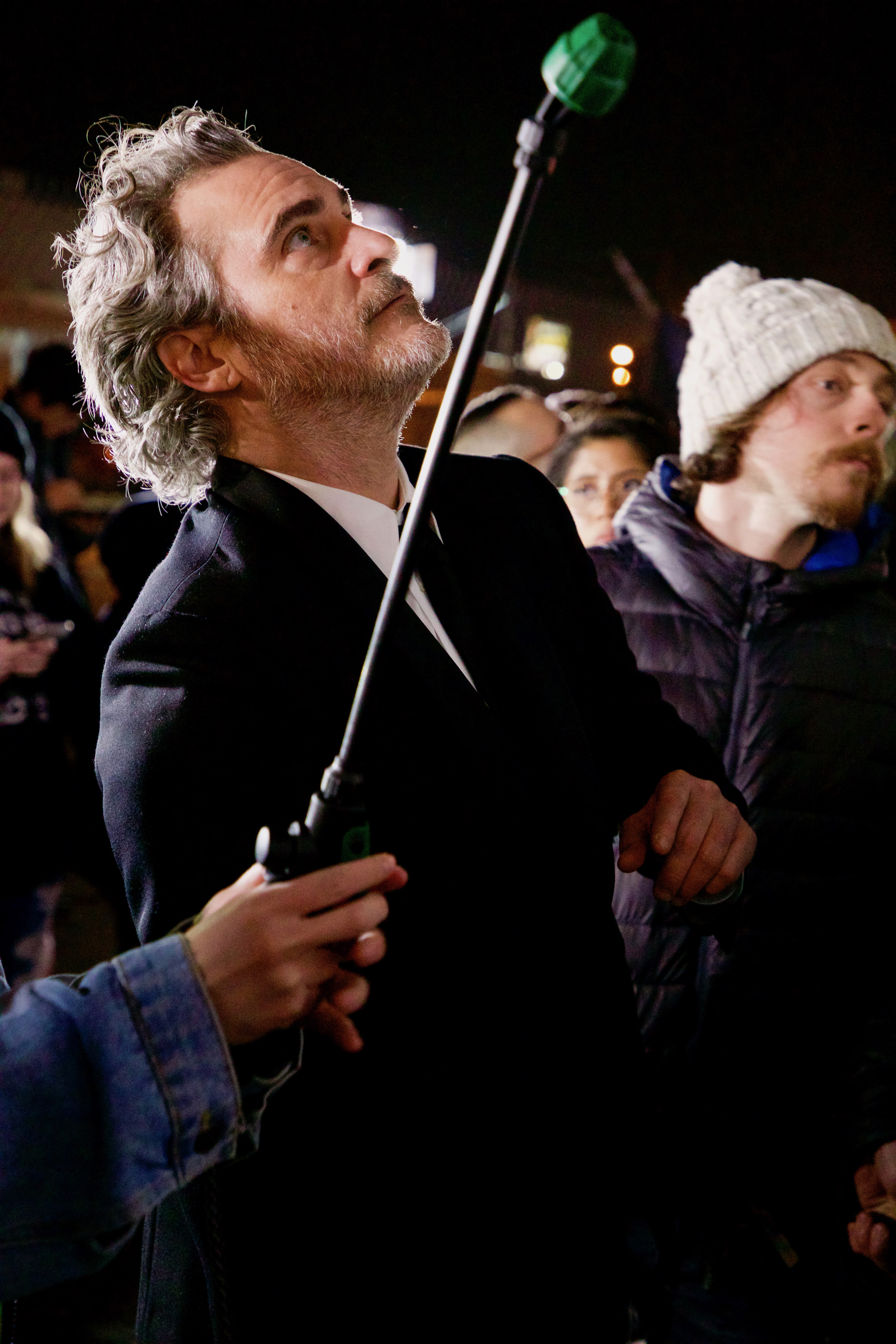 Robert Sud
"He appears to believe in the power of bearing witness, and by his actions, he has helped countless others bear witness, too," Davis says. "We are forever grateful to the work he has done, and continues to do, to bring humanity closer to a world of peace, compassion, and justice."
LA Animal Save and AAN have also organized a petition asking Smithfield to send the last pigs to sanctuaries instead of slaughter.
Joaquin Phoenix's vegan legacy
Phoenix has been vegan for almost his entire life and often uses his fame to advocate for animal rights. During the 2020 film and television awards season, Phoenix helped various ceremonies add vegan food to their menus.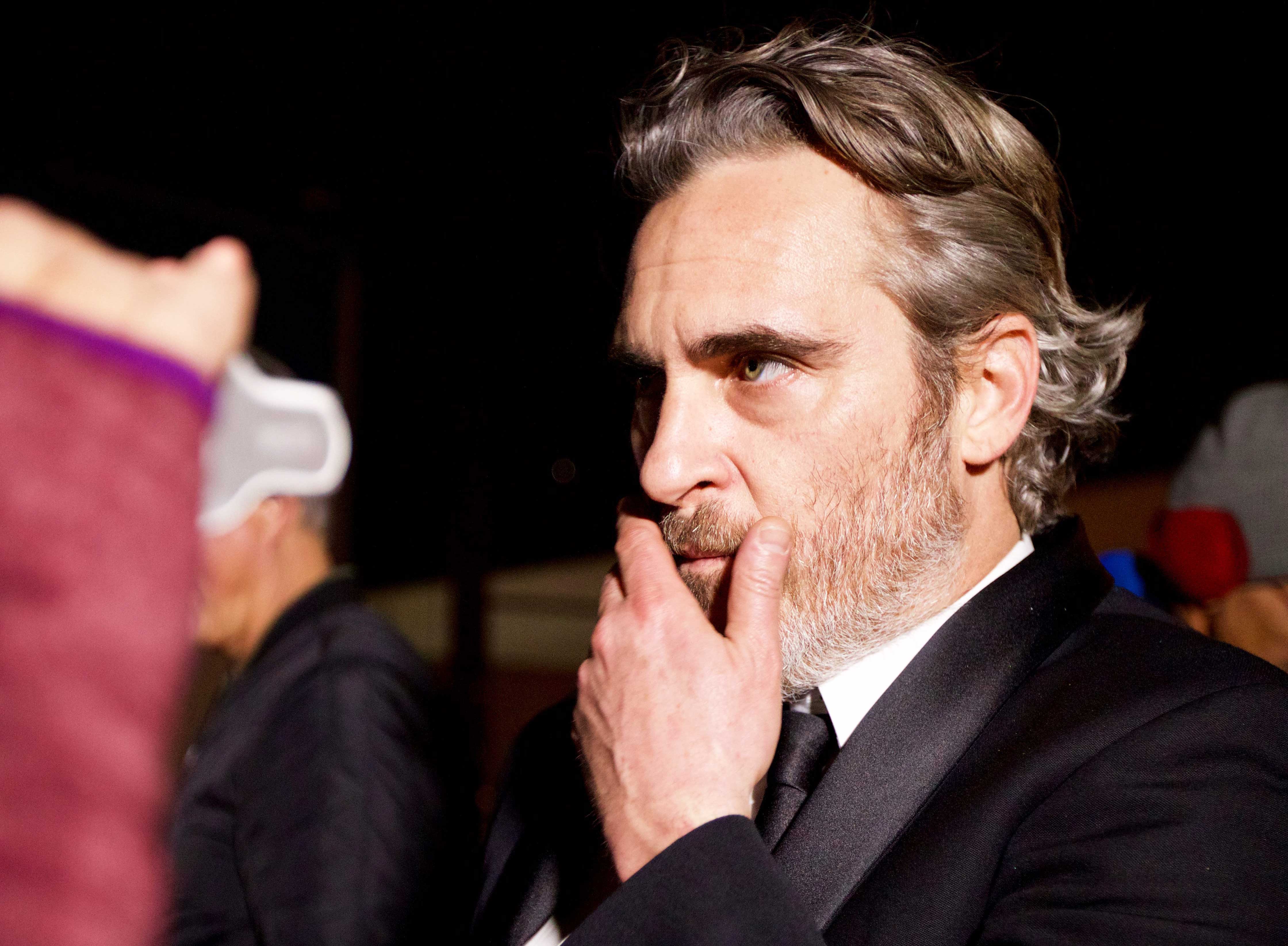 Robert Sud
During the 92nd annual Academy Awards, Phoenix brought the animal-rights message front-and-center when he accepted his Oscar for best actor as Joker's starring character Arthur Fleck. Phoenix dedicated his entire acceptance speech to the topic of fighting injustice, focusing a part of it on the exploration of dairy cows.
"I think whether we're talking about gender inequality, or racism, or queer rights, or indigenous rights, or animal rights, we're talking about the fight against injustice," Phoenix said in his historic speech. "We're talking about the fight against the belief that one nation, one people, one race, one gender, or one species has the right to dominate, control, use, and exploit another with impunity."
And right after all of the awards ceremonies, often still dressed in his Stella McCartney tuxedo, Phoenix carried the media spotlight he knew was on him to places that needed illumination.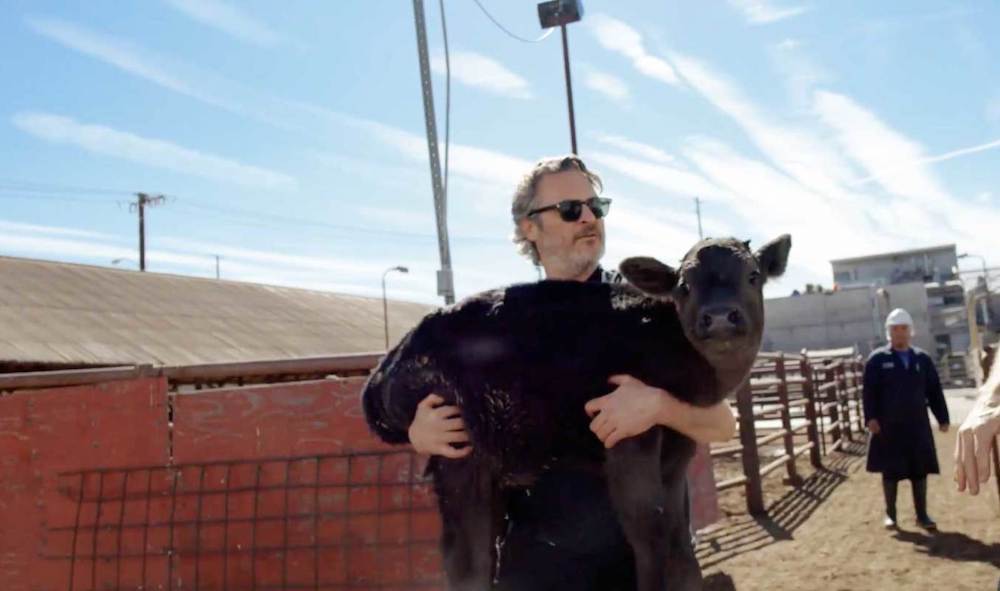 Farm Sanctuary
On the heels of winning his Oscar, Phoenix, fiancé Rooney Mara, and a group of activists headed out to Manning Beef, where they negotiated the rescue of Liberty and Indigo—a cow and her calf who were set for slaughter but, thanks to the rescuers, are now living out their lives in peace at the California location of Farm Sanctuary.
In addition to direct rescues, vigils, and speaking out at widely televised events, Phoenix has worked behind the scenes to bring an end to animal suffering by supporting film projects such as Gunda, End of Medicine, and, most famously, Earthlings—a groundbreaking 2005 documentary narrated by Phoenix that exposes the horrors humans inflict on animals.