From McDonald's to Unilever, many large businesses have made sustainability commitments in light of the climate crisis. But what do these promises look like in practice? Over at LinkedIn's San Francisco office, a pilot program created together with foodservice giant Sodexo is showcasing the future of more sustainable corporate dining.
LinkedIn's goal is to reach carbon negativity by 2030, which it plans to achieve by engaging every sector of its business, including foodservice, and encouraging them to explore innovative approaches to crafting more sustainable practices. Similarly, global foodservice provider Sodexo—which services approximately 75 million consumers annually—aims to slash its carbon emissions by 34 percent by 2025, primarily by shifting to more climate-friendly, plant-based foods.
LinkedIn and its foodservice provider Good Eating Company (GEC)—which is owned by Sodexo—partnered with Greener By Default (GDB), an organization that uses choice architecture to develop food programs that promote plant-based eating to make progress toward these targets.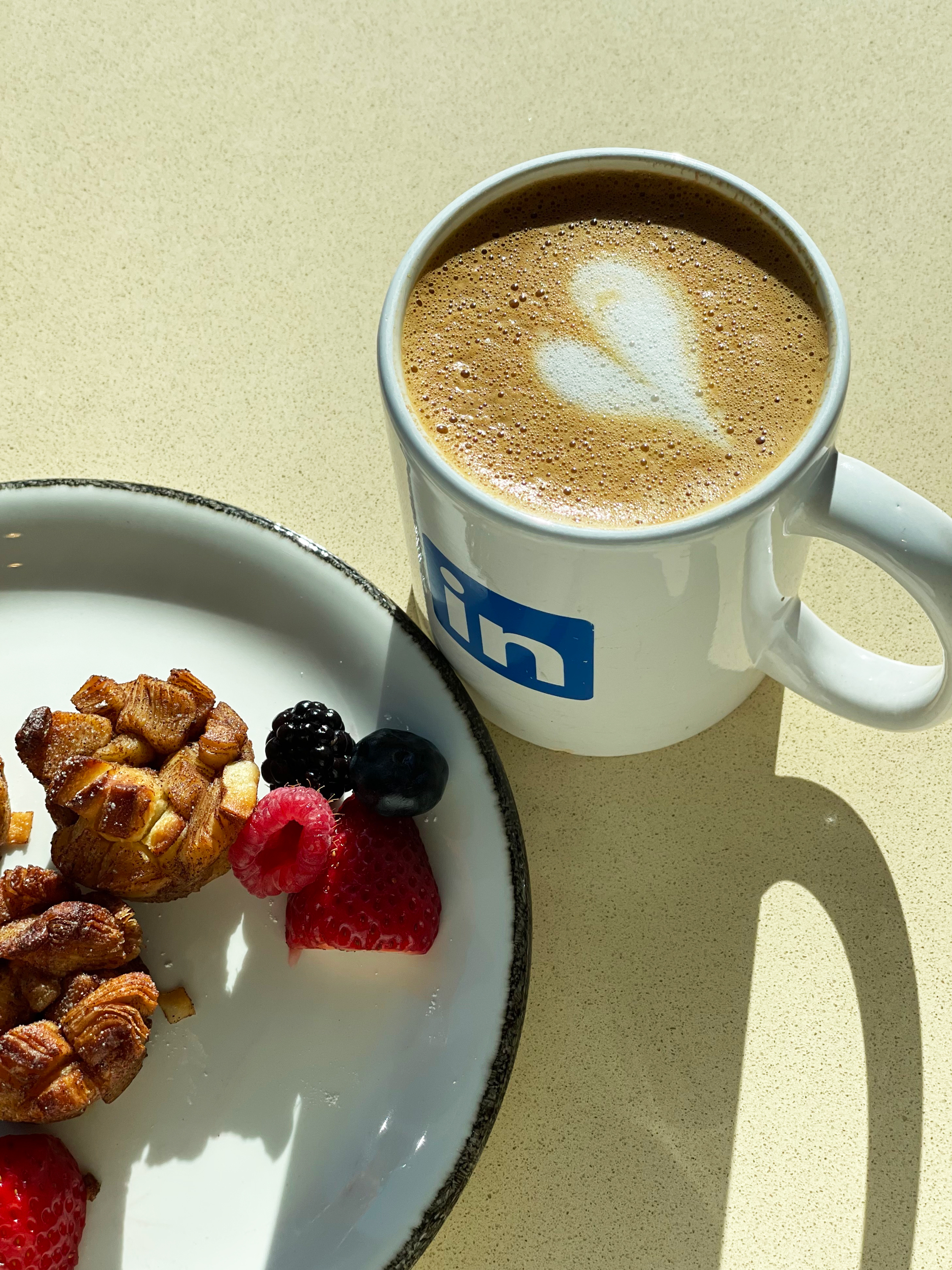 LinkedIn
Last year, GDB phased in a program at LinkedIn's San Francisco office that focused on several strategies to help employees make climate friendlier choices. These included serving more plant-based than animal-based dishes; making oat milk the default at the coffee bar; limiting service of carbon-intensive items such as lamb and beef to one entrée per week; increasing frequency of vegan baked goods; and ensuring dishes were described by their ingredients rather than qualities such as "vegan" or "meatless."
"LinkedIn has strong corporate values around sustainability and taking intelligent risks," Anna Bohbot, Global Food Program Manager at LinkedIn tells VegNews. "We've always incorporated plant-forward efforts into our program, but working with GBD allowed us to take it to the next level and make plant-based offerings front and center while still preserving freedom of choice."
So, did LinkedIn employees welcome the shift? The companies say that they didn't really notice a difference. And that's a good thing.
How LinkedIn made the plant-based shift
Katie Cantrell, Director of Corporate Outreach at GBD, explains that her company works to flip the norm in foodservice from meat-based options to plant-based, all while giving consumers an abundance of choice. The process starts with a thorough menu analysis to determine the types of dishes being served and how they are presented.
At LinkedIn, the menu initially consisted of five meat-based entrées and three plant-based options. Notably, the latter was served at a separate station which attracted vegans and vegetarians, while omnivores continued to choose options at the "normal" station.
"Our focus is making it easier, more appealing, and more socially acceptable for omnivores to choose plant-based options," Cantrell tells VegNews. "We really take a holistic approach and look at how food is being presented and then we slowly start to introduce more veg options at the stations where the omnivores are used to going."
During the pilot, the GBD team assessed satisfaction through extensive surveying to inform their decisions about going forward or pulling back on the plant-based transition. "We kept adding more and more vegan options and we kept getting more positive feedback from people who appreciated having more variety and it made it easier to make healthy choices," Cantrell says. "So then we kept moving forward with it."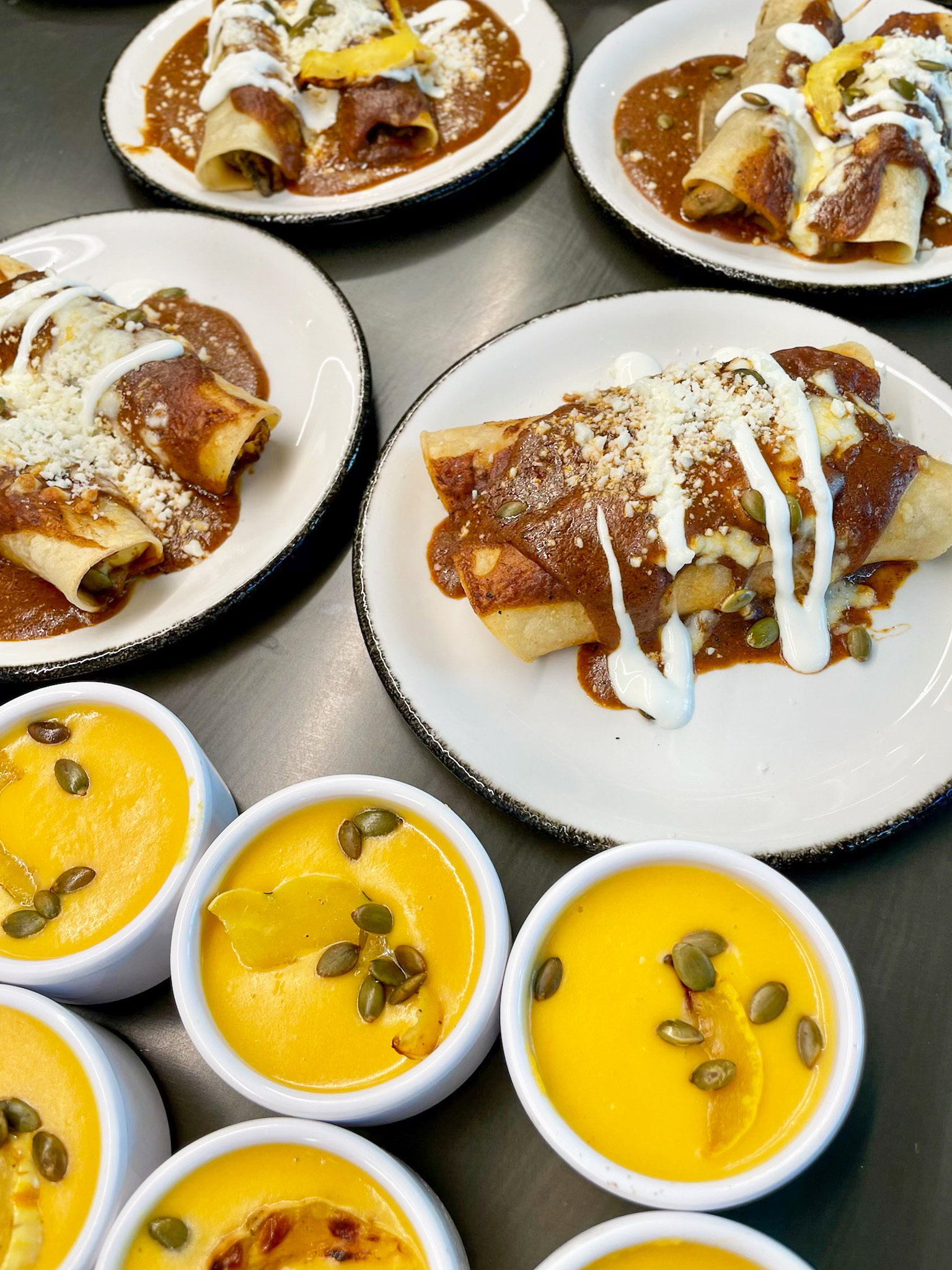 LinkedIn
By the end of the three-month pilot, the number of plant-based and meat-based entrées served was flipped to five and three, respectively. Oat milk was also the standard at LinkedIn's coffee bar.
Importantly, diner satisfaction remained mostly constant during all phases but their carbon footprint dropped drastically over the course of the pilot program. People consumed half as much meat and shifting to oat milk as a default halved the carbon impact of milk served at LinkedIn's San Francisco office in just three months time.
"When you calculate the carbon footprint of all of the meat that would have been served without the pilot, it's equal to 14,000 kilograms of CO2 equivalent, which is more than driving the circumference of the Earth," Cantrell says.
Crafting the plant-based menu shift
We all know that vocal meat-eater who swears expanding plant-based food options is somehow "taking away" their beef but here, the results show that diners are happy to make plant-based choices, especially when they are crafted with craveability in mind.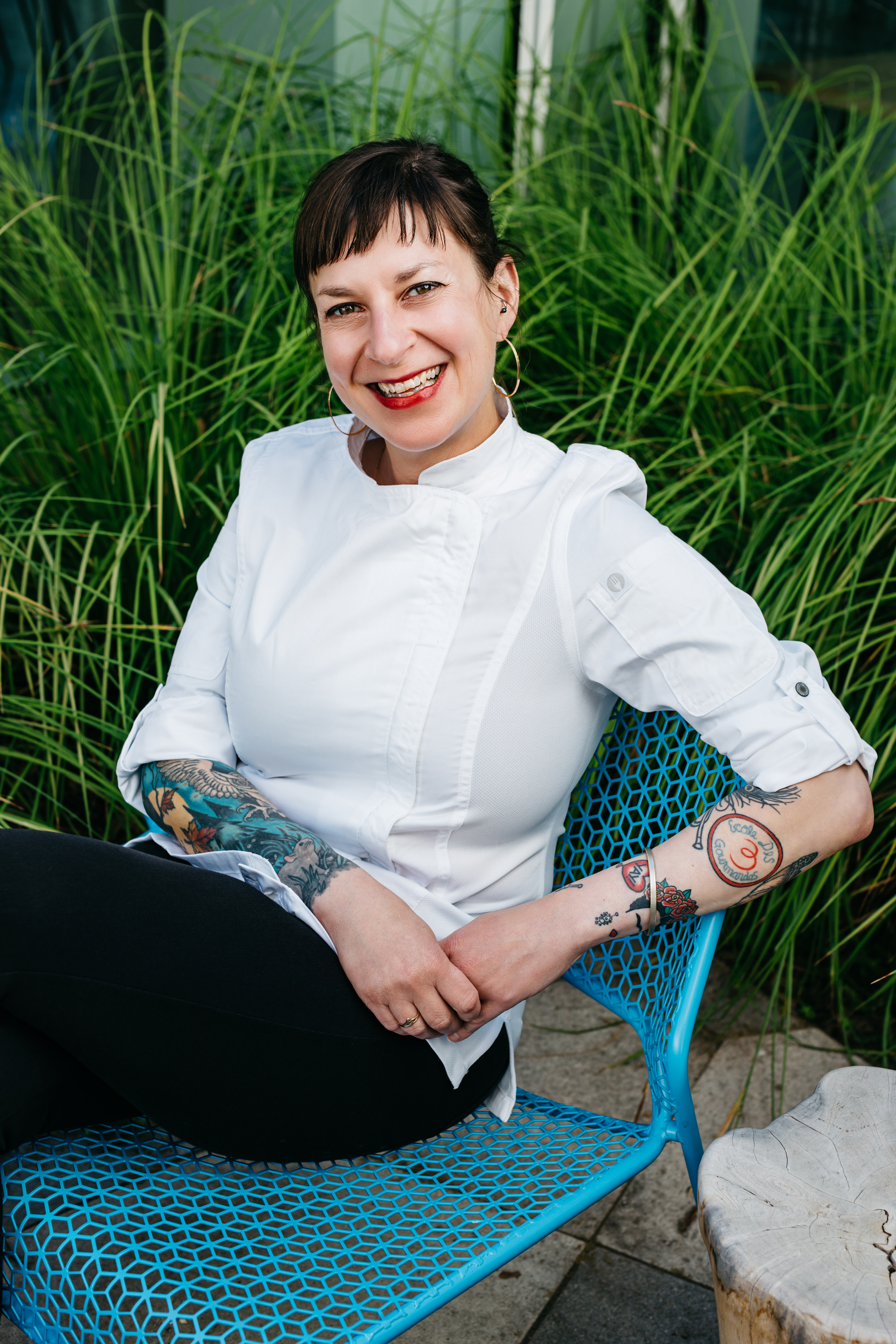 Courtesy
Chef Alicia Jenish-McCarron, GEC'S Culinary Director, serves complimentary breakfast and lunch to approximately 400 to 800 people at LinkedIn's San Francisco office daily. The dishes she and her team developed over the course of the pilot program have been a hit because, Jenish-McCarron says, she invested time into recipe development to deliver options that go beyond just replacing meat with tofu.
While the food types—such as comfort foods or pan Asian-inspired meals—remained the same, the team tweaked recipes to be vegetarian or vegan to facilitate the shift. This resulted in savory dishes such as squash stuffed with grated tofu (instead of cheese), Mongolian vegetable hot pots, and carrot croquettes.
"With the reduction of the meat program, we had far more beneficial comments—like 'I feel so healthy' and 'I love all the veg options'—than negative ones," Jenish-McCarron says. "It was really remarkable."
And now that the pilot has concluded, the team continues to tweak options to reduce the amount of animal products served. For instance, Jenish-McCarron says her pastry chef is a master at making vegan desserts and instead of finishing a dish with dairy yogurt, she adds a touch of vegan coconut yogurt—all with no pushback from diners. Jenish-McCarron sees the program as an ongoing initiative with staying potential.
For Jenish-McCarron, this program has given her nearly 30-year culinary career added purpose in crafting menus that are more respectful of the environment. "I've been inspired by this partnership because it's giving actuals to things that have been buzzy. A lot of people in the food business have hidden behind 'local' or 'organic' and 'sustainable.' But they're fluffy, meaningless words when you actually have to serve hard data with your menu," Jenish-McCarron says. "I really like that because it's real."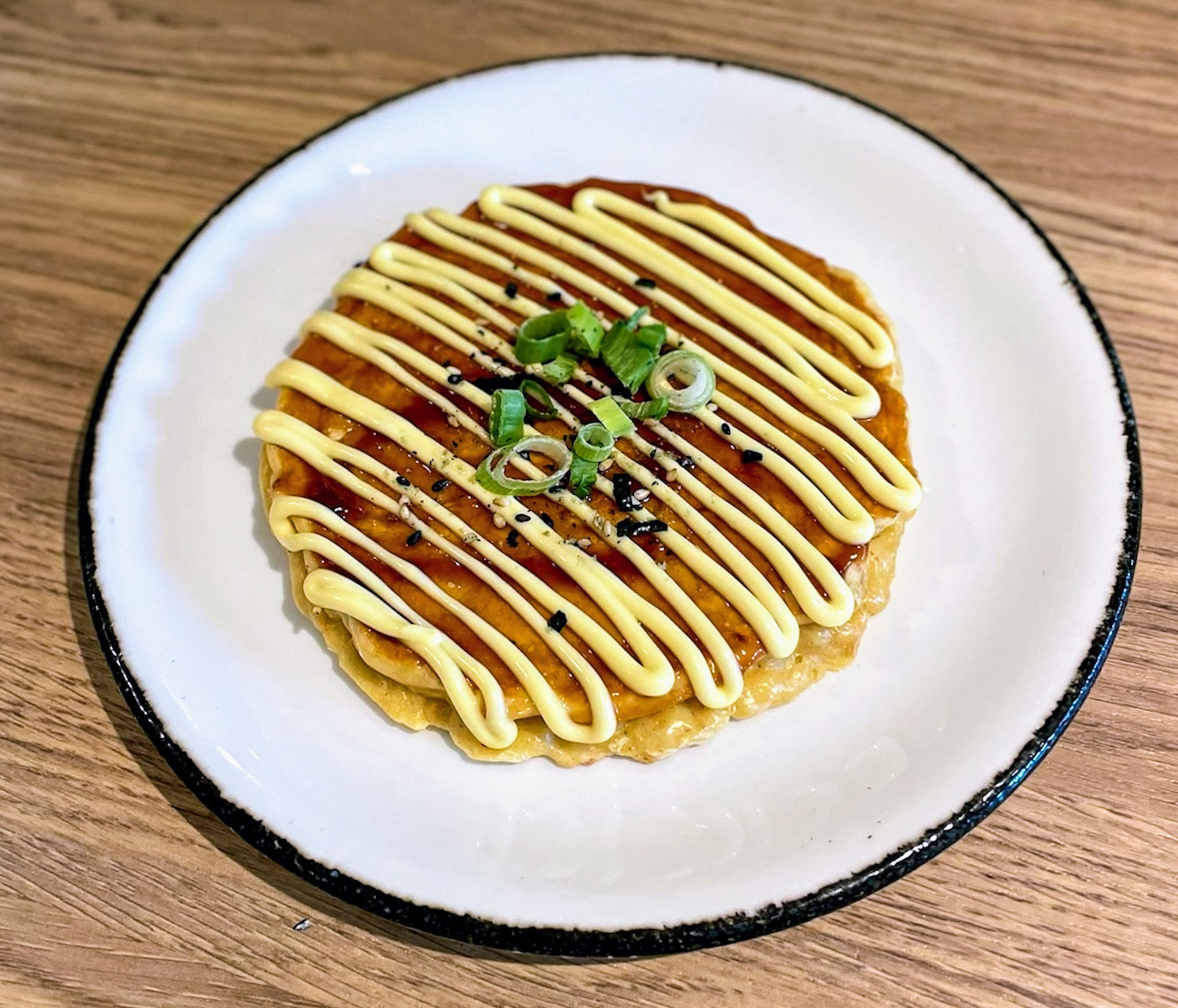 LinkedIn
Overall, the menu shift—along with the implementation of a waste-tracking system—has helped the kitchen at LinkedIn's San Francisco office reduce waste. After a few recipe iterations to get its consistency right, Jenish-McCarron also created her own oat milk to further eliminate packaging and transport waste.
What corporate cafeterias can learn from LinkedIn
Headquartered in Silicon Valley, LinkedIn's social media platform has very literally changed the way the world works, meaning the company is no stranger to innovation. GBD's work with LinkedIn showcased how a program like this—which was previously used in academic settings—could be effective in corporate cafeterias on a larger scale.
"Being able to put these strategies into practice in such a large and esteemed company as LinkedIn was really tremendous," Cantrell says. "Most large companies don't want to be the first to try something. They want to be the 10th or the 20th … so we were really excited to work with them."
Now that the efficacy of this program has been demonstrated at LinkedIn, GBD can go on to help other businesses reach their sustainability goals while being inclusive of its employees' dietary needs.
"The strategies offered by GBD are easy to implement and the benefits of transitioning to a 65 percent or more plant-based menu are clear when we calculate the emissions reduction and avoidance," Bohbot says. "The plant-forward pilot was a low-risk opportunity to contribute to the health of our employees and planet. Hopefully others will see the results of our efforts and can join us."