The vegan food selection at retail chain Target is about to grow with exciting new options thanks to multi-hyphenate Tabitha Brown. Starting January 8, Brown's third collection will drop at Target and this one features nearly 100 items, nearly 40 of which are new plant-based food products.
"Our guests love what we've done in our partnership with Tabitha Brown, and I can't wait for them to see this new collection—featuring vegan food items, refrigerated foods, meal solutions, and a range of kitchen and tabletop essentials," Jill Sando, executive vice president and chief merchandising officer for Target, said in a statement.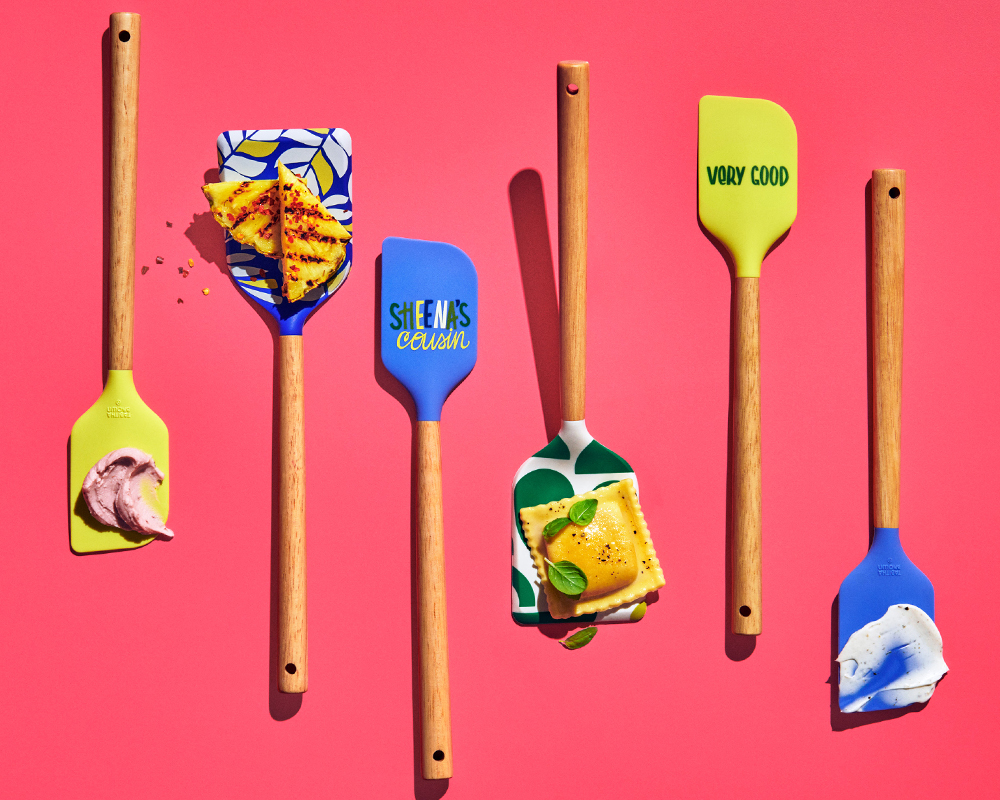 Target
When it comes to cooking utensils and tableware, Brown made sure to include a selection of spatulas ($5) with messages such as "very good" and "Sheena's cousin," an Easter egg for her social media fans who have watched her playful cooking videos on Facebook live.
Brown's well-known motivational phrases are strewn throughout the rest of the kitchenware collection, which also includes a cutting board, towels, table linens, oven mitts, avocado-shaped dip bowls, storage containers, cast iron pans, and a special set of salt and pepper shakers shaped like our favorite "furphew" Blacky Brown.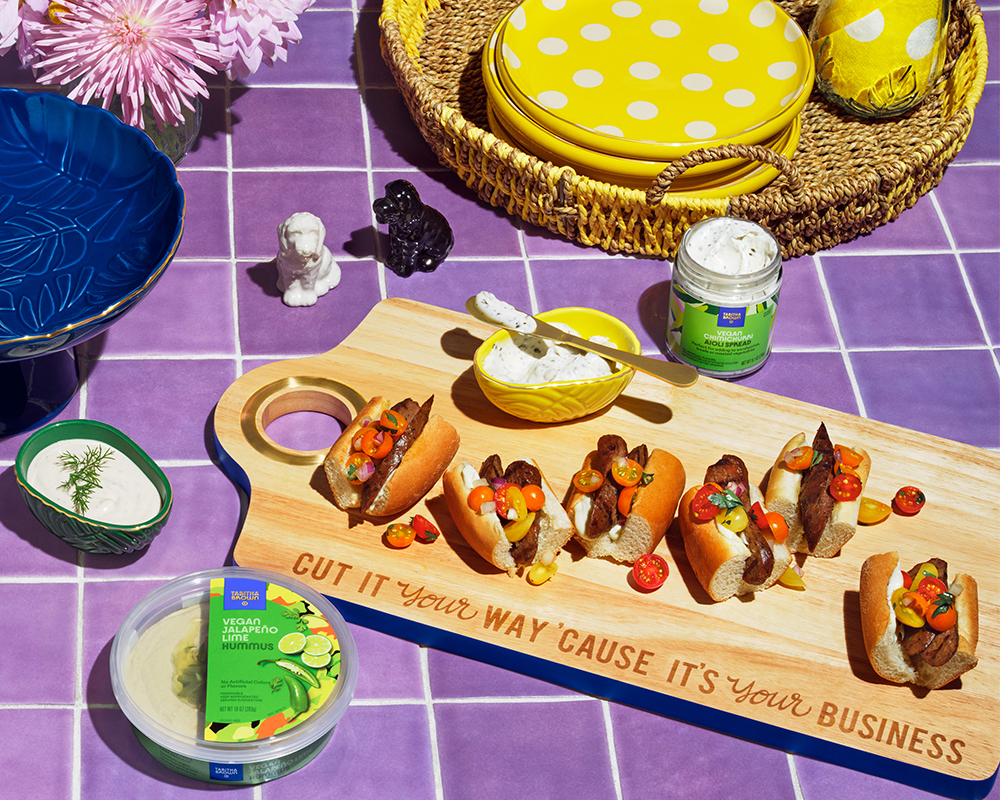 Target
"Tabitha's cooking has brought joy to countless people and you can see how this collection is incredibly close to her heart," Sando said. "There's just so much here to help our guests bring nourishment and joy to their friends and family."
Tabitha Brown's vegan food lands at Target
From television to books, Brown's influence is widespread across multiple mediums but she is best known for her engaging cooking videos on social media. There, her creativity is the first ingredient in easy vegan meals made with go-tos such as a hefty sprinkle of garlic powder or hearty mushrooms that stand in for meat. Brown made sure to stay true to these elements with her new line of vegan food at Target, all priced at less than $8 each.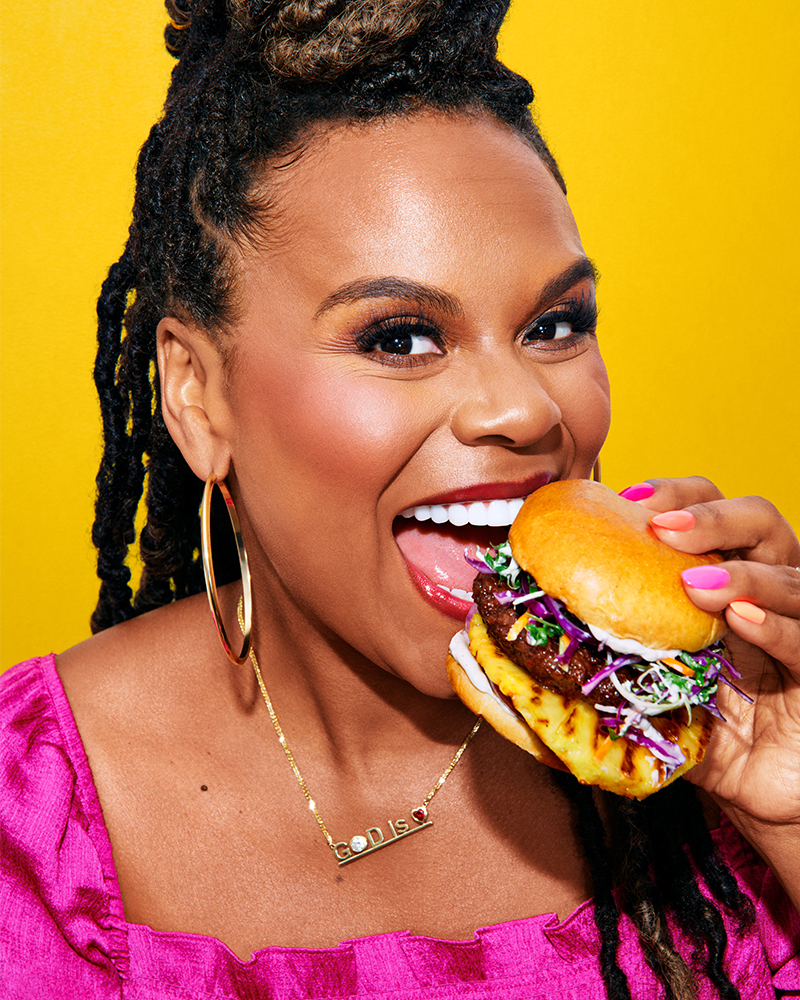 Target
The collection includes vegan sausages in Mushroom, Jalapeño & Cilantro, and Mango & Basil flavors; and vegan burger patties in Mushroom, Garlic, and Barbecue varieties. Brown also developed four vegan ravioli flavors for Target: Sweet Pea & Basil; Pizza, Sweet Potato & Cauliflower; and Polenta & Wild Mushroom.
Brown's collection includes easy vegan meals such as chickpea chili, butternut squash bisque, and three refrigerated meals: Potato Salad, Garlic Pasta Salad, and Creamy Lemon Dill Pasta Salad.
"Bringing people together over food makes my heart full, and I feel blessed to continue spreading nourishment and joy to Target's guests," Brown said in a statement. "My goal for this third collection is to deliver Tab-approved vegan food options that taste good and feel good for the soul, and entertaining tools and essentials to help spread the love during mealtime with loved ones."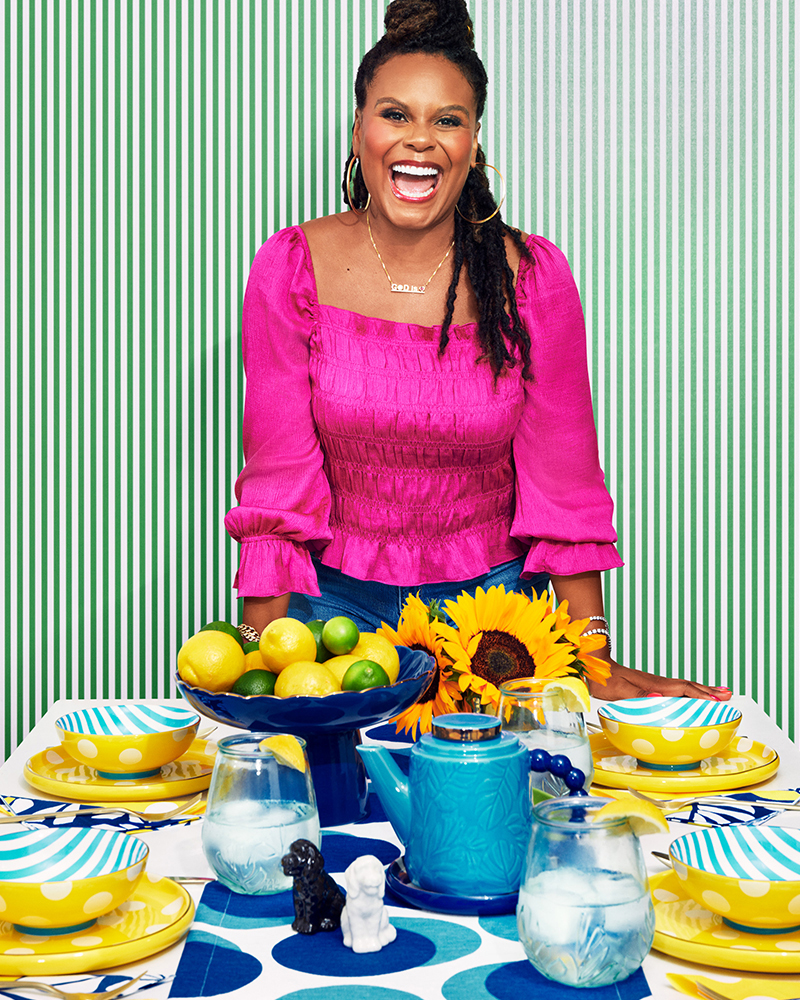 Target
The collection is rounded out with spreadables such as cilantro aioli, garlic spread, and cream cheese (in garlic, caramelized onion, and strawberry varieties); snacks such as hummus, mixed nuts, and popcorn; and three wellness-focused teas.
And a food collection from Brown would not be complete without pickles and at Target, shoppers will find pickled okra in lemon and garlic flavors.
"I want to encourage y'all to be more intentional with what you feed your body so you can go on and shine your way," Brown said. "Set your table, set your intentions."
Brown will tour Los Angeles from January 8 to January 13 in a "Taste and Believe" food truck, handing out food samples from her new line with Target.
Brown's collection—which also includes recipes that help shoppers use the vegan items—bolsters Target's existing vegan food offerings, which include items under its own in-house Favorite Day and Good & Gather brands.
Tab's time at Target
Brown has been an influencer partner at Target for more than two years and has worked with the retailer to develop four limited-time collections that span many categories. Last year, Target dropped the first collection which focused on colorful and inspiring apparel and swimwear, which Brown and her family and friends modeled at a summer fashion show.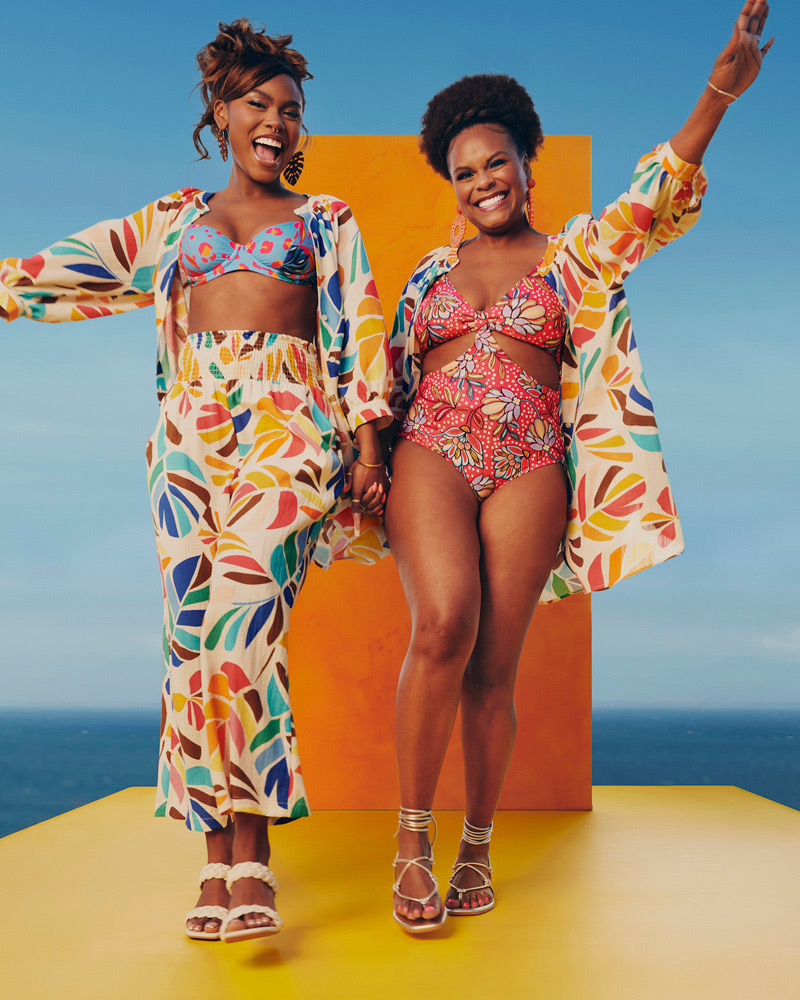 Target
"As a small-town girl, I grew up with big dreams and now, those dreams have become a reality. Target made me feel seen and created a safe space where I could be my authentic self," Brown said in a statement at the time. "To me, joy comes from freedom, and I was free to be myself during this entire design process, which is reflected in the assortment."
"I hope my collections bring Target guests joy, love, and optimism to their everyday lives," she said."
In August 2021, the second Target collection hit stores with an assortment of stationery, office organization essentials, wall décor and accents, furniture, giftables, and pet items. Brown's fourth and final Target collection is expected to launch sometime later this year.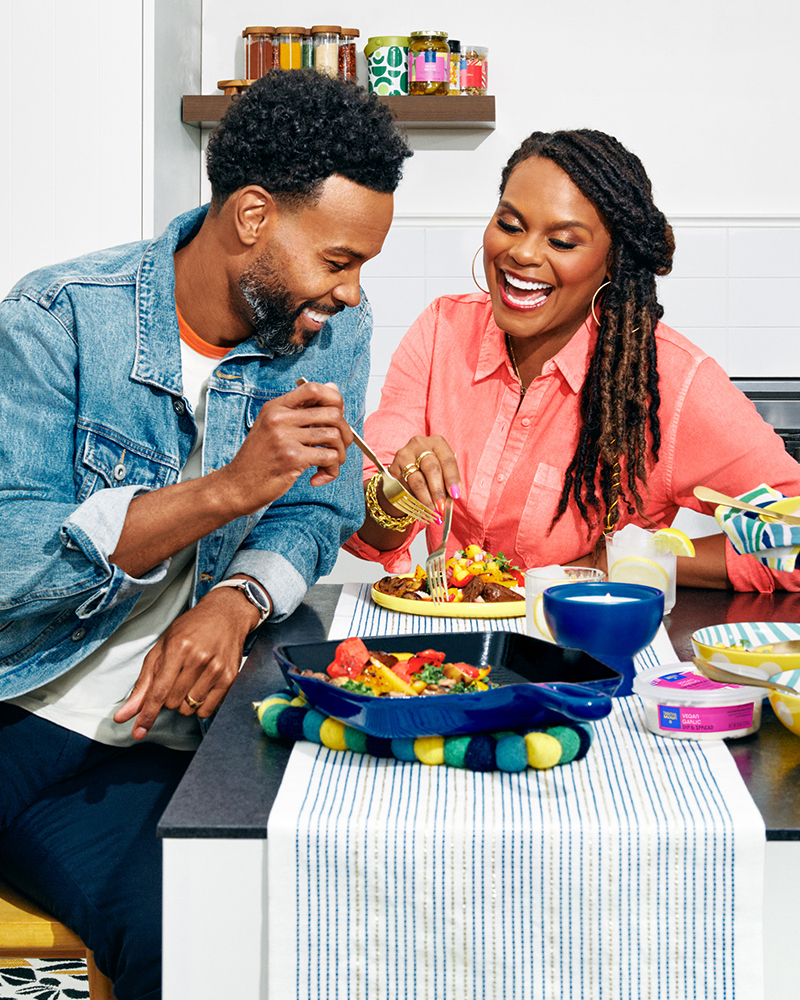 Target
Brown recently celebrated her five year anniversary of going vegan, a move that helped her regain her health. The actress has shared her journey with millions of fans and her positive influence extends beyond Target in many ways. Most recently, Brown was nominated for two Emmys for her YouTube Original children's series Tab Time; her vegan haircare brand Donna's Recipe launched at Ulta stores; and both of Brown's books—Feeding the Soul and Cooking from the Spirit—became New York Times best sellers.
For the latest vegan news, read:
Editor's note: The Target Felt Oval Trivet (a kitchenware item made from wool) that was initially included in the Tabitha Brown Target collection has been removed, Brown confirmed to VegNews. The wool trivet was included in the collection by mistake and should have been made from animal-free materials. Upon learning about its inclusion, Brown worked closely with Target to remove the wool trivet from the collection.