This fall, Season 2 of children's show Tab Time—starring vegan actress and influencer Tabitha Brown—will premiere on YouTube. Known as "Ms. Tab" by the children on the show, Brown taps into her natural capabilities as a cook, storyteller, mother, and motivational speaker to teach children how to live their best life. It is geared for children three to five years old, but has attracted fans in every age group.
The first season of Tab Time premiered on Brown's YouTube channel and the YouTube Kids app on December 1, 2021. Each episode features a celebrity guest as a "Super Cool Expert" in Tab's Lab and two children who join for craft activities that kids can also do at home. Brown also educates children about healthy eating with fun plant-based snacks. "I intentionally make every snack creative and fun using fruits and veggies with the hopes that kids will fall in love with healthy snack options," Brown told VegNews.
The new season of Tab Time is part of the many original series slated for production as part of YouTube's previously announced $100 million fund earmarked for kids, family, and educational content. Season 2 of the YouTube original series will include 10 episodes. The 22-minute long episodes will be released every week on the Tabitha Brown YouTube page and the YouTube Kids App.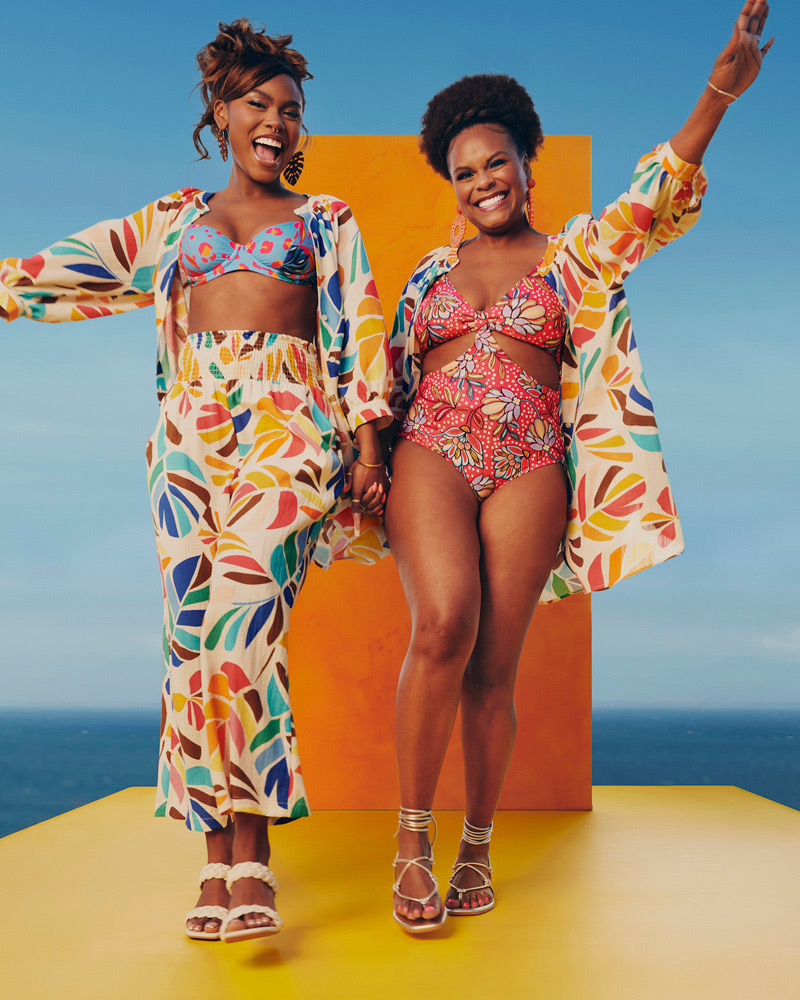 Target
Tabitha Brown at Target
Additionally, retail giant Target announced an expanded partnership with Brown for four limited-time-only collections that will launch over the next year. The collections span product categories and include apparel, swim and accessories, home and office, food and kitchenware, entertainment, and more.
On June 11, customers can shop the first Tabitha Brown for Target collection of more than 75 apparel, swim, and accessories items in bright hues and bold patterns that are easy to mix and match—with most items under $30—on Target.com and in most Target stores, while supplies last. The collection will also be available via Target's contactless same-day pickup options, Drive Up, and Order Pickup.
The second collection, available August 6, is all about home and includes stationery, office organization essentials, wall décor and accents, furniture, giftables, and pet items. While the first apparel and accessories collection included Brown's daughter in the campaign, this second collection features the Brown family dog, Blackie, who is modelled in bookends, photo prints, and for the pet items. Similarly, the collection includes bright hues and bold patterns and most items are under $30.
The new collections are a progression of Target's existing relationship with Brown, who has been an influencer partner with the retail giant for two years, inspiring Target guests and team members with her joyful words of encouragement.
"As a small-town girl, I grew up with big dreams and now, those dreams have become a reality," Brown said in a statement. "Target made me feel seen and created a safe space where I could be my authentic self. To me, joy comes from freedom, and I was free to be myself during this entire design process, which is reflected in the assortment. I hope my collections bring Target guests joy, love, and optimism to their everyday lives."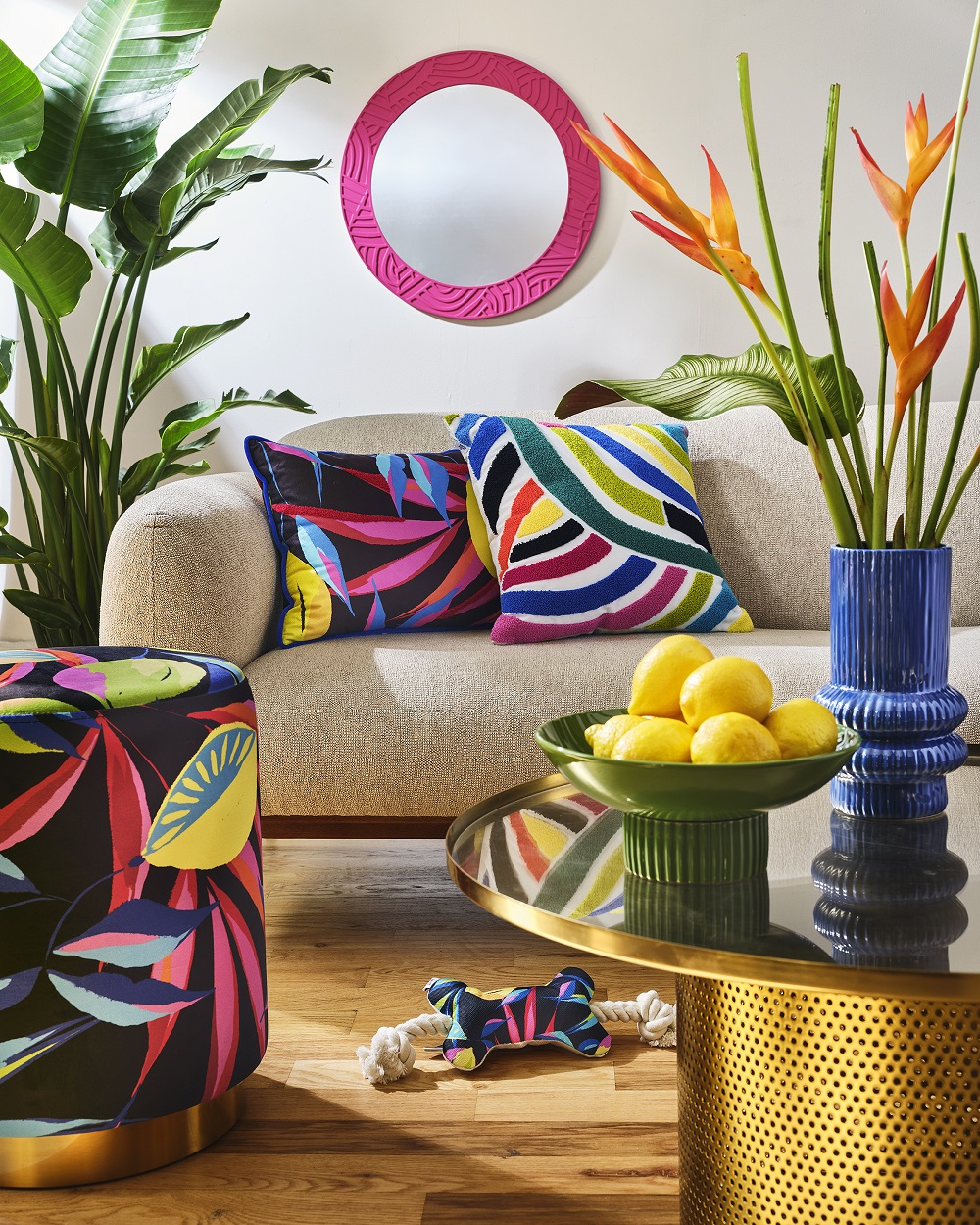 Target
Tabitha Brown is unstoppable
In 2017, Brown decided to go vegan after watching the documentary What the Health to combat her struggle with chronic pain. And in 2018, she became a viral sensation after posting a video of herself eating a Smoky TTLA sandwich—a vegan BLT made with tempeh, tomato, lettuce, avocado, and Brown's addition of a pickle—she bought from a Whole Foods Market deli counter.
Since then, Brown has become a sensation on TikTok—and just about everywhere else—and is known as "America's mom" because of her cheerful, uplifting content. Her viral video content has earned her the title of one of TikTok's top 10 creators in 2020 and has amassed a loyal following of nearly five million. Last year, Brown nabbed the NAACP Image Award for Outstanding Social Media Personality for her creative recipes, compassionate messaging, and for helping make the vegan lifestyle easy, accessible, and inclusive. Last month, Brown was also voted Favorite Vegan Celebrity by VegNews readers in the 2022 VegNews Veggie Awards.
In addition to starring in the Tab Time YouTube show, Brown also has a recurring role on Showtime's The Chi, co-owns a vegan restaurant, and authored her first book, Feeding the Soul, among many other projects.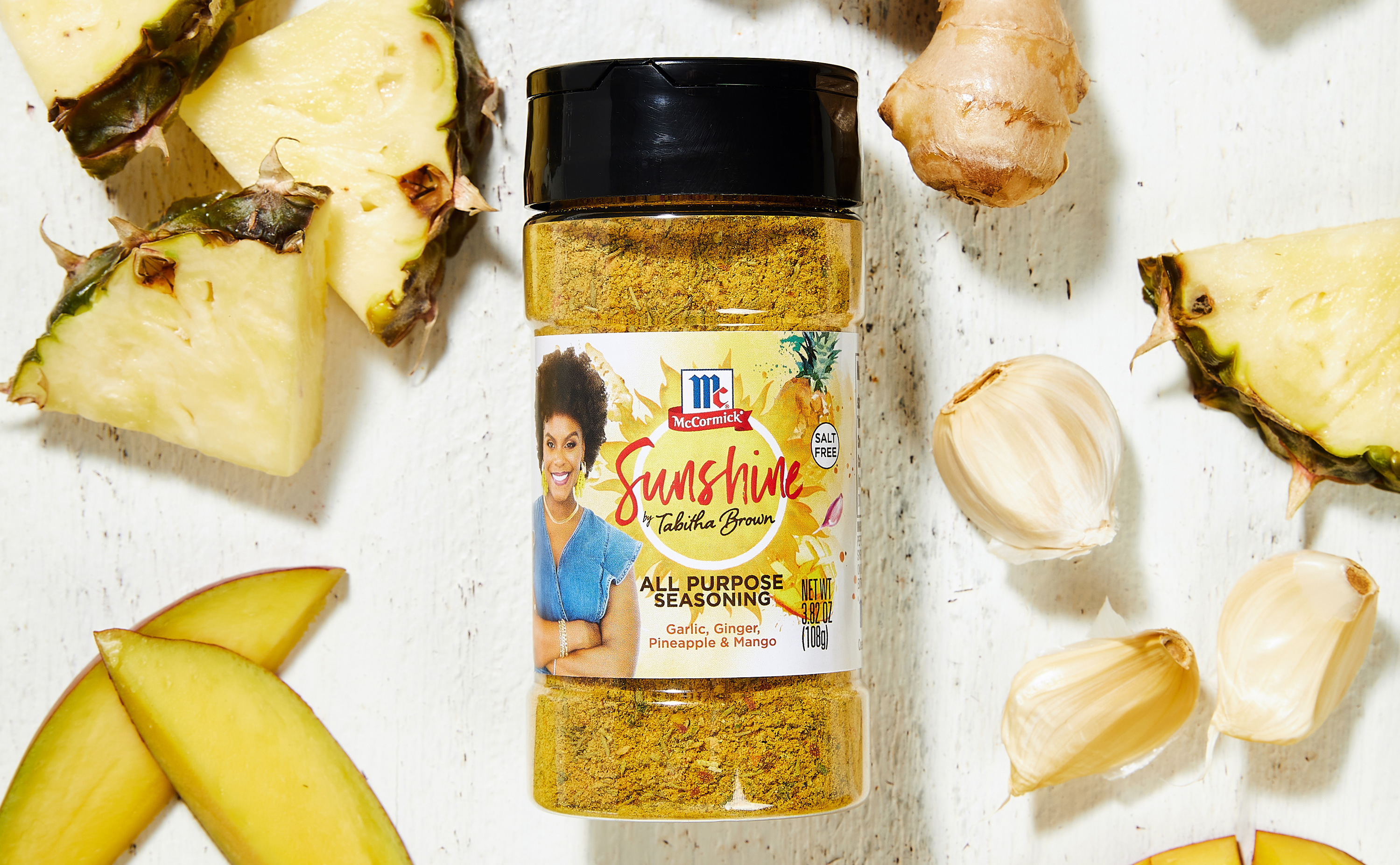 McCormick
Next month, Brown's best-selling Sunshine Seasoning blend made in partnership with McCormick will expand to supermarkets across the country. The salt-free, Caribbean-inspired spice mix, includes her go-to garlic powder, along with ginger, allspice, thyme, turmeric, cayenne pepper, and mango and pineapple. After a wildly successful online launch last year—where it sold out within 39 minutes—Brown is expanding the limited-edition seasoning for the first time to reach more consumers.
"It's everyone's business to get their hands on some Sunshine Seasoning. After seeing the reaction from consumers last year and selling out online in under an hour, I'm thrilled we're getting it on shelves across the country," Brown told VegNews. "Sunshine Seasoning brings just the right amount of flavor, especially for my fellow vegans and vegetarians, and is the perfect addition for any summertime dish."
For more about Tabitha Brown, read:
Why Tabitha Brown Never Loses Sight of Her Faith, Family, or Why She's Vegan
Tabitha Brown Hits 1 Million TikTok Followers in Less Than a Month
Tabitha Brown Partners With Veganuary to Help Everyone Go Vegan