If you're slated to get married and love Slutty Vegan, owner Pinky Cole has just the thing.
Today, Cole officiated the first wedding at Slutty Vegan's Edgewood location in Georgia between superfans Joyce Glaize and James Boozer. The couple met 40 years ago at work and recently rekindled their love, which was just punctuated by a fun-filled wedding at Slutty Vegan.
The special day was supported by a collection of businesses and individuals hand-selected by Slutty Vegan, including Events by Mesita, Clea Murray Designer, DJ Ace Star, Designer Bee Events, Rich Off Diamonds, Sam & Izzy's Sweets, and more.
Slutty Vegan
Galize and Boozer's wedding included musical entertainment from saxophonist Trey Daniels and JaTavia Akiaa, winners of Slutty Vegan's wedding singer competition on social media.
"Slutty Vegan knows how to party, and we're going to do just that," Cole said in a statement. "It's beautiful to see the community join us in making this day magical for our bride and groom."
The best part of a Slutty Vegan wedding? It featured some creative extras such as a flower girl tossing fries and a photoshoot of the newlyweds in front of the company's famed food truck.
Galize and Boozer were chosen for the first Slutty Vegan wedding from hundreds of people who applied to "sluttify" their wedding after the chain put out a call for adventurous couples.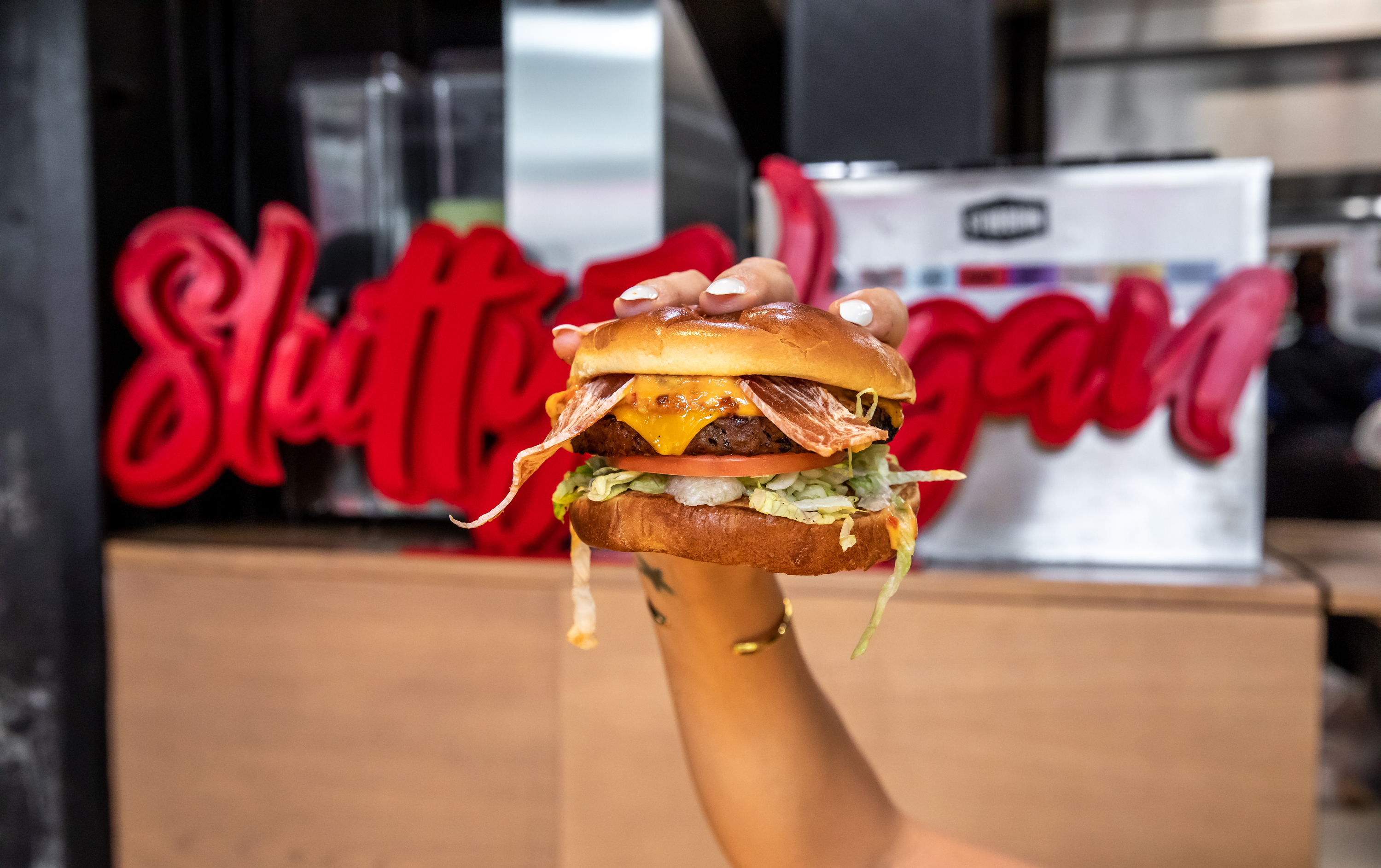 Madelynne Boykin
Cole herself is engaged to fellow restauranter Derrick Hayes and the couple is planning to wed this year. Will it be at a Slutty Vegan location? Will superfans Snoop Dogg or Jermaine Dupri or Queen Latifah officiate? We can only hope.
Pinky Cole takes Slutty Vegan to BET
Officiating weddings is the latest venture Cole can file under her impressive list of achievements, which also includes rapping at this year's BET Hip Hop Awards.
The awards were full of exciting highlights ranging from Latto's Song of the Year win to a live performance by host Fat Joe backed by the electric Clark Atlanta University (CAU) Marching Band. One surprise that few expected was a guest appearance by Cole, who was there to show the world that her talents go beyond crafting vegan burgers and running a booming business.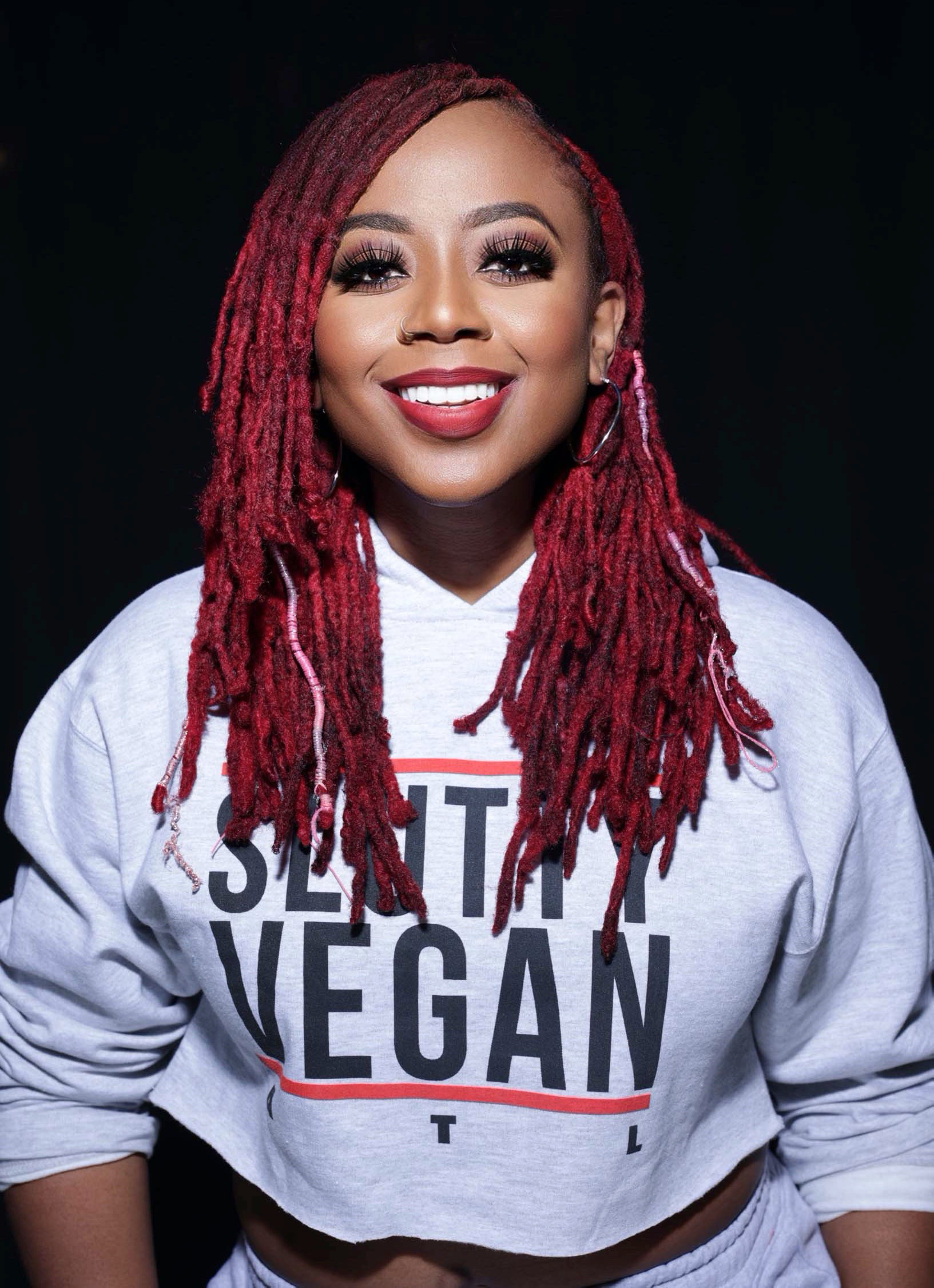 Sterling Pics
The Baltimore-born entrepreneur made an appearance on the show—which was filmed in Atlanta—in the freestyle booth to deliver a message about Slutty Vegan. "Allow me to meet and greet y'all. ATL, Atlanta, out of B-More," she rapped. "One hundred million out the dirt like the plants I feed y'all."
Through the lyrics, Cole pointed to the work she does through her Pinky Cole Foundation to help build generational wealth for communities of color, including gifting LLCs to this year's graduating class at CAU, her alma mater.
"Biggie looking over my shoulder, that's gold energy," Cole rapped. "You thought I was selling food? Giving back is a must. Saving lives is important to us. We buy the block, then we level it up."
The 35-year-old delivered lines that cleverly used the names of burgers on Slutty Vegan's menu to speak about growing her family with Hayes. "I worked him like a Dancehall Queen and now he loves me," she rapped.
Cole ended her BET appearance with a surprise announcement. "Slutty Vegan scalin' now," she rapped. "Harlem, world, coming soon."
Slutty Vegan takes on New York City
Cole started Slutty Vegan as a food truck in Atlanta in 2018 and has expanded the business to great heights, with new locations spreading throughout Georgia and beyond fueled by a $25 million investment Cole raised last summer.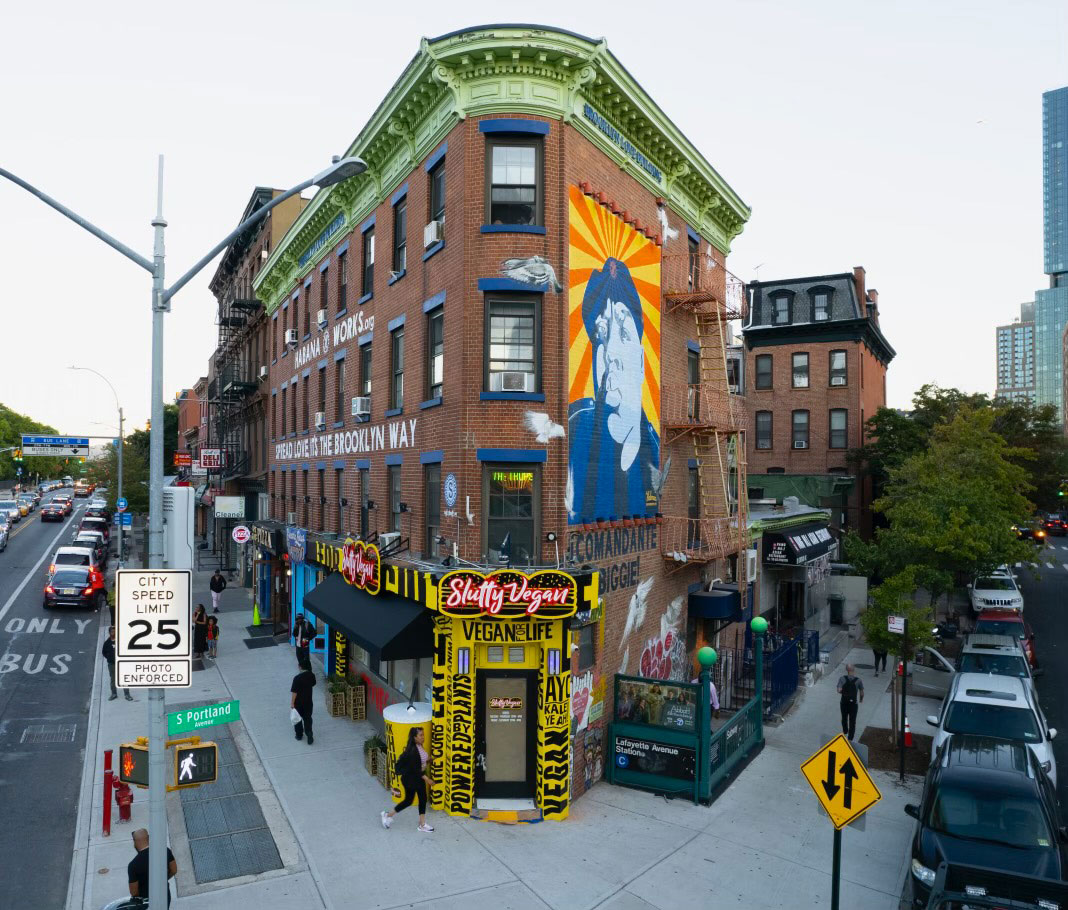 Slutty Vegan
And Biggie is actually looking over Cole's shoulder because Slutty Vegan's first NYC outpost in Brooklyn's Fort Greene neighborhood—where a large-scale mural of the late musical artist is painted on an exterior wall—opened last year with a block party of epic proportions.
Here, a massive crowd of people, many of whom camped out early to get a taste at Slutty Vegan's grand opening, partied alongside balloons, bouncy houses, live music, and Cole herself—an event Eater NY called "sexy meatless chaos."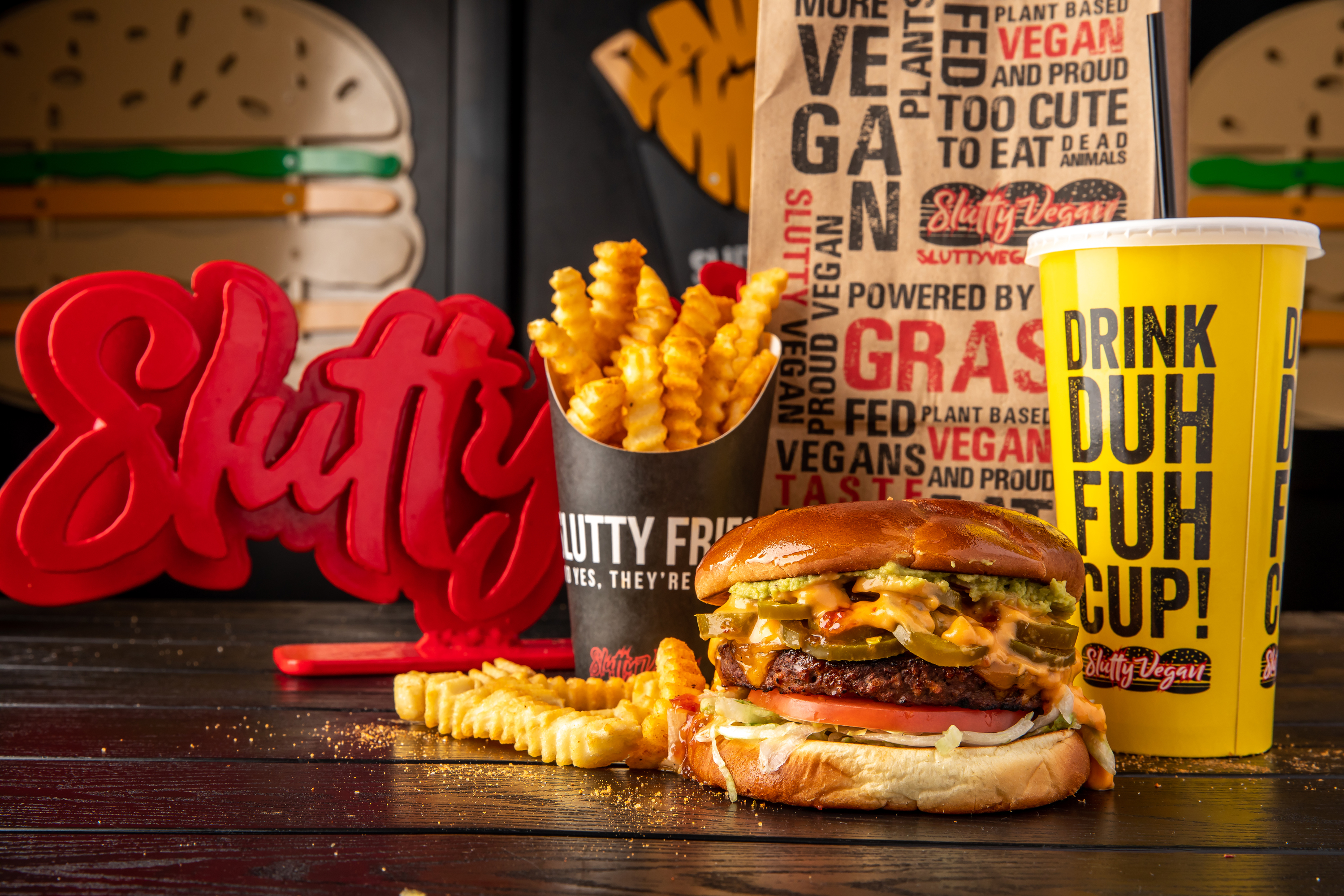 Madelynne Boykin
On the heels of her first NYC outpost, as Cole teased in her BET performance, the entrepreneur is already looking to expand to Harlem next month. This NYC neighborhood carries special meaning for Cole as it is where she first got into the restaurant business with a Jamaican American restaurant that was informed by her heritage. Unfortunately, Cole lost the restaurant to a devastating fire in 2016.
With this outpost of Slutty Vegan, Cole will make a triumphant homecoming to the neighborhood, bringing with her a message of perseverance and a menu filled with playful and provocative vegan burgers such as the Sloppy Toppy, One Night Stand, Fussy Hussy, and Heaux Boy (pictured).
"This is a full circle moment for me," Cole said.
"I had a restaurant a few blocks away that was destroyed in a grease fire," Cole said in a statement. "To come back to the place that helped me get started is such a big deal for the realization of my dream, and this quite frankly is my redemption story."
In addition to the new NYC locations, Slutty Vegan is expanding to an on-campus outpost at Georgia Tech, working on its first drive-thru, and eyeing additional locations for its popular vegan business.
The Slutty Vegan empire
When she's not making beats or burgers, Cole is growing her Slutty Vegan empire in other ways. Last summer, Slutty Vegan partnered with Steve Madden on reimagined versions of the footwear brand's classic POSSESSION sneakers and BSETTITUP bag styles made with entirely vegan materials and accented with the burger chain's vibrant color palette.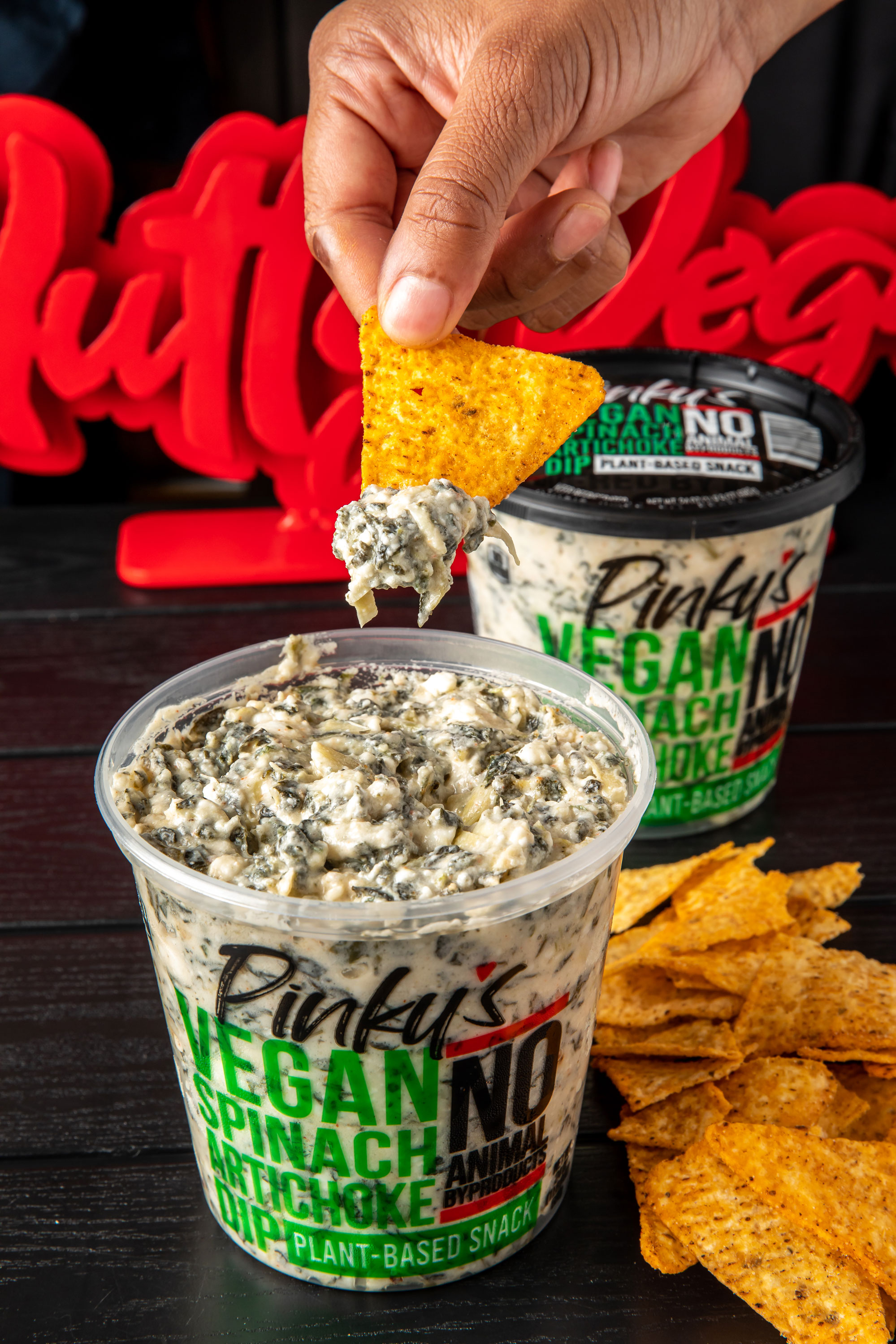 At Costco in the Southwest and Midwest regions, the debut Vegan Spinach Artichoke flavor of Pinky's Dips has been flying off shelves with additional flavors in the works.
Amid all the commotion, Cole found time to do a photoshoot with her children, baby DJ and toddler D Ella. The trio recently appeared in a food justice campaign for PETA that urges the government to redirect subsidies for animal products to low-income areas so that they can have access to fresh produce.
"I want my children to understand that you can live a cruelty-free lifestyle and it can taste good," Cole said during the campaign.
"I'm very mindful of the food that I consume, and I'm also mindful of the food I'm gonna give my children," she said. "And I'm excited that they get the opportunity to grow up this way."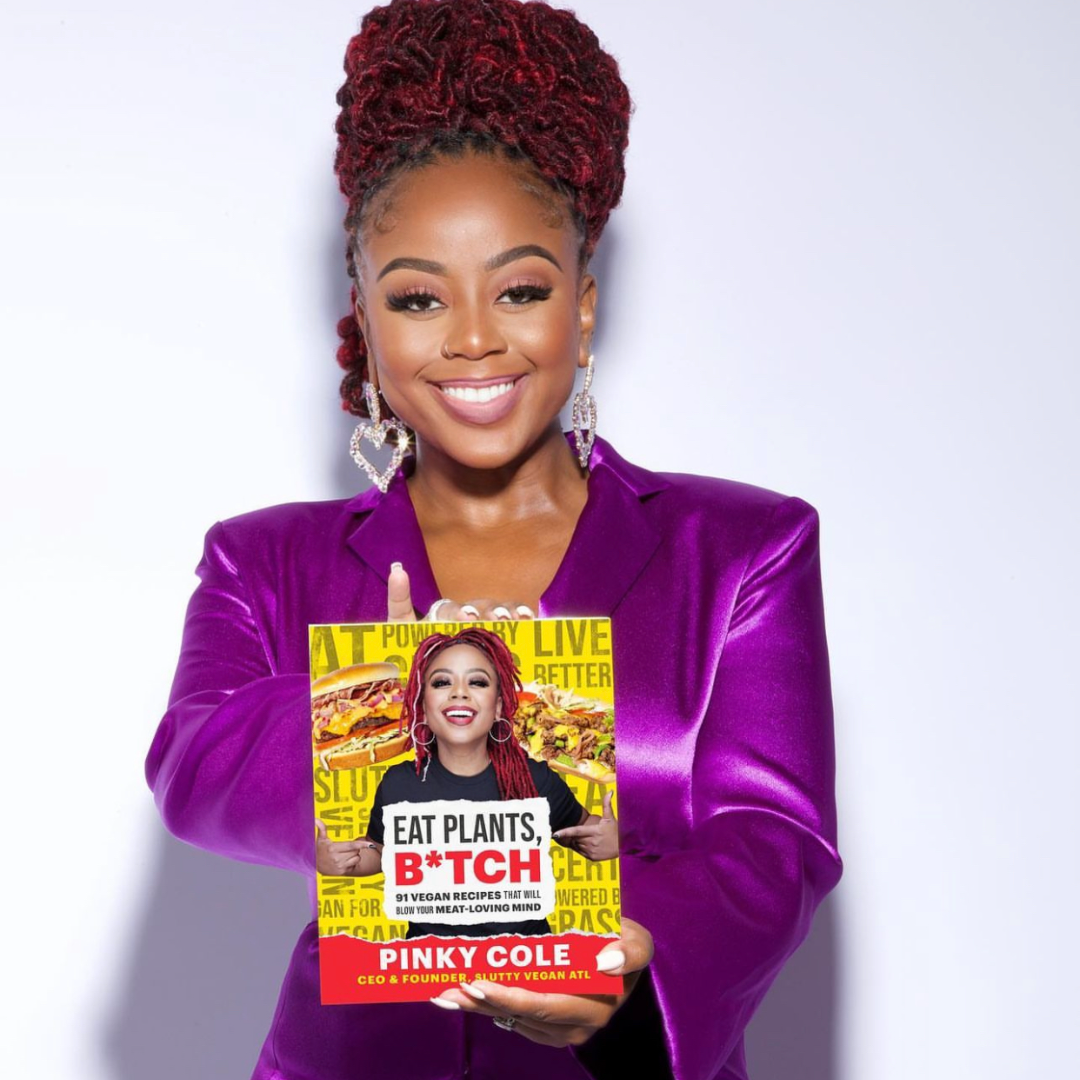 Pinky Cole
Cole recently released her first book Eat Plants, B*tch which is up for an NAACP Image Award for Outstanding Literary Work (winners will be announced on February 25).
And as her empire grows, Cole is always working to help others succeed through her nonprofit, under which she and Hayes recently spearheaded Square 1: The Liife Experience, an initiative to provide life insurance policies to 25,000 Black men by December 2023.
For the latest vegan news, read: