It seems that every week in the world of vegan food news is more exciting than the last and this week is no exception. There's a hot honey special at Colorado vegan chain Meta Burger (and it doesn't hurt bees). Cajú Love's vegan meat—made from upcycled cashew apples—is hitting select stores this week. And the United Kingdom is getting brand new vegan Starburst candies. Read on for more.
1Hot honey chicken at Meta Burger
A February special at plant-based burger chain Meta Burger is creating quite a buzz. That's because the restaurant is serving Hot Honey Garlic Chicken Tenders, a vegan version of the popular savory and sweet dish.
Wait, isn't honey not considered vegan? The kind that comes from bees is decidedly not vegan but this honey is made by MeliBio, which uses technology, not insects, to produce the sweet nectar.
Meta Burger created three menu items with MeliBio's vegan honey: Hot Honey Garlic Chicken Tenders, Honey Sesame Burger, and a Honey BBQ Chicken Sandwich. The item that won the most votes landed on the chain's menu for the month of February.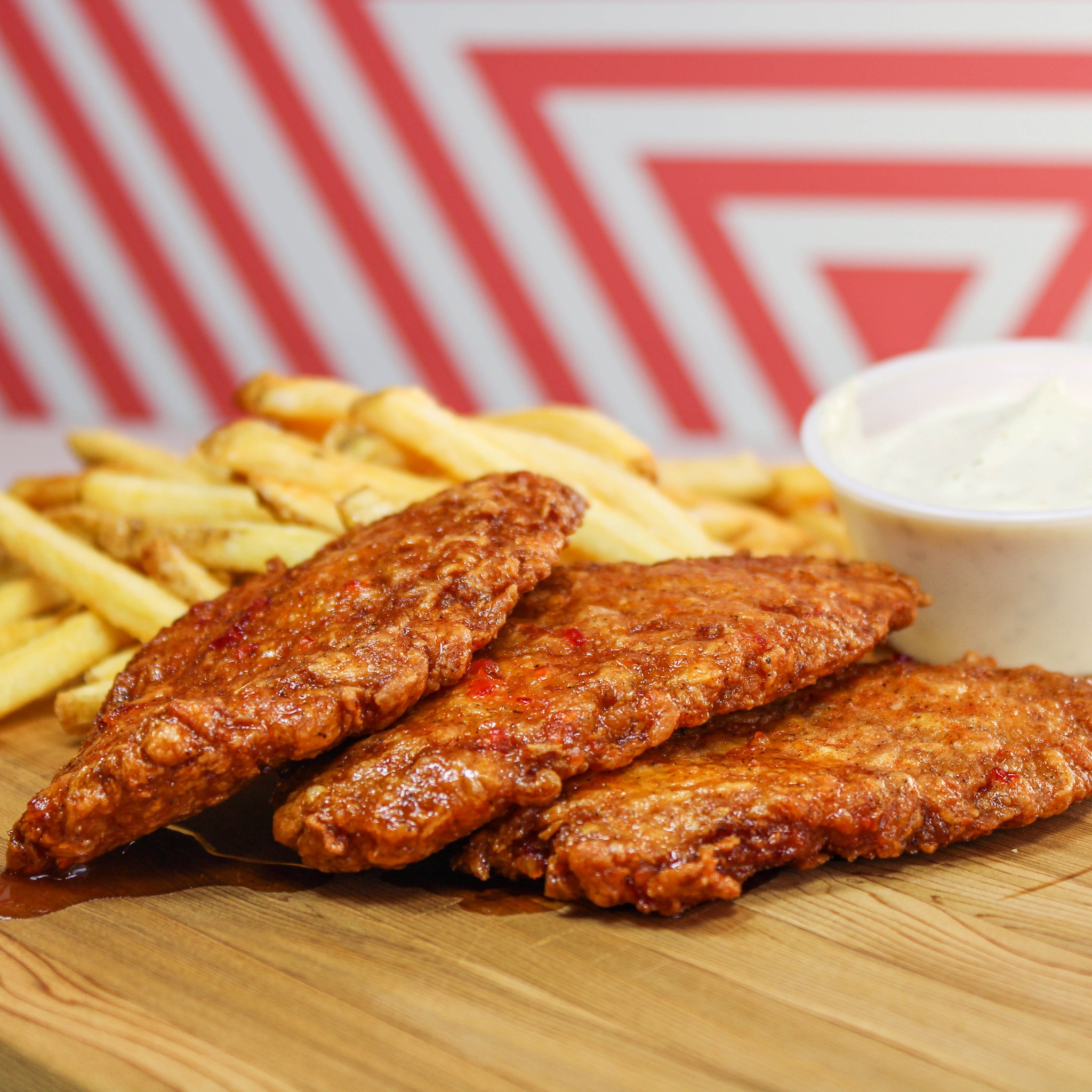 Meta Burger
"Meta Burger is making delicious, sustainable food more accessible," Michael Reeves, co-founder of Meta Burger, said in a statement. "Partnering with a company that's created a sustainable, vegan honey option aligns with our mission and will bring our February Special to the next level."
The Hot Honey Garlic Chicken Tenders special is available now at all three Meta Burger locations in Colorado.
2Cashew meat hits stores
From dairy-free milk to aged vegan cheese, cashews are a delicious nut that pull double-duty as bases for many alternatives to animal products. As it turns out, cashew apples (the fruit around the nut) can also serve as the base for vegan meat, according to Cajú Love—a company that turns the would-be-wasted portion of the cashew plant into meaty vegan products.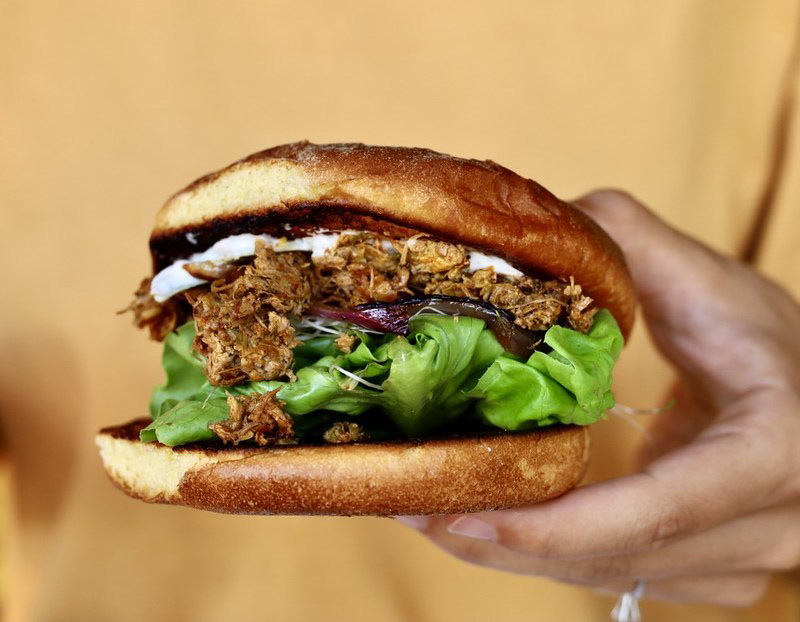 Cajú Love
"Cashew fruit meat has the potential to feed a growing population without putting pressure on the environment," Alana Lima, founder of Cajú Love, said in a statement. "Cajú Love has been a pioneer in the upcycled food movement by creating a new plant-based staple from upcycled cashew fruits."
"We have built a new supply chain system to upcycle cashew apples that helps conserve energy in food production, reduce food waste, soil exploitation, and water usage, and provides an additional income stream for local farmers," Lima said.
Want to give cashew meat a try? You're in luck because this week, the company announced its official retail launch at select retailers: BESTIES Vegan Paradise in Los Angeles; Food Fight! Grocery in Portland; Orchard Grocer, New York, and on Amazon.
Since its launch in 2021, Cajú Love has upcycled more than 105,000 cashew apples—2.2 million tons of which are wasted in Brazil's cashew industry alone.
3Vegan pulled pork and chicken
In more meaty vegan news, China's Haofoods is making some moves with its unique products. The company uses peanuts as a base for its plant-based chicken which it just launched in a new format: Carefree Pulled Chickless in Original, Xinjiang Spices, and Salt & Pepper flavors.
Haofood
The product was developed in response to consumer studies that pointed to taste, the presence of additives in product ingredients, and cost as the three main obstacles to consumers incorporating plant-based meats into their daily diets.
"Clean-label products will be more favorable for consumers, as one of the main reasons to choose plant-based products are for the health benefits," Astrid Prajogo, Founder & CEO of Haofood, said in a statement. "The consumer demands for the assurance that they are eating the healthiest and safest food product, and at the same time that it is less harmful to the planet."
"Carefree Pulled Chickless is healthy and delicious—using simpler and plant-based ingredients produced with our know-how that enables us to create great texture and taste at the same time," Prajogo said.
The new vegan pulled chicken is rolling out to restaurant menus in China, including plant-based fast-food restaurant 2060 at Wanda Mall in Shanghai.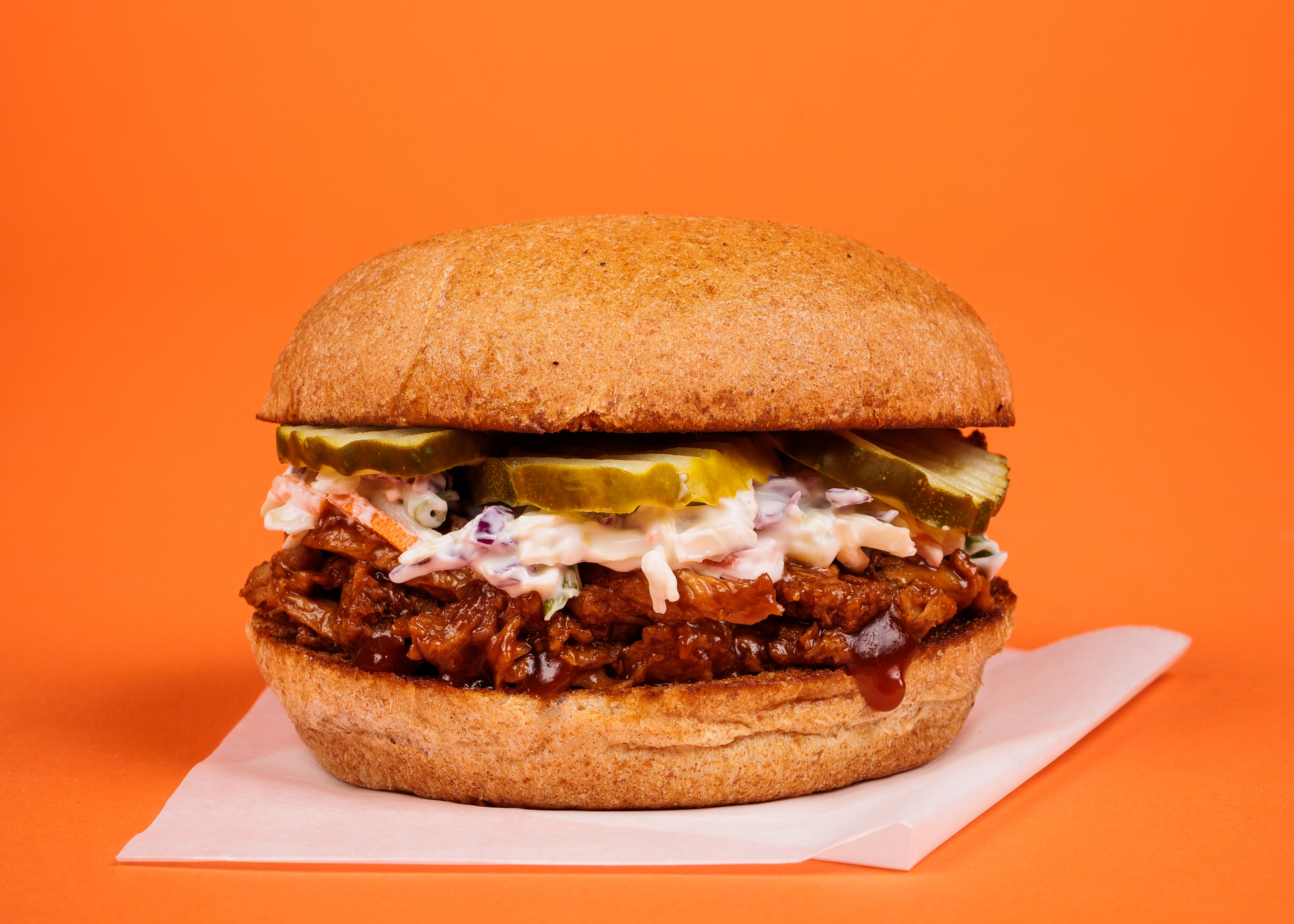 Native Foods
Not in China? If "pulled" vegan meat sounds intriguing, there's still time to try Native Food's February special. The BBQ Pulled Pork Sandwich features plant-based pulled pork, barbecue sauce, Southern coleslaw, and sliced pickles, all served on a toasted hamburger bun.
Get it at Native Foods in Chicago, IL; Denver, CO; Boulder, CO; Los Angeles, CA; Orange County, CA; Palm Springs, CA; and San Diego, CA.
4Vegan yogurt for all
Vegan yogurt options are just about everywhere but we'll never say no to something new. This week, Montana-based vegan dairy company WayFare launched a new line of yogurts at 100 Jewel Osco stores in Illinois, Iowa, and Indiana. The new yogurts are free from the top nine allergens and are available in 4.8-ounce tubs in Plain, Raspberry, and Strawberry flavors.
"Our family-owned small business is thrilled to be found at Jewel Osco locations, helping us to further our consumer reach and partnering with an outstanding grocer," WayFare Founder Kelly Coffin said in a statement.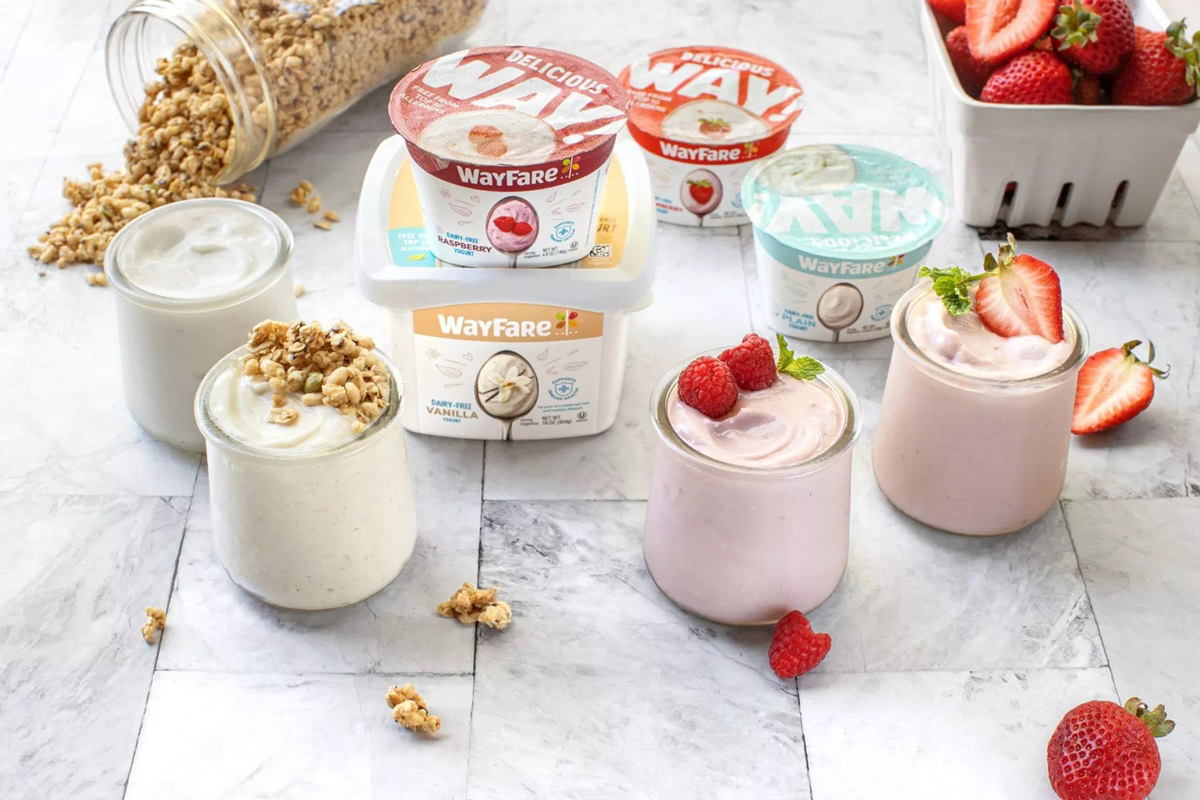 WayFare
The new yogurts are made with wholesome (and interesting) ingredients such as butter beans, oats, and pumpkin seeds to deliver nutrition with a creamy texture and taste.
"WayFare is committed to offering favorite family staples for those who have adopted a plant-based lifestyle or are looking to reduce their meat and dairy consumption," he said. "A great place to start is with our super creamy yogurts that are deliciously amazing. This is next-level vegan yogurt."
5Starburst fruit squares
While not every market is so lucky, Starburst candies in the United Kingdom do not contain gelatin. And this month, Brits get even more fun candy to rave about. That's because parent company Mars Wrigley UK is launching two new Starburst Fruit Squares varieties: Fruit Mix (apple, strawberry, blackcurrant, and orange) and Tropical Mix (pineapple, mango, passionfruit, and lemon).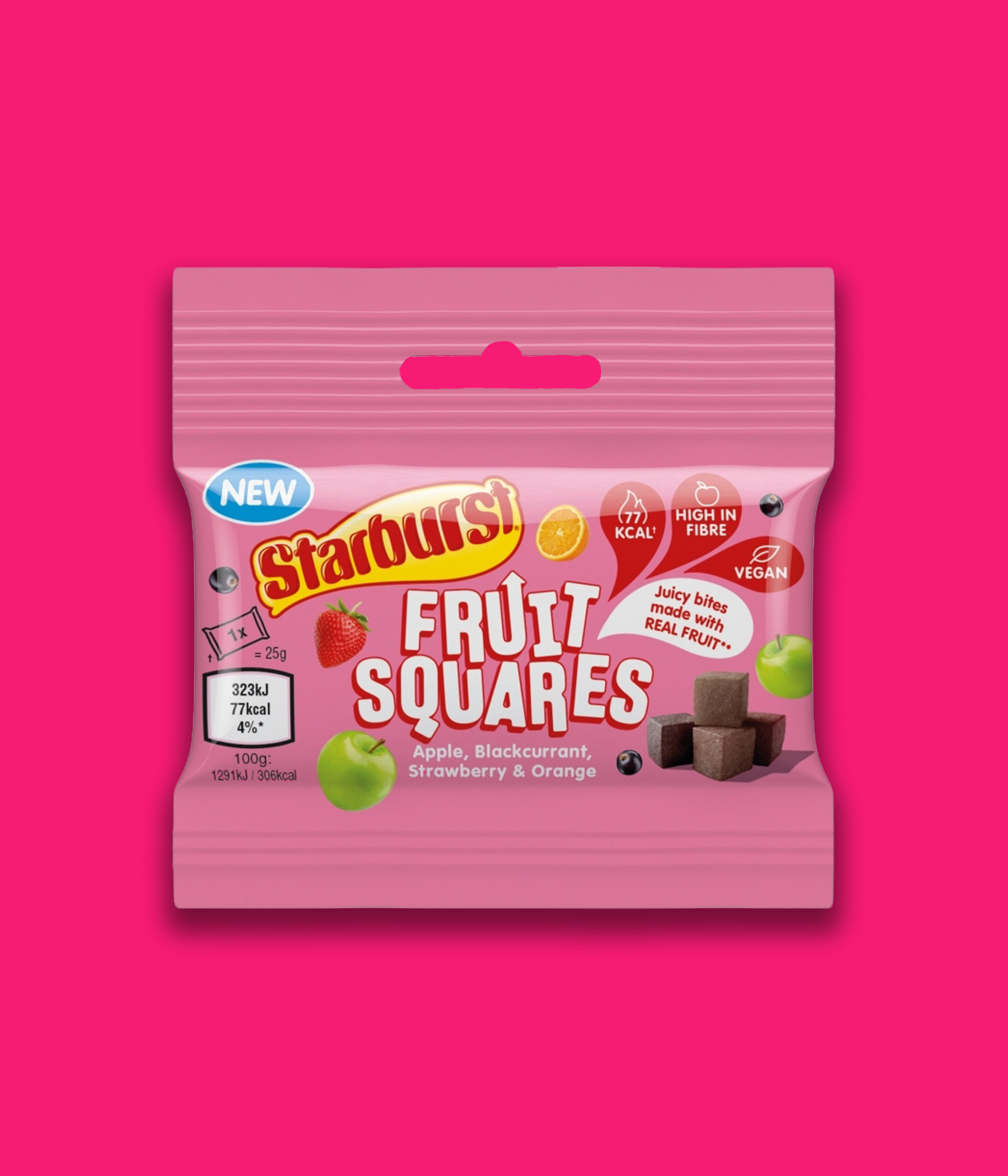 Mars Wrigley
The candies are made with 80-percent fruit pureé, are high in fiber, and represent the company's first HFSS-complaint treat—meaning they follow regulations that indicate they are not "high in fat, salt, or sugar" (HFSS).
"We know that the expectations of us and the industry to help consumers enjoy our products as part of a healthy and balanced diet are high, and we are committed to stepping up to meet the challenge," Kerry Cavanaugh, Mars Wrigley UK Business Unit Director, said in a statement.
"Innovation has always been at the forefront of our approach, and our teams have been working hard to create better-for-you alternatives that don't sacrifice on the great taste we're known for," Cavanaugh said.
The new Starburst products will be available at Morrisons stores in the UK starting February 27. Hey, Starburst US, can we just have the pink flavor without gelatin, please?
For the latest vegan news, read: