It seems that every week in the world of vegan food news is more exciting than the last and this week is no exception. Spring is off to a great start at Veggie Grill, where Beyond Steak-stuffed sandwiches just hit the menu. Trader Joe's is making good on its promise to give use vegan seafood options with the launch of Vegan Poke (made with a root vegetable that's blowing our minds as a tuna alternative). And if you're craving a little more spice in your life, Heinz has three new ketchups just for you. Read on for more.
1Beyond Bánh Mì at Veggie Grill
Beyond Meat launched its plant-based steak in retail last year, inspiring many to recreate the meatiest of dishes such as fajitas, steak salads, and more. Now, the whole-cut vegan steak is giving Veggie Grill customers something new to crave.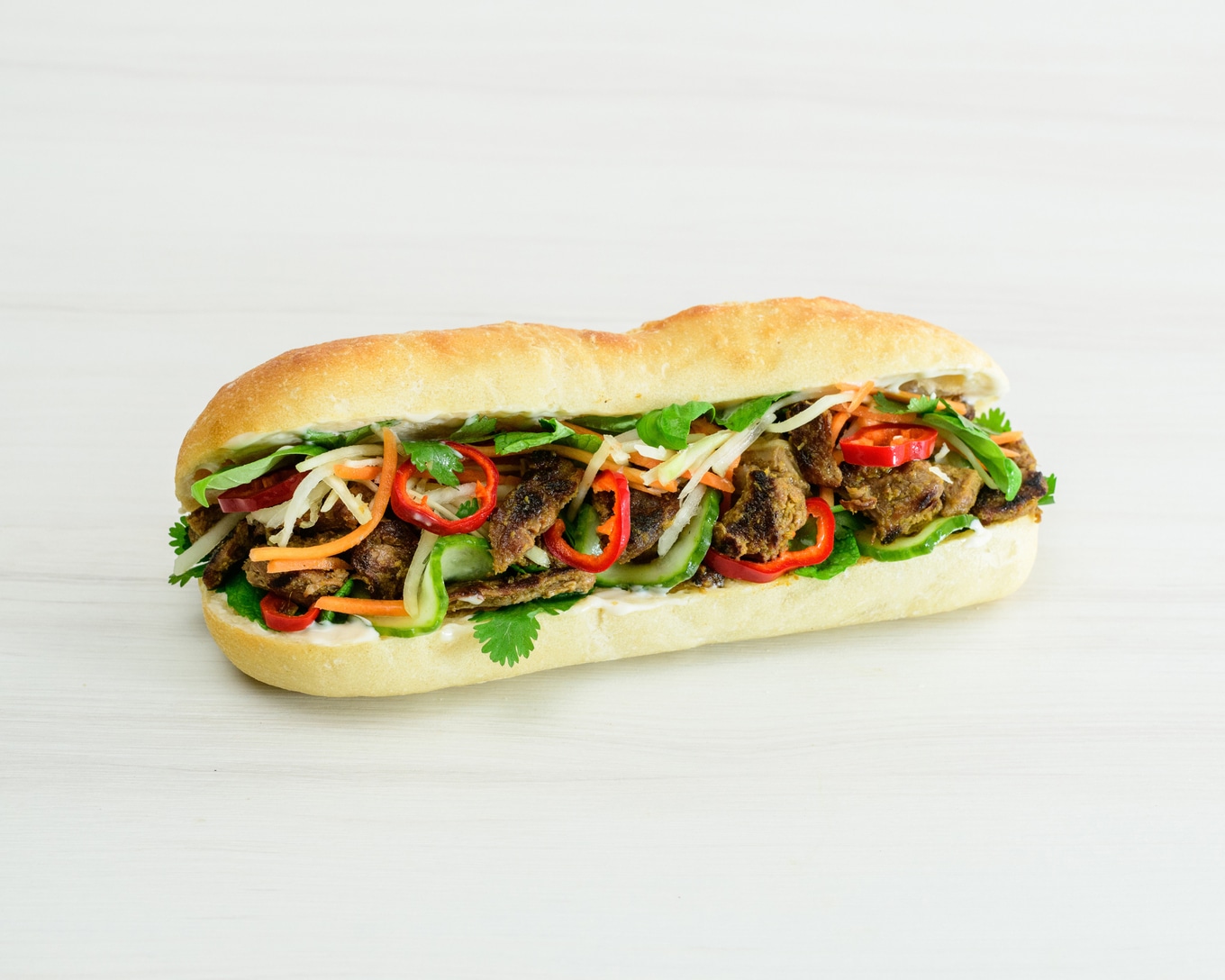 Veggie Grill
New Beyond Steak Bánh mì sandwiches just hit the menu at vegan fast-food chain Veggie Grill and we're living for these hearty handhelds. The new sandwich comes stuffed with Beyond Meat's juicy steak seared to perfection, alongside pickled vegetables, fresh herbs, spicy Fresno peppers, sweet and tangy bánh mì sauce, and dijonnaise, all sandwiched between a crispy French baguette.
"We are excited to partner with Beyond Meat on the launch of their amazing new steak product," Veggie Grill co-founder T.K. Pillan tells VegNews. "Our new Beyond Steak Bánh Mì takes the old vegan tofu Bánh Mì to a whole new level."
The new Beyond Steak-stuffed sandwiches are available at Veggie Grill locations nationwide, excluding outposts in New York City and at UCLA.
2Trader Joe's fish-free poke
Back in 2021, Trader Joe's insiders promised us some interesting vegan options in the seafood category and, honestly, they have not disappointed. If you haven't tried the Vegan Salmonesque spread yet, get to your local TJ's stat.
A brand new item in the plant-based seafood realm at Trader Joe's is the Vegan Poke. For the fish substitute, the chain surprisingly went with marinated beets—which deliver the texture necessary to pull off tuna without much of that soil-forward flavor typical to the root veggie.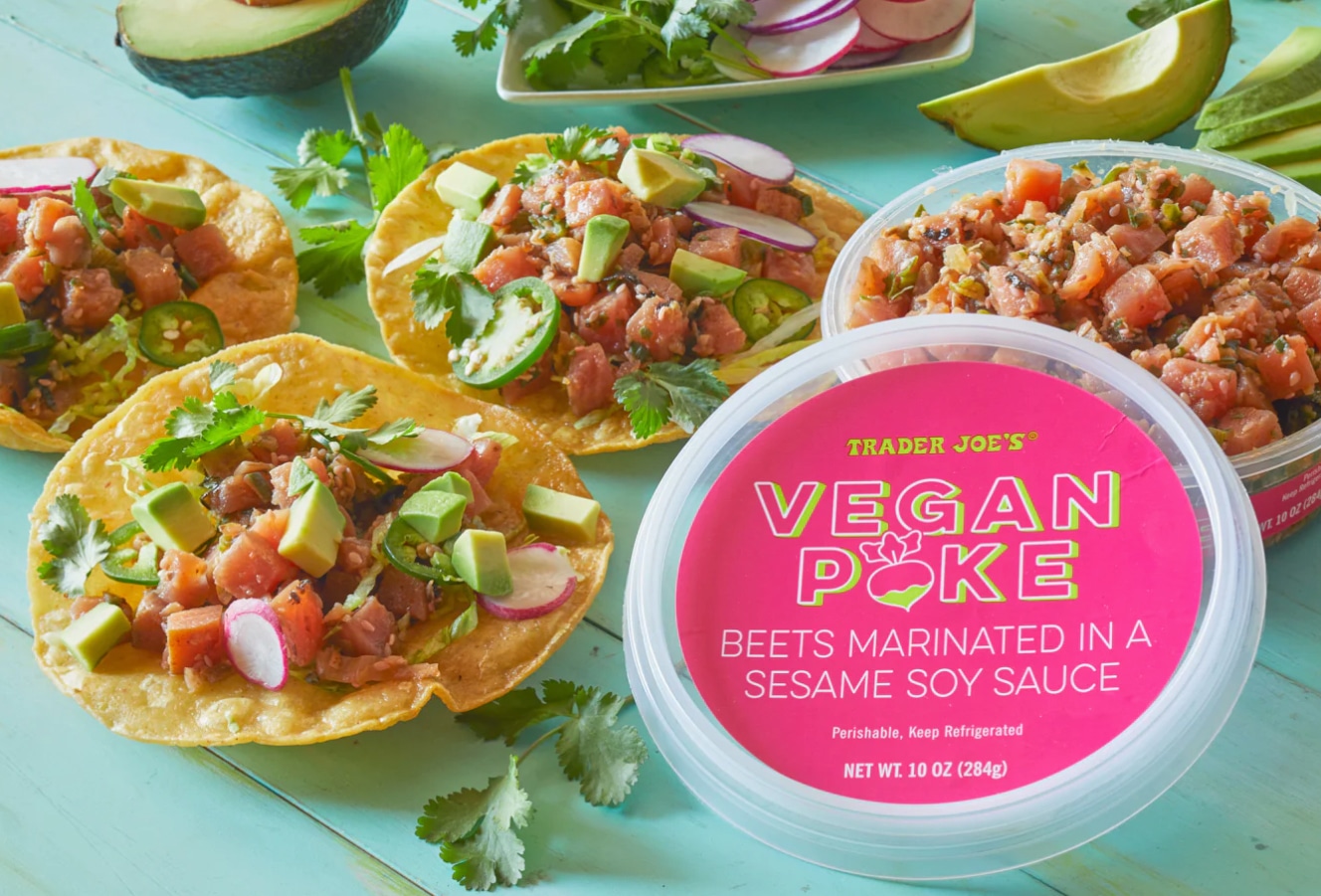 Trader Joe's
How did they do it? "As it turns out, roasted beets have a remarkably similar texture to sashimi-grade tuna, especially when marinated in a mixture of soy sauce and sesame oil—firm, yet delicate," Trader Joe's states on its website.
"So, that's how Trader Joe's Vegan Poke evokes the tender, toothsome texture and superbly saucy flavors of poke, while still maintaining an entirely plant-based ingredient deck," the description states.
Okay, Trader Joe's, we hear you and are left wondering what kind of fish you can make with turnips and radishes.
3Heinz turns up the heat
Heinz has been a go-to for classic ketchup for years—many, many years since it was first introduced in 1876. Now the company is stepping up its condiment game with three new spicy ketchups meant to turn the heat way up.
"We know consumers are hungry for a wider variety of spicy sauces and flavors, and as a consumer-obsessed brand at the forefront of food culture, we saw an exciting opportunity to innovate around our fans' evolving preferences," Lindsay Davis, Brand Manager, HEINZ Innovation at the Kraft Heinz Company, said in a statement.
Heinz
The new spicy ketchups are made from different pepper bases to give customers dynamic choices: Chipotle (medium), Jalapeño (hot), and Habanero (hotter). Heinz is also debuting a new hotsauce under its 57 Sauce line: HEINZ Hot 57 Sauce made with a twist of red jalapeño.
"Listening to insights gleaned from our audience showed us that a sauce's heat source really matters to them, which served as a north star in creating new products with curated and flavorful, pepper-specific bases," Davis said.
4Peatos dairy-free cheesy puffs
We became fans of vegan snack brand Peatos in 2022 when it decided to transition its entire line to be fully plant-based. After an investment from cereal brand Post, the brand is moving full force toward its mission competing with Frito-Lay in becoming a household name with vegan snacks that are full of flavor but devoid of junk.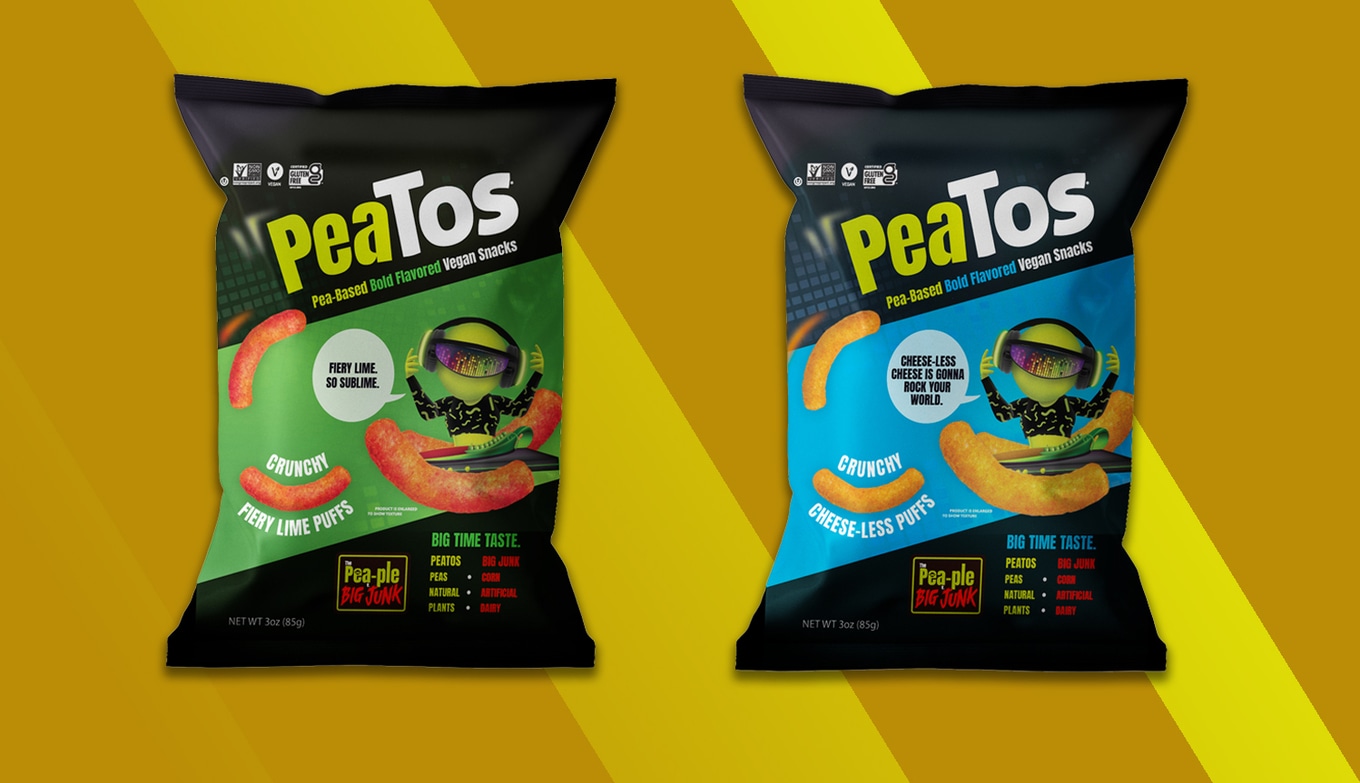 Peatos
This week, Peatos took another step in that direction with the launch of craveable puffs in two flavors: Crunchy Fiery Lime Puffs and Crunchy Cheese-less Puffs, which are rolling out to retailers this month and available online through the company website and Amazon.
"Snackers love PeaTos because they offer the same great taste and crunch of the classic snacks that America grew up on, but without all the scary artificial ingredients," Peatos founder Nick Desai said in a statement.
"With the launch of Peatos Puffs, we're giving snackers two more ways to enjoy the savory, finger-licking sensory experience of America's favorite snacks, but reimagined with better nutrition, and none of the junk." Desai said.
Peatos also offers other snacks such as Classic Cheese Curls, Crunchy Onion Rings, and Crunchy Pizza Rings—a special edition of which will launch this August timed to the theatrical release of the Teenage Mutant Ninja Turtles.
5Vegan ice cream bars at Walmart
For a sweet finish to this week's vegan food news of the week, we're excited for the Walmart debut of vegan ice cream brand GoodPop. In stores, expect to find seven new ice cream novelties from the brand.
This includes popsicles in Cherry n' Lemonade, Orange Cherry Grape, Orange n' Cream flavors; Chocolate Vanilla Sandwiches; as well as GoodPop's newest bars such as Fudge n' Vanilla Crunch, Mint n' Fudge Chip, and Double Chocolate Fudge.
GoodPop
"We are thrilled to bring our cleaned up classic frozen treats to Walmart, making it easier for families to find healthier and more delicious frozen treat options," Daniel Goetz, CEO and founder of GoodPop, said in a statement.
"Our team is committed to making the best tasting frozen treats without sacrificing quality, and our expansion into Walmart stores allows us to bring our mission to more communities across the country."
The new GoodPop line is available at Walmart stores in the Mid-Atlantic, Northeast, Southeast, and Southwest regions. Is it summer yet?