Earlier this year, Los Angeles-based snack brand PeaTos announced its transition to an all-vegan product line with a mission to disrupt the $29 billion dollar salty snack industry. And now, the vegan snack brand is getting a major boost from cereal giant Post, makers of Raisin Bran, Pebbles, Honey Bunches of Oats, and more.
Earlier this month, PeaTos closed an oversubscribed, series A3 funding round led by Post, bringing the vegan snack brand one step closer in its mission of creating a "better junk food" industry and taking on snack giant Frito-Lay.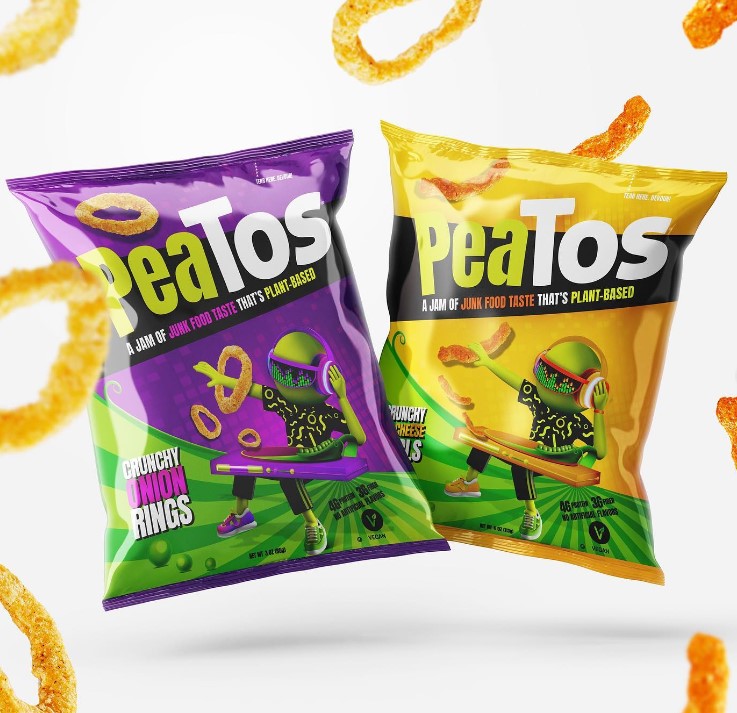 PeaTos
The amount raised, which is not disclosed, will help further expand PeaTos' retail footprint. "We are excited to be funded for our next phase of growth as we launch with new retail partners. Looking ahead to 2023, we expect to set new milestones for PeaTos, and we are fortunate to have the continued support of key investors such as POST which led to the round being oversubscribed," says Nick Desai, PeaTos founder and CEO.
PeaTos creates "better junk food"
PeaTos is steadfast in its commitment to revolutionize the salty snack industry with better-for-you ingredients but it's not looking to create healthy food, per se. Instead, the snack brand aims to retain the "junk food taste" of salty snacks while making nutritional swaps—such as replacing corn with nutrient-dense peas—and excluding artificial ingredients and additives from its formulations.
When compared to standard snack offerings on the market today, PeaTos' snacks contain twice the protein and three times the fiber as well as less sodium, fat, and calories per serving. With proprietary technology that replicates the taste of dairy using plant-based ingredients, PeaTos is well on its way to dent the Frito-Lay monopoly.
"We didn't set out to create healthy snacks, we set out to create better junk food," Desai previously told VegNews.
"Cheetos were invented in the 1940s and haven't changed much since then. Technology has been through a revolution. Does anyone use phones first created in the 1940s? Cars? We wanted to use today's technology to recreate America's favorite snacks with today's moms and today's kids in mind."
Last month, the Frito-Lay challenger also earned non-GMO certification, a major first in the "junk snack" category according to the brand.
PeaTos takes on Frito-Lay
Makers of popular snack brands Lay's, Doritos, Cheetos, Fritos, and more, Pepsi-Co's Frito-Lay has long held a monopoly within the salty snack category. To further challenge Frito-Lay, PeaTos focused on recreating plant-based analogs to the snack giant's most popular products.
After announcing its transition to a completely vegan product line, PeaTos reformulated its Classic Cheese Curls, which were originally made with dairy cheddar cheese. The plant-based reformulation officially made PeaTos' Classic Cheese Curls the first vegan yellow cheese snack curl on the market. The brand's Crunchy Onion Rings were also reworked, and soon after, a new flavor joined the lineup: Crunchy Pizza Rings.
Alongside PeaTos' Fiery Hot Crunchy Curls, which have been vegan since day one, the new plant-based snacks and formulations are helping the snack brand take on Frito-Lay. Already, PeaTos' mission to challenge Frito-Lay's hold over the snack industry seems to be working, as fans of the Fiery Hot Crunchy Curls have affectionately dubbed the snack "vegan Hot Cheetos."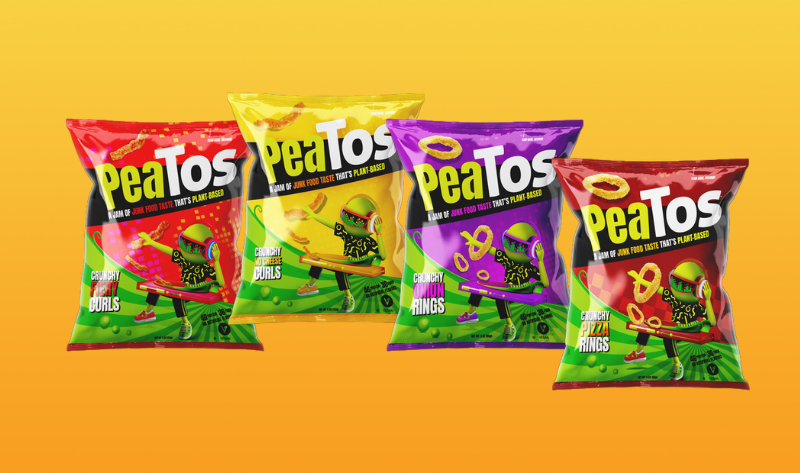 PeaTos
"Flamin' Hot Cheetos are one of the most successful brands in the history of snacking," Desai previously said. "When vegans discovered our PeaTos Fiery Hot Crunchy Curls had all the taste and sensory experience of Hot Cheetos without dairy or artificial [ingredients], they went nuts. We had such a strong and passionate response from the vegan community—they begged us to make our other items vegan."
After launching its vegan products in more than 4,700 retailers including Sprouts, Vons, and Kroger locations nationwide this spring, PeaTos expanded its footprint into more than 7,000 locations of additional retailers such CVS and H-E-B. With its recent investment round, PeaTos' retail footprint is poised to further increase, bringing its vegan snacks to more consumers and ultimately bringing the brand one step closer to making a major dent in the Frito-Lay monopoly.
"There is a staggering difference between Frito-Lay's brands and the rest of the market," Desai previously said. "Our dream is to mount a true challenge to that monopoly and to [continue developing] a line of products that can become lasting household names but still deliver on the promise of better ingredients and more nutrition."
For the latest vegan news, read: