Earth Month is a time when environmental issues come into focus. Both Drew Barrymore and Kelly Clarkson are using their influential talk shows to share plant-based recipes to help viewers live more sustainably.
Earlier this month, Barrymore invited guest chef and collaborator Pilar Valdes to The Drew Barrymore Show to showcase a recipe for zucchini fritters made with flax eggs—a vegan egg substitute that works to bind the batter in the same way as traditional eggs. The recipe featured brightly hued carrots, capers, lemon zest, which Barrymore stirred up as the chef prepared the zucchini, which she salted, let sit, and squeezed to remove excess liquid.
Valdes then adds the vegan eggs—a mixture of flax seeds and water—along with cornstarch and flour to both bind and make the fritters crispy. "This just so happens to be vegan," Valdes says. "Great for folks who are looking to substitute their eggs."
Valdes went with a herbaceous and creamy sauce to complement the fritters, made with a base of vegan sour cream—a favorite of Barrymore's, particularly the Tofutti brand—punched up with caper brine, dill, and lemon. To finish the dish, Valdes serves the fritter on a lettuce wedge topped with the creamy sauce.
"This is so satisfying and delicious," Barrymore said as she took a bite.
Over on The Kelly Clarkson Show, sustainability and plant-based recipes are also taking center stage for Earth Month. Clarkson recently welcomed chef Priyanka Naik to do a live cooking demo of her Leftover Rice Veggie Burgers.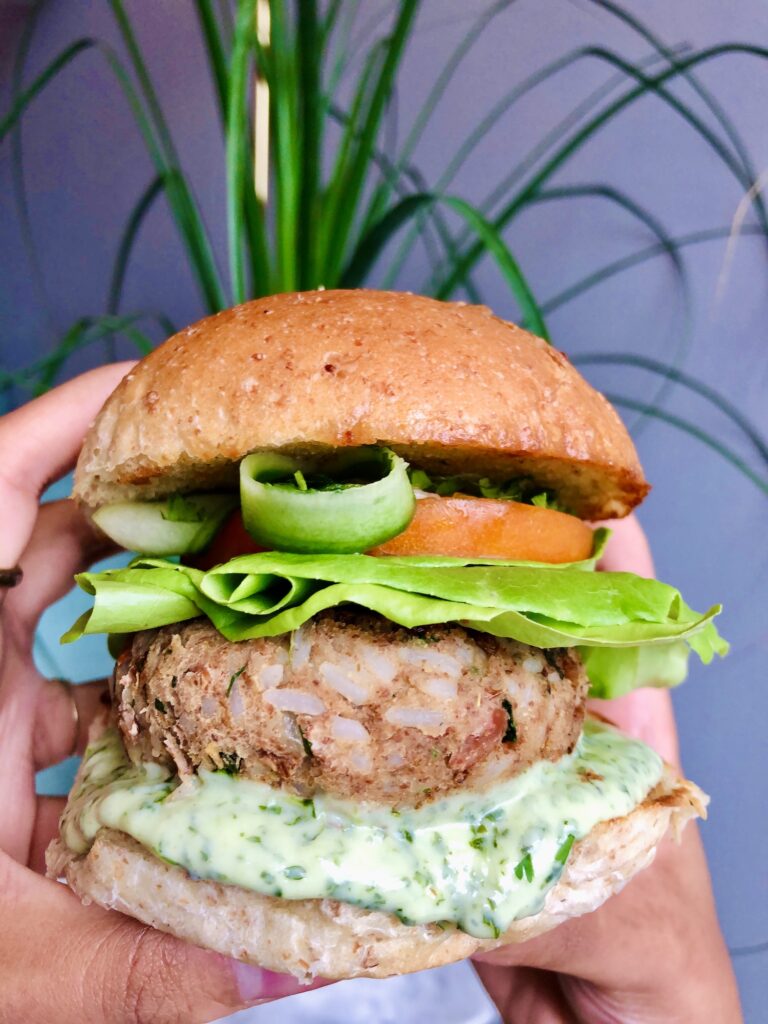 Priyanka Naik
"Earth Day is right around the corner," Clarkson started the segment "And our next guest is on a mission to get everyone to live just a little greener with some simple life hacks."
The sustainability-minded chef shared a few eco tips—like using the unsalted water from boiled vegetables to water plants—before showing Clarkson, and actors Brandon Scott Jones and Giancarlo Esposito, how to make veggie burgers from leftover rice.
Despite being scorching hot, the vegan burger—which Naik stuffed with vegan cheese—was an instant hit among Clarkson and the rest of the guests.
Kelly Clarkson's new favorite vegan burger
Naik is a first-generation Indian-American chef who grew up on Staten Island, NY and her food is inspired by both her heritage and the fact that she has traveled to more than 40 countries.
For her most recent appearance on Clarkson's show, Naik—a self-made chef, cookbook author, and television personality—dug into her bank of recipes to pull one out that highlighted a few key elements.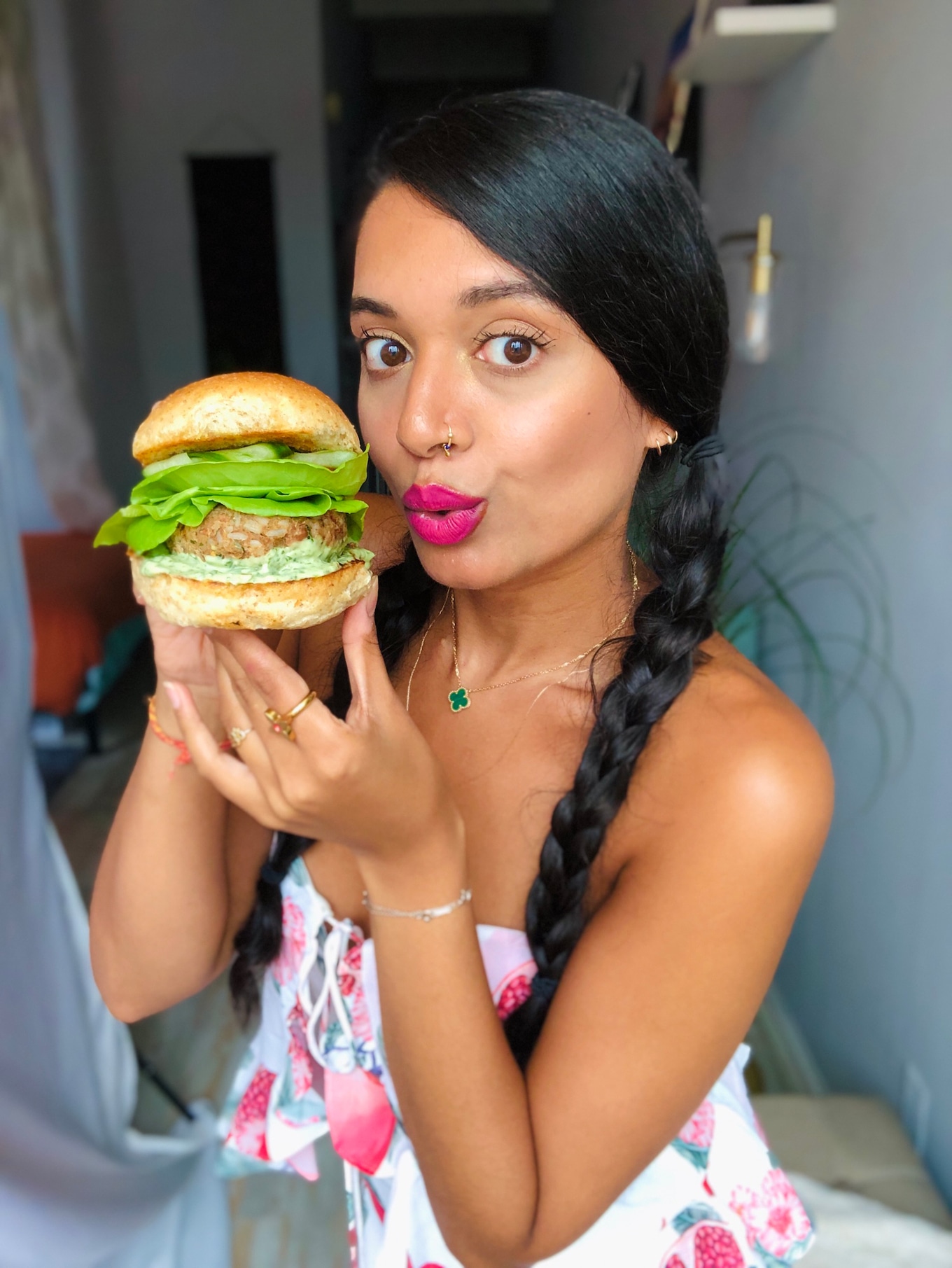 Priyanka Naik
"I developed this recipe—Leftover Rice Veggie Burgers—during the pandemic in an effort to reduce food waste, minimize ordering out/eating out, and to be more creative in the kitchen," Naik tells VegNews. "I love being able to take leftovers and give them a new life."
"I consider food Hindu aka it can be reincarnated into something new," she says.
Naik has made live television appearances since 2020 and finds the experience exhilarating every time. "I love being able to educate the masses on how to expand their perspective on food and to give food a new meaning," she says.
Ultimately, highlighting vegan recipes on high-profile programs such as The Kelly Clarkson Show is a big Earth Month win.
"I hope my vegan and sustainable recipes will inspire people to think about food differently, get creative in the kitchen, and expand their palate, all while doing better for themselves, the animals and the environment," Naik says.
Kelly Clarkson and Drew Barrymore's plant-based ventures
Barrymore and Clarkson are not new to the world of plant-based food. For her part, Barrymore was raised vegetarian and in 2022, joined meatless brand Quorn as its Chief Mom Officer, often promoting its mycoprotein meats through various channels.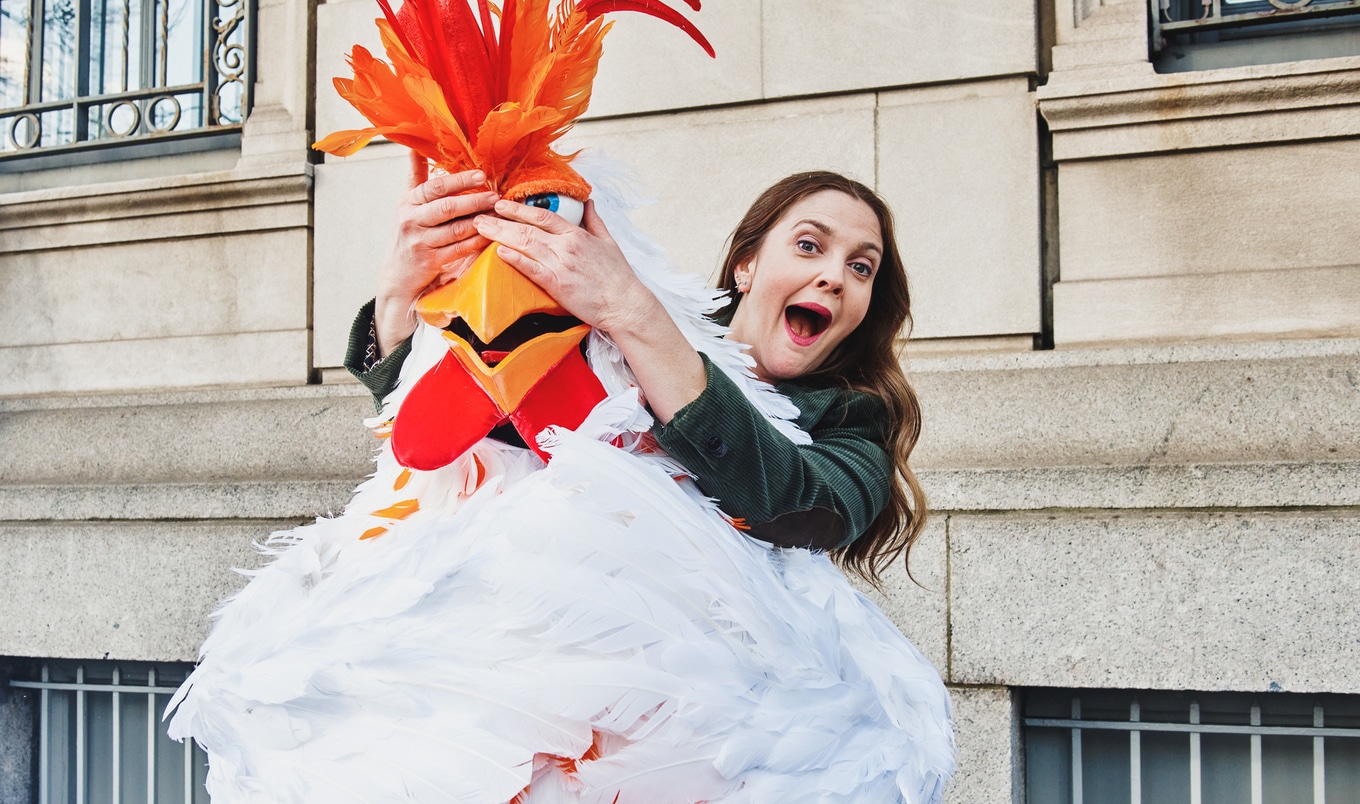 Quorn
On a 2022 episode of her show, Barrymore welcomed Tariq (known as the "Corn Kid") whose interview on web series Recess Therapy went viral last summer. Barrymore presented Tariq with a variety of corn-themed foods, culminating in a tasting of Quorn's meatless chicken nuggets—to which Tariq gave "two corns up."
"Beyond just the names practically being homophones, what kid doesn't love chicken nuggets? Since Quorn Meatless Nuggets are made with mycoprotein, the texture closely resembles chicken and has the same crispy outside," Barrymore told VegNews at the time. "I'm just as passionate about Quorn as Tariq is about corn, and the Meatless Nuggets are my all-time favorite."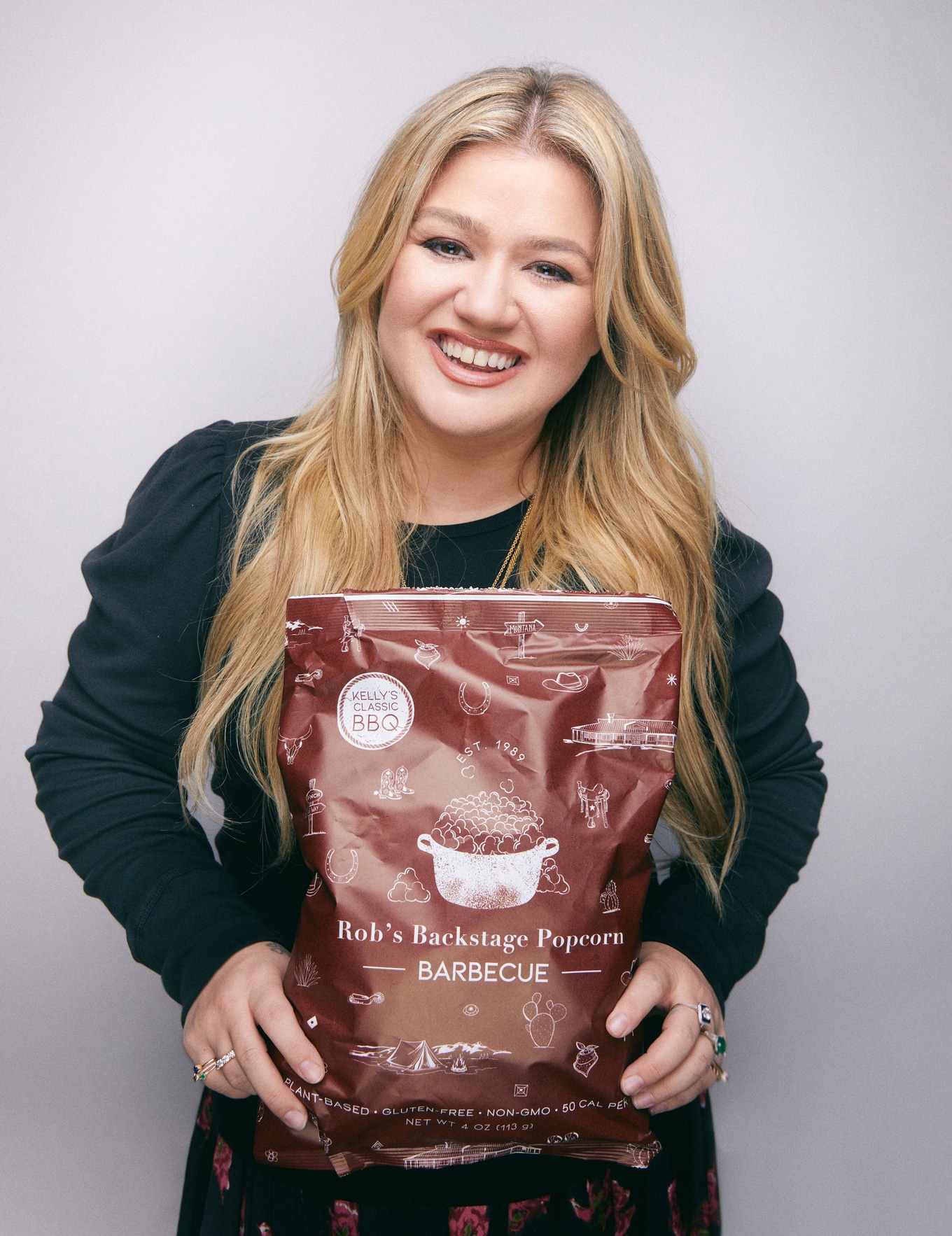 Rob's Backstage Popcorn
As it turns out, Clarkson is also a corn connoisseur. Earlier this year, Clarkson worked with the Jonas Brothers on a new flavor of Rob's Backstage Popcorn, a vegan snack brand the brothers launched last year at Walmart stores with an original flavor. Clarkson brought her Texas flair to the snack with the Kelly's Classic BBQ flavor, which she unveiled on her show alongside guest star Nick Jonas.
For the latest vegan news, read: