Celebrity favorite vegan popcorn brand Rob's Backstage Popcorn is embarking on a rapid expansion supported by a $7 million Series A funding round led by Palm Tree Crew, the venture firm founded by DJ and music producer Kygo. A group of celebrities also participated in the round, including actresses Mindy Kaling and Priyanka Chopra Jonas; songwriter Ryan Tedder, entrepreneur David Grutman; NFL legend Joe Haden; and more.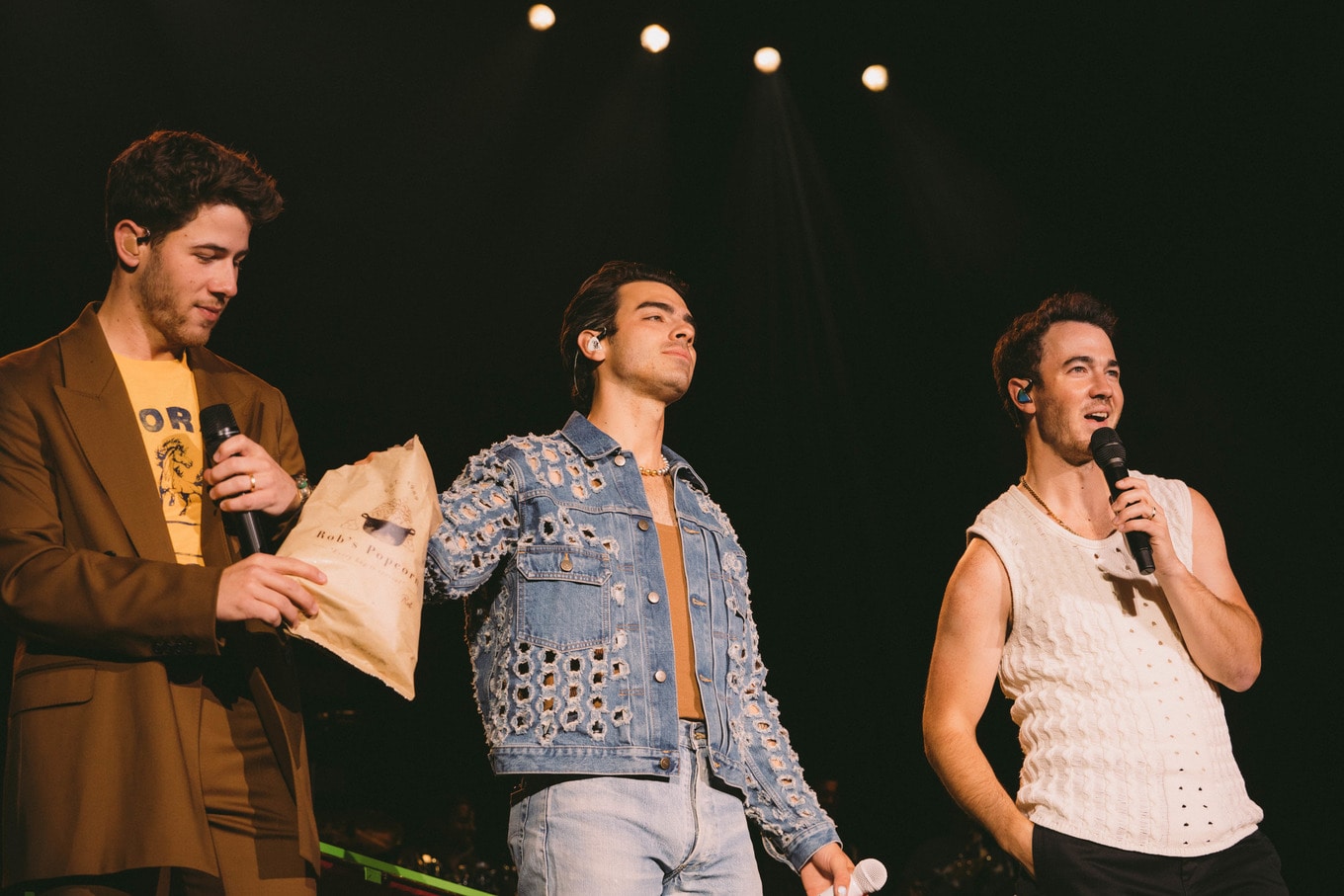 Rob's Backstage Popcorn
Founded by the Jonas Brothers and CPG business The Naked Market, Rob's Backstage Popcorn emerged from a secret popcorn recipe Rob Garbowsky—father of Jonas family friend Greg Garbowsky—created for the band during rehearsals and performances. In 2021, fans were able to sample the vegan popcorn during the Jonas Brothers' Remember This Tour before The Naked Market helped get the Rob's Backstage Popcorn brand to consumers through a retail launch at Walmart.
Harrison Fugman, The Naked Market's CEO and Co-Founder, says that the new funding will help Rob's rapidly expand its presence nationwide at Walmart, Kroger, Albertsons, Sam's Club, and other retailers.
"Additionally, we will be able to expand our executive team by bringing on a new general manager at the executive level as well as adding to our sales team members and scaling marketing activations," Fugman tells VegNews.
Rob's vegan popcorn flavors
Since launching its original Sweet & Salty flavor last year, Rob's has been busy formulating new flavors with celebrity partners. In January, Nick Jonas announced the newest Rob's vegan popcorn flavor on The Kelly Clarkson show—and for good reason. The first winner of American Idol worked together with Rob's to craft the Kelly's Classic BBQ flavor.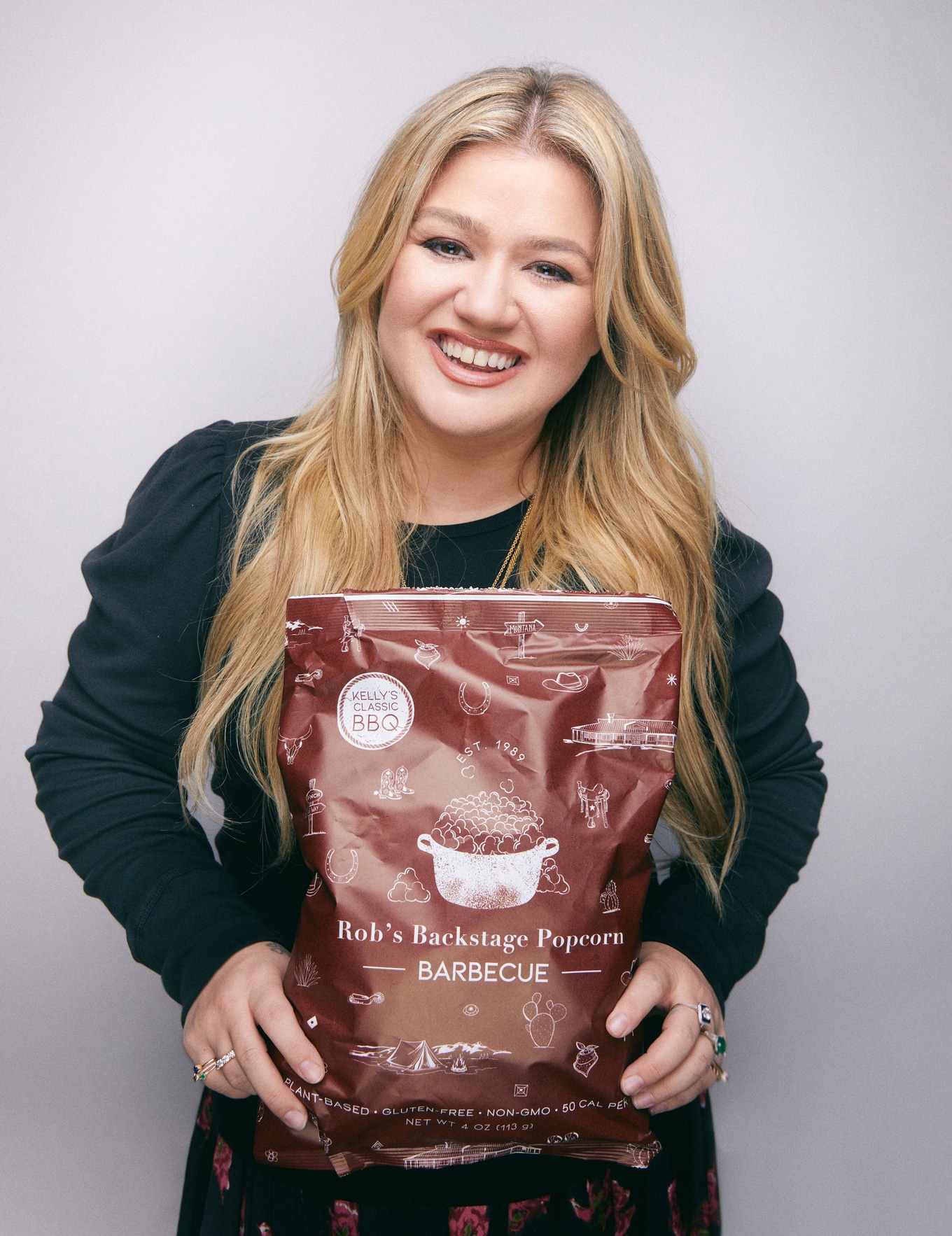 Rob's Backstage Popcorn
"I am stoked … I love this popcorn so much and was excited to make my own flavor," Clarkson said on the show.
Nick Jonas's wife and investor Priyanka Chopra Jonas also helped develop the new Priyanka's Mumbai Nights flavor which the brand launched in March. "It's been such a journey to see Rob's Backstage Popcorn grow over the past few years and I'm thrilled for the upward trajectory to continue," Nick Jonas said in a statement.
"It's also exciting to bring even more close friends and family members into the fold, including my wife, Priyanka," he said.
And using plant-based ingredients in developing new flavors of Rob's Backstage Popcorn is important for the brand, which strives to be inclusive of all consumers.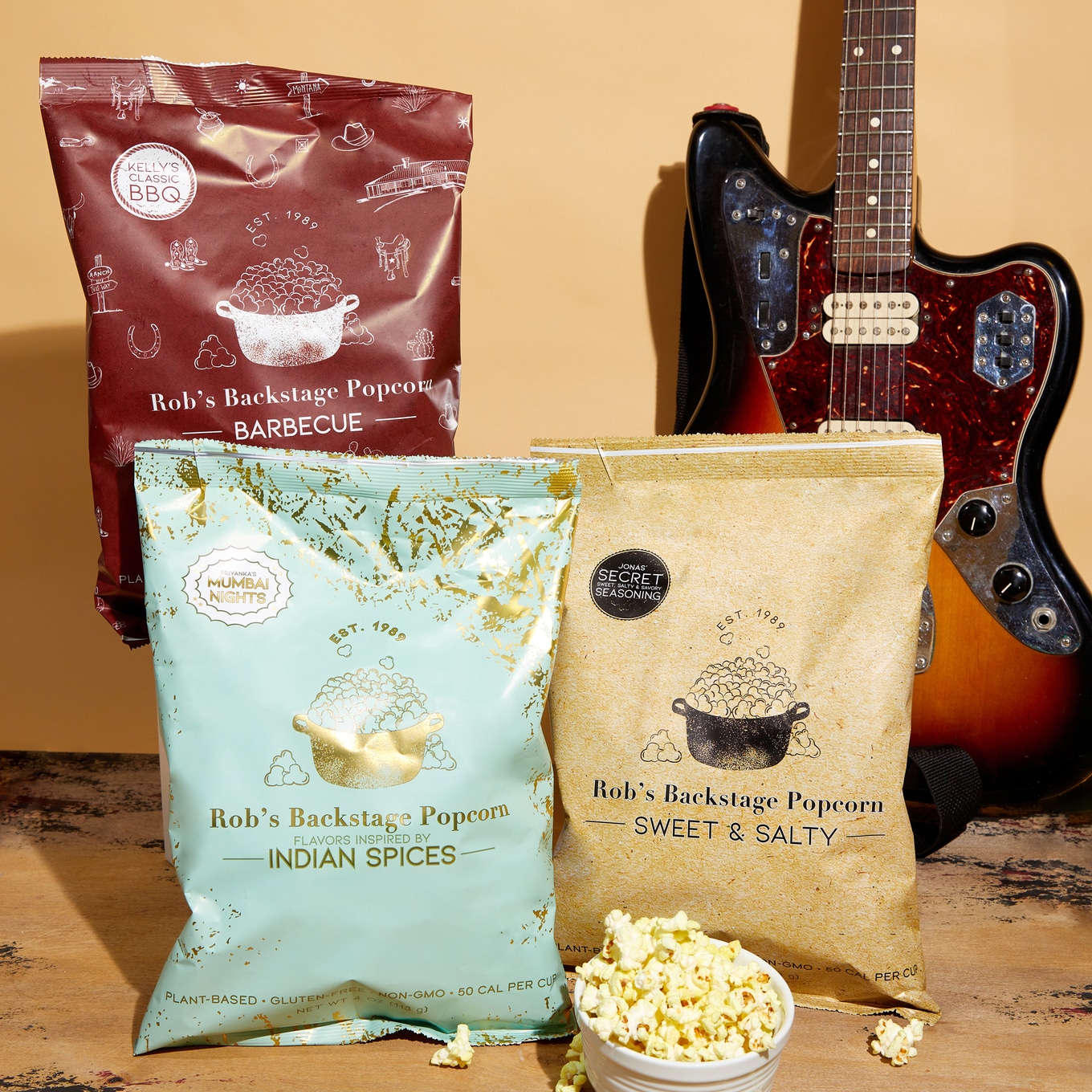 Rob's Backstage Popcorn
"Our goal has always been to make our product accessible to all and by having plant based [products] we're able to reach most consumers," Fugman says. "We're looking forward to continuing to create healthy yet indulgent popcorn varieties with a better-for-you nutritional profile."
With funding secured, Fugman hopes to make Rob's Backstage Popcorn a household brand with exciting innovations on the horizon.
"As we look into 2023, we will continue to make strides towards becoming the biggest popcorn brand in the US," he says.
"We're always looking to break into new flavors that have not yet been touched in the popcorn category and plan to create memorable and unique experiences for consumers across the US that drive awareness and trial to Rob's."
The making of Rob's Backstage Popcorn
Rob Garbowsky, first introduced the Jonas Brothers to his popcorn during rehearsals and performances. The popcorn was so beloved by the brothers that it eventually became the unofficial snack of their 2019 Happiness Begins tour.
"When we first tried the popcorn, we fell in love with it," the Jonas Brothers previously said in a joint statement. "The unique seasoning was unlike anything we had ever tasted before; it was like home cooking in a bag. After keeping it to ourselves, we are excited to share it with the nation through our collaboration with Walmart who is now offering Rob's Backstage Popcorn across the country."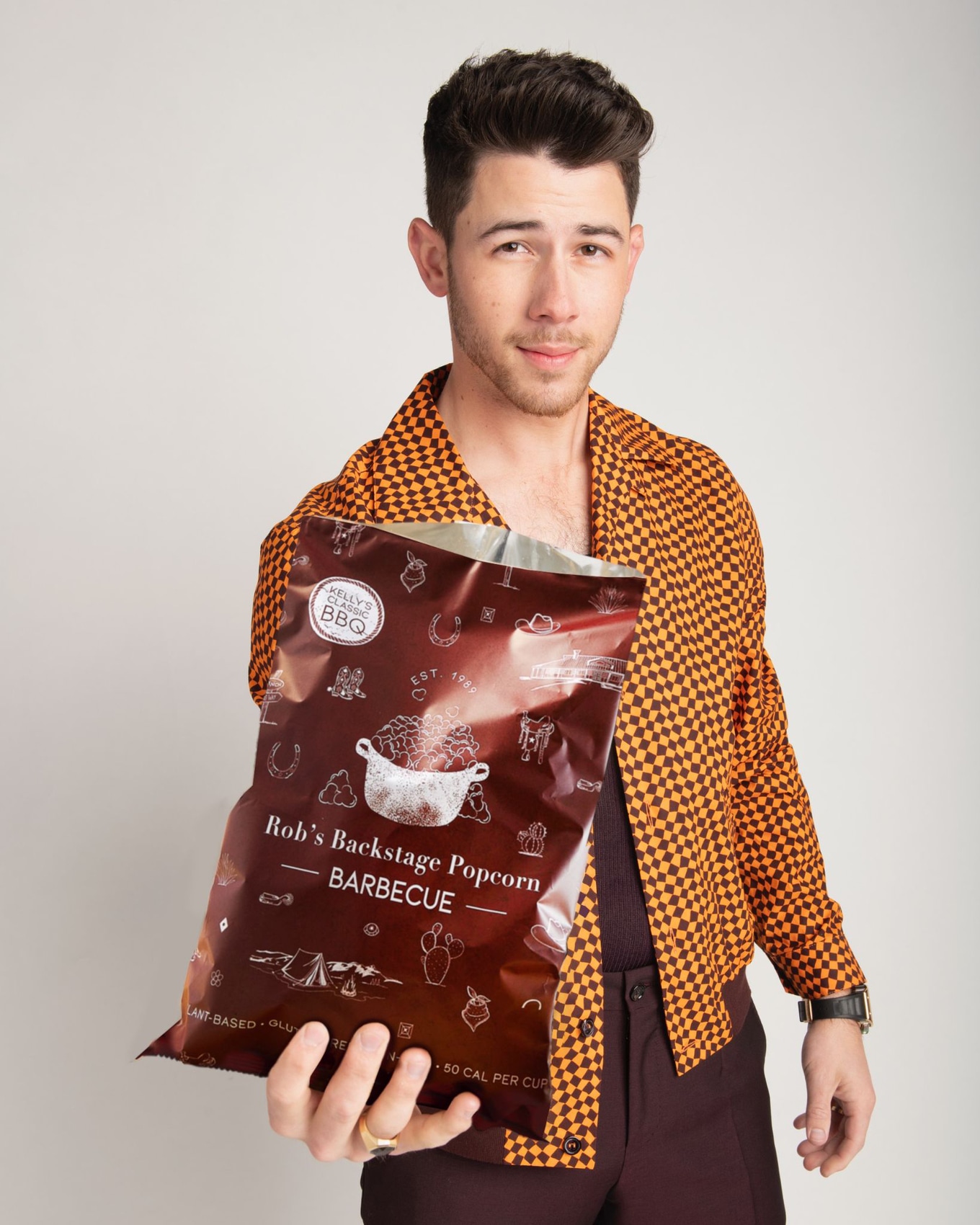 Rob's Backstage Popcorn
Over the years, the Jonas Brothers enjoyed the vegan popcorn backstage and decided to share their love of the product with the world through Rob's Backstage Popcorn. The recipe for the vegan snack is rooted in the Garbowsky family history.
Garbowsky developed Rob's Backstage Popcorn with a unique flavor that is simultaneously sweet and salty and treated his family members to the snack, which he is delighted to share with popcorn-lovers everywhere.
"I never imagined something that started as a snack I would make for my family would end up in Walmart," Rob Garbowsky previously said in a statement. "We are so excited to bring my recipe to families across the country, and hope they love it as much as we do."
Celebrity vegan snack brands
The Jonas Brothers are the latest celebrities to put their name behind vegan snacks and treats. In 2021, legendary basketball player Scottie Pippen launched his own popcorn brand Husk. The brand was developed to deliver an organic and nutritious snacking option which Pippen launched in six unique flavors, some made with coconut milk and nutritional yeast to deliver a cheesy flavor without dairy.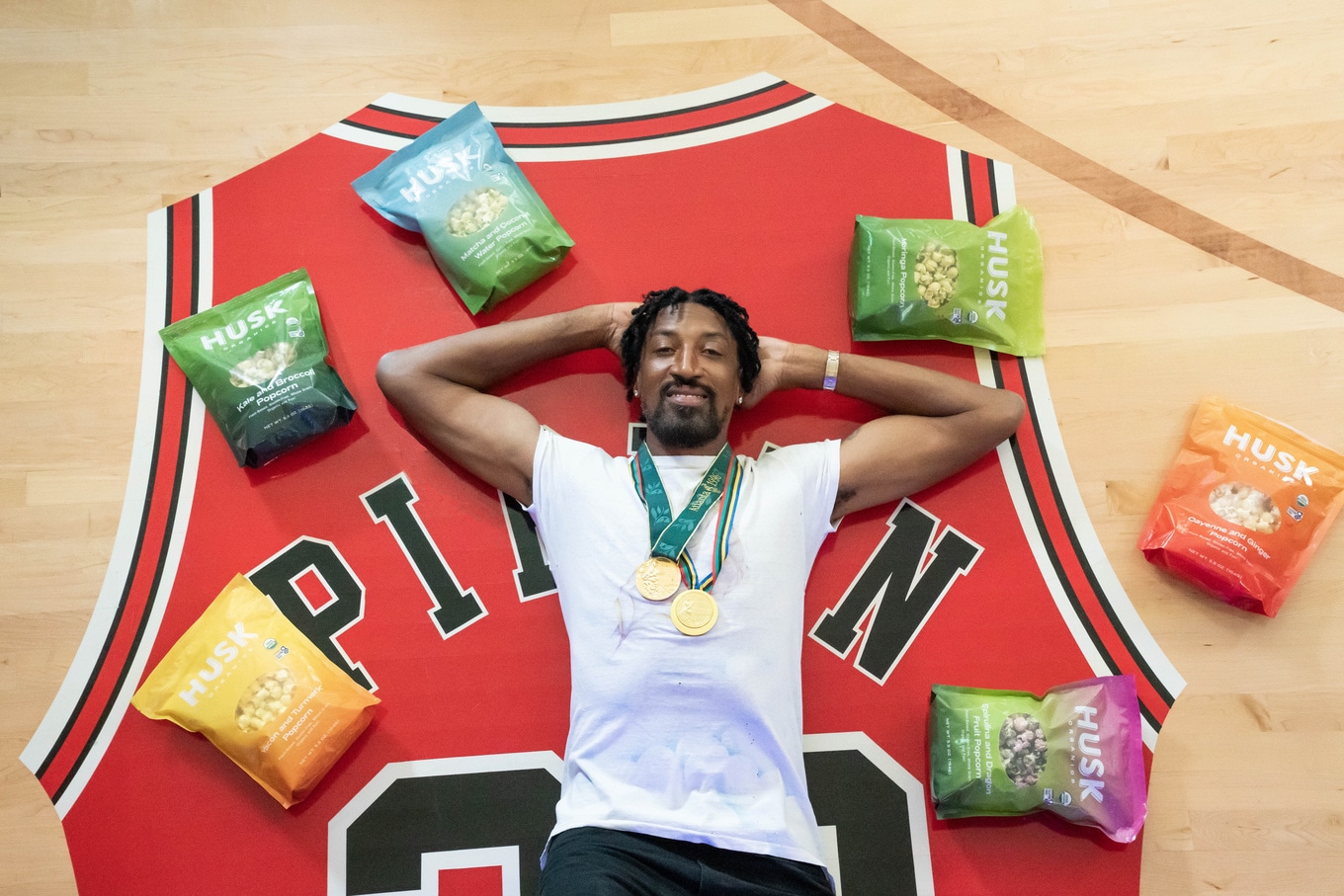 Husk
In the sweet treats category, actor Noah Schnapp—known for his role as Will Byers on Netflix series Stranger Things—launched a vegan Nutella-inspired spread in 2021 under his TBH (an acronym for "to be honest") brand. Made without environmentally damaging ingredients such as dairy or palm oil, the hazelnut cocoa spread is a better alternative to Schnapp's favorite childhood snack.
"Hazelnut spread on toast has always been my favorite comfort food, but of course, when I was a kid, I didn't realize that my snack habit wasn't very good for me or the environment," the actor previously said in a statement. "Once I found that out, I wanted to create a new take on hazelnut cocoa spread with honesty and sustainability at its heart, and found the perfect team to help that vision come to life."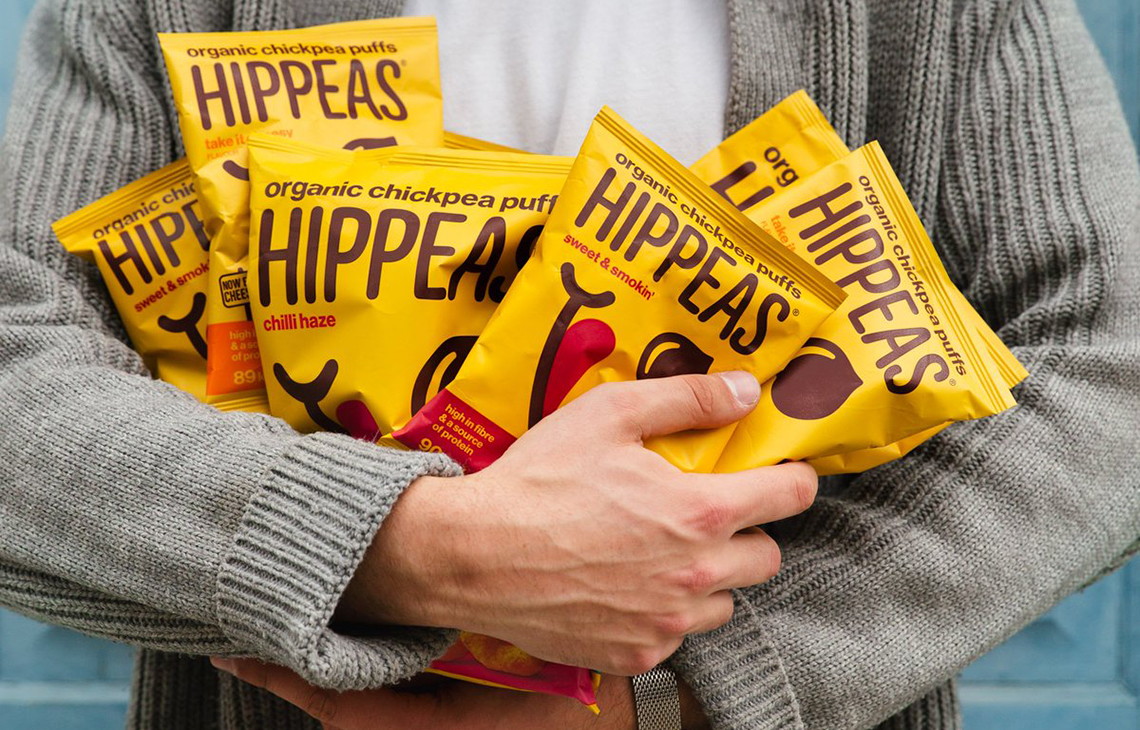 HIPPEAS
In addition to Rob's, other vegan snack brands are also drawing celebrity investments. HIPPEAS makes chickpea-based vegan snacks and piqued the interest of Leonardo DiCaprio in 2017 when he invested an undisclosed amount in the snack brand. A longtime environmentalist, DiCaprio—who most recently starred in the film Don't Look Up, a dark comedy about the climate crisis—has since gone on to invest in other products and technologies (such as cultivated meat) that help create a food system that does not rely on animal agriculture.
Vegan snack brand Outstanding Foods—known for its PigOut Pigless Pork Rinds—counts musical artist Snoop Dogg, actress Daniella Monet, NBA star Javale McGee, professional skateboarder Rob Dyrdek, and more as investors.
For the latest vegan news, read: