Award-winning actress Drew Barrymore has not eaten chicken since reading Jonathan Safran Foer's Eating Animals 13 years ago. The book follows Foer on a journey that documents the horrors of the industrialized meat industry as he contemplates whether or not eating meat is acceptable in the context of becoming a father. Barrymore—now a mom to two daughters—found the book's message so moving that she was unable to fathom eating chicken again.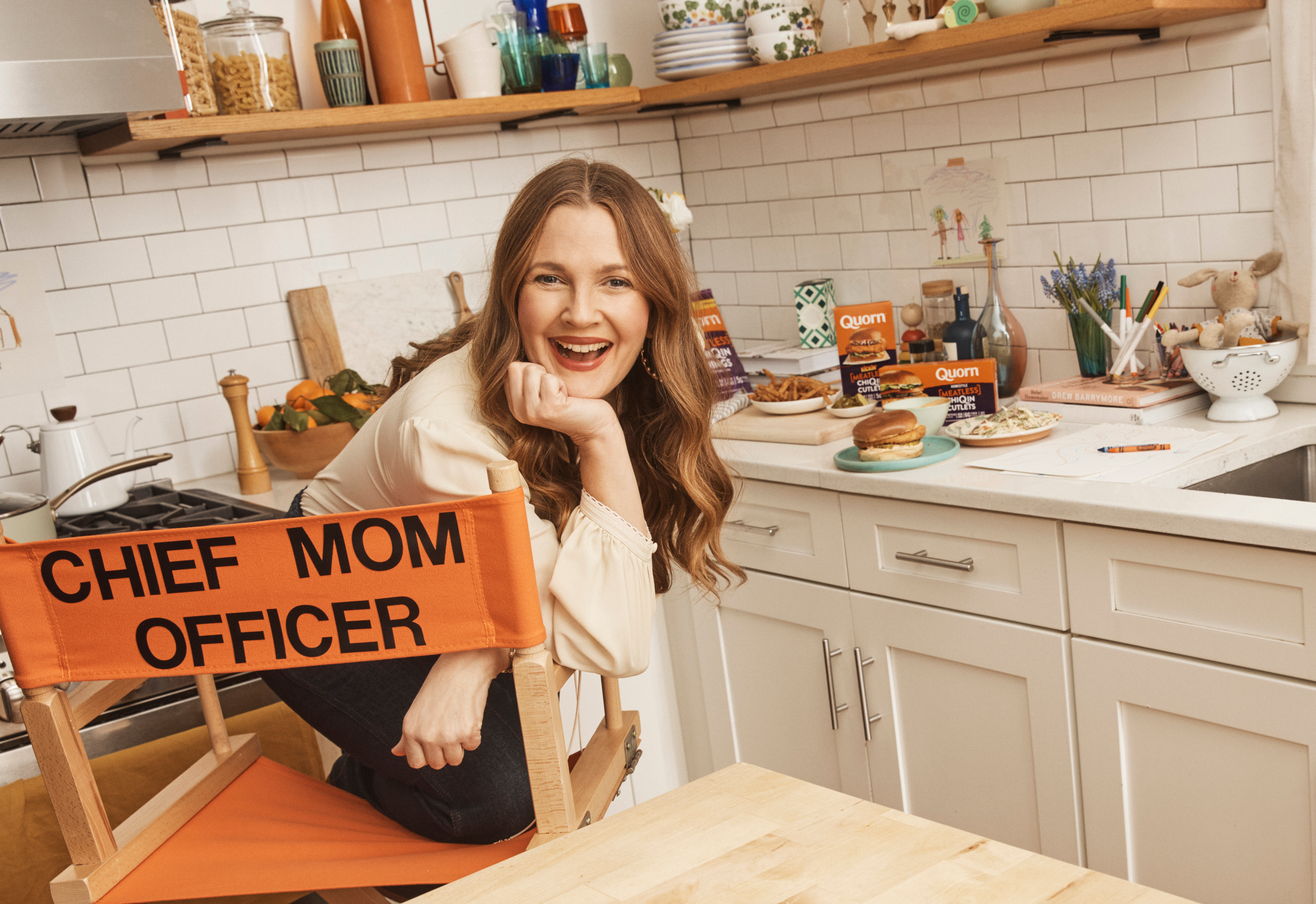 Quorn
VegNews recently sat down with Barrymore for a Zoom call to discuss her role as Chief Mom Officer (CMO) of meatless brand Quorn, known for its array of vegetarian and vegan products made from fungi-based mycoprotein. Barrymore signed on last year to help the United Kingdom-based brand grow its presence in the United States as it aims to become the market leader in the meatless chicken category.
It is through this partnership that Barrymore has begun to eat meatless chicken and she couldn't be happier. "You can have these moments when you find out certain things and you cannot ignore what you just learned. So, I love chicken. It's a great base protein and a canvas for so many things and so ubiquitous in the culinary world and I haven't touched it in 13 years," Barrymore told VegNews. "And [with Quorn,] I have it back in my life again and I'm able to give it to my kids in a way that makes me feel good about what I'm feeding them. That is so amazing for my quality of life."
In her role as CMO at Quorn, Barrymore aims to bring a bit more fun to meatless eating through quirky advertising. To that end, Quorn released a commercial that featured Barrymore and her best friend ChiQin, a larger-than-life bird who has since appeared on her eponymously named talk show to promote meatless chicken.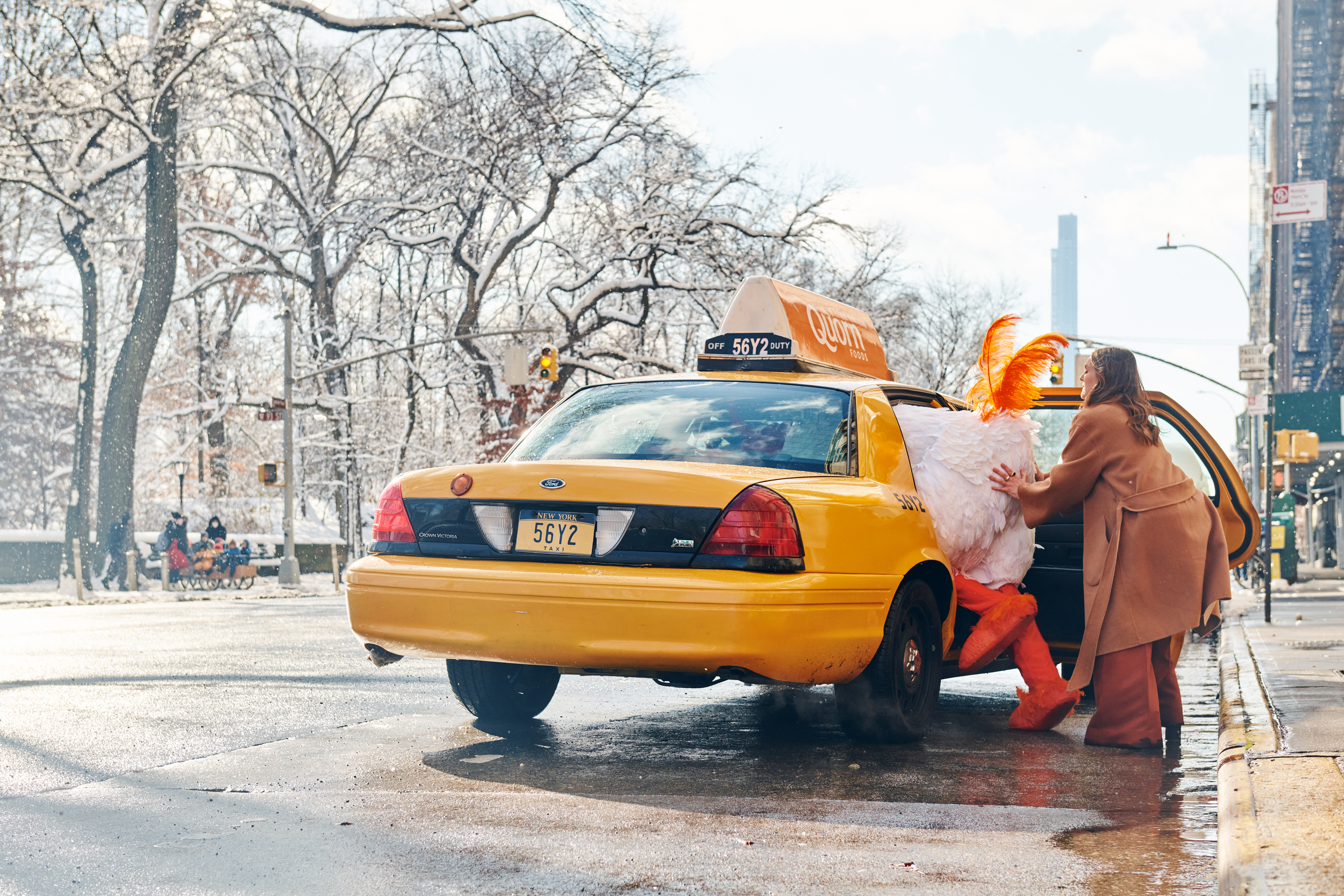 Douglas Levy
Drew Barrymore loves meatless chicken
Barrymore grew up in California and was a vegetarian throughout her childhood, during which she played her iconic role of "Gertie" in cult classic 1982 film E.T.: The Extra-Terrestrial. While Barrymore went vegan for some time, she began eating meat again at age 26. She struggled finding alternatives during the early days of the plant-based movement and is overjoyed that meatless products have come such a long way.
While Barrymore currently does not have plans to go vegan—and identifies as a person who is eating "more and more vegetarian"—she is excited about incorporating chicken, by way of Quorn products, back into her life. "Twenty years ago, being vegan … there was nothing available. I could be a vegetarian but could not handle being a vegan," Barrymore said. "Whereas, you can be a vegan much more conveniently now. I'm so impressed with what the world has done in these last few years."
Since discovering Quorn, Barrymore has used its various products to create family-friendly meals. Last Thanksgiving, Barrymore's centerpiece was Quorn's meatless roast, which she enjoys off-season sliced in medallions. While many of Quorn's products contain egg whites, it has greatly expanded its selection of vegan meats, including its newly launched Vegan Meatless Pineapple Chipotle ChiQin Dippers. "This is about a viable option that is delicious and doesn't make you miss meat," she noted.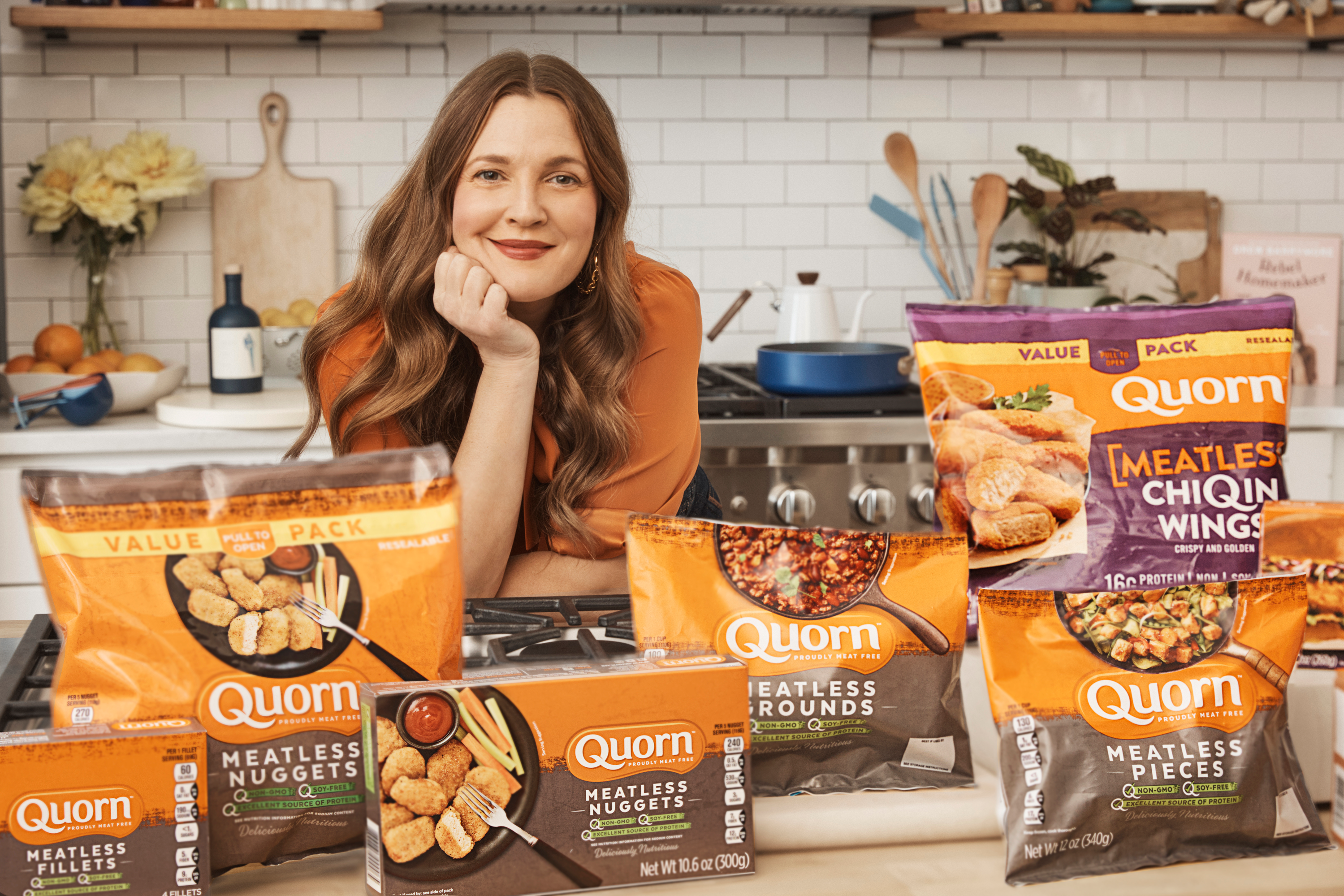 Quorn
Barrymore hopes by partnering with Quorn, she can make meatless eating more accessible and sees the partnership as another way that she can make a positive impact on the world. In 2007, Barrymore became an Ambassador Against Hunger for the United Nations World Food Programme (WFP), a role in which she uses her fame to help feed children in poor countries. She is currently helping humanitarian chef José Andrés fundraise for hunger relief efforts through his organization World Central Kitchen, which works to deliver food to people in disaster-stricken areas and has been focusing on feeding victims of war in Ukraine.
"Food is an undivisive thing that brings people together and doesn't drive them apart; it's a need and it's a privilege and it's a luxury. And I just want to be coming at this with all of those tones in mind," she said about her partnership with Quorn. "We have a mission here and we want to take this to a place where we're doing something of real substance."
Barrymore teased that Quorn will soon announce a new philanthropic arm, details of which VegNews will share once they are available.
Drew Barrymore is fascinated with mycoprotein
While most meatless chicken is plant-based, Quorn's is made with fungi-based mycoprotein. To educate consumers about this type of protein, Barrymore recently appeared in a new animated short in which she plays "Professor Barrymore" while explaining the wonders of mycoprotein. For nearly 40 years, Quorn has been making its meatless products using microbial fermentation—a process that has been used to make a variety of goods such as beer and bread. This process is now coming into the spotlight as a sustainable alternative to producing animal products.
A growing body of research has shown that creating protein in this way is far more environmentally friendly than raising animals for food. Last week, a study released by Potsdam Institute for Climate Impact Research (PIK) used computer modeling to find that replacing just 20 percent of the world's beef with fungi-based protein would result in slashing deforestation by 50 percent by 2025.
And harnessing the potential of the fungi universe, which includes mycelium (mushroom root systems), has vast implications for other industries, too. Companies around the world are working to make everything from animal-free leather to compostable packaging to vegan bacon using these incredible life forms.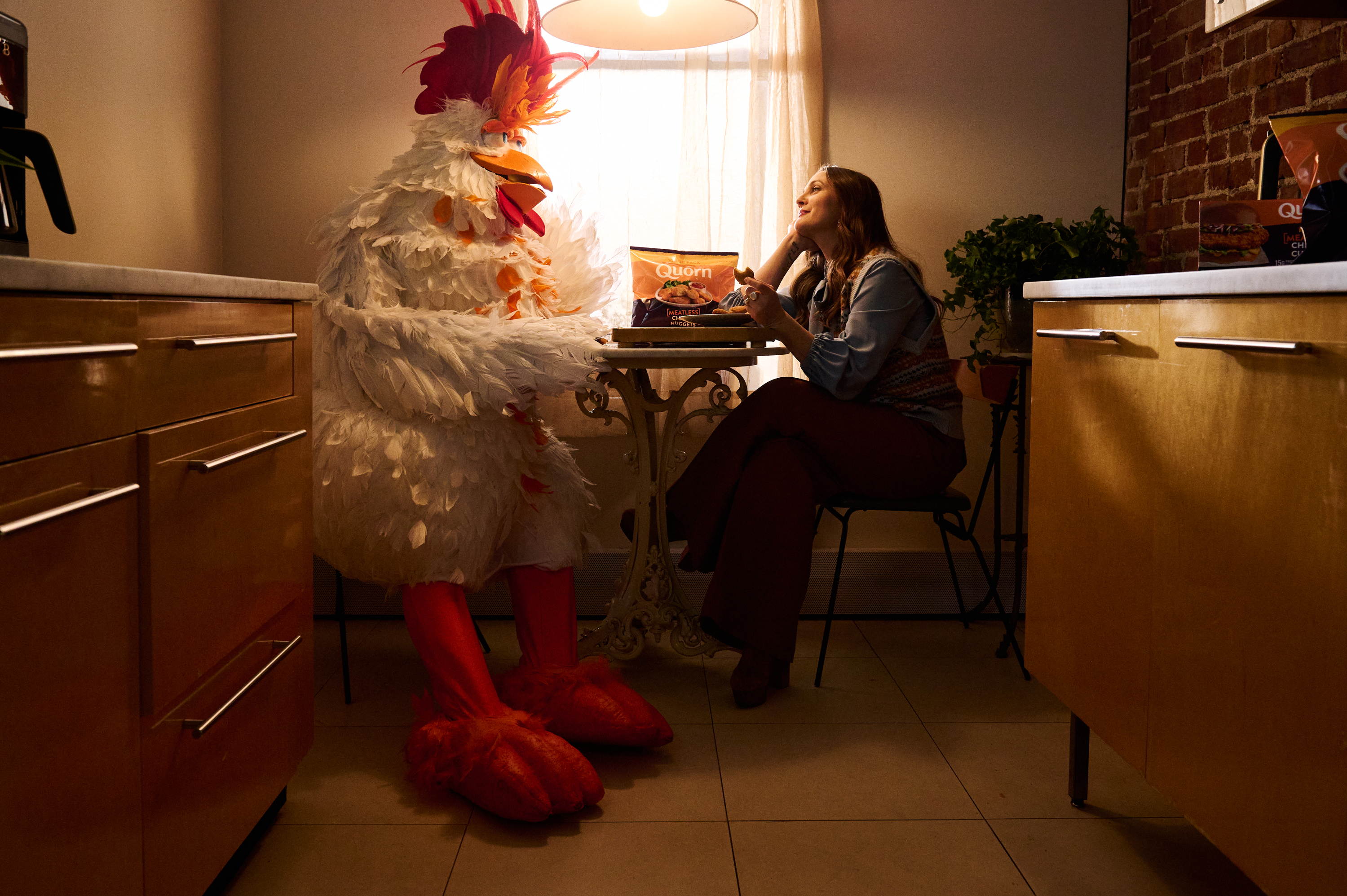 Douglas Levy
"I have faith that this is the next great resource," Barrymore said about the potential of fungi. "This is bigger than I realize right now and I want to explore that and take it all the way."
For more about celeb-worthy meatless chicken, read:DJ Khaled's New Meatless Chicken Wings Were Made To Satisfy the MunchiesWhy Legendary Chef Andrew Zimmern Is Really Into Vegan Chicken
Drake Just Helped Vegan Chicken Company Daring Foods Raise $40 Million