Musical artist Cardi B wants to go vegan and actress Drew Barrymore is here to help with Quorn's plant-based meat alternatives. Earlier this month, Cardi B took to Twitter to ask her 20 million fans for advice about meat alternatives, tweeting; "I want to go vegan but I love meat. Are vegan meat replacements similar to meat in taste or not really?"
Cardi B further explained that she was suffering from gastrointestinal issues and wanted to experiment with plant-based eating to help. "I had a stomach virus not so long ago and I feel like my digestive system haven't [sic] been the same," Cardi B tweeted. "I been [sic] drinking probiotics and I don't see a change much. I be lookin [sic] at raw food pages a lot but that will be a huge change for me to do that."
Both Beyond Meat and Impossible Foods offered Cardi B samples of their vegan meats to aid in the transition and many fans and celebrities responded to Cardi B with words of encouragement, including Barrymore who answered the call on social media with a personal video. "Cardi B, Hi. My name is Drew. I am one of your biggest fans ever," Barrymore playfully says. "And I didn't dream that I would be reaching out to you until I saw the article about you saying that you don't want to eat meat and I feel the exact same way."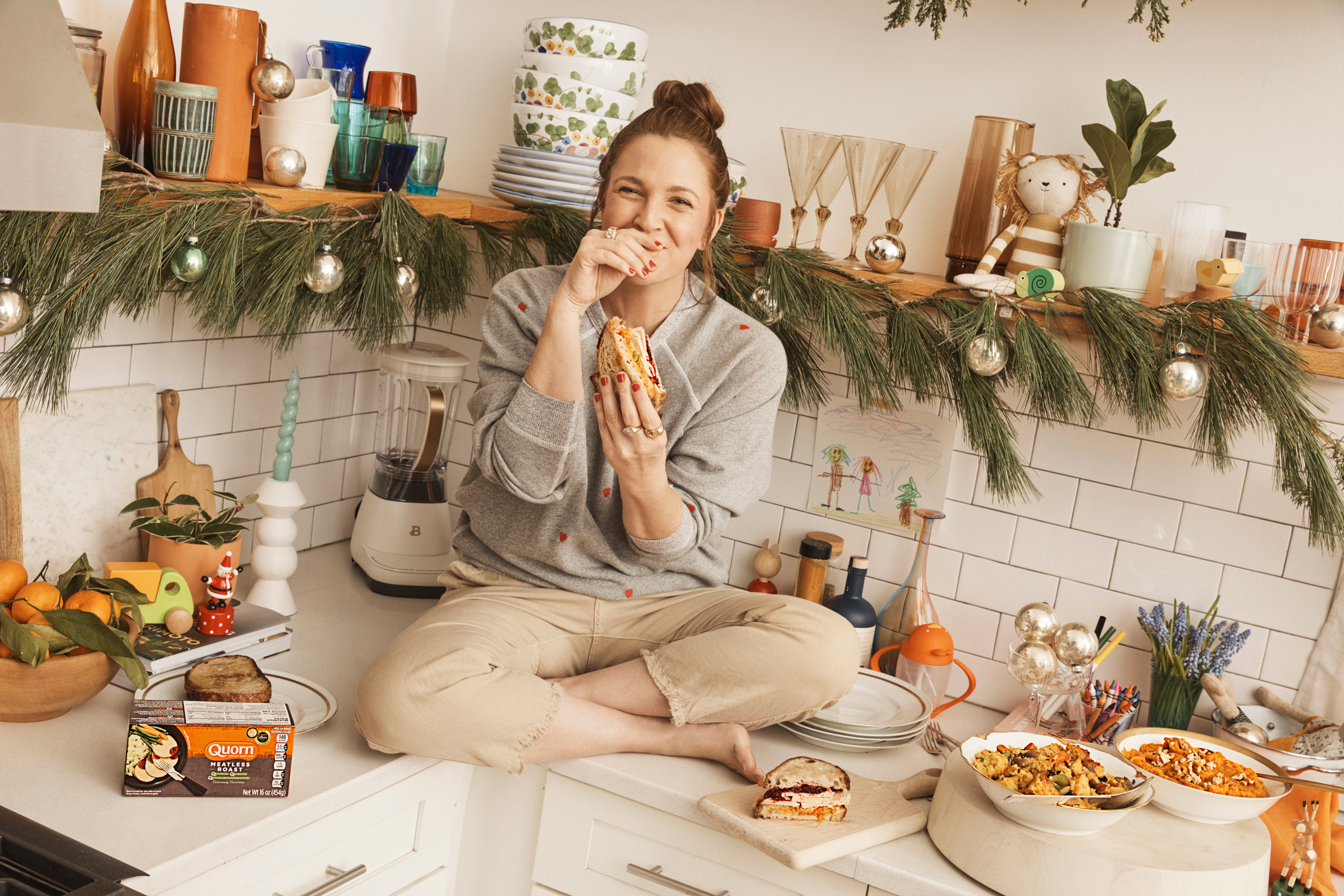 Barrymore explained that she was vegetarian until age 26 and now identifies as a flexitarian with a predominantly vegetarian diet. "I have been looking for [meat] substitutes my whole life and I found it. So my recommendation to you is the Quorn company …and I would be honored to send you a bunch because I think it's going to blow your mind." Barrymore ended the video message by telling Cardi B that she loved her messaging. "I love all of us trying to figure out how to figure this out" and restated that she was one of her biggest fans.
Cardi B, Drew Barrymore, and vegan meat
Barrymore has been the CMO (Chief Mom Officer) at vegetarian brand Quorn since September and as part of her position, the actress works closely with the United Kingdom-based brand to popularize it in the United States. The actress joined the Quorn team shortly after the brand opened a massive research and development facility in Dallas, TX, where it is working on new mycoprotein-based meatless chicken products.
"This partnership is very personal for me. As a mom of two daughters, I know the importance of having affordable, easily accessible, and delicious options that I feel good about serving my kids," Barrymore said in a statement. "I love this brand because the integrity of its mission truly motivates me and I'm honored to be joining as Chief Mom Officer."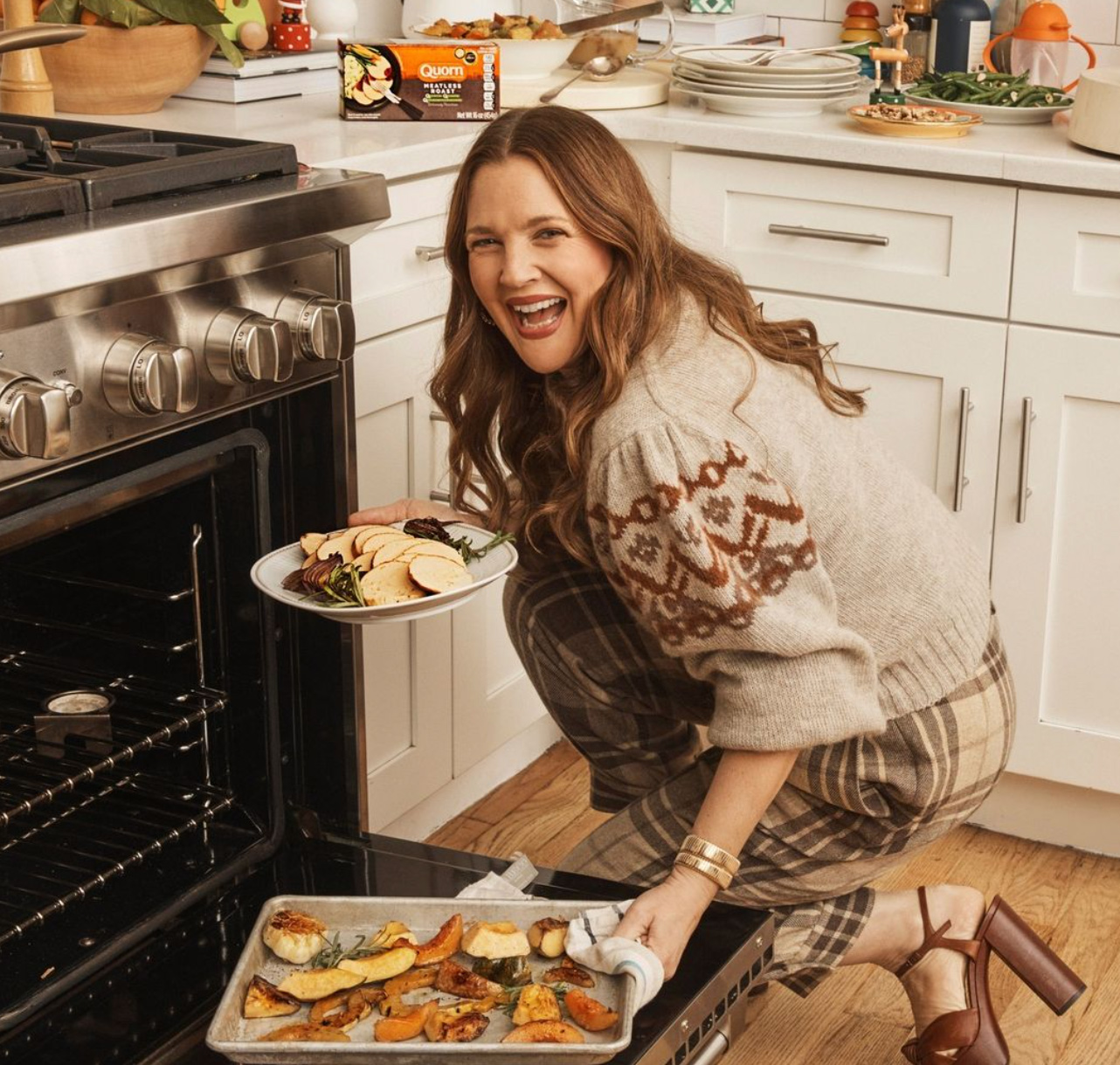 Barrymore's involvement with Quorn is not the first time the actress partnered with a plant-based meat company. Last year, Barrymore welcomed food blogger Diana Brandt on an episode of The Drew Barrymore Show after the actress learned of Brandt's initiative to help struggling businesses during COVID-19.
To support business and staff, Brandt collected donations via Venmo and distributed them as tips of as much as $1,000 to businesses in need and at that point, helped 32 Arizona businesses survive the pandemic. With the help of vegan meat brand Field Roast, Barrymore left a $5,000 tip for Verdura, a struggling vegan restaurant Brandt was working with at the time.
For more about vegan meat with celeb appeal, read:
Post Malone Leads $2.3 Million Investment in Vegan Burger Brand
Drake Just Helped Vegan Chicken Brand Daring Foods Raise $40 Million
Why Mark Cuban Thinks This Vegan Meat Brand Is Worth $50 Million