In the early 2000s, Korean corn dogs became a sensation as a street food snack in South Korea. While Americans are familiar with corn dogs, what makes the Korean version special is the creativity and customization that goes into every concoction.
The basics are the same (a hot dog on a stick) but the snack then gets a hefty coating of batter that is deep-fried for a crispy exterior which is further embellished with coatings—from potato cubes to crispy rice and more. And the inside isn't always a meaty hot dog, either, as some Korean corn dogs are built around a stick of mozzarella cheese.
Unlimeat/Intagram
For those looking for a meatless version of this snack, Korean corn dog chain Two Hands is adding its first plant-based hot dogs made in partnership with South Korean brand Unlimeat.
At its more than 60 locations, the franchise will soon be serving corn dogs stuffed with Unlimeat's newly released plant-based sausage.
Founded in 2019, Two Hands has been looking for a vegan option for nearly a full year and partnered with Unlimeat after CEO Paul Yoo was impressed with its products.
"Two Hands has been looking for a suitable vegan sausage product as a filling for their Korean-style corn dogs for a long time and decided to partner with us right away after tasting a sample of our product," Jei Oh, Director of Brand Strategy at Unlimeat, tells VegNews.
While the corn dogs were initially set to be dipped in a vegan batter, Oh explains, they will now be dipped in Two Hands' original non-vegan batter. This is because the chain was unable to fry the new corn dogs in a separate fryer and decided to revert back to its non-vegan batter.
South Korea's vegan meat leader
Unlimeat is a leading vegan meat brand in South Korea. In 2021, it raised $23 million in funding and announced plans for a new 97,000-square-foot manufacturing facility, one of the largest plant-based production centers in Asia.
What sets Unlimeat apart from other meat alternatives is that it uses would-be wasted grains, oats, and nuts with slight aesthetic imperfections, Unlimeat upcycles these ingredients to create their products, which include sausages, pepperoni, tuna, pulled pork, and deli meats.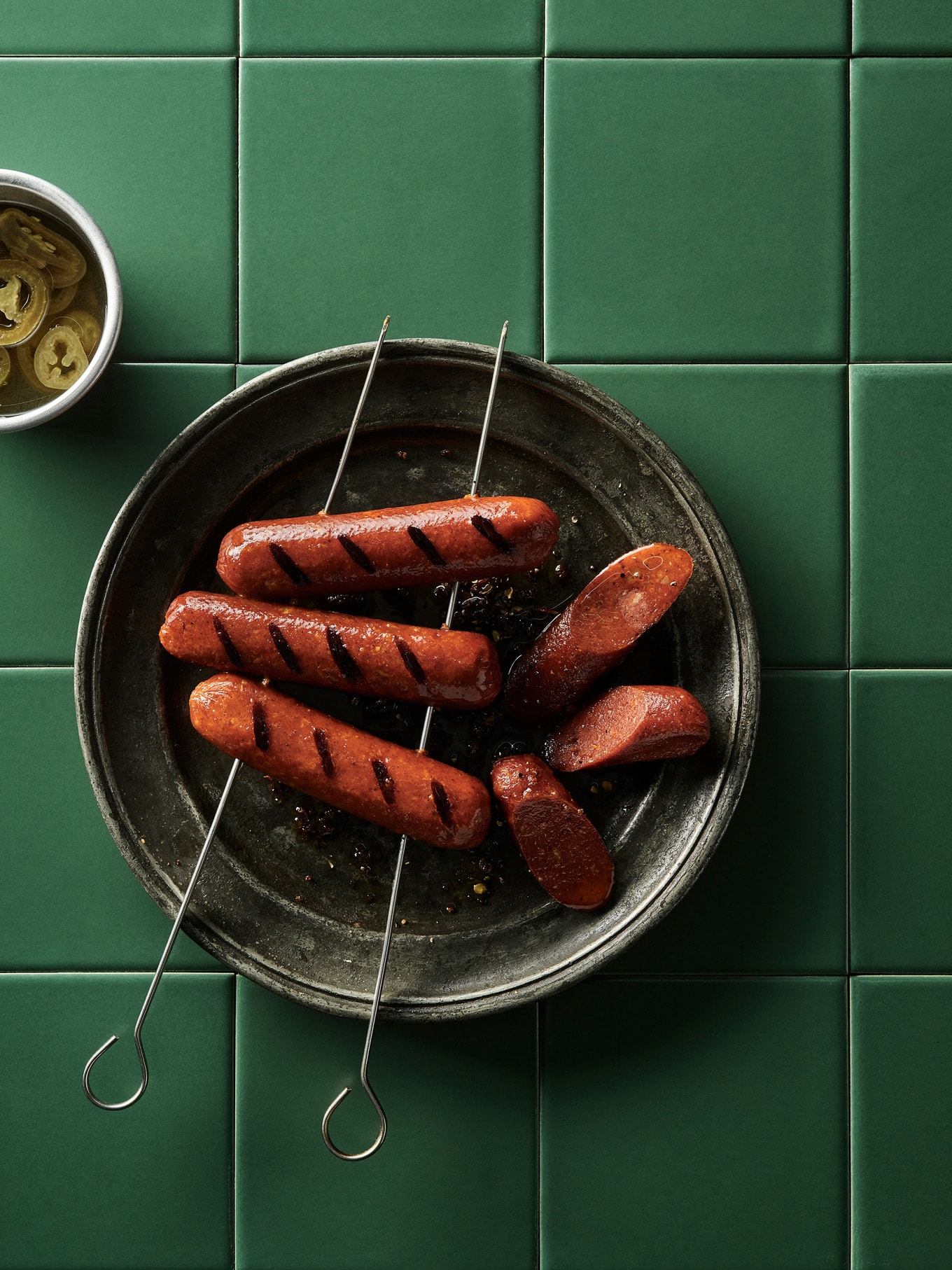 Unlimeat is part of a larger South Korean food company called Zikooin. Established in 2017, the parent company is actively working to make Unlimeat available in international supermarkets and foodservice establishments.
In South Korea, Unlimeat's products can be found at some major international fast-food brands and its partnership with Two Hands represents a milestone for the growing brand. "So far, Unlimeat has partnered with American brands entering Korea, such as Subway and Domino's, helping them provide plant-based options in Korea, but this is the first time that we have provided plant-based products to a franchise brand based in the United States," Oh said.
"It's even more meaningful for us to collaborate with a brand that has a relationship with Korean food culture," she said.
And Two Hands' new vegan sausage-stuffed corn dogs are just the beginning of its collaboration with Unlimeat which will see other innovations on the menu, including hot dogs stuffed with its plant-based mozzarella, cheddar, and a combination of vegan cheese and sausages.
Unlimeat is also continuing its expansion in the US. Outside of Two Hands, the company's vegan meats are currently also on the menu at Korean barbecue restaurant Jeong Yuk Jeom in Los Angeles and craft brewery Dokkaebier in Oakland, CA.
For the latest vegan news, read:
Editor's note: this story has been updated to better reflect the timing of the launch of Unlimeat's hot dogs at Two Hands and the chain's decision to use a non-vegan batter.