Celebrity chef Eric Ripert is best known for his flagship Le Bernardin restaurant in New York City. The establishment was the first in NYC to receive three Michelin stars in 2005—awarded to Ripert and team when the Michelin guide first launched in the city. Under Ripert's leadership, Le Bernardin has held onto those stars for 18 years and today, is one of only 14 restaurants in the country to claim that honor.
Ripert has been professionally cooking since age 17, and for more than 40 years, the chef has innovated his menus to deliver the caliber of food that the culinary community continues to recognize as worthy of top praise.
To keep pushing the envelope, Ripert has teamed with food-technology company Nature's Fynd to explore the power of its fungi protein (called "Fy") in replacing environmentally damaging animal products.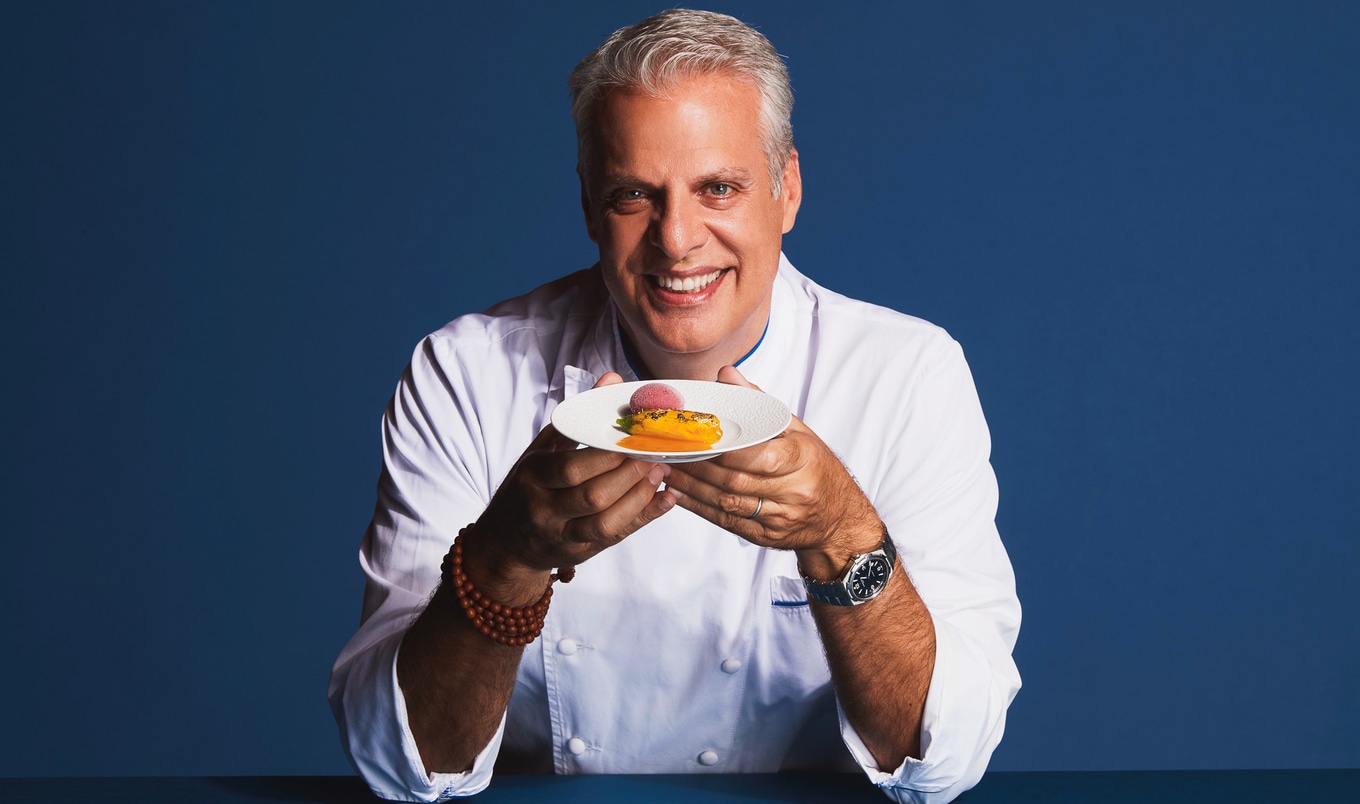 Nigel Parry
Last year, Ripert put Fy on the summer tasting menu at Le Bernardin as part of vegan desserts. Diners were able to experience Fy as part of a cheesecake served inside of a squash blossom with blackberry sorbet and apricot, and alongside apricot sorbet chamomile ice cream.
"The miraculous capabilities of Fy allow us to create dishes that are kinder to the planet without sacrificing taste or quality," Ripert tells VegNews. "I see it as my responsibility to use my agency as a chef to introduce people to these possibilities so we can collectively make more sustainable choices through our food and our lifestyles."
Vegan dressings with Michelin cred
After working with Fy at Le Bernardin, Ripert found a new way for food lovers to experience the magic of the ingredient outside of the fine-dining restaurant. As Nature's Fynd's new Culinary Advisor, Ripert developed a limited-edition line of Vegan Fy Dressings, a trio that includes Herbed Ranch, Zesty Goddess, and Miso Caesar.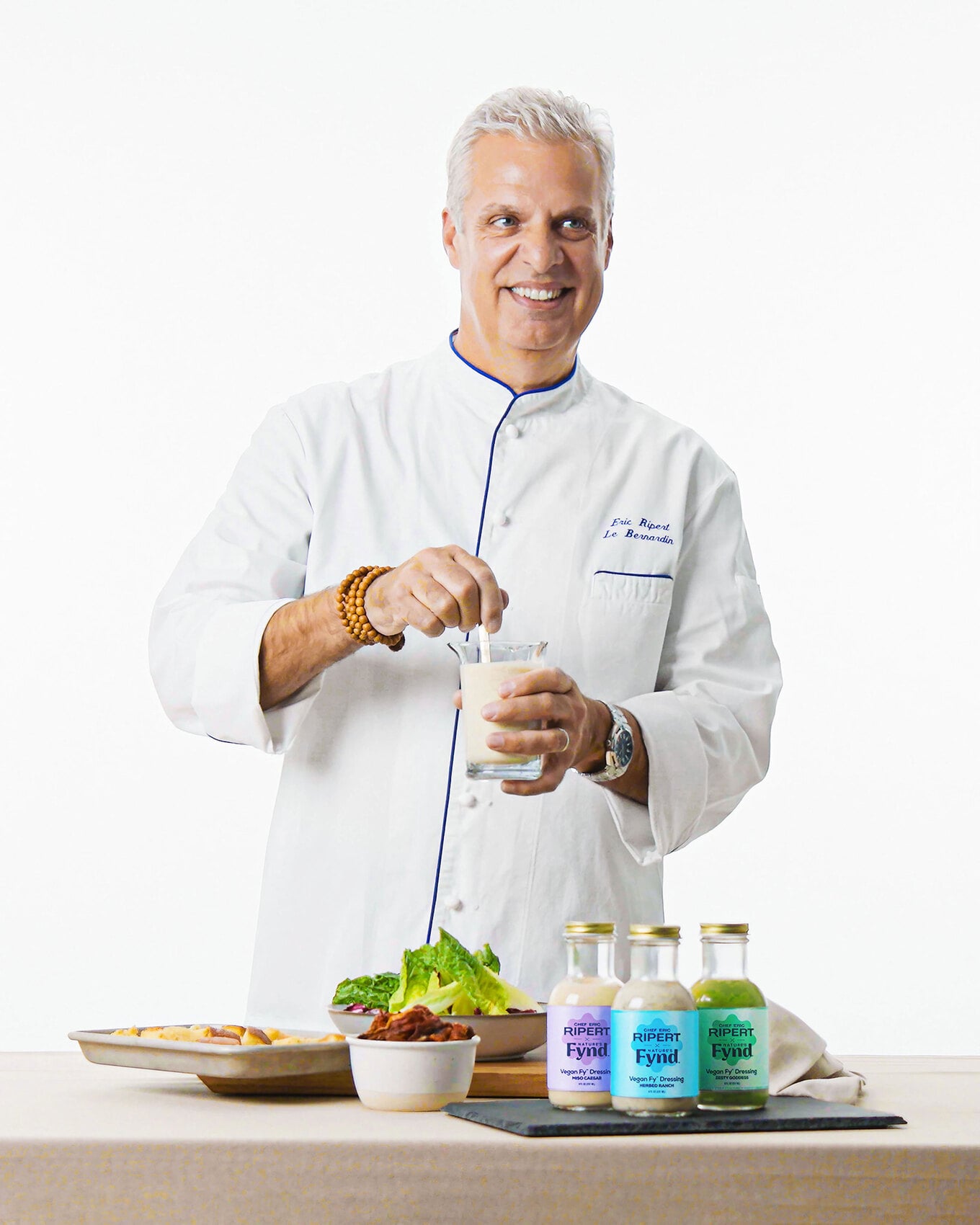 Nature's Fynd
"The genesis of my experimentation with Fy in sauces and dressings was at Le Bernardin, where we used Fy to create an animal-free béarnaise sauce, which is served atop warm asparagus on our vegetarian tasting menu," Ripert says.
"I was blown away by both the flavor and texture we achieved in the béarnaise sauce—I truly couldn't believe it was dairy and egg-free—and this inspired me to work with Nature's Fynd to create these dressings, so everyone can taste the magic of Fy in this way," Ripert says.
The Caesar dressing, a classic staple, was the starting point, and Ripert added miso to evoke the nutty umami flavors of anchovy and parmesan. Keeping the ingredient list short in all three dressings—which are built around Fy-powered vegan milk as a base—allowed the flavors of the fresh ingredients, such as herbs and lemon zest, to shine.
While Ripert is now giving Fy Michelin-starred treatment, the journey of the fungi protein began in 2008 with NASA-backed research on microbes found in the geothermal springs of Yellowstone National Park. Nature's Fynd co-founder Mark Kozubal, PhD, discovered a remarkable microbe, Fusarium strain flavolapis (or "Fy"), in the park's volcanic hot spring.
This microbe became the foundation of the breakthrough fermentation technology used to produce Fy—a nutritional fungi protein that requires only a fraction of the resources used in traditional animal agriculture.
Fy's allure lies not only in its sustainable production but also in its exceptional versatility and nutritional density. As a complete vegan protein containing all 20 amino acids, including the essential ones, Fy also provides a source of fiber and other essential nutrients. Through fermentation-based technology in cafeteria-size trays, Fy can grow into the protein equivalent of 20 to 25 chickens within just four days.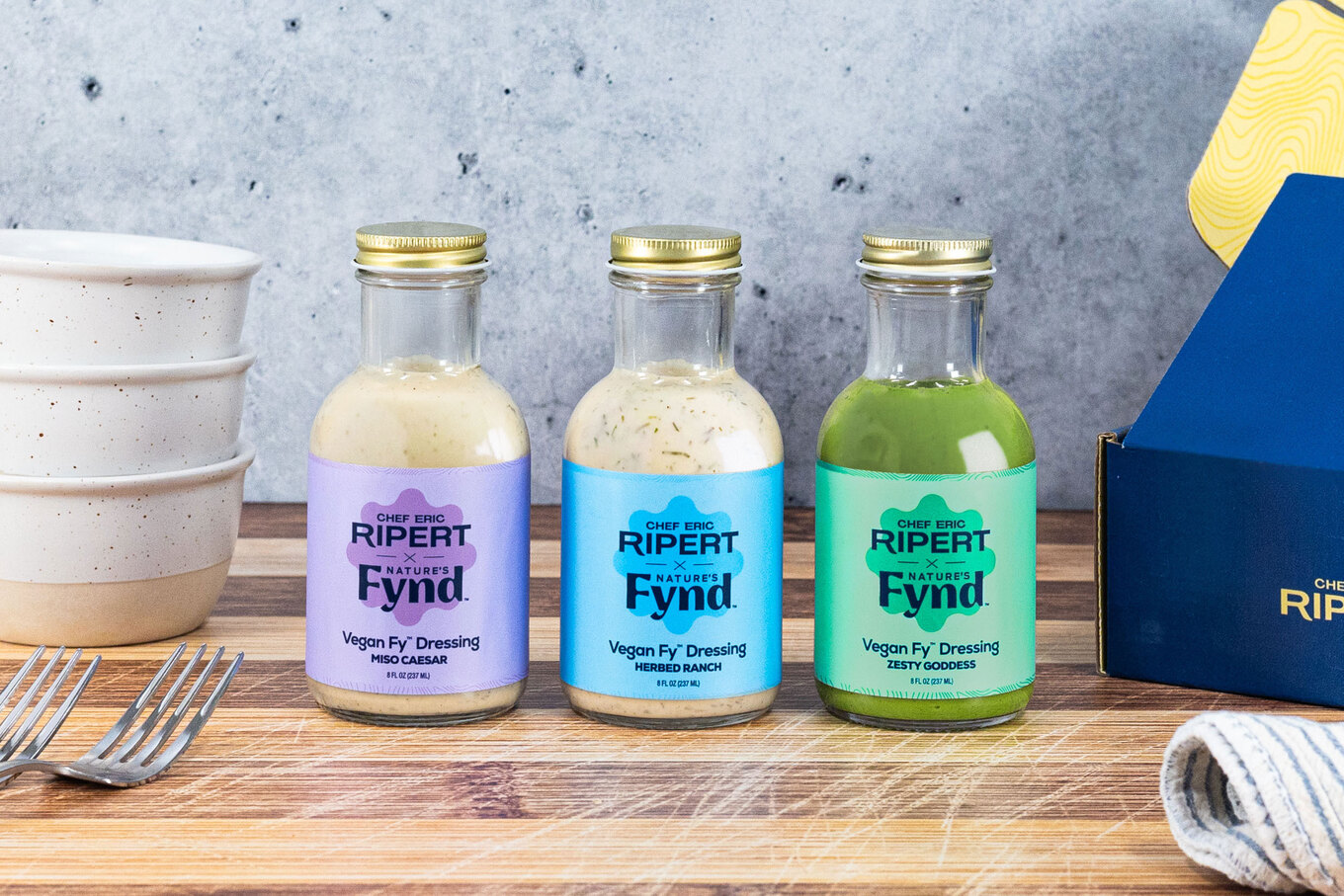 Nature's Fynd
Why use Fy to make creamy dressings? Ripert says that the protein's functional properties really shine in this format. "We wanted to create creamy dressings specifically because they are typically difficult to achieve without animal products—we knew this would really showcase Fy's emulsification properties and offer home cooks a high-quality animal-free option for their salads and beyond," Ripert explains.
The trio of Vegan Fy Dressings can be purchased through the company's website starting tomorrow at 12pm EST.
Optimism for a sustainable food future
Thus far, in addition to the limited edition dressings, Nature's Fynd has developed consumer-facing products such as breakfast sausage and cream cheese—available at retailers such as Whole Foods—to showcase the versatility of Fy.
However, together with Chef Ripert, Nature's Fynd is taking the novel protein to new heights. "We are honored to partner with chef Eric Ripert as our Culinary Advisor," Nature's Fynd CEO Thomas Jonas tells VegNews. "His sophisticated palate guides our culinary innovation and his genuine excitement about Fy helps us realize its full potential as a fine dining-quality ingredient."
"We also feel very lucky to be deeply aligned in purpose with Chef Ripert, and look forward to continuing working in tandem with him to create a more optimistic future through food," Jonas says.
And Ripert was compelled to partner with Nature's Fynd to use his influence in the culinary world in a way that has far-reaching benefits.
"At the core of my compatibility with Nature's Fynd is one word: optimism. When I was first introduced to Nature's Fynd, I was instantly drawn to their purpose of using food to tackle big problems, and I love how they describe themselves as a 'food company for optimists,'" Ripert says. "We have a shared goal of using food as a vector to create positive change in both the environment and people's wellbeing."
"Together, we are adopting a positive-minded approach to forge a more sustainable future through food that is beautiful, nourishing, and delicious," the chef says.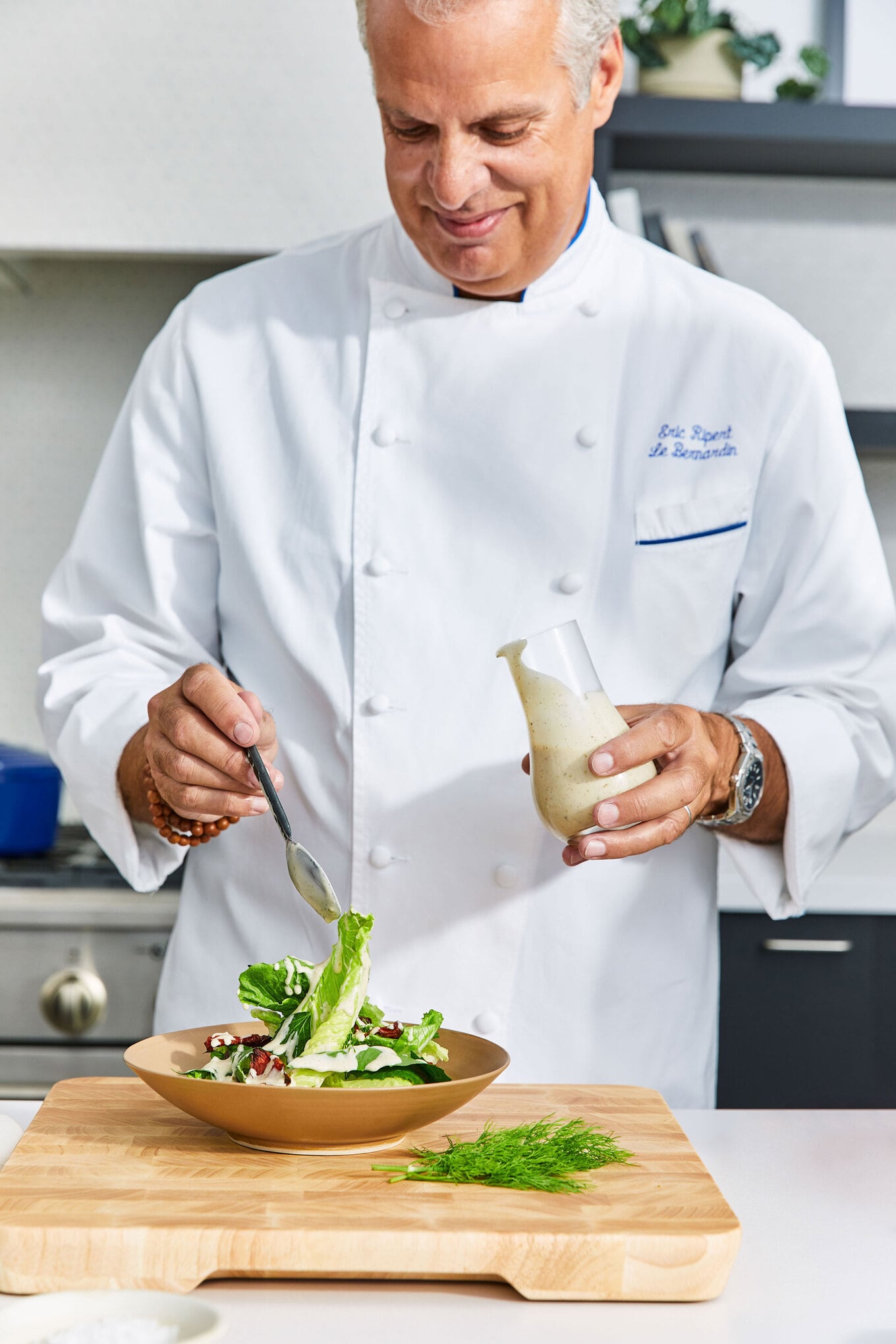 Nature's Fynd
On the horizon, Jonas and Ripert aim to continue their exploration of how Fy can improve a variety of foods, ushering in a more sustainable future for both consumer goods and fine dining.
"As we work to introduce more Fy-based foods to consumers in grocery stores across the country, we are excited to simultaneously explore the many possibilities of Fy with Chef Ripert," Jonas says. "Our hope is that as more consumers discover Fy's delicious possibilities, we will be moving towards our goal of nourishing people and nurturing the planet for all of us and future generations."
For the latest vegan news, read: