Lizzo might be best known for her musical talents but she is also 100 percent a vegan foodie—which became even more evident during her "The Special Tour." Lizzo began the tour in Florida in September 2022 and is concluding the second leg of the 80-stop world tour over the weekend in Japan.
Along the way, Lizzo took to TikTok to share glimpses into her life on the road, performance highlights, and a variety of vegan dishes she found along the way.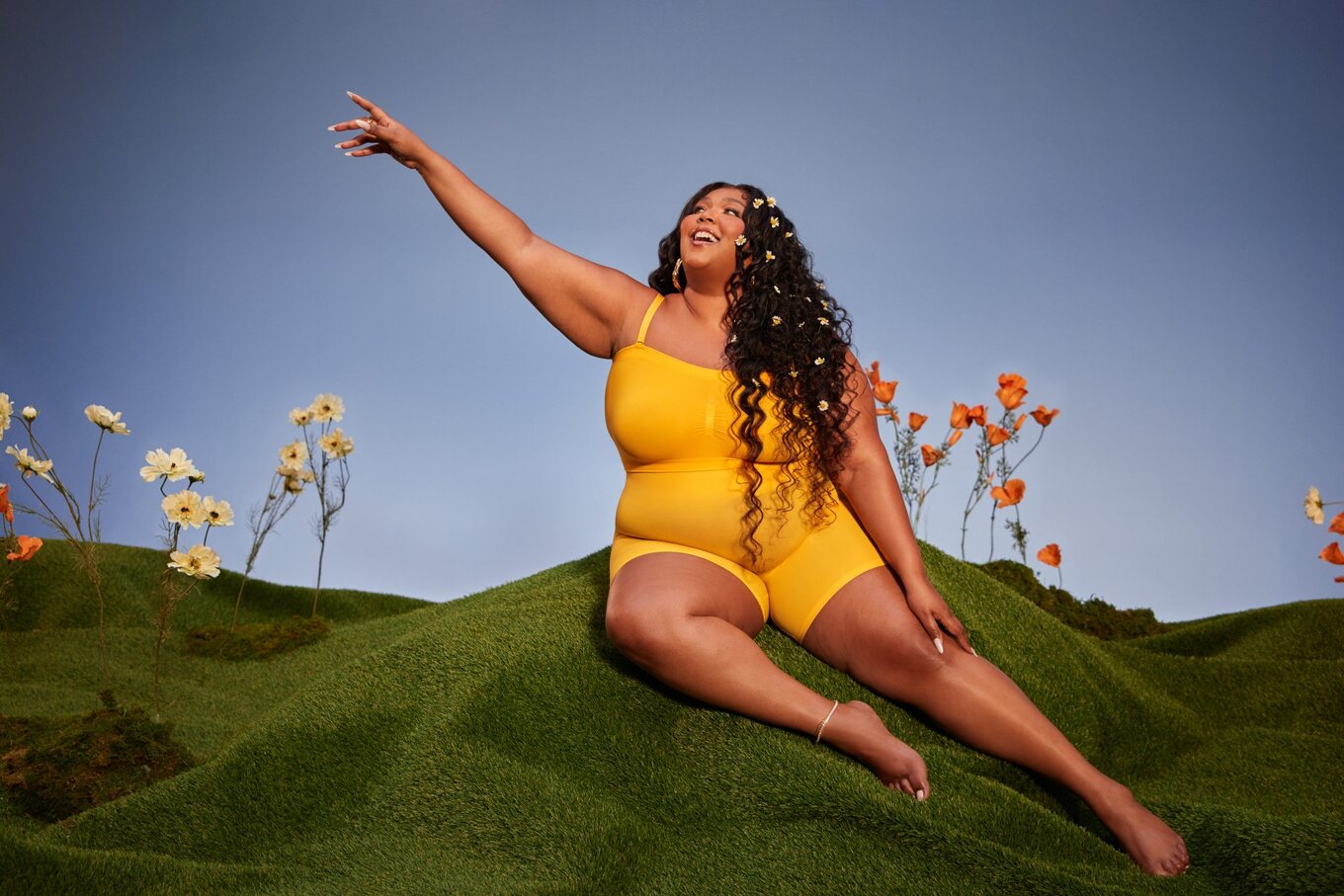 Yitty
Why vegan? Lizzo experimented with vegetarianism early in her career and ultimately decided to go vegan in the summer of 2020. And we've been living for the vegan food the 35-year-old Grammy Award-winning musical artist has been sharing ever since.
The vegan food Lizzo found on 'The Special 2our'
The second part of her "The Special Tour," formally known as "The Special 2our,", commenced in Knoxville, TN on April 21. She began this leg of her tour with a Carolina Peanut Soup during her St. Louis, MO show, before celebrating her birthday (April 27) with a giant vegan cake, emblazoned with her image.
During her show dates in May, Lizzo got into some vegan eats on the West Coast. In California's capital city, Sacramento, Lizzo found sushi restaurant Raku, where she tried veggie sushi rolls topped with yuba (tofu skin) and purple potato tempura-stuffed rolls, both dipped in plenty of soy sauce.
"That is some of the best veggie sushi I literally have ever had," Lizzo said in a TikTok video.
When she arrived in San Diego, CA, Lizzo was grappling with a bout of anxiety and acid reflux, which she found challenging to manage simultaneously. She explained that her assistant orders everything from a restaurant menu that she might like, giving her many tempting options.
Here, with her acid reflux diet in mind, Lizzo received items from El Jardin, a Mexican restaurant, including a tamal; a bacon, egg, and cheese bagel; and "a crazy box of nachos" along with an array of salsas.
She found the tamal to be well-seasoned and stuffed with an array of veggies. And despite denouncing most plant-based meats, Lizzo thoroughly enjoyed the perfectly salty bacon in the bagel. While she didn't intend to eat the nachos, Lizzo admits to digging into them off-camera.
When she got to Cleveland, OH, Lizzo was dead set on finding great vegan tacos, which she got from La Plaza Supermarket. The trio of tacos came stuffed with nopales (cactus leaves), beans, and a variety of veggies, along with Spanish rice, plenty of salsas, and a Jarritos tamarindo soda.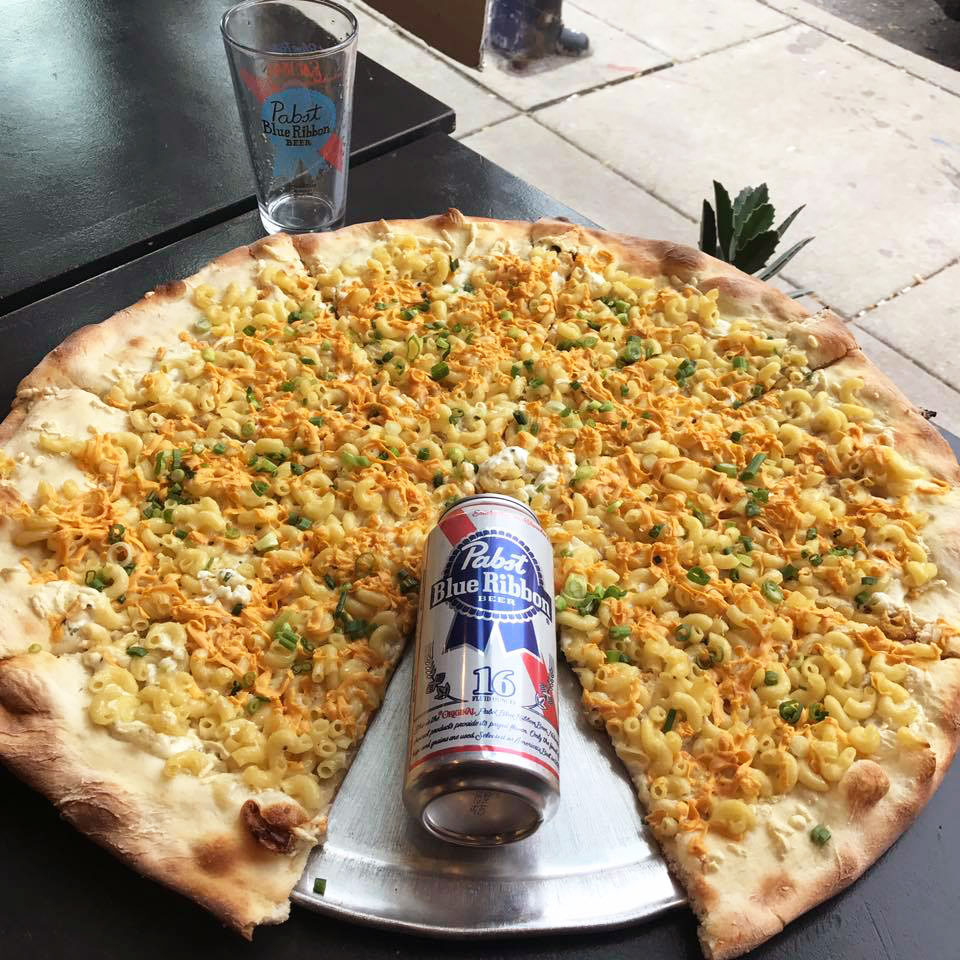 Dimo's/Facebook
In Chicago, IL, Lizzo had the opportunity to sample pizza from Dimo's, where she got two vegan pies: buffalo seitan chicken and another topped with mac and cheese, both of which she dipped in vegan ranch.
The verdict? "If it was me, I would want the mac and cheese to be sloppier so I would mix it with the buffalo (sauce) or Frank's red hot but other than that, 10 out of 10," Lizzo said as she sipped on a root beer.
Overall, this leg of Lizzo's tour took her to 25 cities in North America before venturing to Europe (and beyond) in late June.
Lizzo hops the pond to find more vegan food
Lizzo's first international stop was the Glastonbury festival in the United Kingdom, after which she headed immediately to Belfast, Ireland where she was in search of a vegan spice bag—a popular fast-food dish inspired by Chinese cuisine that features a variety of fried and spiced foods.
Unfortunately, the restaurant that Lizzo had her eye on was closed the day she came, and she was not able to try the dish. To satisfy the craving, Lizzo munched on fried oyster mushrooms.
In a countryside hotel in Bath in the UK, Lizzo delved into multiple "brekkie" options, including in her hotel where she might have started a new trend: dipping vegan sausages into porridge. Here, she also had a brown sugar brûléed grapefruit, something she plans to recreate at home when she returns to the States.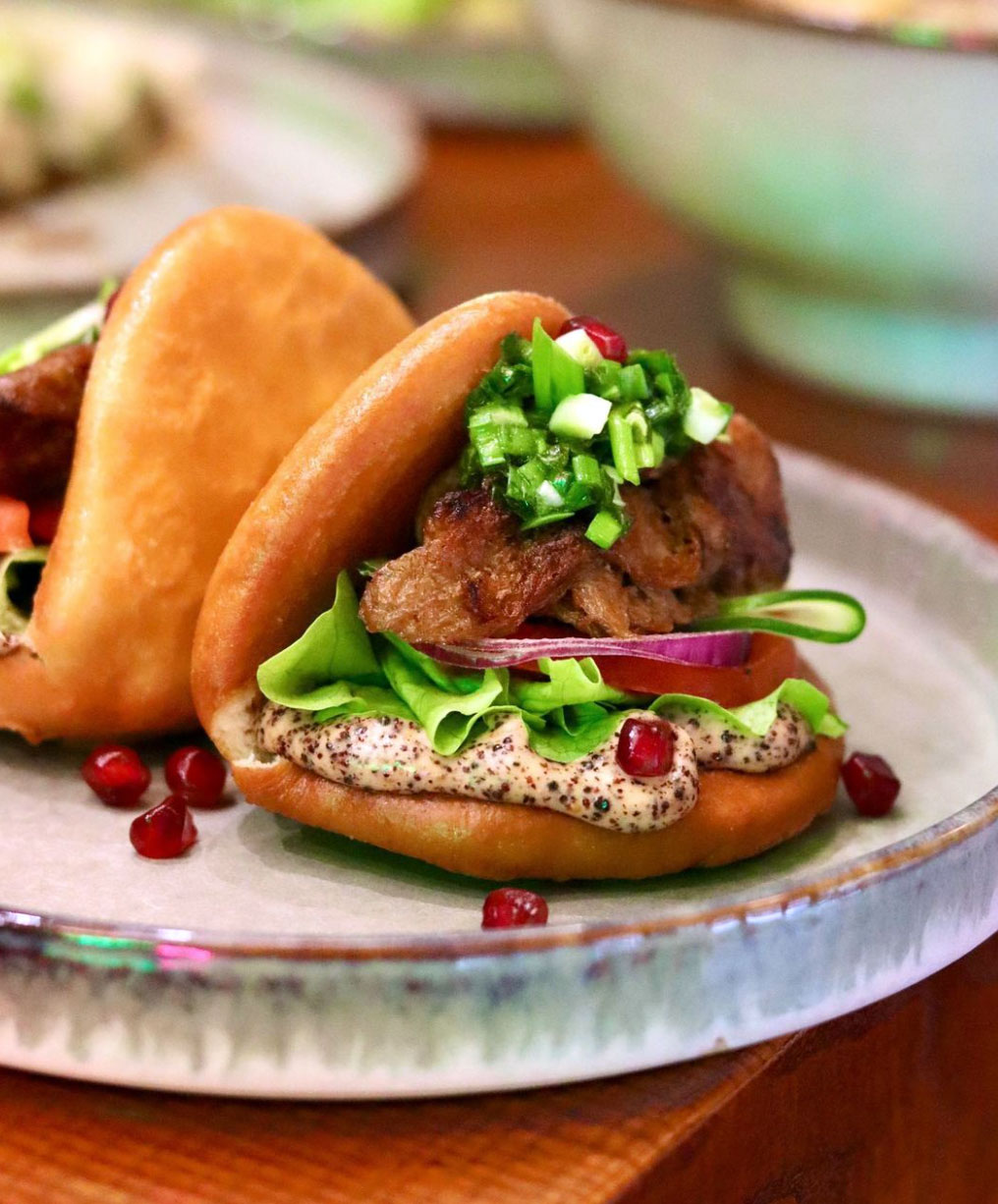 Pink Vegan/Instagram
In Poland, Lizzo picked up a post-gym meal at Pink Vegan in Warsaw. Here, she tried a vegan feta-loaded fresh vegetable salad; crispy bao buns stuffed with vegan beef and veggies; sushi rolls; and a miso soup that she raved about. She also got edamame and kimchi, for protein and probiotics, respectively.
Next, Lizzo headed to Portugal. "So far I've had an amazing vegan experience," Lizzo said while sitting down to eat a meal from Plant Base in Lisbon.
First, she dug into simple seitan stuffed tacos, accented by only onions and a bit of cilantro. The meat here was shockingly (and delightfully) spicy. Lizzo also tried nopales tacos (a new favorite of hers) that were equally spicy.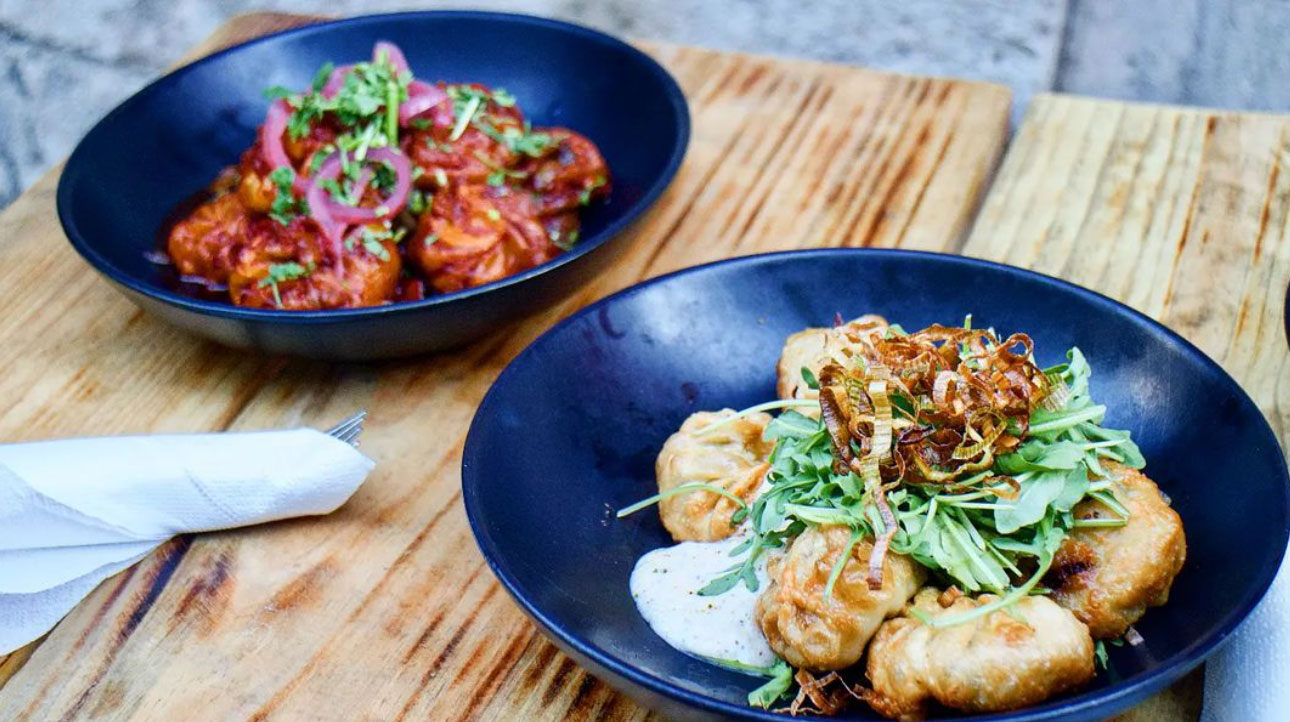 Plant Base/Instagram
To finish it off, Lizzo was excited to try vegan dumplings from Plant Base, which were stuffed with chickpeas and had an array of seasonings that reminded her slightly of Thai flavors. "It has some slightly sweet, cinnamony flavors which I'm not mad at," Lizzo explained after saying the dish was "really really good" multiple times.
Lizzo gets into vegan food on tour
The first leg of Lizzo's tour was just as exciting as the second when it comes to vegan finds. At the beginning of her tour, Lizzo indulged in some exceptional vegan meals, including a mac and cheese, elote, and sauce fries feast in Atlanta; a vegan bacon, egg, and cheese bagel sandwich from a deli in Portland, OR; and a vegan chicken and waffle sandwich from Oh My Soul in Charlotte, NC.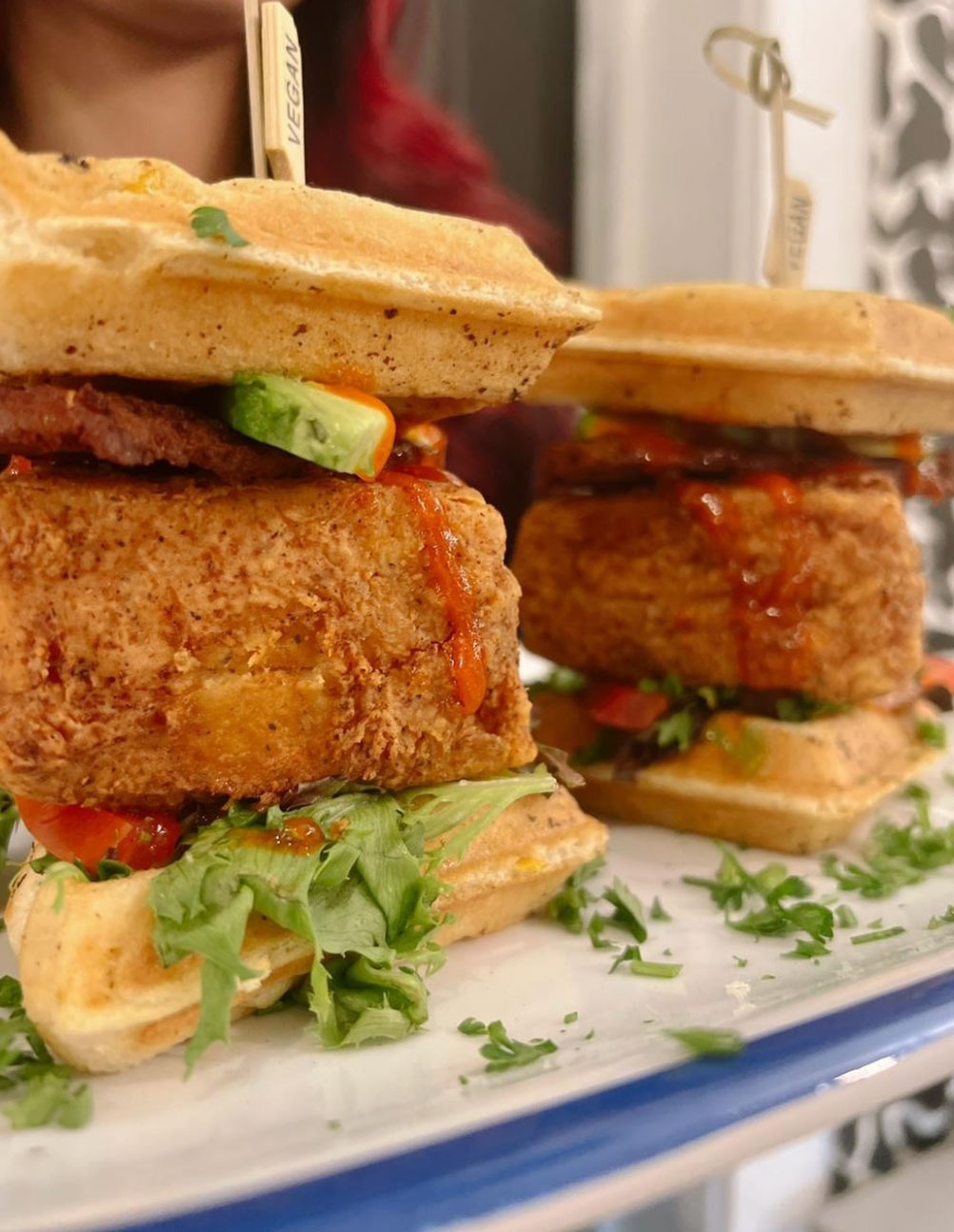 Oh My Soul/Instagram
The European leg of this portion of The Special Tour included a noteworthy meal from Gooey in Manchester, UK, where she relished a tofu sandwich, hash browns, and a side of ketchup. "This is why I love the UK," she announced in a TikTok video. "Their hash browns are always crispy, never gloopy, always salty."
Once she wrapped up this segment of her tour, Lizzo prepared nourishing comfort foods from her groceries before they spoiled, including her first breakfast tofu scramble and a quick Tofurky sandwich for lunch.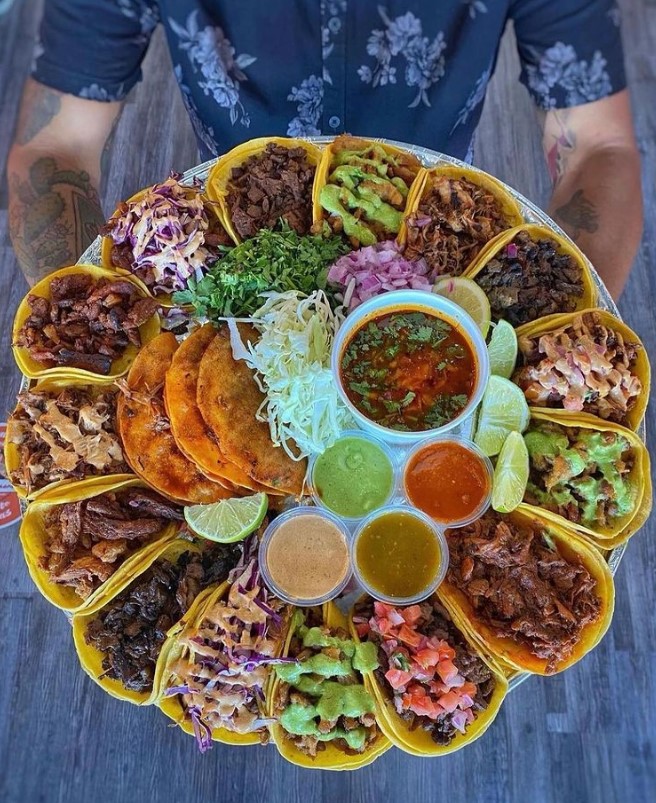 El Cocinero
In April, Lizzo was won over by El Cocinero Restaurant, a vegan eatery in Van Nuys, CA. She enjoyed a jackfruit quesadilla with a rich consommé for dipping, beans, rice, a variety of sauces, and a rice milk horchata.
"You know it's good when you're sucking off your fingers," Lizzo remarked on TikTok. "This is the best vegan Mexican food I have ever had. Ever."
At home around Easter, Lizzo utilized vegan bun bread from Golden Krust to make Jamaican Bun and Cheese sandwiches and prepared a bowl of Fritos topped with chili and green salsa, a dish some refer to as a "Frito Pie."
And it was during this time that Lizzo first tried nattō, which she initially seasoned with soy sauce and mustard. Throughout the tour, Lizzo built up her love of the dish, eating the gooey fermented soybeans atop rice during several stops. Perhaps serendipitously, Lizzo ended her tour in Japan—the birthplace of her new favorite vegan dish.
For the latest vegan news, read: