Americans love tacos. In fact, some estimates state that in the US every year, people eat more than 4.5 billion tacos. They're eaten for breakfast, lunch, dinner, and the small ones even make a pretty good snack too. But when did this love affair with tacos begin? Well, it turns out, it wasn't that long ago (and spoiler alert, it didn't start with Glen Bell). Here's a little bit more about the history of one of America's favorite meals, plus where you can find vegan varieties across the country. Plus, if you feel like making your own, we've included 10 of our favorite plant-based recipes.
Where did tacos come from?
Founded by Bell in the 1960s, Taco Bell is, without a doubt, still one of the most popular places to grab a taco in the US. But the popular fast-food chain didn't invent the taco at all. In fact, according to historian Jeffrey M. Pilcher, the idea for tacos likely came from miners in Mexico.
"My theory is that it dates from the 18th century and the silver mines in Mexico because in those mines the word 'taco' referred to the little charges they would use to excavate the ore," he told the Smithsonian. "These were pieces of paper that they would wrap around gunpowder and insert into the holes they carved in the rock face. When you think about it, a chicken taquito with a good hot sauce is really a lot like a stick of dynamite."
It wasn't until two centuries later—when Mexican people started immigrating to the US to build mines and railroads—that the taco landed north of the border and started to become popular with Americans. This was helped along by second-generation Mexican-Americans, the children of these miners, who started experimenting with taco recipes, fusing together US popular foods (like hamburger meat and iceberg lettuce) with Mexican cuisine in the early to mid-20th century.
"A lot of Mexican American tacos are really adaptations of Mexican food to the ingredients that are available through the US food-processing industry," Pilcher said. Bell was inspired by these foods, and, despite not being Mexican, started up his own chain serving tacos in the 1960s. To this day, Taco Bell is not popular in Mexico, the real birthplace of tacos.

Types of tacos
There are quite a few different styles of tacos out there, but fresh, warm flour tortillas are closest to the kind originally eaten across Mexico. There are also crunchy hard corn-based shells, of course (which, despite claims to the contrary, were likely not invented by Bell, according to Pilcher), and soft chalupa bread shells, too.
There are no rules when it comes to taco fillings, but most opt for meat, fish, or beans, which are then covered with salad, fresh diced tomatoes, guacamole, and cheese.
What's not vegan in tacos?
Tacos are super easy to make and order vegan if you choose filling options like guacamole, salad, refried beans, black beans, brown rice, vegan cheese, and so on. But many popular taco restaurants and chains also serve meat, fish, and shrimp tacos, which are often served with dairy cheese and non-vegan sour cream, so make sure to double-check the ingredients list before you order.

Chains with vegan taco options
If you live in the US, you're spoilt for choice when it comes to Mexican-style chains with vegan-friendly taco options. Next time you're hit with a craving, try one of these popular spots.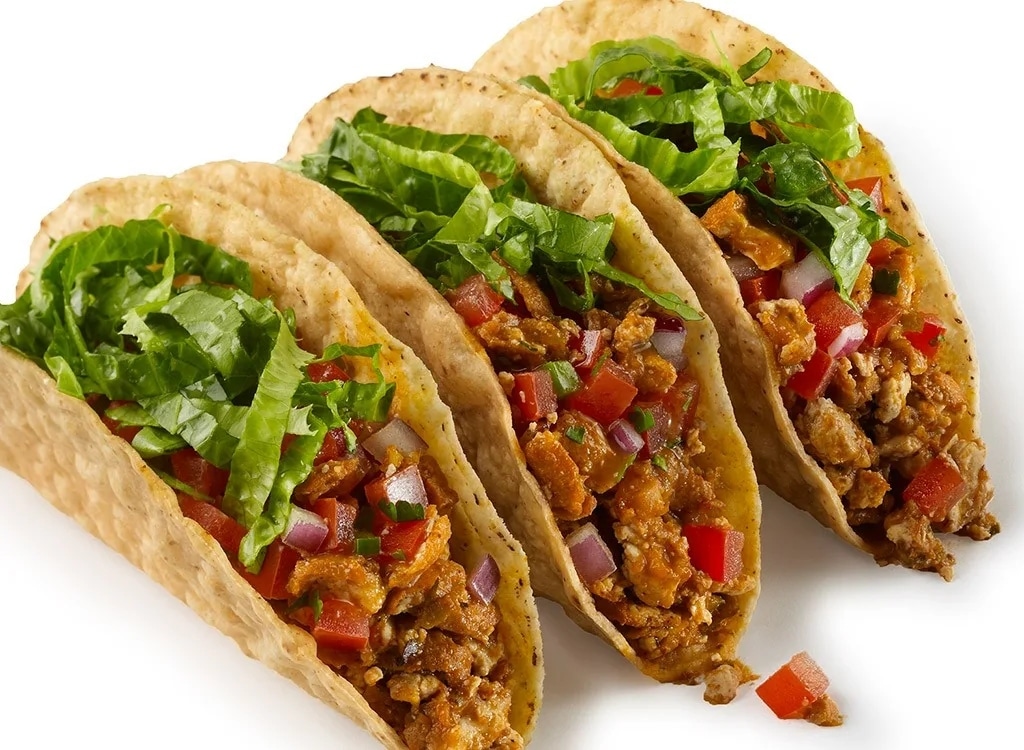 Chipotle
1 Chipotle
Chipotle has been providing the US with Mexican-inspired fare since the 1990s. And for the most part, it's always been a safe haven for vegans. Nearly all of its menu items, including its tacos, can be veganized quite easily by omitting animal products, like cheese, beef, and chicken, and opting for options like plant-based sofritas, beans, and veggies.
Check it out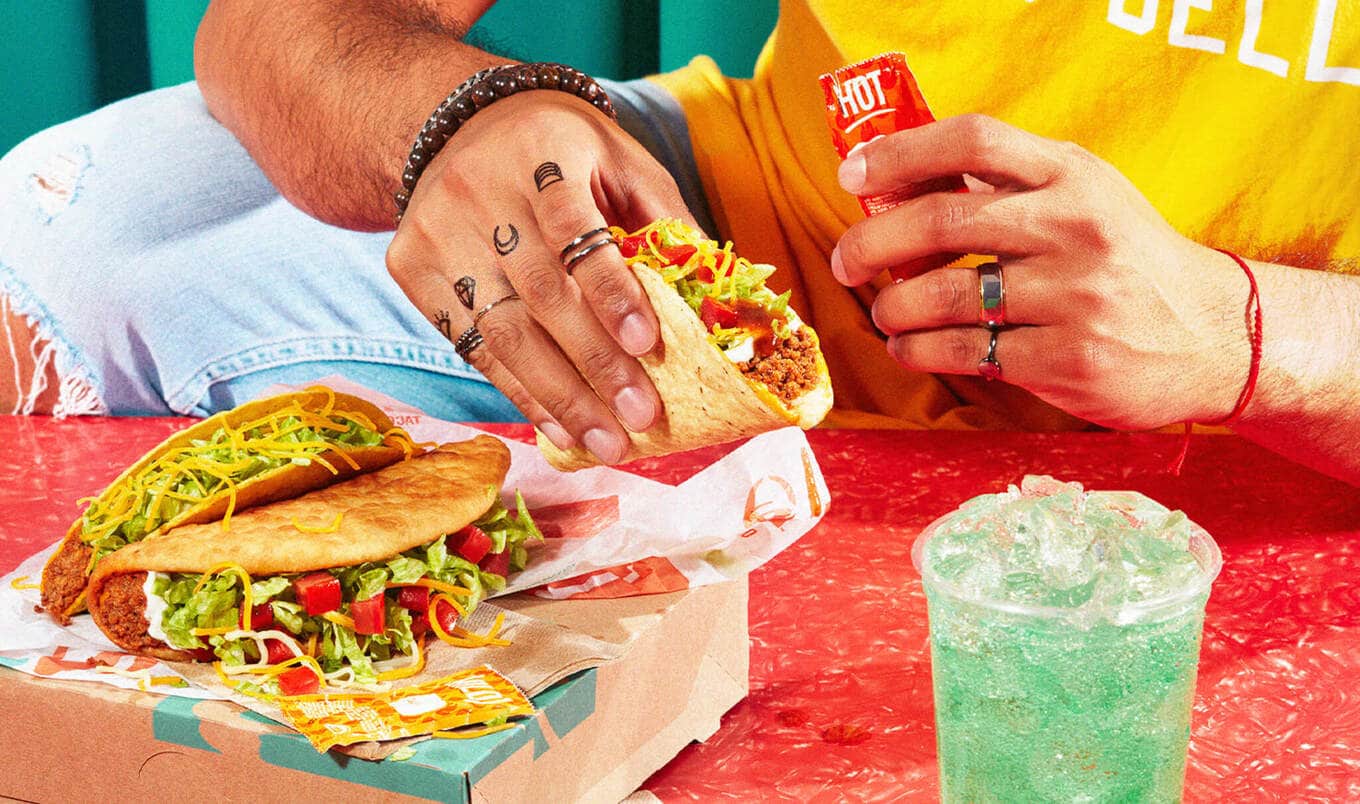 Taco Bell
2 Taco Bell
As mentioned above, wherever you are in the US, you can usually find a Taco Bell pretty quickly. If you want plant-based food, start by ordering your taco "fresco-style," which will replace all dairy- and mayo-based options with fresh diced tomatoes, and swap the meat for ingredients like black or refried beans. Most taco shells are vegan but avoid the Doritos Locos option. The chain has also experimented with vegan meat in the past; in 2022, it started trialing vegan beef in select location.
Check it out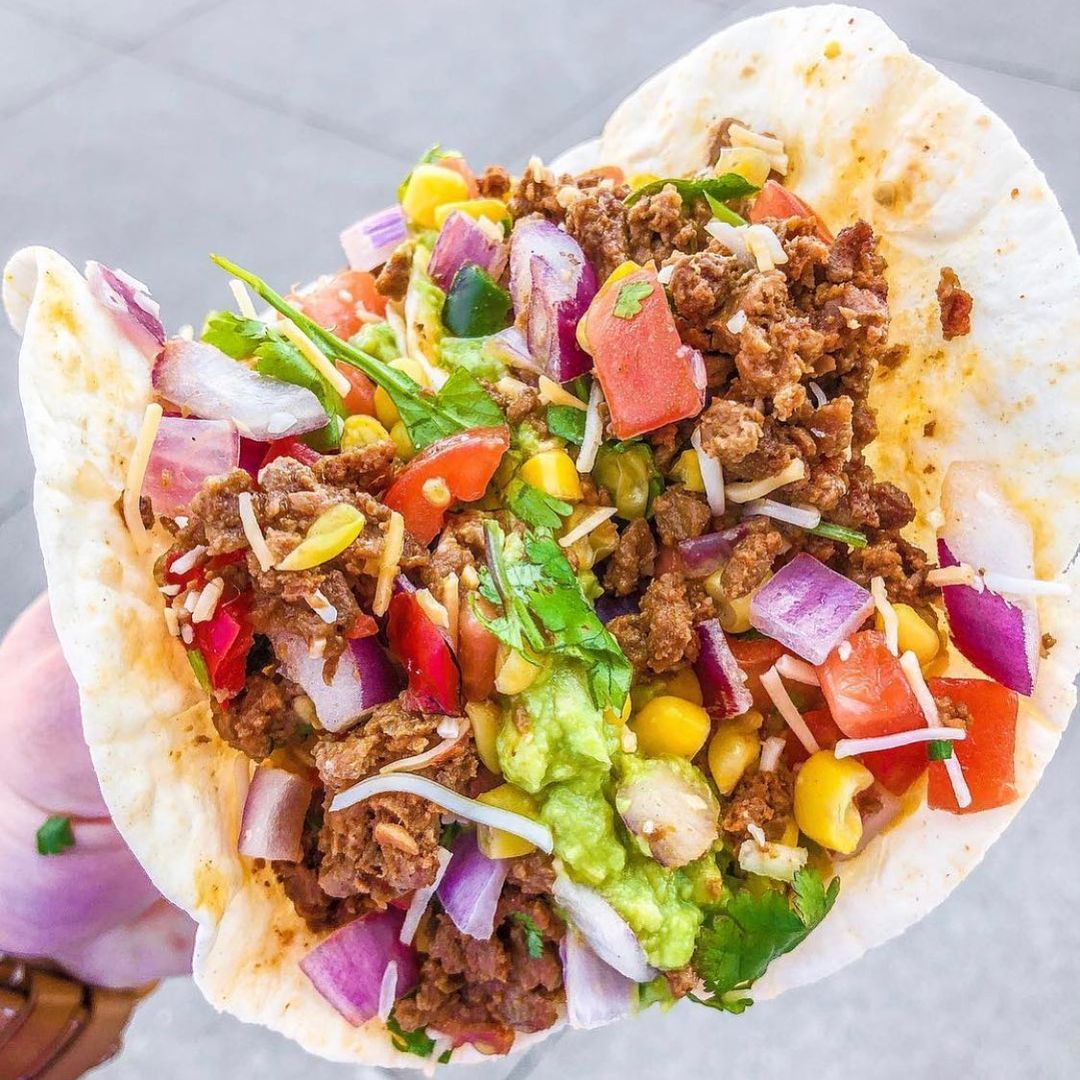 Qdoba/Instagram
3 Qdoba
Another popular choice for Mexican-style cuisine across the US and Canada, Qdoba offers a wide range of vegan-friendly taco options. Go for flour, corn, or taco salad shells, and fill them up with options like veggies, beans, or cilantro lime rice. If you prefer things meaty, several locations also offer vegan meat from Impossible Foods.
Check it out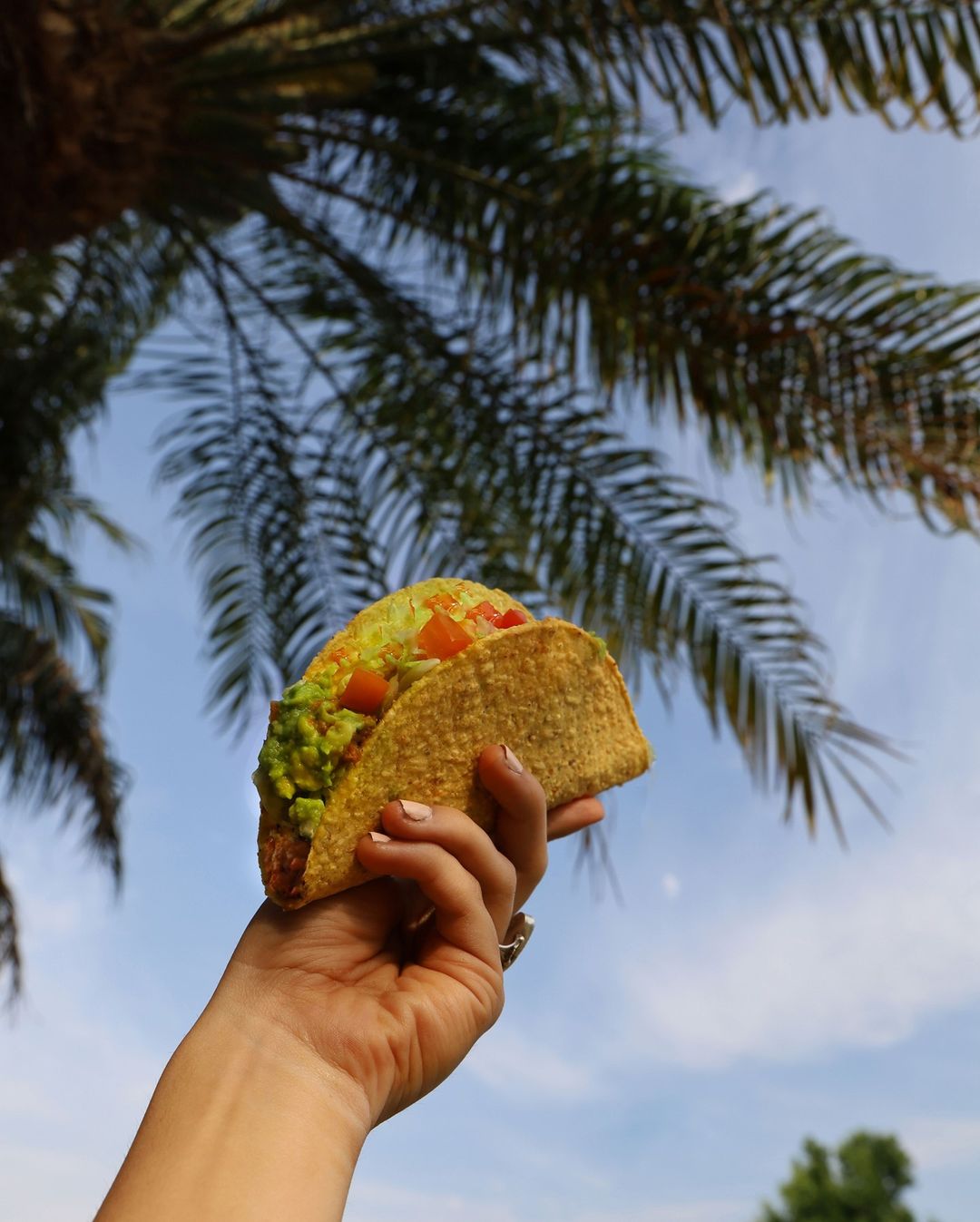 Del Taco/Instagram
4 Del Taco
Good news: Del Taco's Beyond Guacamole Taco is 100 percent vegan! The shell (crunchy or soft, it's up to you) is packed with fresh guacamole, lettuce, diced tomatoes, and super meaty Beyond Meat crumbles. You can also veganize options like the Del Taco, but you'll have to swap out the beef for beans and ask for no cheese, as well as vegan-friendly sauces.
Check it out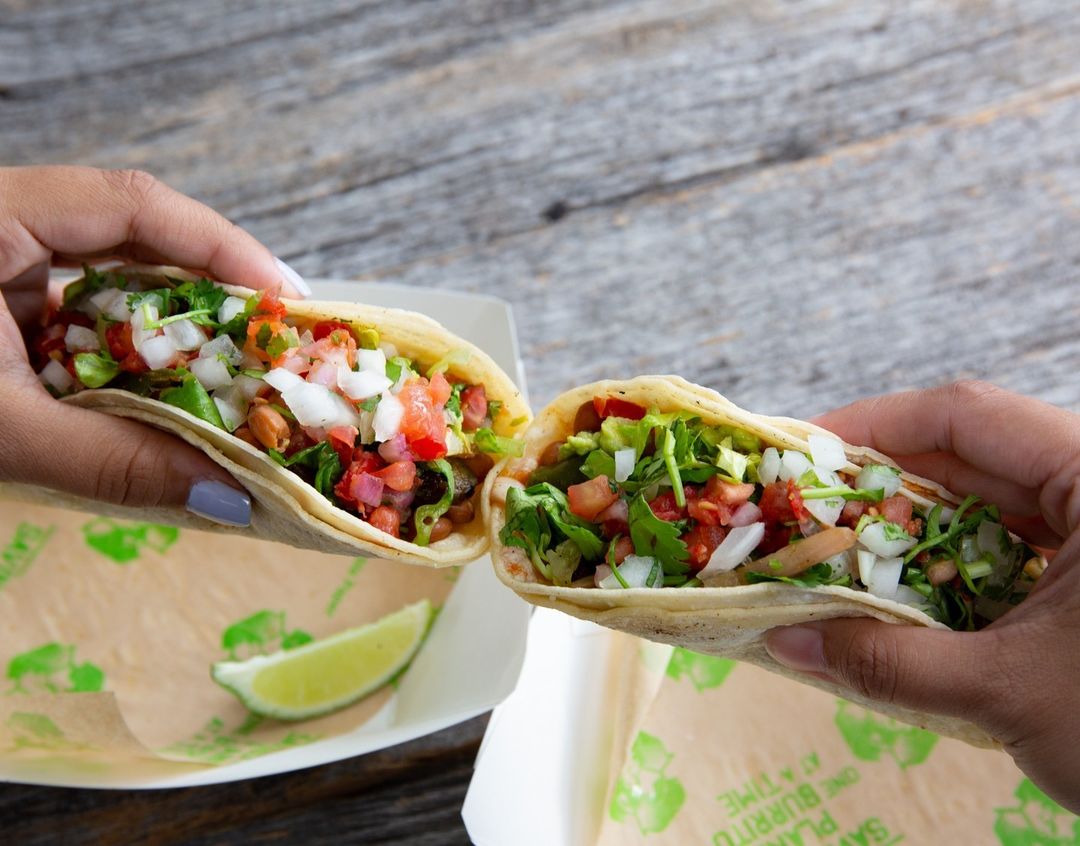 Baja Fresh/Instagram
5 Baja Fresh
As the name suggests, Baja Fresh likes to keep its ingredients as fresh as possible. And like most Mexican-inspired chains, it offers plant-based staple ingredients, like beans, lettuce, and guacamole. But you can also choose to top your taco with Impossible Foods' meat too.
Check it out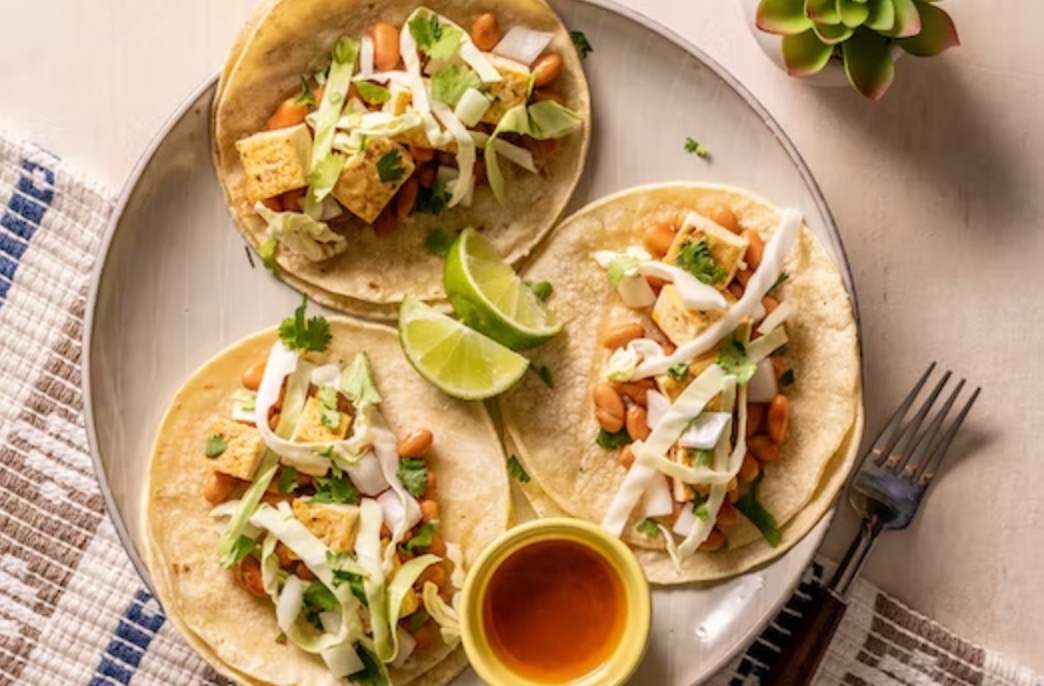 Moe's
6 Moe's
Ordering vegan at Moe's is very simple; just create your own with all of the chain's vegan ingredients. This nationwide chain has all the usual options (including handcrafted guac), as well as organic tofu. Plus, each order comes with a side of free chips and salsa, which are also vegan-friendly.
Check it out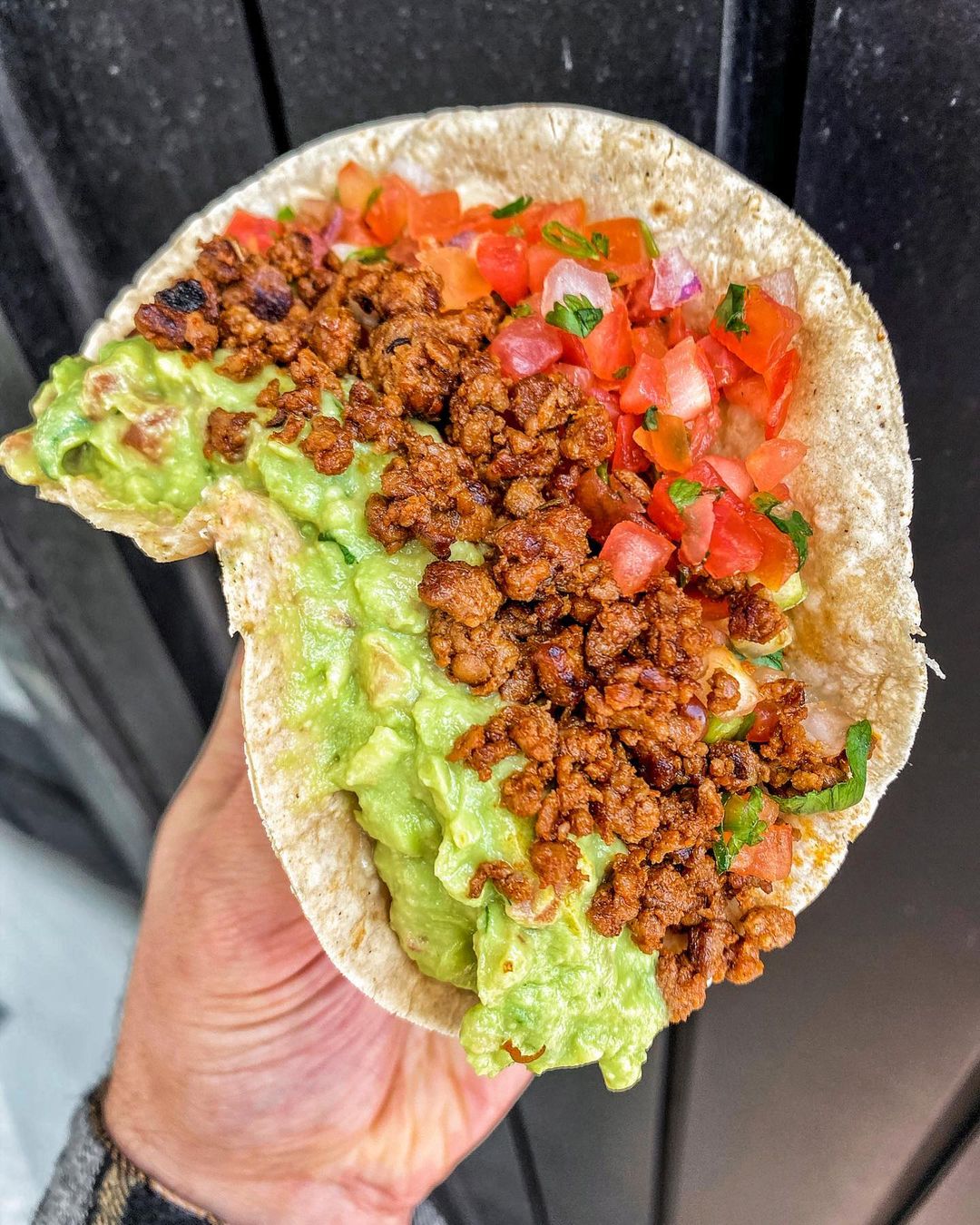 Dos Toros/Instagram
7 Dos Toros Taqueria
Whatever taco you're in the mood for, Dos Toros, which has locations in New York and New Jersey, can cater to you. If you're hungry for something meaty, load it up with Impossible Ground Beef. Or, if you prefer whole foods, try pinto beans with cauliflower rice. Basically, everything on the menu is plant-based (other than the meat and cheese, of course), so you can relax and indulge.
Check it out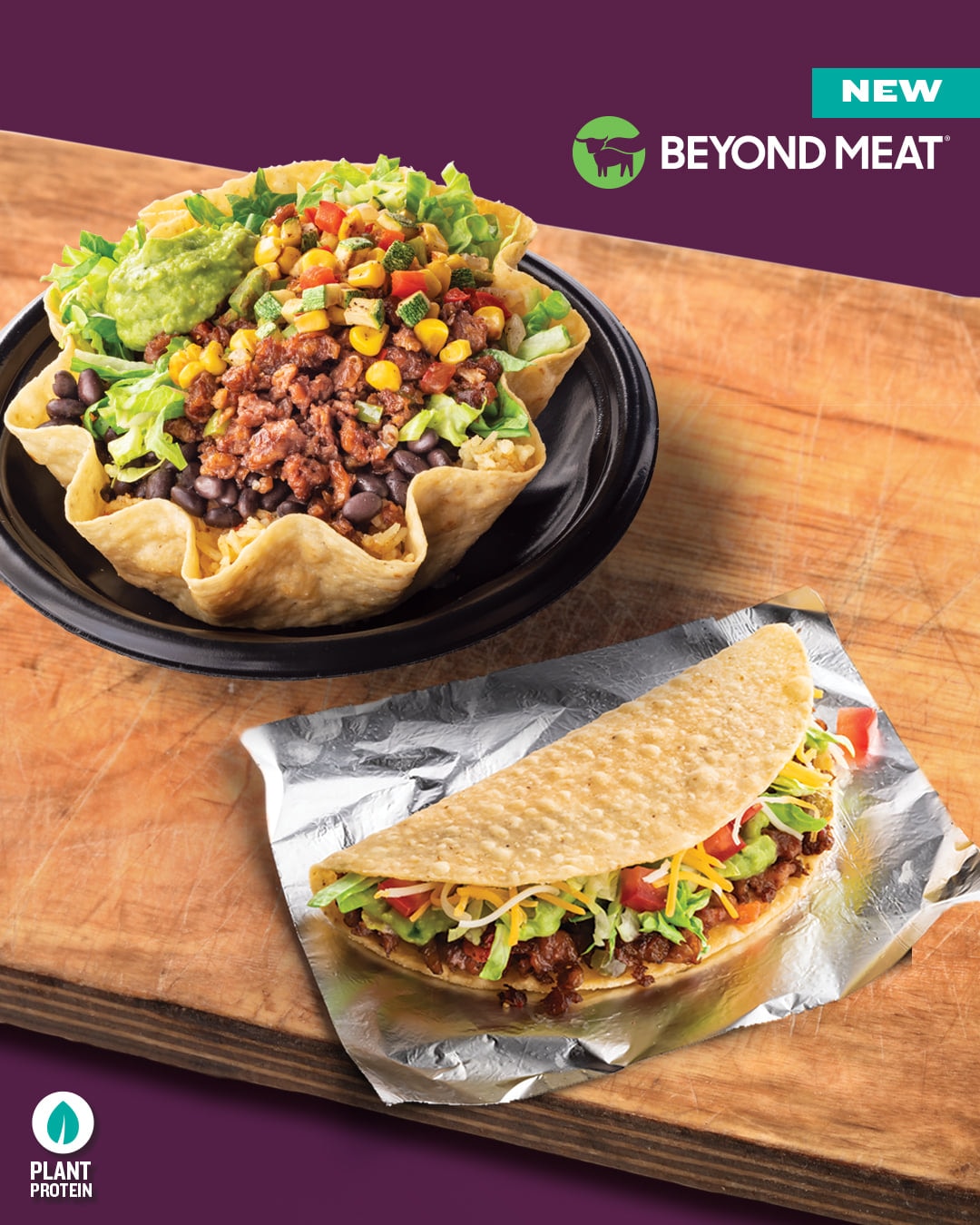 Taco Cabana/Facebook
8 Taco Cabana
While Texas-based Taco Cabana's menu is pretty meat-heavy, there are a few veggie options, and one, the Black Bean Taco, can be easily made vegan. Ask for corn tortillas and no cheese!
Check it out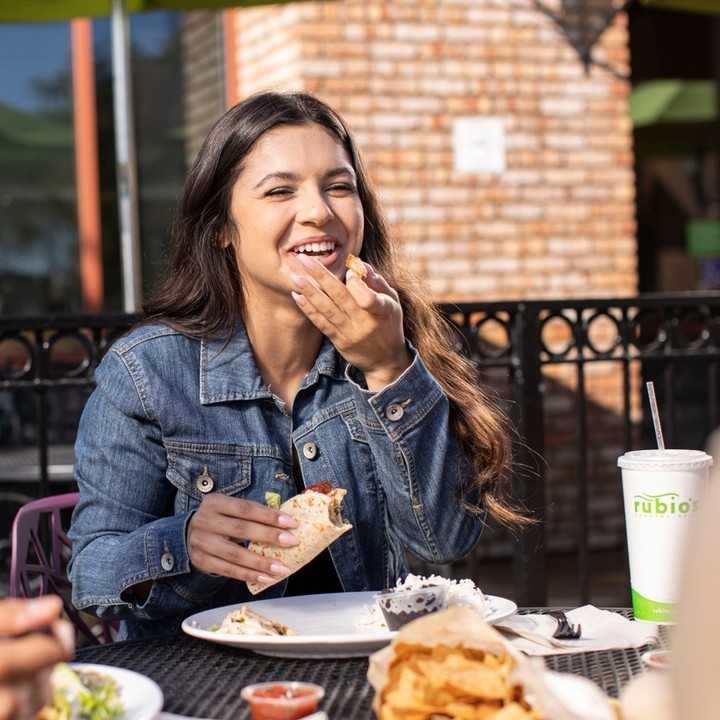 Rubio's/Instagram
9 Rubio's Coastal Grill
While the name implies the menu is going to be pretty fish-heavy, there are a few vegan options at this fast-casual chain, which has locations across California, Nevada, Arizona, Utah, and Colorado. Just ask for grilled veggies or Impossible Foods' meat as your protein, and make sure to specify you don't want cheese or non-vegan sauces.
Check it out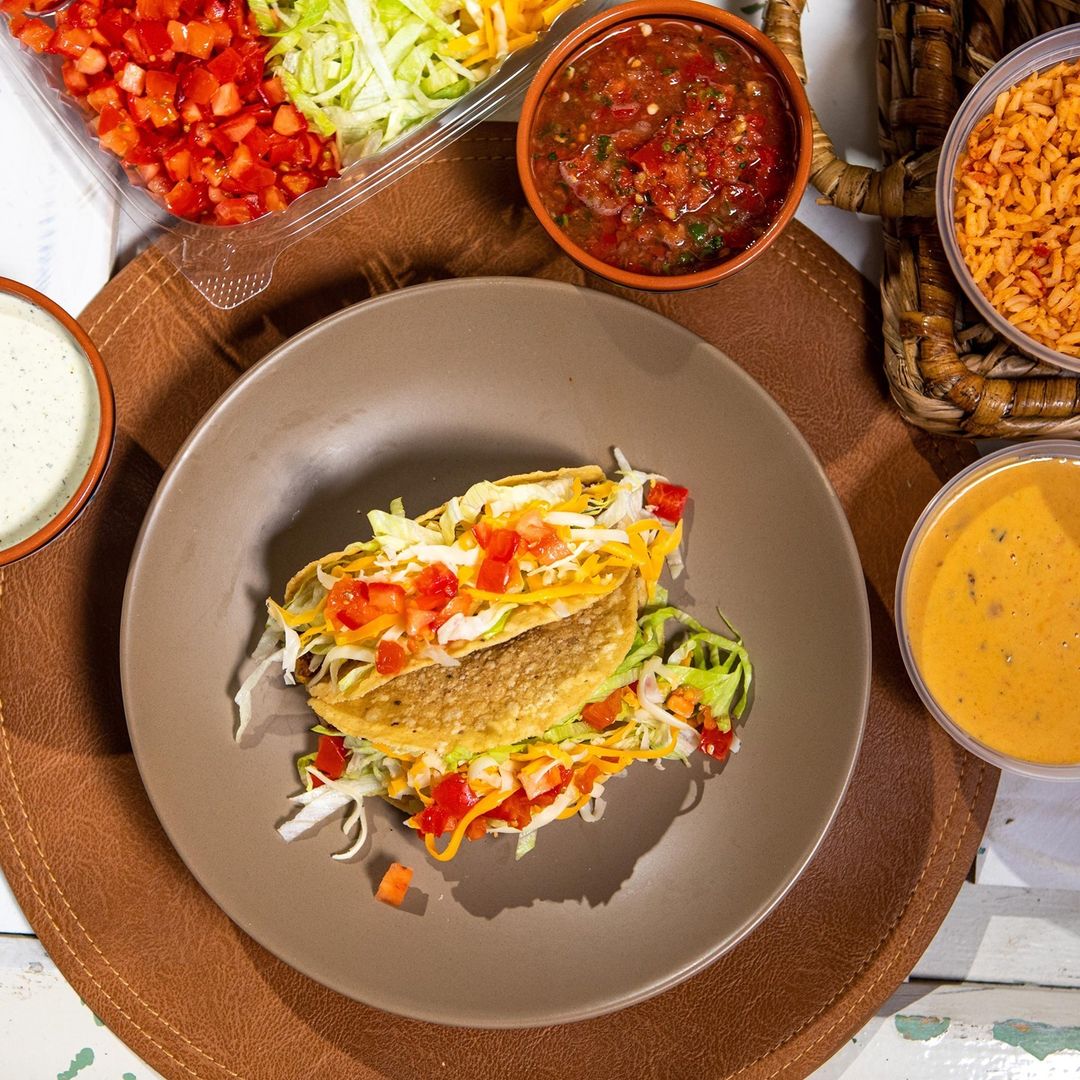 Chuy's
10 Chuy's
Texas-based Chuy's, which has 96 restaurants across the US, has a lot of meat on the menu. But that doesn't mean you're out of options if you want vegan food. Just ask for crispy tacos with all of the chain's plant-based ingredients, like Mexican rice, refried beans, lettuce, and tomatoes. (Again, make sure to remind your server you want yours cheese-free!)
Check it out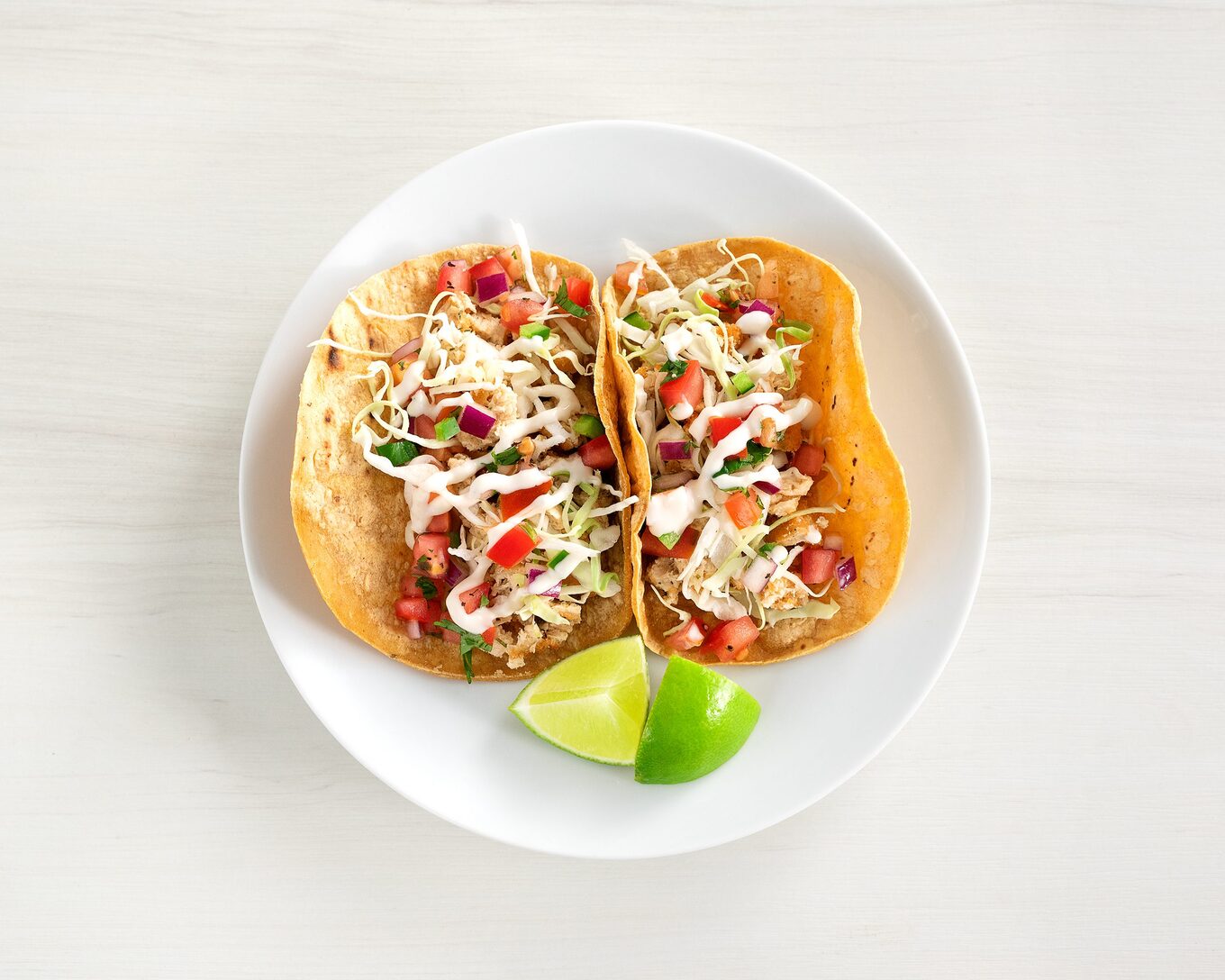 Veggie Grill
11 Veggie Grill
Veggie Grill is growing all the time, but right now, it has around 31 locations (most of which are in California). Everything on the menu is vegan (yes, we do mean everything). If you're in a taco mood, try the Two Taco Plate, which consists of vegan Baja fish tacos with pico de gallo and jalapeno slaw. Or if you prefer the taste of chicken, swap in the chain's Chick'n for no extra charge.
Check it out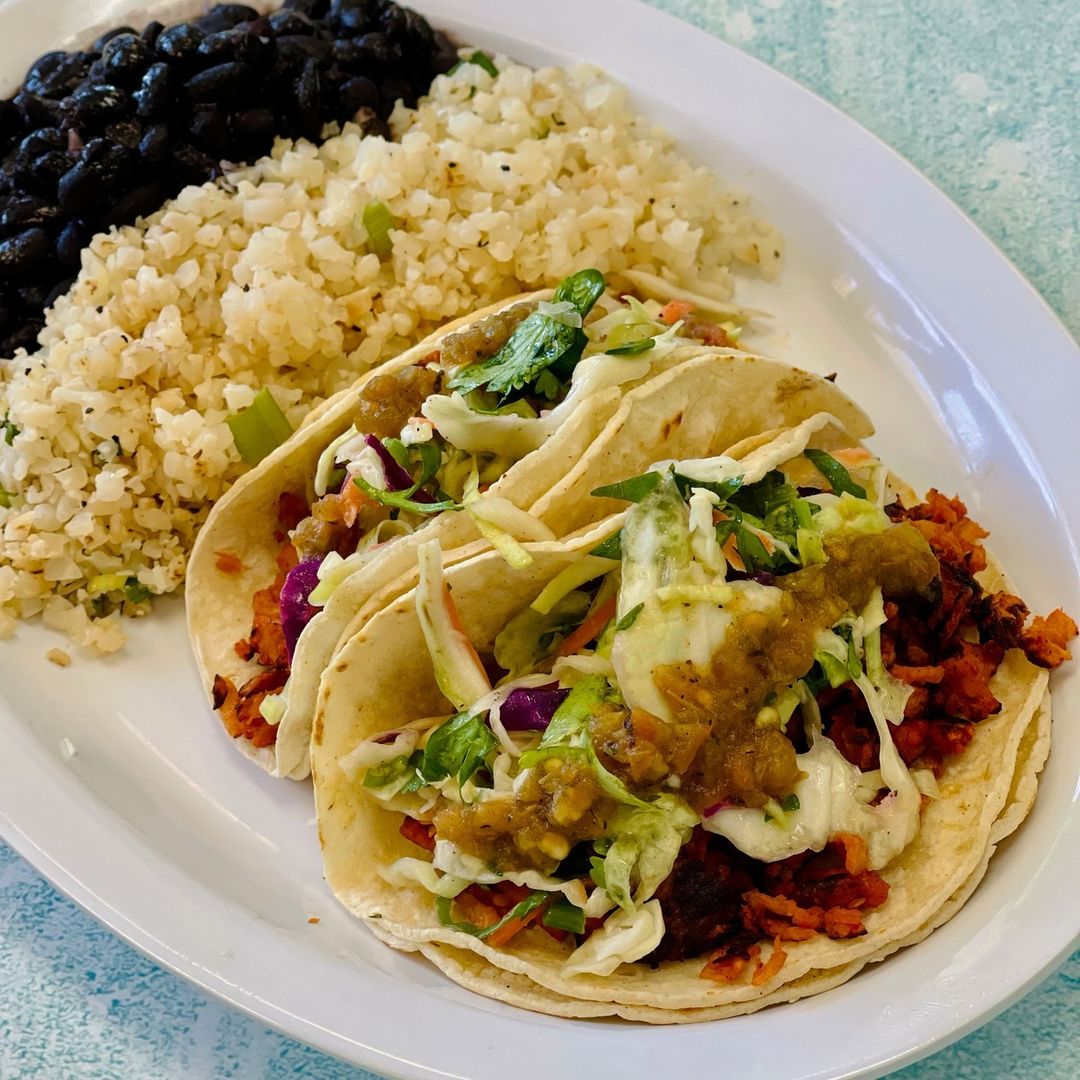 Wahoo's Fish Tacos/Instagram
12 Wahoo's Fish Taco
Unsurprisingly, fish is a big feature on Wahoo's menu. But it's not the only protein option on the menu. Alongside other meats, you can also load up your taco with sautéed tofu, plant-based meat from Divine Roots, or Banzai Veggies.
Check it out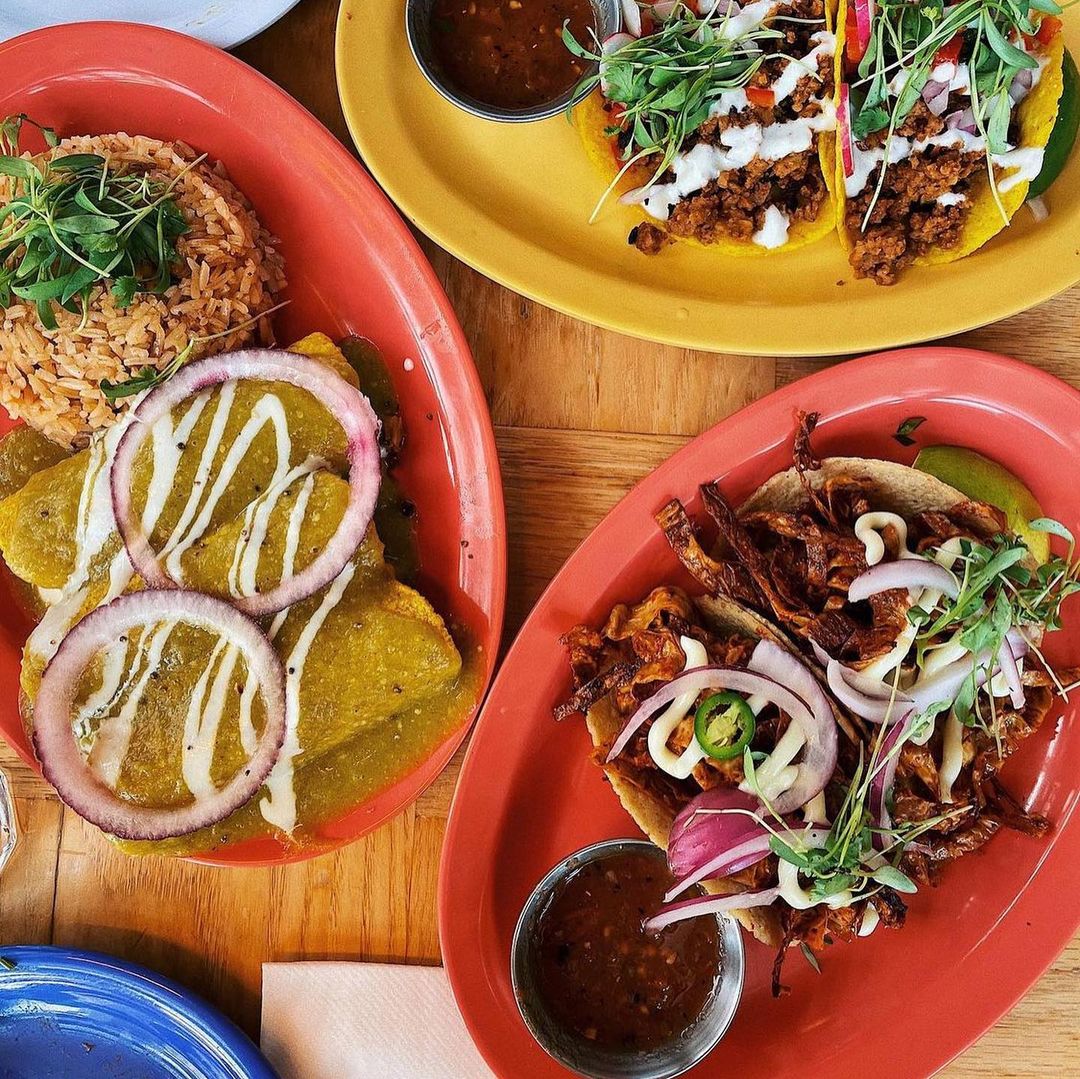 Jajaja Mexicana/Instagram
13 Jajaja Mexicana
This plant-based chain (with four New York City locations) specializes in authentic Mexican food, which is why you can find a plethora of street taco options on the menu. Try the Pollo Coco, for example, which comes complete with Daring vegan chicken, or the Mezcal Mushroom, which comes with green cabbage, pico de gallo, and sour cream.
Check it out
How to make your own vegan tacos
You don't have to eat out to enjoy tacos. Arguably, they'll be even more authentic and delicious if you make them from home, with your favorite ingredients. So, next time you're gearing up for a taco night, try one of these easy, vegan recipes.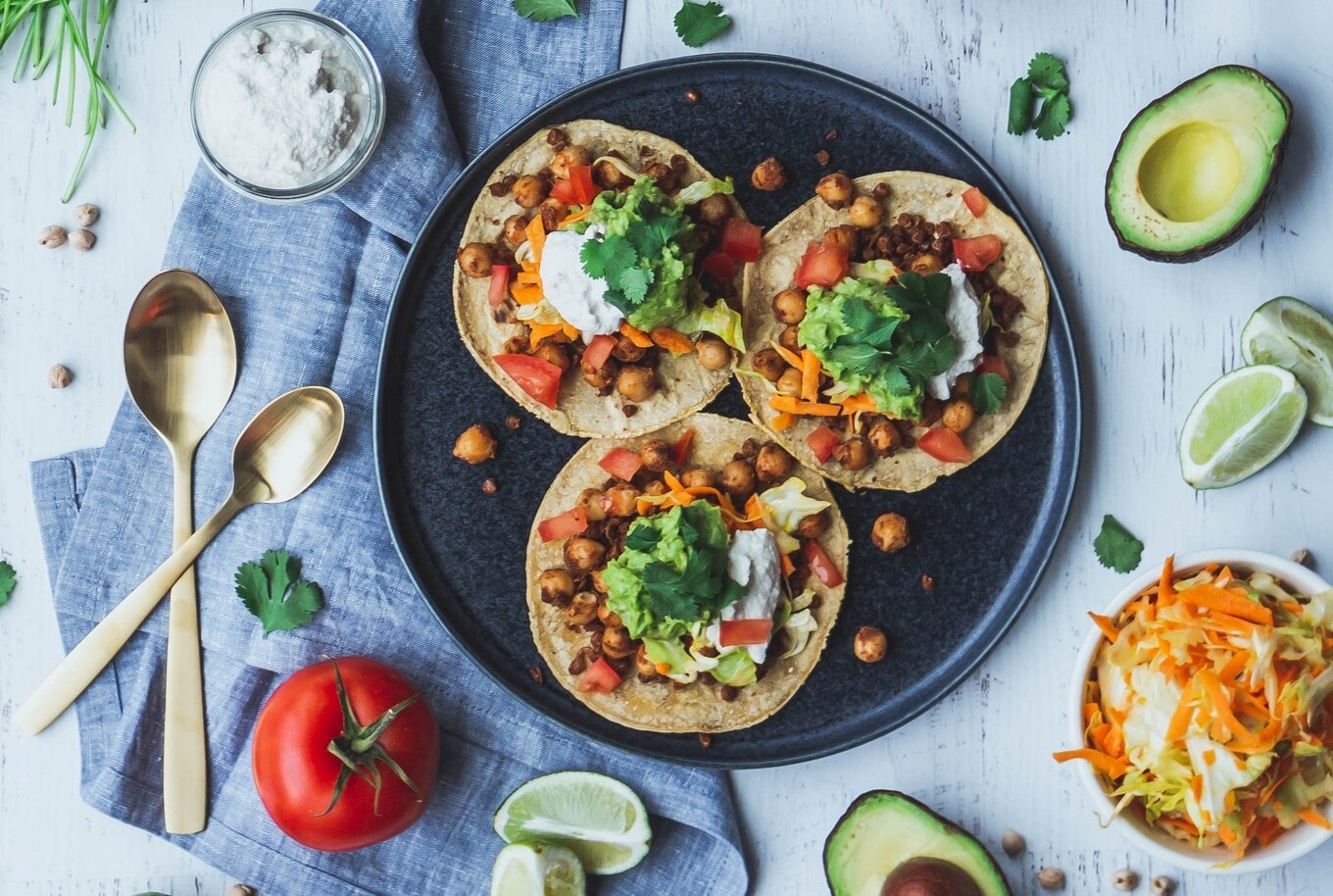 1 Chickpea Tacos With Creamy Cashew Dill Sauce
An ultra-creamy, cashew-based dill sauce completes these already-delicious chickpea tacos. Serve with gently warmed tortillas for the ultimate Taco Tuesday treat.
Get the recipe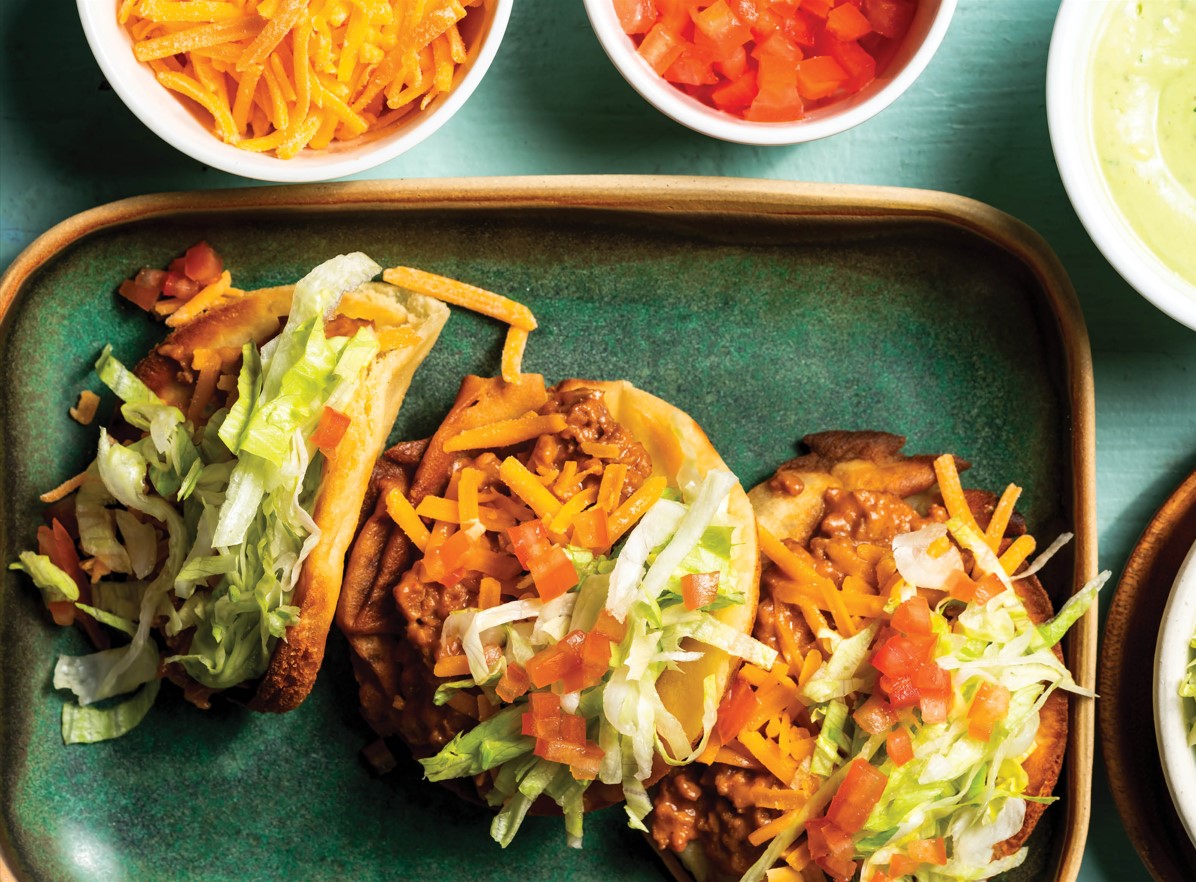 Candice Hutchings
2 Chalupa Naan Tacos With Avocado-Ranch Sauce
Shake things up by swapping your crunchy shell or soft tortilla for a chalupa instead. The bread originates from central Mexico; it's thick, doughy, and guaranteed to fill you up.
Get the recipe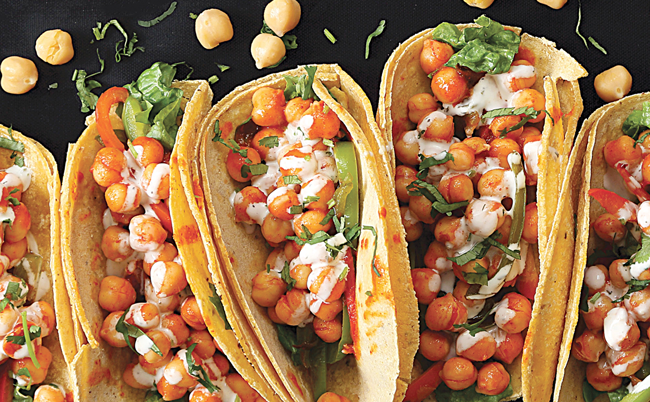 Richa Hingle
3 Spicy Buffalo Chickpea Tacos
Everyone loves buffalo seasoning, right? Next time you're hosting a taco night, impress your friends by making your own! And don't forget the cooling ranch, as this recipe has quite a spicy kick.
Get the recipe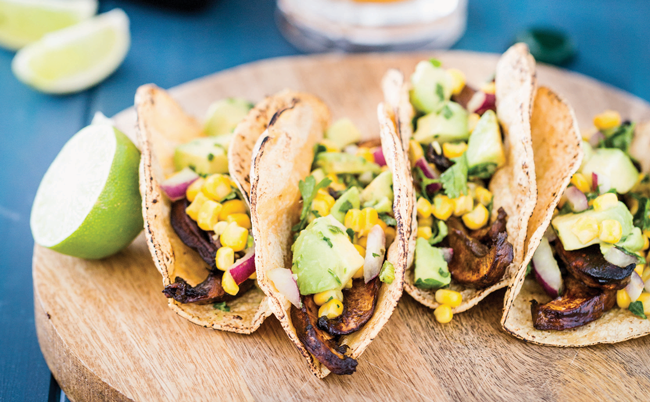 Chris Miller
4 Avocado Portabello Tacos
Delicious tacos don't need fancy ingredients. Combine avocado and portobello mushrooms for a meaty, creamy dish that is animal-free.
Get the recipe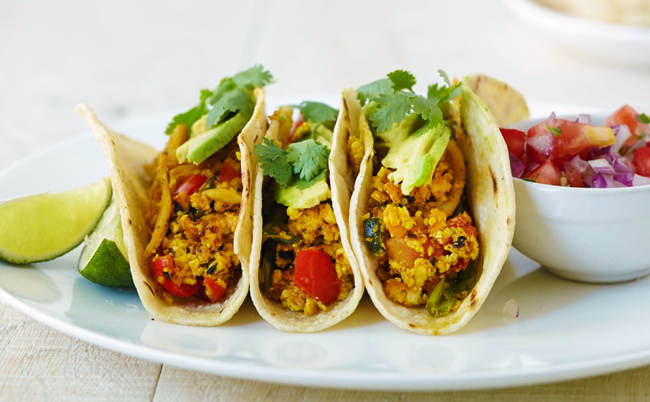 Eric Isaac
5 Cheesy Tex-Mex Tofu Tacos
Set yourself up for the best day possible by treating yourself to breakfast tacos loaded with tofu scramble, your favorite veggies, avocado, and lots of vegan cheese.
Get the recipe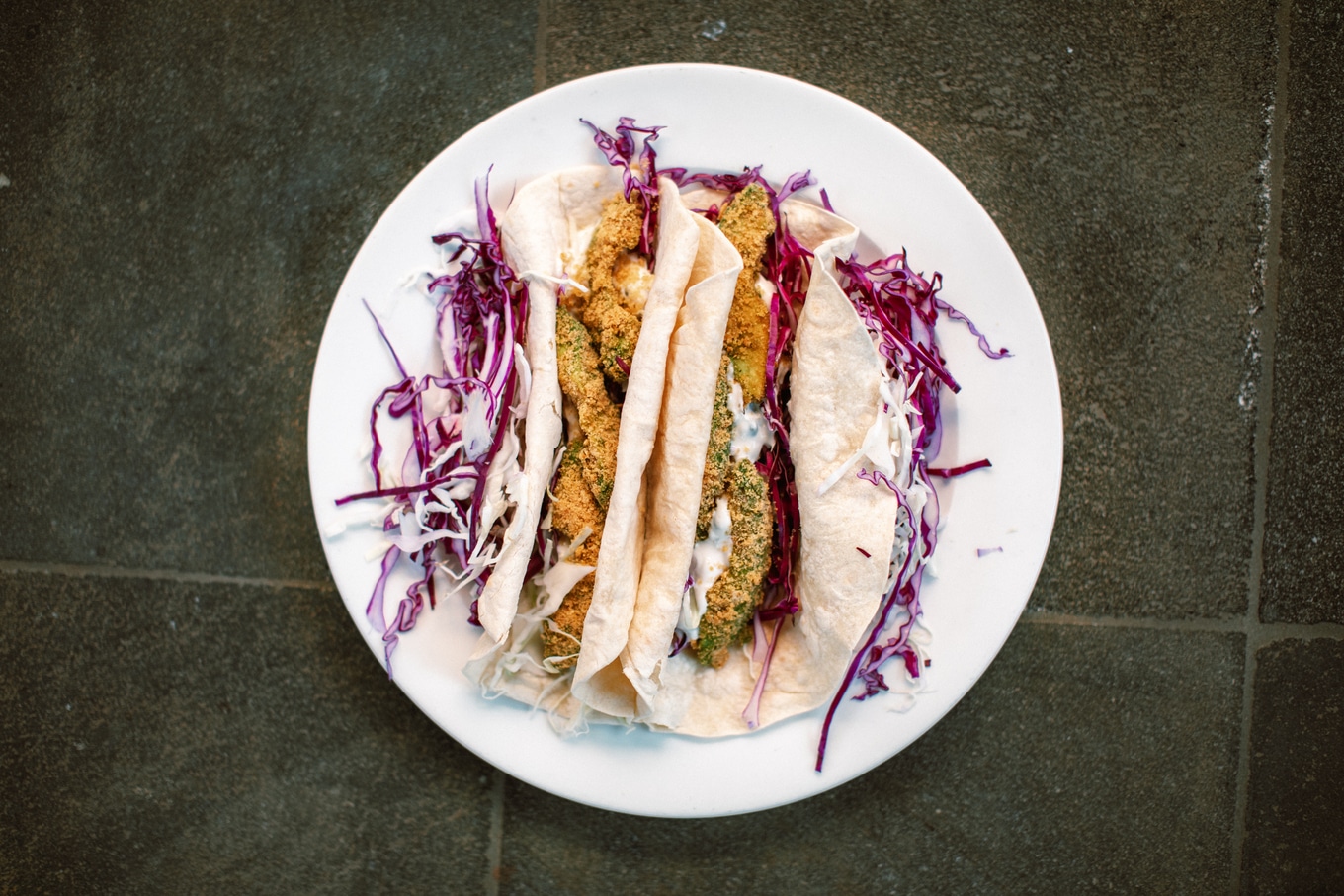 Chelsea Kauai
6 Vegan Crusted Avocado Tacos
Craving fish tacos but don't fancy the actual fish part? We've got a solution: breaded, crispy avocado! Don't forget the capers for that signature salty, fishy taste.
Get the recipe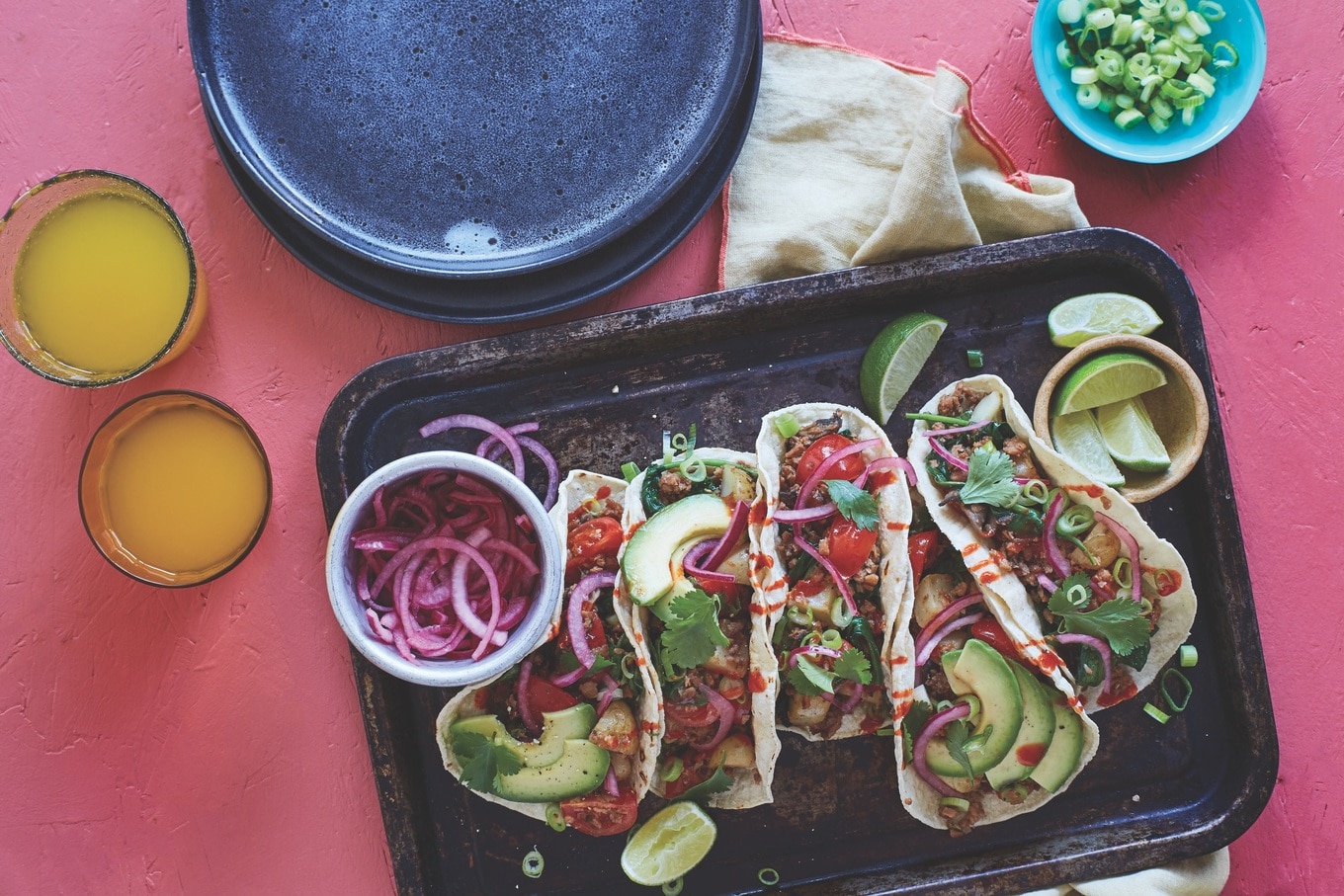 BOSH!
7 Mushroom-Sausage Breakfast Hash Tacos
For the perfect Sunday brunch treat, load up tacos with vegan sausages, pickled onions, and breakfast hash.
Get the recipe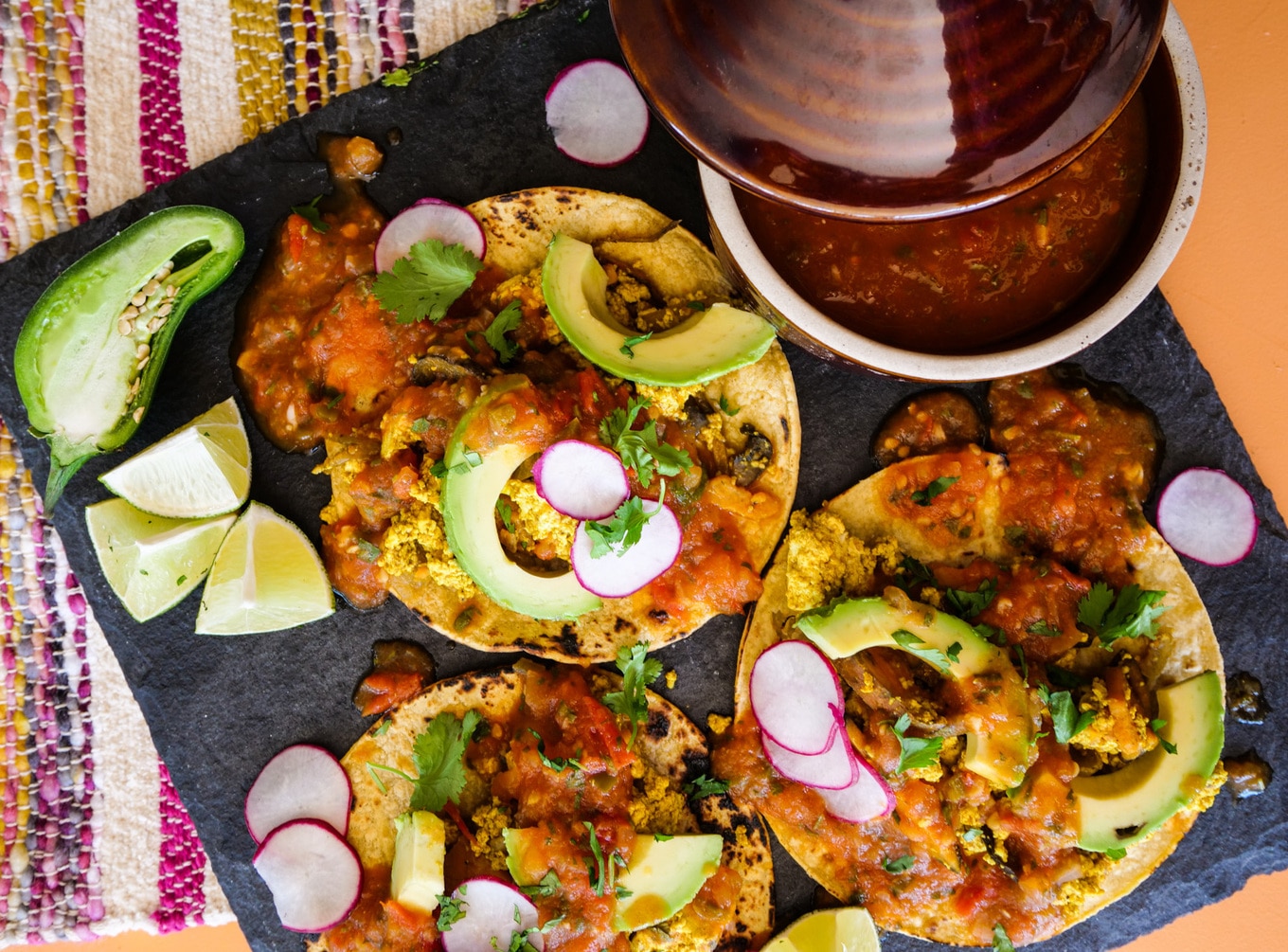 Bailey Ruskus
8 Sweet Potato Tofu Breakfast Tacos With Ranchero Sauce
If you prefer whole food ingredients to vegan meat, another delicious breakfast taco filling idea is sweet potatoes and tofu served with homemade ranchero sauce.
Get the recipe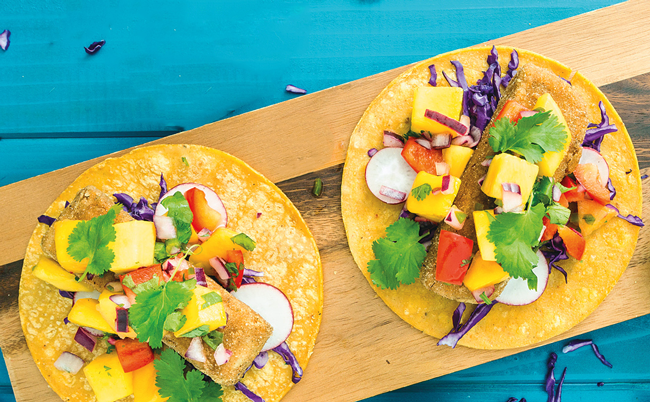 The Experiment
9 Fishless Baja Tacos
If avocado isn't your thing, recreate vegan fish with chickpeas instead. Plus, impress your pals by serving it a twist: your own homemade mango salsa.
Get the recipe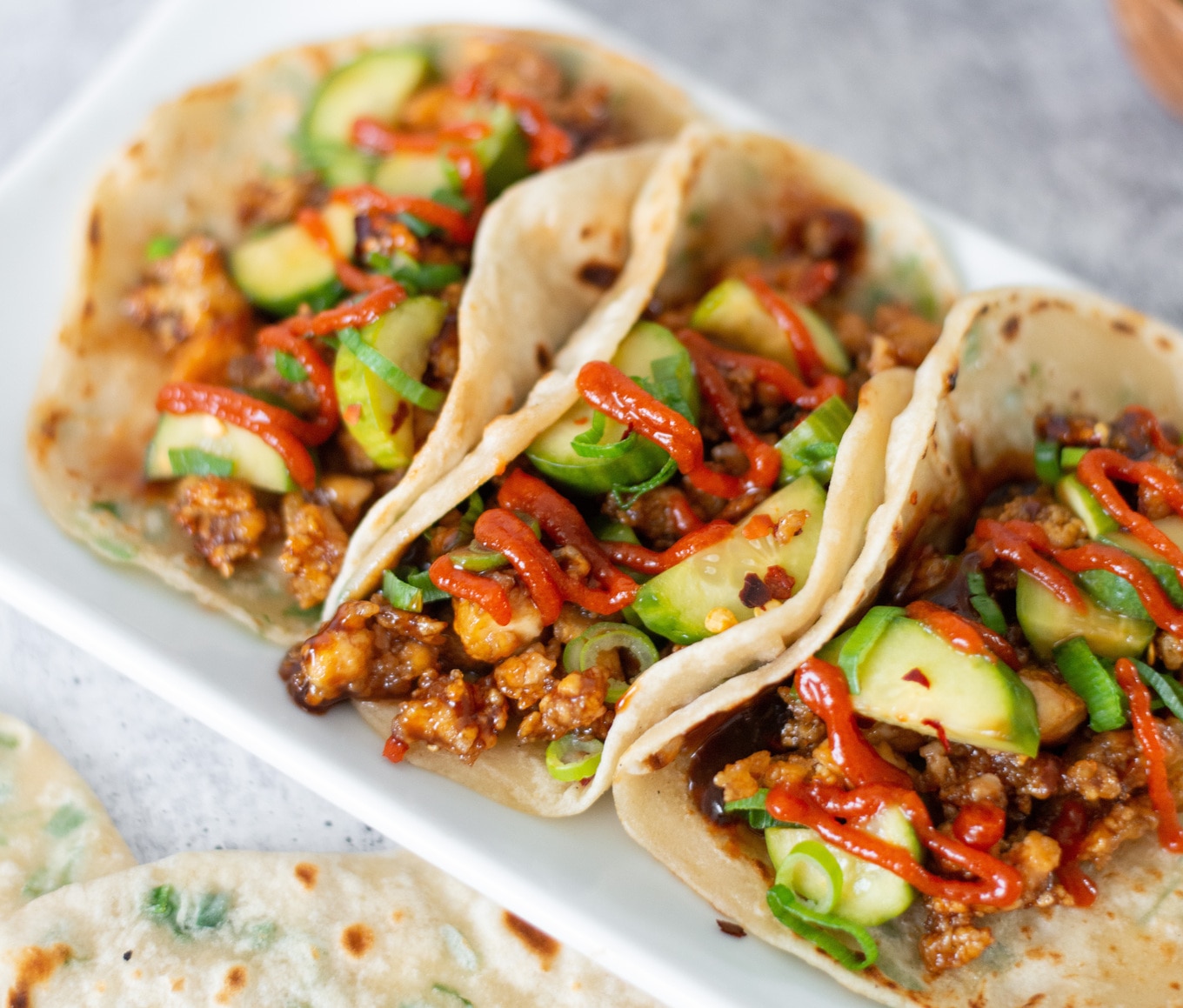 Mixed & Measured
10 Crispu Hoisin Tofu Tacos With Scallion Tortillas
Hoisin is usually served with Chinese cuisine, but there's no reason why you can't enjoy this thick, sweet sauce in a taco too. It's the perfect fusion dinner.
Get the recipe
For more on vegan food, read: