Lettuce is an underrated vegetable. Frequently part of the supporting cast and rarely the star of a meal, it's often overlooked for its versatility. But this nutritious, spring leafy green has plenty of potential. Every day, it pads out cheeseburgers, adds extra filling to sandwiches, tacos, and wraps, and completes side salads. You can find it in cold pasta, and it even tastes delicious grilled, depending on which type you have in the fridge. Because, yep, it turns out, there are many, many different types of lettuce. Here's more about this arguably underappreciated green, plus some vegan lettuce-inspired recipe inspiration to get you through spring and summer.
How many different types of lettuce are there?
A leafy annual green, lettuces come in many different shapes and sizes. While some can be cooked (usually best results come from a barbecue), they're usually consumed raw. According to the popular meal delivery company Hello Fresh, there are four main types of lettuce, and these include romaine, crisphead, butterhead, and looseleaf. But within each of these types, there are several subvarieties. Read on to find out more about some of the most common (and delicious) types of lettuce you can find on grocery store shelves and at the farmer's market.
7 types of lettuce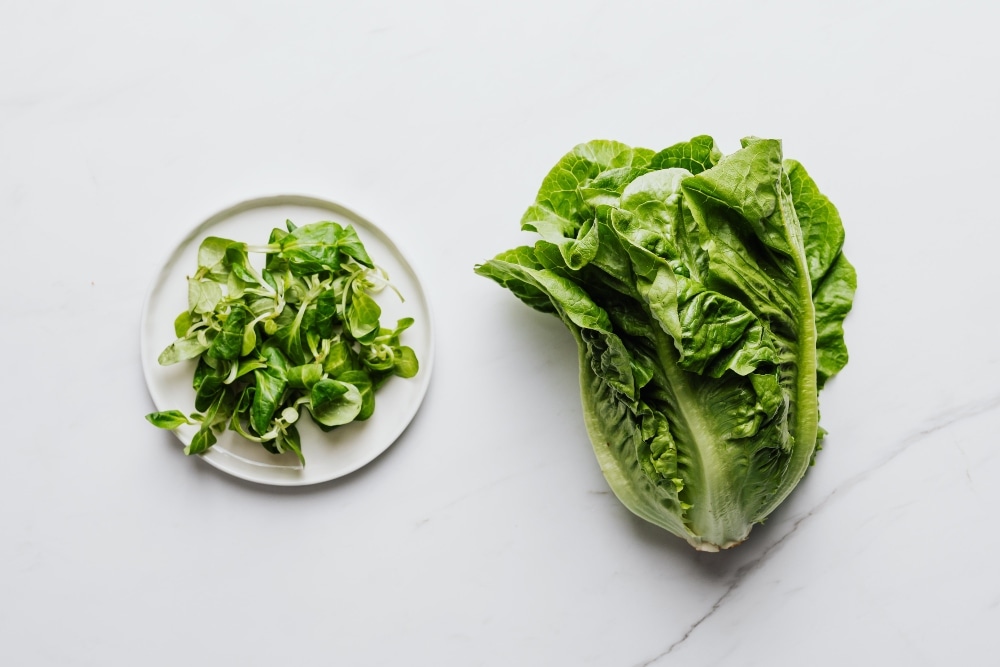 Pexels
1 Romaine
With a long head and (slightly bitter tasting) dark green leaves that have firm ribs down to the center of the vegetable, romaine lettuce (also referred to as cos lettuce) is one of the most popular choices for salads and sandwich fillings. You can also barbecue it, and serve drizzled with olive oil and balsamic vinegar. It's rich in nutrients, including vitamin A, vitamin C, and fiber.
2 Oakleaf
A variety of butterhead lettuce, oakleaf is soft and smooth with deeply lobed leaves that look similar to oak leaves. It grows most of the year, and can be light green or reddish brown in color with a pleasantly mild and sweet, slightly nutty flavor. Again, it's a good source of vitamin A, as well as vitamin C and fiber.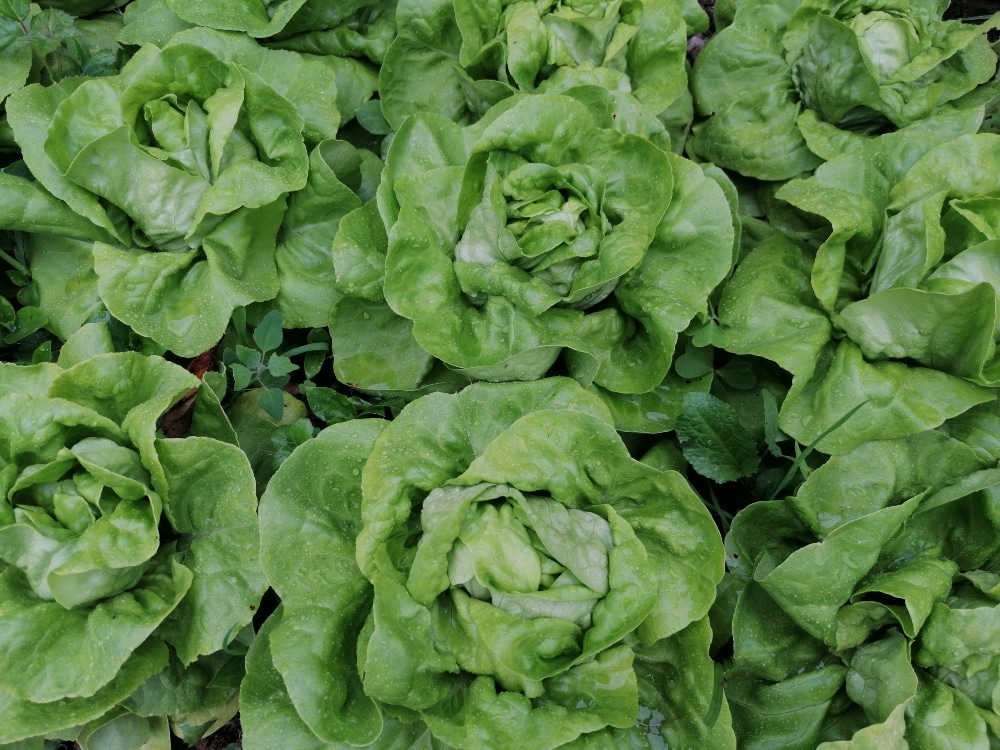 Pexels
3 Butterhead
Butterhead lettuce (also known as Boston or bibb lettuce) has softer leaves than romaine, and it's rounder in shape, with leaves that layer over each other like a flower. It's also more of a light green color, and the taste, as the name suggests, is more buttery and less bitter. It's also a good source of nutrients, including potassium, vitamin A, and vitamin K.
4 Little Gem
Little Gem is very similar to Romaine, but it's just a lot smaller. With tightly packed, light green leaves, the flavor is a little sweeter like butterhead varieties. A common choice for garnish, little gem is also a source of nutrients like vitamin A, vitamin C, antioxidants, and fiber.
5 Coral
A variety of loose-leaf lettuce, coral has a mild flavor, like iceberg, but its leaves are curlier and frillier in shape (hence the name). The texture is usually crisp, and while you can often find light green shades on the shelves, it can also be dark green and even red in color. A popular garnish, coral lettuce is a good source of vitamin A, vitamin C, and antioxidants.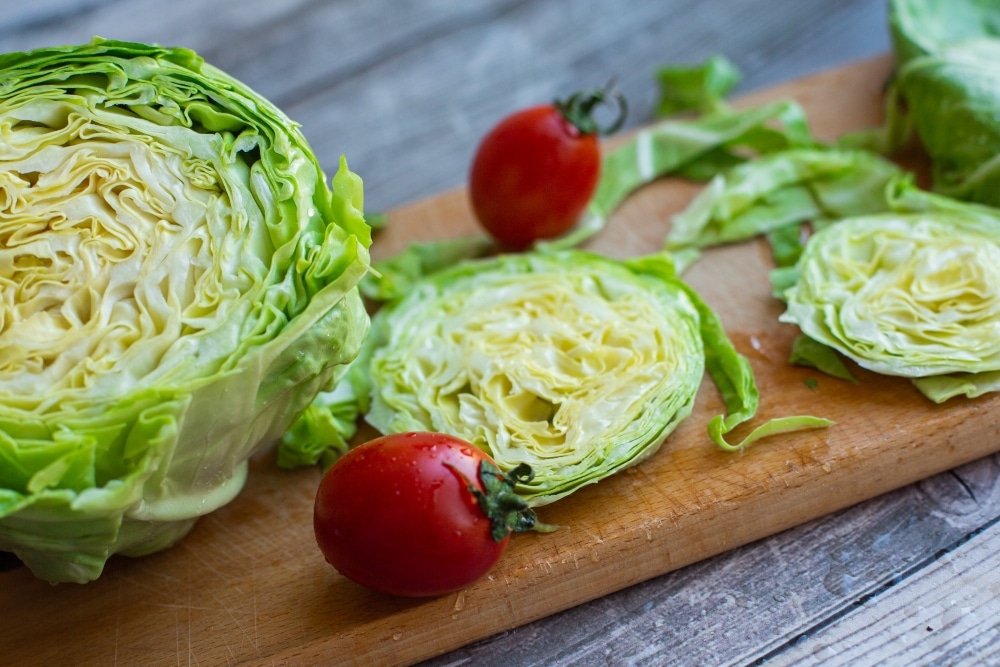 Pexels
6 Iceberg
The basis of many salads, iceberg is a crisper, crunchier variety of lettuce, with a relatively mild flavor. Like butterhead, it has a light green color, and its leaves are packed tightly together in a round shape. It's not quite as nutrient-dense as other varieties of lettuce, but it still contains folate and vitamin A.
7 Arugula
Ok, so this is a little bit of a cheat because arugula is not technically a lettuce. But it does look and behave like lettuce, and it's often sold right next to lettuce in the grocery store, so it kind of counts. Also called rocket, arugula has a pleasant peppery texture, and it works beautifully in mixed salads alongside buttery varieties.
What is the best way to eat lettuce?
Lettuce, of course, really shines in a salad, when it's paired with different textures and flavors from other vegetables and protein. But you can also add it to sandwiches, tacos, and pasta dishes, too. Here are some of our favorite ways to enjoy lettuce this spring.
7 vegan spring recipes with lettuce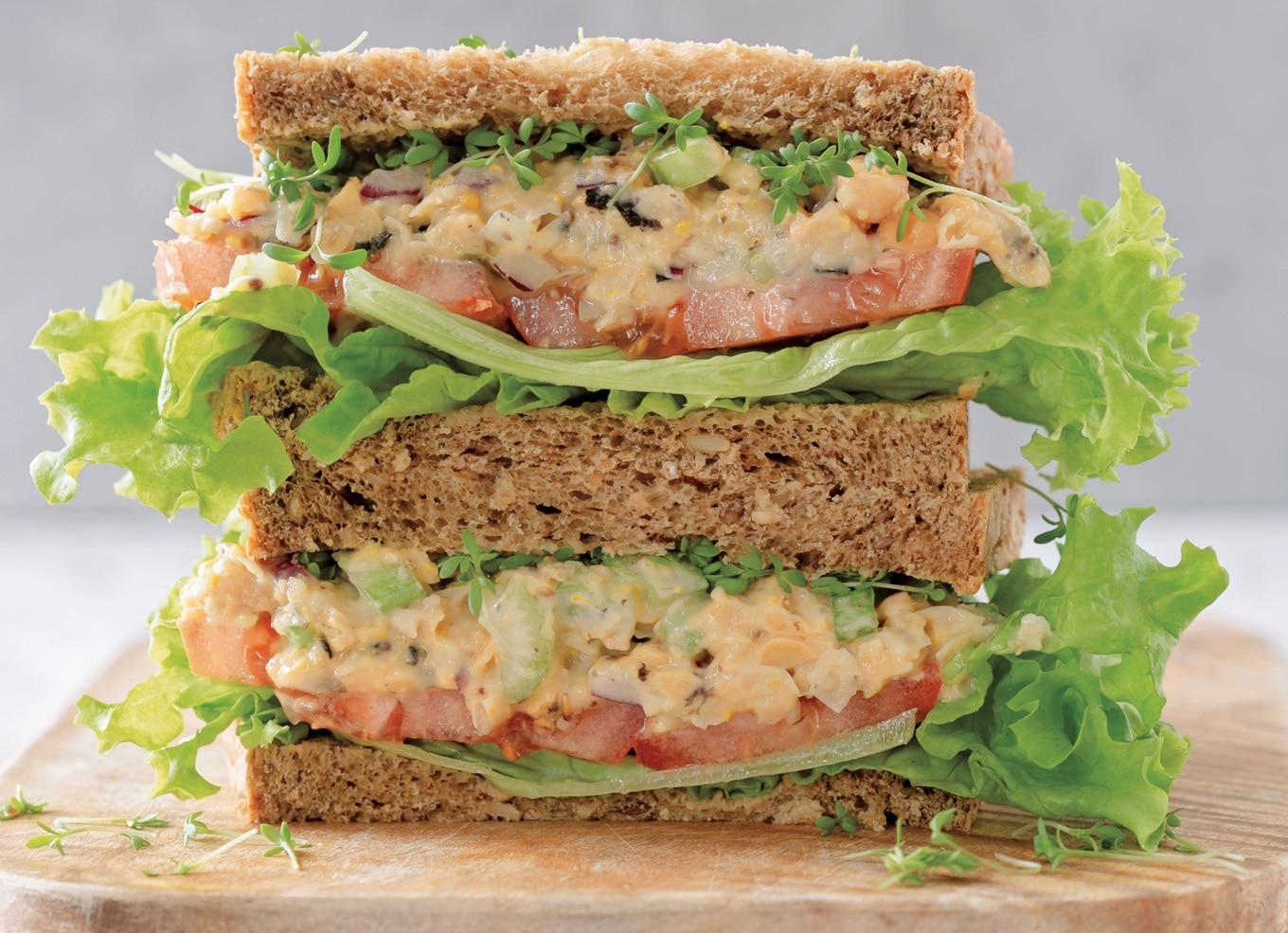 Andrea Soranidis
1 Chickpea Tuna Salad Sandwich
Chickpeas replace tuna in this tasty (and still satisfyingly fish) sandwich. When you've whipped up the protein-packed filling, add in layers of butterhead lettuce for that all-important leafy texture and added nutrients.
Learn more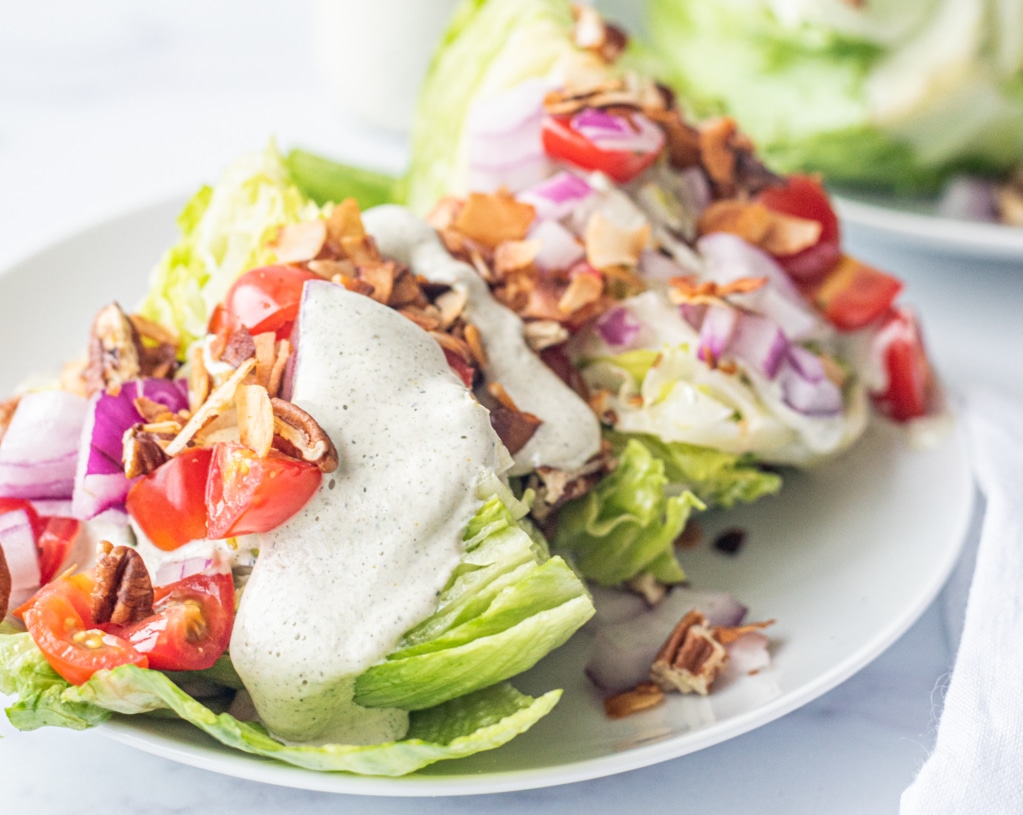 HealthyGirl Kitchen
2 Wedge Salad with Smoky Coconut Bacon
There aren't many recipes where iceberg lettuce is the main character, but a wedge salad is one of them. It's crispy, crunchy, and deliciously smoky, thanks to the addition of coconut bacon. And don't forget the all-important ranch dressing, too.
Learn more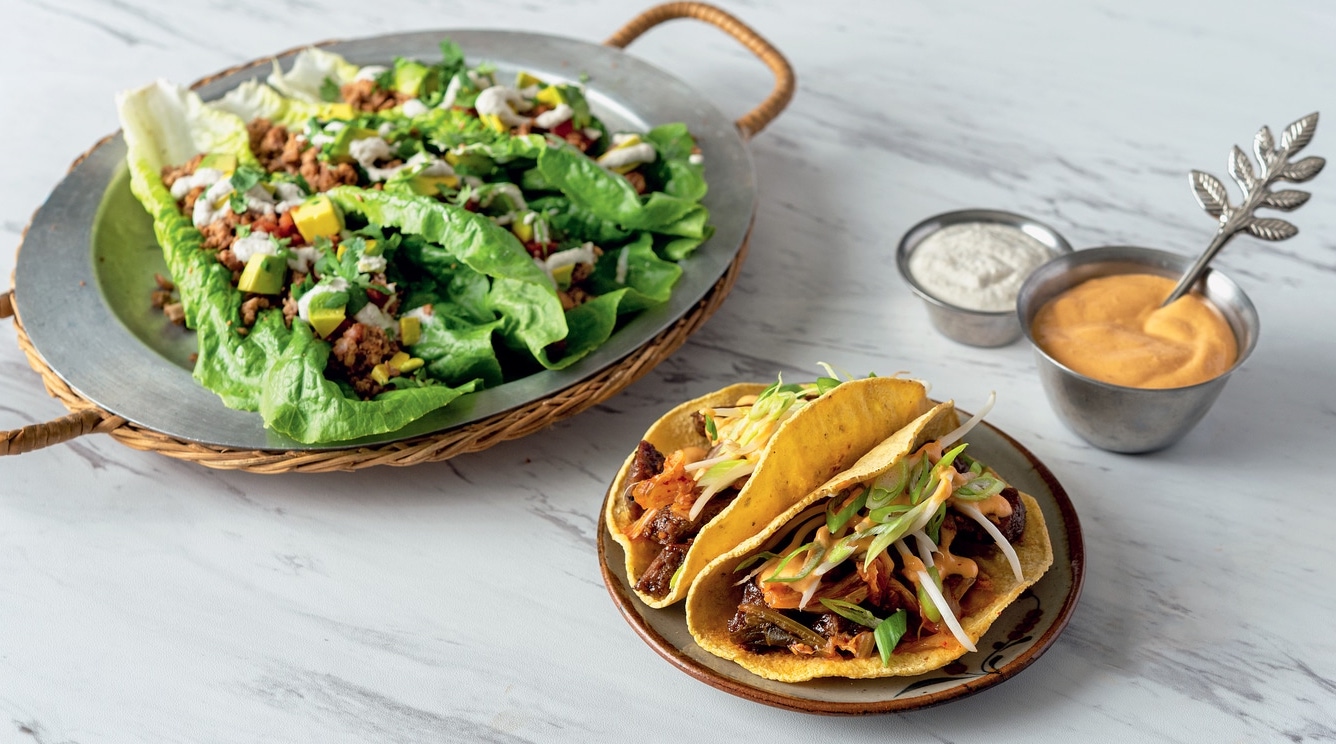 Jackie Sobon
3 Pinto Bean & Pecan Lettuce Tacos
Giant romaine leaves aren't just a side salad ingredient, they can also be used as a pretty handy (and nutritious) vessel for your taco filling, just like this recipe demonstrates.
Learn more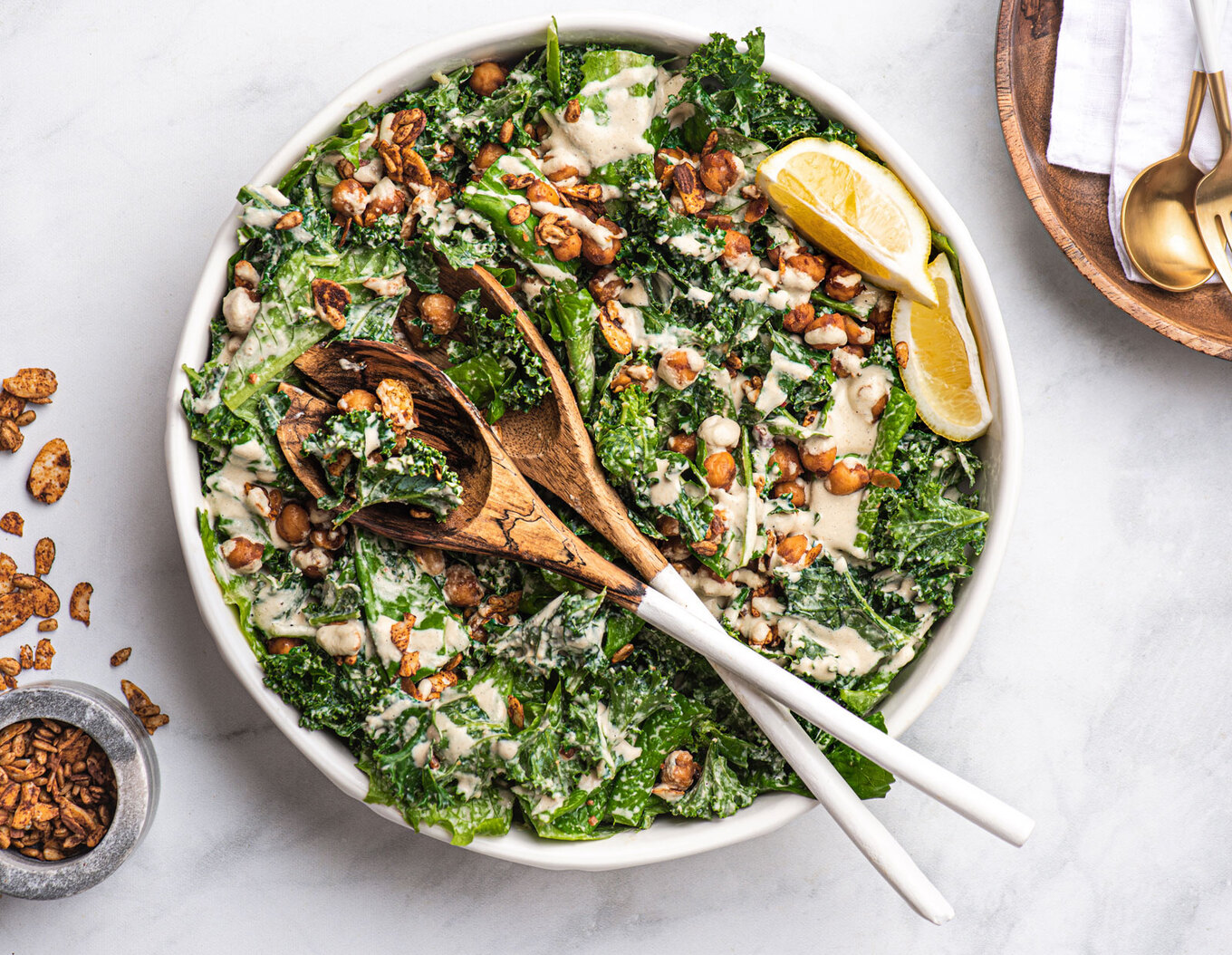 Ashley Madden
4 Tahini Caesar Salad
When the sun comes out, one of the best ways to celebrate is by whipping up a delicious, light, and satisfying Caesar salad, complete with crunchy romaine leaves and kale. Instead of croutons, why not add in some smoky chickpeas for extra protein? Vegan bacon bits are also a must.
Learn more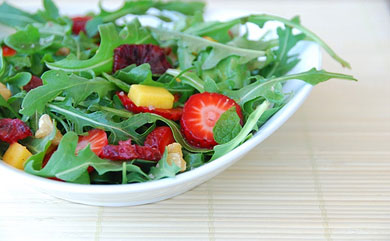 5 Chickpea Salad & Orange Vinaigrette
Combine orange vinaigrette with chickpeas and romaine leaves for a tangy, fresh, and flavorful lunchtime salad. If you like things sweet, strawberries are also a delicious addition to this summertime favorite.
Learn more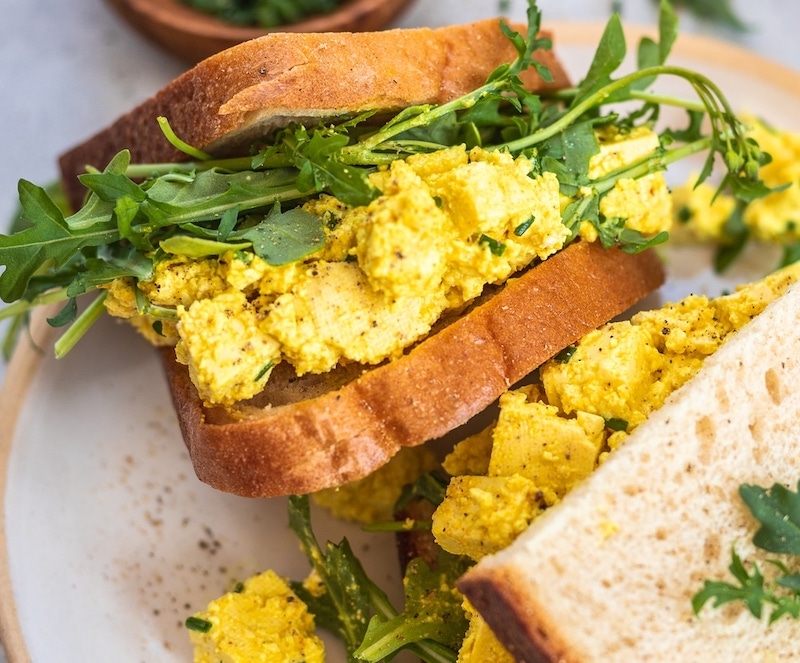 Hannah Sunderani
6 Easy Tofu Egg Salad
When it comes to vegan eggs, there's nothing like tofu. It scrambles just like the real thing, and you can get that signature eggy flavor from kala namak salt. If you're enjoying this in a sandwich, layer in some leafy lettuce greens of your choice for extra flavor, texture, and nutrition.
Learn more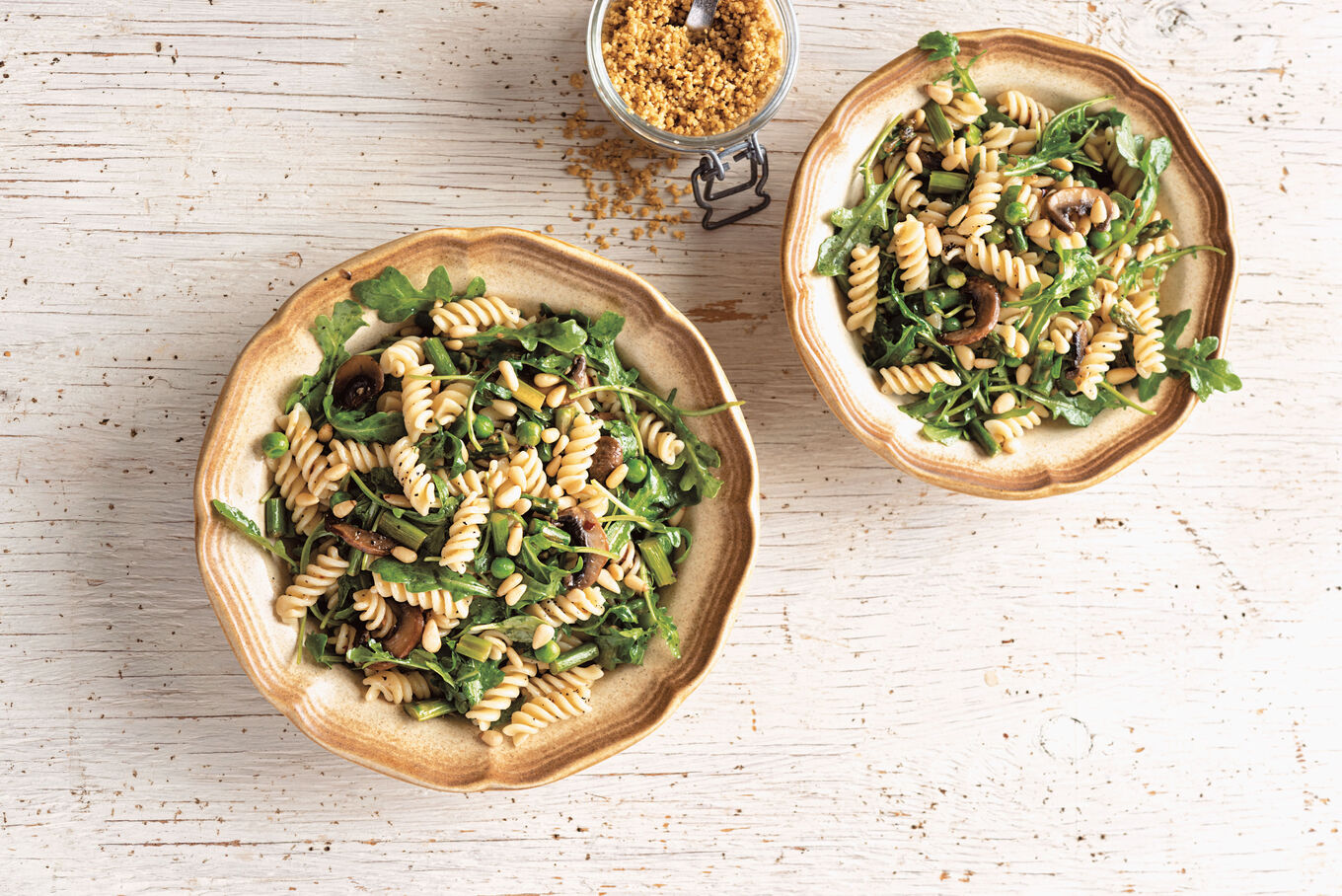 Jackie Sobon
7 Lemony Spring Pasta
Combine zesty lemon juice, peppery arugula, and fusilli pasta to make this tasty pasta dish, which is perfect for enjoying outside on warm spring days. Serve when the pasta has cooled, with a refreshing glass of iced tea.
Learn more
For more on vegetables, read: