Forget Taco Tuesdays—a true taco aficionado never limits this Mexican street food to one day of the week. It's taco time any day, any time. From breakfast tacos to tacos dorados de papa (fried potato tacos), there's a regional variety or unique mashup for every meal of the month.
Here's how you can make them yourself from home, but also, if you're feeling like dining out, the best restaurants to grab them from, too.
What are vegan tacos made of?
Traditionally, tacos are usually filled with meat (like chicken, beef, or pork), and, outside of Mexico, lettuce, tomatoes, and cheese are common toppings. But it's easy to veganize this popular Mexican dish with a few simple swaps.
Meat can be swapped for plant-based protein or beans, for example, while dairy cheese can be replaced with one of the many vegan cheese alternatives on the market. Mushrooms, jackfruit, and guacamole are also great vegan taco fillings. For more inspiration, find the different types of delicious tacos listed below, as well as the best ways to veganize them (and where to order vegan versions!).

Everything you need to make perfect vegan tacos (plus restaurant recommendations!)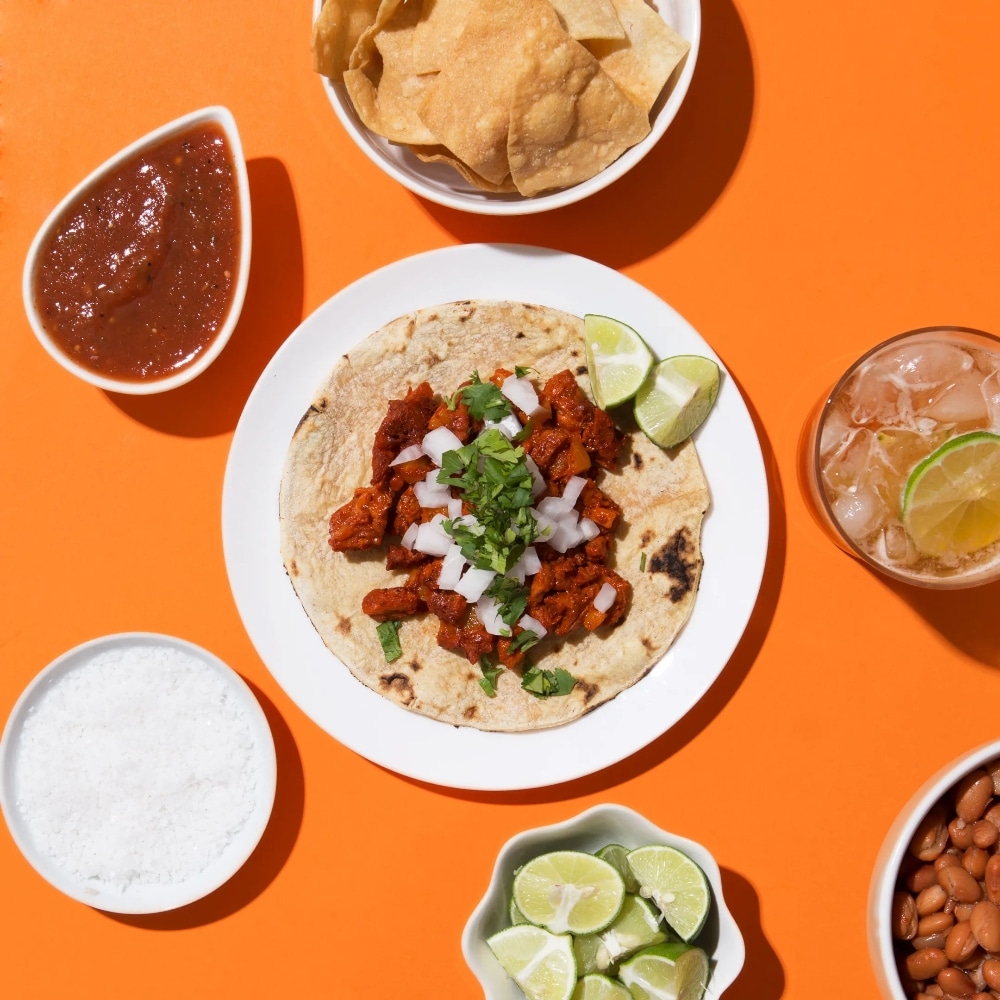 Chicano Eats
1 Tacos al pastor
Inspired by the Middle Eastern technique of cooking meat on a spit, al pastor is traditionally made with pork that is rubbed down with spices, slow-roasted, and mixed with pineapple. The vegan version—often made with mushrooms or seitan—provides the same sweet-meets-spicy flavor profile without the rotating pork shank.
How to make them: Vegan Tacos Al Pastor
Where to find them: Tacotarian in Las Vegas, NV and San Diego, CA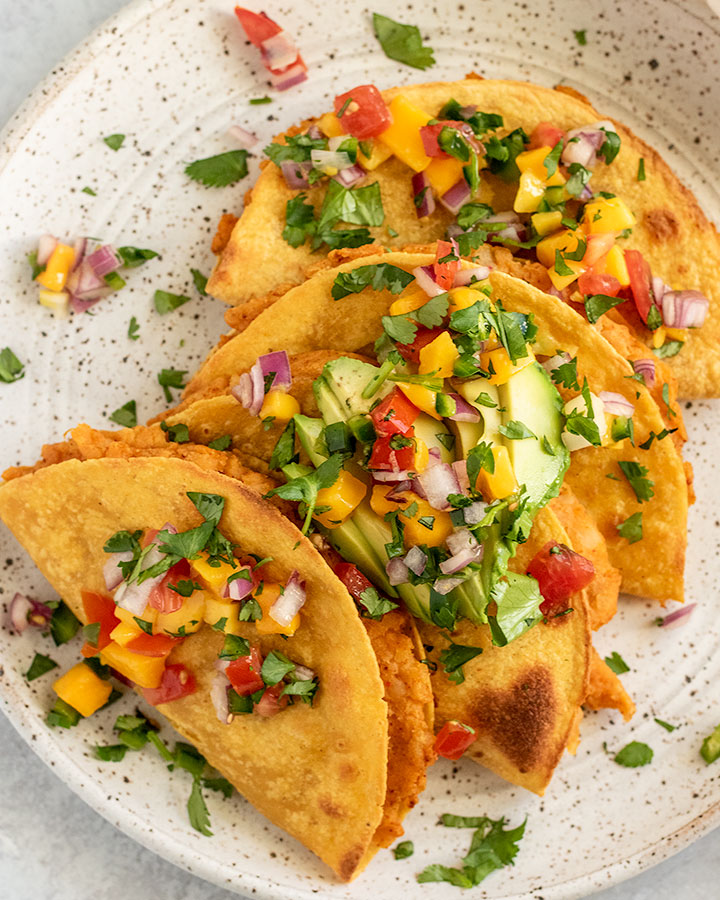 Plant Based RD
2 Tacos dorados de papa
At times, there is nothing better than a simple fried potato taco. Whether enjoyed on their own or garnished with salsa and guacamole, these potato-stuffed fried tortillas never fail to satisfy a savory craving.
How to make them: Crispy Vegan Potato Tacos
Where to find them: Pancho's Vegan Tacos in Las Vegas, NV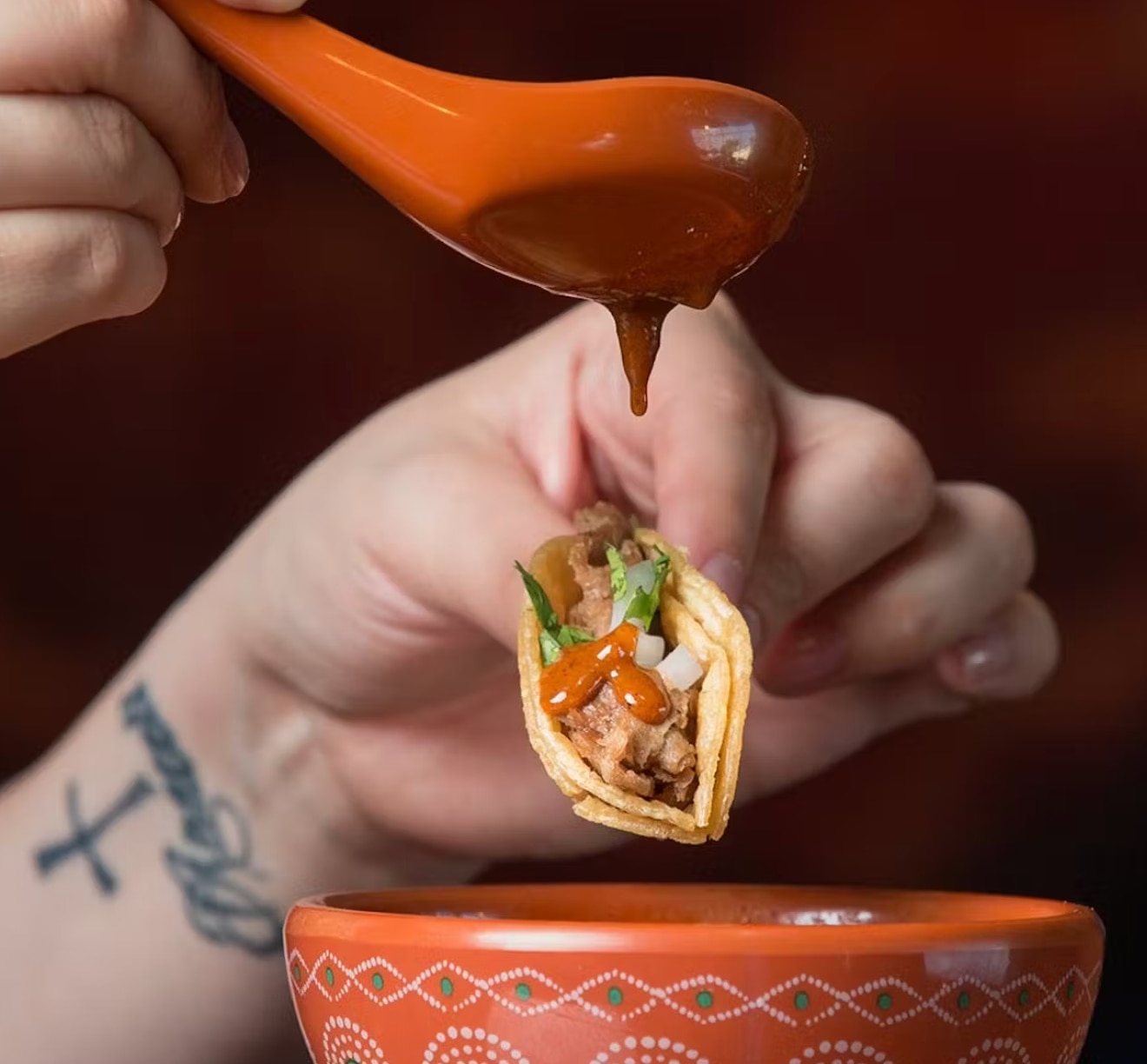 El Palote
3 Tacos de barbacoa
Trust us, you don't want to know where the meat-based barbacoa comes from. The vegan version, however, is typically made from mushrooms, seitan, or jackfruit. It's tender, juicy, and not too spicy for those with sensitive palates.
How to make them: 1-Pot Vegan Barbacoa
Where to find them: El Palote in Dallas, TX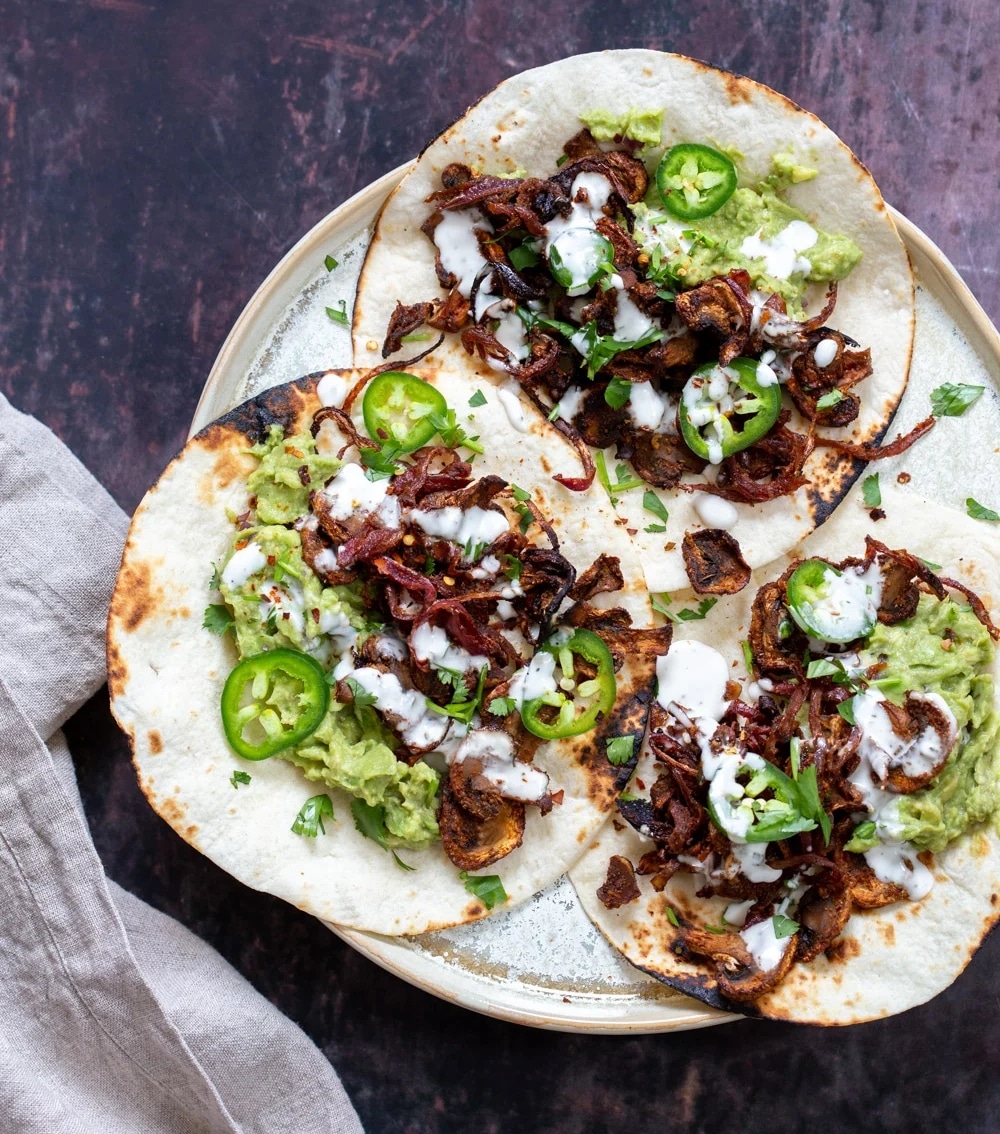 Vegan Richa
4 Tacos de carnitas
Both mushrooms and jackfruit perfectly mimic the slow-cooked pulled pork that characterizes meat-based carnitas. This filling is succulent, flavor-packed, and works well in a freshly pressed corn tortilla.
How to make them: Vegan Carnitas with Mushrooms
Where to find them: Vegan by El Zamorano in Costa Mesa, CA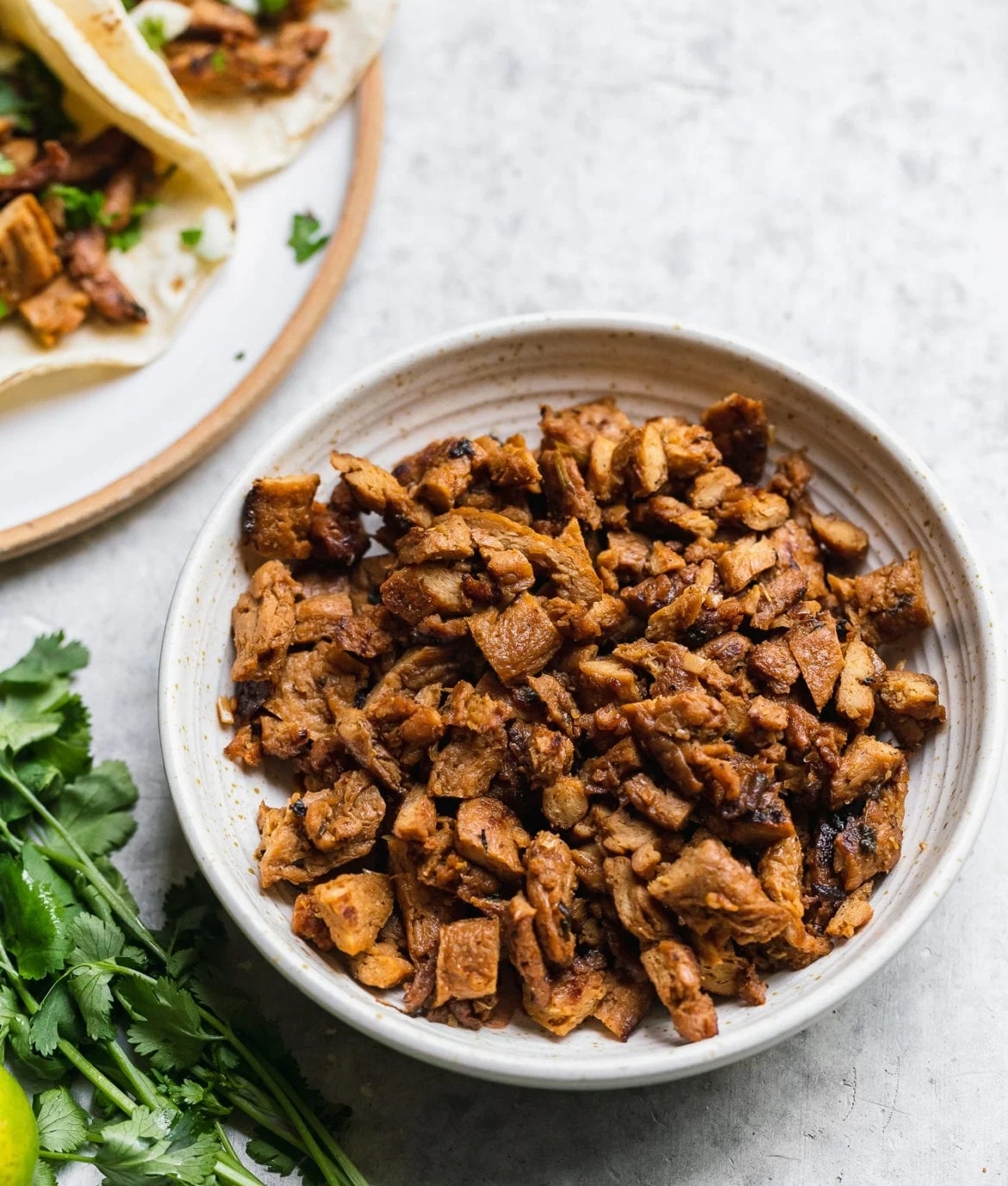 Sweet Simple Vegan
5 Tacos de carne asada
For a smoky, grilled flavor of plant-based beef, opt for the carne asada. It's become a staple protein option for vegan taquerias from Los Angeles to San Antonio. When in doubt, it's hard to go wrong with this safe bet.
How to make them: Vegan Carne Asada Tacos
Where to find them: El Cocinero, in Van Nuys, CA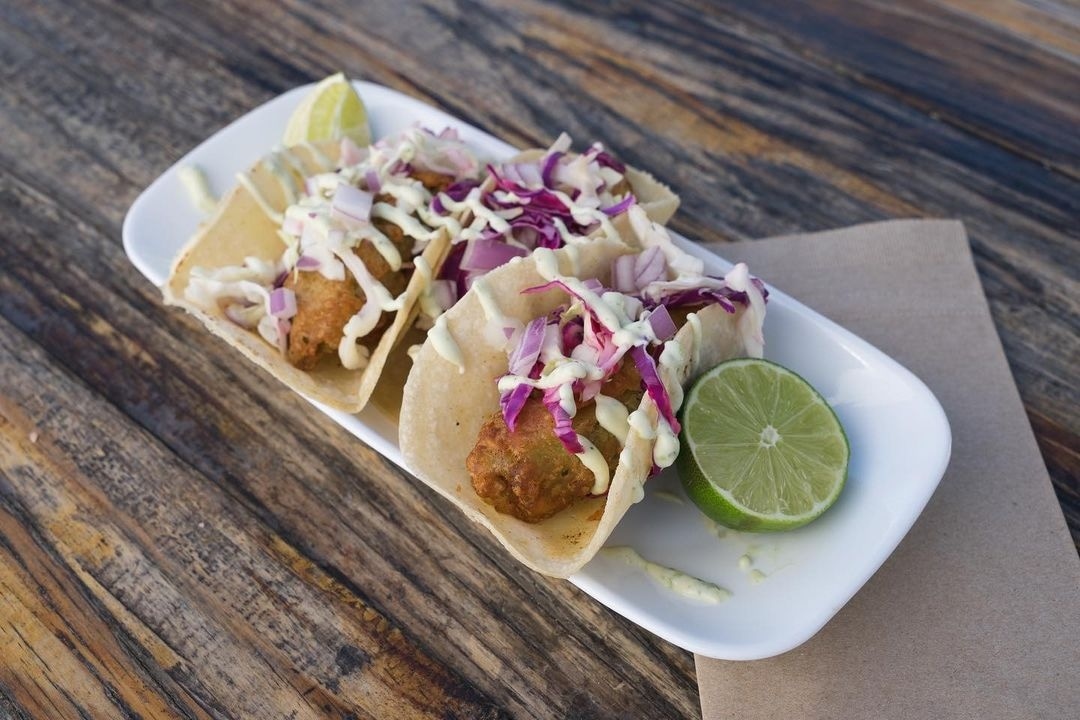 Seabirds Kitchen
6 Fried avocado tacos
Why top a taco with guac when the entire taco can consist of a thick wedge of crispy-on-the-outside, creamy-on-the-inside avocado? This type of taco needs no adornments; it's perfect as is.
How to make them: Vegan Crusted Avocado Tacos
Where to find them: Seabirds Kitchen in Long Beach and Los Angeles, CA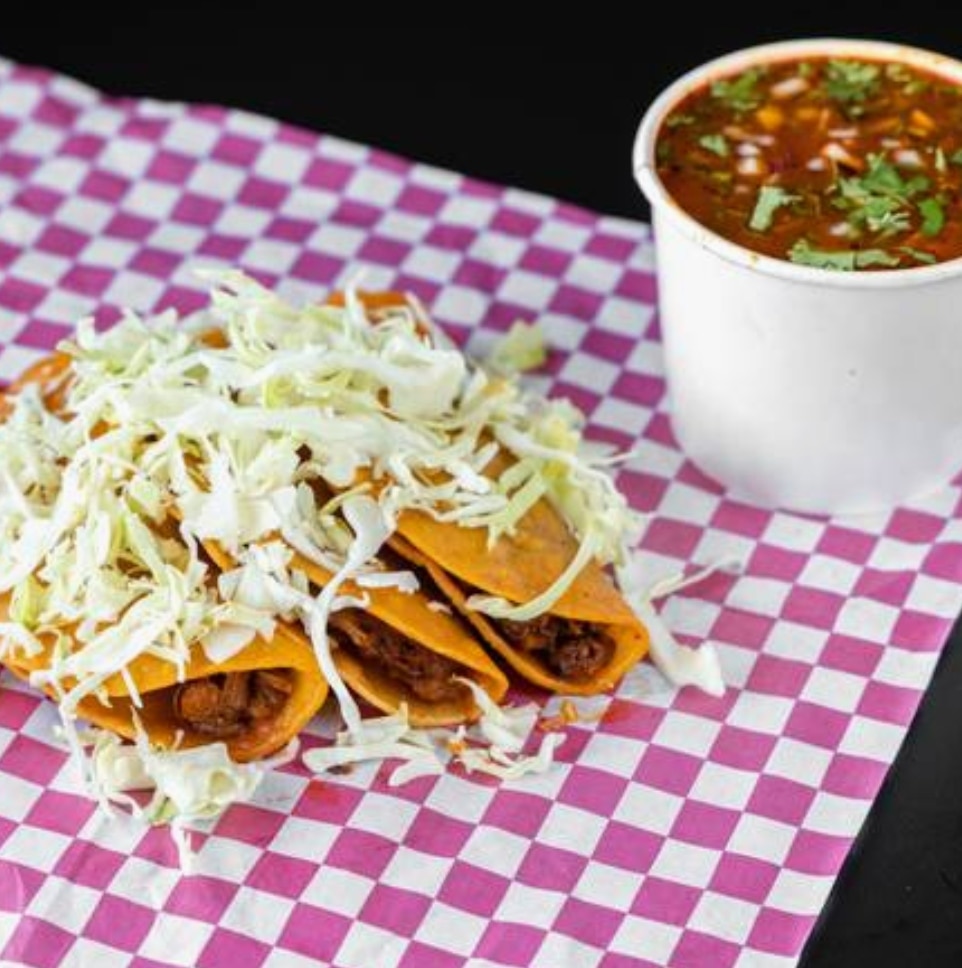 El Cocinero
7 Tacos de birria
This meaty, stew-like filling comes from the Guadalajara city of Mexico and is often served as a celebration dish. However, it's not uncommon to find it as a vegan option in the States. Be warned: it's spicy—at least, it should be.
How to make them: Vegan Birria Tacos
Where to find them: El Cocinero in Van Nuys, CA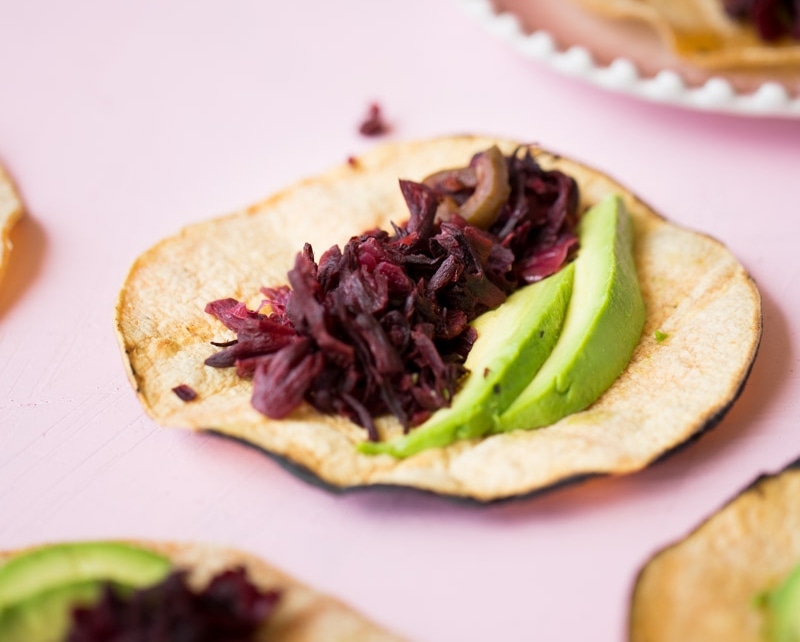 Ale Cooks
8 Tacos de Jamaica
We're not sure how, but hibiscus petals—the kind you're used to infused in tea—actually make for an incredible vegan taco filling. When seasoned, cooked, and marinated, they take on a pleasantly chewy, meaty texture. They're somewhat common at independently owned taquerias, but they're also simple to make at home.
How to make them: Hibiscus Tacos
Where to find them: Tacotarian in Las Vegas, NV and San Diego, CA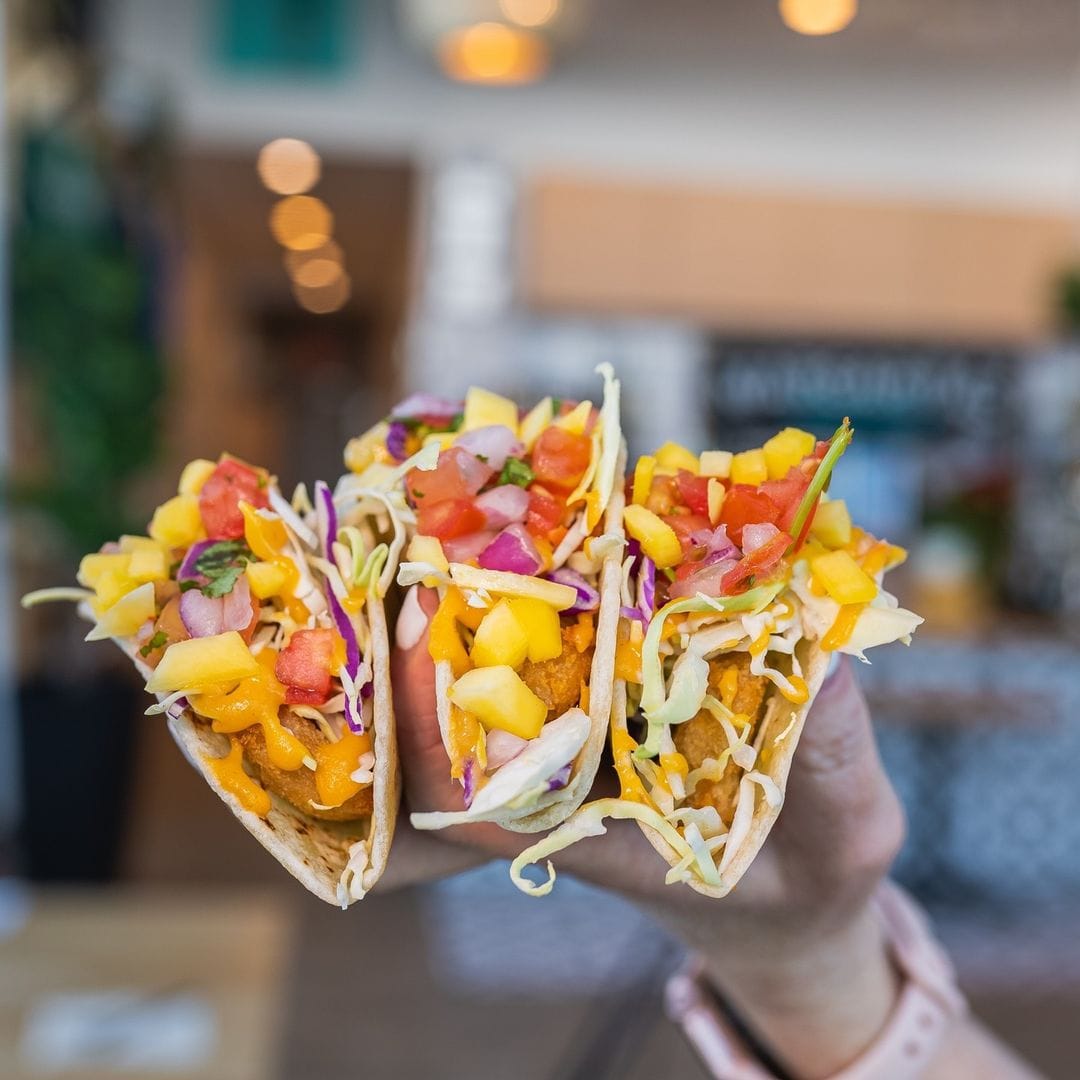 Tacotarian
9 Fish tacos
The innovation in vegan fish tacos has surprised us with each crispy, flaky bite. From expertly seasoned and fried tofu to nori-infused jackfruit, these Baja tacos don't get enough credit.
How to make them: Fishless Baja Tacos
Where to find them: Tacotarian in Las Vegas, NV and San Diego, CA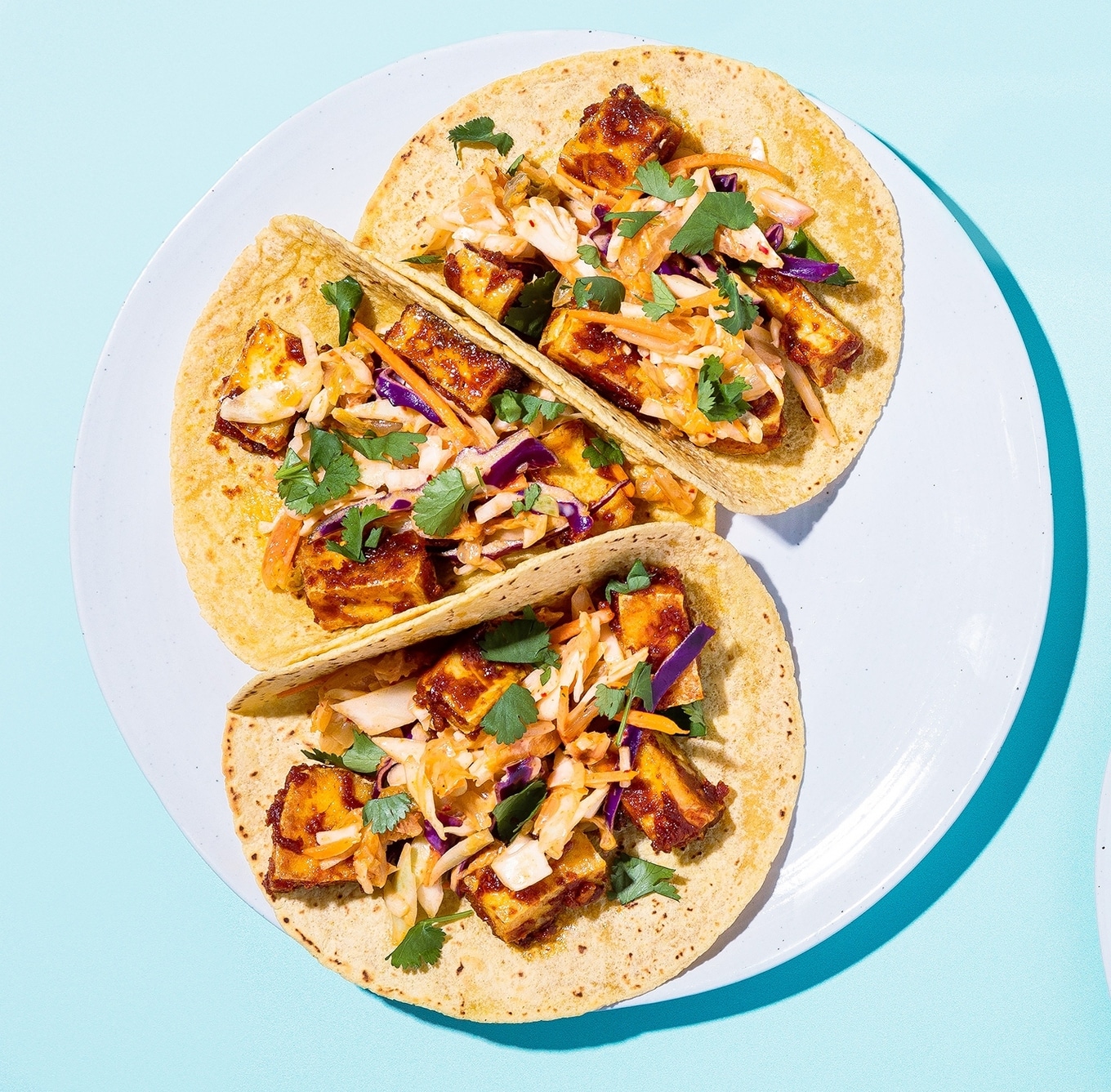 Purple Carrot
10 Korean Tacos
Coined by the San Antonio Taco Editor José Ralat, these tacos are a product of K-Mex, largely brought to popularity by celebrity chef Roy Choi. Today, you can find tacos in many Korean fusion restaurants stuffed with tofu, kimchi, and cilantro.
How to make them: Korean Tofu Tacos
Where to find them: Seabirds Kitchen in Long Beach and Los Angeles, CA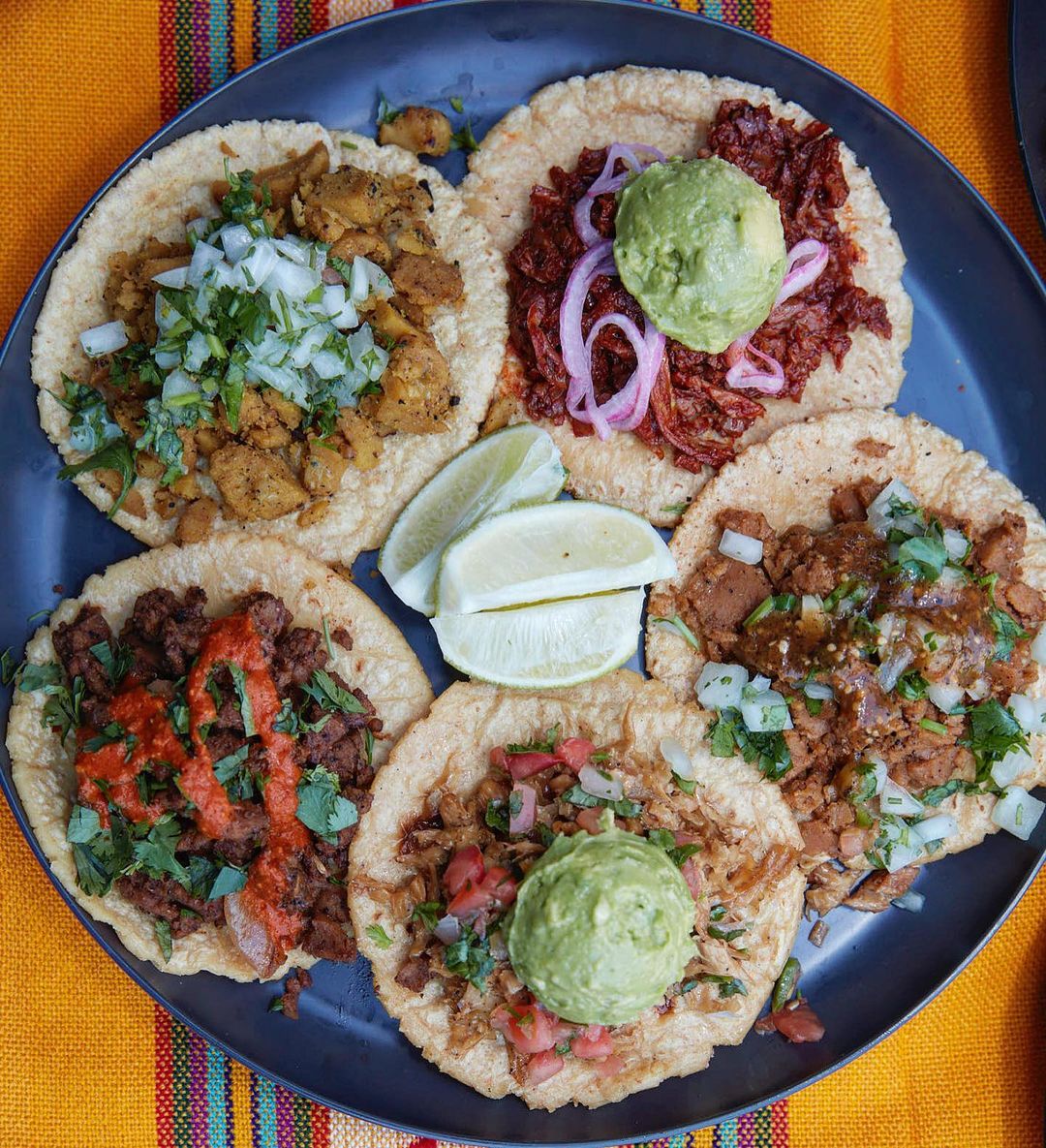 Cena Vegan
11 Tacos de pollo asado
Pollo asado packs a deep flavor combination of citrus, smoke, and spice. It's marinated then grilled, and while different chefs may have slightly different spice ratios, this chicken-based taco filling is easy to identify thanks to its vibrant red-orange sheen. The plant-based version keeps the flavor and simply swaps out the chicken for a vegan protein alternative such as seitan, TVP (textured vegetable protein), or vegan chicken.
How to make them: Vegan Chicken Tacos
Where to find them: Cena Vegan in Los Angeles, CA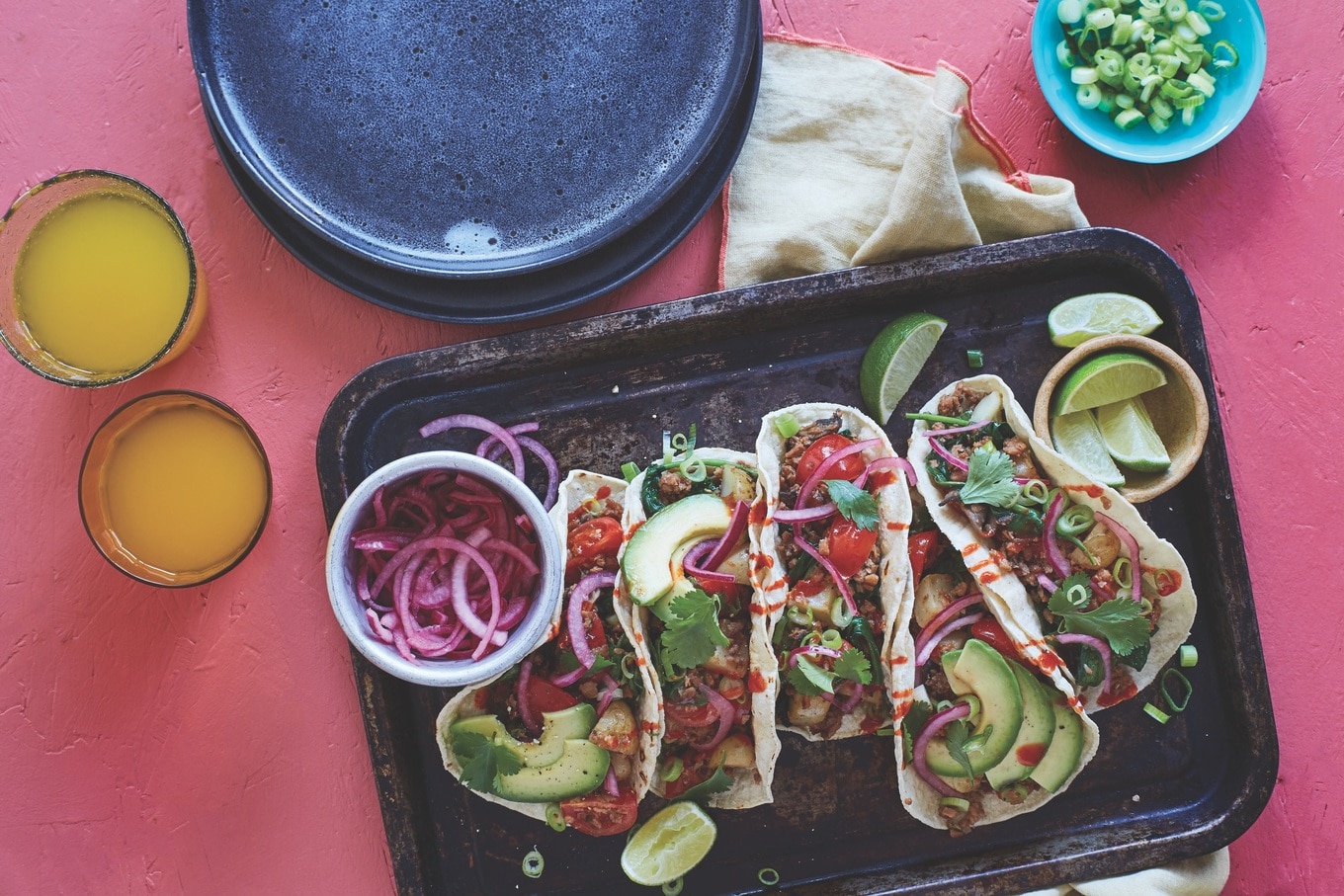 BOSH!
12 Breakfast tacos
Don't limit yourself—breakfast tacos can be eaten any time of day. Typically, these are characterized with the addition of vegan egg and often chorizo or sausage. Like other tacos, the sky's the limit after that—load up a hot flour or corn tortilla with scrambled JUST Egg, beans, and salsa, or top seasoned crumbled tofu with vegan sausage and pico de gallo.
How to make them: Vegan Mushroom-Sausage Breakfast Hash Tacos
Where to find them: The Vegan Nom in Austin, TX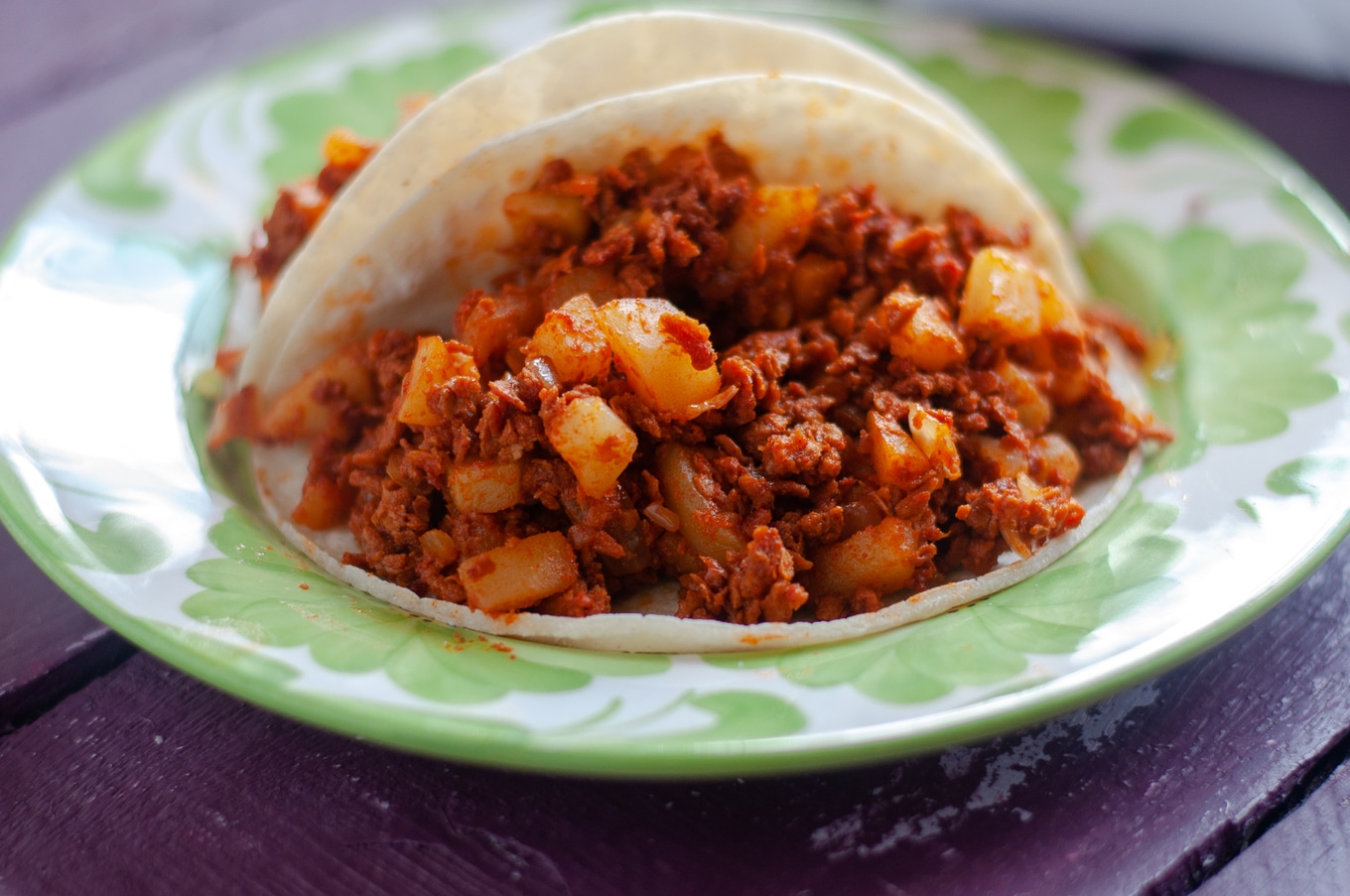 Thyme and Love
13 Chorizo
Meaty vegan chorizo packs a punch of flavor and meaty texture you won't want to miss. Dress it up with all the fixings (cilantro, onion, guacamole, and your choice of salsa) for your new go-to.
How to make them: Soy Chorizo and Potato Tacos
Where to find them: Tacotarian in Las Vegas, NV and San Diego, CA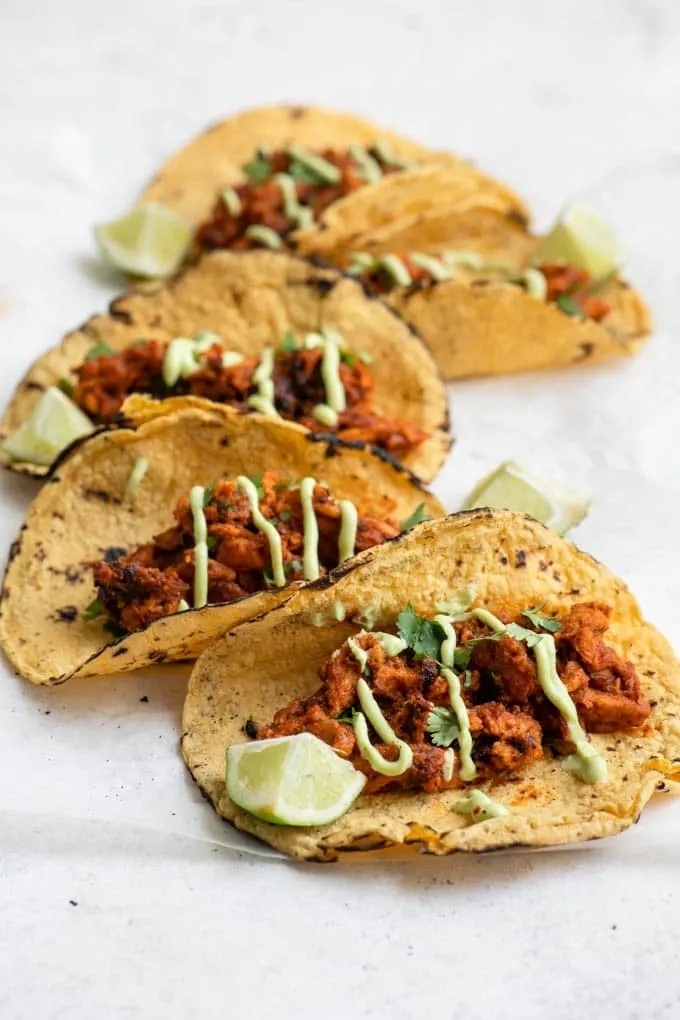 The Curious Chickpea
14 Tacos de tinga
Smoky and tomatoey with a slight kick of heat, tinga is perfect for scooping into soft corn tortillas. One bite of this saucy taco and you'll wonder how you went so long without it.
How to make them: Vegan Tinga Tacos
Where to find them: Succulent Vegan Tacos in Nashville, TN