It's no secret that green-colored vegetables are healthy for us. As kids, most of us were told to always eat up our greens. And our caregivers were simply following a long line of tradition. For thousands of years, humans have cultivated and consumed green plants. But why, exactly? It turns out dark leafy greens aren't just healthy, they are, in fact, "nutritional powerhouses," according to the Centers for Disease Control and Prevention (CDC). Others have labeled them as a "superfood," purely for the sheer amount of goodness they offer us. From their nutritional value to how to cook with them, here's what you need to know about the world of dark leafy greens.
What are the benefits of eating dark leafy greens?
Let's start with the obvious, all green vegetables are healthy for you. In fact, all vegetables, full stop, are healthy for you. But dark leafy green vegetables are a particularly nutritious addition to your diet. According to a study by the CDC, on average, dark leafy greens supply 10 percent or more of the daily value of 17 nutrients per 100 calories. So, in short: they're full to the brim with important vitamins and minerals, like iron, calcium, magnesium, vitamin C, vitamin E, potassium, and vitamin K.
They're also rich in antioxidants, which are molecules that help to fight off free radicals in our bodies. Free radicals can be extremely harmful as they are unstable atoms that cause damage to our cells, which can lead to disease.
"Dark-green leafy greens offer plenty of the antioxidant beta carotene, which helps to form vitamin A in the body and may help lower the risk for certain diseases," reports the Academy of Nutrition and Dietetics, which is one of the largest organizations of nutritional professionals in the US. "The darker the leaves, the more nutrient-rich the lettuce. For example, romaine has nine times more vitamin A than iceberg lettuce."
According to the USDA, the average adult should be consuming around two to three cups of vegetables per day. However, because most leafy greens aren't very dense (which you'll know if you've ever tried to cook spinach—where did it all go?!), you'll likely need two cups of these to make up the nutritional equivalent of, say, one cup of carrots.
Types of dark leafy greens
When it comes to getting enough dark leafy greens in your diet, you are spoilt for choice when it comes to options. Prefer your veggies crunchy? Try crisping up some kale. Prefer salads? Grab some arugula. Here are some of the most popular types of dark leafy greens to consider next time you're planning what to cook for dinner.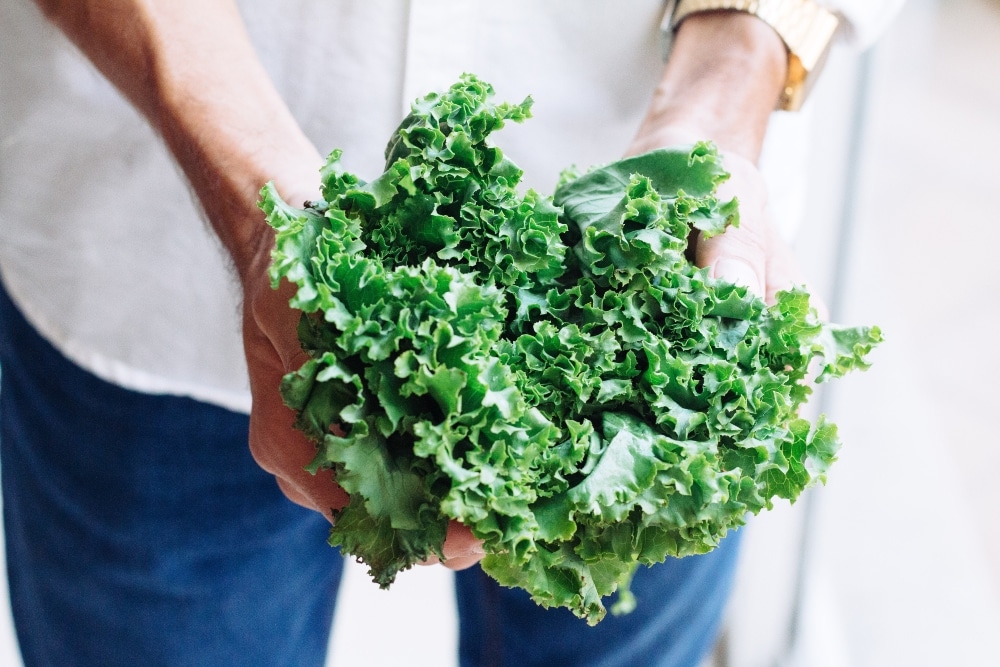 Unsplash
1 Kale
Kale, which has soared in popularity in recent years, is a curly, leafy member of the cabbage family. It's incredibly nutritious; just one cup alone contains around 68 percent of your daily vitamin K. It's also a source of fiber, manganese, vitamin A, riboflavin, and calcium, and it's rich in vitamin C.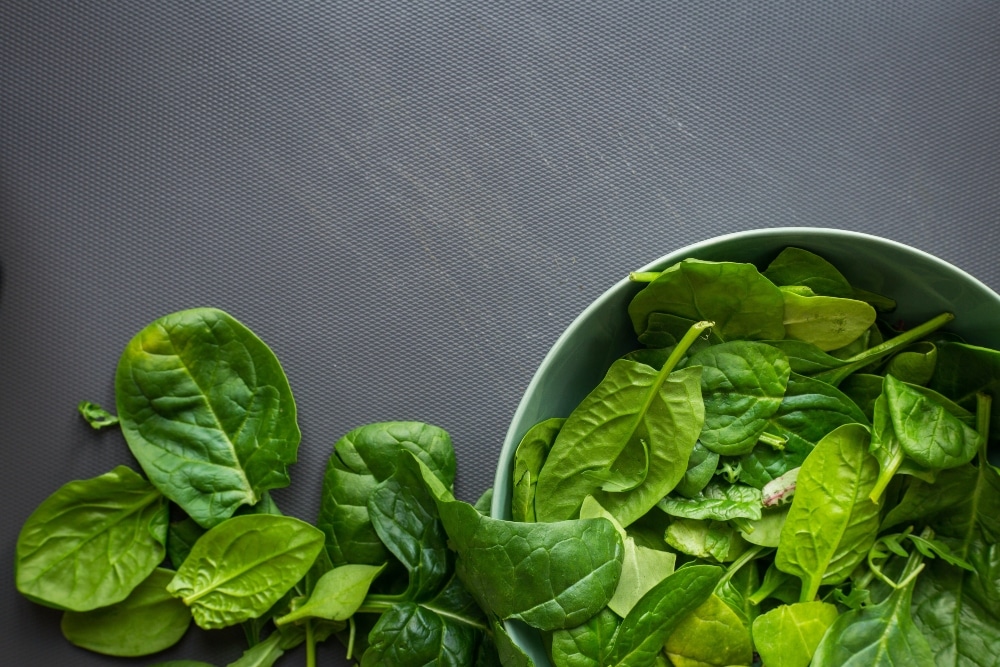 Unsplash
2 Spinach
A favorite of Popeye, spinach is a green flowering plant. It originated in Persia (now Iran), but today, it's loved all over the world. Like most dark greens, it contains high levels of chlorophyll, which has antioxidant properties, and, like kale, it's also a very good source of vitamin K, which is particularly important for the body's wound-healing process.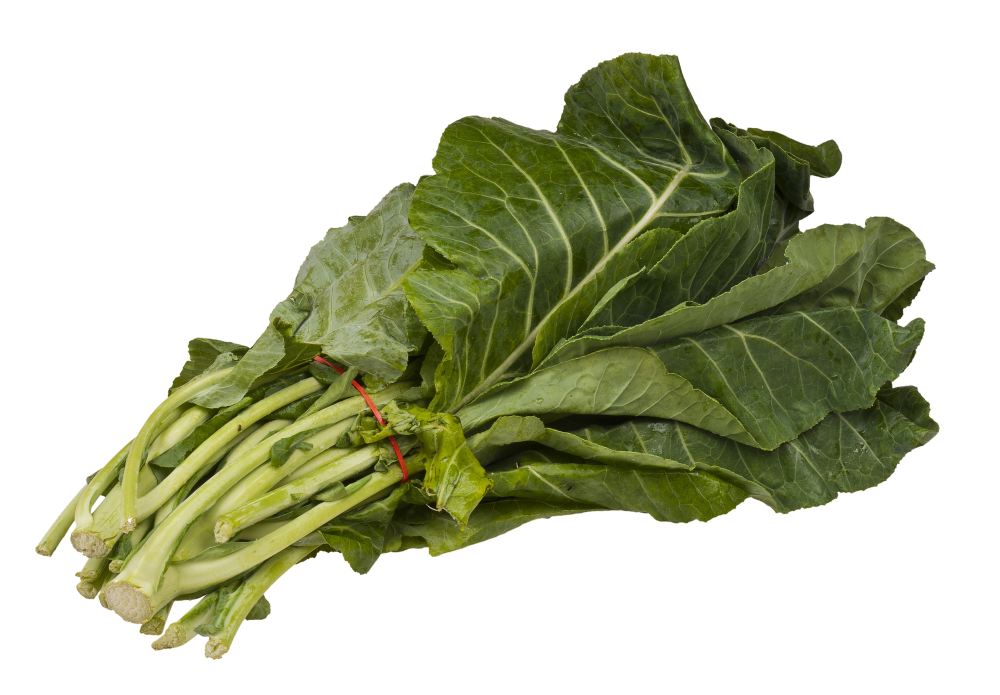 Pixabay
3 Collard Greens
Collard greens are the large, flat green leaves of the collard vegetable, which is closely related to cabbage and broccoli. They have a rich history in the south of the US, as they were one of the only vegetables that enslaved people could grow for themselves. They're still an important part of Black culture today, and they're ultra-healthy too. Again, they're a great source of vitamin K, and they also contain fiber, protein, calcium, vitamin C, folate, vitamin A, magnesium, phosphorus, and potassium.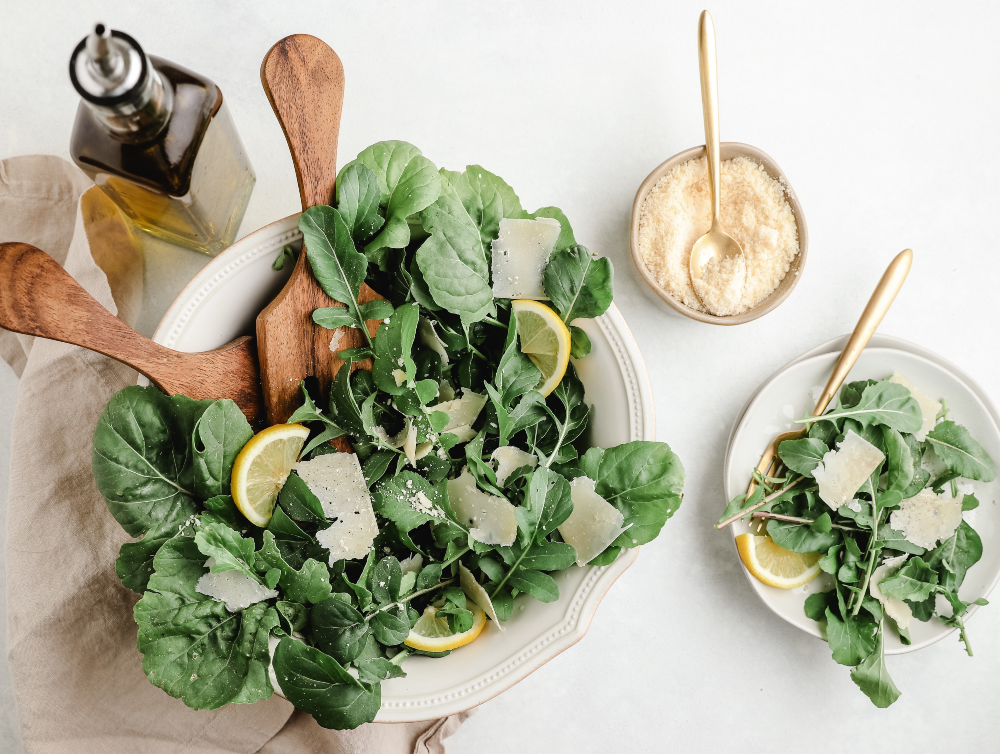 Unsplash
4 Arugula
Edible plant arugula, which is also often referred to as rocket, has a slightly peppery taste and is a common ingredient in salads, but it's also a delicious garnish on pizzas and pasta too. The leafy green is incredibly nutrient-dense and contains calcium, folate, vitamin C, vitamin K, vitamin A, and potassium.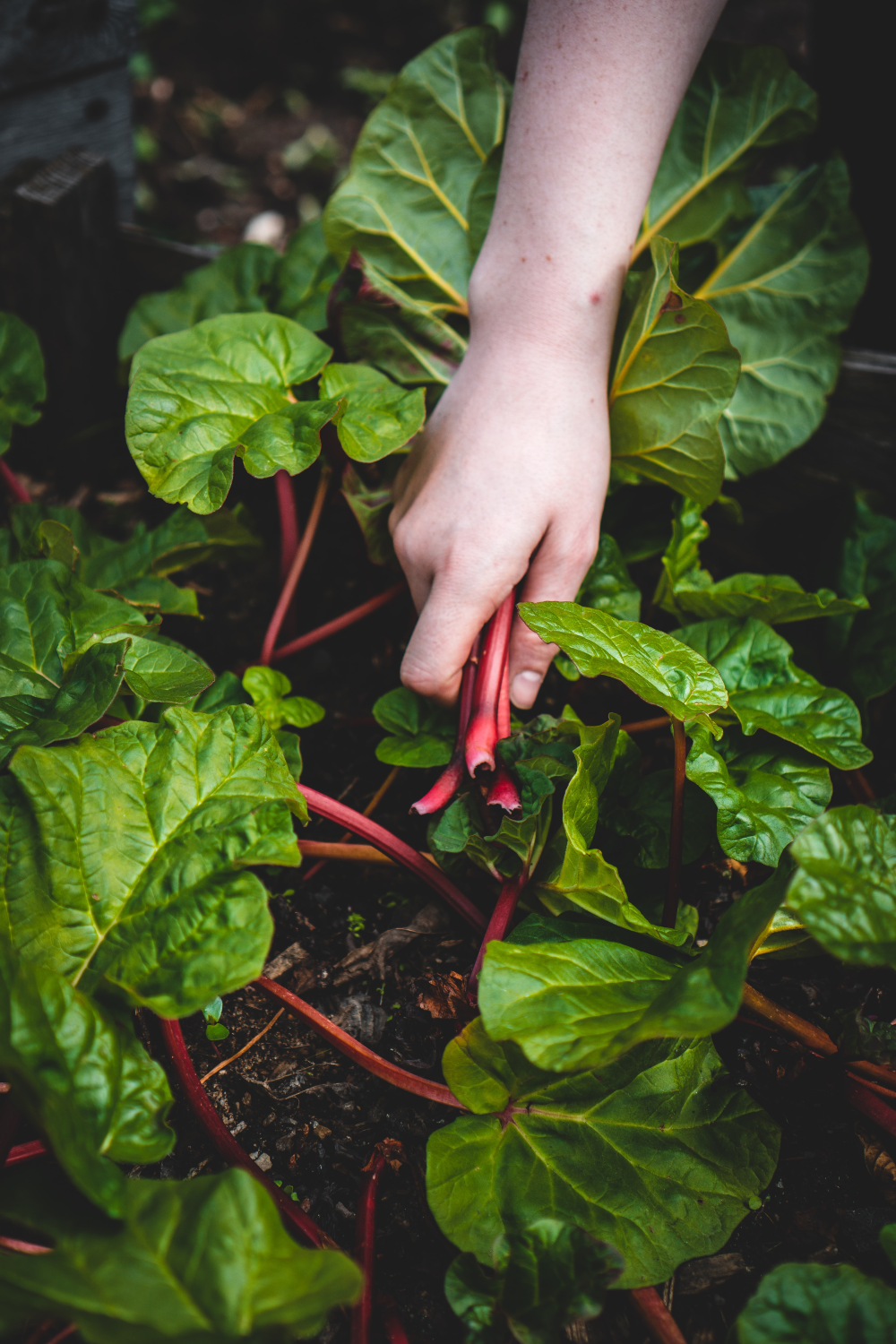 Unsplash
5 Swiss Chard
Closely related to beetroot, Swiss Chard is a large vegetable with big green leaves and a thick stalk. The taste is earthy and almost nutty, which makes it a great vegetable to saute and serve with dishes like pasta or stir fry, or serve on the side with some vegan steak. Again, like all dark leafy greens, swiss chard is a great source of antioxidants, and it's also high in iron, magnesium, vitamin A, vitamin C, and potassium.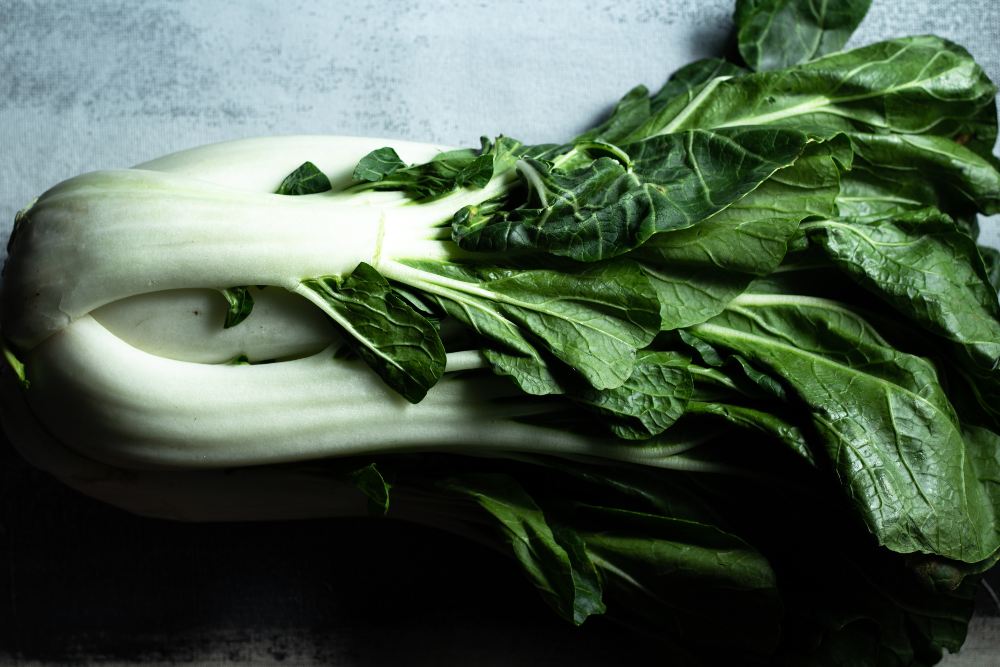 Unsplash
6 Bok Choy
Bok choy, which can also be referred to as pak choi, is a type of Chinese cabbage. For that reason, it's a staple in many Chinese dishes, and is a common filling in spring rolls and dumplings, for example. It's high in vitamin C and vitamin K, and it's also a source of nutrients like fiber, calcium, magnesium, and iron.
Vegan recipes with dark leafy greens
Sure, you can eat dark leafy greens as they are, or with a little bit of seasoning. But arguably, they taste best when they're part of a delicious meal, like lasagna or sushi. Here are some of our favorite ways to cook or prepare dark leafy greens.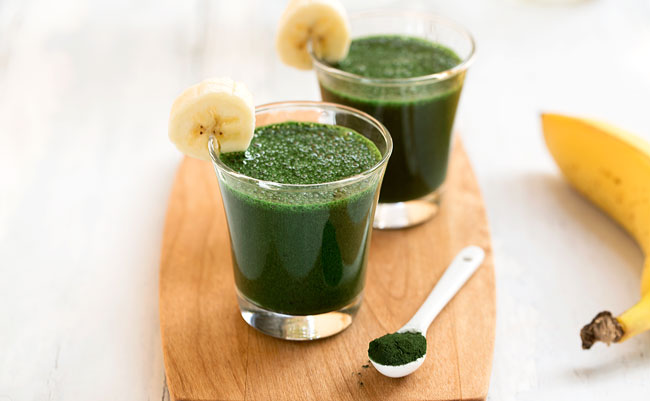 Hannah Kaminsky
1 Healthy Vegan Smoothie
We get it, not everyone likes the texture of greens. But if this is you, the good news is, you don't have to eat them, because, instead, you can drink them. Blend them up with your favorite vegan milk and some tasty bananas.
Get the recipe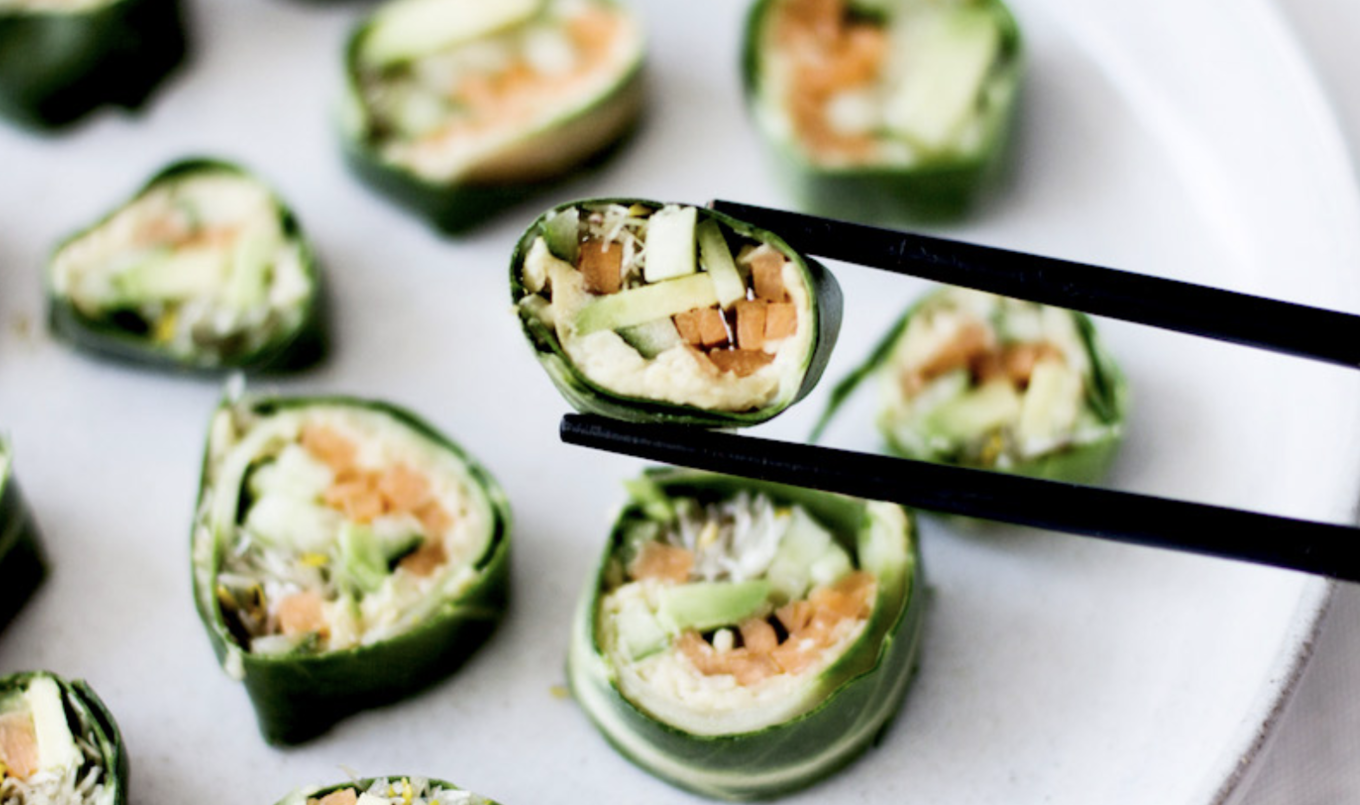 VegNews
2 Mediterranean Veggie Sushi
Sushi is a great way to pack in loads of vegetables and enjoy them in tasty bite-sized pieces. As well as carrots, cucumber, avocado, apples, and sprouts, this recipe calls for collard greens. Don't forget the soy sauce for dipping, and if you like a little heat, the wasabi, too.
Get the recipe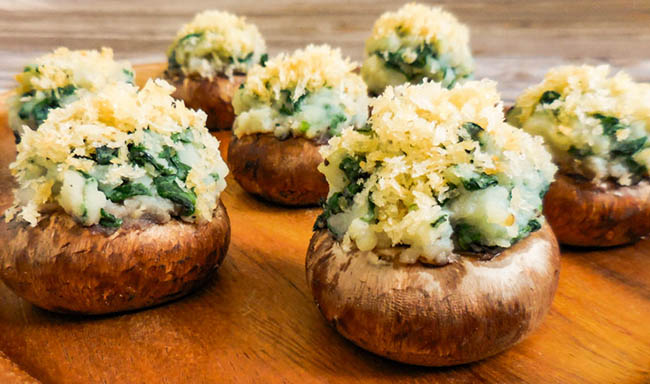 Holly V. Gray
3 Spinach and Mashed Potato Stuffed Mushrooms
There's nothing more comforting than mashed potato. Enjoy the texture of this creamy treat, and add a pop of delicious nutrition at the same time, by combining it with mushrooms and spinach.
Get the recipe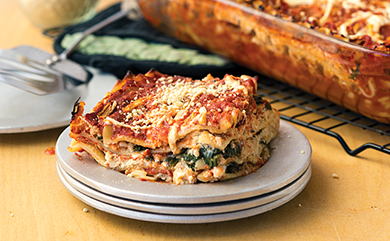 Jackie Sobon
4 Cheesy Vegan Spinach Lasagna
Lasagne is the ultimate mid-week meal. While there are many ways you can fill the layers without turning to beef mince, the combination of parmesan, ricotta, mozzarella, and leafy green spinach is arguably one of the best.
Get the recipe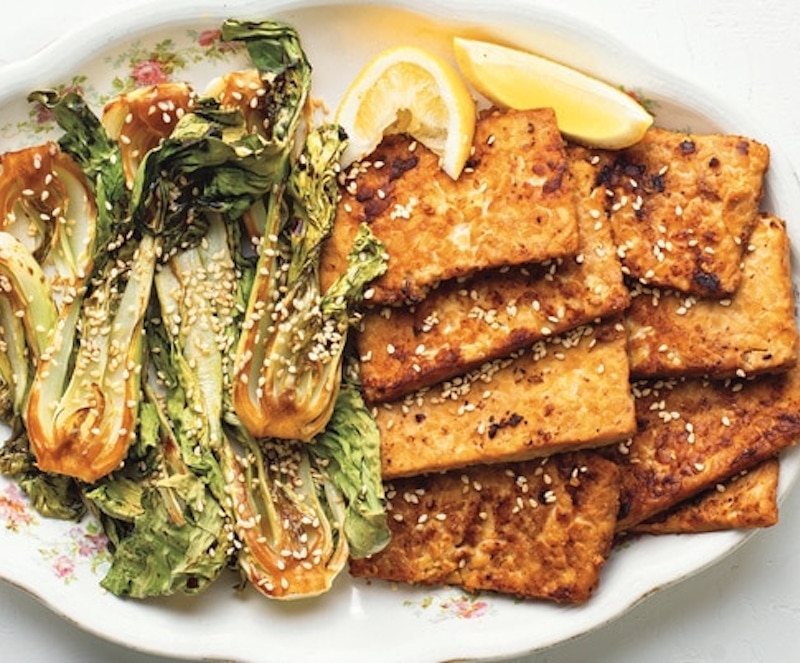 Alexandra Shytsman
5 Miso-Mustard Tempeh With Roasted Baby Bok Choy
Tempeh is a great source of protein, it's meaty, versatile, and soaks the flavors of this miso-mustard marinade beautifully. Roasted bok choy, covered in zesty lemon juice, is the perfect accompaniment.
Get the recipe
For more on vegan nutrition, read: