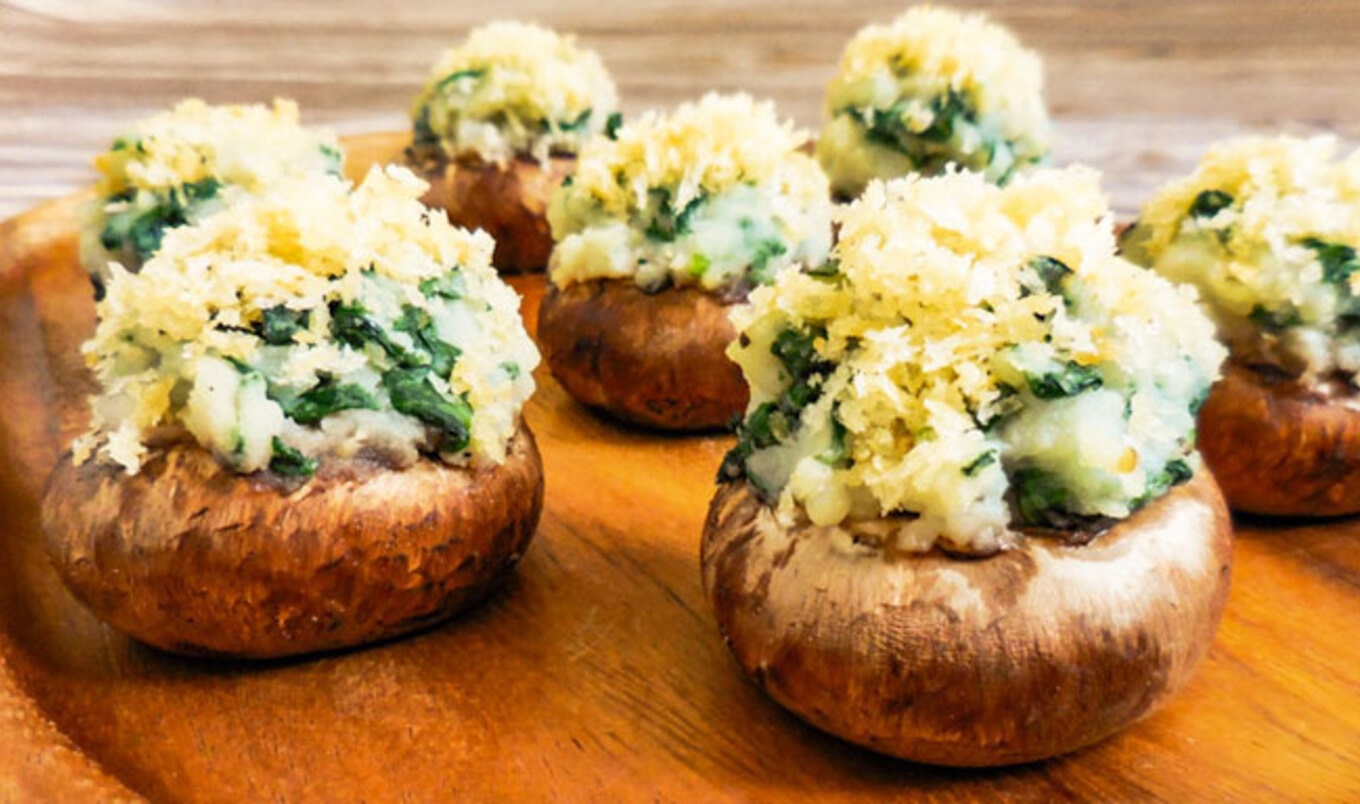 We're stuffing traditional mushroom appetizers with the ultimate comfort food—mashed potatoes!
November 16, 2022
Garlicky spinach mashed potatoes provide down-home flair to this easy-yet-elegant classic starter that's perfect for your next gathering or a quiet meal at home. These savory bites get a burst of buttery flavor thanks to Panko breadcrumbs, while the spinach will have you strong like Popeye. Pro tip: make the filling up to a day in advance, and skip a step to save on prep time by using leftover mashed potatoes.
What you need:
For the mashed potatoes:
2 medium Russet potatoes
2 tablespoons vegan butter
¼ teaspoon sea salt
⅛ teaspoon ground black pepper
For the spinach:
2 teaspoons olive oil
1 clove garlic, minced
3 cups loosely packed baby spinach leaves
For the topping:
¼ cup panko bread crumbs
1 tablespoon melted vegan butter
⅛ teaspoon garlic salt
For serving:
12 Baby Bella mushrooms, stems removed
What you do:
1. For the mashed potatoes, peel potatoes, and dice into 1-inch cubes. Place diced potatoes in a medium pot, and fill with water to cover. Bring to a boil and cook until potatoes are fork-tender.
2. Drain potatoes in a colander, then return to the still-hot cooking pot. Using a potato masher or fork, mash potatoes to desired consistency. Stir in butter, salt, and pepper.
3. For the spinach, into a medium skillet, heat olive oil over medium-high heat. Add garlic and cook for approximately 1 minute. Add baby spinach leaves and cook for 3 minutes, stirring frequently until spinach leaves are wilted. Remove from skillet and place in a colander. Use the back of a spoon to press out any excess liquid. Place spinach on a cutting board and chop finely.
4. For the topping, into a small bowl, add panko bread crumbs, melted butter, and salt. Toss to combine.
5. To assemble, preheat oven to 350 degrees. Into a medium-sized mixing bowl, add mashed potatoes and spinach. Stir well to combine. Place mushrooms at least 2 inches apart on a baking sheet. Spoon mashed potato and spinach mixture into each mushroom cap. Bake approximately 10 minutes.
6. Remove stuffed mushrooms from oven and top with breadcrumb mixture. Return to oven and bake an additional 5 minutes, until breadcrumbs are lightly golden in color. Serve warm.