Picture the scene: you're scrolling on TikTok, and you come across a video of an influencer drinking green swamp-like water, and claiming it can improve skin health. The secret? Chlorophyll, apparently. Today, the TikTok hashtag #chlorophyllwater has more than 250 million views, and the health claims don't stop at skin. There are also videos that state drinking chlorophyll can help with weight loss and even work as a natural deodorant. But is this actually true? Here, we take a closer look at the real benefits of chlorophyll. But first: what even is chlorophyll, anyway?
What is chlorophyll?
It may sound unfamiliar, but most of us have been consuming chlorophyll for the majority of our lives without really thinking about it. And that's because it's present in all green plants and vegetables, like spinach, broccoli, sprouts, and green beans. Chlorophyll is the pigment that makes plants green in the first place. It's an important part of photosynthesis because its main job is to help plants absorb sunlight.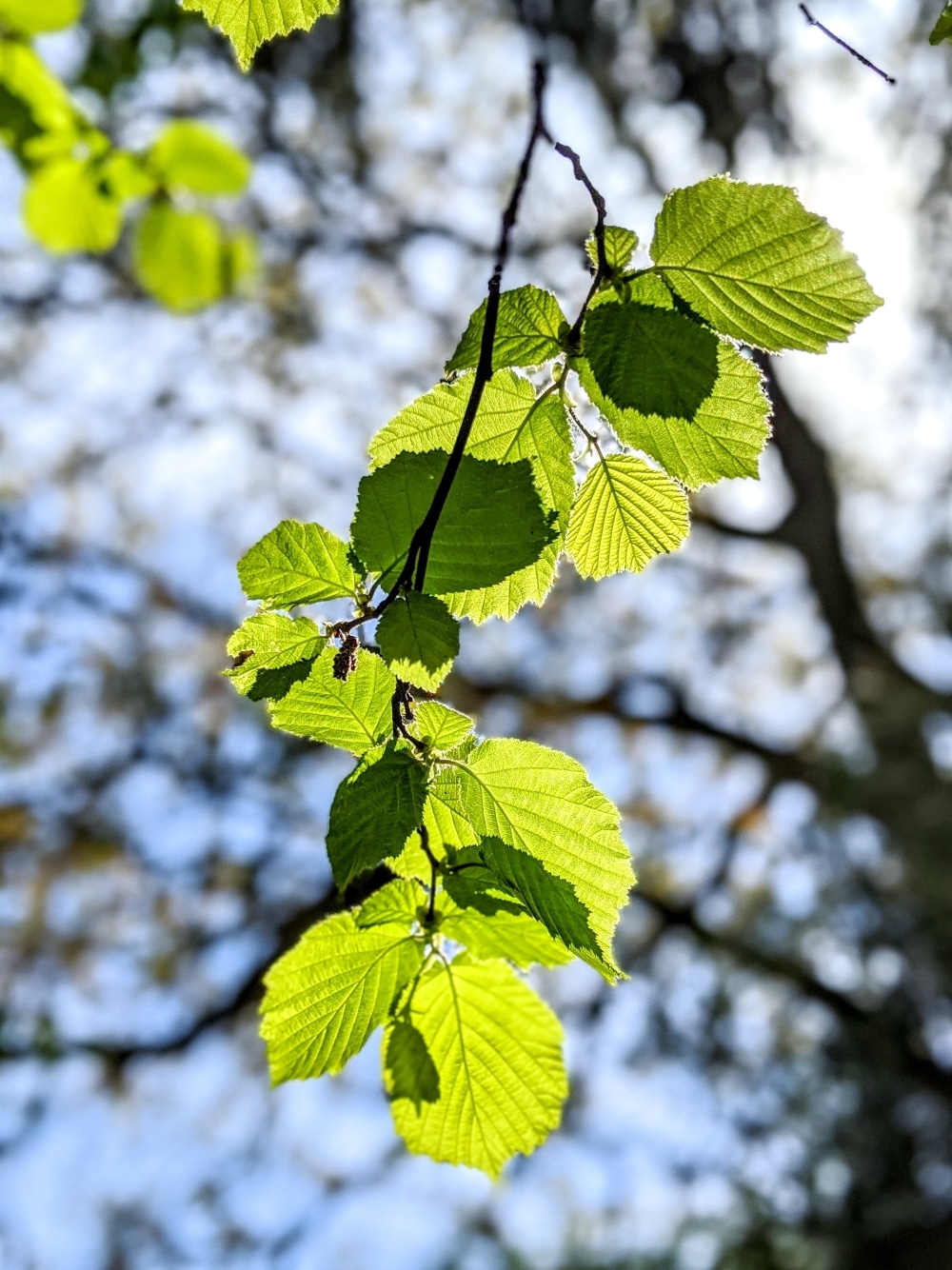 Unsplash
What are the benefits of chlorophyll?
There is some evidence to suggest that chlorophyll does have health benefits. It has anti-inflammatory, antioxidant, and antibacterial properties, for example, which may help to reduce inflammatory skin conditions, but that said, it's not a miracle acne cure. And don't let any TikTok videos convince you otherwise.
"If someone finds that [drinking chlorophyll] makes them feel good, energized, and happens to also help their acne, then great," dermatologist Sheila Farhang, MD, told InStyle. "But if someone is suffering from severe cystic acne, drinking more chlorophyll will most likely not help it and they should see a dermatologist."
And as for those natural deodorant claims? There is a little bit of research to suggest that chlorophyll may help some people with reducing their body odor. One study, published in January 1980, found that the administration of chlorophyllin (a water-soluble semi-synthetic derivative of chlorophyll) was "helpful in controlling body and fecal odors" in 62 geriatric nursing home patients.
Chlorophyll may also help with weight loss, wound healing, and slow the progression of cancer, but more research is needed in all of these areas. "So far, most studies [into chlorophyll] have been small and limited," reports Medical News Today. "And many of the potential health benefits have not been shown to work in humans."
How to get chlorophyll into your diet
There are many ways to consume chlorophyll. You could take supplements, for example, which often contain chlorophyllin, and can either be swallowed whole or added to a drink. Again, research is limited around the benefits of doing this, but chlorophyll supplements are generally considered safe to consume for most people. That said, you should always seek advice from your healthcare provider before you take anything new, especially if you are pregnant or breastfeeding.
But you don't have to take a supplement to increase your intake of chlorophyll. Instead, you could consume more green vegetables, especially dark leafy greens. These foods also offer a host of other health benefits, as they contain important nutrients, like iron, fiber, magnesium, vitamin C, and more.
Vegan recipes with chlorophyll
If you want to make sure you're eating chlorophyll-rich vegetables, and enjoying all of the nutrients these foods can offer, we've included a few of our favorite recipes with green vegetables below.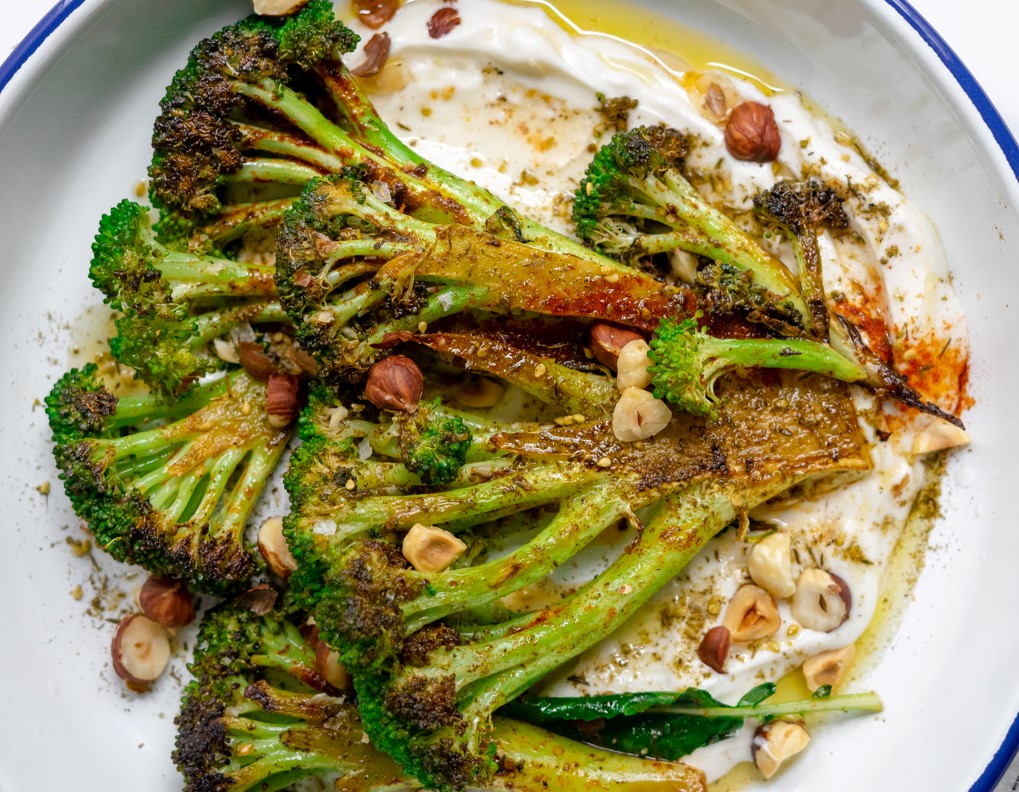 Micah Siva
1 Vegan Za'atar-Seared Broccoli Steaks
On its own, broccoli can be a little bland, especially if it's unseasoned. But when you add za'atar, paprika, salt, and some chopped hazelnuts, this plain green vegetable becomes a delicious, flavorful ingredient, which, honestly, deserves to take pride of place on your plate. The days of the humble side veg? They're over.
Get the recipe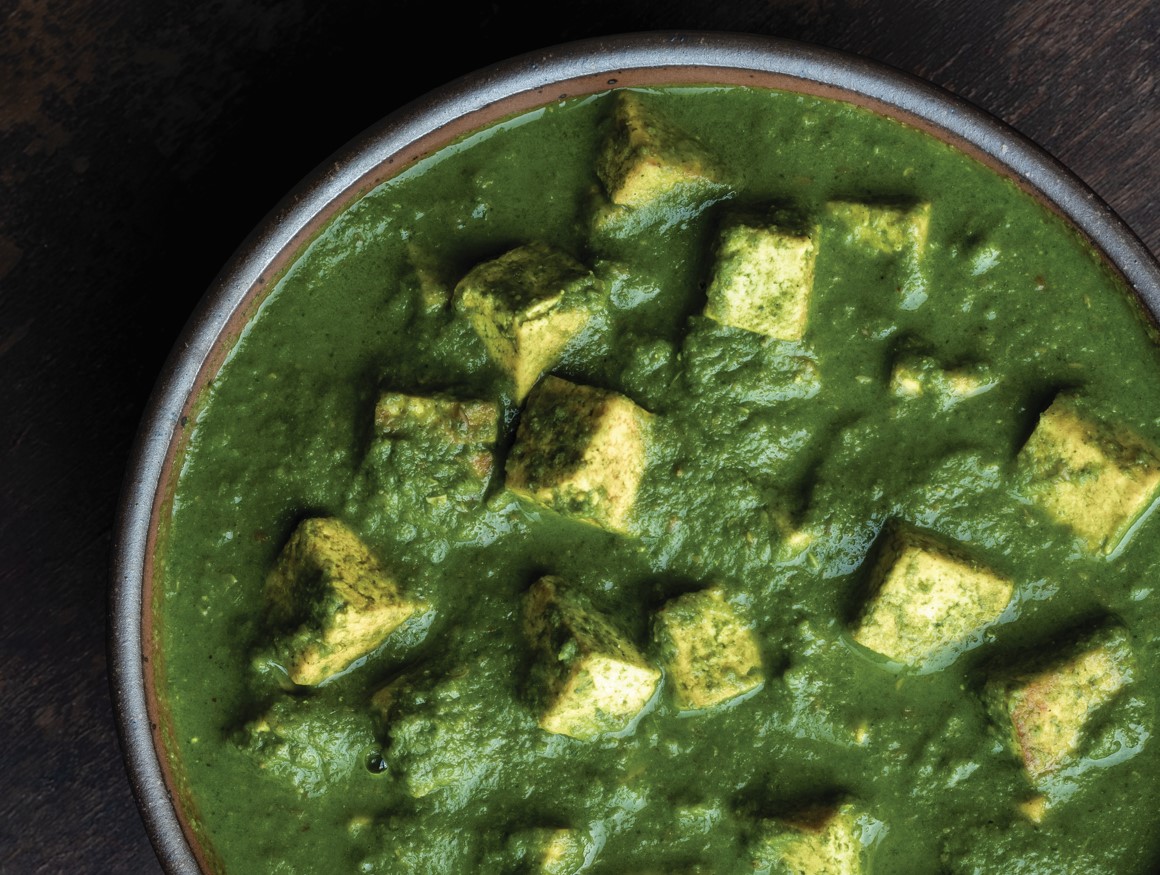 Dr. Sheil Shukla
2 Vegan Spicy Spinach Chili Pālak Tofu
Palak paneer is a popular side dish from India, which usually features paneer cheese in a creamy spinach gravy-style sauce. But thankfully, if you're vegan, you don't have to miss out on this succulent dish, as you can replace the cheese with tofu. The latter is the perfect swap, thanks to its ability to soak up the flavor of any sauce you pair it with.
Get the recipe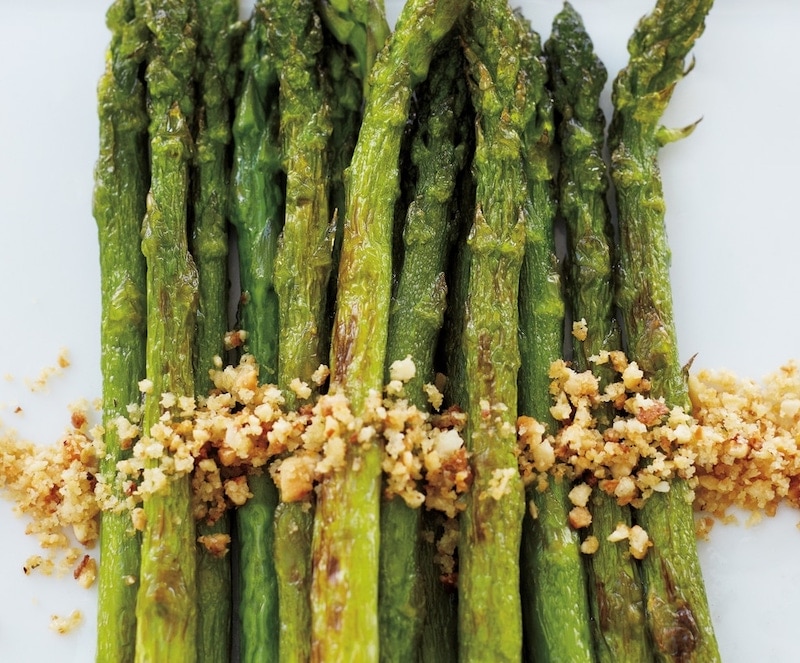 Rich Landau and Kate Jacoby
3 Roasted Asparagus with Vegan Hazelnut Picada
If you want to know how to level up any green vegetable, let us let you in on a secret: add hazelnuts. But not just any hazelnuts. They should also be mixed with garlic, oil, salt, and pepper. Crunchy and delicious.
Get the recipe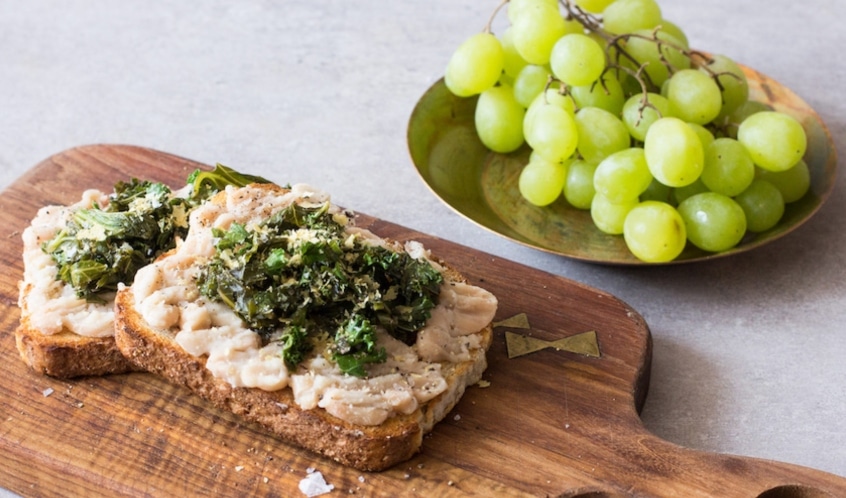 VegNews
4 White Bean & Kale Toast
For many, avocado on toast is a go-to breakfast. It's quick, easy, and packed with nutrition. But, if you're getting a little bored of the same old recipe, you could change things up by swapping the avocado for nutrient-packed white bean and kale topping. It's just as creamy, just as flavorful, and just as satisfying.
Get the recipe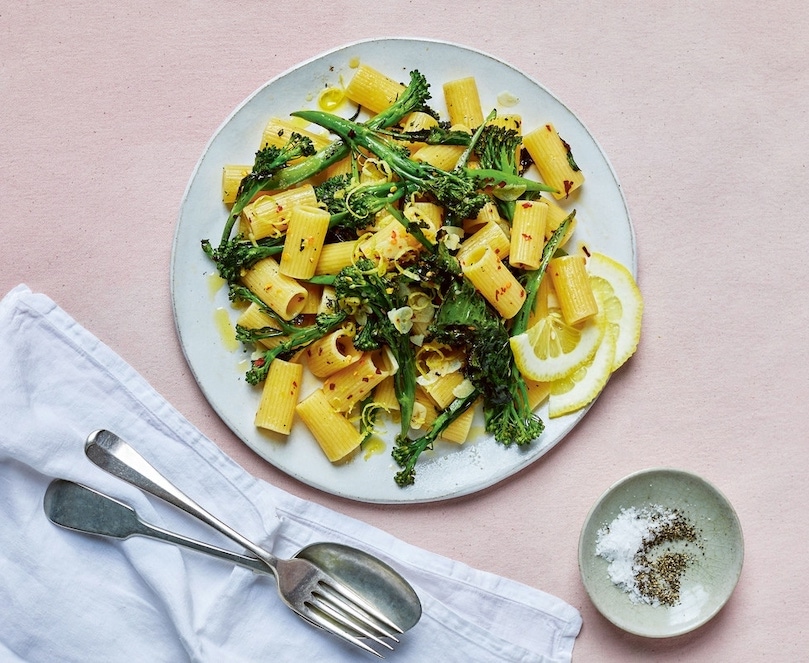 Luke Albert
5 Vegan Roasted Lemony Broccoli Rigatoni
Pasta and greens are the ultimate combination—there's no doubt about it. The textures are the perfect mix. To make this tasty, easy rigatoni, marinate and roast the broccoli florets before mixing them with the pasta. A squeeze of lemon juice completes the dish.
Get the recipe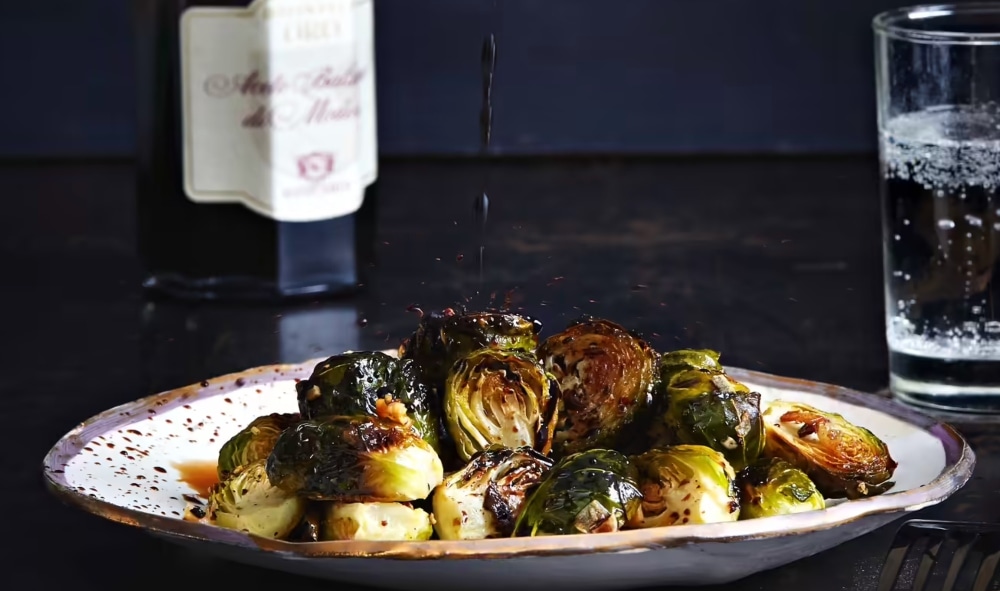 Kate Lewis
6 Roasted Balsamic Brussels Sprouts
Brussels sprouts are often whipped out at Thanksgiving or Christmas, but they're not just for the holidays. These delicious roasted balsamic sprouts deserve a place on the dinner table all year round. For a quick, easy, and nutrient-packed meal, serve with a dish like pasta or your favorite vegan meat.
Get the recipe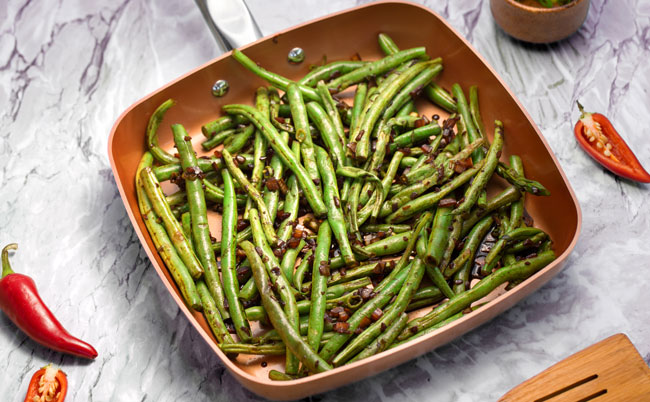 Hannah Kaminsky
7 Szechwan String Beans
Szechwan cuisine, which is also called Sichuan or Szechuan, always delivers maximum flavor, and these tasty string beans are no exception. They're ideal for serving in a stir fry with noodles and tofu, with crispy spring rolls on the side, of course.
Get the recipe
For more on vegan nutrition, read: