On Southern dinner tables, a big pot of hot, seasoned leafy collard greens is far from an unusual sight. This nutrient-rich vegetable may not have started out in the US (its origins actually lie in ancient Greece), but it has, undeniably, become a key part of the country's culture—in Black communities, in particular.
This is because, back in the 17th, 18th, and 19th centuries, collard greens were one of the few foods that enslaved people from Africa could grow and harvest for themselves. "[Collard greens] were adopted by Black folks in the South, who seasoned them with the meat that they cured in their smokehouses and pan-fried them and drank pot likker as medicine," cultural preservationist Gabrielle E. W. Carter told The Tampa Times. "They really kind of made it their own."
As well as being a key element of heritage and tradition for many Black Americans, collard greens are also rich in nutrients, they're versatile, and they're tasty, too. Here's what you need to know about the dark leafy vegetable, as well as eight vegan recipes to try out for yourself.
What are collard greens?
Collard greens are a dark green, loose-leafed member of the Brassica oleracea species, which also counts nutritious vegetables like broccoli, cauliflower, and cabbage in its many cultivars. They have large, dark green leaves, which are thick, a little tough in their texture, and slightly bitter to taste. They can be cooked in a variety of ways, including sautéing, braising, boiling, or steaming, and are commonly served as a side dish or added to soups and stews.
Are collard greens nutritious?
Like most dark leafy greens, collard greens are a great source of nutrients. They're particularly high in vitamin K, as well as vitamin A, vitamin C, folate, and calcium. On top of this, they're also a good source of dietary fiber, which is important for digestive health.
How to cook with collard greens: 8 vegan recipes
Collard greens are a staple of soul food cooking because they're particularly effective at soaking up flavors, sauces, and seasonings. But there are many different ways to enjoy them. Here, we've gathered a few of our favorite ways to cook with this super nutritious Southern staple. And of course, everything is 100-percent vegan.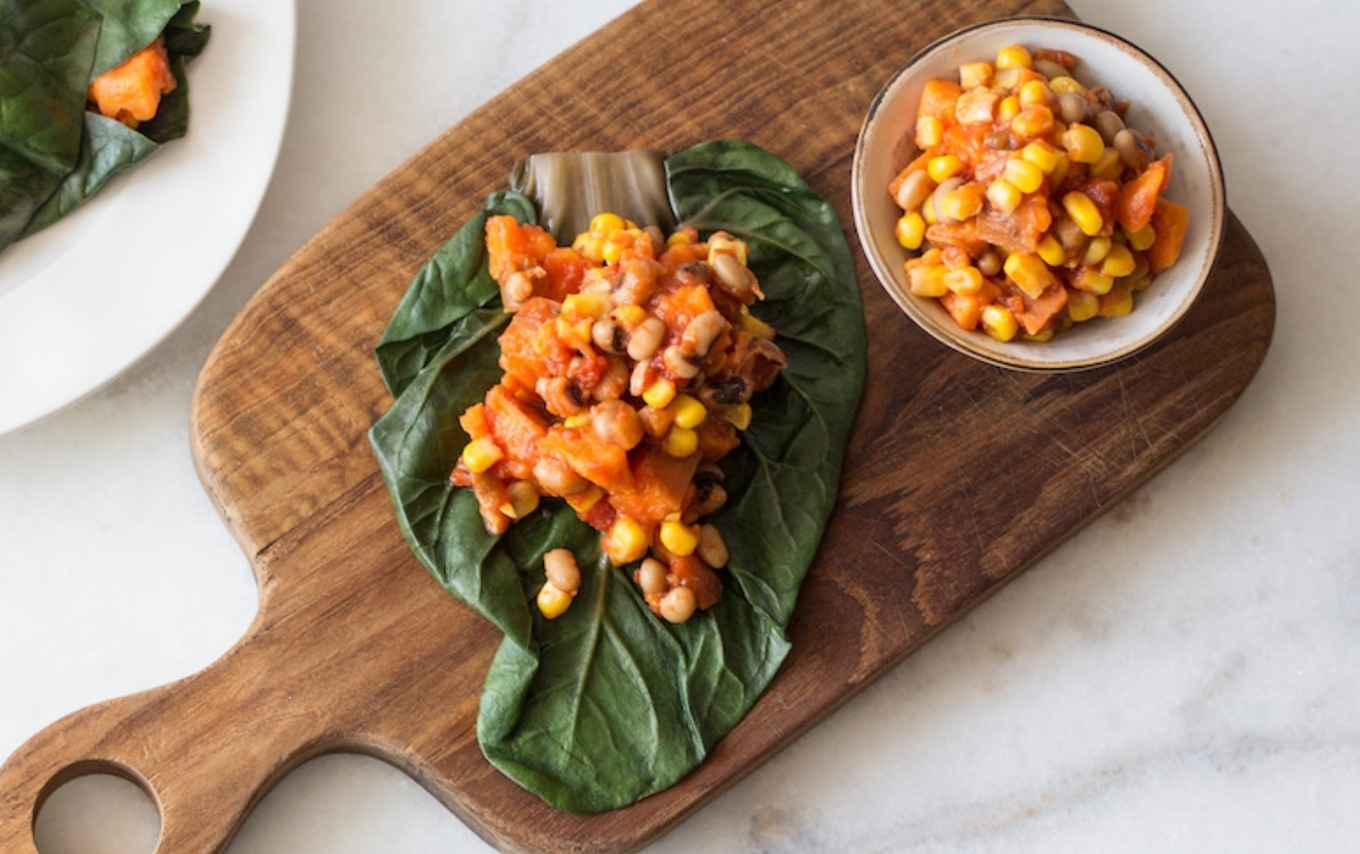 1 Southern Collard Wraps
Combine greens with nutrient-rich sweet potatoes and black-eyed peas (another significant southern ingredient) to make these delicious, and incredibly healthy, collard wraps. For a little extra texture and crunch, don't forget the corn, and for extra flavor, salsa is a must.
Learn more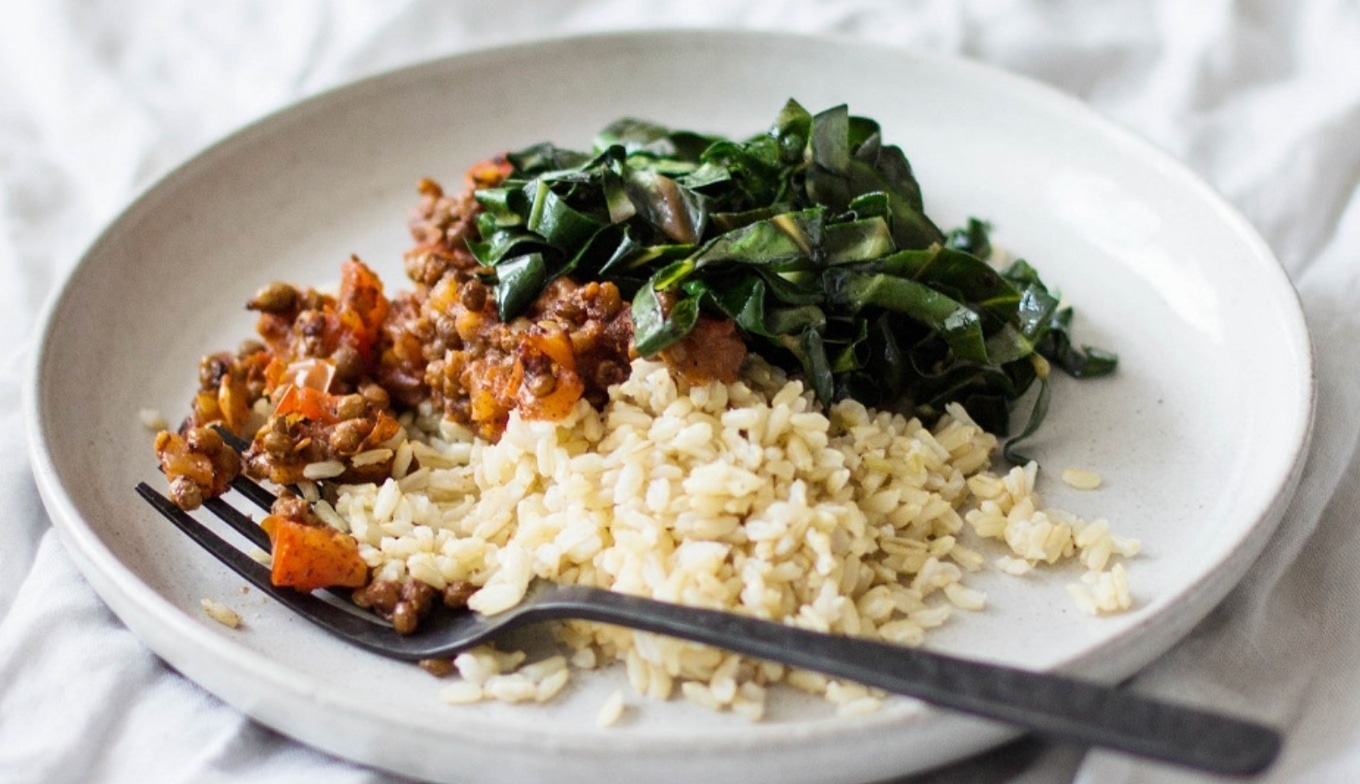 2 Ethiopian Lentils & Collard Greens
In Ethiopia, gomen wat—which features collard greens, niter kibbeh (spiced butter), onions, garlic, and spices—is a popular side dish, and also the inspiration behind this nutritious plant-based dish. To lower the calories, this recipe uses oil (but you could also opt for butter or water, depending on your preference). To embrace culture and tradition properly, put down the knife and fork and enjoy eating with your hands.
Learn more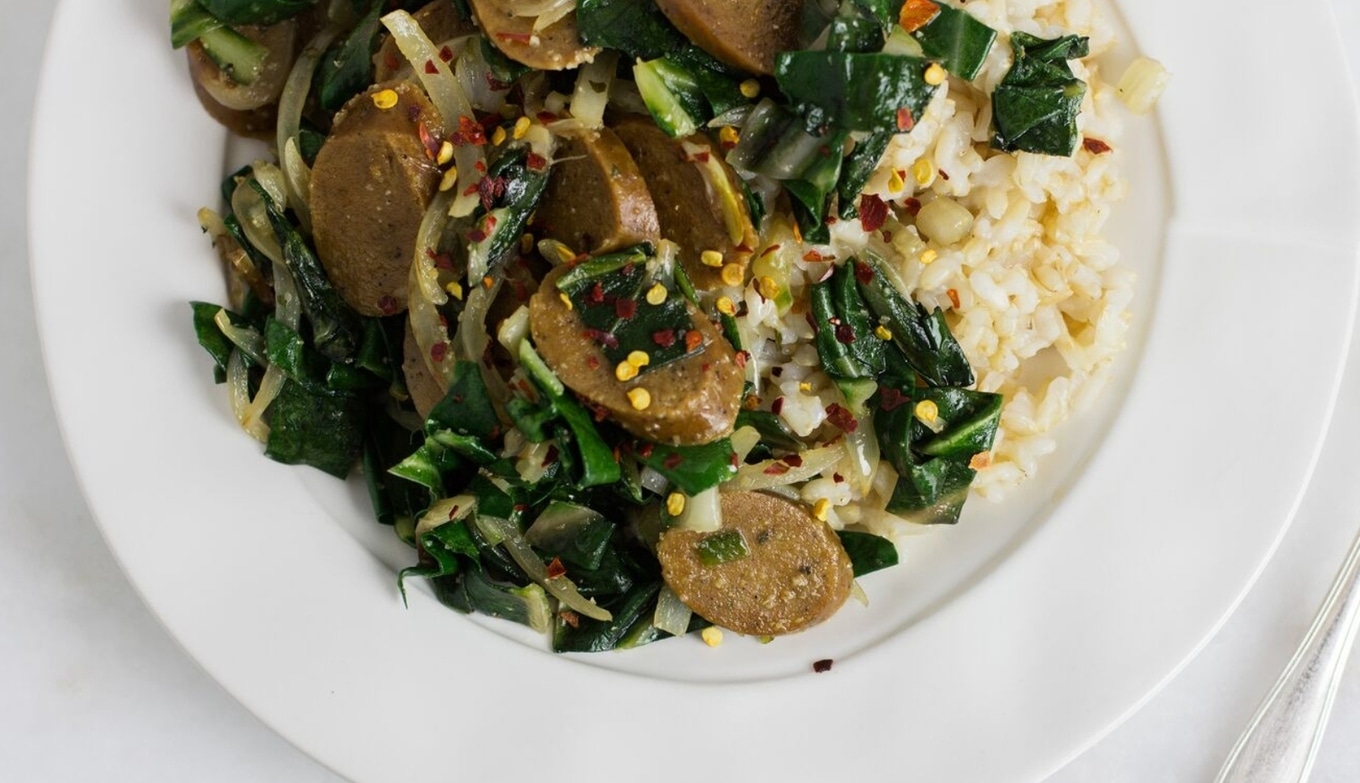 3 Southern-Style "Sausage" & Collard Greens
Sausages are particularly popular in Southern cooking, but, for obvious reasons, they are not vegan-friendly—at least, when they're made with pork anyway. But you don't have to skip out on those southern flavors if you're avoiding meat. Instead, follow this recipe's lead and replace the pork with Tofurky's kielbasa sausages (or another, similar plant-based meat alternative).
Learn more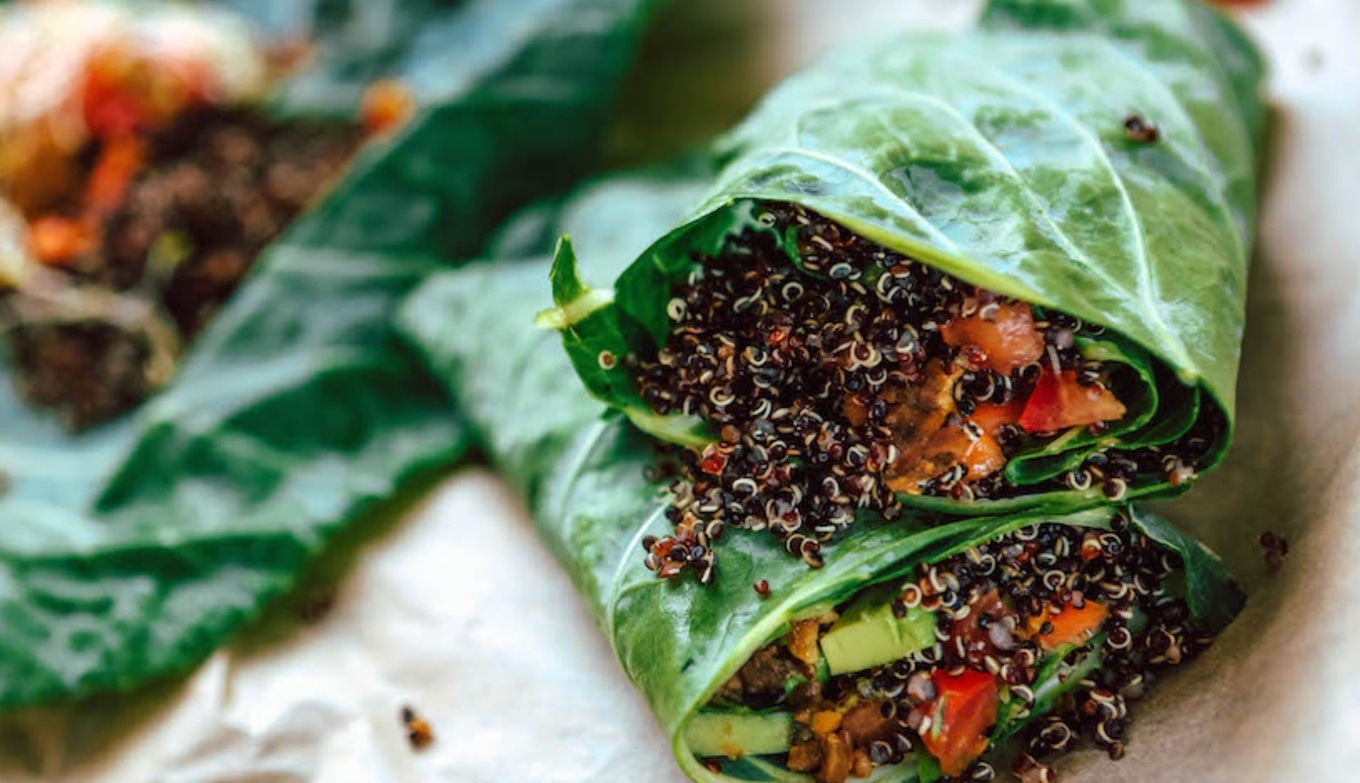 4 BLT in a Collard Wrap
Usually, a BLT consists of bacon, lettuce, and tomato pressed together in two big slabs of bread. But if you're looking for something a little different, or you prefer to use only plant-based whole food ingredients, this vegan BLT in a collard wrap is still delicious, and it's packed with nutrients, too. You can use your favorite vegan bacon, or like this recipe recommends, opt for tempeh instead.
Learn more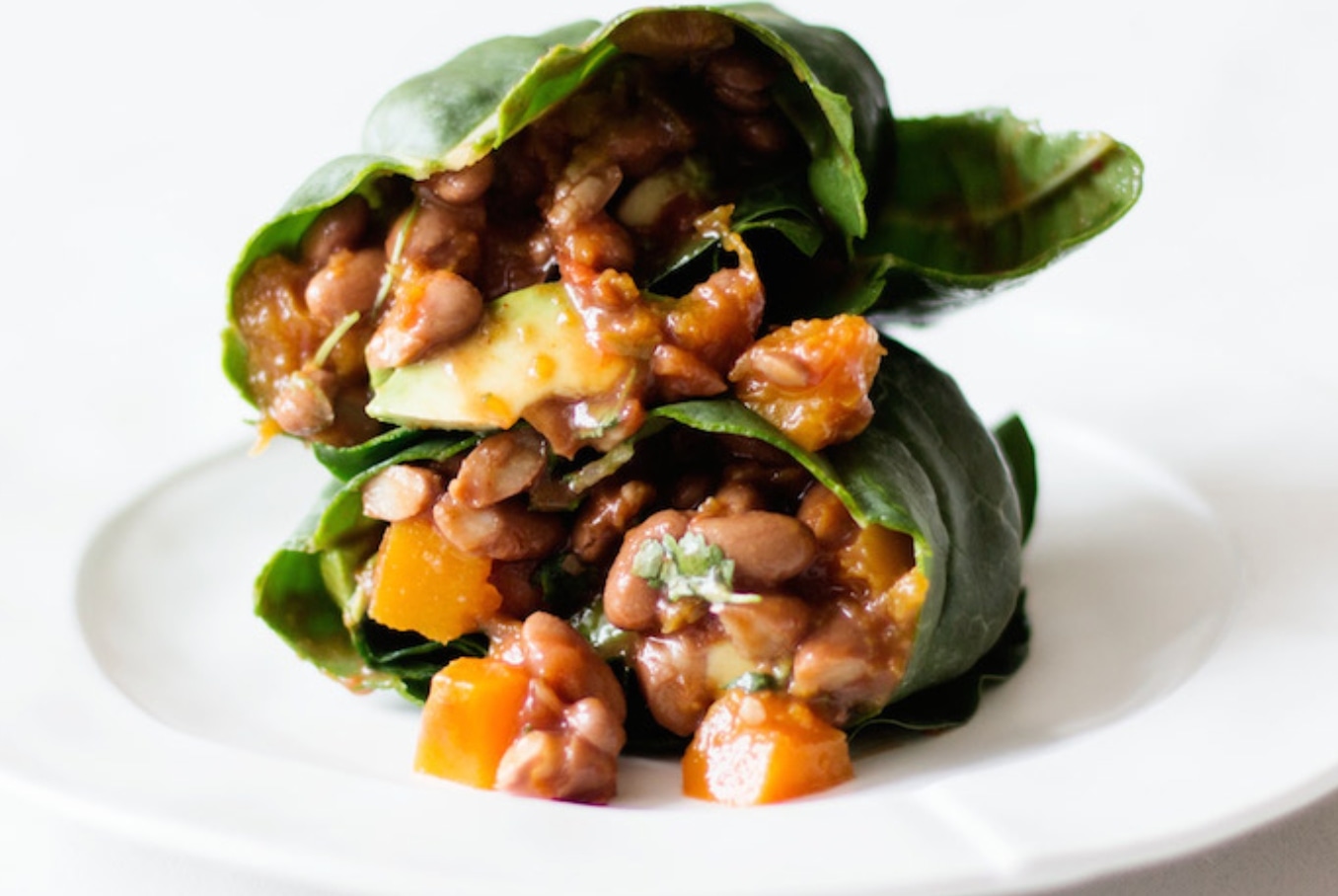 5 Crunchy Green Burritos
For a light lunch, use collard green leaves in place of wraps to make this tasty burrito. It's packed with beans, sweet potatoes, cilantro, creamy avocado, and, of course, ultra-flavorful salsa, too.
Learn more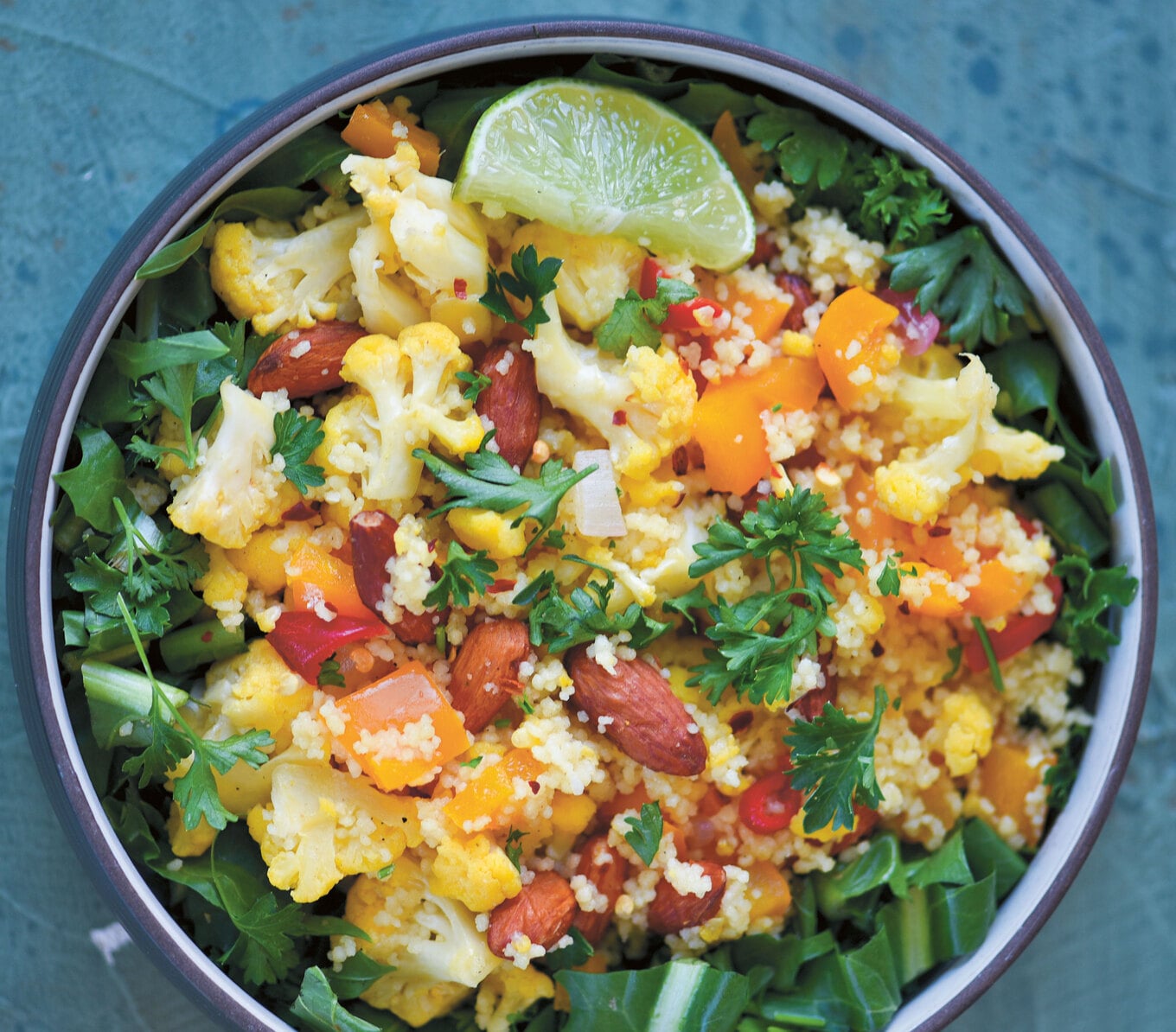 Kim Julie Hansen
6 Vegan Chili-Lime Cauliflower Bowl
For a balanced, healthy, and tasty lunchtime meal, try this vegan cauliflower bowl, which features couscous and collard greens, as well as a little bit of chili and lime for extra heat and a bit of tang, respectively. If it isn't filling enough, or you want to add a little protein into the mix, baked tofu, vegan chicken, or crispy chickpeas all make a delicious addition.
Learn more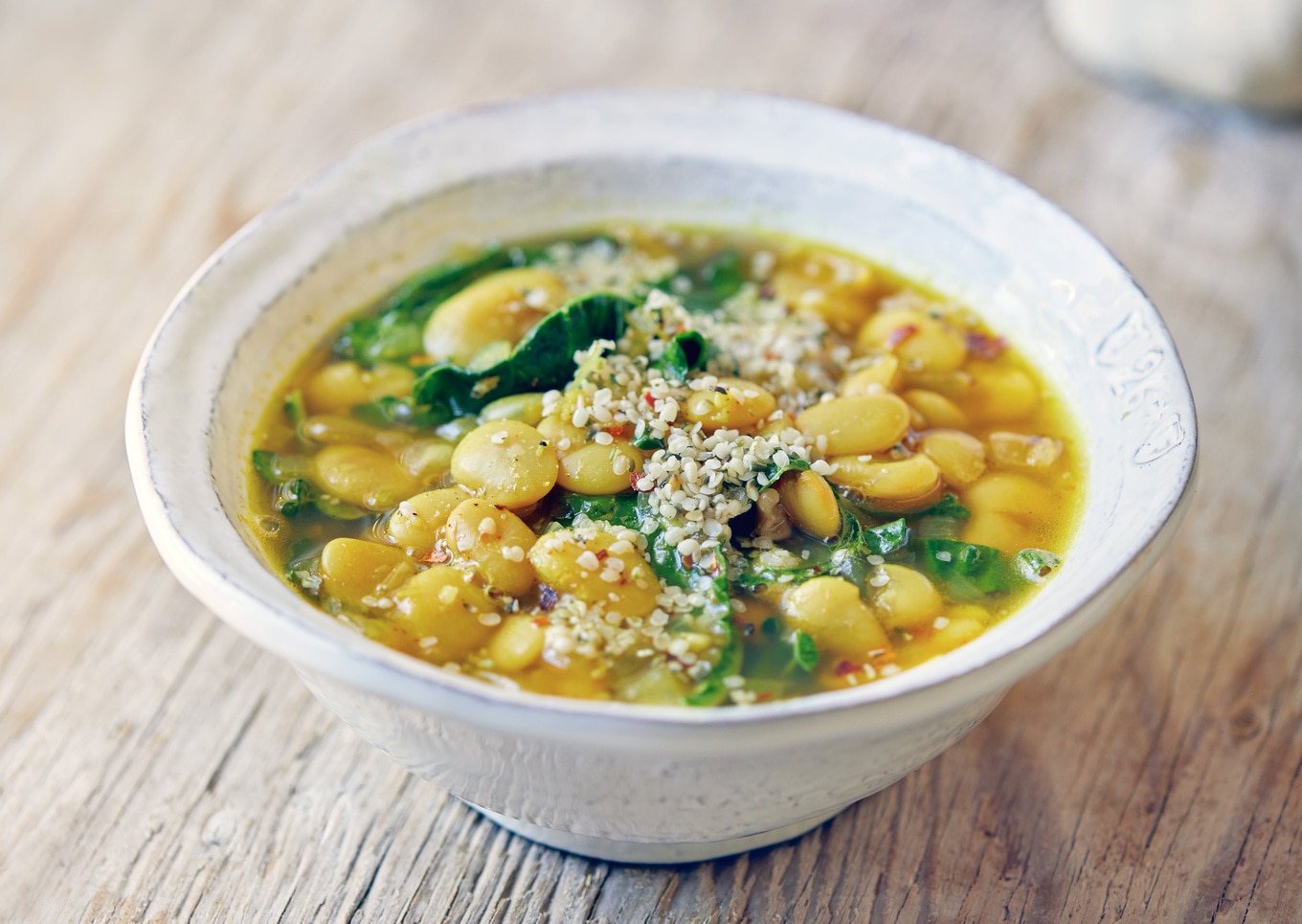 Oliver Barth
7 Vegan Garlicky Butter Bean Soup With Greens
This warm, comforting soup is as flavorful as it is nutritious, thanks to the mix of butter beans, garlic, onions, spices, and hemp seeds. Boost the vitamin content by adding in any leafy greens of your choice—kale, spinach, and chard would work, but, of course, collard greens are also a great choice.
Learn more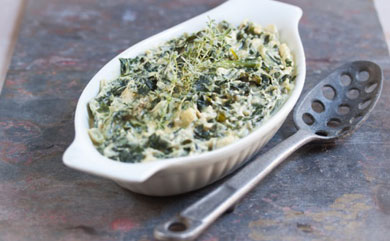 Allyson Kramer
8 Herbed Cream Collards
This herby, creamy, collard green dish is incredibly versatile. You can enjoy as it is, as a side dish with a main meal, or thin it out with some extra milk and use it as a sauce for potatoes, spaghetti, or fusilli pasta. With extra nutritional yeast and vegan cheese, it would also make a tasty base for a twist on mac and cheese.
Learn more
For more on nutritious greens, read: