It seems that every week in the world of vegan food news is more exciting than the last and this week is no exception. There's eight new ways to indulge in vegan Dole Whip. Daiya just expanded its product line in Canada to include vegan feta and goat cheese. Alpha Foods is reformulating its chicken and burritos using new texturizing technology and with help from Just Egg and The Every Co.
And Paramore's LA shows gave fans a taste of Wolfie's delicious vegan fried chicken. Read on for more.
1Dairy-free Dole Whip, eight ways
Dole Food Company and Walt Disney have a rich history of collaboration, starting with Dole's sponsorship of Disneyland's Enchanted Tiki Room in 1976. In 1984, Dole introduced the iconic Dole Whip, a vegan frozen pineapple treat that has become a legend in the world of both Dole and Disney.
Now, 39 years later, Dole is taking the Dole Whip journey to the next level with the introduction of eight new, vegan Dole Whip recipes.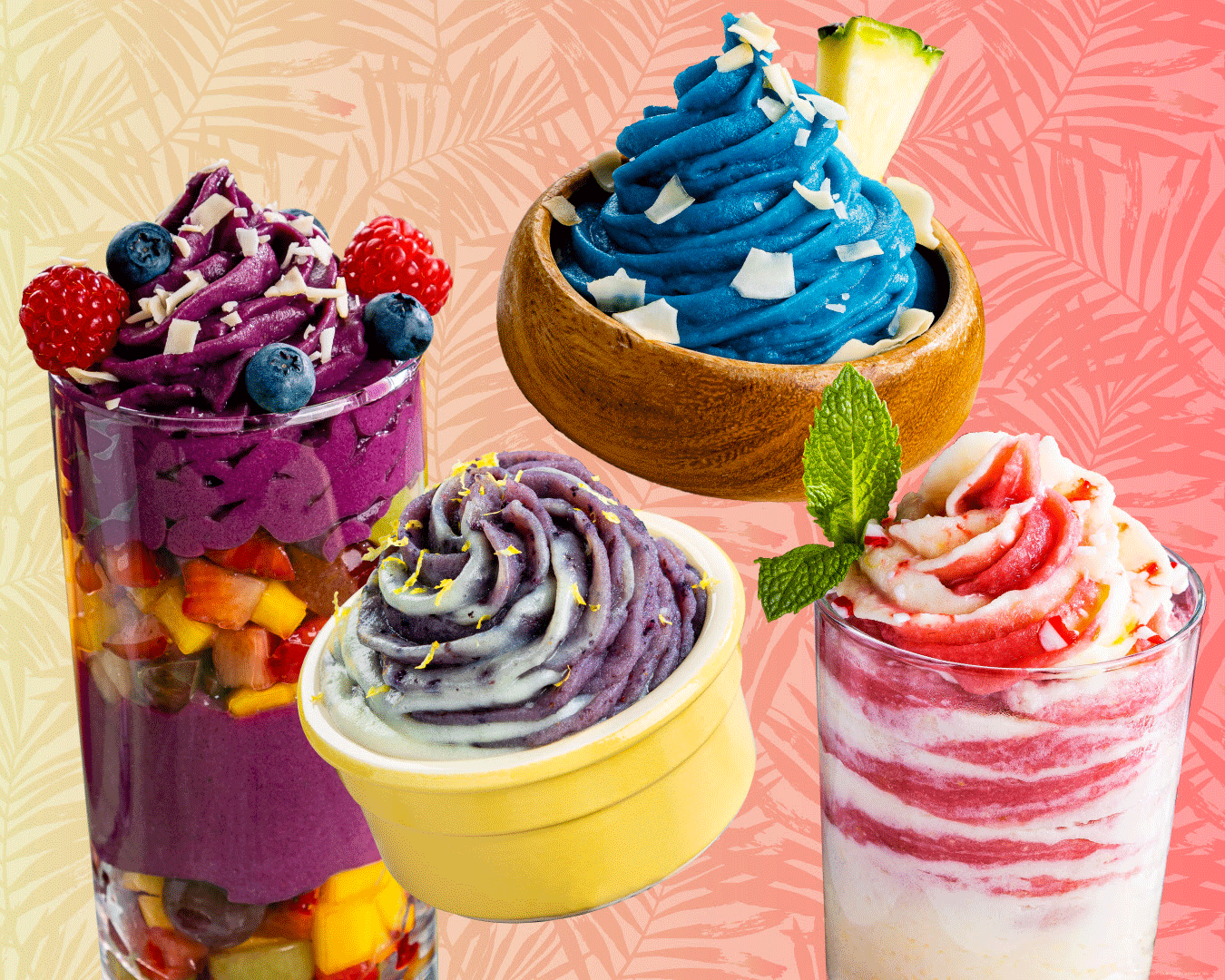 Dole Food Company
These new variations include flavors like Blue Hawaiian, Creamy Lemon-Blueberry Swirl, Frozen Mexican Hot Chocolate, Golden Curry & Mango, Healthy Halo-Halo Inspired, Mint Green, Sweet & Spicy Tamarindo, and Twisted Candy Cane.
The recipes feature fresh ingredients like pineapples, bananas, blueberries, avocados, and more, offering a variety of delightful flavors and health-conscious options.
"Despite its global appeal and cult-like following, the Dole Whip was developed by Dole in 1986 for a fairly simple reason: to encourage more theme park guests to experience—and love—the juicy flavor of pineapples," Bil Goldfield, director of corporate communications for Dole Food Company, said in a statement.
The new Dole Whip recipes build on this concept by incorporating farm-fresh fruits and vegetables, encouraging a love for produce in a universally beloved frosty form.
2Daiya's new vegan goat and feta cheese crumbles
Canada's vegan cheese pioneer Daiya Foods just launched its newest dairy-free crumbles in goat and feta varieties. Available across Canada, these dairy-free cheese alternatives are made with oat flour and boast a creamy texture that sets them apart from other plant-based options.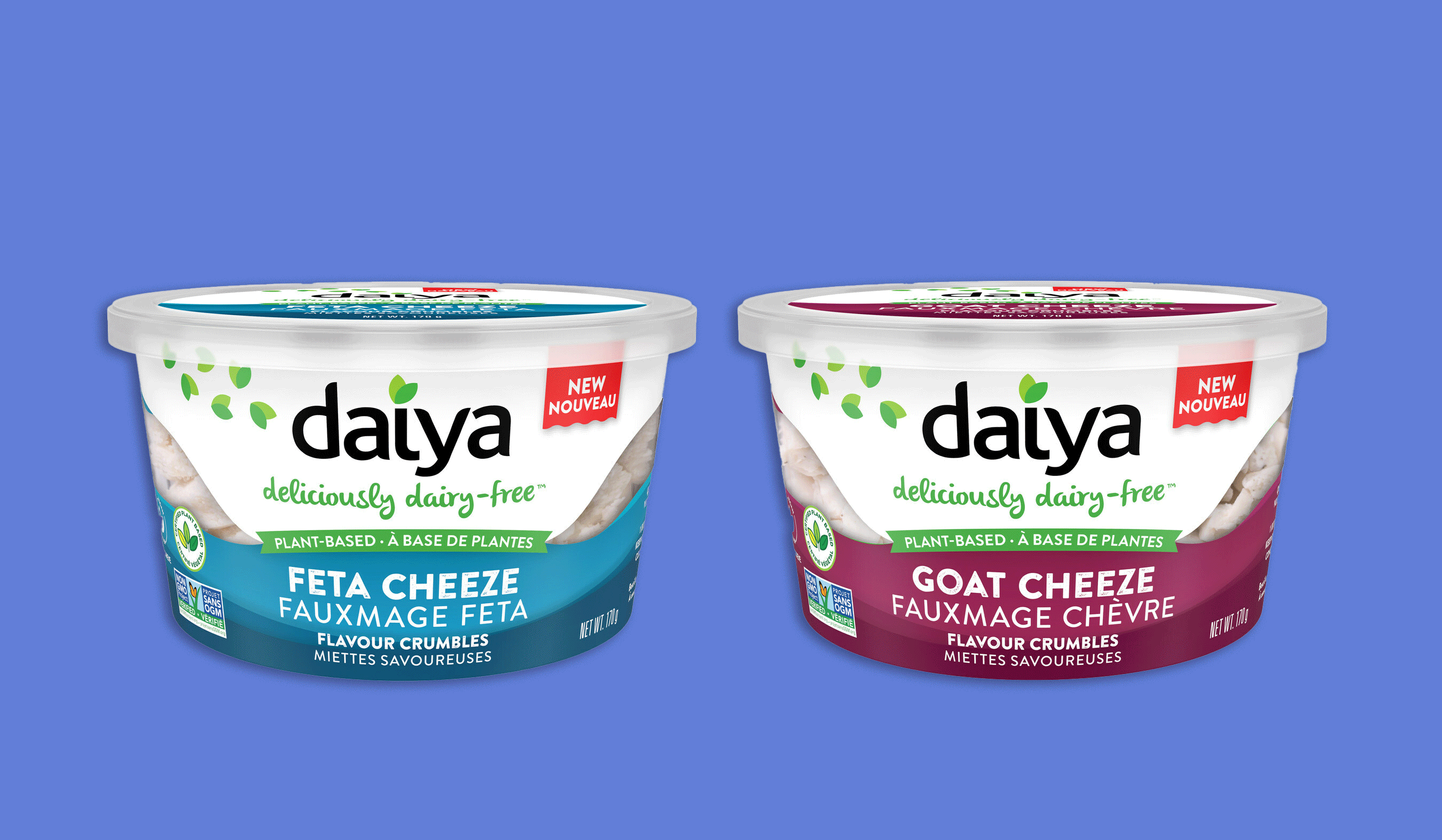 Daiya Foods
Both varieties come in a convenient resealable tub pack format, making them ideal for topping salads, pizzas, and pasta.
"We are thrilled to introduce our new Goat Cheeze and Feta Cheeze Flavour Crumbles to the Canadian market," Melanie Domer, Daiya Foods' Chief Marketing Officer, said in a statement. "We pride ourselves on offering delicious and innovative cheesy plant-based products, and these new crumbles are no exception."
"Made with oat flour, both products offer a rich and creamy texture that is unlike anything else on the market," she said.
Daiya's new Goat Cheeze and Feta Cheeze Flavour Crumbles were developed to serve flexitarians, who have contributed to the growth of the plant-based food market, which is projected to reach $74.2 billion by 2027.
The new vegan cheeses are available in major retailers such as Loblaws, Real Canadian Superstore, No Frills, and Metro Ontario, with Sobeys and Safeway offering them from September.
3Alpha Foods partners with Just Egg
Alpha Foods—a plant-based food brand known for its vegan chicken products—is embarking on a brand portfolio renovation that includes an exciting partnership with Just Egg, a mung bean-based vegan egg, and the integration of new high-moisture extrusion (HME) technology.
This transformation is driven by consumer and retailer insights, revealing demand for crave-able, convenient, and nutritious plant-based options. Alpha aims to spark innovation in the plant-based category with its new offerings, improved by the incorporation of vegan egg alternatives.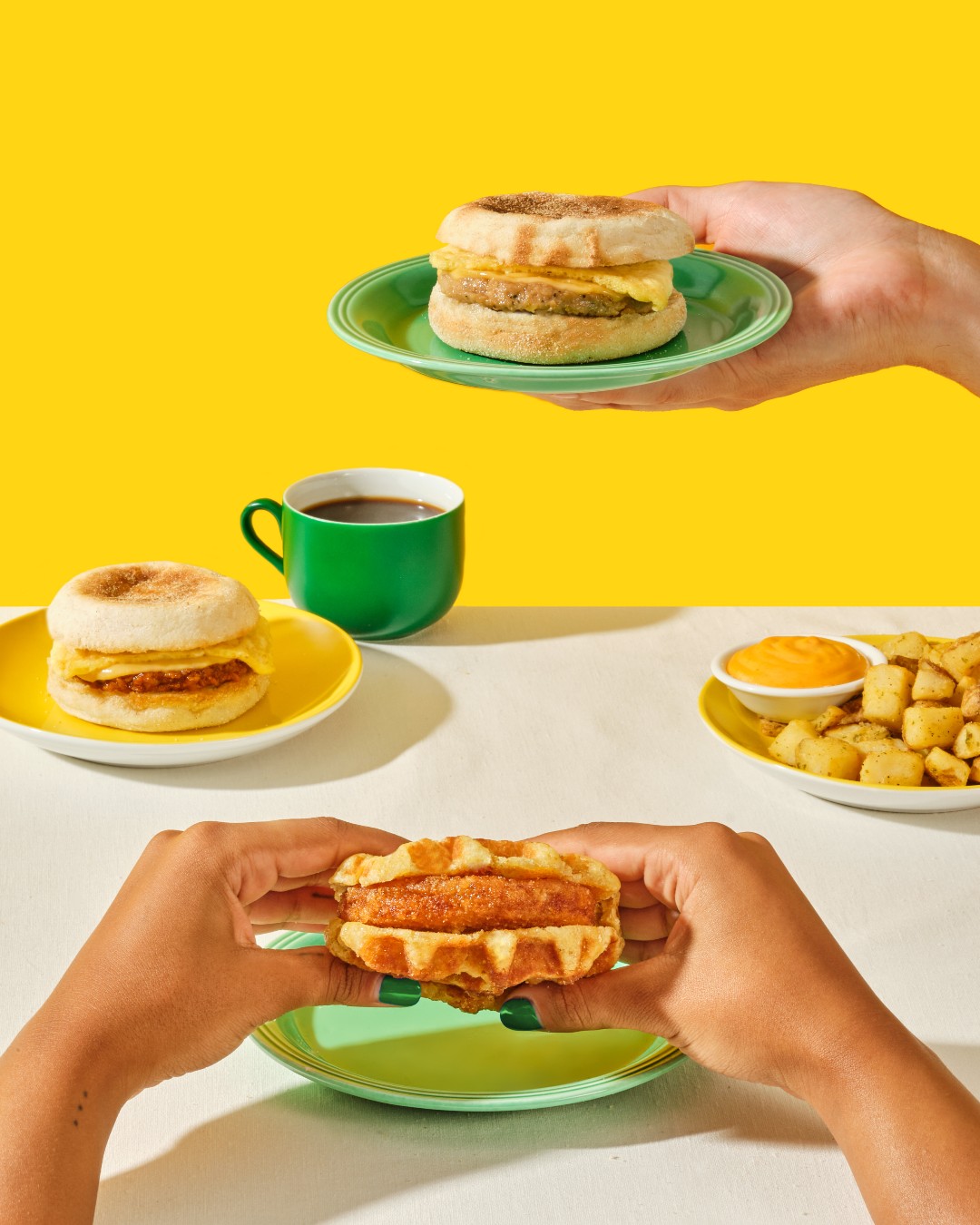 Alpha Foods
This announcement comes after Alpha unveiled its partnership with The Every Co.—which uses precision fermentation to create egg whites without the need for chickens. Alpha's work with Just Egg will result in new and exciting products.
Moreover, Alpha's new HME technology—allows for fewer ingredients while maintaining higher protein content and lower carbohydrates—which to process its Chik'n Strips will result in products that more closely resemble animal-based counterparts in taste and texture.
With these partnerships in place, popular items like Alpha's All-Day Burritos, Original Chik'n Nuggets, and Crispy Chik'n Patties will all undergo formulation refreshes, enhancing their juiciness and flavor.
"These partnerships are key to our company's growth and contribute to raising awareness about the continuous innovation needed within the plant-based category," Cole Orobetz, CEO of Alpha, said in a statement.
"We remain committed to empowering consumers to transition into plant-based eating through Alpha's crave-worthy offerings, while showcasing the positive impacts on their health, animal welfare, and the environment, all without feeling restricted by food labels," Orobetz said.
The brand's products are available nationwide in the US and can be found in various retail and foodservice channels.
4Wayfare vegan puddings at Albertsons
Are you looking for a sweet treat but need a break from ice cream? You're in luck because, this week, WayFare's creamy vegan puddings are expanding to Albertsons stores across the US. Shoppers can discover the chocolate variety in more than 1,500 locations, while 230 Southwest stores will stock the vanilla flavor.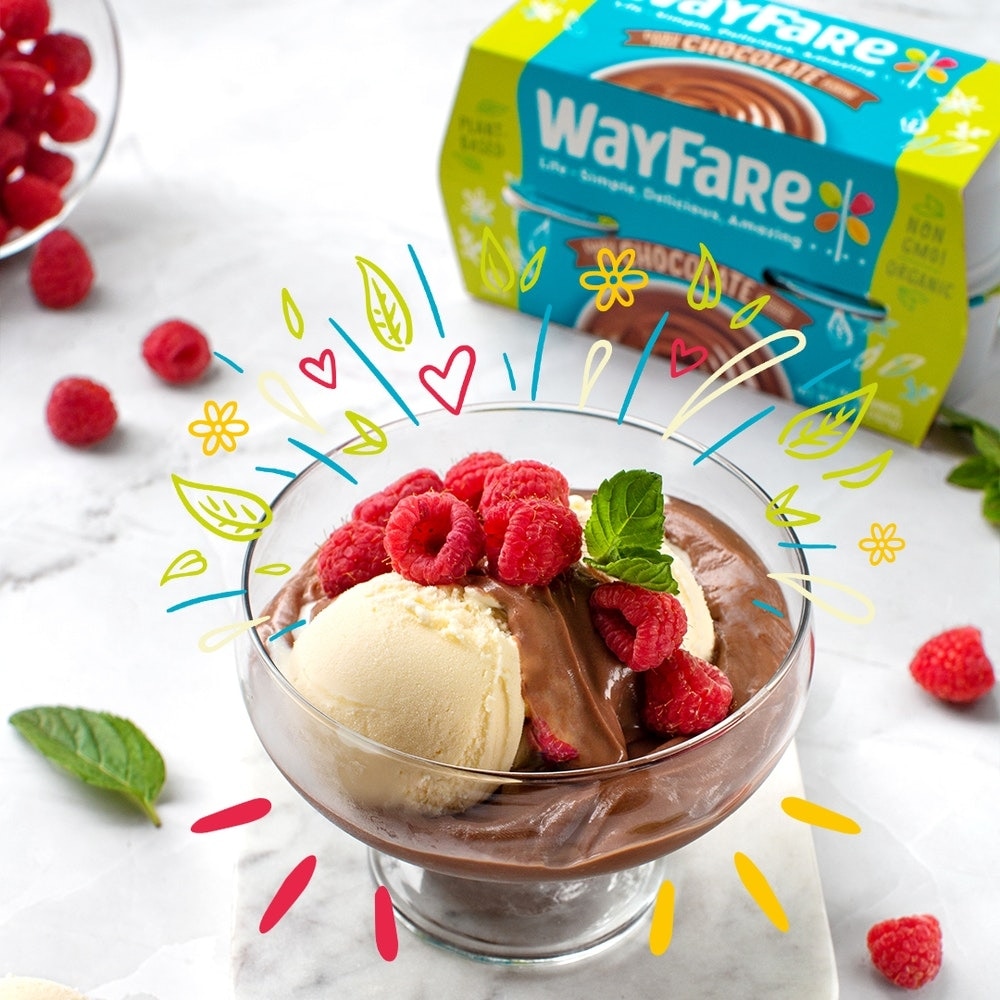 WayFare
These vegan puddings are luxuriously smooth, free from nuts, soy, gluten, and GMOs, delivering a reminiscent taste of childhood favorites without any dairy. Made from whole food ingredients, including butter beans and oats, these allergen-friendly puddings offer both flavor and nutrition.
"We at WayFare understand that families adopting a vegan lifestyle don't want to give up their favorite snacks," WayFare founder Kelly Coffin said in a statement. "My own kids love our puddings in their lunches, so making them available at Albertsons is convenient."
"Our delicious puddings provide the same flavors and textures we cherish in traditional puddings, with the added benefit of being plant-based," Coffin said.
The brand's offerings extend beyond puddings, encompassing a range of household staples, such as plant-based yogurt, cream cheese, sour cream, and butter, which are available at retailers nationwide.
5Paramore and Wolfie's partner for LA concerts
This week, one of the hottest summer concerts in LA welcomed a very special vegan guest: Wolfie's Hot Chicken. The vegan chicken was part of an exclusive vegan meal at Paramore's LA concerts at the Kia Forum.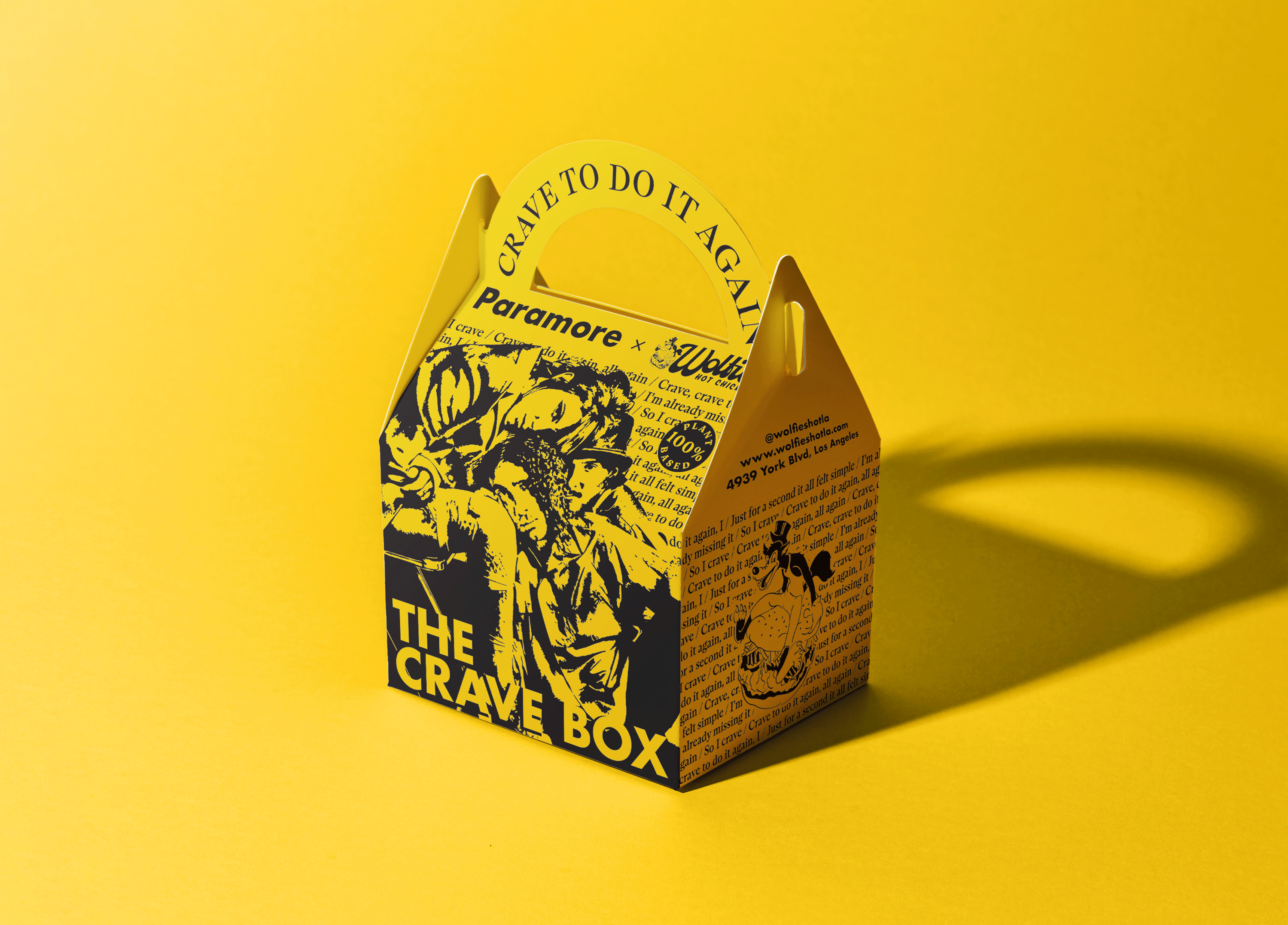 Wolfie's Hot Chicken
The Crave Meal Box featured Wolfie's famous fried chicken patty, crispy bacon, melty American cheese, shredded lettuce, sliced tomato, and housemade ranch and barbecue sauce on a buttery brioche bun.
Lead singer Hayley Williams, a long-time vegan, initiated the partnership to introduce the band's young fans to delicious plant-based alternatives.
"We had to bring a bit of home with us to LA," Williams said in a statement. "We're so excited to have partnered with Wolfie's for these two shows at the Forum—it's my favorite."
The idea came after Williams was introduced to Wolfie's by fellow vegan pop icon Billie Eilish, who frequents the restaurant with her family. Eilish has also collaborated with Wolfie's through Support+Feed, a nonprofit founded by her mother, Maggie Baird, to provide plant-based meals to marginalized communities.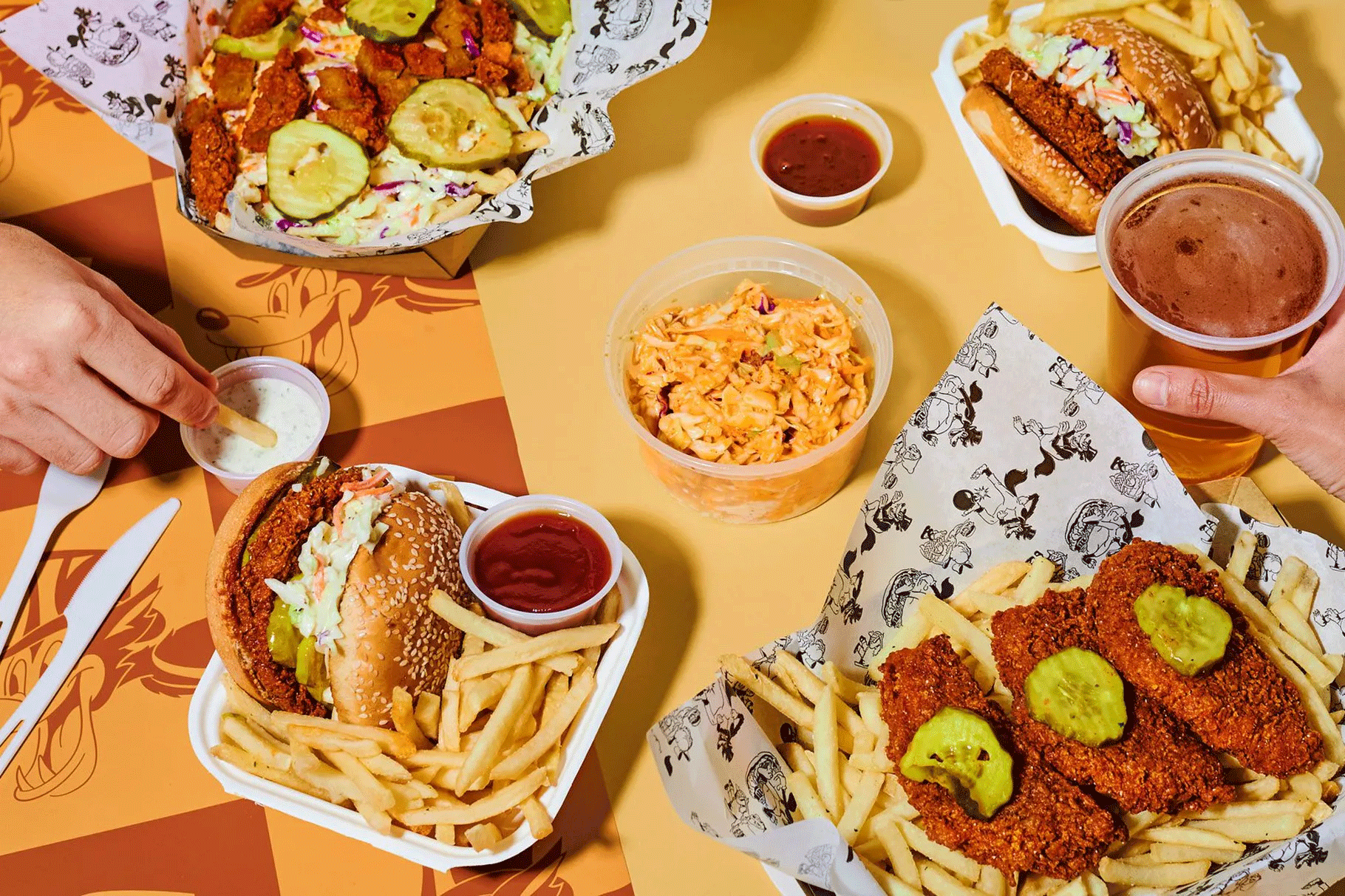 Wolfie's Hot Chicken
Wolfie's Hot Chicken, known for offering accessible and affordable plant-based comfort food, aims to demonstrate that even meat lovers can enjoy vegan options while reducing environmental impact by 75 percent compared to animal-based counterparts.
Its collaboration with Paramore is a significant milestone for Wolfie's, which started as a 450-square-foot food truck before expanding to a brick-and-mortar location in Highland Park and an exclusive outpost at Bank of Montreal Stadium, with plans for future expansion.