Classic steakhouses are typically not the first place you'd think to go for vegan food. Or at least not anything more than a side of steamed broccoli or unbuttered potatoes. And most likely not in Florida. However, times are changing.
This week, vegan steak made by Chunk Foods landed on the menu at Charley's Steak House in Orlando, FL—marking a milestone moment for the steakhouse as the first establishment of its kind to introduce a plant-based steak.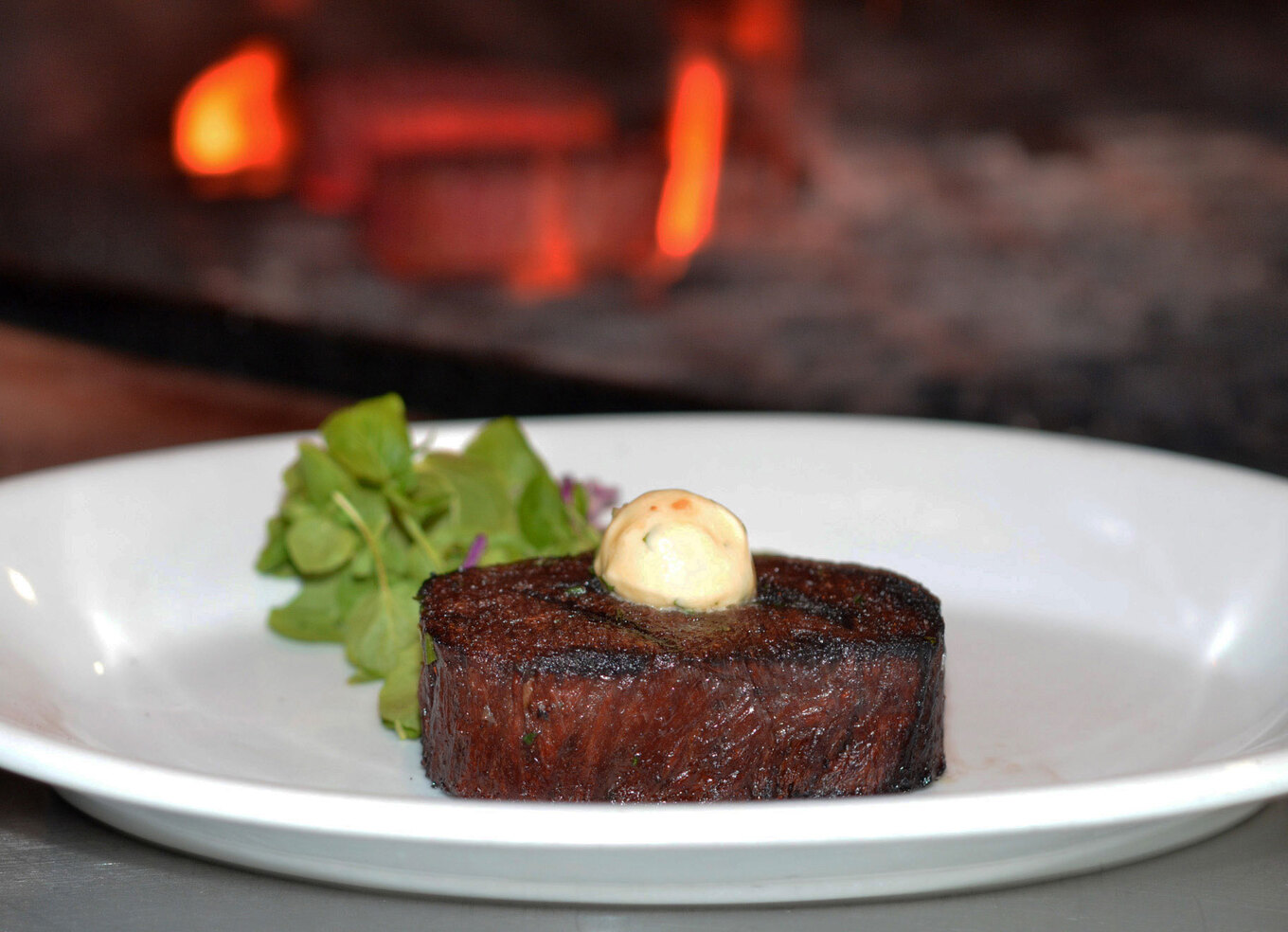 Chunk Foods
"This milestone is incredibly significant for Chunk, and for the plant-based industry as a whole," Amos Golan, Chunk Founder and CEO, tells VegNews. "Chunk is the first plant-based brand ever to have its product added as a regular menu item in a traditional and well-respected steakhouse chain in the US."
"Chunk is listed on the same menu as other premium cuts of beef thanks to its exquisite culinary performance, great taste and texture, clean ingredient list, and impressive nutritional profile."
Charley's Steak House is part of Talk of the Town Restaurant Group, which operates six properties across Florida, including other meat-centric restaurants FishBones, Texas Cattle Company, and Vito's Chop House.
Vegan steak at the center of the plate
Originally from Israel, the innovative food-tech startup recently raised an impressive $15 million in seed funding, in a round that included Robert Downey Jr.'s venture capital firm, FootPrint Coalition.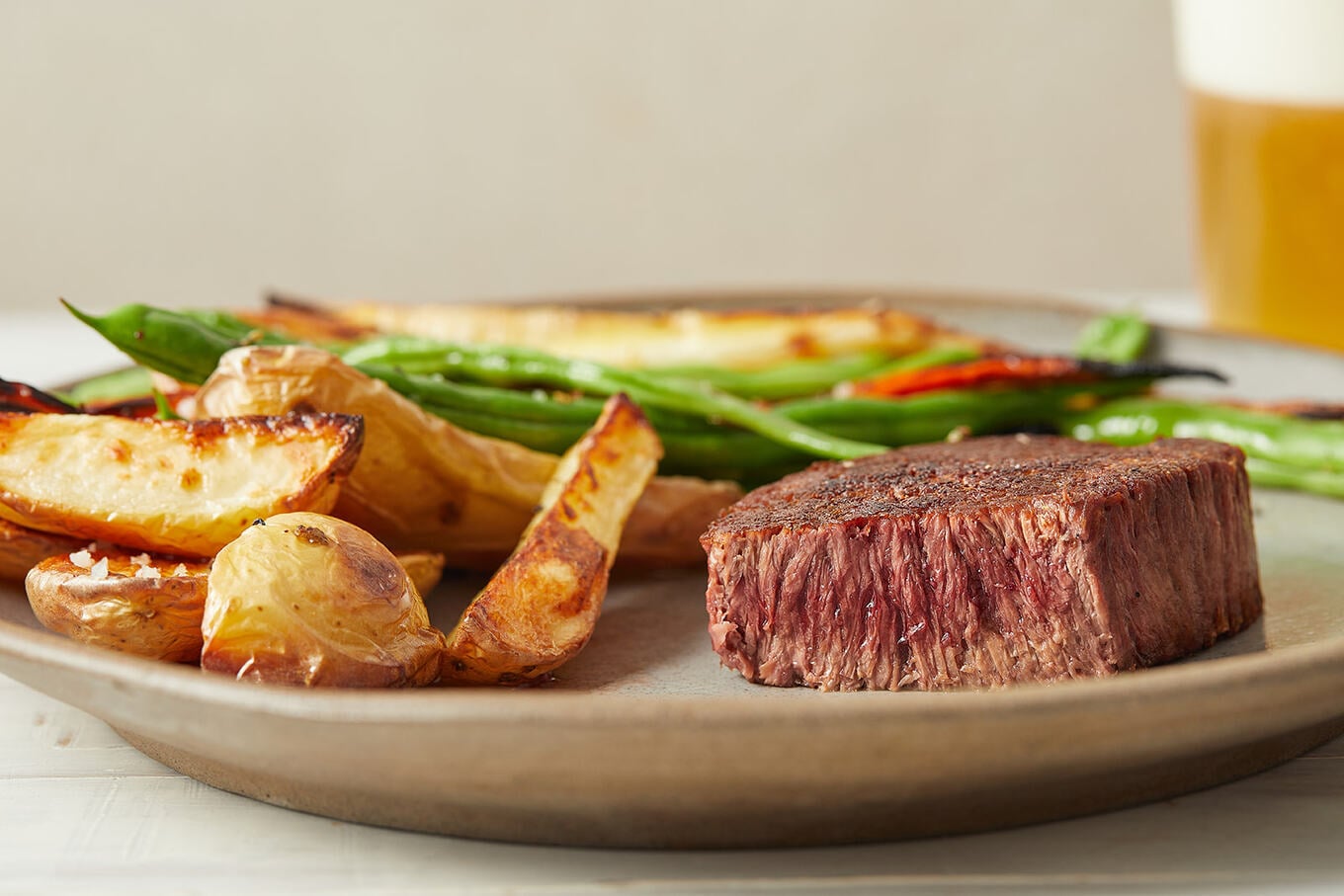 Chunk Foods
Harnessing the power of fermentation, Chunk Foods develops products that capture all of the desirable qualities of traditional steaks using a base of cultured soy and wheat. To make the perfect vegan steak, Golan explains, was quite challenging.
"To be blunt, the challenges we faced in creating a plant-based steak were substantial," Golan says. "Texture and flavor were key, as well as replicating the mouthfeel and taste of a high-quality steak was no easy task."
"It took years of development to refine our product, and it's something we continue to do because we refuse to settle for anything but the absolute best," he says. "Our steaks have a meaty texture and bite, a juicy mouthfeel and unmistakable umami flavors."
High in protein, low in salt, and low in fat, Chunk's steaks are incredibly versatile, with the ability to be pan-seared, basted, grilled, smoked, stewed, or even braised. They are also made without additives, thickeners, or binders.
Golan believes that this partnership with Talk of the Town signifies that there remains a vast untapped potential in the plant-based meat industry, which he says has stagnated over the last couple of years.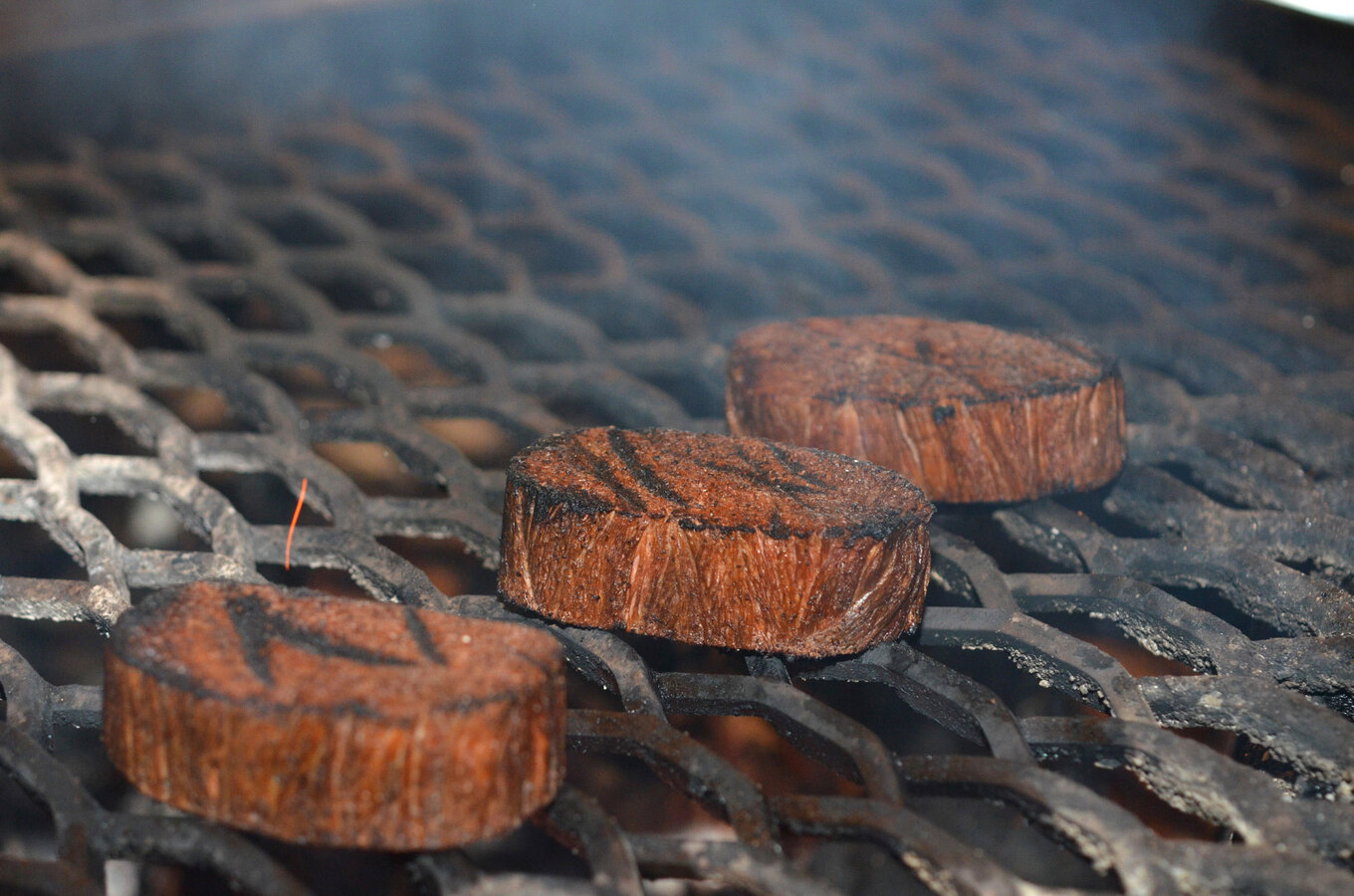 Chunk Foods
"Steakhouses in the United States sell over $14 billion of steak, and tapping into what was previously an unattainable market marks a tremendous step in the right direction, making plant-based eating accessible and desirable to more Americans and marking Chunk as an industry leader," Golan says.
On the menu at Charley's
On the menu at Charley's, the vegan steak's name is a mouthful: "F U Filet Mignon—Freaking Unbelievable Plant-Based by Chunk." At $69, the 6-ounce vegan steak is priced somewhere in the middle of Charly's animal-derived meat options—equal to a larger 18-ounce Prime New York Strip Steak but cheaper than the $12 per ounce Wagyu Filet Mignon.
At Charley's, the vegan steaks get the royal treatment with a dry spice rub and a sear on the restaurant's open flame. The hope here, Golan says, is for Chunk to serve as "a potential gateway" to plant-based meats for customers.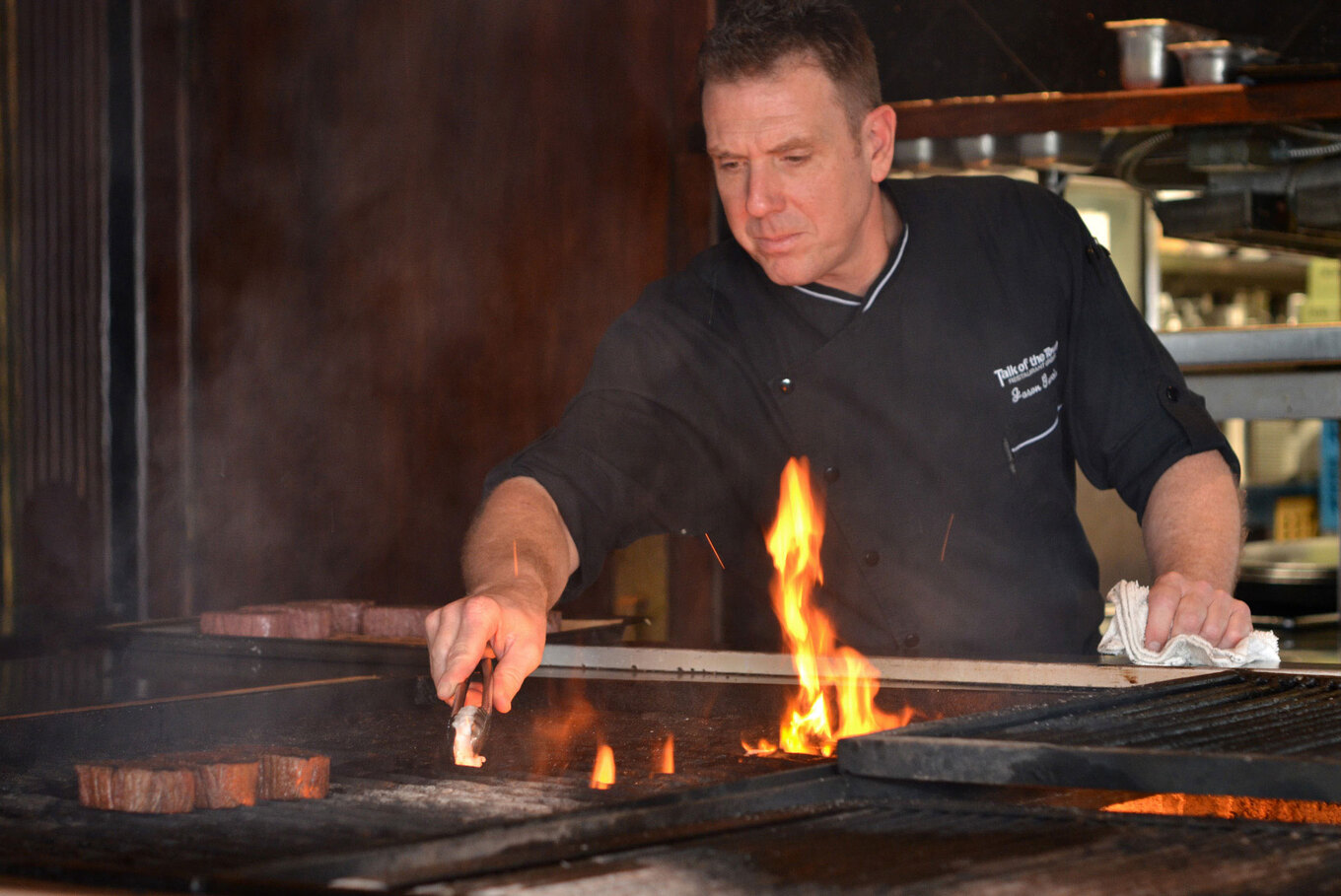 Chunk Foods
It also allows the steakhouse to refresh its offerings and cater to younger demographics that are consistently looking to lower their environmental footprint by reducing their animal meat intake.
"We are reshaping the steakhouse experience. At our core, we serve the finest steaks and seafood and have been searching for over 15 years for a plant-based option that meets our standards," Seth Miller, Vice President/Chief Operating Officer of Talk of the Town, said in a statement.
"We are excited to introduce our customers to Chunk steak," Miller said. "This partnership provides a solution that aligns with our quality expectations for every item we serve. If it's not the best, we won't serve it."
With its partnership with Talk of the Town underway, Golan is looking to take a bite out of a burgeoning market for vegan steak, projected to double its current value from $598.6 million to $1.13 billion by 2033, according to Future Market Insights.
Outside of Charley's, the company is working to expand the presence of Chunk's steaks, filets, and pulled meats in the New York City metro area, Los Angeles, and Florida.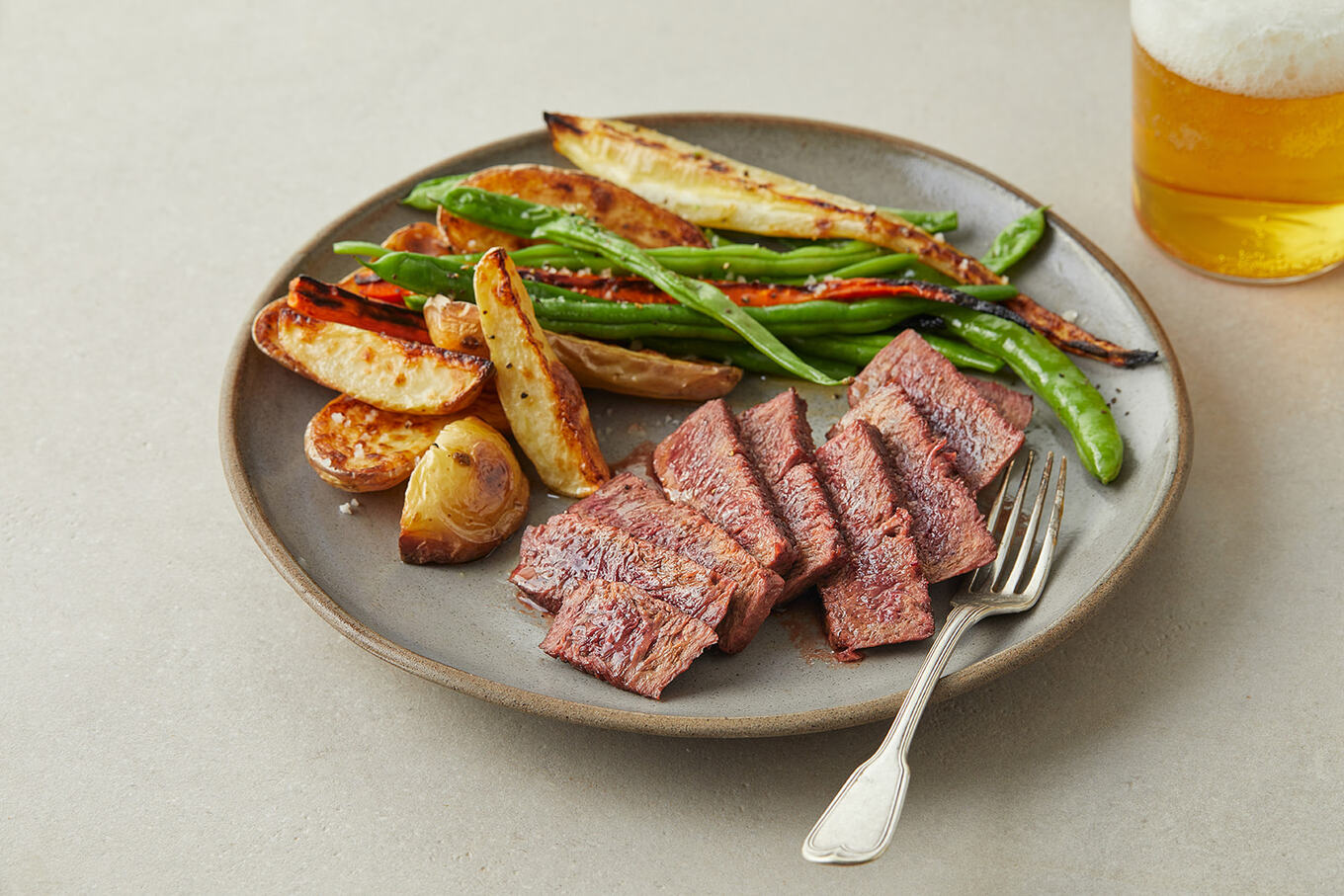 Chunk Foods
A number of restaurants currently offer Chunks vegan meats, including Willow and Delice & Sarrasin in Manhattan, as well as the Butcher's Daughter in Williamsburg and West Hollywood, and De Buena Planta in Silver Lake.
The company is also making an appearance at vegan festival Vegandale in NYC next month where it will be handing out free samples of its history-making vegan meats.
For the latest vegan news, read: