With two billion people worldwide enduring food insecurity and agricultural demand escalating, the urgency for sustainable food production is higher than ever. Add the adverse effects of climate change, which leads to an average 20 percent decrease in crop yields, and supply chain inefficiencies causing food waste and diminished nutritional quality, it becomes evident that innovative measures are crucial to ensuring food security for all.
Vertical farming has become popular in recent years as a meaningful part of the food supply solution, mainly as a way to fill in the gaps where people are struggling to access fresh, locally sourced fruit and vegetables.
Instead of using acres of farmland to produce food, vertical farming means plants can be grown in layers on vertical structures in efficient, controlled indoor environments year round.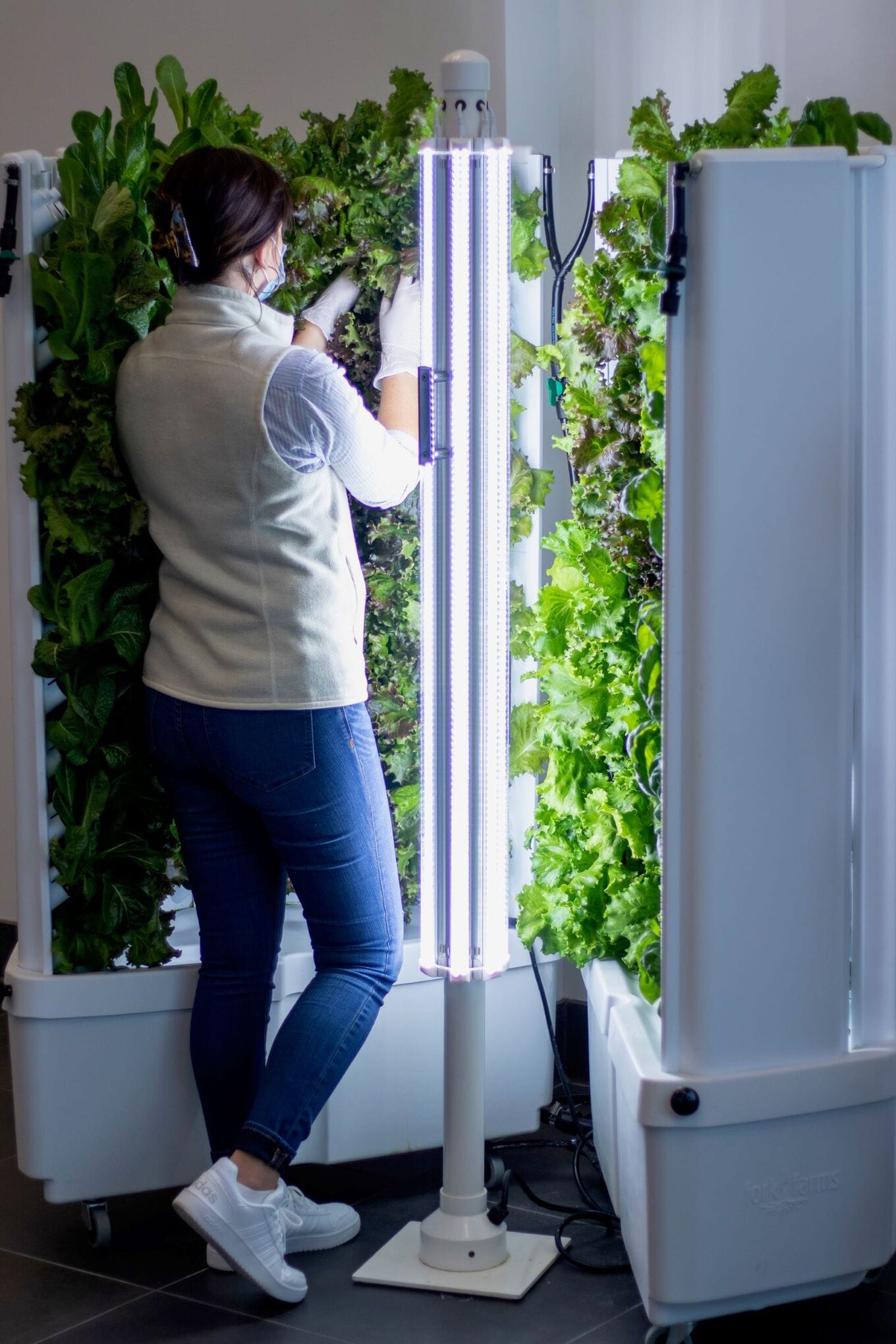 Fork Farms
This means that many vertical farming companies can make better use of the space in areas where fresh food is needed most. One such farm, called Fork Farms, was founded in 2010 as a mobile hydroponic farming system, called Flex Farms, aimed at revolutionizing the way we grow, transport, and distribute fresh produce.
"Our food supply chain is in crisis. There's a systemic issue with the way that fresh food is produced, transported, and distributed within our country and world," Lalu Beré, Brand Vice President at Fork Farms, tells VegNews. "This problem is expected to get substantially worse as the population grows, climates change, shipping distances increase, and overall health declines."
Growing more affordable vegetables
Fork Farms' technology has already proven its potential in addressing the myriad challenges facing modern agriculture and aims to pave the way for a more sustainable future. Compared to traditional agriculture, it operates with zero food miles, eliminating the long and often wasteful transportation routes that fresh produce typically undergoes.
This, in turn, substantially reduces carbon emissions associated with food transportation and diminishes the industry's carbon footprint.
"At Fork Farms, we believe the time is now to change the way we think about and grow food, engage our communities, and provide nutritious, fresh, local food for all," Beré says.
Currently, Flex Farms' on-site cultivation can grow lettuce, greens, herbs, and a variety of other foods that cost less than $1 per pound, making fresh, nutritious food accessible to underserved communities. In fact, the system can produce 25 pounds of lettuce every 28 days, all within the confines of a mere 9 square feet of space.
Growing fresh food for schools
So far, the Flex Farms have found their way into schools, office buildings, cafeterias, and more, totaling more than 2,200 installations in 43 states and nine countries.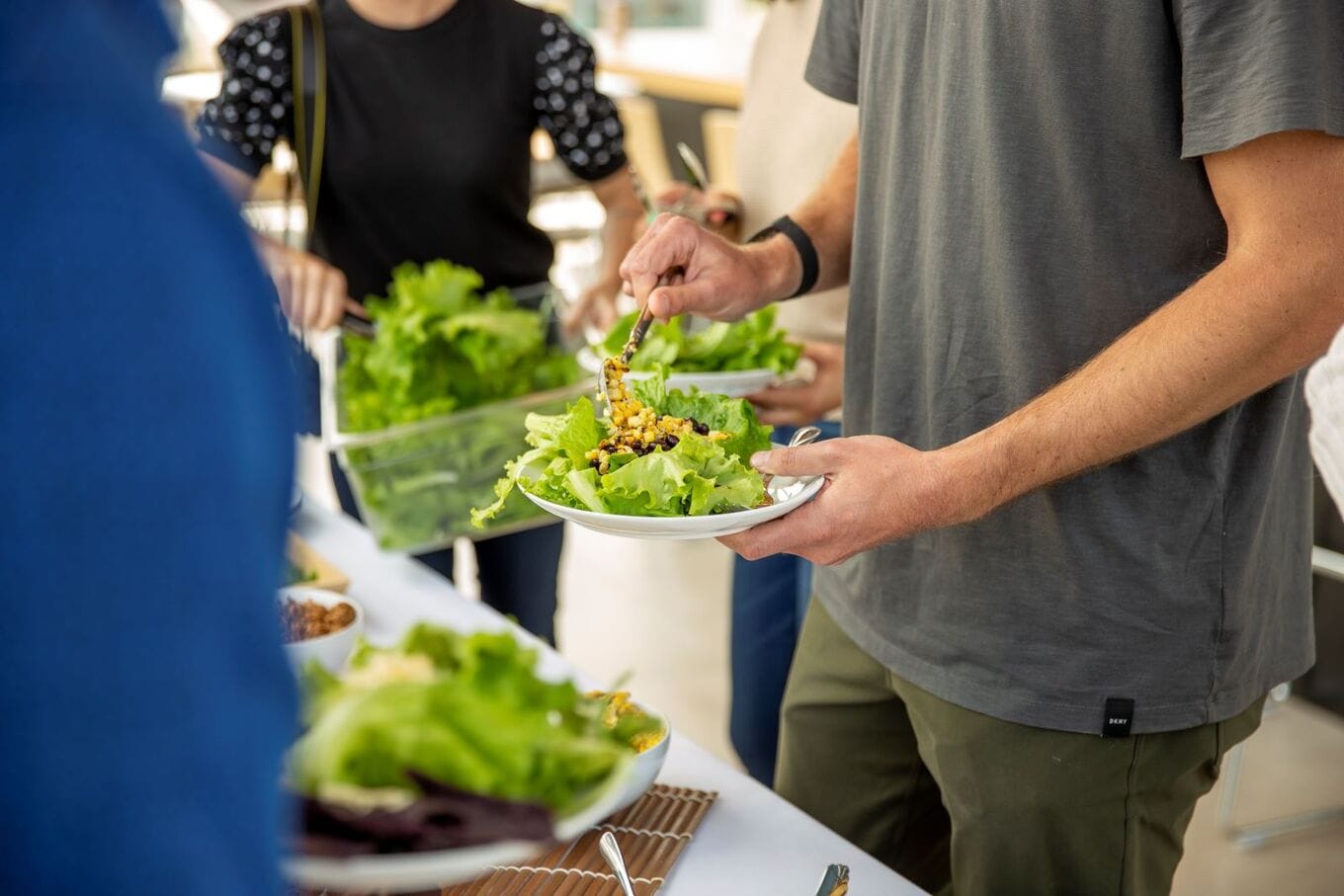 Fork Farms
Notably, many schools have partnered with Fork Farms to use the technology as a teaching tool in classrooms, then supplying the food grown to either supplement their school cafeteria program or benefit a local nonprofit organization. One school district in Green Bay, WI has 34 farms to serve more than 1,600 students each day.
"Our farms come with free access to Farmative, our digital platform with resources including a full K-12 STEM curriculum to engage students in the growing process through education," Beré says.
According to Fork Farms, in recent years schools have faced major price premiums when buying leafy greens, but those using Flex Farms have been able to save thousands of dollars in food costs by growing 80 percent or more of their fresh greens onsite.
"This has been our greatest achievement because it means thousands more communities, especially kids, are eating nutritious, sustainably grown food through our mission of empowering everyone to be a farmer," Beré says.
By employing hydroponics—a method of growing plants without soil—the Flex Farm system also saves on resources and waste, including a 98 percent reduction in water usage compared to conventional agriculture. And the system's design maximizes space utilization, allowing for the cultivation of 45 times more food per square foot compared to traditional farming methods.
In 2022 alone, Fork Farms says 337,814 pounds of food waste were diverted from landfills, showcasing how this innovative technology plays a vital role in reducing food waste, a significant contributor to environmental degradation.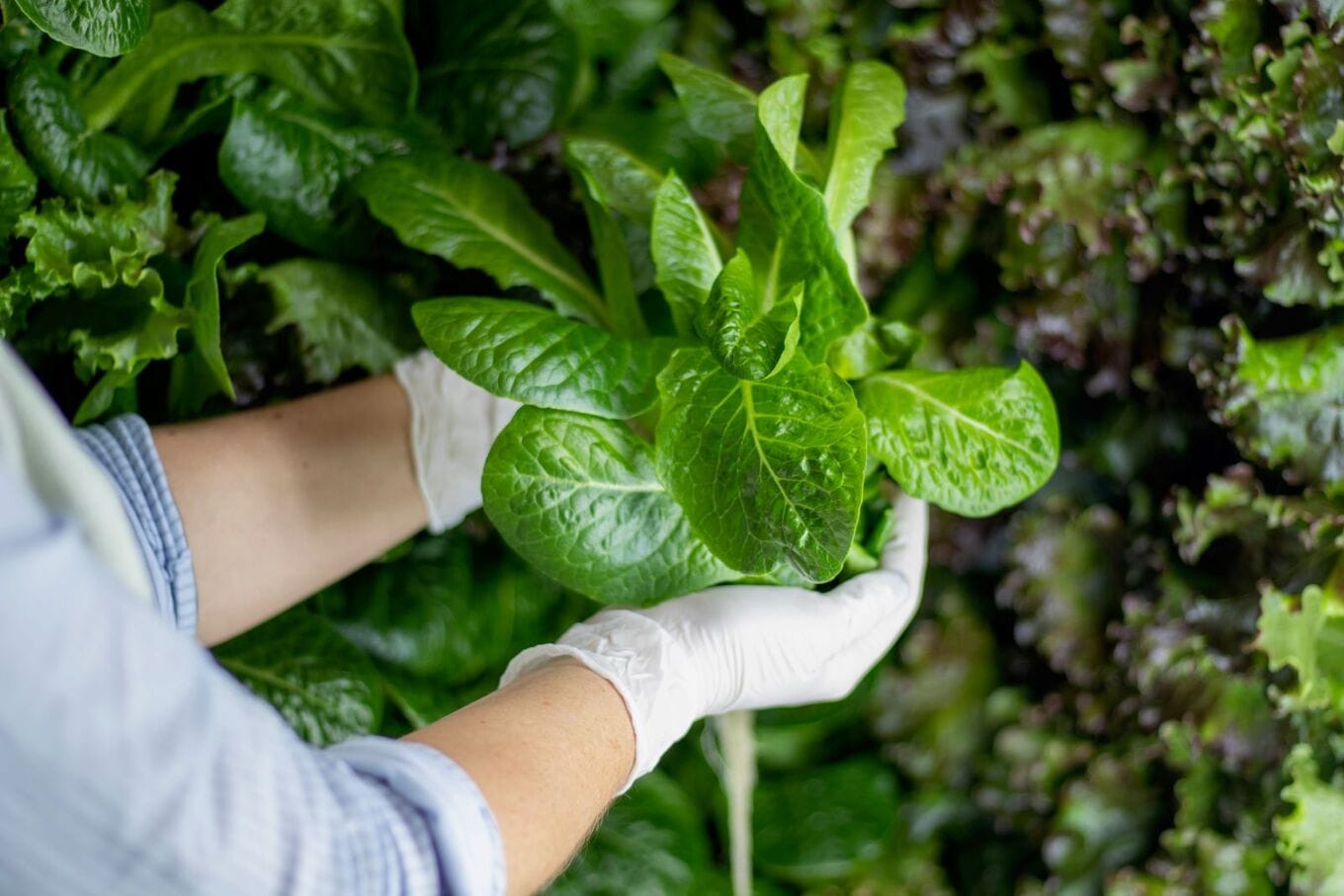 Fork Farms
Beré says the ease of maintenance is also a major selling point, as users only need to invest 5 to 30 minutes each week to ensure optimal performance. With minimal effort required to maintain the system, the Flex Farm becomes accessible to a wide range of users, from home gardeners to commercial growers.
Scaling vertical farming
Most recently, Fork Farms developed the Flex Acre, which is capable of producing more than 100 pounds of fresh plant-based food per month, or the equivalent of four Flex Farms. This system is also a hydroponic system that utilizes nutrient-infused, recirculated water to nourish plant roots and optimize growth, but new technology also allows for a variety of crops in the same growing facility at a greater scale.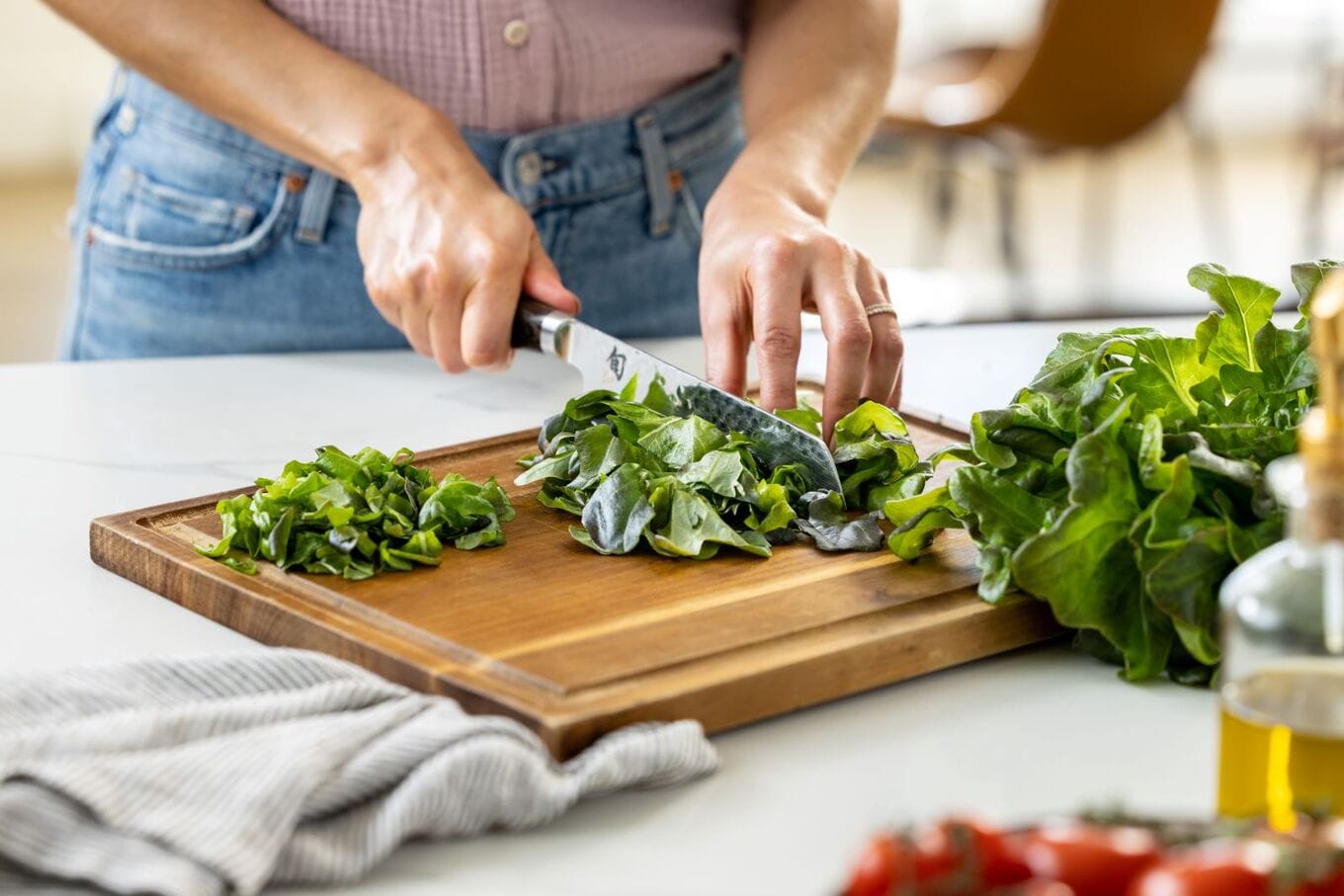 Fork Farms
Fork Farms is currently working with a Fortune 500 company to use its new Flex Acre to create a resilient fresh food supply for a large urban community. "This initiative will provide food for thousands of individuals and families in one of the most segregated communities in America," Beré says. "We hope this effort will support better health for the community and help alleviate poverty."
Can vertical farming feed the world?
According to data from Reportlinker.com, the vertical farming market is set to experience remarkable growth, reaching a forecasted $15.3 billion by 2028. North America, specifically, is expected to dominate the vertical farming market because the region's large and expanding population has created a high demand for fresh and locally sourced produce.
But with all the benefits, can this method of farming replace traditional agriculture? Not likely. In many areas of the world, research suggests a more traditional approach actually makes more sense.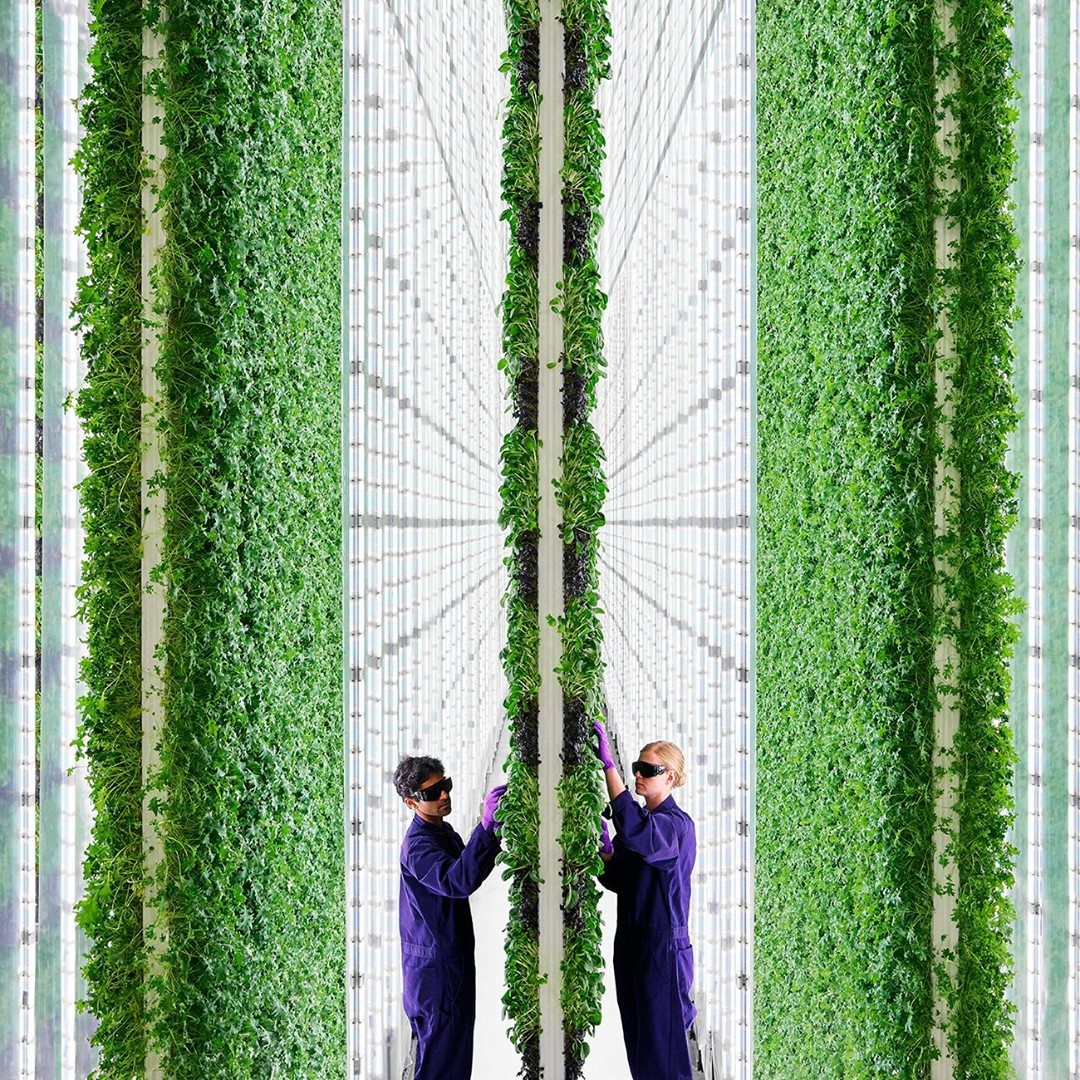 Plenty
Last year, a report by the University of Oxford found that in Santiago, Chile, for example, where conditions are suited to grow vegetables, open-field is actually a more efficient system for food production than vertical farming.
But supplementing the food supply via vertical farming could mean easier access to fresh produce for people who live in areas where conditions aren't favorable to conventional farming. And Fork Farms is working to provide an option that allows anyone to grow their own food.
"The combination of simplicity and affordability means that nearly anyone can use vertical farming to create their own hyperlocal food system," Beré says. "We believe this pivotal shift is what will create real change in how our communities eat."
For the latest vegan news, read: