Israeli food technology startup Chunk Foods recently raised $15 million in seed funding from investors that include Robert Downey Jr.'s venture capital firm FootPrint Coalition. The new funds, the company says, mark the biggest seed round ever for an Israeli plant-based company. Chunk will use the funding to construct one of the largest plant-based whole-cut meat factories in the world.
"Our state-of-the-art facility will be completed this summer and will have the capacity to manufacture millions of steaks annually," Amos Golan, the CEO & Founder of Chunk Foods, tells VegNews.
Chunk also plans to continue strengthening its commercial team, building the brand, and expanding its partnerships in the food service industry in an effort to bring vegan steaks and other whole-cut meats to restaurants across the United States.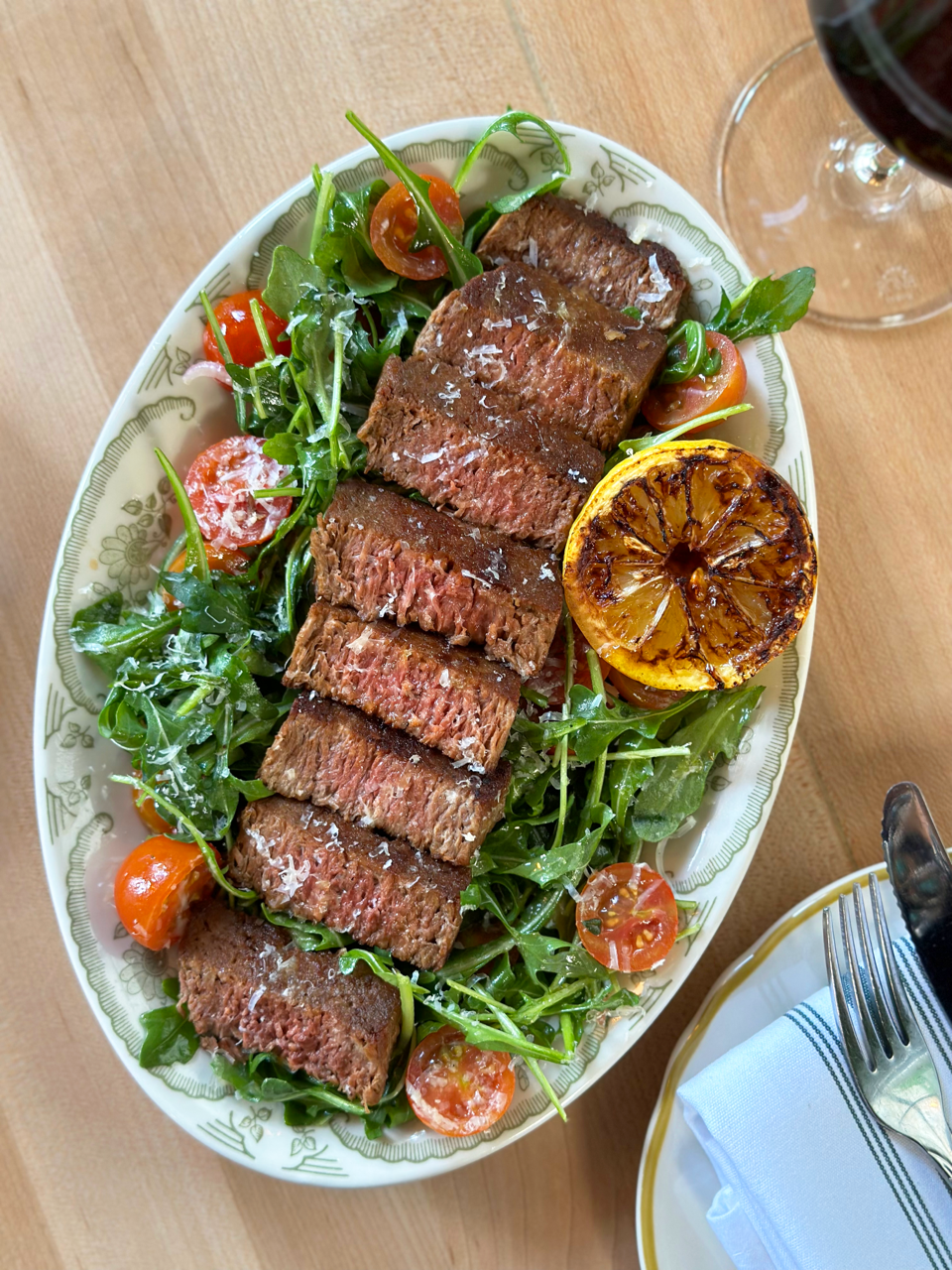 Chunk Foods/The Butcher's Daughter
In fact, the expansion will allow the brand to serve more than 300 restaurants, with an initial focus on selected US cities, including New York City and Los Angeles. Chunk Foods' steak is already being served at some of NYC's finest establishments, including Coletta, Anixi, and bicoastal hotspot The Butcher's Daughter.
It hopes to one day outcompete animal agriculture in terms of price, scale, and efficiency. "Considering Americans consume more meat than any other country, the opportunity for plant-based products to capture a portion of the market is substantial," Golan says.
"However, even though the category has undergone continued development, it has only just begun to tap into its potential, particularly in the whole cuts beef market, which is twice the size of ground beef," Golan says. "The opportunity here is enormous."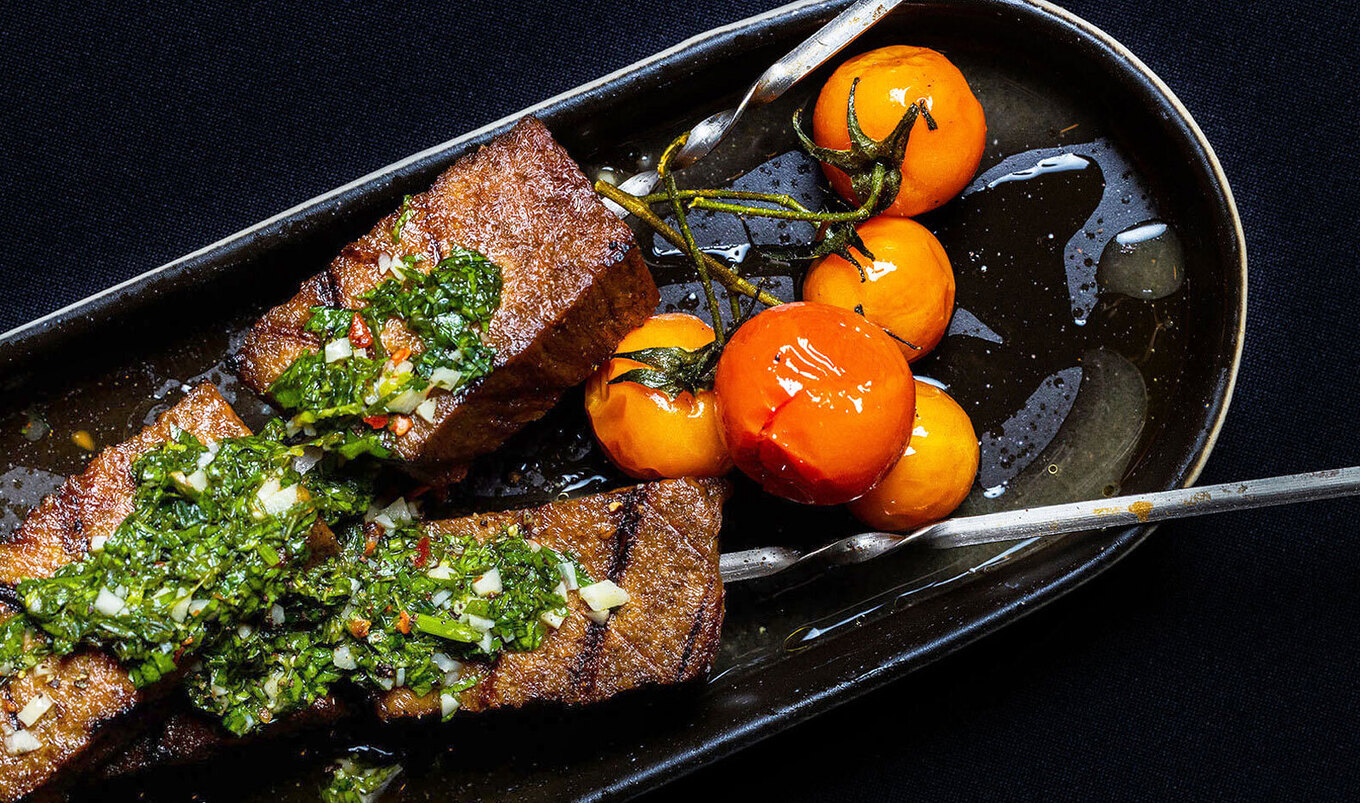 Anixi
The FootPrint Coalition agrees, saying that Chunk's whole-cut meat has huge potential. "Prior to investing, we worked with several top-tier restaurant groups and trialed the product in their test kitchens," FootPrint Coalition's Partner Steve Levin said in a statement. "There was unanimous praise for the product—not just in terms of taste, texture, and ease of preparation—but also in the list of ingredients. The product hits all the marks."
What is vegan steak made from?
Harnessing the ancient power of fermentation, Chunk's whole-cut vegan meat is made using fermentation technology, similar to the time-honored processes that turn ancient grains into bread and milk into cheese. This technology allows the company to make a product that has a meaty texture and bite and unmistakable umami flavors.
"Chunk's proprietary fermentation technology has been able to deliver a product with a deeply satisfying experience, mimicking the texture, color, and taste of traditional meat, along with the direction and thickness of the fibers and juiciness of the cut," Golan says.
"Our product boasts one of the cleanest labels in its category, crafted with just a few natural ingredients, and free from preservatives, thickeners, or binders," he says.
Golan also notes that its whole-cut meats are incredibly versatile and can be pan seared, basted, grilled, smoked, or stewed without any additional training for the restaurant's staff. Chunk's technology also offers major advantages for scaling up and manufacturing, better control of the product's properties and competitive unit economics.
"Our aim is to make plant-based eating accessible and enjoyable for all, by creating delicious and nutritious whole cuts," Golan says. "We will outcompete animal agriculture in terms of price, scale, and efficiency. And while we are focused on beef at the moment, pork, lamb, and poultry are next."
Vegan steak market to double
According to a recent report from market research firm Future Market Insights, the global vegan steak market is on track to reach $1.13 billion by 2033, almost double the current value of $598.6 million.
A report on the vegan steak market revealed that the US is the chief driver of demand, accounting for 30.2 percent of all sales. Germany took the second spot, racking up 16.9 percent of sales. This data aligns with an observable rise in veganism in both countries.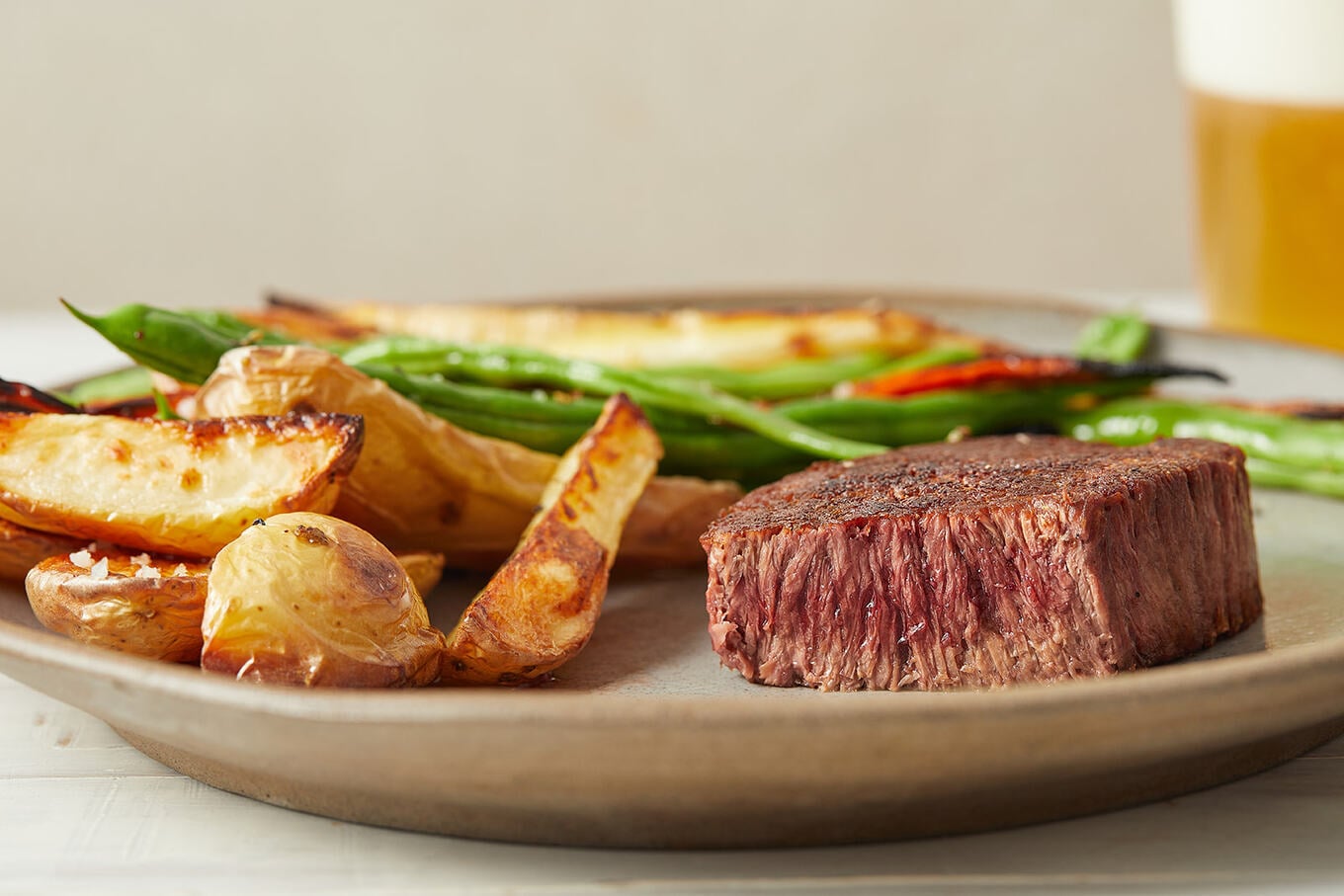 Chunk Foods
"As the trend for veganism spreads across these countries, the demand for vegan steak along with other plant based protein alternatives is rising exponentially in the global as well local markets," the Future Market Insights report states.
"As people are willing to invest time in learning more about these new food alternatives, vegan steak is anticipated to garner more new consumers in the future," the report states.
For the latest vegan news, read: