It seems that every week in the world of vegan food news is more exciting than the last and this week is no exception.
Kevin Hart's restaurant chain Hart House is celebrating a year in the vegan fast-food business with a special party shake. While baseball season might be coming to a close soon, it's never a bad time for a vegan Chicago hot dog, which just got a makeover at Kale My Name.
And with the dog days of summer upon us, if you're looking to get away one last time, both cruise line Atlas Ocean Voyages and airline Cathay Pacific have new vegan options to try. Read on for more.
1Atlas Ocean Voyages ups the vegan food ante
If you're taking a last-minute summer vacation, cruise line Atlas Ocean Voyages just got an array of new vegan options.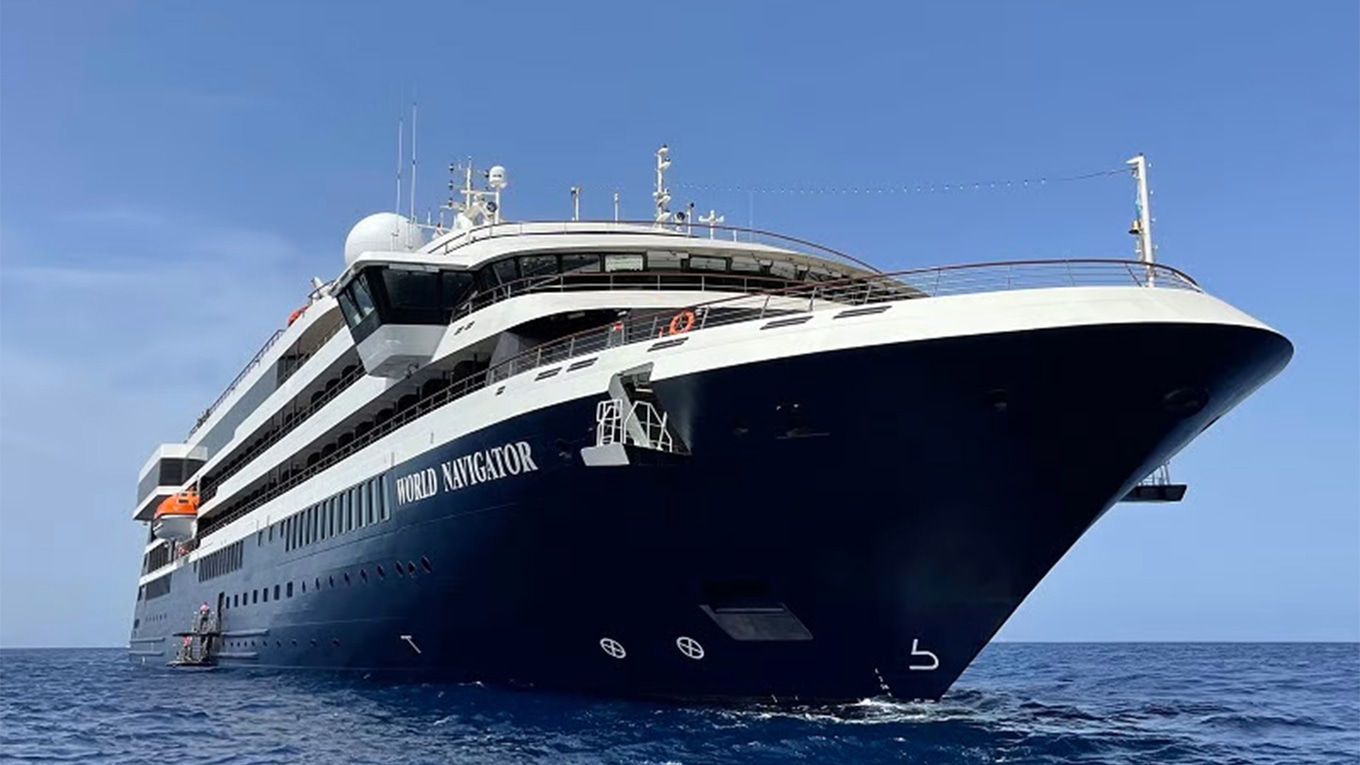 Atlas Ocean Voyages
These new offerings cover everything from appetizers to desserts, delivering a taste of international flair combined with modern cooking methods. Moreover, the ingredients are obtained locally and sustainably whenever possible, and the vegan options are now accessible on all expeditions undertaken by Atlas Ocean Voyages.
"Our new vegan menu delivers yet another unique culinary experience for our guests," James Rodriguez, president and CEO at Atlas Ocean Voyages, said in a statement.
"Our team of talented chefs has thoughtfully constructed each item to highlight the ingenuity and variety of vegan cuisine, guaranteeing an extraordinary dining encounter for our vegan travelers," Rodriguez said.
The new dishes include Fresh Beets Niçoise Salad with vegetables; Mushroom Stroganoff paired with a rich whiskey sauce; Oyster Mushroom Ceviche; and The Ensalada de Brotes with a mix of sprouts and fresh produce.
Moreover, Atlas Ocean Voyages is now serving vegan breakfast (with various pastries such as croissants and savory options) and introduced evening offerings, including a vegan steak at 7Aft Grill. The culinary expansion also includes around-the-clock room service featuring dishes such as The Impossible Delight burger.
2Hong Kong's major airline embraces vegan food
More of an air traveler? Major airline Cathay Pacific just got a lot more vegan-friendly thanks to a new partnership with Hong Kong-based plant-forward restaurant Veda by Ovolo to bring a modern selection of plant-based dishes to travelers.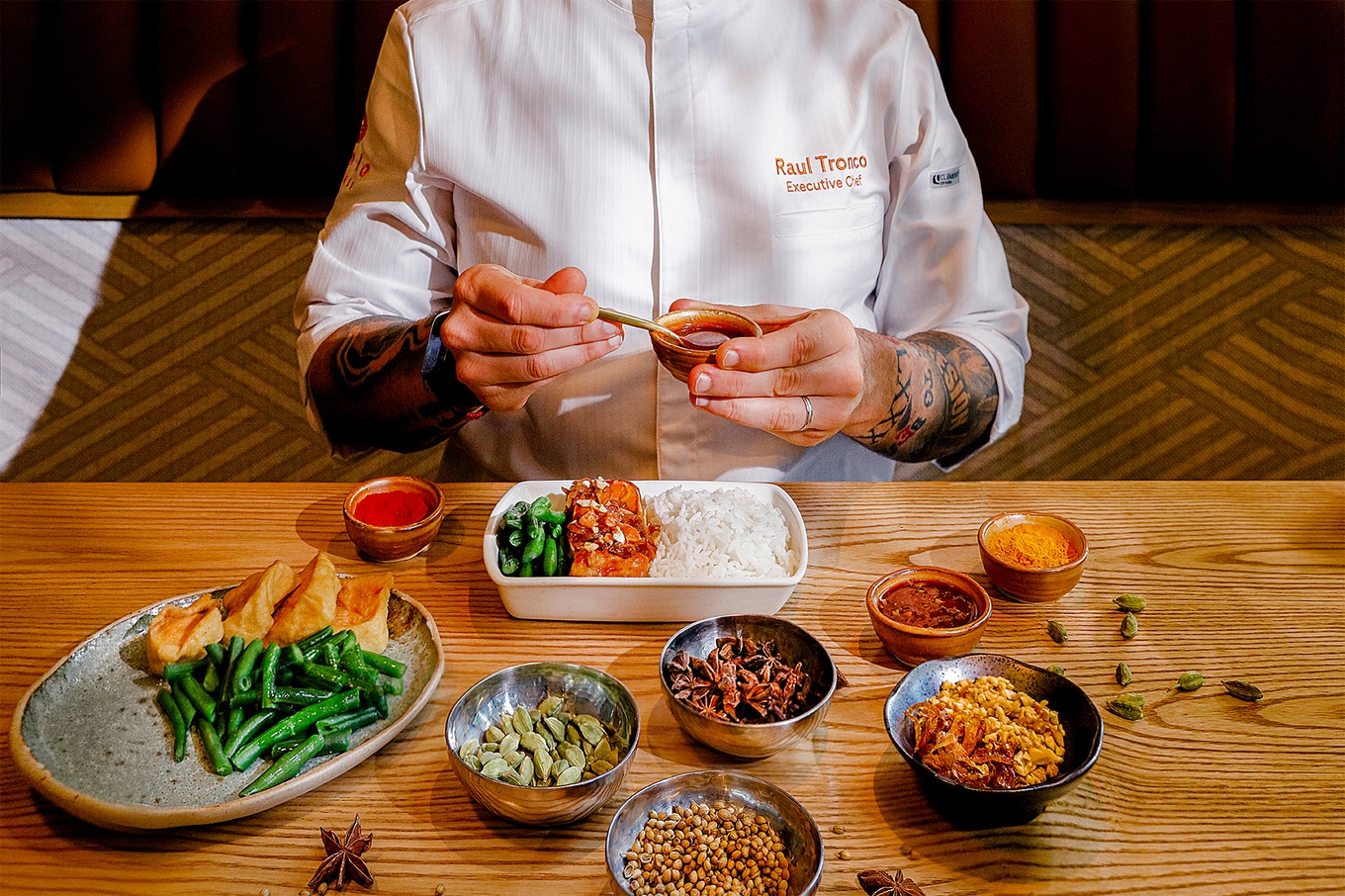 Cathay Pacific
This collaboration, set to last until June 2024, will offer a rotating selection of nutritional and flavorful options. It will be available to passengers traveling in Premium Economy and Economy class on select long-haul flights departing from Hong Kong.
The move is in line with Veda and Ovolo Hotels' Plant'd pledge, which emphasizes ethical eating, conscious cuisine, and inventive vegetarian offerings.
"We want to ensure we are doing our bit to help preserve our environment, promote healthy eating and enhance the image of amazing vegetarian and plant-based dining," Girish Jhunjhnuwala, Ovolo Hotels' founder and executive chairman, said in a statement.
Premium Economy passengers can look forward to highlights like Bombay carrot salad with mixed accompaniments; Kerala-style coconut curry with a blend of vegetables and rice; and Panang dry curry tofu.
Meanwhile, Economy passengers will have options such as purple quinoa tabbouleh, Mediterranean potato salad, and Northern Thai-style coconut curry noodles with mixed vegetables.
3Vegan Chicago hot dogs
We're fans of all types of hot dogs, as long as they're vegan. However, some may lean toward the Chicago variety—which some (ahem, New Yorkers) have beef with.
A proper Chicago hot dog is topped with mustard, relish, onion, tomato, pickle, peppers, and celery salt, and comes served on a poppy seed bun. At Chicago's vegan eatery Kale My Name, this tasty dish just got a little better thanks to a new partnership with global brand Better Balance.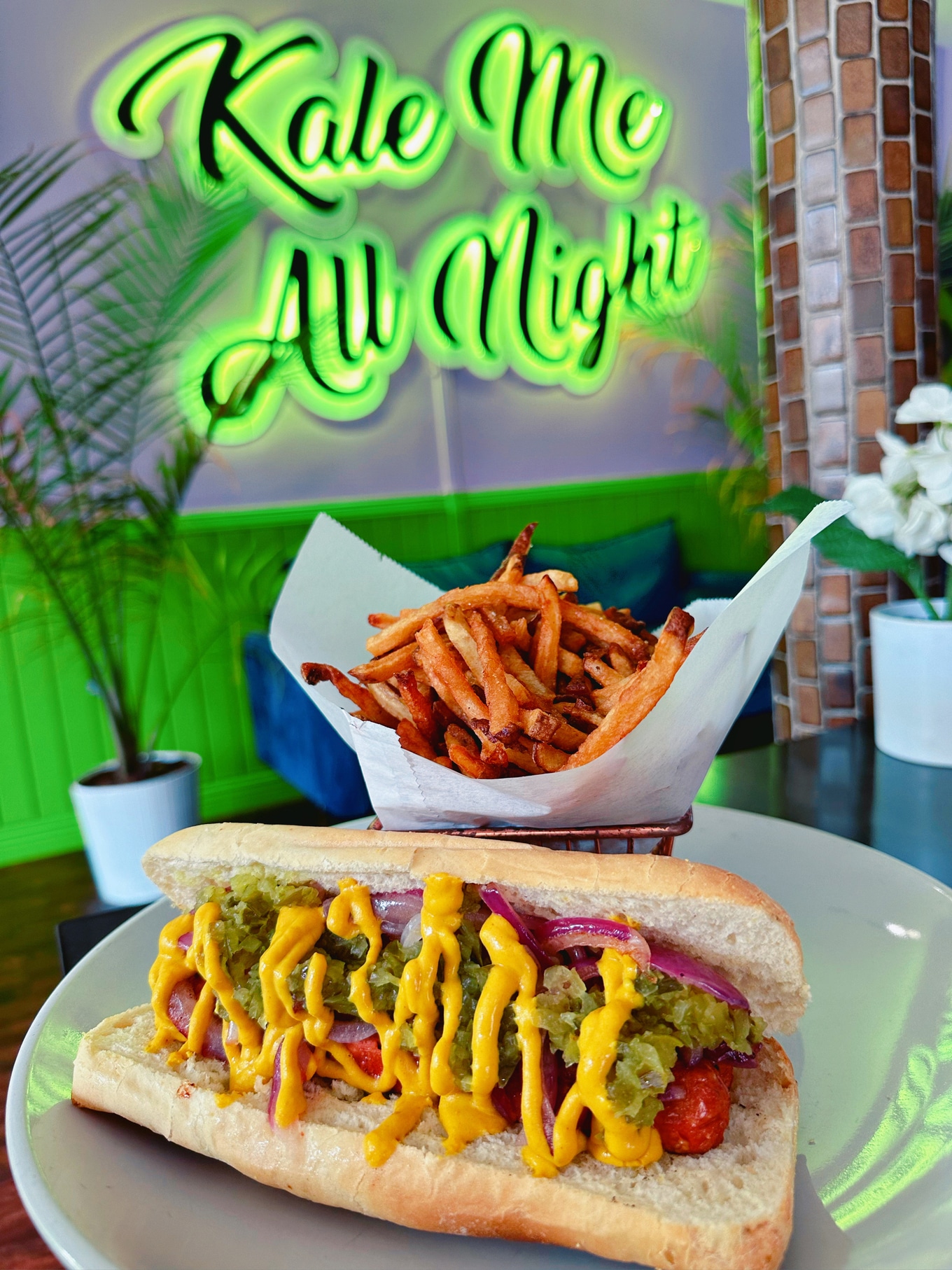 Kale My Name
Kale My Name founder Nemanja "Neman" Golubovic, was impressed with Better Balance's products, particularly its vegan sour cream, and is now among the first in the country to serve its hot dogs.
Beginning this week, Kale My Name will offer Better Dog menu items, including The Better Balance Chicago Dog (with all the proper toppings) and The Big Daddy Special (a double vegan hot dog). The menu will also feature products made with Better Balance's impressive Better Sour Cream and Better Shreds (vegan cheese).
"Living in Chicago where hot dogs are king, it's hard to impress customers with a good vegan dog," Golubovic said in a statement. "I've been waiting for the perfect alternative, and Better Balance came through."
"Partnering with Better Balance has helped continue Kale My Name's mission of showing people how fun and delicious vegan food can be," Golubovic said.
Better Balance's plant-based hot dog was initially launched in Spain in June 2022 and quickly became a top-selling product, receiving numerous awards. It will be available for foodservice beginning this month, with grocery retail to follow.
4Montreal's ultimate bagel
Chicago may have distinctive hot dogs but Montreal is all about bagels. And this week, a unique collaboration with local foodies, organized by Beagle Bagel, is bringing together creative bagel sandwiches to celebrate Montreal's iconic handheld food.
Beagle Bagel has assembled a team of creators behind local, quality, and tasty vegan ingredients, forming a collaboration fondly referred to as "The A-vegan-gers." The team includes Bumble Bloom, Muscade, BY2048, Maynard, Tout Cru! Atelier de Fermentation, Tofu Tofu, and Mi Corazon.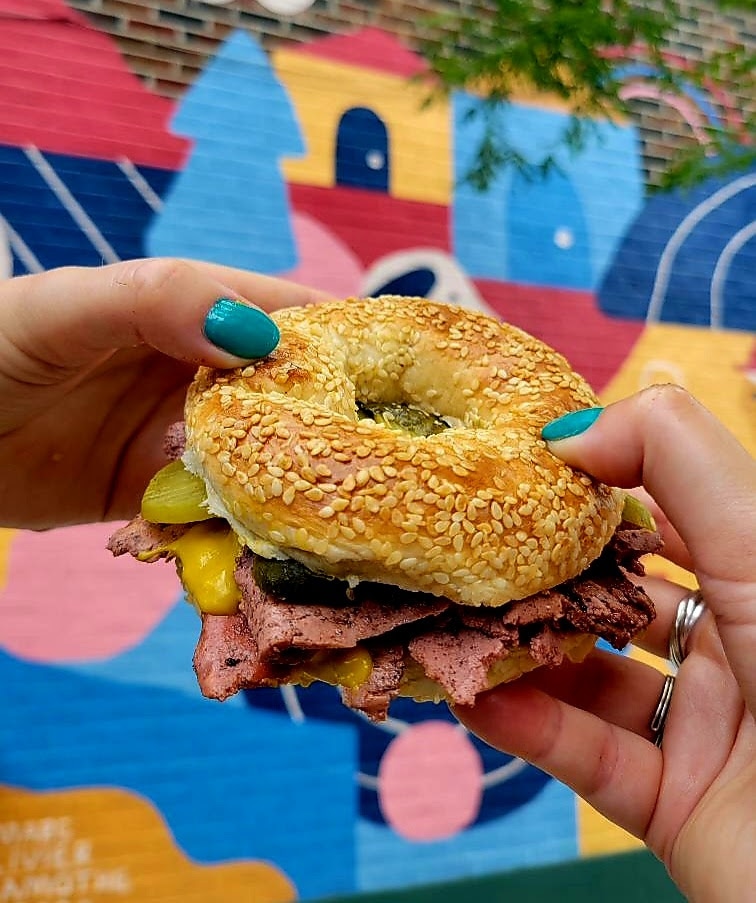 Beagle Bagel
While some bagels are traditionally made with eggs and honey, the vegan bagels bases here swap for a bee-free variety.
"The idea came from the fact that I couldn't find any Montreal-style bagels locally with the same texture and hint of sweetness that's so iconic and loved by all," Frédéric Boucher, Bumble Bloom CEO and Beagle Bagel Montréal Founder, tells VegNews. "So we decided to create one that's eggless and uses bumble bloom to replace the honey."
The A-vegan-gers crafted five vegan bagel sandwiches for the event, ranging from classic cream cheese to Montreal smoked-'meat,' traditional lox made with vegan salmon, and more.
"We wanted to offer a fully plant-based experience not just for vegans but great food aficionados," Boucher says.
Going down this weekend only at Muscade Café-Boutique, visitors can also pair their bagel sandwich with specialty coffee or cold drinks, purchase tasty ingredients for picnics, and mingle with other passionate bagel enthusiasts.
The name "Beagle Bagel" pays tribute to bumble bloom and Beagle Bagel's beloved beagle Django, the company's "Chief Happiness Officer."
5Hart House celebrates anniversary
One year ago, Kevin Hart opened Hart House, a vegan fast-food chain that's quickly expanding across the Los Angeles area and beyond. And today, on its official one-year anniversary, the four-unit chain is celebrating in many ways.
Hart House Hollywood and University Park South are throwing open parties to the public tonight from 6pm to 8pm. With swag giveaways, various games, and a DJ, attendees' meals will be complimentary, and they can bring a plus-one.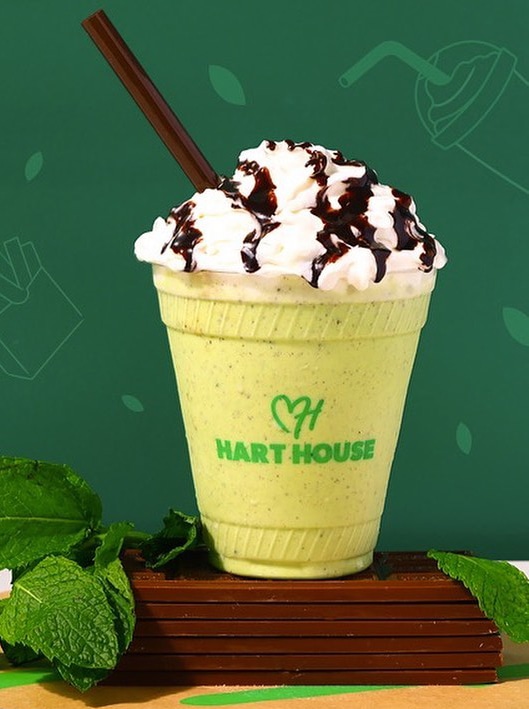 Hart House
In commemoration of this milestone, Hart House also just launched the "House Party" shake—available from today until National Milkshake Day (September 12). This festive concoction consists of vanilla mint cream, dairy-free whipped topping (provided by Whipt), and chocolate drizzle.
Plus, any meal purchase today gets you a free cookie. Happy birthday, Hart House!
For the latest vegan news, read: