Comedian, actor, and entrepreneur Kevin Hart is slated to open vegan fast-food chain Hart House in Los Angeles this week. To promote the concept, Hart appeared on a recent episode of talk show The Late Late Show with James Corden. On the show, Hart spoke about the inspiration behind the Hart House chain and his goal of making it a national phenomenon that competes with traditional fast-food chains.
"I'm a person that has dabbled in the world of plant-based for some time and the one thing that I found was there's a misunderstanding about what the world of plant-based is and should be," Hart said, explaining that he noticed a lack of plant-based fast-food options. "I [wanted] to create a plant-based fast-food chain. Kind of really embrace the generation now … and put that option into the world of fast-food places that we've grown to love today. The goal is to see Hart Houses right smack dab in the middle of where you would see a McDonald's, a Burger King, a Chick-Fil-A, [and] a Wendy's [so] people can have the option for a plant-based taste, as well."
On the show, Hart also participated in a segment of "Truth or Eat It!" where Corden presented the comedian with plant-based food items—such as a salty soyrizo and seaweed smoothie—that were intentionally made to be disgusting. For every question Corden asked that Hart did not want to answer, the comedian had to eat one of the plant-based items. He avoided drinking said smoothie by revealing that he made $25 to $30 million on the newest release in the Jumanji series. Instead of ranking the acting abilities of his Jumanji co-stars Dwayne Johnson, Nick Jonas, and Jack Black, Hart choose to eat a plant-based tuna-topped chocolate and cinnamon pudding. After refusing to rank late-night television show hosts in order from best to worst, Corden ate a piece of wet vegan cheese covered in hot sauce and pickles.
Hart House
Hart House takes on McDonald's with vegan fast-food
As for Hart House, the new restaurant is a partnership between Hart, entrepreneur Andy Hooper, and chef Michael Salem. The chef previously worked as the head of culinary innovation at Burger King and helped bring on the Impossible Whopper, a defining moment in the plant-based shift currently happening in the fast-food industry.
"As someone who has been preaching 'Health is Wealth', building Hart House felt like the natural evolution of my flexitarian lifestyle and my business ecosystem," Hart said in a statement. "I'm beyond proud of this industry-changing restaurant and the amazing team behind it working tirelessly to create delicious, sustainable food that delivers can't-believe-it flavor in every bite."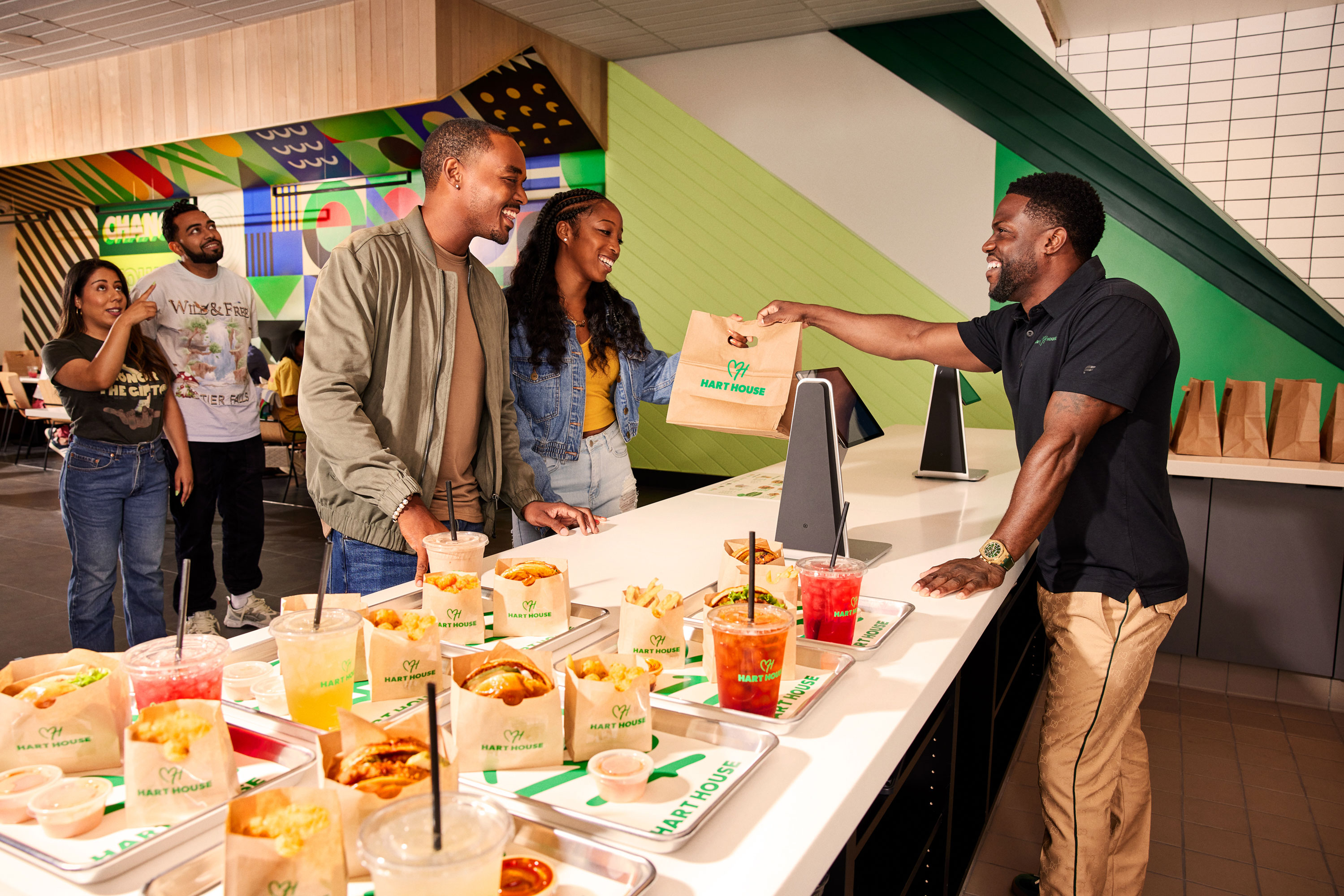 Hart House
The Hart House menu will feature American comfort classics remade with a plant-based twist, including burgers, chicken sandwiches, nuggets, fries, and milkshakes (made with oat milk), all made without animal products, high fructose corn syrup, or preservatives.
The first Hart House location is slated to open in the Westchester neighborhood of LA on August 25, 2022 and will donate 10 percent of all opening day profits to Inner City Arts, an organization that empowers children in Los Angeles through art. In addition to physical locations, Hart House will operate food trucks and provide catering services. Hart House currently has two additional locations in the works with the aim of opening 10 in the next 12 months.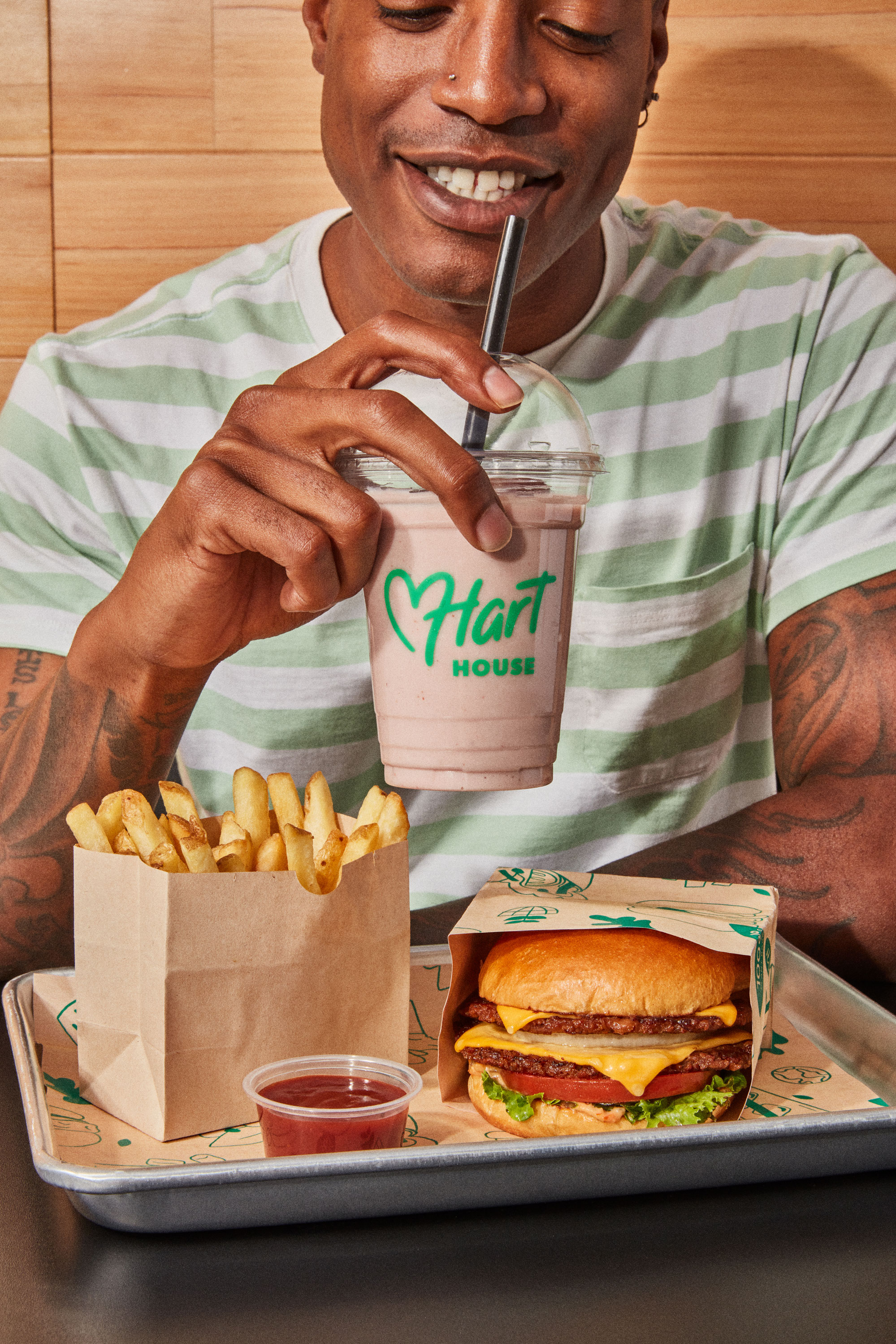 Hart House
The future of fast food is plant-based
The concept for Hart House first came to Hart several years ago at the onset of the COVID-19 pandemic. After two years in the making, the team is ready to bring the vegan fast-food chain to the public, starting with several locations in the Los Angeles area. According to Hooper, the Hart House concept is built around an assumption that fast food is not only moving in the plant-based direction but that this shift is inevitable and necessary. As such, the approach at Hart House is that the food will be indulgent and familiar but not marketed around just plant-based callouts.
"I think one of the things that's important when you're thinking about building the next generation of quick service restaurants is acknowledging that it's going to be plant-forward," Hooper told Los Angeles Magazine. "That's where things are going, both out of taste preference, but also out of necessity."
Hart brought Salem on board personally by calling him and pitching the concept. Given his area of expertise with Burger King, Salem's involvement gives Hart House even more potential to substantially shift the traditional fast-food model in the plant-based direction. Salem helped get the Impossible Whopper on the menu in 2019 and since then, Burger King has explored plant-based menu updates and initiatives globally. Not only does the fast-food giant now serve plant-based options globally, it is also hosting meatless pop-ups. This month, Burger King opened two vegetarian outlets in Switzerland, bringing the total of such pop-ups to five following similar openings in London, Spain, and Germany.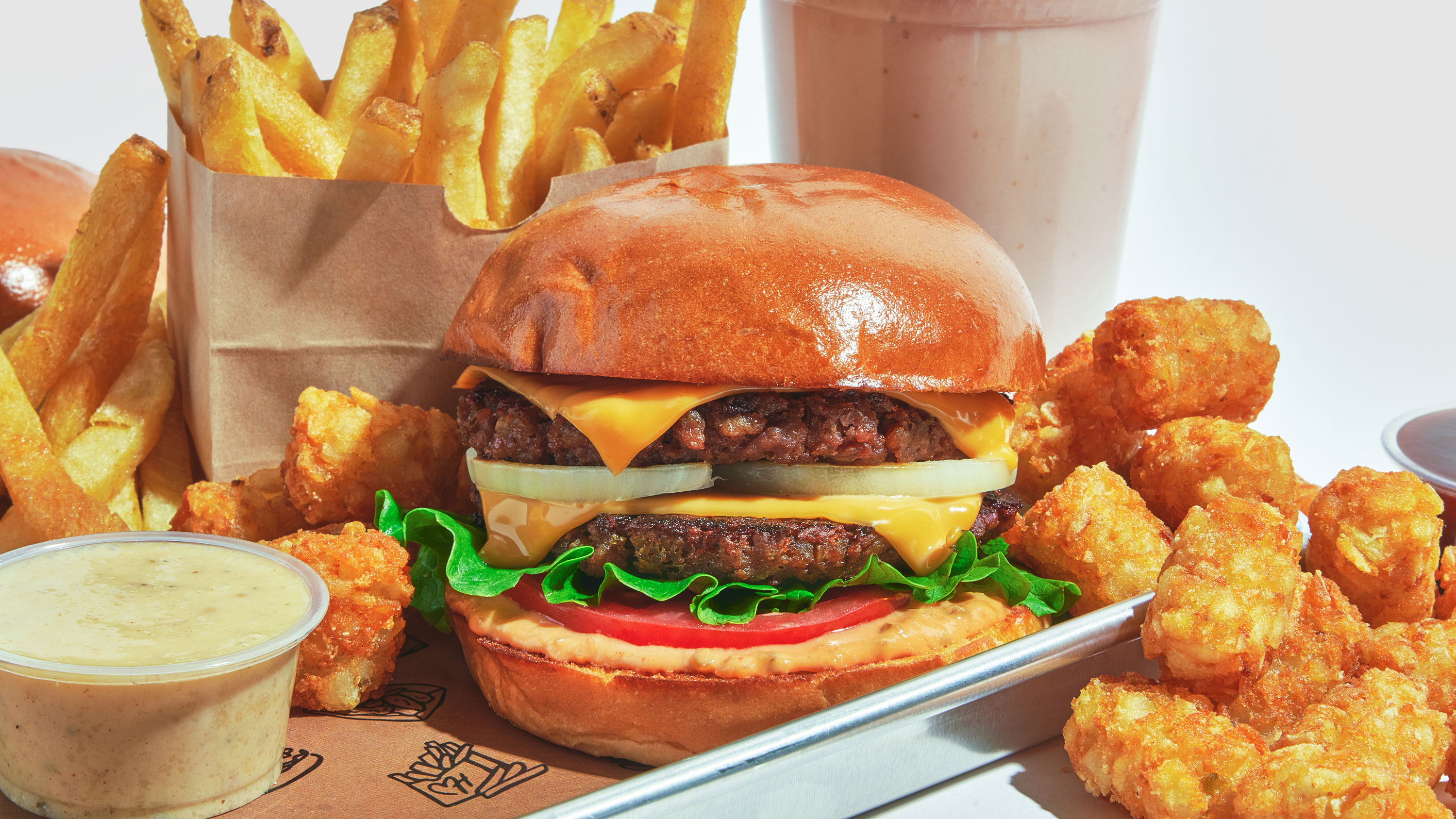 Hart House
Salem was tasked with crafting the Hart House menu, which he made from the perspective of a meat-eater looking for craveable options that are better for health, animals, and the planet. "It's one thing when you hear someone's idea and you get excited about working with a celebrity. It's another thing when you hear about somebody's idea and it actually really resonates with your life's work and that's what happened to me," Salem told Los Angeles Magazine. "I've seen too many animals die. I've been too guilty about the food I've been serving the community, making people really unhealthy for a long time, and I just don't think it's necessary. I think this is really the future of fast food, so that's why I took the gig. I just thought it was an incredible chance to really make a difference and leave a legacy on food service and an industry that's been so good to me."
Kevin Hart gets behind Beyond Burgers
Hart's venture into the vegan fast-food industry is not surprising as he is an investor in vegan brand Beyond Meat and has worked with it since 2019 on several campaigns to promote plant-based meat. This summer, Hart kicked off a campaign with the vegan brand during National Burger Month (May) in which he appeared alongside Will "Spank" Horton in a humorous commercial themed around the concept of change—from clothing and catchphrases throughout various eras to consumption of meat changing from animal-derived to plant-based.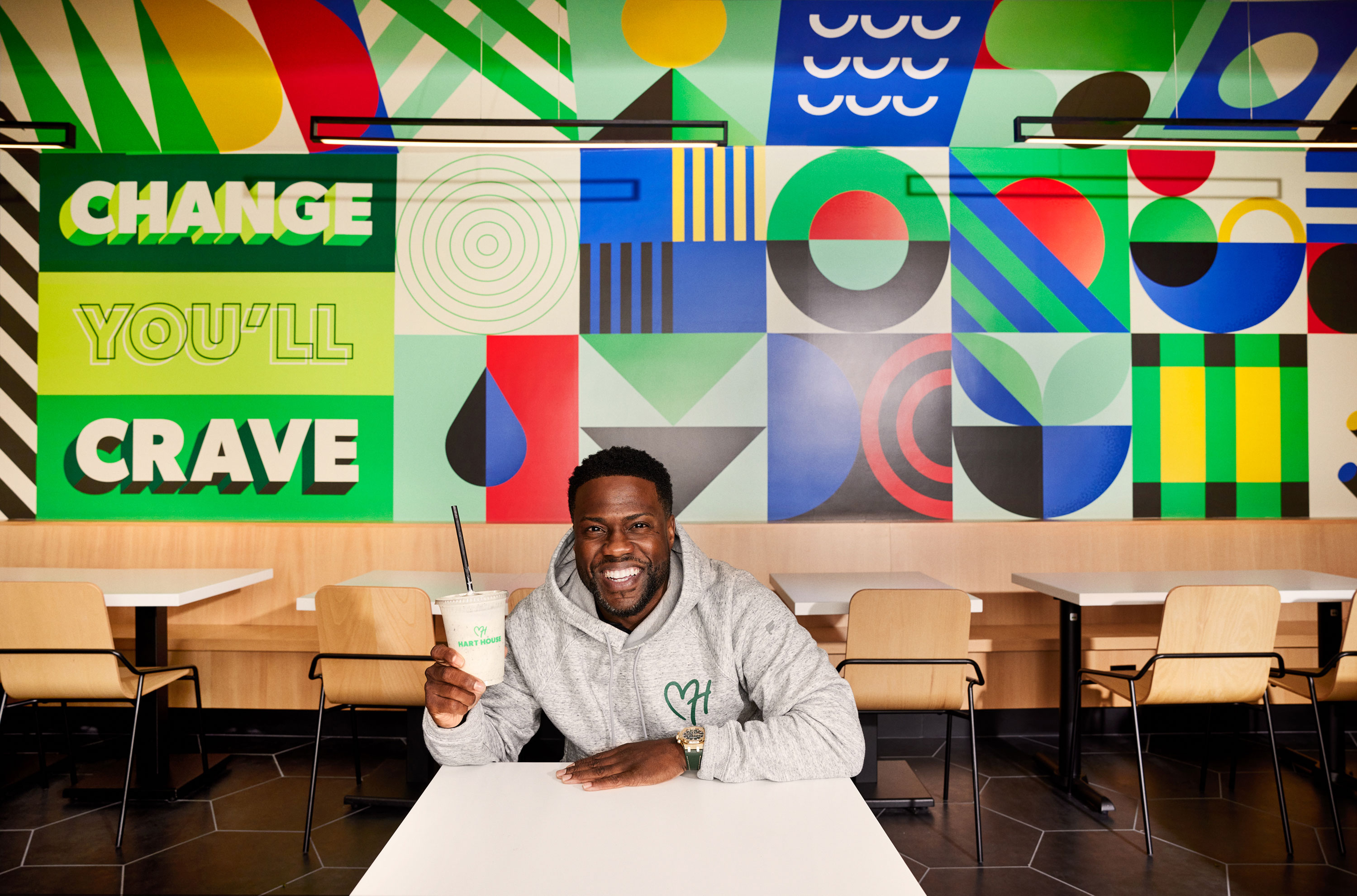 Hart House
"With Beyond Meat, I love that my family and I can enjoy all the foods we love—like grilled burgers in the backyard—but do so in a way that's better for us without feeling like we're sacrificing anything," Hart said in a statement at the time. "As a longtime partner, I jumped at the opportunity to be a part of this summer grilling campaign to inspire more people to try Beyond Meat."
For the latest vegan news, read:
Burger King Opens 2 Meat-free Locations in Switzerland
OITNB's Laura Prepon on Going Dairy-Free With Saputo's Vegan Cheese Line
Mars' New Vegan Chocolate Bar Is Made with Animal-Free Whey