Actress Laura Prepon is known best for her iconic roles as Alex Vause in hit series Orange Is the New Black and as Donna Pinciotti on That '70s Show. However, her fans also know that she is a food-lover and culinary influencer with multiple projects under her belt. Her latest partnership is with dairy brand Saputo Dairy USA, which is launching its first line of vegan cheese in stores nationwide this year.
Based in Montreal, Saputo, Inc. is one of the top 10 dairy companies in the world and its US subsidiary is behind brands such as Black Creek, Frigo, and Dairystar. The international dairy company decided to venture into the world of vegan cheese after monitoring growing consumer trends toward dairy-free products.
"The whole reason for launching Vitalite is plant-based cheese often gets a bad rep and we saw a real opportunity in the market to bring something that really hits on three key elements that consumers were looking for which was taste, texture, and functionality," David Cherrie, Saputo Dairy USA Vice President of Marketing and Innovation, told VegNews. "We worked really hard combining that with our cheesemaking experience to bring a plant-based cheese line that really hit on those expectations."
Made using Saputo's nearly 70 years of experience in cheesemaking, Vitalite is launching with six coconut oil-based vegan cheeses: mozzarella and cheddar (in slices and shreds formats); grated parmesan; and original flavor cream cheese. Launching with this portfolio gives consumers a vegan cheese swap for the most popular flavors and formats of dairy cheese. The Vitalite brand is driven by a goal to make vegan cheese without compromise. "If you're going to have plant-based cheese, you shouldn't have to compromise on the things you expect from regular cheese," Cherrie said.

Vitalite
Laura Prepon gets into dairy-free cheese
With a cookbook, the PrePon kitchenware line, and more, Prepon has been a mainstay in the culinary world for years and draws inspiration from her mother, who worked as a chef. "Ever since I was a kid, I was always in the kitchen," Prepon told VegNews. "That's where I could spend time with her. I started cooking at a very young age." Prepon began working at age 15 and quickly learned to cook for herself to stay fueled, spending time in the kitchen preparing batch meals to save time. "To me, the kitchen is the heartbeat of the home."
Saputo's new Vitalite line has found an early adopter in Prepon, who confirms that the vegan cheeses hit the mark in terms of metlability and taste in some of her favorite recipes. For a dairy-free version of a cheddar cheese-stuffed black bean and quinoa burger she featured in her 2016 cookbook, Prepon uses the Vitalite cheddar in two ways: as a binder mixed with the ingredients of the burger patty and as stuffing in the middle. "It gets this beautiful sear when you're cooking it in the pan and when you cut it open you have the cheese on the inside," Prepon said. "I love cutting something open and then there's cheese melted inside."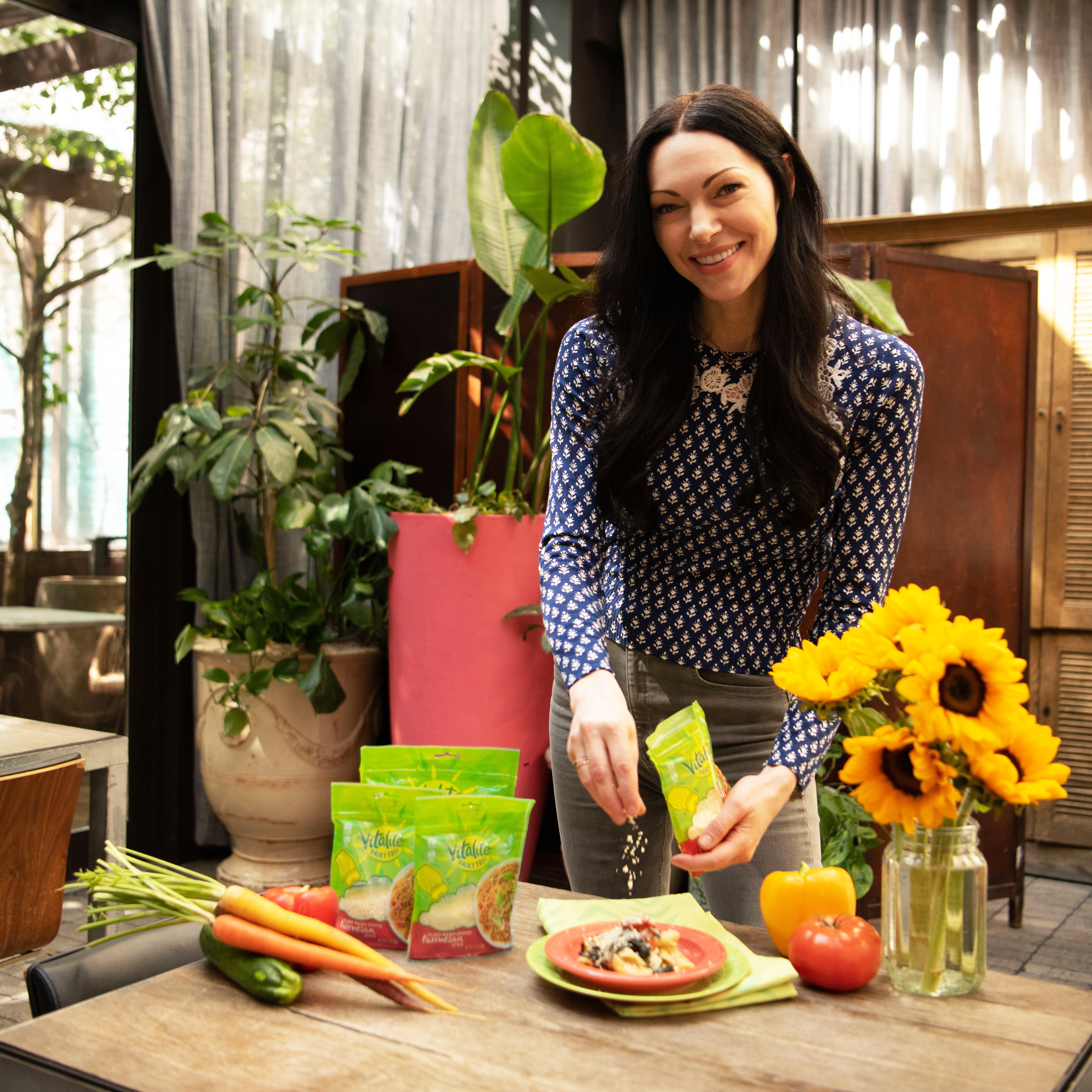 Vitalite
Prepon partnered with Vitalite to help promote its new dairy-free cheese line because it fits into her flexitarian, seasonal style of eating. While Prepon was previously vegetarian, she and her family now tend to eat more plant-based foods during the summer months in New York, where they reside. "During the warmer months, we tend to go more vegetarian and vegan," Prepon said. "It has to do with those [seasonal] ingredients."
Prepon also learned that her children had dairy sensitivities, making her partnership with Vitalite more important. She introduced Vitalite's vegan cheese to her kids through very simple, pared-down recipes such as grilled cheese sandwiches and quesadillas where the dairy-free ingredient shines on its own. The harsh critics, aged 2 and 4, were not disappointed.
"If the ingredients are really good, you can do something simple with it," Prepon said. "It melted beautifully. It tasted super yummy and my kids loved it. And they are the gauge because they will tell you."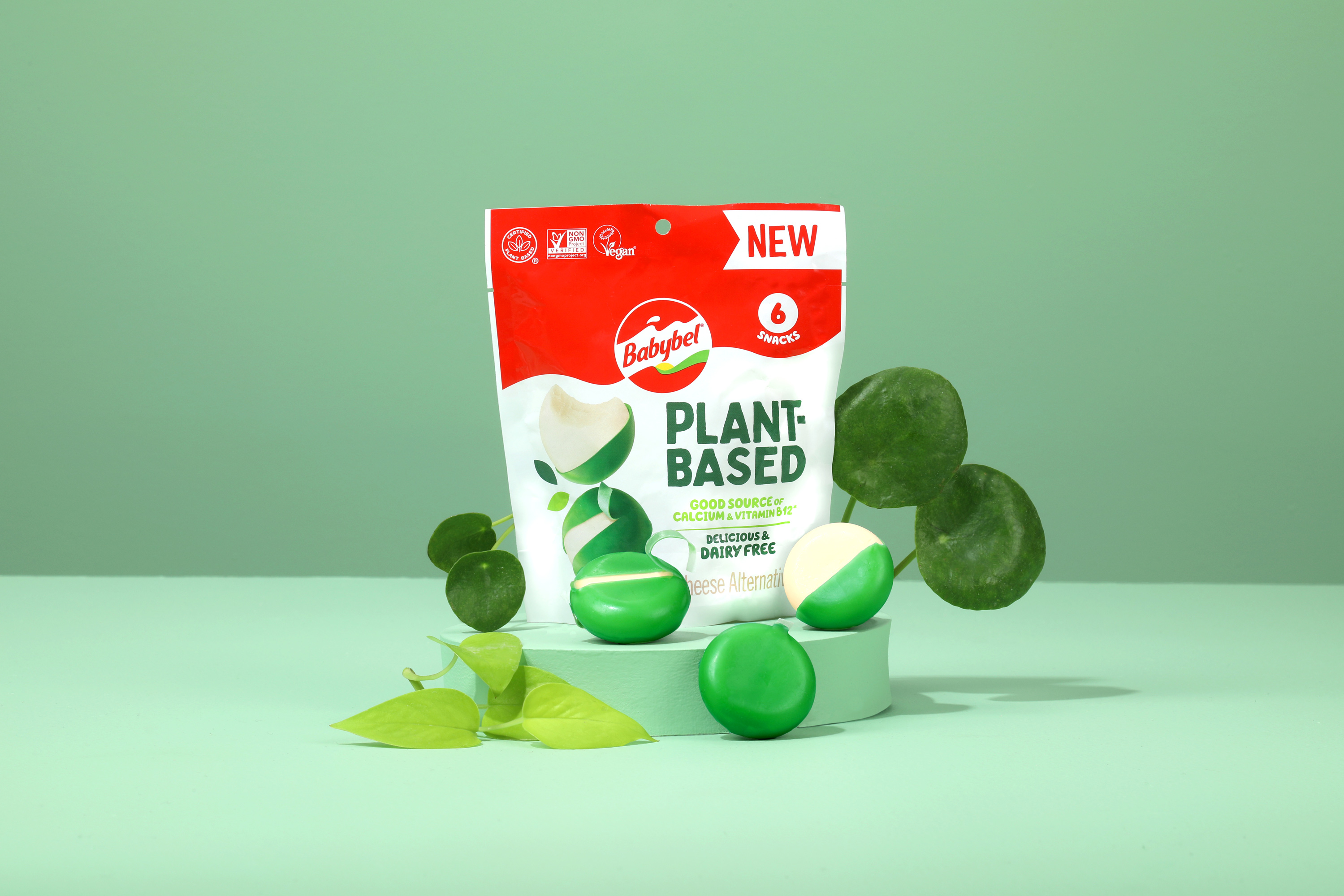 Bel Group
Major dairy brands launch vegan cheese
According to the 2022 Food Institute report, the vegan cheese industry is projected to grow by a compounded annual interest of 10 percent to a market value of approximately $7 billion by 2030. "The dairy cheese category is flat whereas plant-based categories are driving growth," Cherrie said, explaining that launching the Vitalite vegan cheese line was "a nice opportunity to supplement our existing dairy business and capitalize on some of the growth we're seeing, as well."
And Saputo is not the only dairy brand identifying vegan cheese as a lucrative opportunity. Dairy brand Shuman Cheese—based in America's cheese capital Wisconsin—launched its vegan cheese line Vevan in retail last year. The brand came to market with Shreds (shredded) and Melts (sliced) formats in three flavors: classic sharp cheddar Ched, creamy Mozz, and zesty P'Jack. The brand also expanded into the snacking category with Vevan Snax, which include snacking cheese cubes paired with dried fruit and roasted nuts.
French dairy giant Bel Group is also tapping into this lucrative market by launching Nurishh (its own vegan cheese brand) and developing dairy-free versions of its iconic cheeses. In 2020, Bel Group worked with vegan brand Follow Your Heart to develop a dairy-free version of its Boursin spreadable cheese. It also released vegan Babybel snacking cheeses this year. The company is currently working to perfect a dairy-free version of its popular Laughing Cow cheese wedges, with plans to launch the new product in US retail stores in 2023.
As for Saputo, the first six Vitalite products are a starting point and the brand is already working on other dairy-free offerings to fully span the entire cheese category. "As a dairy company, we make cheeses in all sorts of different varieties and types," Cherrie said. "We see the same opportunities here for Vitalite, as well."
For more about dairy-free cheese, read:
The VegNews Guide to the 15 Best Vegan Cheese Brands
Makers of Babybel Cheese Just Launched Six New Vegan Cheeses
Trader Joe's Just Launched Dairy-Free Feta