When Erin McKenna first opened her bakery on Broome Street in New York City in 2005, she broke new ground by filling an empty niche: vegan and gluten-free desserts that were not just digestible but delectable.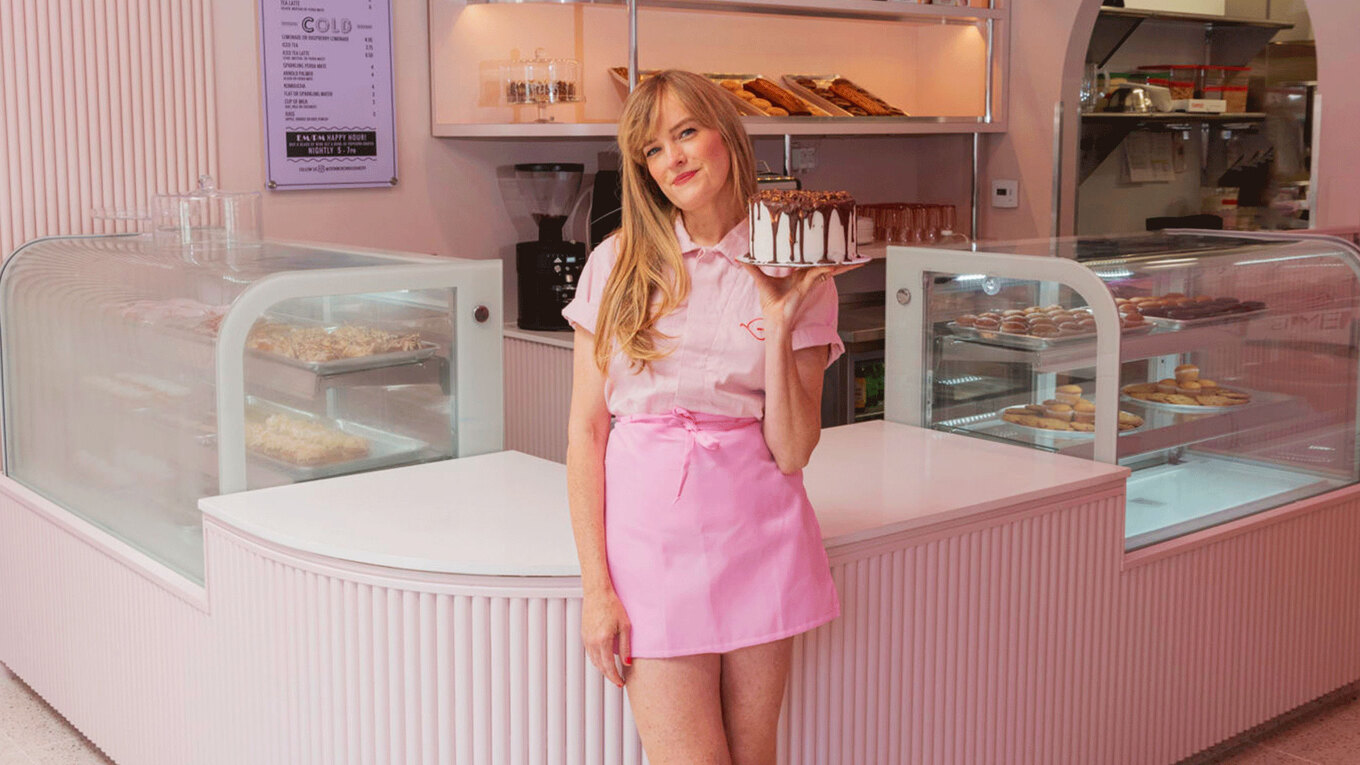 Erin McKenna
After expanding to four locations and publishing three cookbooks, nearly two decades later, McKenna has become synonymous with allergen-friendly desserts.
Now, on the heels of a massive remodel of her original NYC bakery, she looks back on the highs, the lows, and what's in store for the future of vegan baking.
Erin McKenna's flagship NYC vegan bakery
This summer, McKenna chose to temporarily close the Broome Street bakery because, after 18 years in operation, the flagship location desperately needed a refresh.
According to McKenna, the place was "run down beyond repair," with a slew of issues ranging from broken air conditioning to failing refrigeration systems.
"The entire store was feeling like it was a shadow of itself," she said. In mid-August, the bakery reopened as a revitalized space with the same core offerings and a dash of seasonal flair.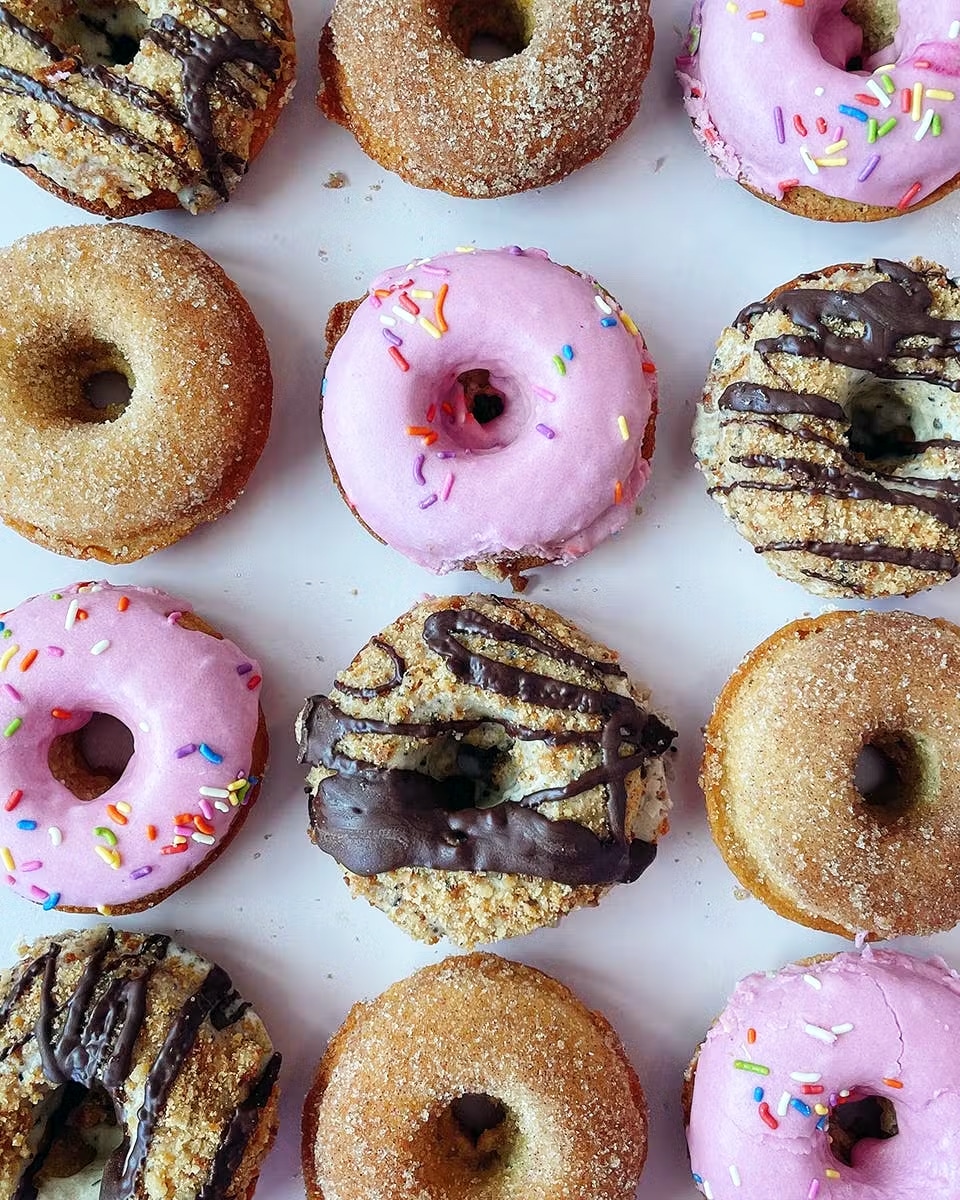 Old favorites have returned, including salted caramel, cinnamon sugar, and vanilla-dipped doughnuts; brownie, mint, and mocha cupcakes; and iced lemon and banana chocolate tea cakes.
There are cinnamon rolls and cookie sandwiches; brownie bites and crumb cakes; and a savory-leaning menu with jalapeño cheddar biscuits and morning bagels.
And more is on the way. "The menu remains the same and we'll be adding special fall options like pumpkin spice doughnuts, pumpkin bread, and more once we get into September," McKenna explains.
Throughout the years, the bakery's aesthetic—which is always colorful, vibrant, and inviting—has evolved in many ways, including the uniforms worn by staff. In 2023, the evolution continues with a new look that takes vintage men's shirts and reimagines them into work dresses and shirts—an added sustainability bonus.
Two decades of vegan and gluten-free baking
When McKenna launched her bakery, vegan and gluten-free desserts were anomalies in the marketplace. "Back in 2005 you could find vegan desserts, but they'd have gluten or gluten-free desserts that had eggs," she explains.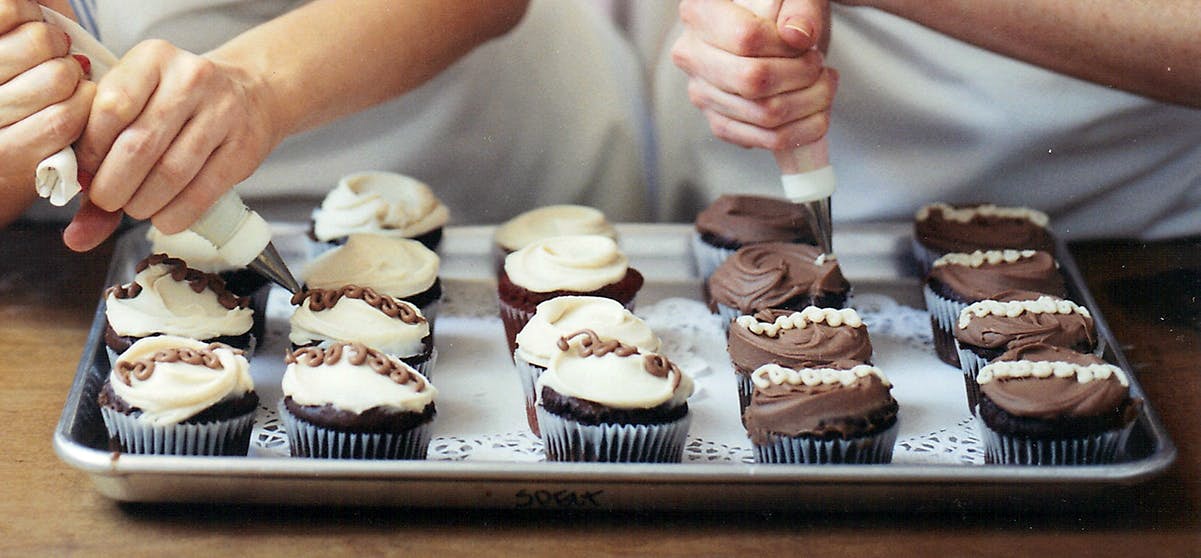 Erin McKenna
McKenna spent the initial five years educating people about vegan and gluten-free alternatives through media appearances and cookbooks. As for innovation, she never really felt the pressure of competition. In the last 18 years, vegan baked goods have permeated the food industry, with independent bakeries and chains (like the Cinnaholic franchise) spreading nationwide.
"Everyone has a unique vision which creates magic when you stick to it," McKenna says. "So yes, a lot of competition has come and gone but we're still here."
While the bakery, initially called "Babycakes," went through many iterations throughout the years, the goal remained the same: make beautiful, edible art that is inclusive and kind.
"I think the trick is staying fully immersed and infatuated with the process," McKenna says. "The bakery is like a living art project to me and it's so beautiful. Inspiration and innovation come naturally."
With the NYC renovation complete, McKenna has a moment to reflect on her journey of self-discovery and personal growth in the context of her sweet vegan business.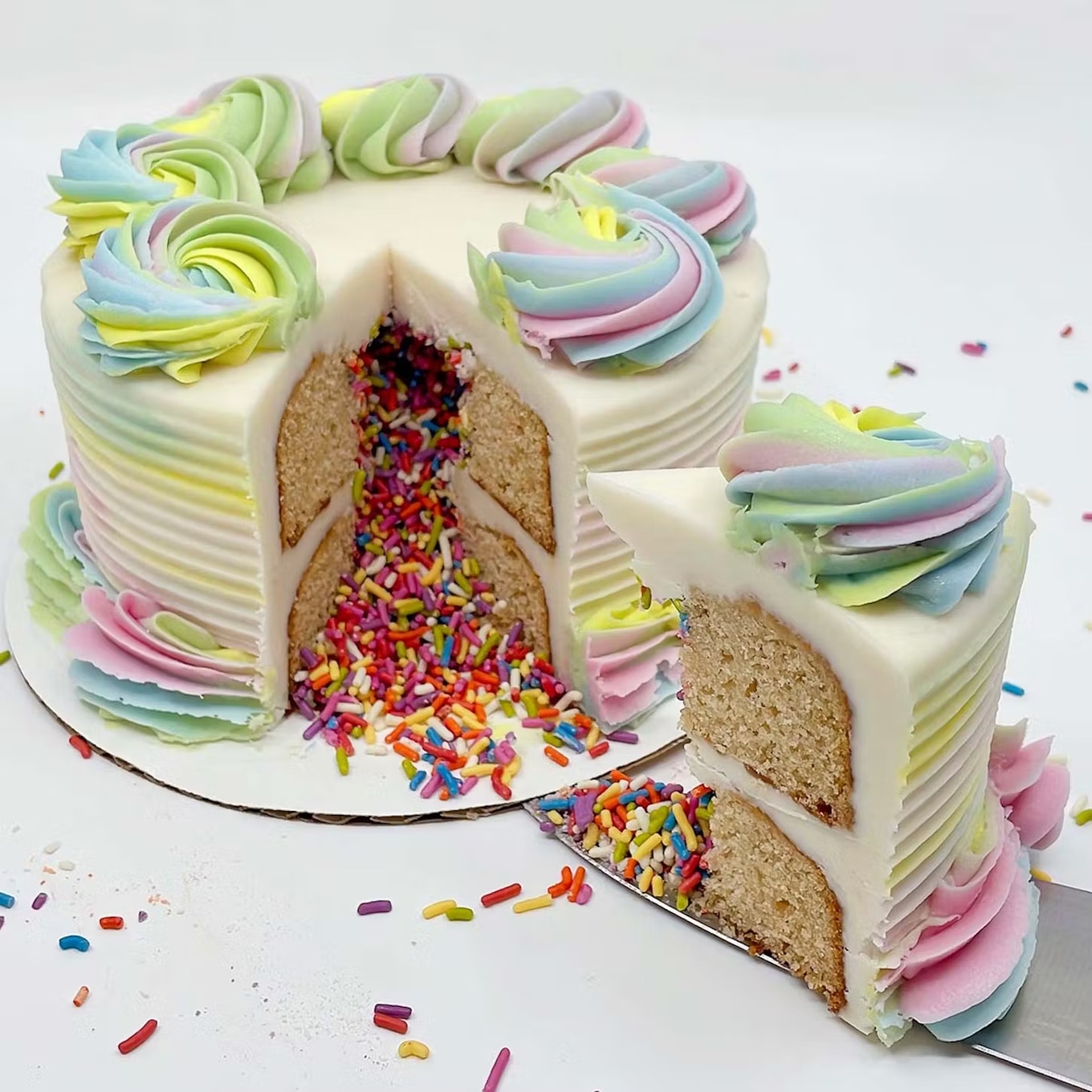 Erin McKenna
"Looking back almost 20 years, I have been through so many transformations as a business person, a boss, and a person," McKenna shares. "It's hard to really pin down one experience or a theme."
One significant realization came when McKenna found herself always aiming to please everyone. She has since learned the importance of self-assertion and goal-oriented focus.
"In the early years, I was so concerned about everyone feeling good about me and the bakery that it became an impediment," McKenna says. "It took some very hard moves in my career and interpersonally to get to a healthy headspace where I can be compassionate but stay on goal for the company."
The beautiful world of Erin McKenna's vegan bakery
In 2023, the world is warming up to vegan baked goods, but McKenna's bakery remains a standout. If you ask McKenna what makes her bakery unique, the answer points directly to the people behind the counter.
"If I'm doing it right, we're all hauling a** but laughing and working together (and crying together)," she says. "I love the team—they are the bakery. They make it new every day."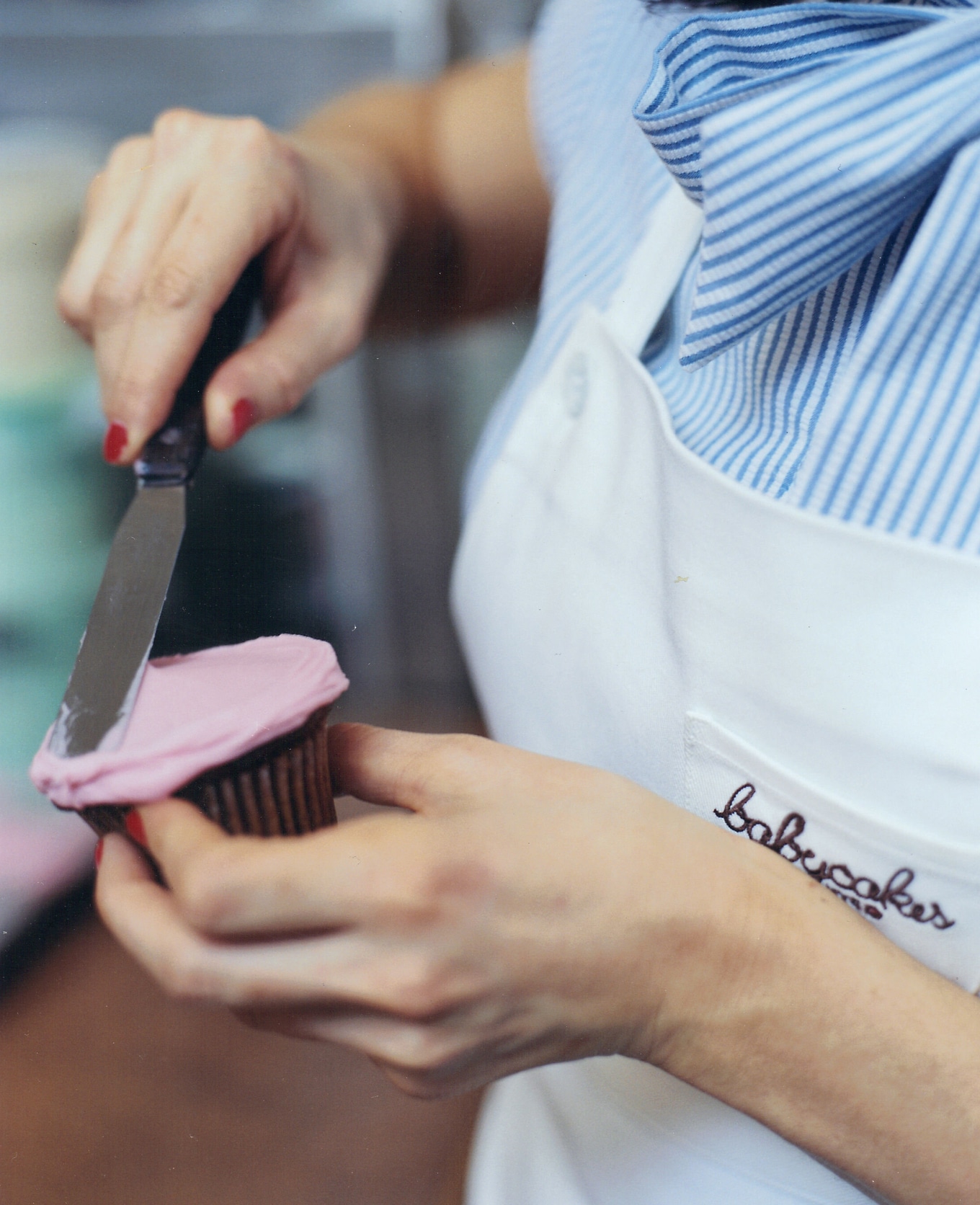 Erin McKenna's 18-year journey is a testament to the grit, perseverance, and ingenuity required to succeed in an ever-changing culinary landscape. With the reopening of the Broome Street location, McKenna is poised to continue serving the community with a renewed spirit.
Her hope for the Broome Street location is that it continues to be "everyone's favorite 'secret' New York spot," as a cozy retreat for visitors during all of the seasons of weather and life.
"An escape from the punishing winter wind or summer storm," she describes her flagship bakery. "A place for first dates, break-ups, proposals, and a place to perch with a doughnut and coffee and disappear—if just for a moment."
The NYC location is now fully ready for business, as are Erin McKenna's three other bakery stores in Santa Monica, CA; Los Angeles, CA; and Orlando, FL, all of which offer local delivery and pick-up. The business also offers national delivery of its famous vegan and gluten-free treats via Goldbelly.