The days of boring salads are officially behind us with exciting vegan restaurant news cropping up every week. The McGriddle gets a Mr. Charlie's vegan makeover thanks to a new vegan breakfast sausage by Tindle Foods. A flavorful Indian fusion tasting dinner is headed to Café Gratitude thanks to chef Priyanka Naik. And Chef Chloe Coscarelli and Top Chef's Tom Colicchio are at it again with the second iteration of Supernatural, a captivating vegan pop-up in New York City where you can get your hands on a whole sprinkle cake. Read on for more.
1Omarion's Slutty Vegan burger
Iconic R&B musical artist Omarion celebrated the release of his new album and hit single "Serious" in the most vegan way: by stopping by Slutty Vegan's Edgewood location in Atlanta. Here, the fast-food chain kicked off the release of not only his album but a vegan burger inspired by his polyamorous lifestyle.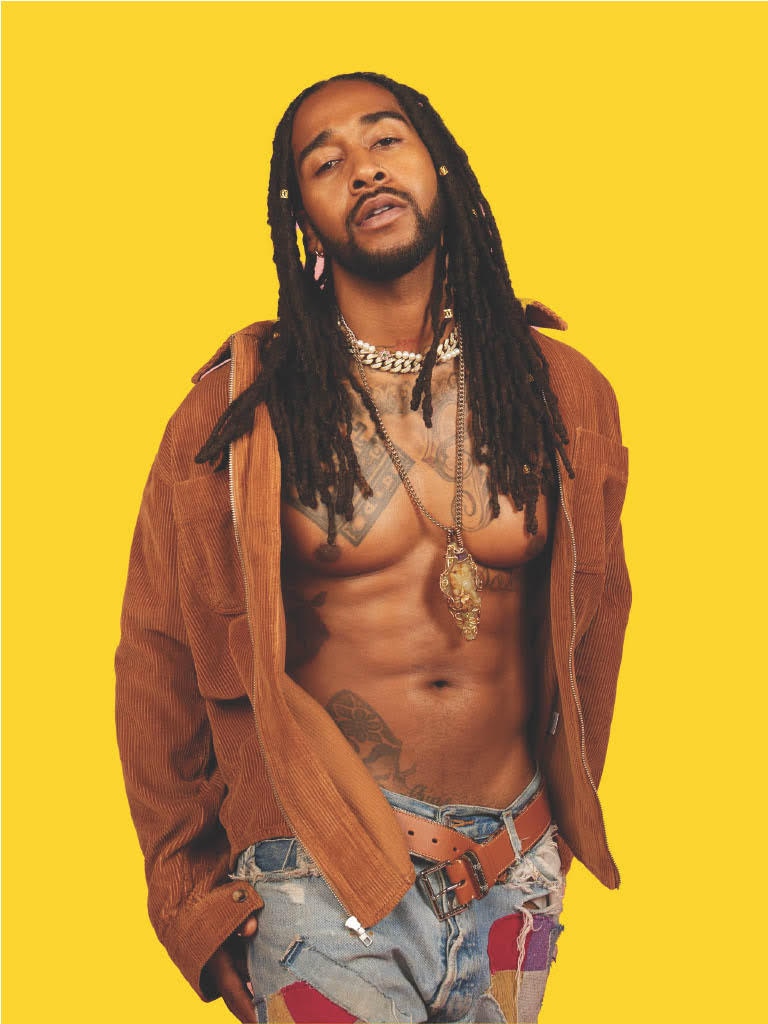 Slutty Vegan
"The Poly O" by Omarion, a $16 burger, features melted vegan Gouda cheese, caramelized onions, crisp pickles, jalapeños, Polynesian sauce, and tangy barbecue sauce, served on Slutty's signature vegan Hawaiian bun.
A DJ exclusively played Omarion's music during the event, adding to the celebratory atmosphere. Fans who showed proof of purchasing Omarion's "Serious" single were given the opportunity to meet the artist and obtain his autograph.
Slutty Vegan has been on the up and up since founder Pinky Cole first conceptualized the business as a food truck in 2018. Since then, Cole has expanded the celebrity-loved concept to more than a dozen locations across Atlanta and beyond.
The next stop? Slutty Vegan is headed to the Hartsfield-Jackson Atlanta International Airport with an outpost at Concourse B which is slated to open soon.
2McGriddle but make it vegan
Are you craving a McGriddle but don't want any animal products? Fast-food chain Mr. Charlie's has got just the thing.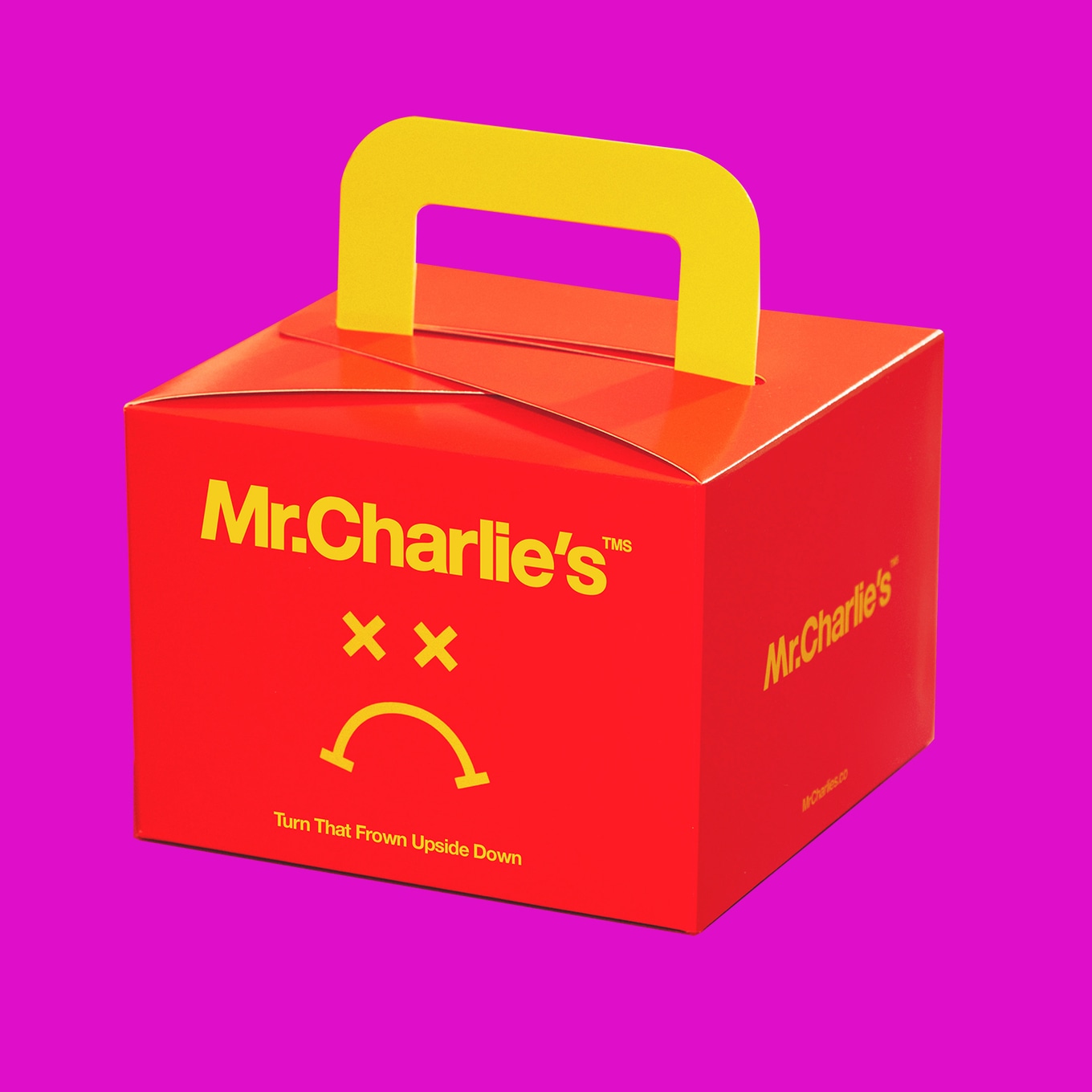 Mr. Charlie's
Known for its playful takes on fast-food classics, Mr. Charlie's is one of the first restaurants to feature Tindle Foods' new plant-based breakfast sausage. Available at its Hollywood location during breakfast hours, the new item is part of a "Frowny Meal" that includes a breakfast sandwich composed of Tindle Breakfast Sausage, a folded egg from Just Egg, and a slice of melted vegan cheddar cheese atop a toasted English muffin. The meal is complete with tater tots and a hot cup of coffee.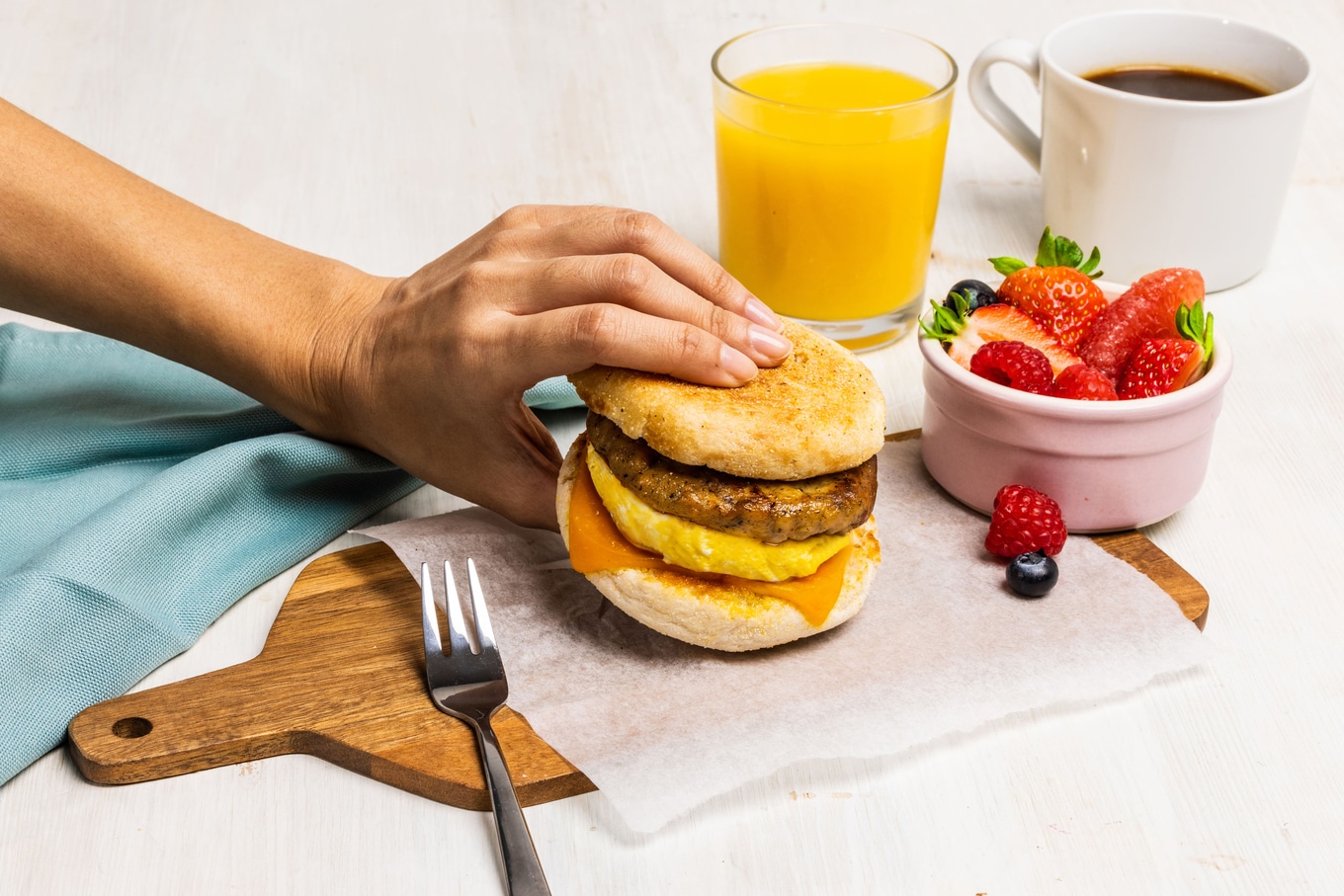 Tindle Foods
Developed in its Chicago research and development facility, Tindle's new plant-based breakfast sausage is made from soy protein blended with traditional spices such as sage and black pepper to offer a classic American breakfast flavor, providing Mr. Charlie's patrons with a familiar yet plant-based option.
Tindle's new vegan sausage is also available in New York City at Vegan On The Fly in Midtown Manhattan and will soon be featured on Neat Burger's new weekend brunch menu in Nolita.
With this addition, Tindle now offers seven products, including a line of vegan chicken, to foodservice operators nationwide.
3Berner's shake at PLNT Burger
A fun limited-time item, Banana Creme Brulee Shake, recently hit the menu at vegan chain PLNT Burger. The shake was crafted by celebrity chef and owner Spike Mendelsohn and co-founder Mike Colletti, in collaboration with rapper Berner, who owns popular cannabis brand Cookies.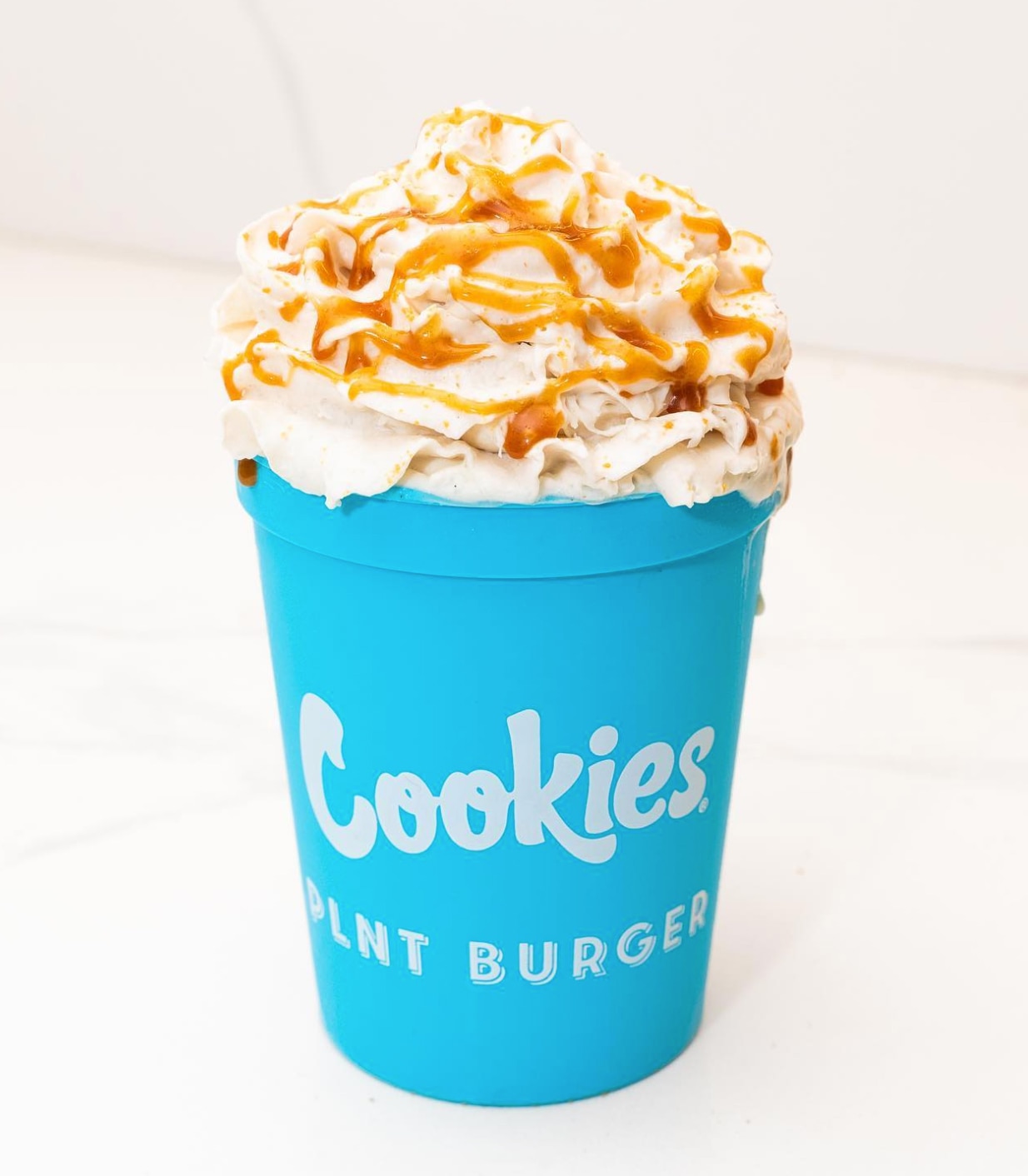 PLNT Burger
All parties share a mutual admiration for plant-based products, which forms the basis for their collaboration on the new shake, which features Oatly's vanilla soft serve, bananas, and vegan caramel, topped with vegan whipped cream.
"I know first-hand the incredible power of plants," Berner said in a statement. "As a chef and a cancer survivor, plants have played a huge role in my healing."
"When Colletti and Spike and I got together, we knew there was something we had to collaborate on and created our first vegan shake together," he said. "I truly believe this is just the beginning for amazing collabs to come."
The shake made its debut at PLNT's New York City locations and the first 1,000 customers at the NOMAD outpost received a commemorative Cookies cup and the opportunity to meet Berner and the PLNT Burger team.
4Indian-fusion tasting menu in Venice
Vegan eatery Café Gratitude in Venice, CA is set to host a pop-up dinner party featuring a collaboration between Chef Priyanka Naik and Café Gratitude's own Chef Seizan Dreux Ellis. Representing the first time that ​​Café Gratitude has partnered with a South Asian chef, the event is scheduled for Wednesday, October 18, and will offer a four-course plant-based Indian-Fusion tasting menu accompanied by live acoustic music.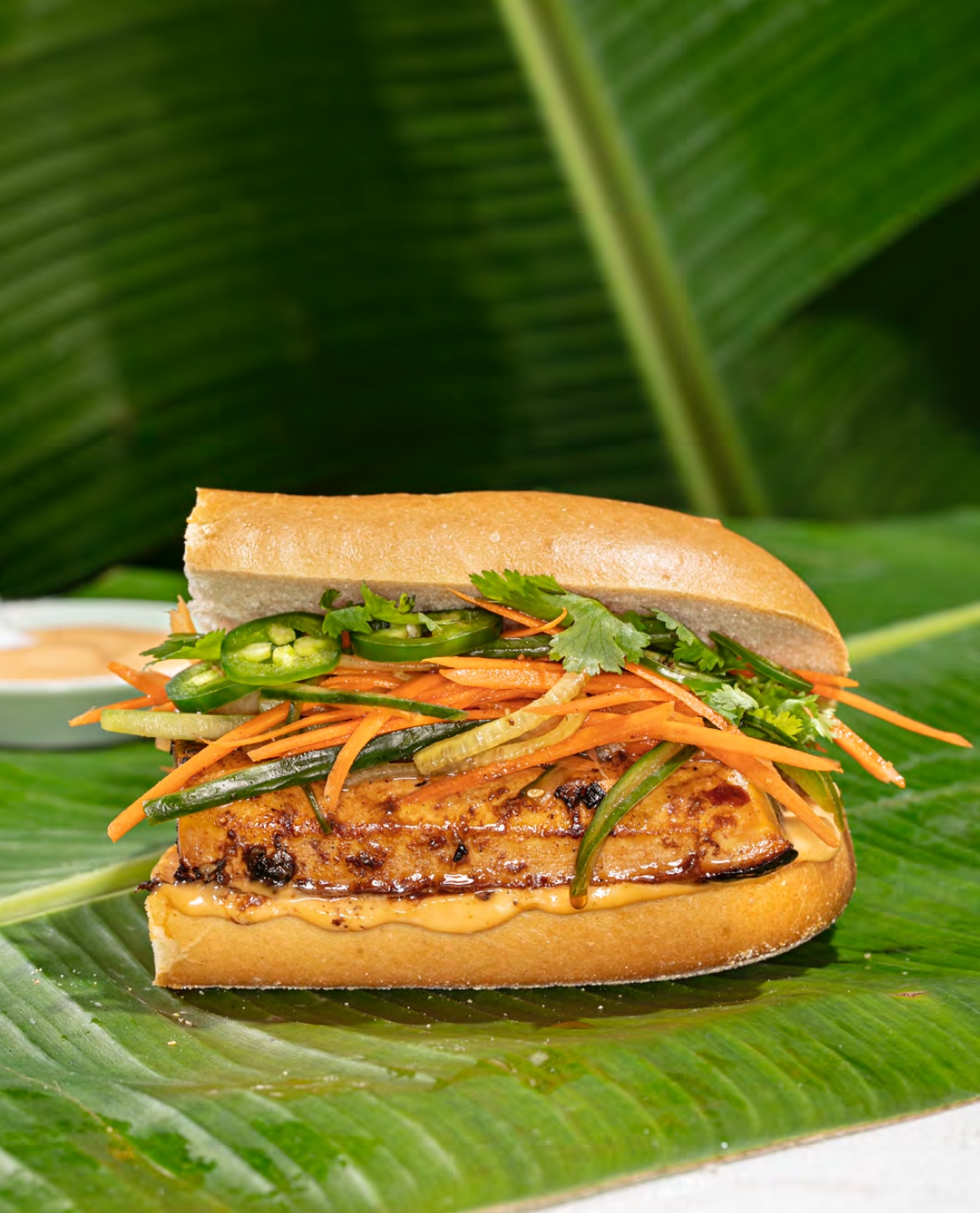 Priyanka Naik
The menu aims to blend traditional Indian flavors with global influences. It includes an amuse-bouche of Bhutta Masala Indian Esquites, an appetizer of Tostones Chaat, an entrée of Tamarind Tofu Bánh Mì, and a dessert of Mango Mousse Parfait. Guests can also opt for uniquely curated non-alcoholic beverages and wine pairings.
A Food Network champ, Naik is a self-taught vegan and sustainable chef, who relishes in finding inspiration through travel and combining it with her Indian roots and New York City know-how.
"I want guests to feel like they're immersed in my life with every bite of food they take—with my strong Indian roots with flavors like tamarind, red chili, chaat masala, and mango to my lifestyle of extensive travel across 42 countries," Naik tells VegNews.
"This menu is not only a fusion of global flavors, but an eco-friendly menu—nearly every part of the produce is used across the menu," she says. "I want people to leave feeling like they have a widened perspective on vegan cooking as well as an increased curiosity with flavors from around the world."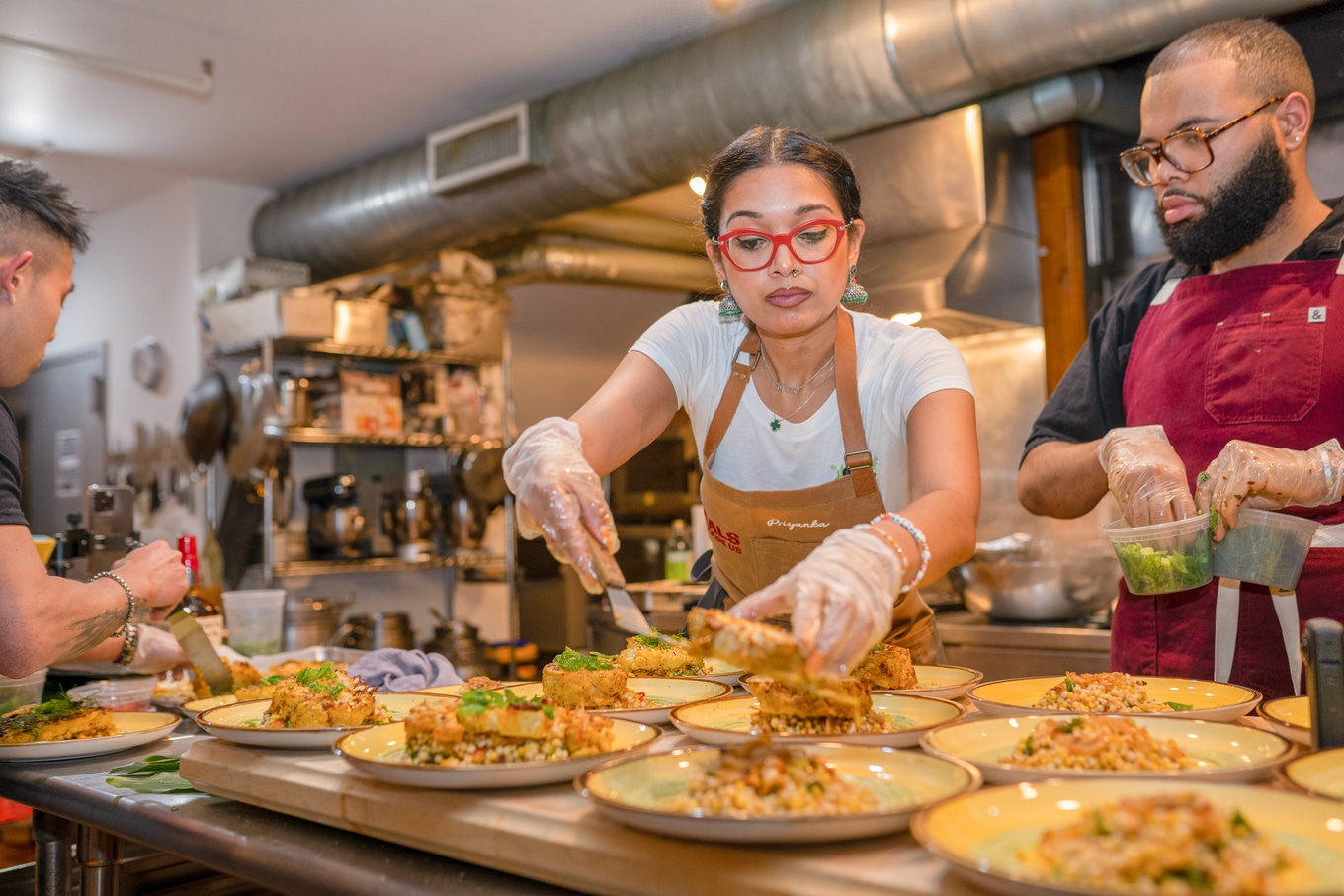 Priyanka Naik
Tickets are available at two price points: $130 per person includes the tasting menu and a $20 gift card redeemable at any Café Gratitude location. For $150, guests receive the above plus a copy of Naik's cookbook The Modern Tiffin, along with an intimate book signing session.
For more about Naik's food philosophy, the chef and public speaker's first TEDx Talk just launched on the organization's official YouTube channel.
5Chloe Coscarelli and Tom Colicchio's Supernatural pops up again
Chefs Chloe Coscarelli and Tom Colicchio (of Top Chef fame) are rekindling their successful partnership for a third iteration of the Supernatural pop-up in New York City. The first collaboration in 2019 was marked by a varied and colorful vegan menu and the event is back in 2023 with exciting new options.
"The Supernatural menu was created out of love by me and my vegan team as a collection of our favorite foods that we could eat tirelessly, every day," Coscarelli tells VegNews.
The three flavor-forward appetizers here are truffle avocado toast, hot (vegan) honey cauliflower wings, and butternut mac (a dish Coscarelli makes using every part of the squash).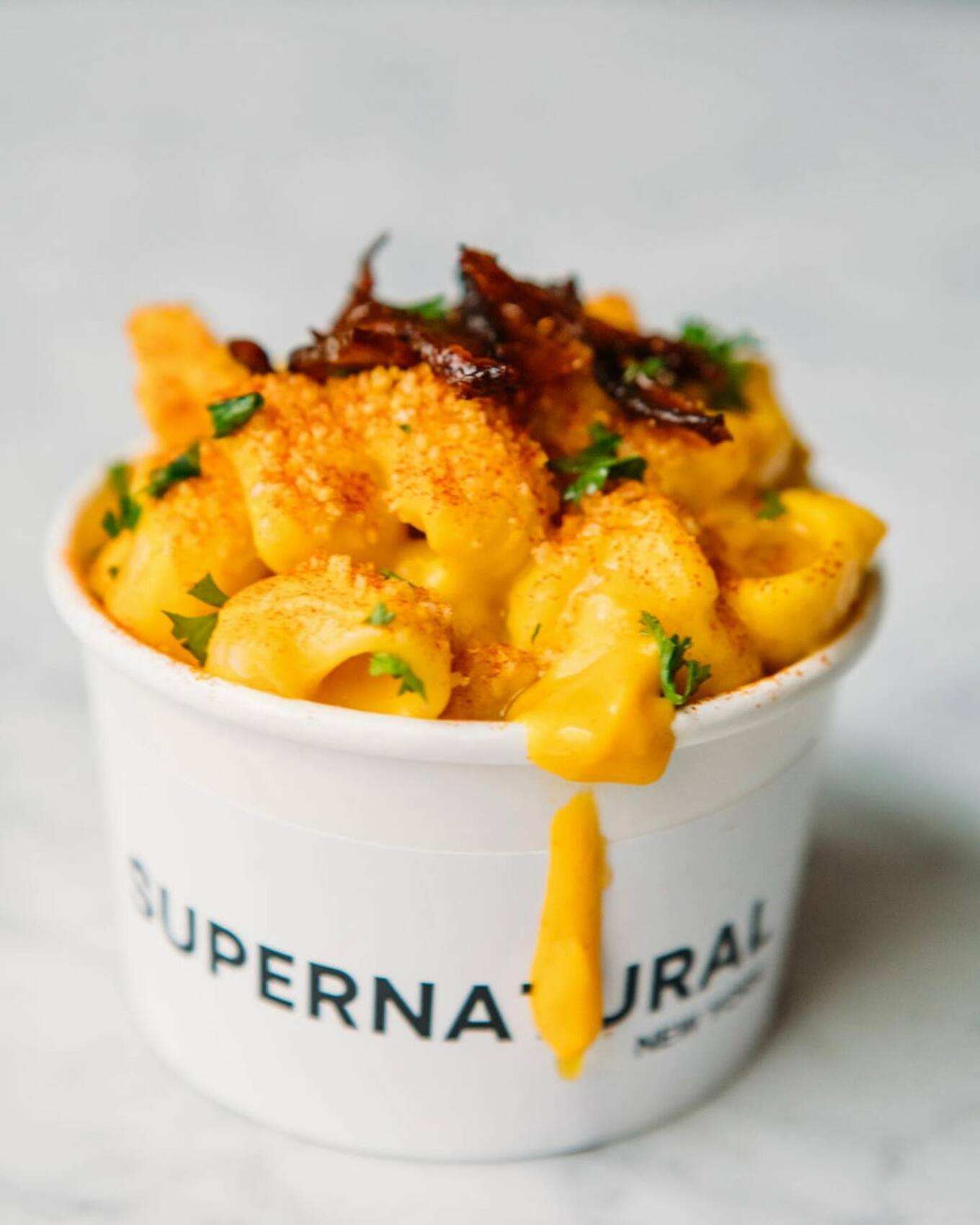 Supernatural/Sarah Van Liefde
"It's made by roasting whole butternut squash and blending the caramelized flesh with raw cashews to making a creamy, decadent cheese sauce," Coscarelli explains.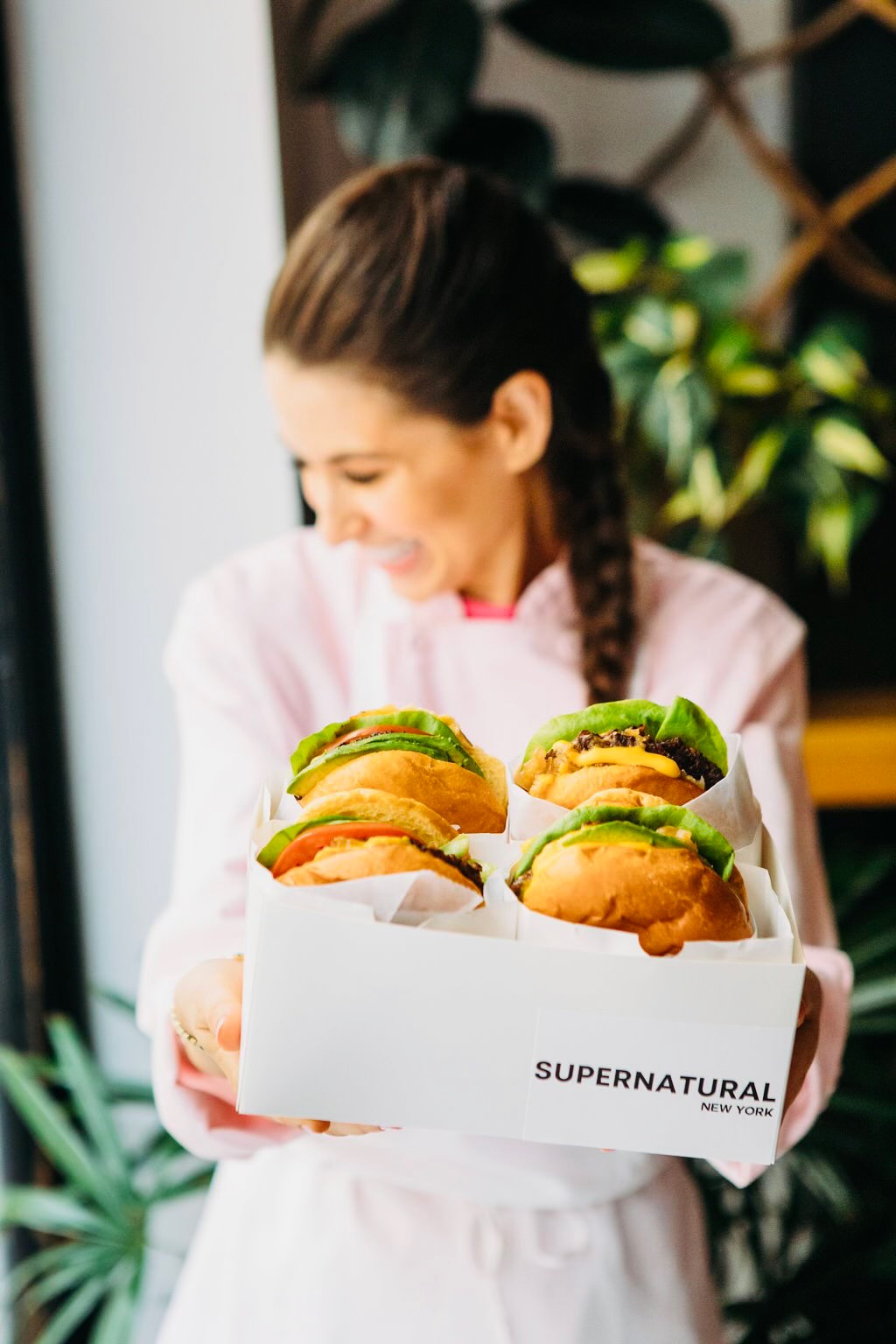 Sarah Van Liefde
Entrée options include the Supernatural burger (made with a double patty, butternut squash-based vegan cheese, grilled onions, lettuce, tomato, pickles, avocado, and spicy Calabrian chili oil, all served on a soft vegan brioche bun); the Hot Italian burger (filled with spicy Italian meatballs drenched in arrabbiata sauce and cashew-based mozzarella cheese topped with hot cherry tomato jam, basil pesto, and almond parmesan cheese).
"For over a decade, my incredible team and I have been in the kitchen together dreaming up what out-of-this-world vegan food means to us and constantly reimagining the delicious possibilities of vegetables," Coscarelli says.
There is also a Kale Salad option that features lacinato kale, romaine lettuce, cherry tomatoes, cucumber, shiitake bacon, avocado, almond parmesan, and crispy ciabatta croutons.
Desserts include several cookies, pumpkin cinnamon rolls, and tiramisu soft serve. The pièce de résistance here is Coscarelli's beautifully crafted sprinkle layer cake, an item returning from the 2019 pop-up menu.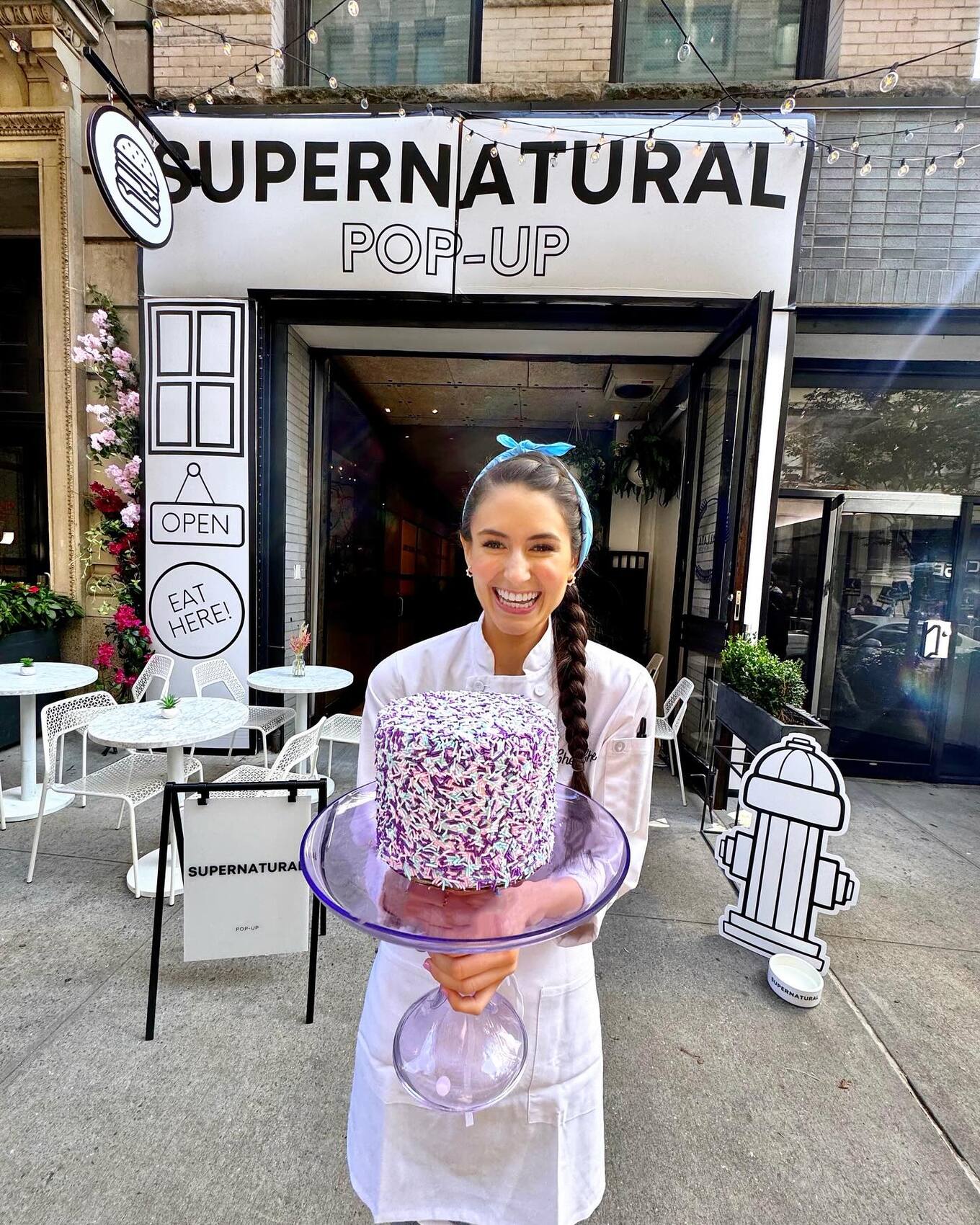 Supernatural/Sarah Van Liefde
This special dessert can be ordered as a slice or whole, which is available for pre-order in chocolate or vanilla flavors (quantities are limited) for pick-up only.
The new pop-up is open for lunch only in New York City's Flatiron neighborhood through October 1, 2023.