Vegan burger chain Neat Burger just opened its first permanent United States location in the Nolita neighborhood of New York City. Founded in 2019 in London, United Kingdom with help from world champion race car driver Lewis Hamilton, the shop serves typical fast-food fare made vegan.
After securing a strategic investment from actor and environmentalist Leonardo DiCaprio, Neat Burger embarked on its expansion to the US with key hires who will help the vegan burger chain and plant-based meat business get its foothold stateside.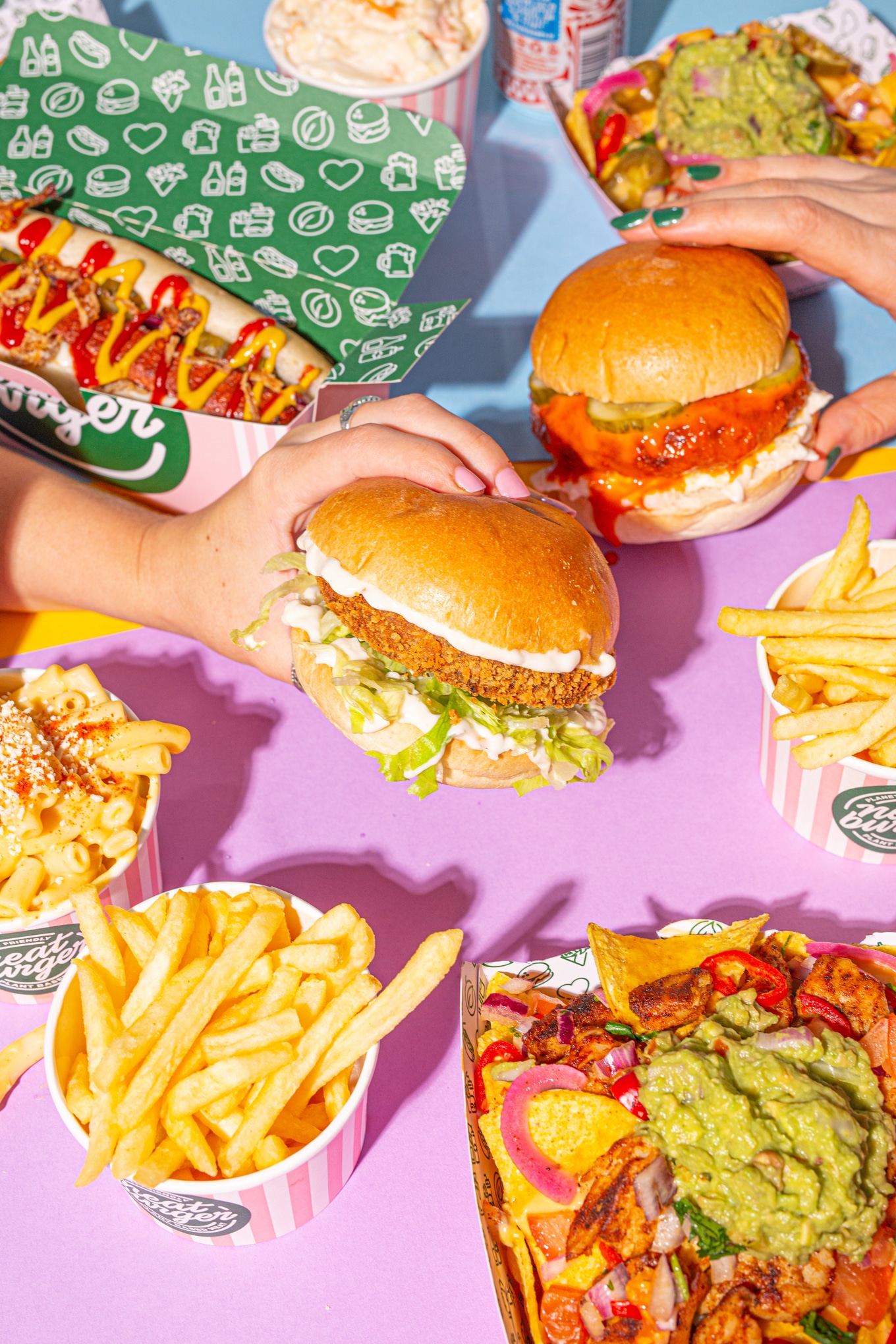 Ben Slater and Emma Pharoh
The Nolita menu includes a selection of items made popular at its UK shops, such as plant-based cheese burgers, chicken burgers, hot dogs, mac and cheese, tater tots, and milkshakes, along with kids' meals.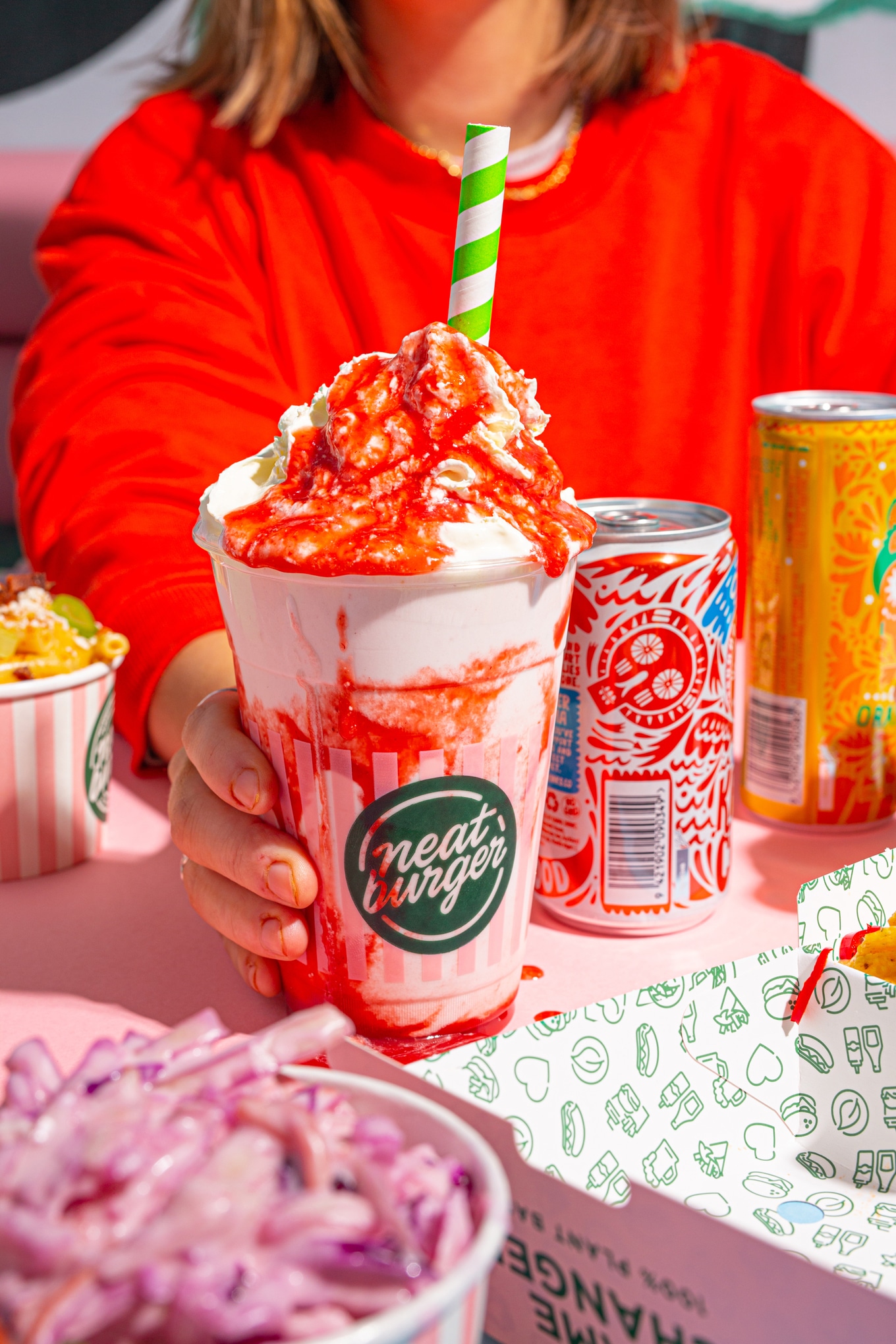 Ben Slater and Emma Pharoh
Neat Burger's first US location also pays homage to NYC and also features menu items inspired by the city's rich culinary history.
Bodega staples like chopped cheese sandwiches get the vegan spin here, and join Patty Melts and Buffalo Chick'n Tenders as NYC-only menu items.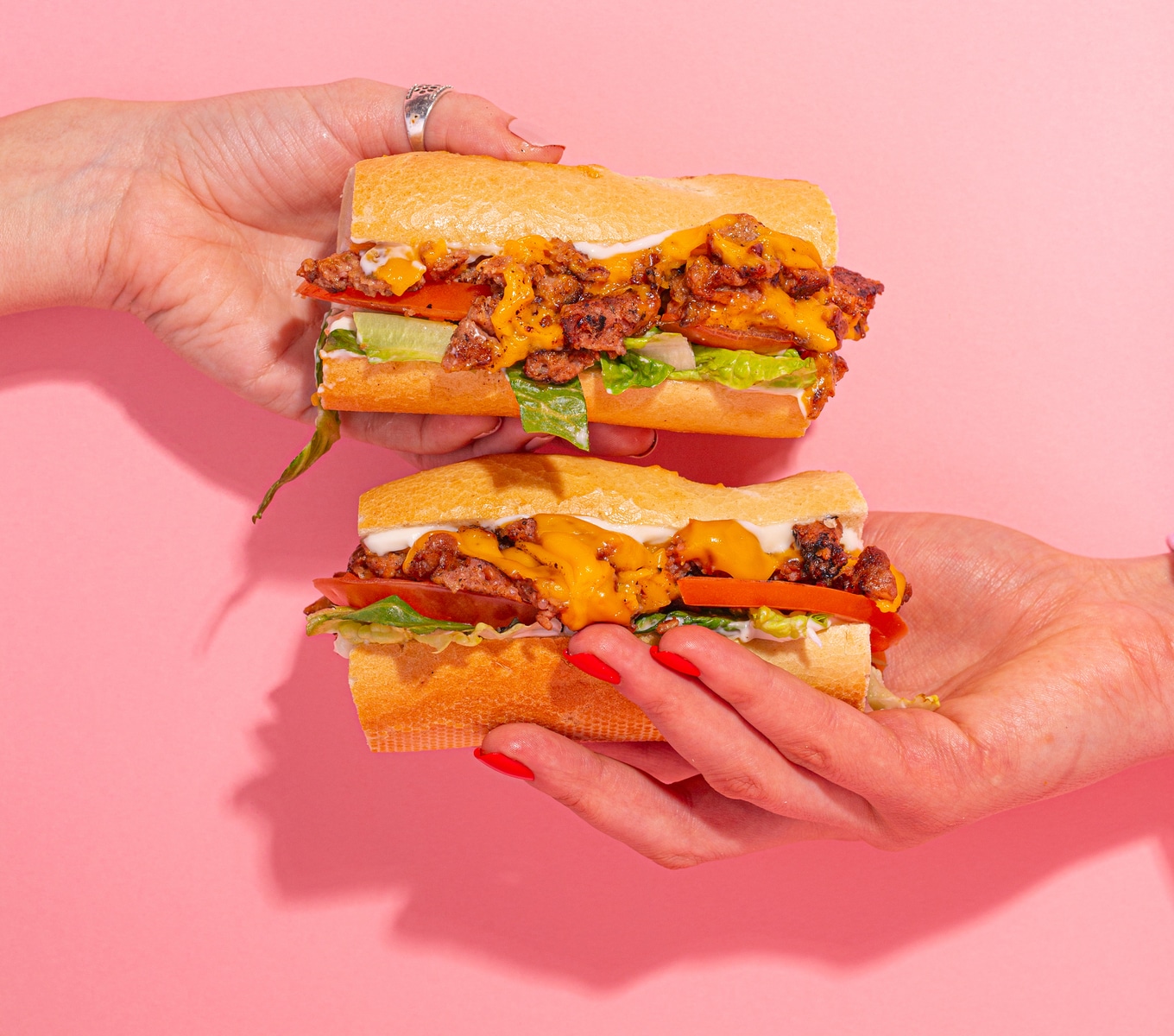 Ben Slater and Emma Pharoh
The opening of Neat Burger's new location aims to propel the brand's mission to create accessible fast food that puts the planet first. In addition to serving plant-based food, the chain uses biodegradable, compostable, and made with plastic alternatives such as cornstarch and sugar cane.
Neat Burger also wants to bridge the gap between awareness and action when it comes to the environmental and ethical consequences of consuming animals and the impact of one's diet. As such, inspiring messages are written in neon across the Nolita location's colorful walls.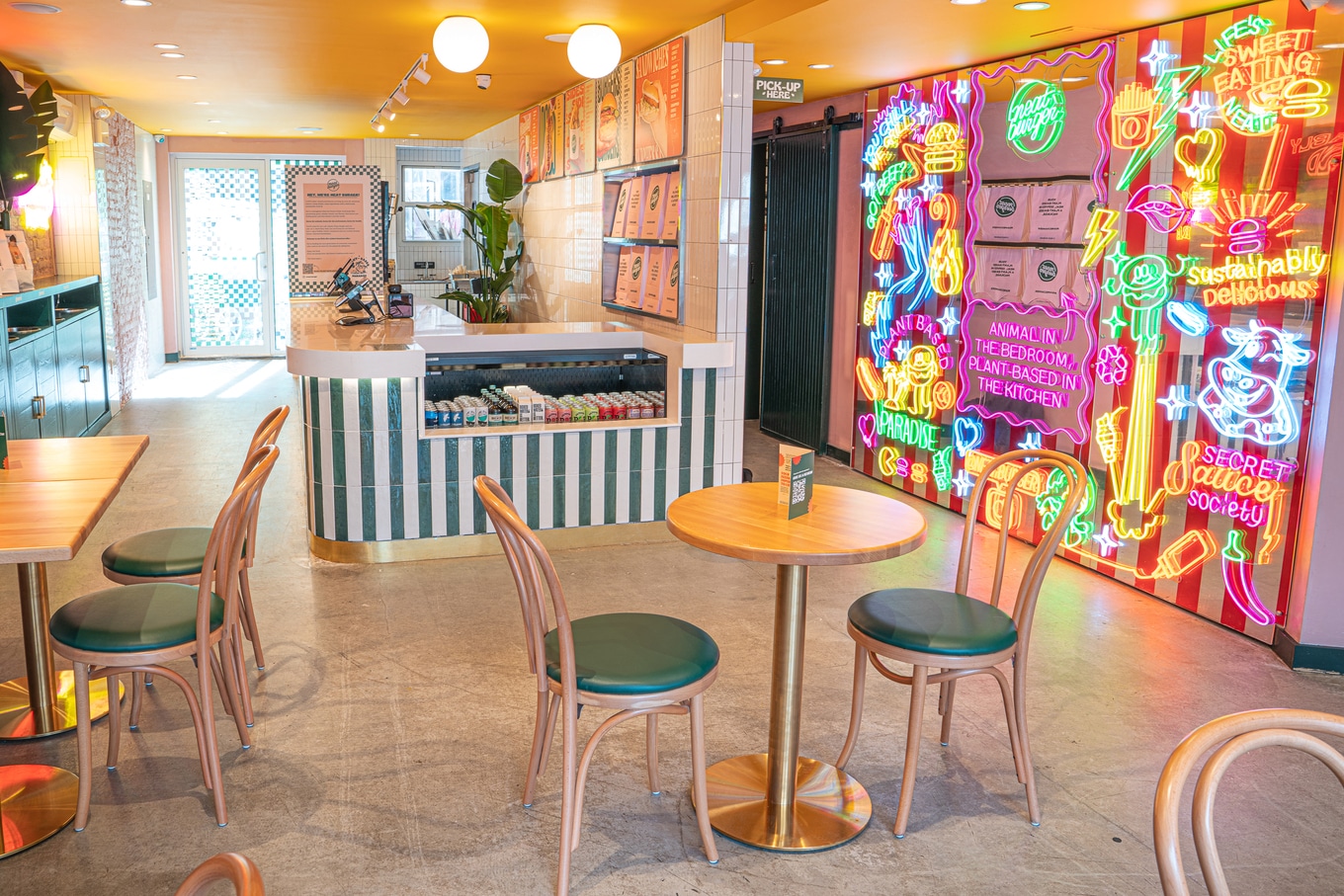 Vito Oliva
"Disrupting our food system with sustainable alternatives is one of the key ways we can make a real difference in reducing global emissions," DiCaprio said in a statement. "Neat Burger's pioneering approach to alternative proteins is a great example of the type of solutions we need moving forward."
Lewis Hamilton's vegan activism
Hamilton went vegan in 2017 and uses his immense fame to promote animal-rights and social justice issues, often taking to social media to urge fans to go vegan. Hamilton also puts his money where his mouth is by investing in vegan businesses, including The Not Company—a Chilean vegan startup that raised $235 million in funding in 2021 with help from Hamilton and musical artist Questlove.
In 2019, Hamilton's investment in Neat Burger—created in collaboration with hospitality group The Cream Group and Beyond Meat investor Tommaso Chiabara—provided the company with key funding to get it off the ground.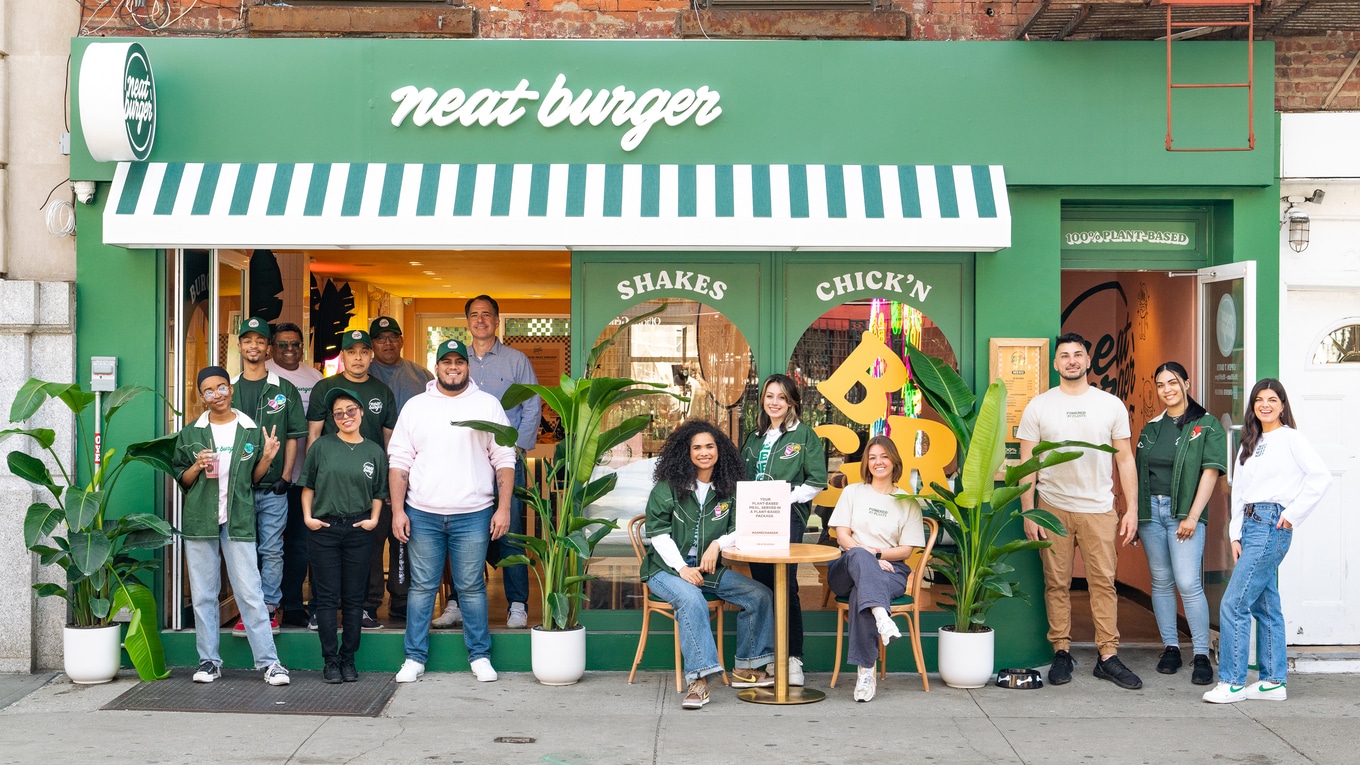 Vito Oliva
Neat Burger opened its flagship location in Central London in 2019 before expanding to second and third locations in the Camden and Soho neighborhoods, respectively. In addition to the new Nolita location, the chain now has eight locations in the UK and one in Dubai.
"The response to Neat Burger since we opened has been incredible," Hamilton said in a statement. "I'm really proud of the boundaries we have been able to push in this space and the plans for expansion are really exciting."
By 2030, Neat Burger plans to expand to 1,000 corporately owned, franchise, and dark kitchen locations. It is also working to bring next-level plant-based meat alternatives made with wholesome ingredients—such as its grain mix of quinoa, chickpea, and mung beans—to the retail sector.
Homegrown vegan burger chains
Neat Burger's expansion to the US comes at a time when homegrown vegan fast-food chains begin their own expansions to serve an increasing demand for plant-based foods—a market that a recent artificial intelligence-driven report by Tastewise estimated to be worth $74 billion by 2027.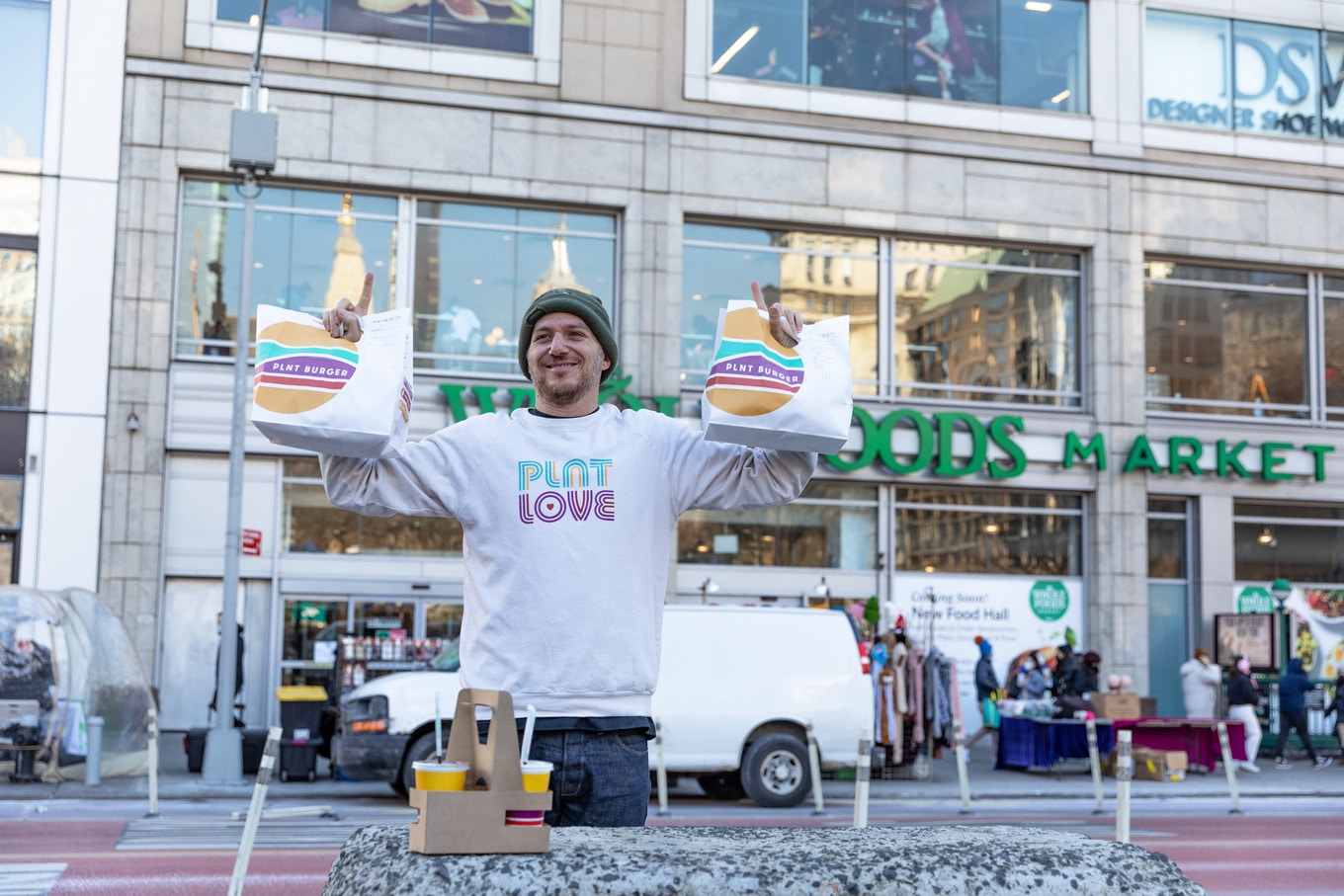 PLNT Burger
Vegan chain PLNT Burger—owned by celebrity chef Spike Mendelsohn of Top Chef fame—opened its first NYC location in the Union Square neighborhood last year before expanding to Boston. Canada's Odd Burger—the first publicly traded vegan fast-food chain—is also eyeing an NYC location with plans to operate 50 North American locations by 2029.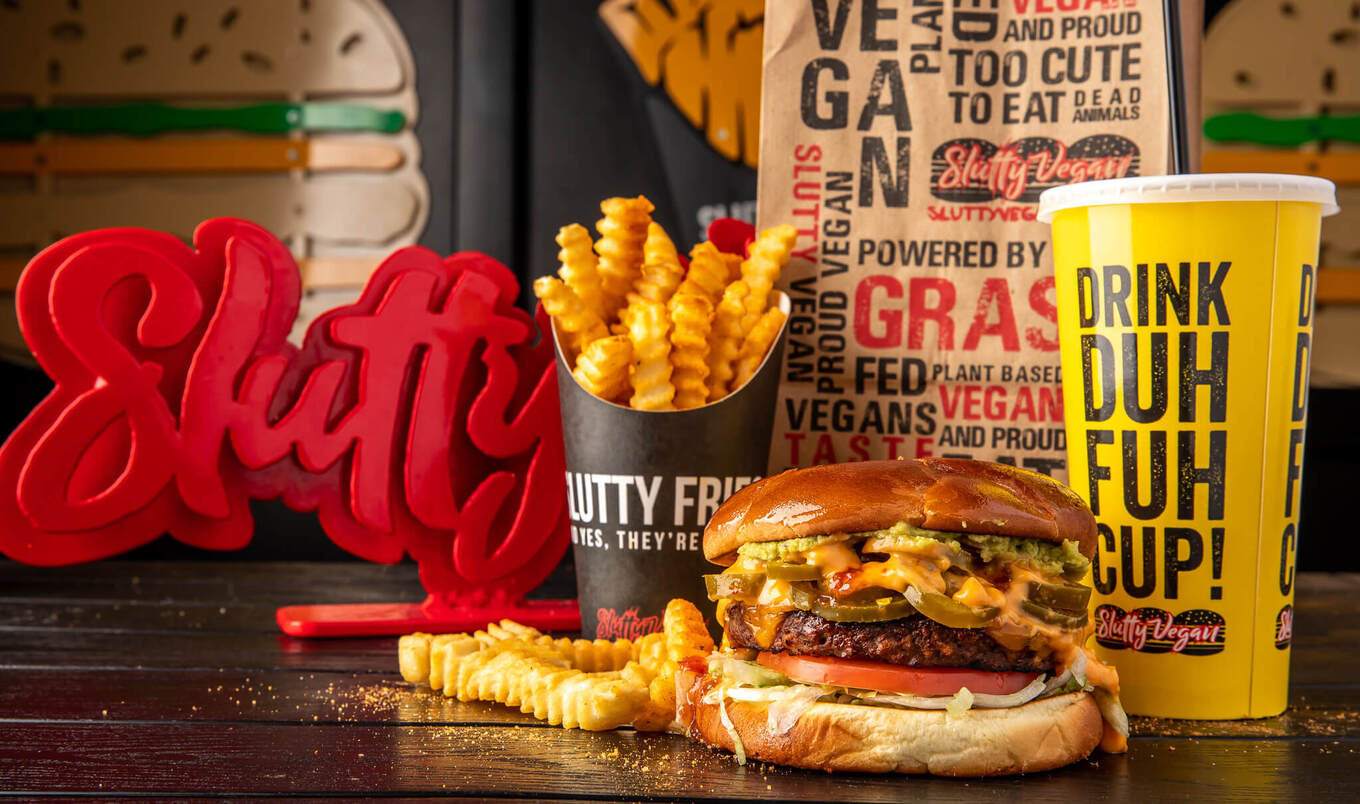 Madelynne Boykin
And Atlanta sensation Slutty Vegan is using the $25 million it raised in 2022—with help from Shake Shack's Danny Meyer—to race full speed ahead with new locations across the Eastern seaboard, including two NYC outposts (Harlem and Brooklyn), on-campus at Georgia Tech University, and a new freestanding kiosk at Truist Park, home of the Atlanta Braves.
For the latest vegan news, read: