Michelin-starred chef Dominique Crenn knows that fighting food waste is a complex issue but sometimes, simple solutions can be found by using a little bit of creativity. This was the case when Crenn was tasked by Massimo Bottura—owner of Italy's Osteria Francescana, a three-Michelin-starred restaurant—to turn stale bread, one of the world's most wasted food products, into something new.
Crenn shared her solution alongside Sat Bains, a British chef with two Michelin stars, on episode one of the second season of Why Waste?, a series presented by Fine Dining Lovers (a magazine owned by S.Pellegrino and Acqua Panna) and Bottura's food-waste nonprofit Food for Soul that explores turning would-be wasted food products into upscale dishes.
"Approximately 17 percent of food is wasted at the consumer level, while 10 percent of the world goes hungry," Bottura said in a statement. "In our kitchens, at home, we can make a significant difference, starting with simple habits that save food from waste. As chefs, you see leftovers as ingredients that have the potential to be something special. The goal of this series is to inspire you and show you how to create amazing recipes for you and your family."
"Bread is gold," Bottura says on the show. "You just have to know what to do with the bread."
What Crenn does with this bread is nothing short of genius. She creates an Italian interpretation of a mille-feuille (French layered pastry) and makes her own vegan mayonnaise using stale bread as a key ingredient.
First, she grills slices of stale bread and places them, along with a cut tomato, into a pot with soy milk to infuse it for two hours. "What's beautiful about non-dairy ingredients, they absorb the taste of what you put inside," Crenn says.
Once the soy milk mixture is infused, Crenn begins layering flavor by adding dijon mustard and then blending it together with olive oil to whip together the vegan mayonnaise, adding a bit of fresh basil and a squeeze of lemon at the end.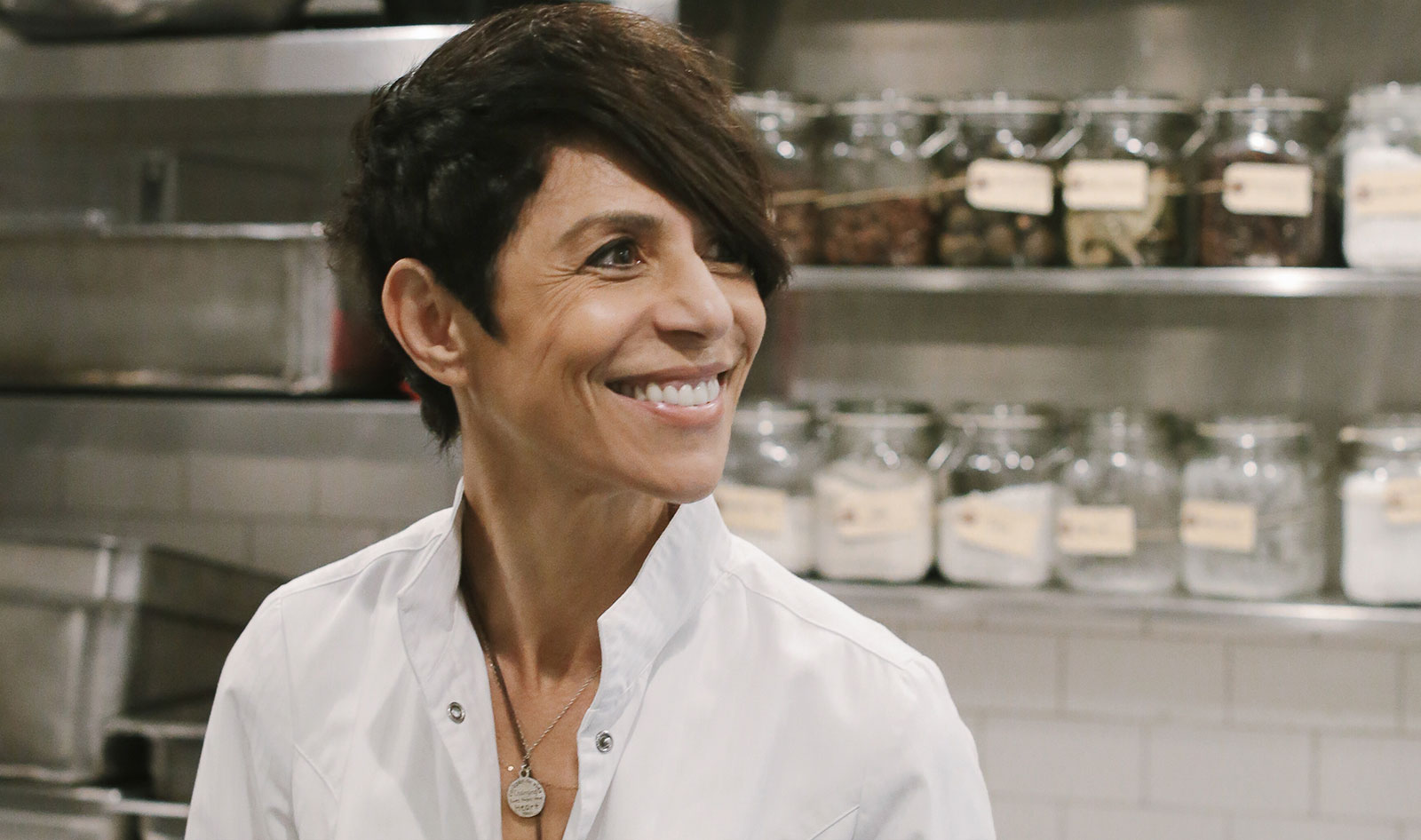 Atelier Crenn
To build the mille-feuille, Crenn takes paper-thin slices of bread that she baked into crackers and stacks them with her homemade vegan mayonnaise, poached and marinated tomatoes, and fried bread crumbs.
"Don't ever throw out your stale bread," Crenn says. "Use it and make something delicious."
Dominique Crenn's waste-free vegan dessert
On the Why Waste? series, Batturo tasked other chefs to come up with food waste solutions, and many looked to animal products such as dairy—which carries a large environmental footprint—to complement would-be-wasted ingredients.
However, Crenn was more interested in exploring the vegan route. On a different episode of Why Waste?, Crenn was tasked with creating something delicious from overripe fruit—which are often wasted due to mostly cosmetic reasons.
"No one should ever waste overripe fruit," Crenn says. "Leftover fruit is the opportunity to do something else amazing with it."
Here, Crenn shared another vegan recipe, a smoothie in which she uses peaches from her farm blended together with almond milk she infused with lemon verbena, agave syrup, and coconut whipped cream.
But this isn't just another vegan smoothie. Crenn takes the recipe to the next level by using liquid nitrogen to freeze the smoothie, transforming it into a beautiful waste-free dessert.
"Food has always been the core of society," Crenn says. "Everything we do with food needs to be taken care of."
Chef Dominique Crenn tackles sustainability
Born in France, Crenn holds the unique accolade of being the first woman in the United States to be awarded three Michelin stars for her San Francisco restaurant Atelier Crenn. The chef has used her status in the culinary world to advance the conversation around sustainability in fine dining.
As such, in 2018, Crenn lowered the carbon footprint of her Crenn Dining Group (which includes Atelier Crenn, adjacent Bar Crenn, and sister San Francisco restaurant Petit Crenn) by taking all land animals off the menu.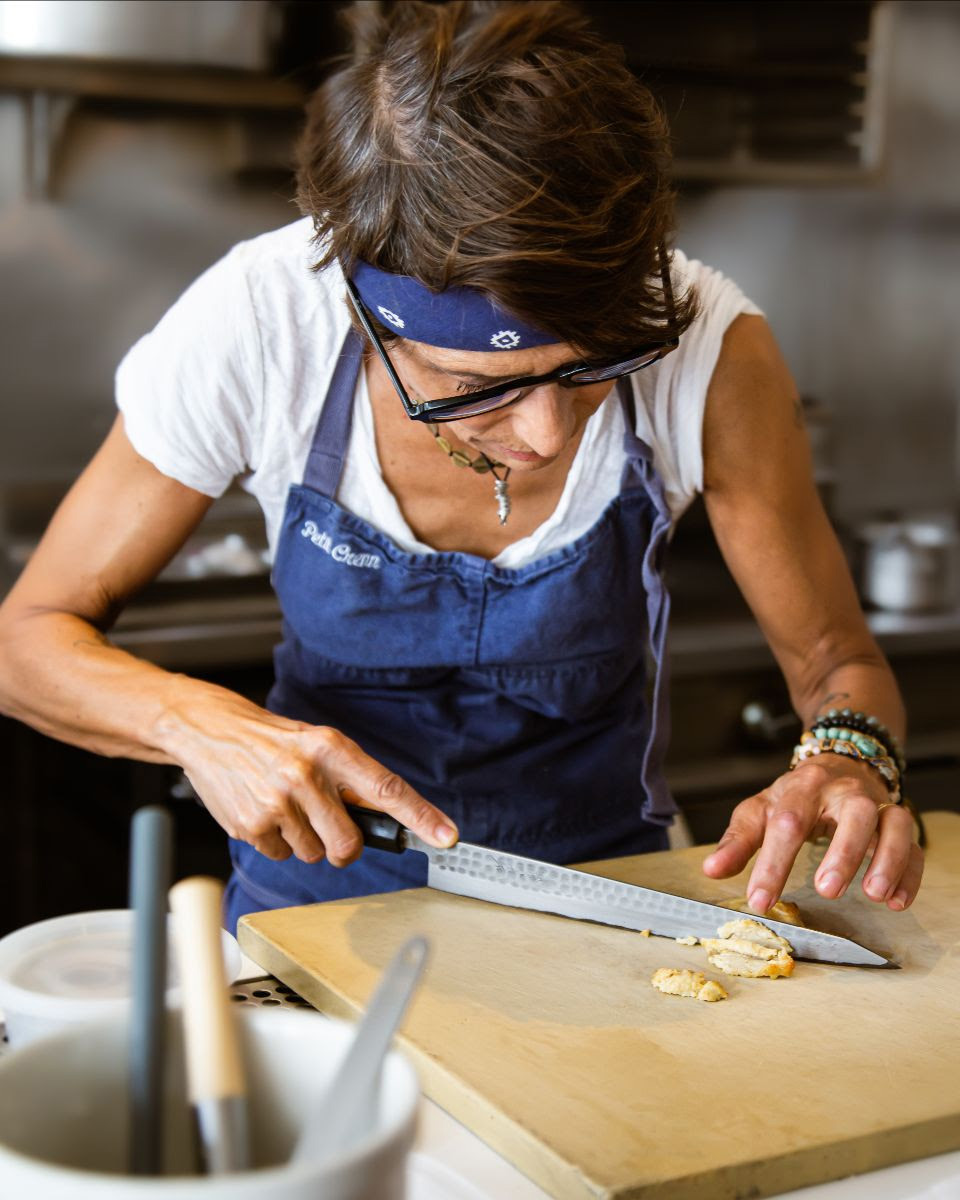 UPSIDE Foods
And the only way Crenn will ever put chicken, duck, or beef on the menu is if that meat is made a different way. Last year, the chef partnered with UPSIDE Foods, a Bay Area cultivated meat company working to make animal agriculture obsolete by changing the way meat is produced. Through this partnership, Crenn will provide culinary counsel and recipe development for UPSIDE and, following regulatory review, the chef will also serve UPSIDE's cultivated chicken at Atelier Crenn.
Currently, Crenn is working on a new restaurant, La Madrina, at The Sundry Las Vegas, a food hall slated to open next year on the strip. While VegNews has confirmed that La Madrina will not be fully vegan, the chef's taco-centric eatery will feature a plant-forward menu along with a large selection of tequila and mezcal.
For the latest vegan news, read: