Sir Elton John has been sharing his musical talents with the world since the 1960s and the mega star is leaving a few sprinkles of magic along the way as he performs his last world tour, Farewell Yellow Brick Road.
Ahead of his final North American show, the Rocket Man collaborated with vegan chain Monty's Good Burger on a limited-edition meal that features a colorful assortment of items that speak to John's personal style.
"Monty's Good Burger was founded by a team of music lovers with backgrounds in the music industry so when we heard that Elton John was performing in Los Angeles during his Farewell tour, we wanted to honor and celebrate the legend while he's in LA," Monty's Good Burger Co-founder Nic Adler tells VegNews. "Since collaborations are built in our DNA it only felt natural to create the Monty's Loves Elton Meal that is as colorful, special, and iconic as he is."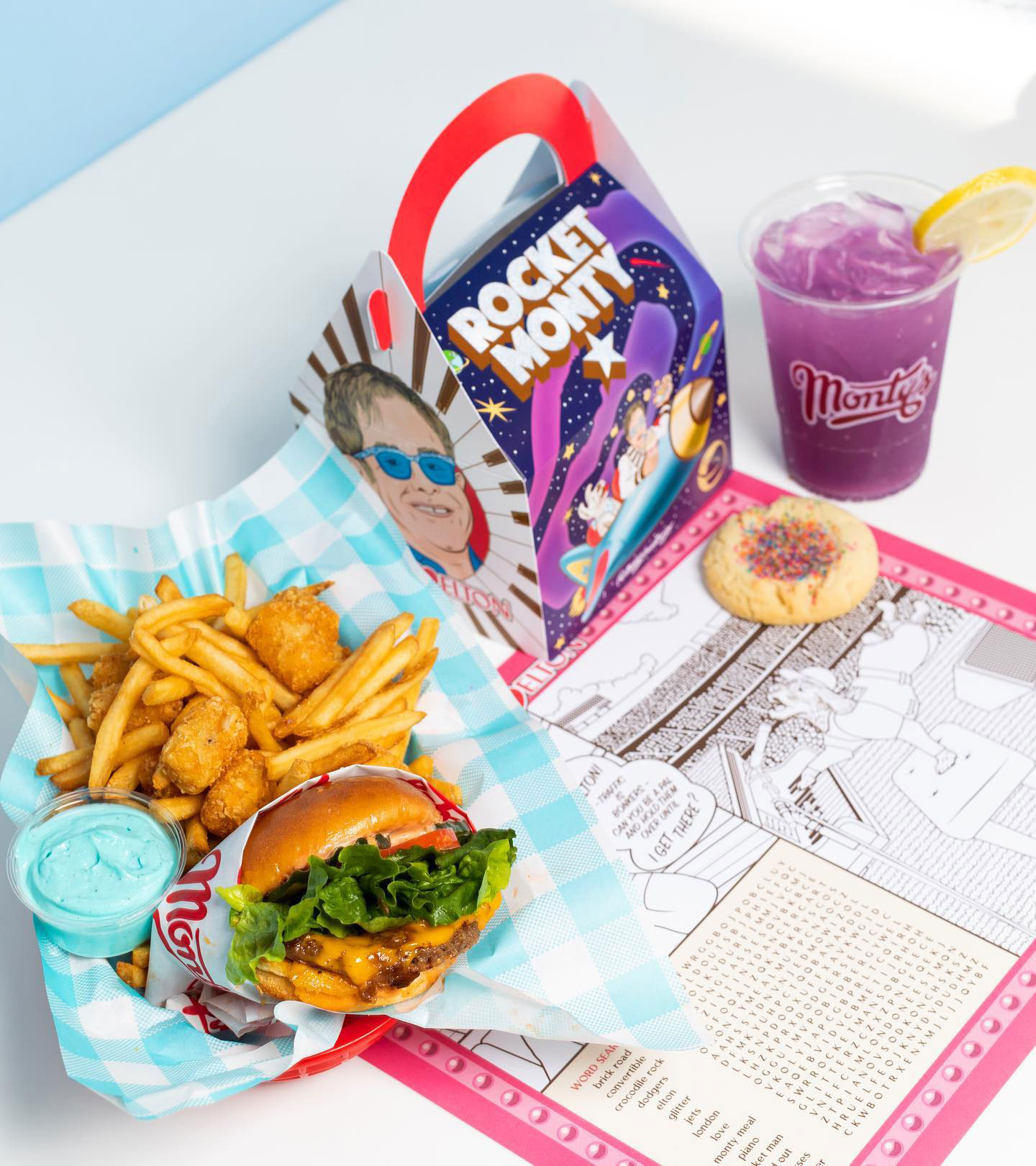 Monty's Good Burger
The Monty's Loves Elton vegan meal consists of a single cheeseburger, an order of 50/50 fries and tots, Baby Blue Ranch Dipping Sauce, Tiny Dancer Pink Lemonade with sprinkles, and a mini Rainbow Rock Sugar Cookie.
The collaboration also features an out-of-this-world milkshake to celebrate John's eclectic and influential style. The Glitter Glasses Shake features an English toffee milkshake made from vanilla Oatly soft serve that comes topped with edible glitter. "Everyone at Monty's is all so familiar with Sir Elton's work, so when the opportunity presented itself, we were immediately flooded with ideas," Monty's Good Burger Co-founder Lexie Jiaras tells VegNews. "We are so lucky Elton's team loved the directions we presented, which allowed the collaboration items to come together very naturally."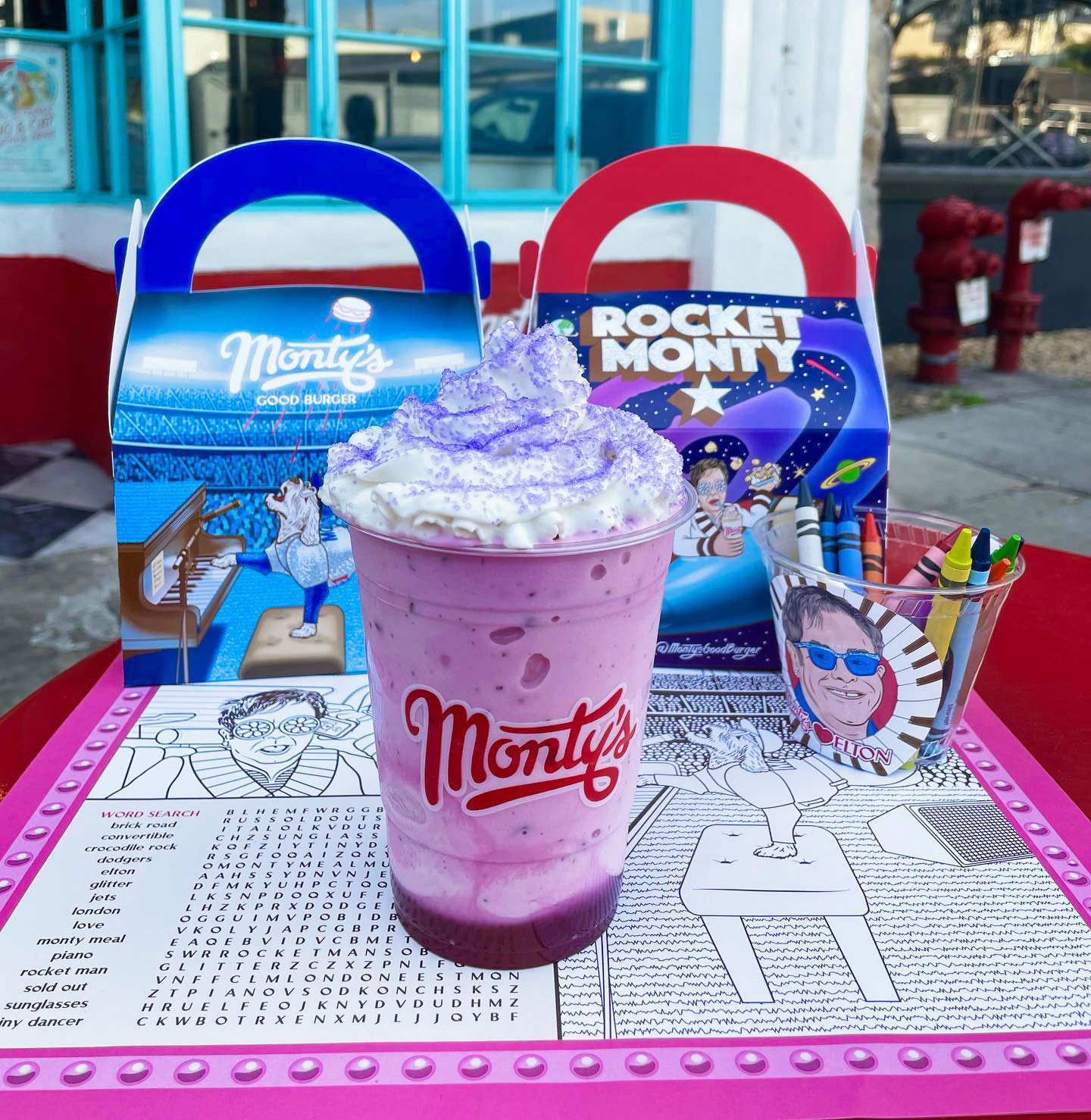 Monty's Good Burger
The combo meal ($24.99) and shake ($9.00) are available for a limited time at Monty's Good Burger locations while supplies last.
Elton John loves Los Angeles and vegan burgers
John has a special place for Los Angeles in his heart as it is the first place he performed in the United States when he rocked West Hollywood nightclub The Troubadour in 1970.
He first performed at the Dodger's Stadium during two sold-out shows in 1975 and will return there on November 17, 19, and 20 to close out the North American leg of his final tour.
John chose Los Angeles for his final North American tour date to commemorate that show but also because the city itself served as inspiration for him and longtime collaborator Bernie Taupin to create the music,
"To feel the energy from the best fans, not only in Dodger Stadium again, but this time around the world from those watching live at home, will be truly extra special for me. I'm thrilled to celebrate this momentous evening globally," John said in a statement. "I hope everyone feels the power and joy of performing on a stage as iconic as Dodger's. Just like I did almost 50 years ago."
To commemorate his last days in Los Angeles, John created a scavenger hunt around the city that directs fans to special places, including The Troubadour, Book Soup Bookstore, Amoeba Music, and Monty's Good Burger where his vegan collaboration can be found.
And if hunger strikes at the show at Dodger's stadium, fear not because the venue offers an Official Plant-Based Dodger Dog at its concessions made in partnership with vegan brand Field Roast Grain Co.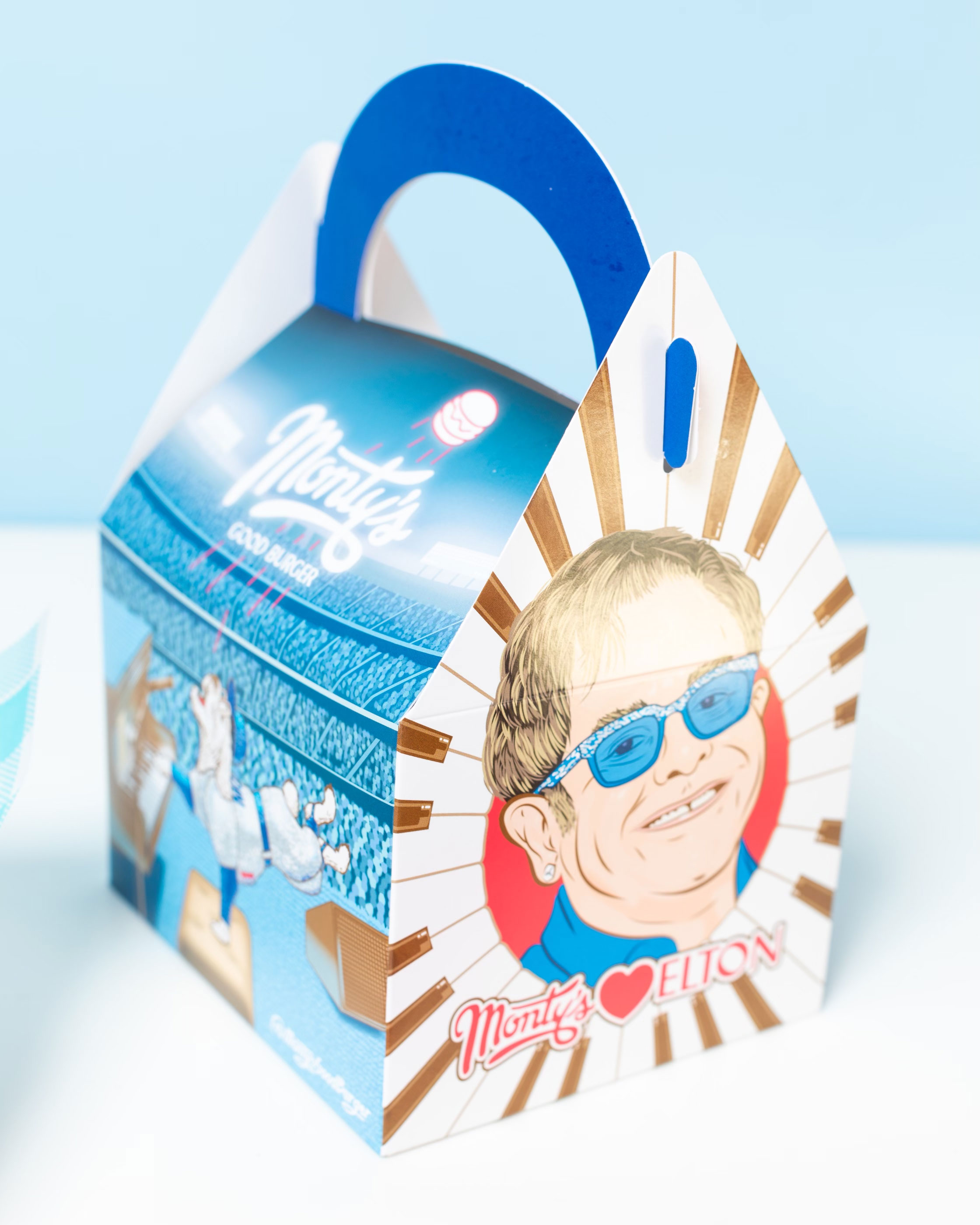 Monty's Good Burger
In addition to Monty's Good Burgers, John collaborated with other businesses during his final tour, including vegan condiment brand Marmite. Together, John and Marmite created a limited-edition rainbow-wrapped jar to support the life-saving work of the Elton John AIDS Foundation.
Celebrities love Monty's Good Burger
Since opening its first location in 2018, Monty's has become a favorite among celebrities, and the vegan chain—which now operates five locations across Los Angeles—often partners with its famous clientele on exciting menu items that help spread the good word.
Rapper Vince Staples helped the chain promote a milkshake in 2019, proceeds of which supported the work of Monty & Friends Adoption Fund, which hosts weekly companion animal adoption events. Last year, Monty's worked with musical group Brockhampton to create two glittery vegan milkshakes to commemorate its new album Roadrunner: New Light, New Machine.
Longtime vegan and Blink-182 drummer Travis Barker and his wife Kourtney Kardashian Barker are also super fans of Monty's. Through her Poosh wellness platform, Kardashian Barker recently shared their favorite food places in LA, and Monty's was a prominent fixture on the list.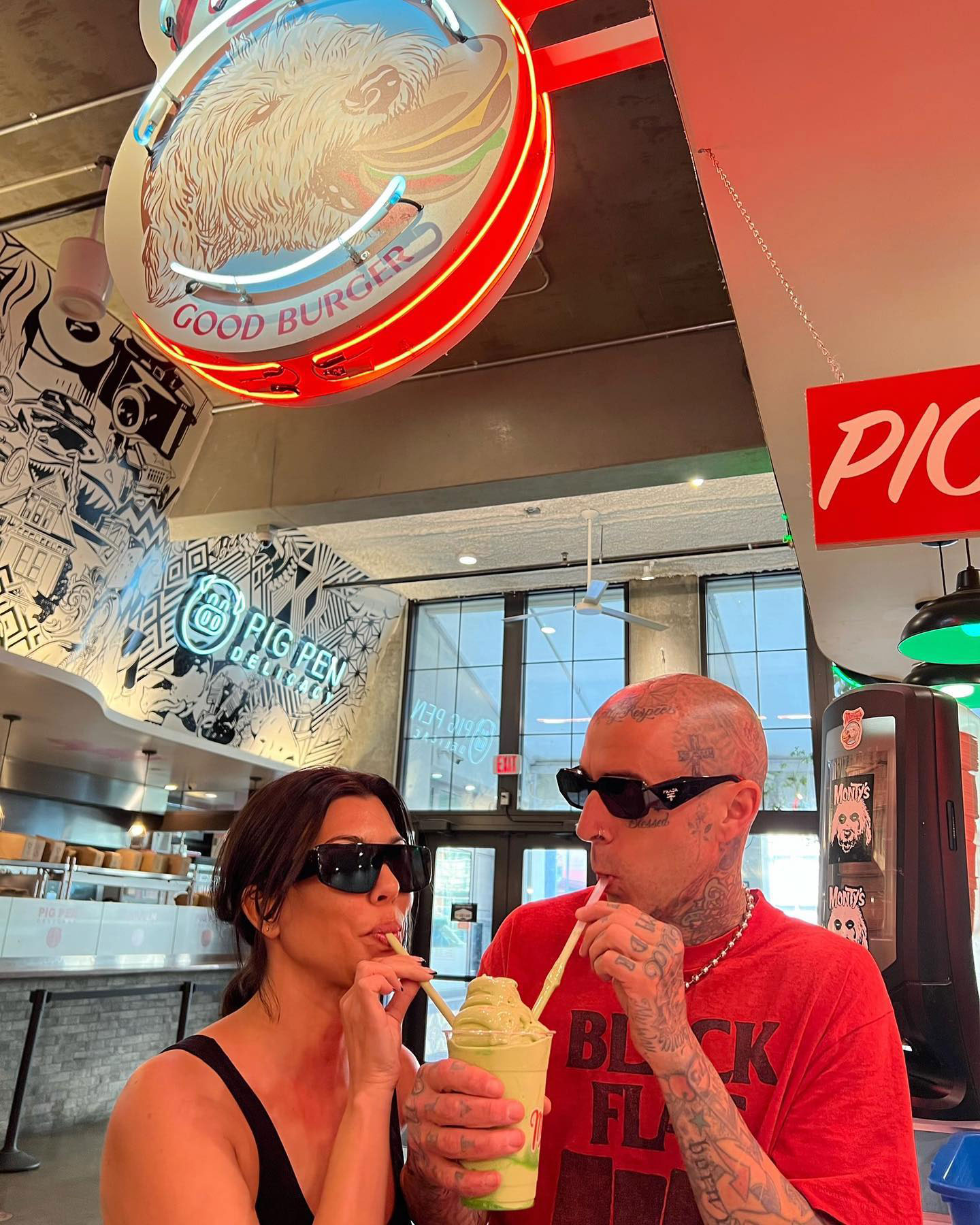 Monty's Good Burger
Here, the duo loves to order vegan chicken sandwiches—which are made with Daring Plant Chicken, a brand the couple has worked with on several campaigns—along with a special beverage. Created in partnership with Barker, the Travis Oat Matcha Latte Shake first hit Monty's menu as a limited-edition item but the chain kept it on as a permanent addition after it proved popular.
And what do you think Joaquin Phoenix did after his historic, animal rights-themed Oscar acceptance speech in 2020? The award-winning actor and partner Rooney Mara skipped all the meat-serving industry after parties and went straight to Monty's to celebrate with a proper vegan burger.
For the latest vegan news, read: