On October 14, grills sizzled, buns were toasted, and chefs sweated profusely over their precious, meaty creations—all to please a panel of meticulous burger connoisseurs. The hoopla was one of the most anticipated events of the annual New York City Wine and Food Festival. Food Network star and daytime television host Rachael Ray hosted the festival's iconic Burger Bash, which had returned after a dormant pandemic year. The same cutthroat competition was revived but with a more modern take on what a burger could be. For the first time in the legendary Burger Bash history, a vegan burger was granted entry to compete. Chef and restaurateur Spike Mendelsohn of Top Chef fame came in blazing hot with the PLNT Burger's signature Mushroom BBQ Bacon Burger fully intending to scorch the competition. How did Mendelsohn and his vegan burger fare? Keep reading to see how this sandwich slam went down.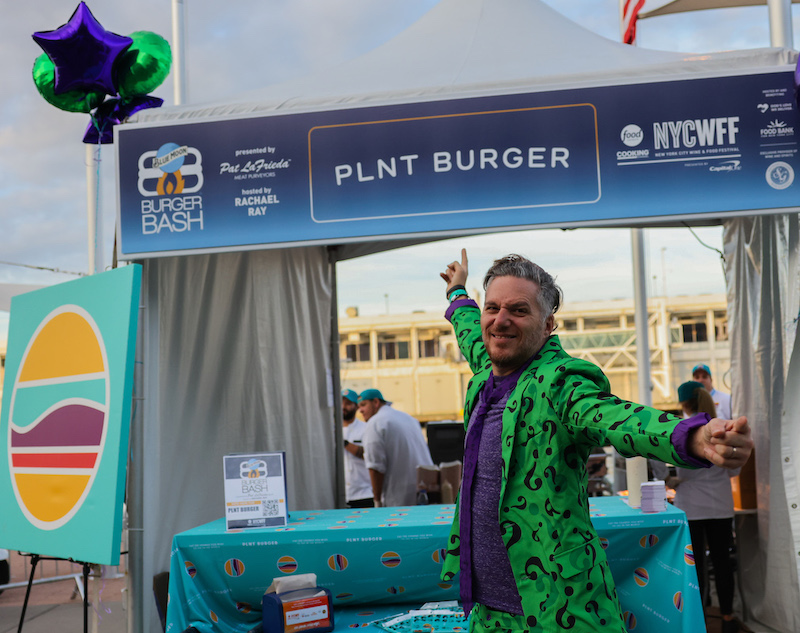 Sara Kenigsberg
Standing up to beef
"Because we did not use Pat LaFrieda beef, unfortunately, we weren't able to participate in the top prize judging, but I think we were neck and neck for the People's Choice Award!"
— Spike Mendelsohn
Vegan meat is no longer niche—it's available everywhere from fast-food chains to gastro-pubs alike. Despite this public acceptance, this particular burger competition is staunchly focused on animal-based patties. No doubt, the sponsor is to blame. The event is presented every year by Pat LaFrieda Meats, and contestants are required to feature its beef in their handheld creations. "Because we did not use Pat LaFrieda beef, unfortunately, we weren't able to participate in the top prize judging, but I think we were neck and neck for the People's Choice Award!" Spike Mendelsohn explained.
While allowed to compete, the essence of the plant-based patty barred it from winning—a meaningless technicality we hope is removed from future competitions. Despite this disadvantage, Mendelsohn competed like a champ. In addition to the celebrity panel of judges (Josh Capon, CJ Mosley, Tyler Blevins, Neil Patrick Harris, and David Burtka), the burger also had to impress hundreds of Burger Bash ticket-holders.
"We got great feedback and ran out about 20 minutes before the end of the event. I think people loved seeing a plant-based burger that could stand up next to some of the top burger restaurants in the country!" the chef remarked.
Unphased by the near-win, Mendelsohn enthusiastically affirmed that he's up for competing in other non-vegan events to show off the power of plant-based cuisine.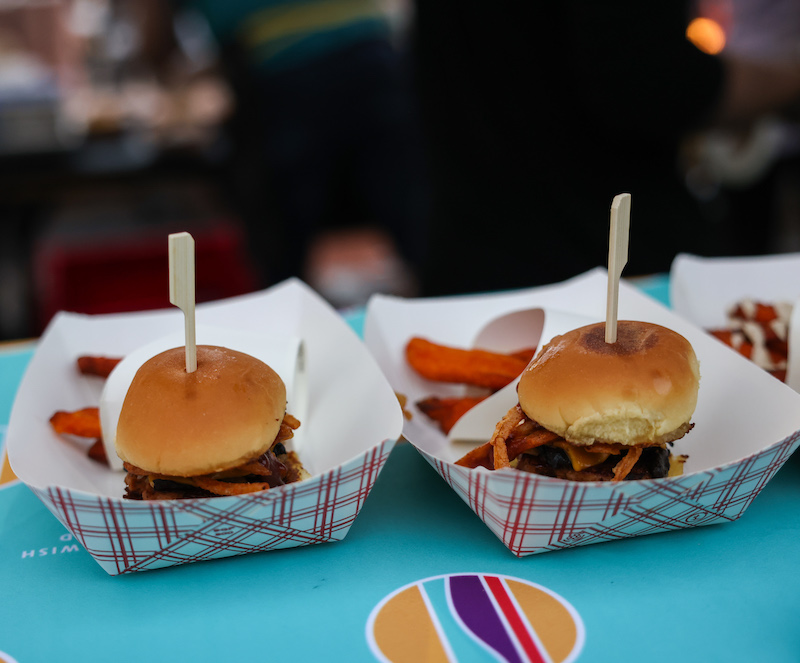 Sara Kenigsberg
What makes a great burger
Mendelsohn's PLNT Burger menu showcases a handful of seriously stacked sandwiches to choose from, but the Mushroom BBQ Bacon Burger was the obvious choice for the restaurateur. "I have been serving up some version of a barbecue burger for over 20 years. It is a classic flavor profile and always a top seller on our menus … This burger always hits the spot!" Mendelsohn claimed.
This particular PLNT patty (made with Beyond Meat) is dressed up with crispy portabello mushroom bacon, Follow Your Heart cheddar, crispy onions, and scratch-made smokehouse barbecue sauce. Mendelsohn explained his reasoning to go with the Beyond Meat burger in lieu of a competitor or attempting his own. "When I tasted Beyond Meat and saw the maillard reaction the patty had when we seared it on our flat top, I knew I had found our patty of choice."
This maillard reaction (a series of chemical reactions that occur in the browning of food, typically meat) is key for the Top Chef star—without it, a burger is lacking. Mendelsohn gave us the run-down of what the perfect burger should be. "For me, the essential burger is about the eatability. It's gotta have a seared crust, some umami sweetness, a toasted bun, melted cheese, and a bright, fresh sauce."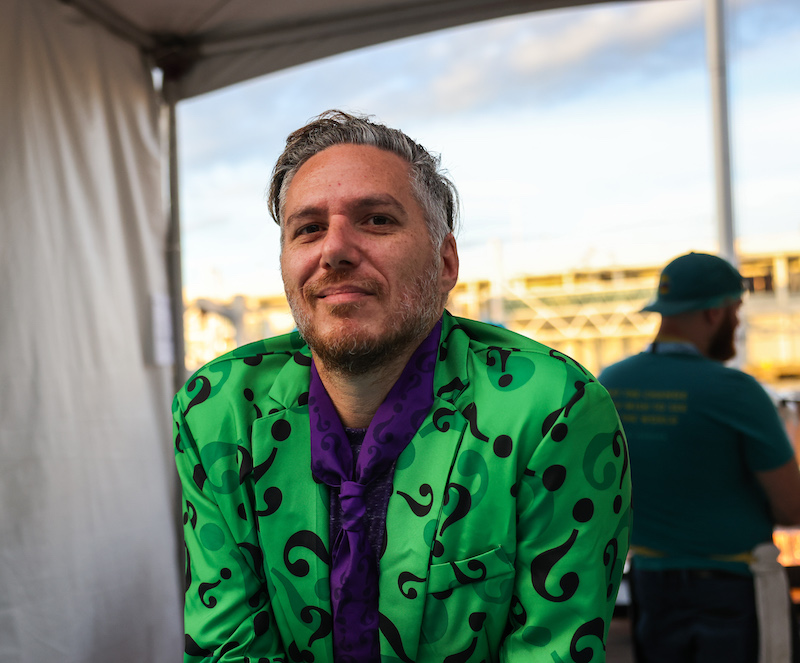 Sara Kenigsberg
Non-vegan chefs making vegan food
PLNT Burger is not the only restaurant chain under Mendelsohn's name—it is the exclusively plant-based option, though. While he embraces the move toward vegan eating, he still serves meat, dairy, and eggs in his other concepts. Why lean into plant-based at all? He did it for love.
"I created PLNT Burger because I wanted my wife—Cody, who is vegan—to be able to enjoy a delicious and meaty burger that actually tastes good … [There's also] my concern for sustainability and the future of this planet for my son, Ace, and my genuine curiosity for new ingredients."
Mendelsohn is focused on pushing plant-based cuisine forward through the expansion of PLNT Burger. The chain currently boasts nine locations (all inside of Whole Foods Markets) with another in New York City's Union Square coming later this year. His fast-casual pizza chain, We the Pizza, also features a vegan-friendly pie.
He's invested in vegan cuisine and certain that it isn't a passing trend. In addition to PLNT Burger, Mendelsohn worked with Beyond Meat board member Seth Goldman to create Eat the Change—a vegan mushroom jerky brand.
"There is no question the plant-based foods space is blowing up and here to stay. We were really fortunate to be able to break in, so to speak, to Rachael's Burger Bash as the first plant-based burger entrant. We've seen how mainstream veganism is becoming—just look at the [VegNews] announcement of the new McPlant Burger by McDonald's. If that doesn't prove plants are here to stay, nothing does!" Mendelsohn stated.
For more vegan burger goodness, read: Jack in the Box Tests First Plant-Based Beef Burgers in Phoenix
The Meatless McDonald's McPlant Burger Is Finally Coming to America
Best Thing I Ever Ate Show Features Vegan Burger