China loves its pork. More than 65 percent of meat consumed in the mainland comes from pigs, which means getting Chinese to give it up to help stave off a growing climate catastrophe isn't going to be easy. But Hong Kong innovator and activist David Yeung is up for the challenge. His secret weapon? A game-changing vegan pork designed specifically for Asian tastes and preparations. And now, the impossible is happening: it's flying off shelves.
A little over a year ago, a young social entrepreneur embarked on a mission to create an "Apple store of food." Enter Green Common—a robust chain of fully plant-based concept shops throughout Hong Kong that David Yeung, co-founder of social enterprise Green Monday Group, describes as a one-stop-shop experience redefining what the future of food is all about. If that sounds like a Herculean goal, you haven't met the unflappable creator behind it. Yeung's Green Monday Group also owns food-tech company OmniFoods, which produces protein-packed meat analogues—more recently, a plant-based pork product called OmniPork, specifically targeting Asian palates. Yeung's Hong Kong Chinese identity, his home base (smack dab in the middle of the bustling metropolis), and his unwavering allegiance to respecting local cuisine have all resulted in deep consumer trust by his rapidly expanding customer base. Yeung made waves when he introduced the Beyond Burger to Hong Kong five years ago, and the wildly popular reception was all he needed to elevate his commitment to using food as the key ingredient in addressing climate ravage. Green Monday has since gone on to make huge strides in the green market, boasting a noble mission that reflects Yeung's very own: tackle the climate crisis and global food insecurity, and promote public health—all through plant-based advocacy. His determination to mainstream vegan food goes unrivaled. And the world-changing potential of his work is palpable, as the ripples he's created in the past decade have already been felt worldwide.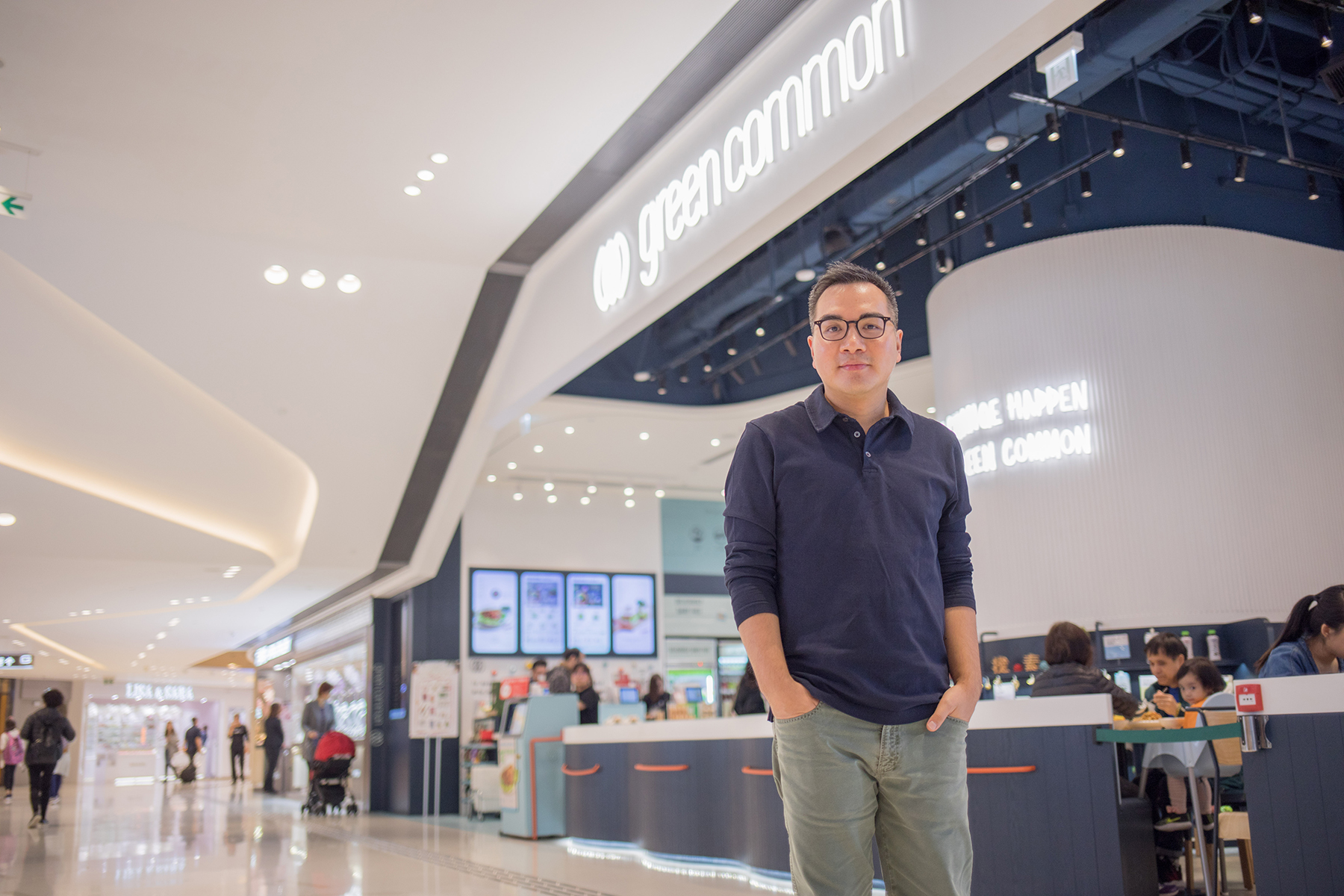 David Yeung/Green Common
For Earth Day 2021, OmniPork partnered with 10 California and Hawaii restaurants and popups to debut the product in the US, bringing OmniPork spins on Spam musubi, porky ramen, and Filipinx lumpia to the masses for the first time ever. Soon, OmniPork landed at hundreds of Whole Foods Markets and Sprouts Farmers Markets across the nation, and now, even McDonald's is in on the action, serving the very first plant-based meat option for the fast-food giant in three cities in China, all thanks to Yeung's innovation. When he's not busy revolutionizing, Yeung is a family man—but even that is not entirely separate from his day job. Motivated by the climate catastrophe plaguing disenfranchised communities around the world, it is his two daughters—and their change-making generation— that keeps him focused and hopeful. VegNews editor Jasmin Singer caught up with Yeung to discuss plant-based pork, social change strategy, and the race against time.
VEGNEWS: You went vegetarian overnight, 21 years ago—and shortly thereafter, fully vegan. What was that like?
DAVID YEUNG: When my mom took me to meat markets in Hong Kong and I witnessed the butchers and the seafood stalls, it was a traumatic experience for me. I remember in my early teenage days, maybe at age 13, we were cooking crab and lobster at home. I asked, "Were they still alive before we boiled them?" The answer was yes. They were tied, so they couldn't move, but they were alive. At that moment, I told my mom, "No, I'm not eating them anymore." I had those kinds of intermediate moments that guided me to a green space by the time I was an adult. I decided eating meat was not my thing anymore, so I turned vegetarian. I just chose a date. Because it was so near year-end, I said I would just start this new chapter on a new date, and it was Chinese New Year in 2001. I haven't looked back since.
VN: Flash forward two decades, and your early instincts to stop eating animals helped create Green Common. What originally sparked the idea?
DY: When I was a kid, going to the supermarket became a chore—you got the things you needed, and then you left. But when I walked into Whole Foods many years ago, it almost felt like a health food museum. Of course, Whole Foods contains meat and seafood. But from an organic and health-food-lover standpoint, I could spend hours at Whole Foods reading the labels or learning about new brands. That kind of planted the seed, and I thought, "How come other supermarkets in the world are not like that?" Especially not in Asia. Such health-oriented grocery supermarkets did not exist. Green Common is not exactly Whole Foods. Our footprint is nowhere close, but it really is about creating that vibe and that trust—I think that's the keyword, trust. When you walk into Green Common, and you want to try something green and healthy, you know you're in a safe place.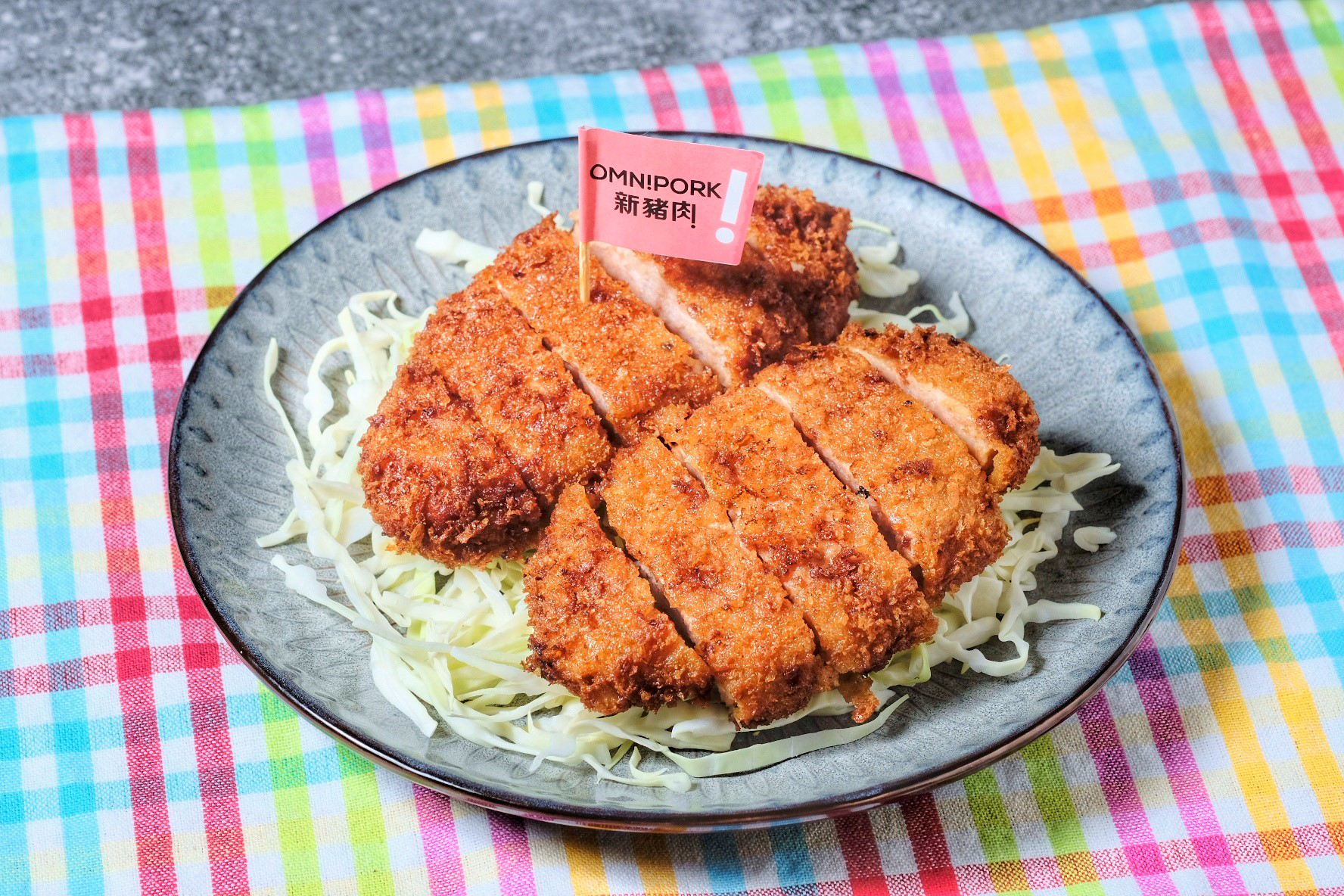 OmniFoods
VN: OmniPork has been a groundbreaking product. Why did you focus on vegan pork?
DY: When it comes to meat, in mainland China, 65 percent of meat or animal protein is pork. Pork dominates the meat scene. Beef was a very tiny part of the Chinese diet until fast food and Western influence. Pork was and still is dominating plates in terms of protein. With my understanding of how locals eat, we know what kind of dishes they make at home. When we created OmniPork, we had these in mind. When we developed both OmniPork and then OmniPork Luncheon, these were definitely going to generate a lot of interest. It's revolutionary in different ways.
VN: We've seen monumental strides in the adoption of plant-based beef as a viable option consumers want to buy. What gives you the confidence that the world is ready to do the same for pork?
DY: Whether it is Beyond Meat, Impossible Foods, Daiya, Miyoko's Creamery, Oatly, or Califia Farms, all of these brands are blazing the trail for us and for the whole industry—and they are helping each other, too. When you have a cheeseburger, whether it's Beyond or Impossible, you still need vegan cheese to go with it. With that momentum, and thanks to many entrepreneurs, scientists, and a lot of impact investors, the industry clearly is breaking through and entering the mainstream in a big way. Every year [we see that] the number of plant-based brands is exploding. We all paved the way for each other, and for us in Asia, Green Common has been a pioneer as well.
VN: How do you think that this plant-based explosion could play out in China and create a colossal shift from meat to plants?
DY: When transforming Chinese food culture, even for me—I'm a Hong Kong Chinese—there's a lot of learning. Obviously, I grew up eating all kinds of Chinese food— Sichuan, Kyuhunan, Shanghai, and of course, Guangdong … all of these. I don't want to make it sound like it's going to be a walk in the park and just say, "By 2024, all of a sudden, 20 percent of people will start to adopt whatever that new diet habit is." On the other hand, I must say that, thanks to social media, the internet, and all media, things travel so fast. The Chinese community nowadays can also be very receptive to new things. I think the collective puzzle we need to solve is how to break into the mainstream, particularly among young consumers, because they are going to be the ones who will be much more conscious and more adventurous in terms of trying new things.
VN: How do you think we do it?
DY: Ultimately, it must be about what's in it for them. What are the benefits? Relatively speaking, I don't think the climate angle or the other kind of more social angles are the ones that will drive mainland consumption behavior. So it must be: what is in it for them? It must be from a health standpoint. Whether it is beauty, appearance, health, or all the above, it is about finding the message that will click with consumers and how they find it beneficial. Needless to say, it must be tasty, it must be localized, and you have to cater to local palates.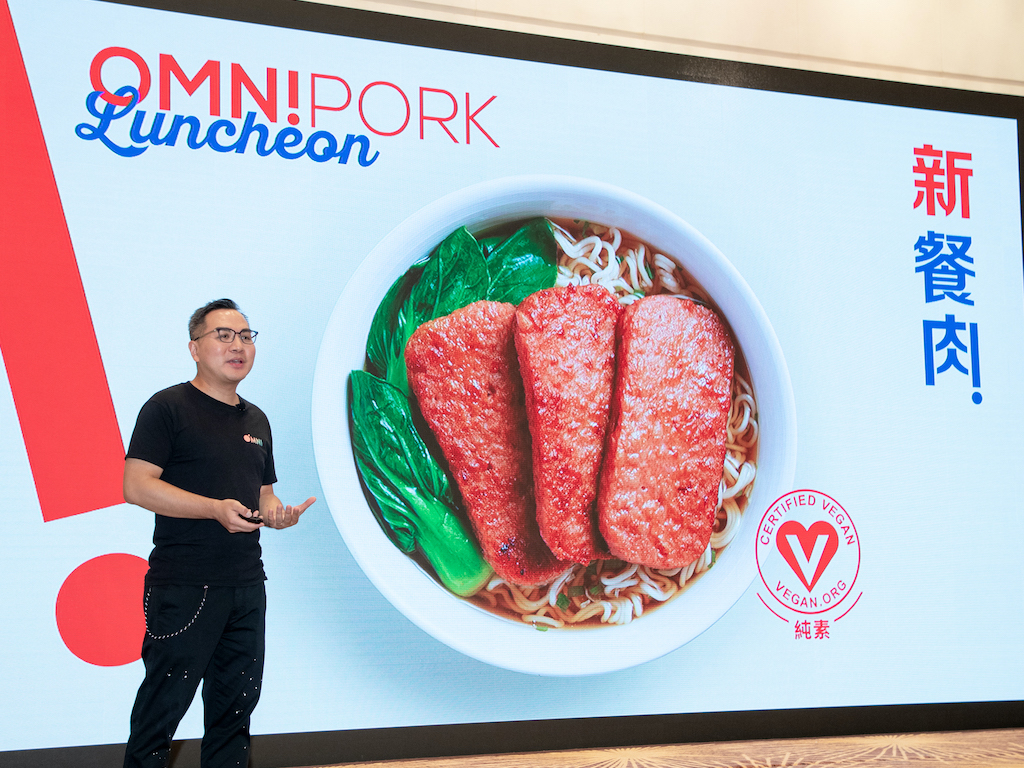 OmniFoods
VN: Why is it important to encourage these smaller changes, as opposed to eliminating all animal products overnight?
DY: It's always a gradual process—that is how most big social change happens. Once you accumulate a critical mass, that's when the tipping point takes place. Green Monday is lowering the barrier of adoption. We're just saying one day a week. If you cannot do one day, do one meal, one meal out of 21 meals of the week. If you still cannot do one meal, let's cut certain meats first. Green Monday is creating a platform that people cannot say no to. I think that's the key—you have to get people in the door.
VN: Why is fighting climate change such a strong focus for you?
DY: We should all ask ourselves, "Where will the world be in 10 to 15, even 20 years? What will our world look like?" Everywhere in the world on any given day or week, there are extreme droughts, heat, flooding, snow, storms, you name it. Plenty of reports say that we are in the last decade of hopefully containing the damage of climate change so that we don't get to the point of no return. Once we have that macro worldview, then we work back and ask, "What do we need to do now?" Individually and collectively, we have to act, and that goes beyond food; that applies to everything. This is not just a question for David Yeung, founder of Green Monday. This should be a question to every person on the planet. Even though we may not have a crystal ball, the outlook is becoming quite apparent, and it is not looking particularly optimistic.
VN: So then, what gives you hope?
DY: A lot of it is from future generations, including my two daughters. They are the ones who say, "Of course, we should do this. We should not be doing the things that hurt the world. Hurting the ocean, eating fish, no. That's wrong." For them, they don't have to unlearn and relearn. They just pick up the right thing, and this is what they do. When young people decide to make changes, it also influences their parents. I have plenty of stories of parents who have kids who are teens, and they are eating more plant-based because of their kids. In the corporate world, for the last two years, it has been very obvious that every company is now putting a lot of emphasis on environmental and social governance, and many CEOs of Fortune Global 500 companies are now pledging net zero. There is a certain percentage that is indeed greenwashing, but there are also a lot who are genuinely trying to come up with solutions and innovations to move the needle. From the corporate level, from the individual family level, from the government leadership level, let's hope these forces converge and we can act quick enough.
For more ways to celebrate AAPI month, read:
28 Vegan Asian & Asian-owned Restaurants Redefining Asian Cuisine
33 Vegan Asians & Pacific Islanders To Follow on Instagram
6 Asian-Owned Fashion Brands Prioritizing Sustainable, Vegan Materials