At VegNews, we often share stories of milestone moments and innovation within the plant-based movement. While launching a new vegan seafood brand made from mushrooms or earning a James Beard award for a plant-based menu is certainly noteworthy, it's the daily grind that gets these individuals to these newsworthy achievements.
We wanted to know: what does a day in the life look like for the people who are spearheading the plant-based movement? How do these entrepreneurs, changemakers, and activists start their day, and what motivates them to do what they do?
We're kicking off our Day in the Life series with Chef Priyanka Naik to learn how she balances the television appearances, menu development, and food writing on the day-to-day.
Who is Priyanka Naik?
Naik is many things, but you can call her Chef. She's a first-generation Indian-American who grew up on Staten Island, NY and continues to incorporate her family heritage into her plant-based cooking. Recipes on her blog, Instagram, and cookbook include dishes such as No-Waste Broccoli Stem Pakoras, mango lassis, Green Chutney Quesadillas, and more.
Priyanka Naik
However, she doesn't limit herself to just one cuisine. Naik has visited 40 countries and takes pleasure in expanding her craft to incorporate flavors and techniques from the places she's traveled to. That's why you'll find recipes like Spicy Dijon Panzanella Salad, Bondi Blue Tea Cakes, and giant fusilli with pesto (really, check it out—this is the biggest fusilli we've ever seen) woven throughout her work.
Regardless of cuisine, Naik is intentional about sourcing her ingredients. She's known for her dedication to sustainability, which often includes no-waste cooking.
Naik's self-taught culinary skills have landed her multiple television appearances on primetime shows such as The Today Show, The Kelly Clarkson Show, and Food Network's Cooks vs Cons, the latter of which she was named champion on Episode 12 of Season 5. She also served as the first vegan guest chef at the luxury W Maldives where she developed a sustainable plant-based menu and several cooking experiences that are running from October 2022 to October 2023.
Why vegan?
Naik's vegan origin story goes back about six years, but she comes from a "plant-forward" household. Her family is Maharashtrian, and the dishes they ate always eschewed meat and often all animal products. As her passion for cooking grew, she began to research the ways in which food can be more sustainable. She fell down the animal agriculture rabbit hole, and the research prompted her to make the switch to a completely plant-based diet.
"At the core I am an animal lover and believe that all beings should be treated how you want to be treated. This is also a core principle in Hinduism, which I practice. So, I went vegan about six years ago upon learning of the devastation—not only to animals, but to the environment that the meat, seafood, and dairy industry commits," Naik said.
Naik's morning routine
She admits to being a late riser (between 9am and 10am), but once she's up, she's checking off her self-care routine. After making her bed (a habit that's common amongst leaders and productive people), she drinks a glass of water with lemon along with a set of pre- and post-biotics, followed by a comforting cup of coffee enriched with oat-based creamer, enjoyed with one of her mom's homemade pistachio biscottis.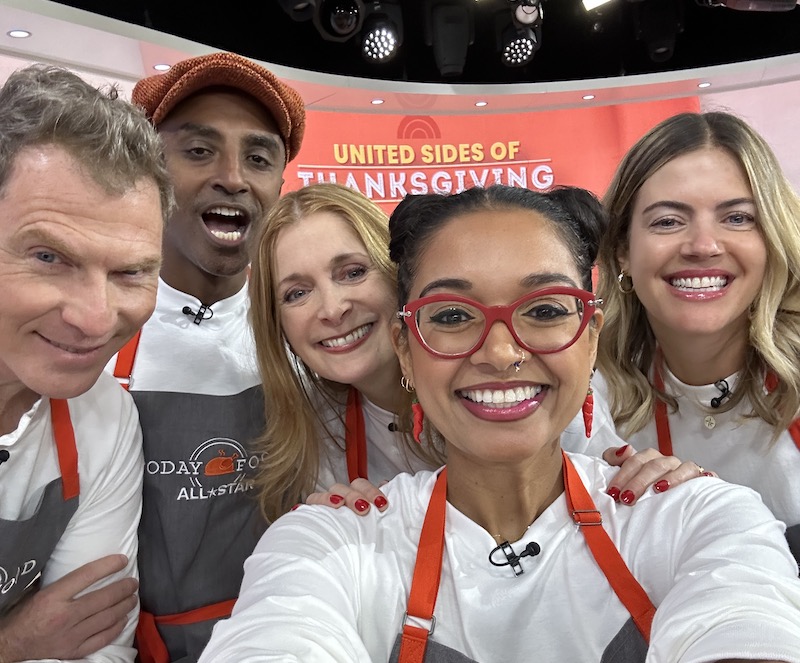 Priyanka Naik
The morning concludes with a brief but intense HIIT (high-intensity interval training) workout and attending to the emails and social media messages she's received.
Beyond the biscotti and coffee, Naik told us she wasn't a big breakfast person. Her body doesn't turn on her hunger cues until the early afternoon, when she has "blunch" (her version of brunch and lunch). "An ooey gooey vegan sticky bun, French toast, or an everything bagel with scallion cream cheese," she listed off. "I am a NYC gal, born and raised!"
The working day
With so many avenues of work, Naik's day is never the same, but she can confidently say that it all revolves around food. Tasks include shooting branded content, in-studio televisions shoots, podcast interviews, plenty of emails, and "tons of Zoom calls."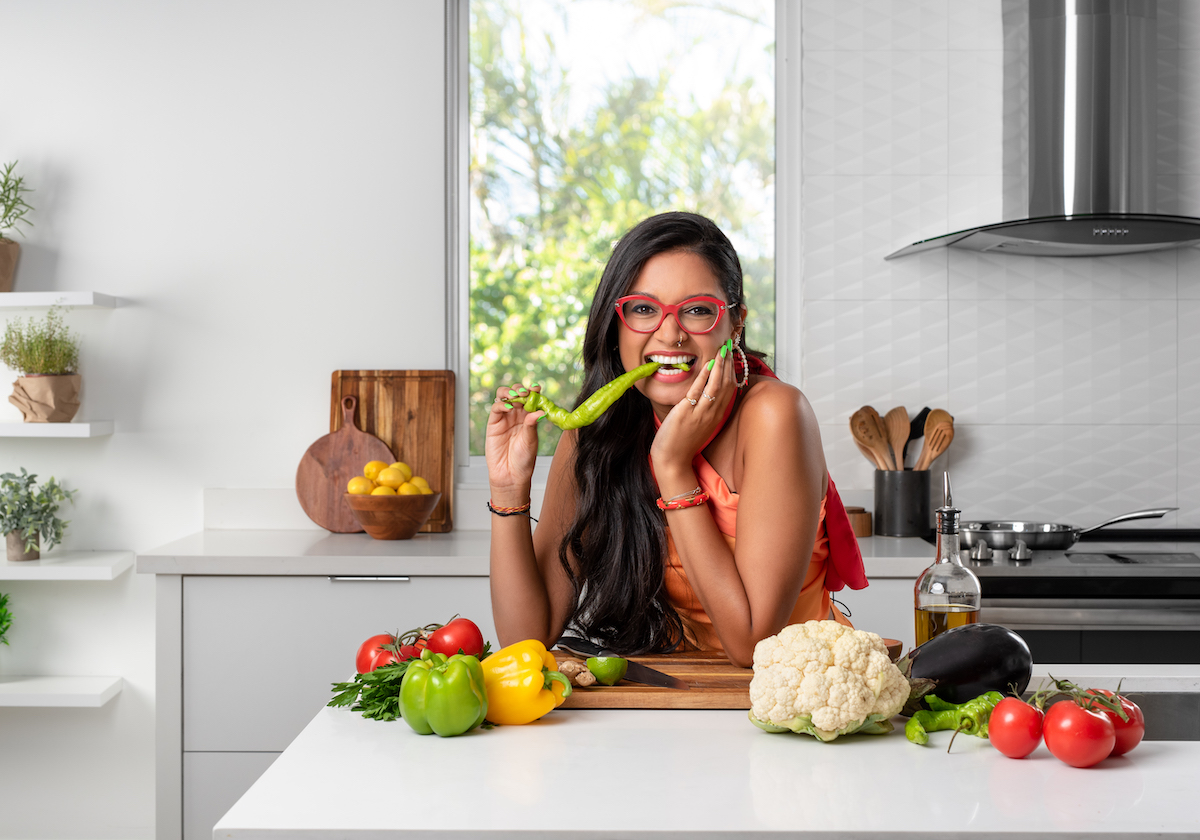 Priyanka Naik
The work ends (or at least takes a break) around 7pm when she settles down for dinner. Naik told us she does cook for herself, but sometimes her evening meal is simply "repurposing leftovers" or meeting a friend to dine out. After dinner, she'll return to work via an event or meeting a deadline, or simply relax and unwind while watching a favorite show.
One thing we admire (and are trying to instill in our own lives): Naik respects her mealtimes. "All of my meals have to be eaten properly at the table and without my computer," she said.
To try Naik's recipes, check out her cookbook The Modern Tiffin or follow her on Instagram @chefpriyanka.
For more vegan chef features, read: