Now that Thanksgiving has come and gone, we're just about ready to roast chestnuts on an open fire. And what better way to ring in the holidays than with 24 days of gifts? From beauty essentials to decadent chocolates and other vegan treats, we're rounding up the best vegan advent calendars for a little extra holiday cheer!
Advent calendars: a Christmas tradition
Advent calendars trace back to the 4th century. Latin for "coming," advent was a period when Christian converts would prepare for baptism. This period of preparation began on the Sunday closest to November 30, a feast day of St. Andrew.
Today, advent is typically associated with advent calendars and counting down the days until Christmas, beginning on December 1. Modern advent calendars are believed to have originated in the early 20th century.
Gerhard Lang is credited with producing the first modern advent calendar complete with little doors hiding surprise treats. Thanks to Lang, advent calendars became a hit in Germany, where he was based. In the US, President Dwight D. Eisenhower is credited with popularizing this holiday tradition after a photo of the president opening an advent calendar with his grandchildren was widely circulated in American publications.
Vegan advent calendars
If one day of gifting isn't enough and you want to keep the gifts coming all month long, pick up one of these vegan-approved advent calendars.
Vegan sweets and treats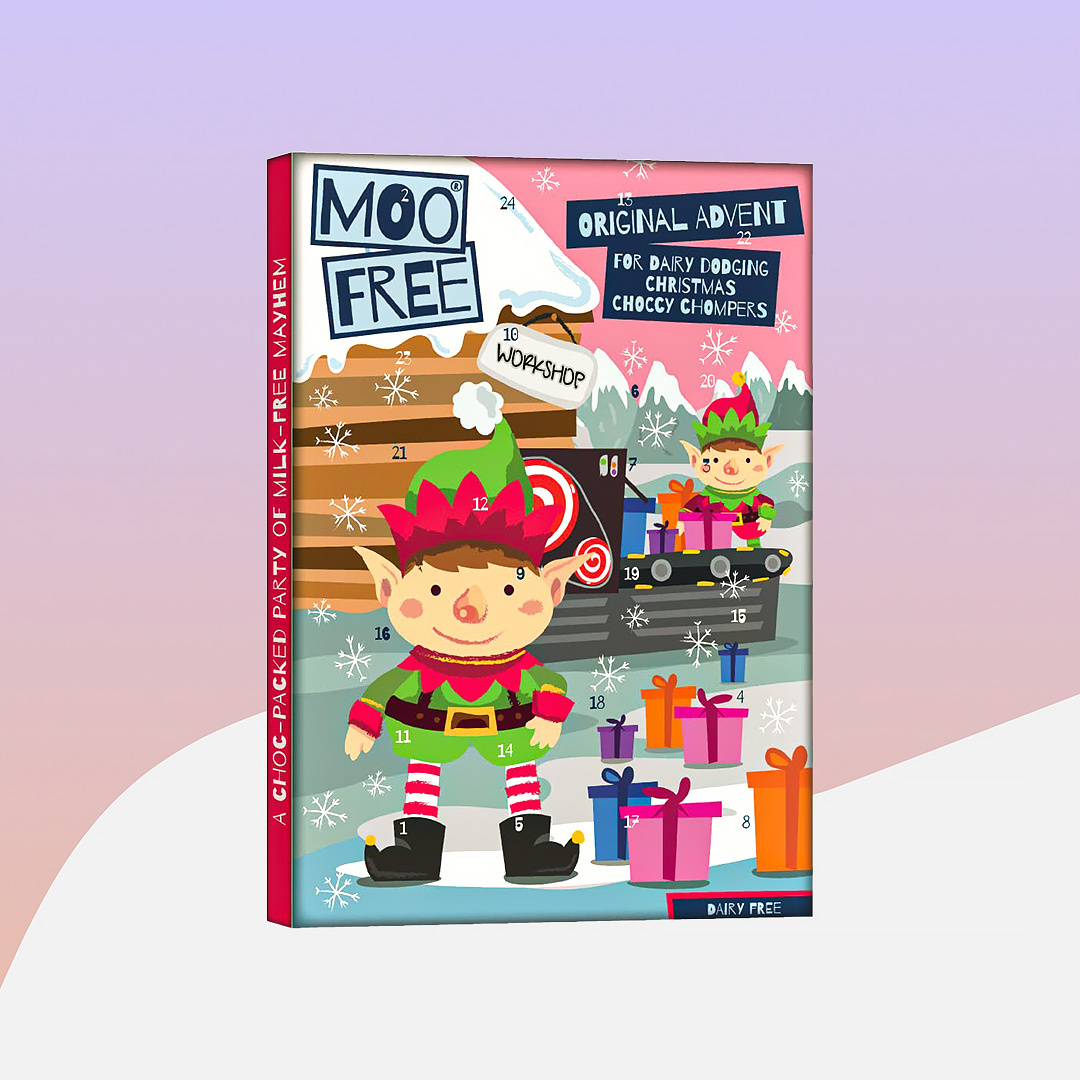 Moo Free
1 Original Advent by Moo Free, $12.77
If chocolate is your sweet of choice, look no further than Moo Free's Original Advent stocked with 24 velvety, fair-trade bites of chocolate. Whether you enjoy these throughout the month or all at once, wear the "dairy-dodging Christmas choccy chomper" title proudly.
Learn more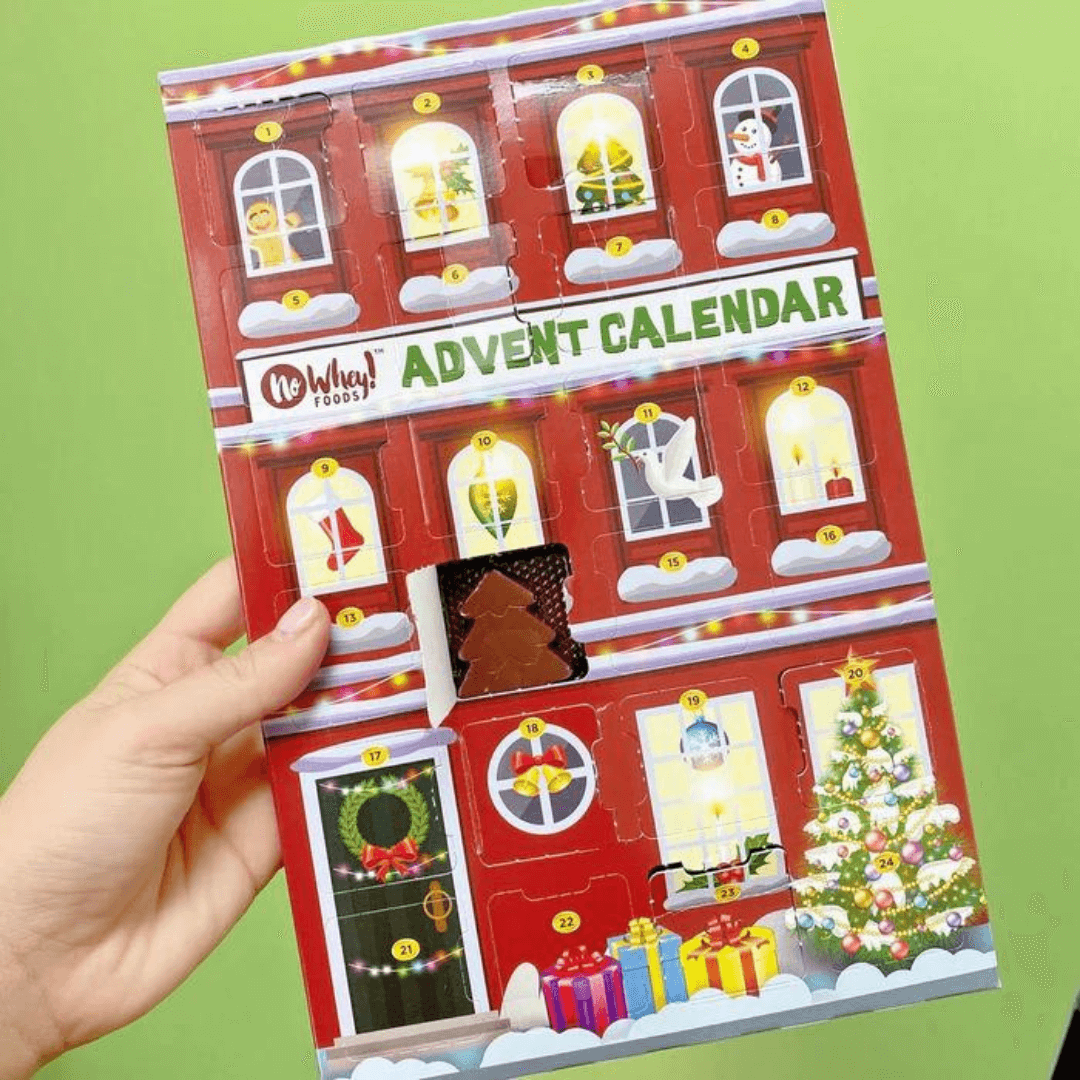 No Whey! Foods
2 Allergen-friendly chocolate advent calendar by No Whey! Foods, $14.95
Treat yourself to 24 creamy, melt-in-your-mouth chocolates in fun holiday-themed shapes (we're looking at you, gingerbread person!). No Whey! Foods' smooth and silky formula is free of major allergens such as dairy, soy, peanuts, tree nuts, eggs, sesame, wheat, gluten, fish, and shellfish. Holiday cheer for all has never been this easy (or tasty!).
Learn more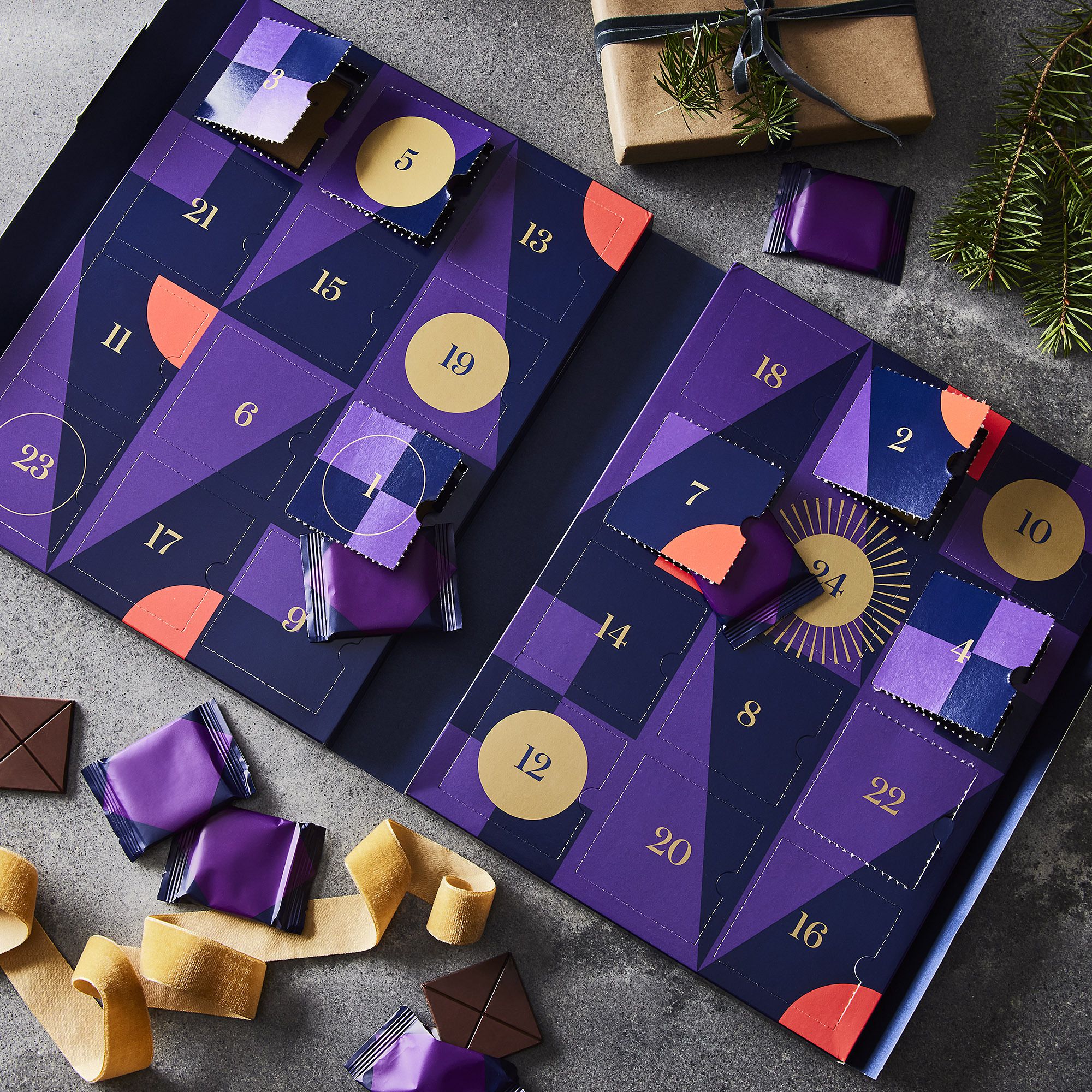 Food52
3 Organic Vegan Chocolate Advent Calendar by Goodio, $49.90
Food52-approved, this advent calendar is a fresh pop of color among your holiday decor. Even better, 24 handcrafted vegan chocolates are tucked inside, waiting to be savored. Made in Helsinki, Finland, these chocolatey bites come in six Nordic-inspired flavors—sea buckthorn, plain, raspberry, blueberry, strawberry, and cranberry. They are also gluten-free to boot!
Learn more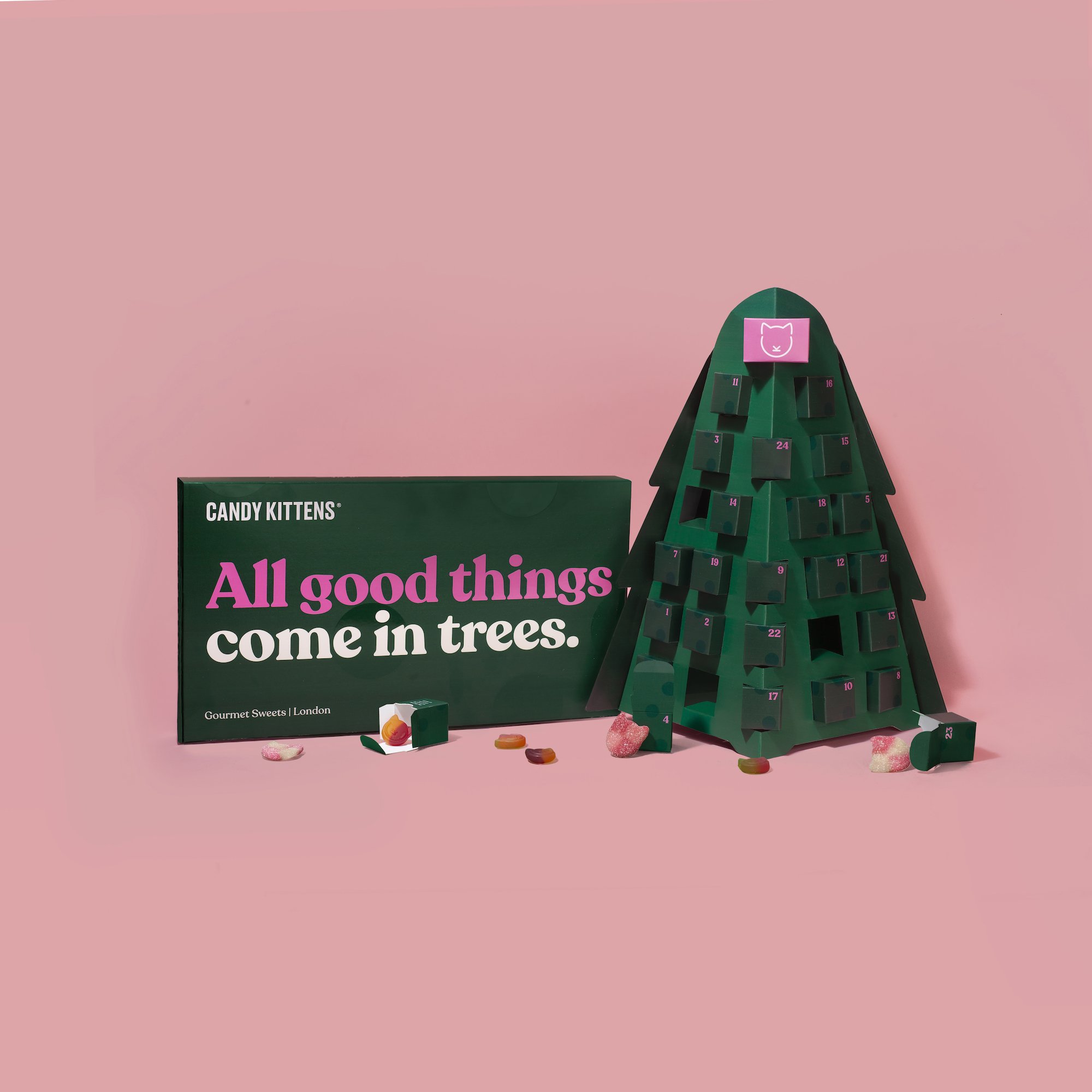 Candy Kittens
4 Advent Calendar Tree by Candy Kittens, £12
Calling all UK vegans! Candy Kittens' adorable pop-up Christmas tree doubles as an advent calendar filled with the vegan brand's most indulgent gummies. This 24-day calendar packs enough sweets for you to enjoy two treats daily. The only thing that could make this any sweeter? International shipping (#heartbroken).
Learn more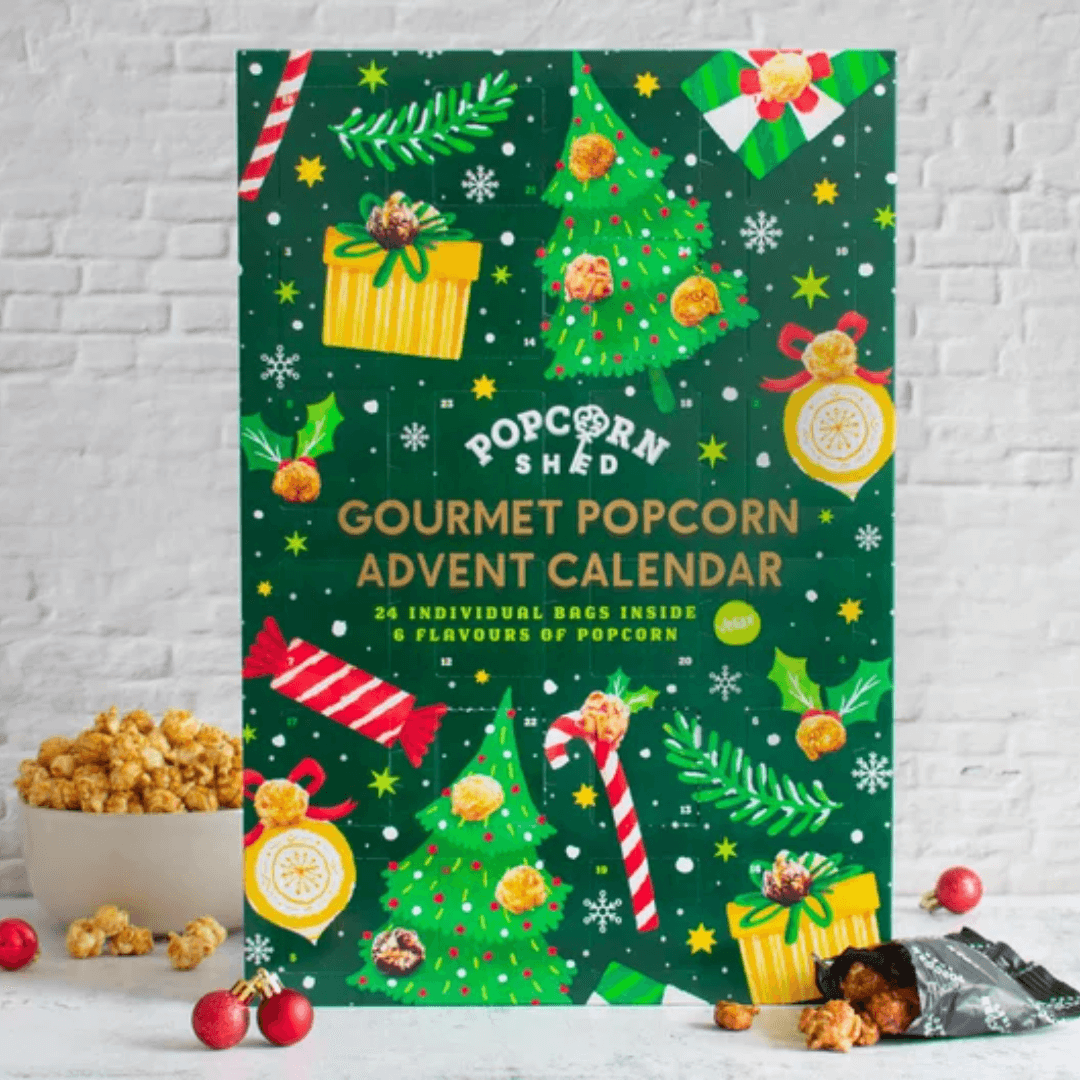 Popcorn Shed
5 Vegan Mini Pop! Free From Advent Calendar by Popcorn Shed, $31.45
Filled with mini bags of gourmet vegan popcorn, Popcorn Shed's 24-day advent calendar adds an extra touch of pop to any holiday season with six unique flavors. Indulge in Butterscotch, Cherry Pie, Choc 'N' Roll, Chocolate Orange, Christmas Pudding, and Gingerbread on your next holiday movie night.
learn more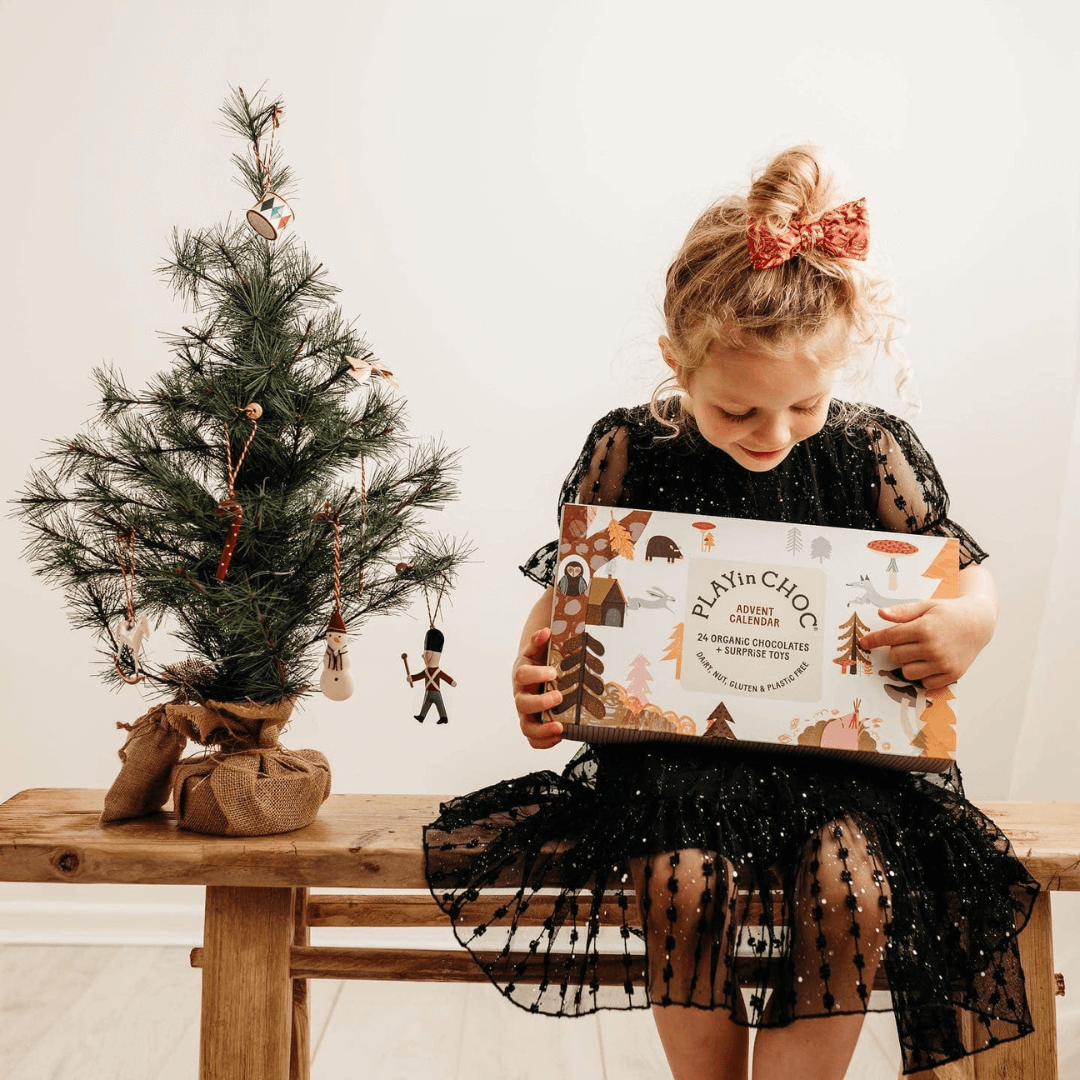 Play in Choc
6 Organic chocolates and surprise toys by Play in Choc, $60.10 (£49.95)
If one daily treat isn't enough, how about three? With this eco-friendly, 24-day advent calendar, you'll be greeted with dreamy organic chocolate, a holiday-themed toy, and a fun-fact card in the days leading up to Christmas. Perfect for kids and adults alike, Play in Choc's festive countdown is taking advent calendars to the next level.
Learn more
Vegan beauty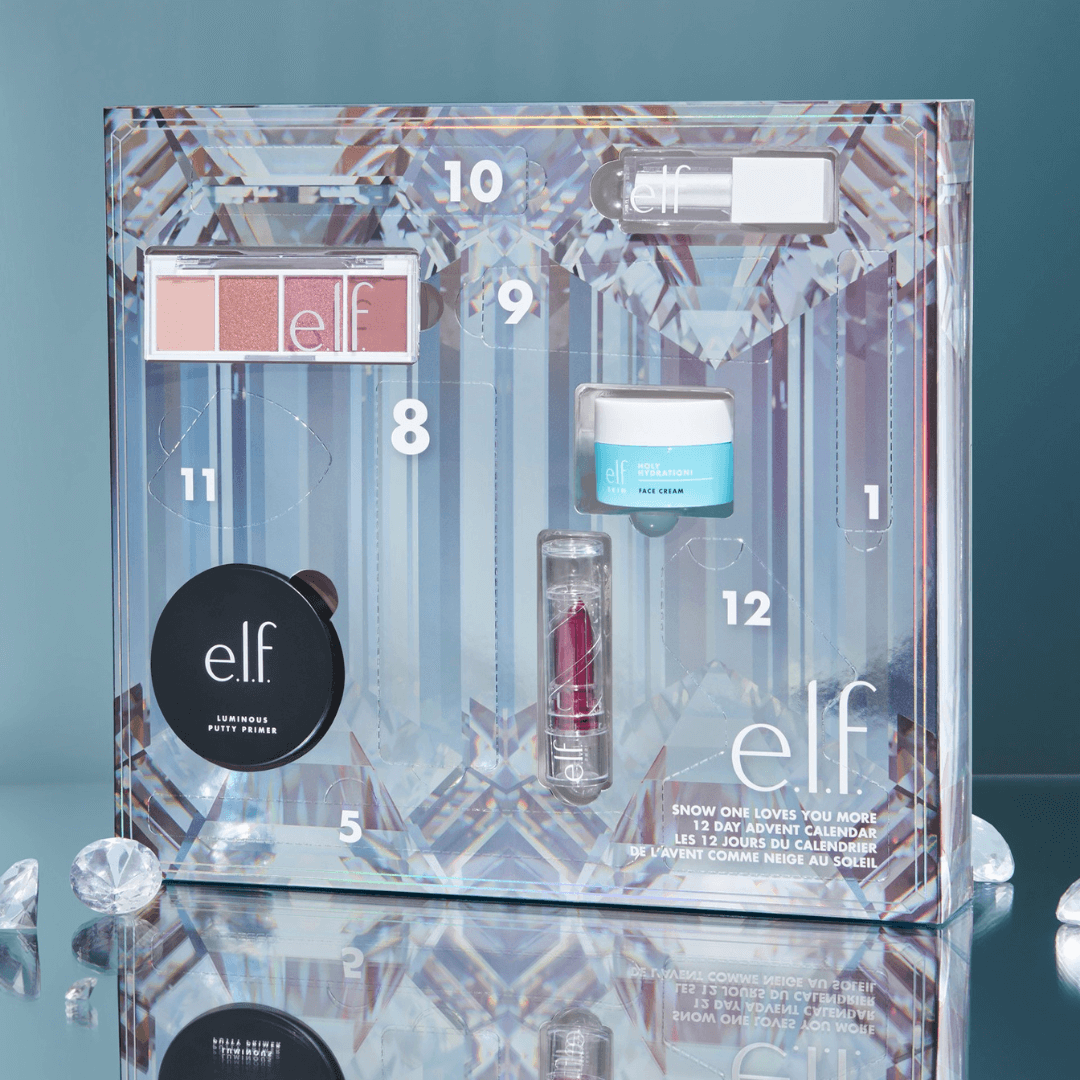 e.l.f. Cosmetics
7 Snow One Loves You More by e.l.f. Cosmetics, $45
Beauty experts at this vegan, cruelty-free, and budget-friendly cosmetics line are bringing the glam in this 12-day beauty advent calendar. Serve major looks with makeup and skincare essentials in limited-edition holiday shades. Start off your routine with e.l.f.'s Luminous Putty Primer for a radiant glow, choose between a face sponge or blending brush to complete your base, and finish off with eyeshadow, brow gel, and lip color.
Learn more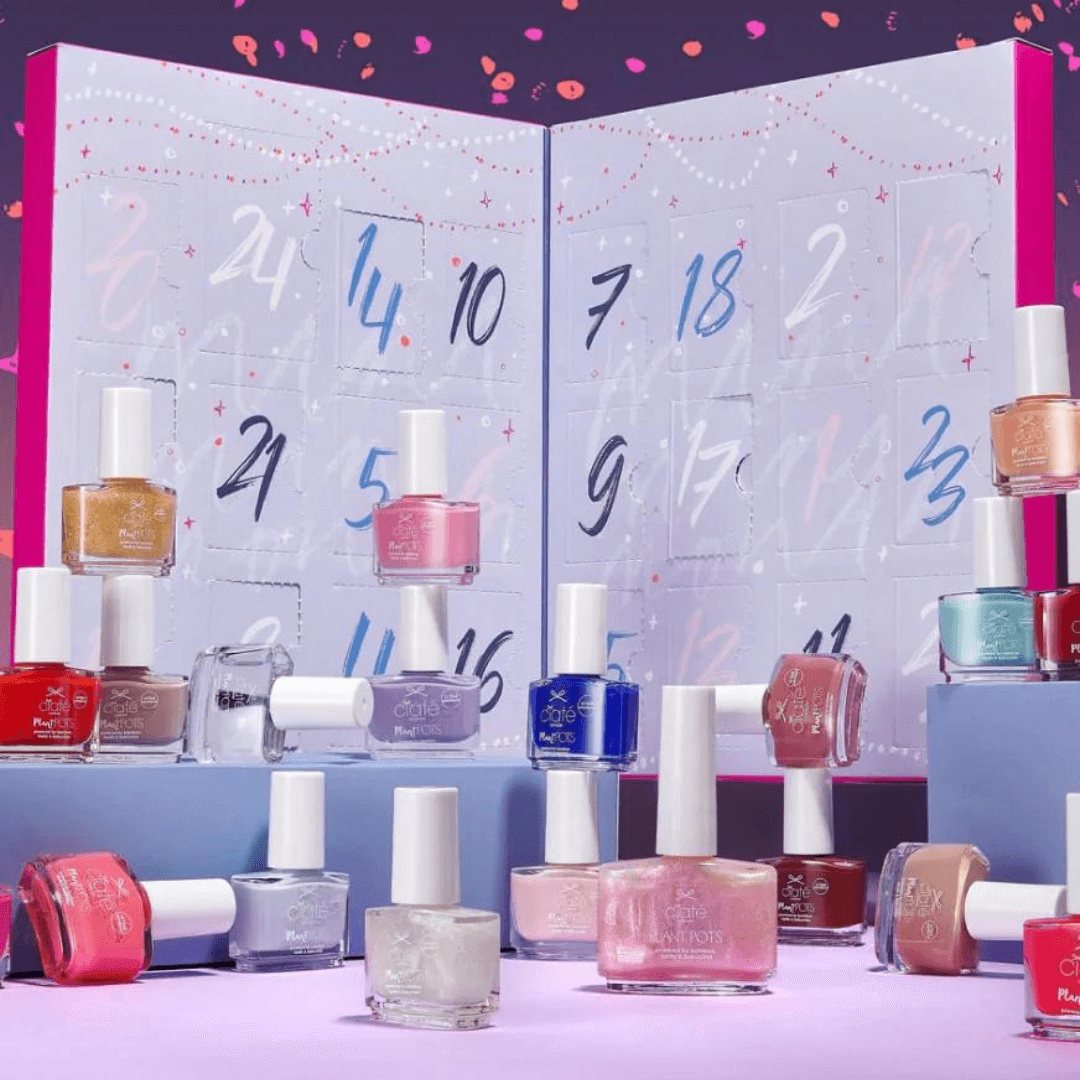 Ciaté London
8 Mini Mani Month by Ciaté London, $41.40
It's never too early to begin planning your perfect holiday look. Ciaté London's vegan and cruelty-free nail polish advent calendar is perfect for the mani-obsessed. Back for its 10th year, this one-of-a-kind calendar features 23 mini Plant Pot polishes and one full-size polish—all in the most popular shades of the decade—so you can perfect your holiday nails in no time. We love this calendar for its sustainable packaging and the good-for-you ingredients—including strengthening biotin, nourishing bamboo, and hydrating bakuchiol extracts—in every pot.
Learn more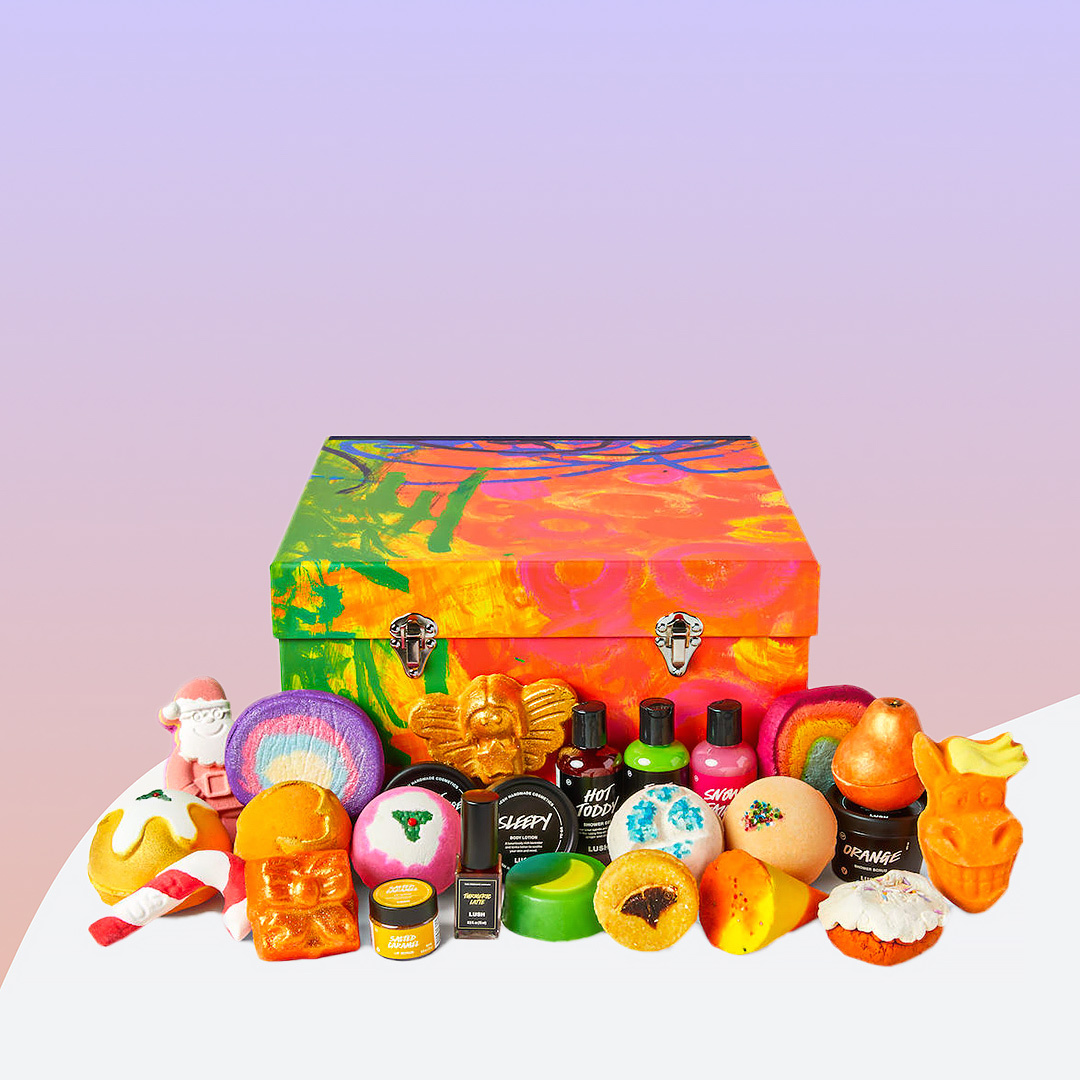 LUSH
9 Bath Time Essentials by LUSH, $300
Celebrated for its natural and vegan approach to body care, LUSH's extravagant 25-day advent calendar is filled to the brim with holiday and year-round bath time must-haves. Christmas Party bath bomb, here we come! Pro-tip: these sell out quickly online, so buy early or call your local LUSH to check for availability.
Learn more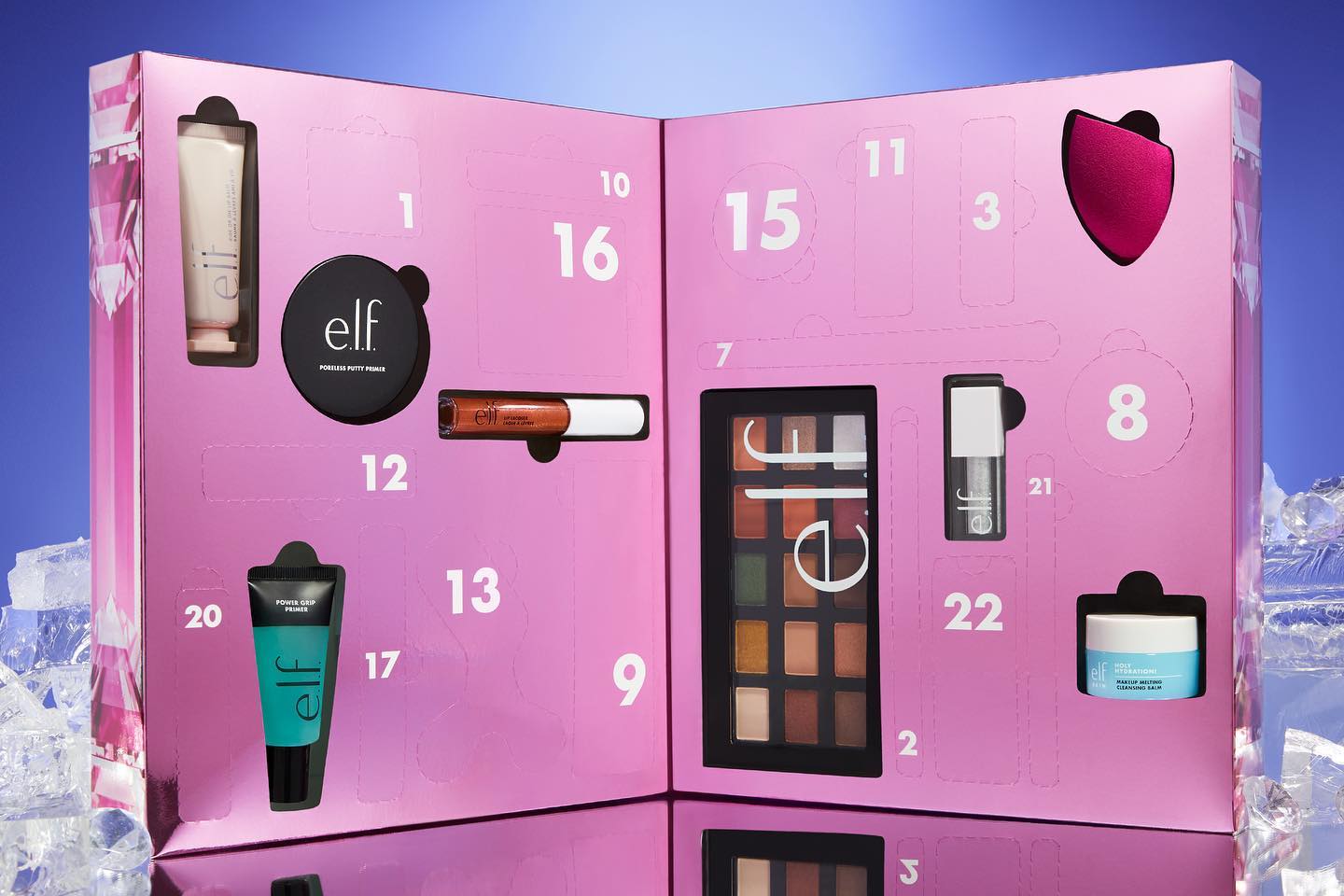 e.l.f. Cosmetics
10 Shine Bright by e.l.f. Cosmetics, $95
In case 12 days of beauty aren't enough, e.l.f. Cosmetics dropped its 24-day advent calendar for the vegan and cruelty-free beauty aficionado. Prep your skin with three mini skincare items, and take your holiday look to the next level with full-size beauty products including an eyeshadow palette, lip colors, brow essentials, setting spray, and more.
Learn more
Fun for all ages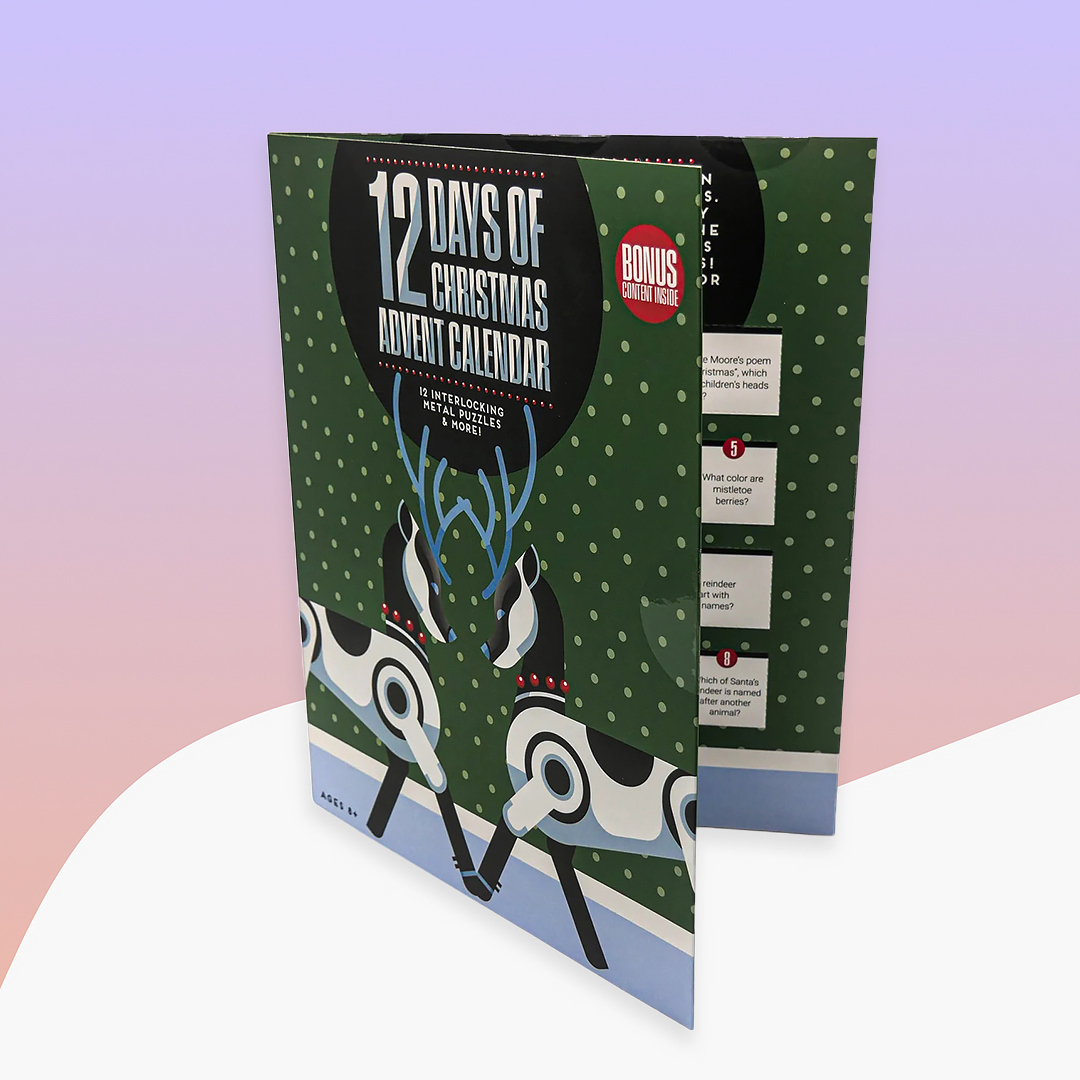 Project Genius
11 Brainteaser advent calendar by Project Genius, $13.99
Strengthen your brain muscles with 12 interlocking metal puzzles and brain teasers to get the mind going. Perfect for friends and family of all ages, these mind-busting games will ensure your brain is in tip-top shape in no time!
Learn more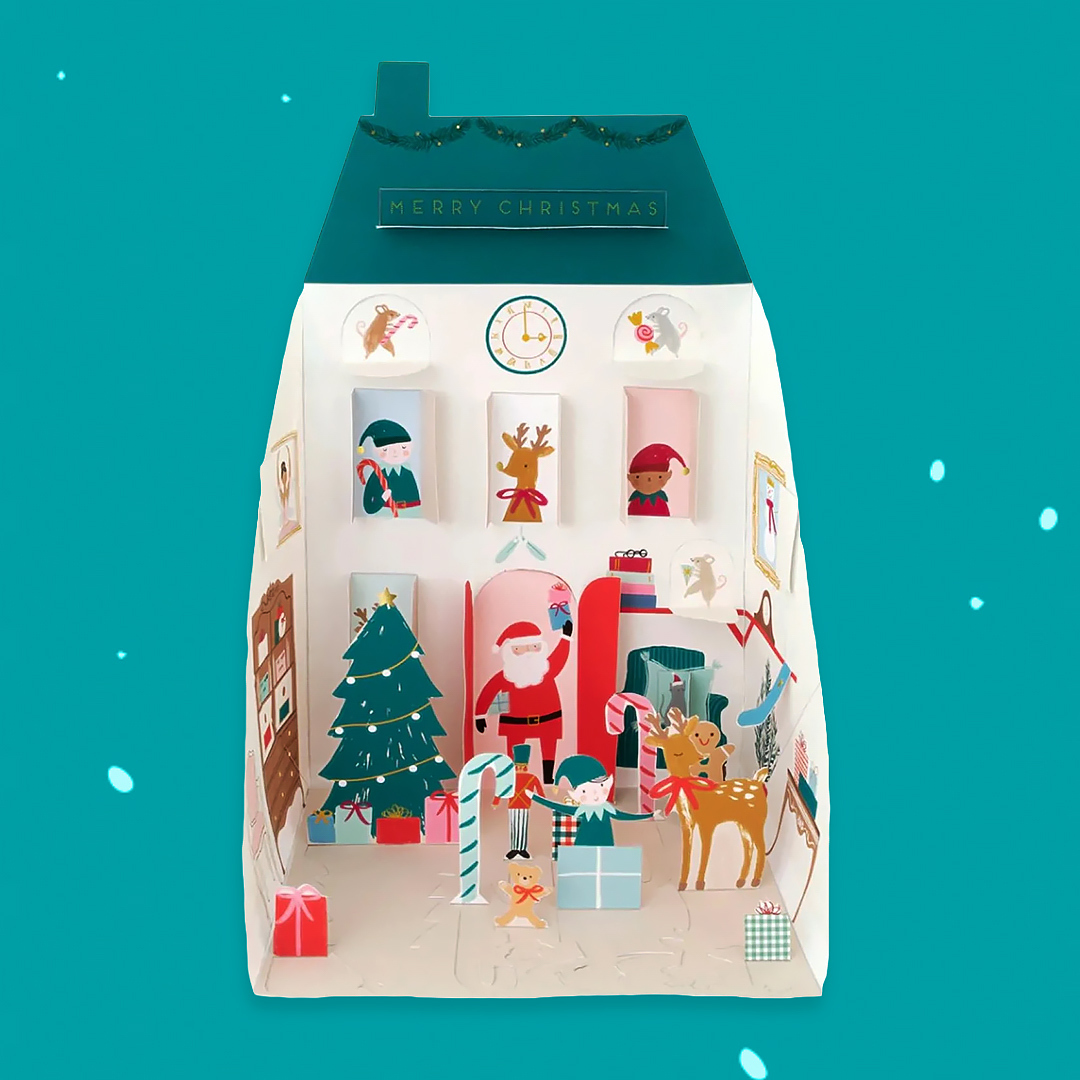 Meri Meri
12 Santa's House by Meri Meri, $32
Ever dream of celebrating the holidays with Santa Claus himself? This advent calendar takes you inside St. Nick's very own home—and you're the architect. Set up Santa's house and fill it to the brim with Christmas decor, elves, reindeers, toys, and gingerbread cookies.
learn more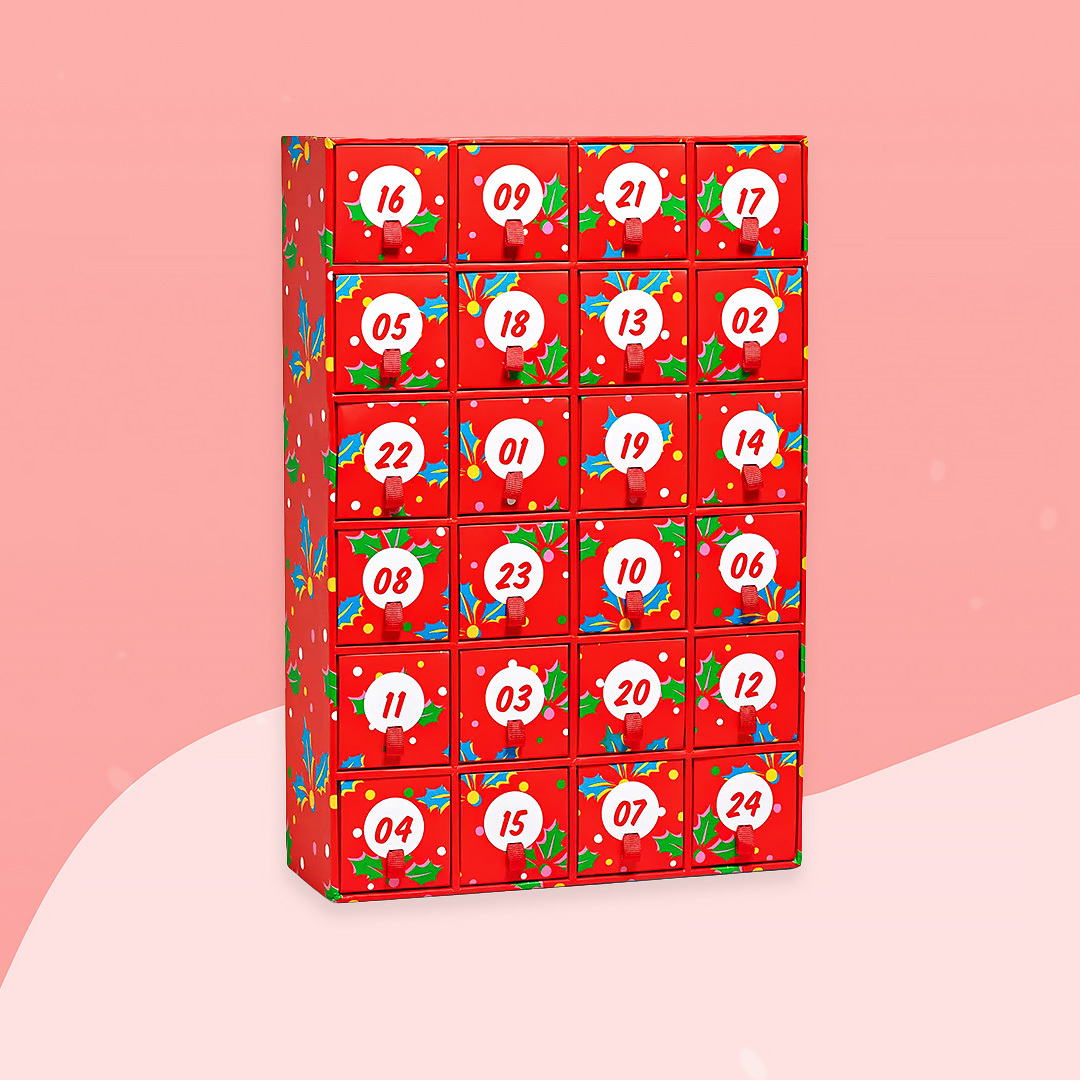 Happy Socks
13Advent Calendar Gift Box by Happy Socks, $195
Get cozy just in time for the holidays with 24 pairs of cute and comfy socks from luxe brand Happy Socks. Your feet will thank you as you slip into these super-soft socks and curl up with a cup of hot cocoa.
learn more
For more vegan ways to celebrate the holidays, read: