Wondering where you can get your pizza fix right now? It could be as simple as browsing the frozen aisles at the grocery store. While your choices may be limited in some areas of the country, it's safe to say that almost every major grocery chain carries at least one brand with a frozen vegan pizza option. Here are seven brands to look for on your next shopping trip.
What are vegan pizzas made of?
Most frozen pizzas come topped with ingredients like mozzarella and pepperoni, which aren't vegan. But more and more brands are launching plant-based pizzas that feature toppings like vegan cheese, vegetables, and in many cases, vegan meat too. In fact, the market for vegan frozen pizzas is growing consistently.
Right now, it's valued at around $854 million, reports Future Market Insights, but over the next 10 years, it's set to expand at a compound annual growth rate of 9.3 percent. "The demand for vegan frozen pizza is driven by the increasing demand for plant-based food options. [As well as the] rising number of health-conscious consumers and growing popularity of veganism," notes the market research firm.
Want to grab one for yourself? Here are seven of our favorite frozen vegan pizza options on the market right now.
The best frozen vegan pizzas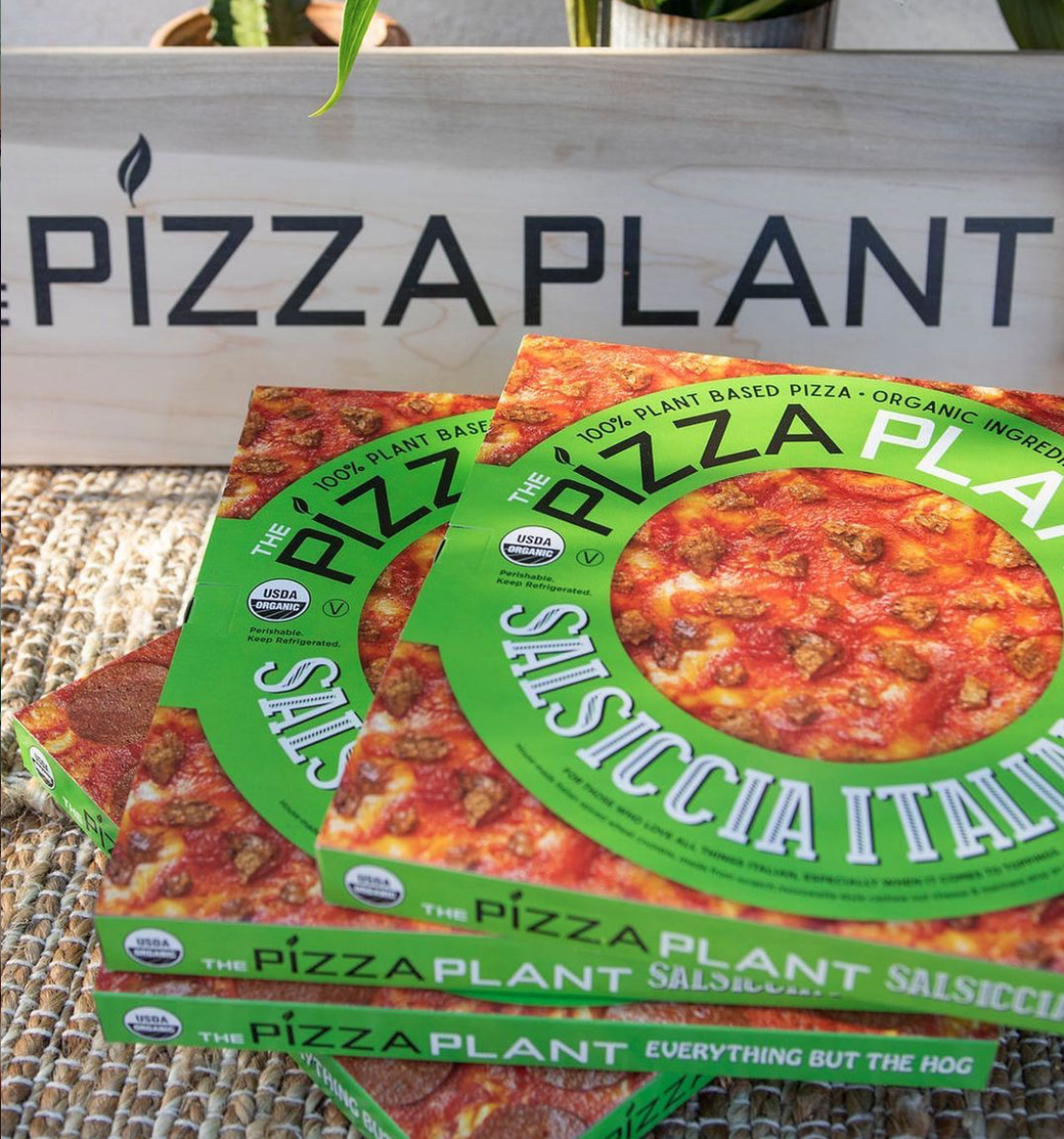 Pizza Plant
1 The Pizza Plant
How much do we love The Pizza Plant? If we're being honest, it was love at first bite. These made-from-scratch pies are entirely plant-based and available from stores like GTFO It's Vegan and Whole Foods Market. But the brand also ships straight to your door (nationwide shipping, FTW!). If you're an organic fan, you're in luck, as all pies are prepared fresh in a certified organic facility.
get it here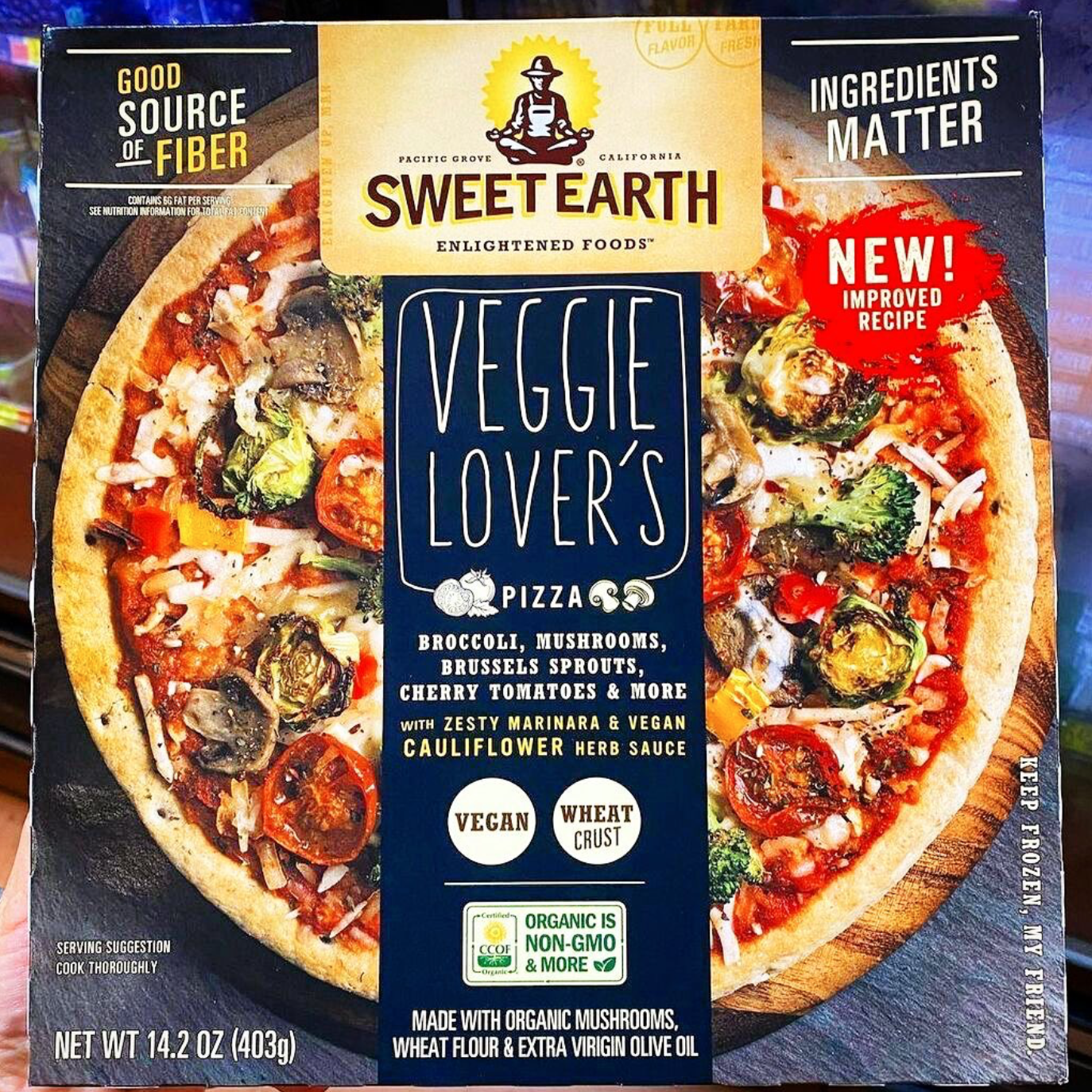 @veganwalmart/Instagram
2 Sweet Earth
The company calls its pizzas enlightened, and that's likely because its ingredients stretch into the creative realm. Of its three plant-based pizzas, the Veggie Lover's is the only one that's fully vegan. Its cornmeal crust is topped with broccoli, Brussels sprouts, mushrooms, roasted tomatoes, onion, garlic, and vegan cheese. The sauce even gets an upgrade with the fancy title of "zesty tomato sauce."
Get it here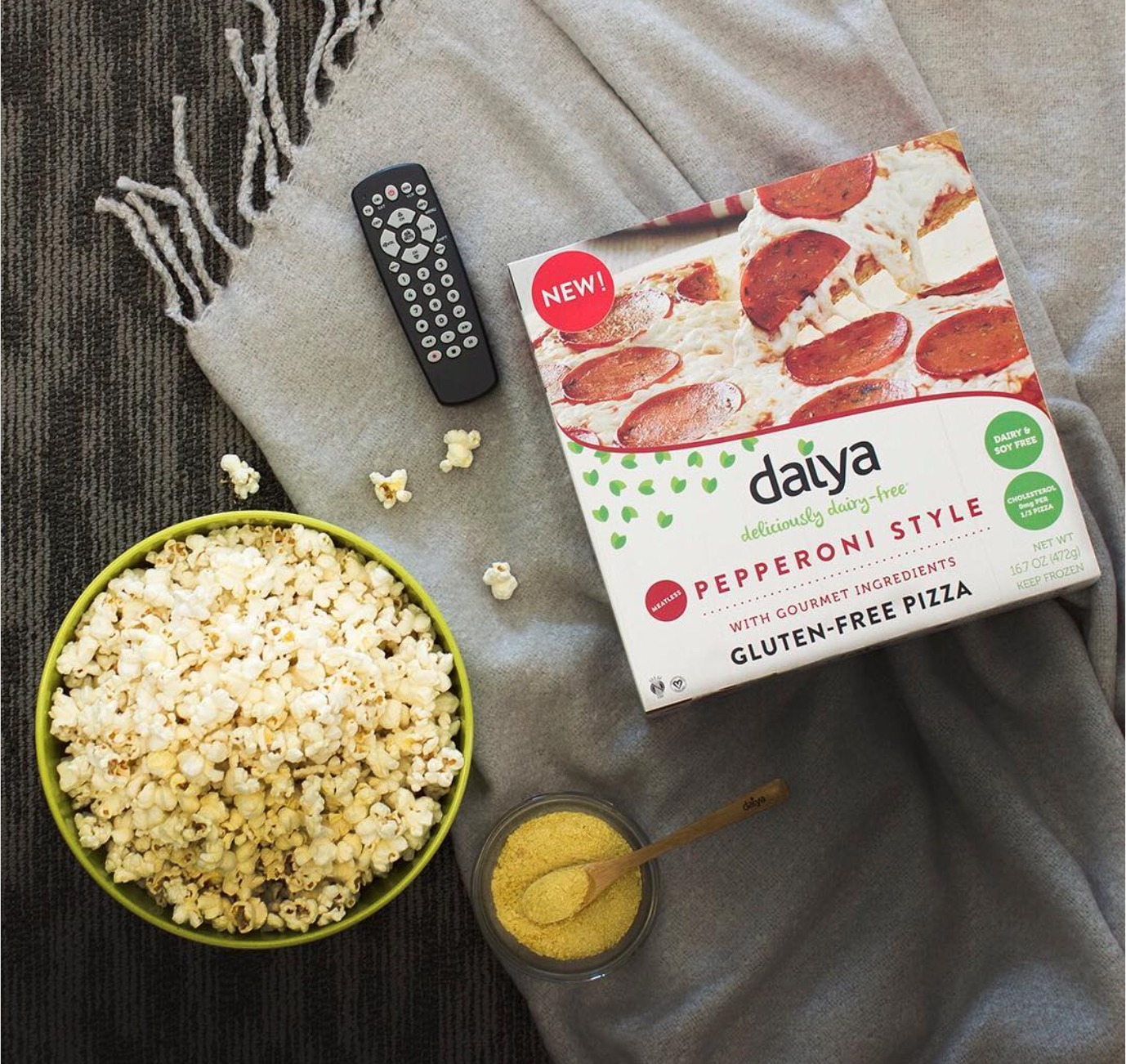 Daiya
3 Daiya
It makes sense that the long-time leader in vegan cheese is a frozen pizza rockstar, too. Its pizza lineup includes a wide variety of vegan pizzas that will satisfy every palate in your crowd. Got meat lovers among you? Serve up the Pepperoni, Meatless Meat Lover's, or Supreme (with Beyond Meat Italian Sausage Style Crumbles) Pizza. True veg-heads may veer toward Fire-Roasted Vegetable, while cheese lovers will have no problem devouring the Cheeze Lovers or Margherita Pizza.
Get it here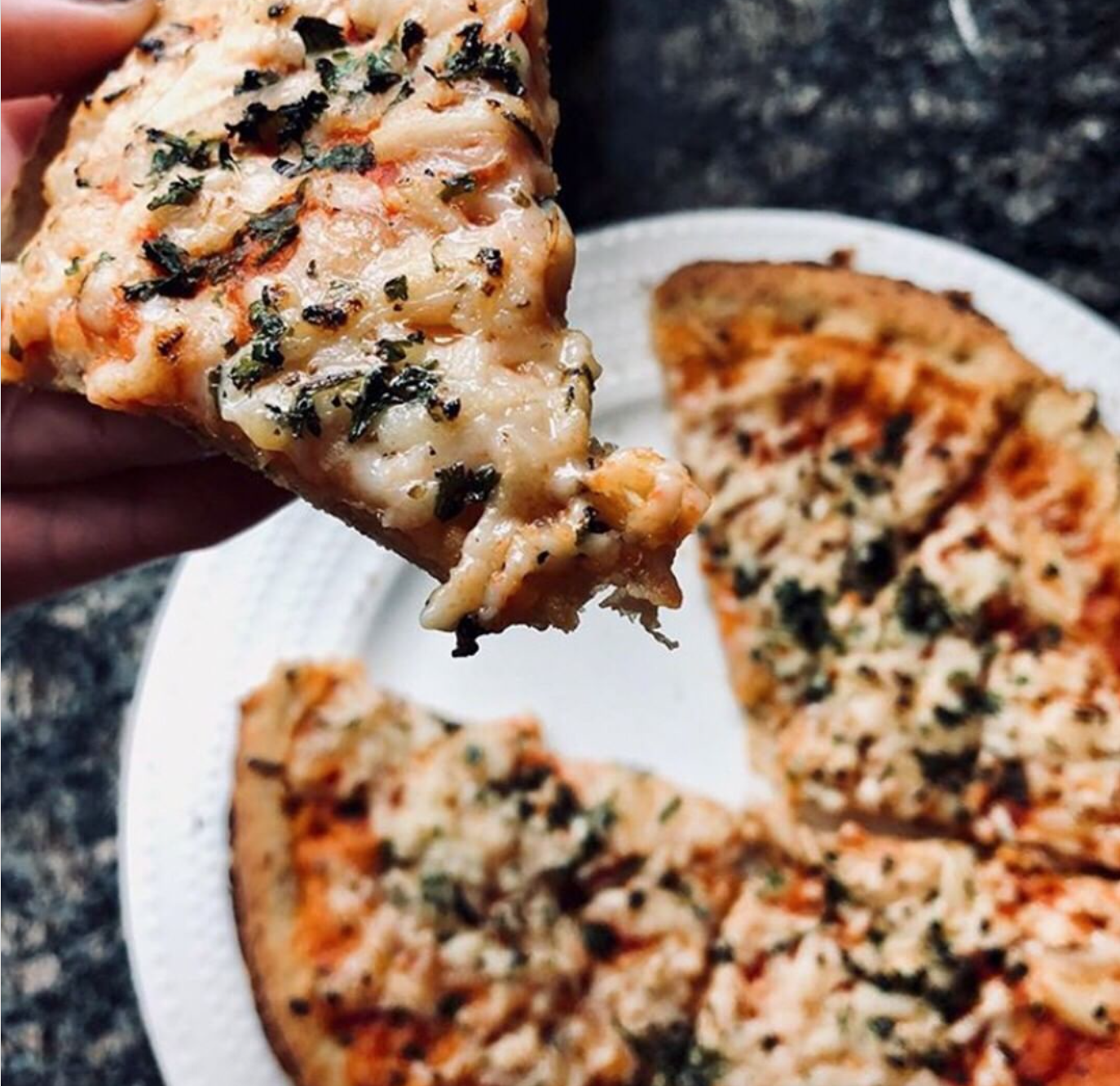 @vegan_kween/Instagram
4 American Flatbread
You won't be disappointed with this company's vegan options. The crusts include organic wheat and wheat bran and their tomato sauce is loaded with organic goodness, including tomatoes, onions, red wine, carrots, celery, garlic, herbs, black pepper, and red pepper flakes. The Vegan Harvest pie is then loaded with vegan mozzarella, fresh parsley and other herbs, and salt. More in the mood for Farmer's Pie? Trust us, you won't be disappointed with this Bruschetta-topped offering.
Get it here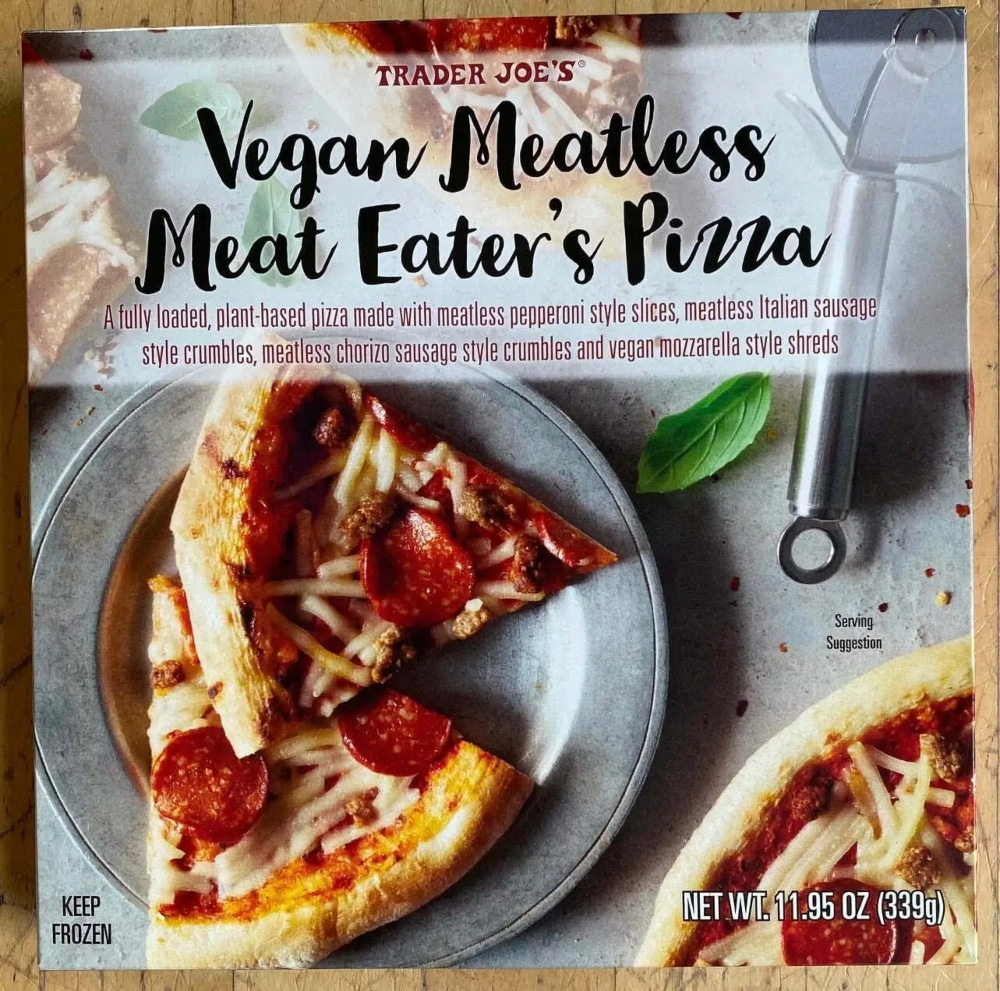 Club Trader Joe's
5 Trader Joe's
Trader Joe's has a wide range of vegan options, including delicious frozen pizza. The Vegan Meatless Meat Eater's Pizza, for example, features vegan pepperoni, Italian sausage crumbles, chorizo crumbles, and, of course, that all-important generous helping of vegan mozzarella.
Get it here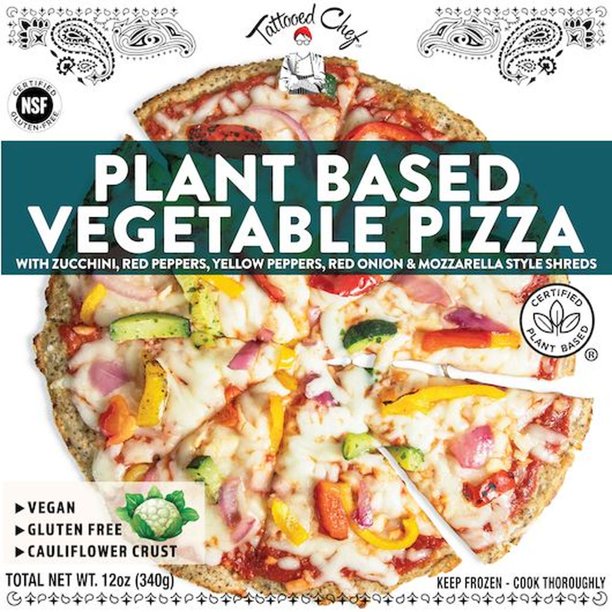 Tattooed Chef
6 Tattooed Chef
Tattooed Chef's products are designed to make life easier for people, and arguably, there's nothing easier than taking a pizza out of the freezer and popping it in the oven. That's why it has three vegan pizza options: Plant Based Vegetable, Plant Based Pepperoni, and Plant Based 2 Cheese, which comes topped with vegan mozzarella and cheddar-style cheese.
Get it here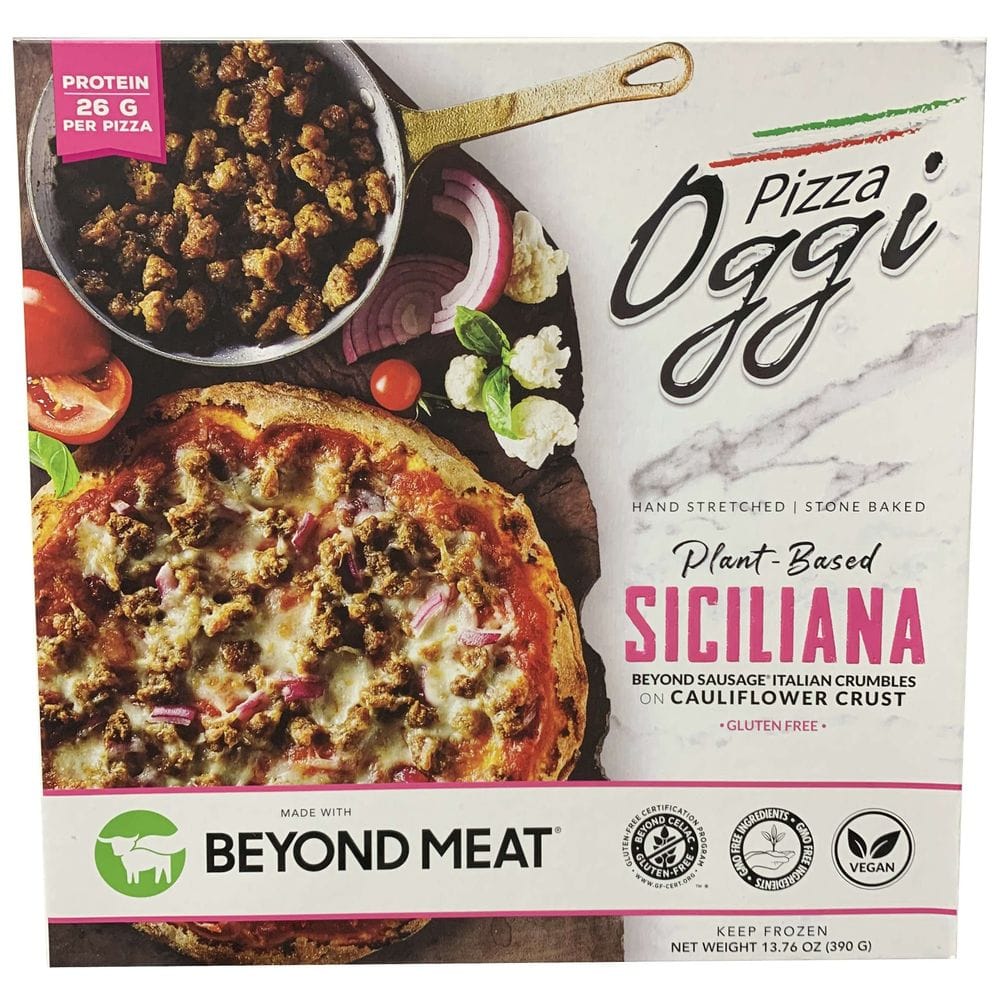 Oggi Foods
7 Oggi Foods
For authentic Italian-style pizzas that will make you feel like you're dining in Positano without the flight or the effort, then it has to be Neapolitan-inspired Canadian brand Oggi Foods. In partnership with Beyond Meat and Good Planet Foods, the company has created several plant-based pizza options, including California, which is topped with Beyond Sausage Italian Crumbles, vegan cheese, kale, and red onions; and Siciliana, which features a cauliflower crust, fire-roasted vegetables, and more Beyond Sausage Italian crumbles.
Get it here
For more on vegan pizza, read:
Here at VegNews, we live and breathe the vegan lifestyle, and only recommend products we feel make our lives amazing. Occasionally, articles may include shopping links where we might earn a small commission. In no way does this effect the editorial integrity of VegNews.