Valentine's Day gifts are weird, particularly for those in new(ish) relationships. How much is too much, or too little? What says "I love you" or "I really like you" that everyone can appreciate? Flowers are fine, but they're predictable and often leave the recipient wanting more. After all, they die a little each day, and what does that say about your relationship?
Gift vegan dessert
This year, show your love with swoon-worthy vegan sweets. But we're not talking chalky heart candy or waxy truffles purchased from the convenience store. If you're gifting desserts, they need to have the "wow" factor. Our rule of thumb when it comes to gifts: it should be something the recipient would enjoy but likely would never buy for themselves on account of being just a bit too frivolous or self-indulgent. For example, a half-dozen box of six-ounce peanut butter stuffed vegan cookies fits the bill. And yes, these are called Taylor Chip Cookies and are included in this guide.
The 15 vegan treats below all abide by our gifting guidelines, go way beyond the lackluster box of chocolates found at the grocery store, and ship nationwide.
15 Vegan Valentine's Day treats that ship
From experiential chocolate tastings to beautifully decorated cookie dough-filled cakesicles, these goodies are too sweet to pass up.
Taylor Chip
1 Taylor Chip Cookies
We've come across giant cookies before, and they're fine, but Taylor Chip Cookies are truly the best we've ever sunk our teeth into. These cookies are colossal—six ounces per cookie—and many are stuffed with gooey, decadent fillings like peanut butter or studded with Oreo pieces. Taylor Chip isn't an exclusively vegan brand, but they know their way around plant-based baking. Order a half or full dozen box of the vegan collection. It includes Loaded Peanut Butter, Oreos & Creme, Sugar, Brookie, Chocolate Chip, and Double Chocolate Brownie. Pro tip: a quick zap in the microwave will make your kitchen smell amazing.
Find our more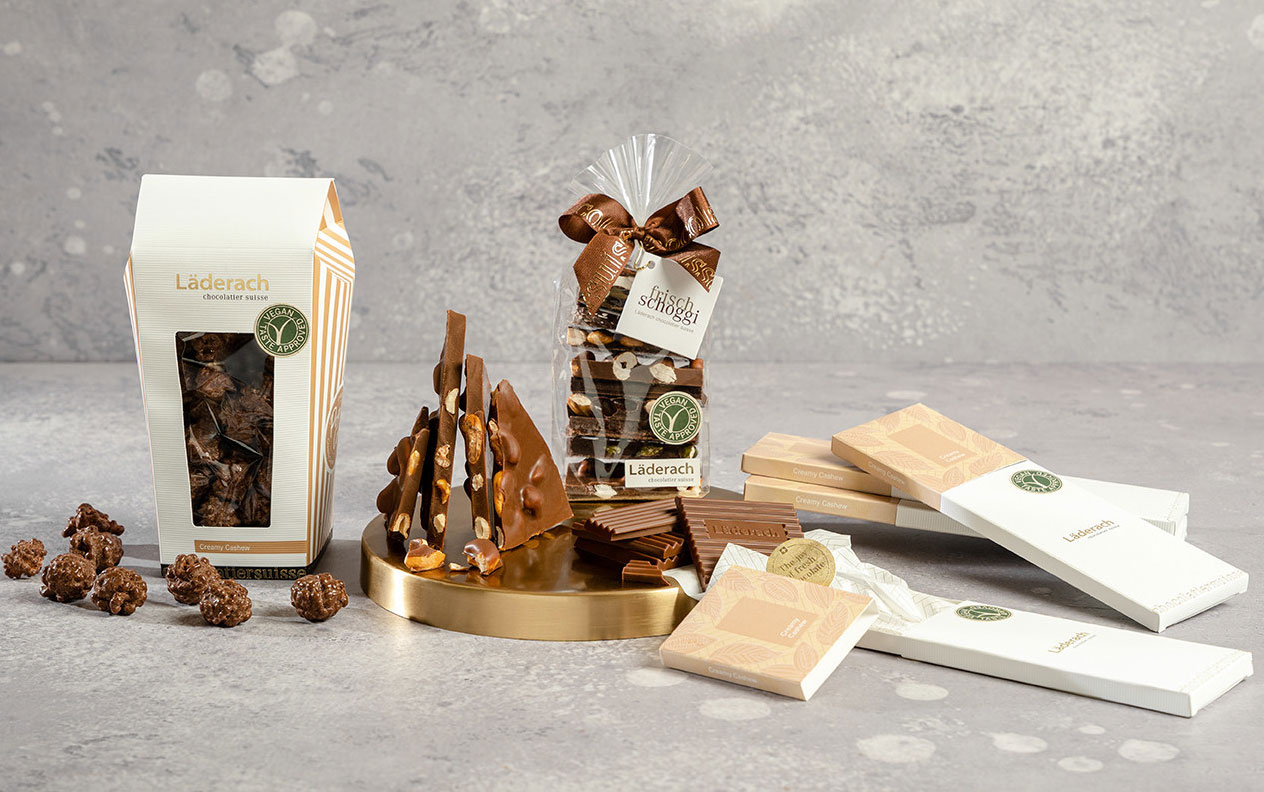 Laderach
2 Laderach
Swiss chocolate has historically been off-limits to those who eschew dairy, as it traditionally contains milk. This generations-old Swiss chocolate company is revolutionizing the category with its assortment of dark and cashew milk-based fine chocolates. We've had vegan milk chocolate before, but nothing as deliciously complex as this. In addition to creamy cashew milk, Laderach uses coconut blossom sugar to sweeten its confections, adding a subtly detectable caramel flavor to each bite.
The vegan options range from slabs of caramelized cashew-studded dark chocolate to divinely rich and fruity blackberry-infused dark chocolate. It's something both familiar and unique that's bound to gain you some adoration.
Find out more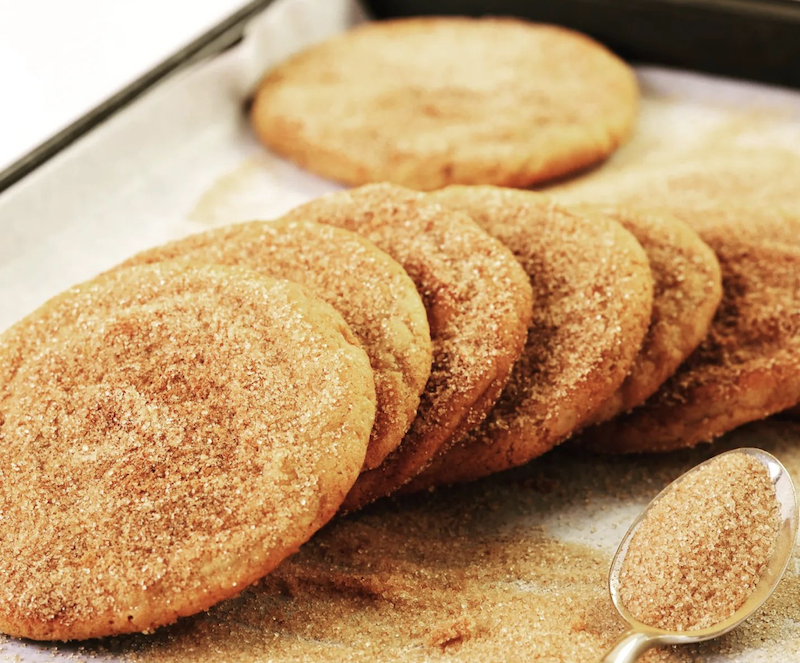 The Very Best Cookie
3 The Very Best Cookie in the Whole Wide World
Humility may not be in this company's ethos, but it deserves these bragging rights. The cookies aren't the six-ounce show-stoppers of Taylor Chip, but they are melt-in-your-mouth, swoon-worthy good. The snickerdoodle flavor is heavily coated in cinnamon sugar, and the super-soft cookie melts in your mouth. No heating or non-dairy milk required, these cookies are perfect all on their own.
Find out more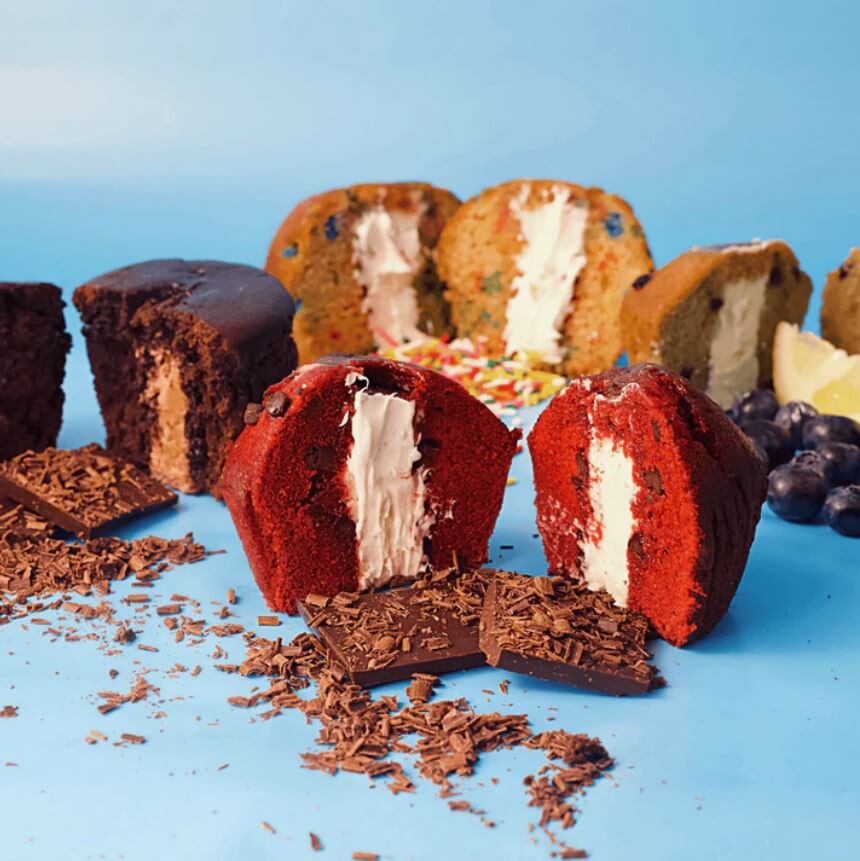 Southern Roots Bakery
4Southern Roots Vegan Bakery
It may not be heart-shaped, but what could possibly say "I love you" more than a three-tiered red velvet cake? Or perhaps a four-pack of enormous Volcano Cupcakes with a decadent buttercream core? This Dallas-based bakery is churning out these treats and more, with some options as low as $24.99. You'll want to keep them on your radar for all your gifting occasions, not just Valentine's Day.
Find out more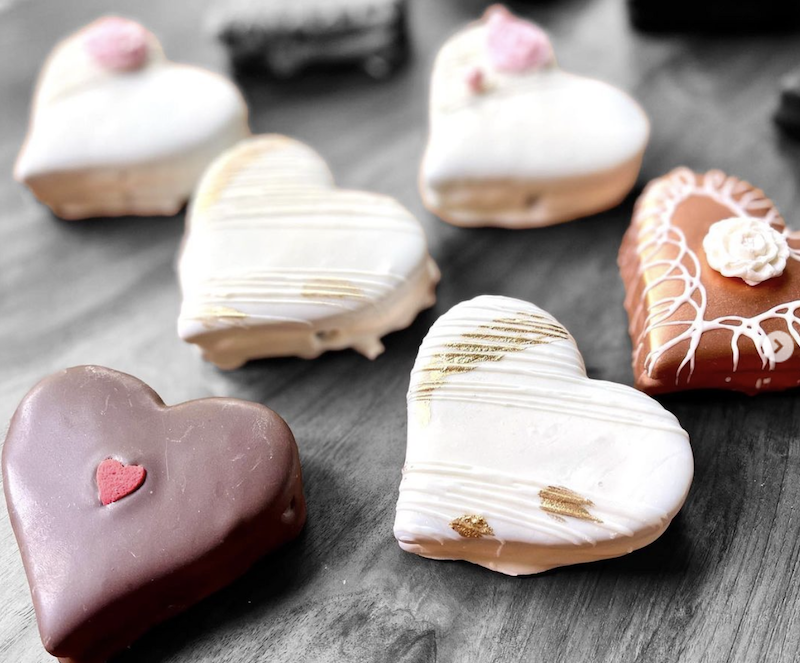 Karma Baker
5Karma Baker
What's better than a box of vegan chocolates? A box of palm-sized chocolate peanut butter creme sandwich cookies coated in chocolate, shaped like hearts. Karma Baker crafts vegan treats that make your eyes roll back and spark an involuntary "mmm." Other holiday-specific desserts from this dedicated gluten-free baker include a chocolate raspberry cheesecake with a thick brownie base, a multi-layered chocolate tuxedo cake, white chocolate-covered red velvet doughnuts, and more.
Find out more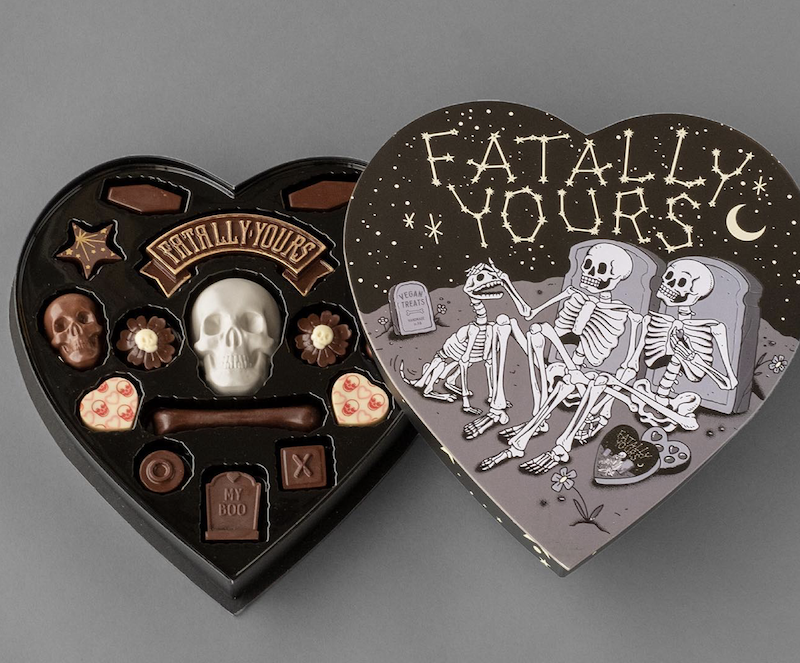 Vegan Treats
6 Vegan Treats
Even the darkest souls need love. This Bethlehem, PA vegan bakery is taking pre-orders for its 2023, limited edition Fatally Yours confections box featuring peanut butter and marshmallow-filled white chocolate skulls, Swiss chocolate espresso ganache coffins, Bolivian rose salted caramel stars, and more delightful treats to show your true devotion. A more traditional Wild About You box is also available in three different sizes.
Find out more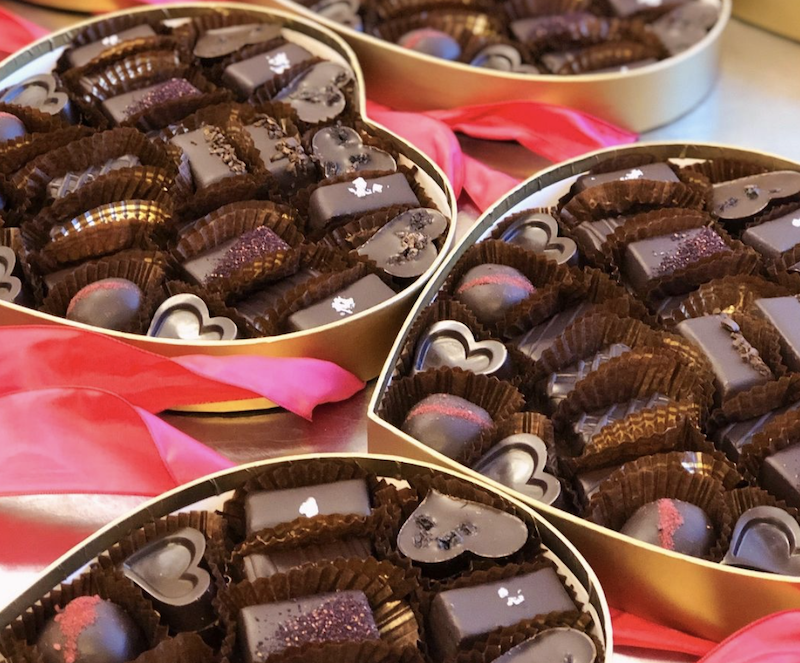 Amore Di Mona
7 Amore Di Mona
Looking for the ultimate heart-shaped chocolate collection? Amore Di Mona has you covered. Choose from a wide selection of assorted chocolates—from a 16-piece to a generous 33-piece set—with flavors ranging from Currant Ganache to Caffe. Pro tip: make this gift go the extra mile and turn it into a couple's chocolate tasting adventure. Take turns biting into the chocolates to see who can guess the flavor correctly.
Find out more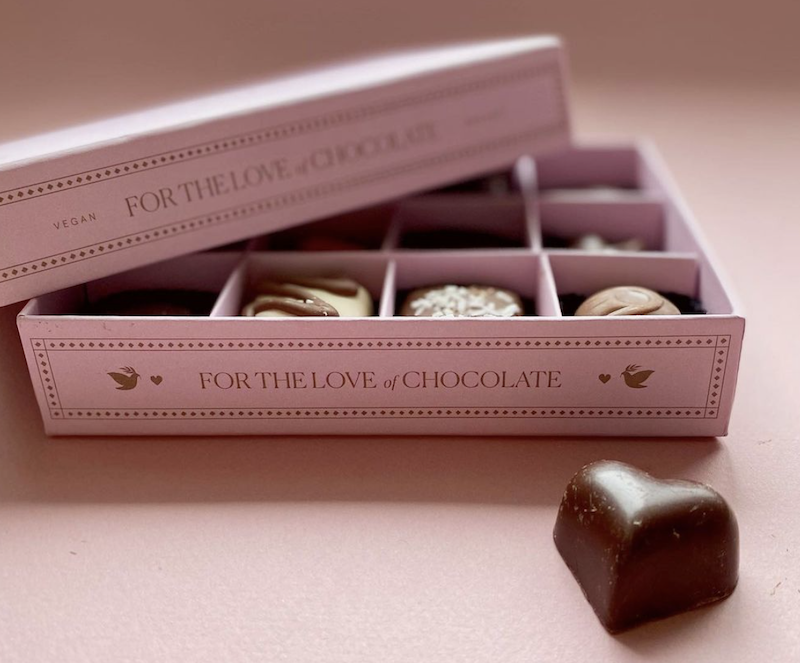 SJAAK'S
8SJAAK'S
This reputable vegan chocolatier has a treat for all your loved ones—be that a romantic partner or your six-year-old niece. Check out the Peanut Butter Crunch Heart for a new sweetie or declare your love with the decadent 12-piece Coconuts for You truffle box. For the kiddos (or kids at heart), the Bear Hug dark chocolate heart is filled with vegan gummy bears.
Find out more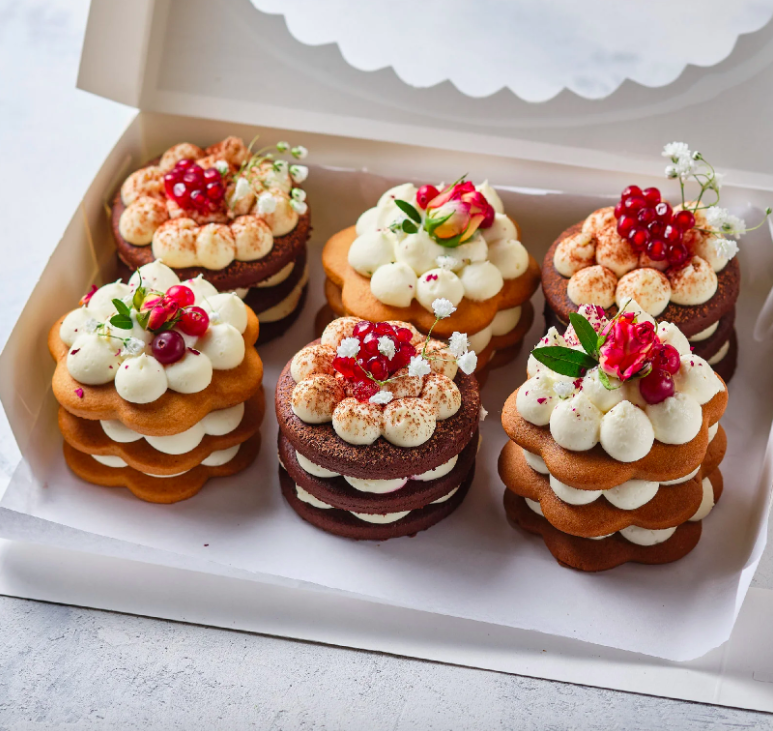 Giselle's Vegan Kitchen
9Giselle's Vegan Kitchen
Every order from Giselle's feels like it's Valentine's Day. The sweet, light pink boxes and delicate flower adornments prove that this inclusive baker goes above and beyond to show her customers some love. Send your soulmate the comprehensive Mystical Box that includes your choice of pie along with nine best-selling treats. Or opt for the elegant Cream Tart Cakes decorated with sugar-free frosting, fresh berries, and a variety of flowers. À la carte options are also available for vegan keto brownies, peanut butter and jelly bars, frosted coffee cake slices, and more.
Find out more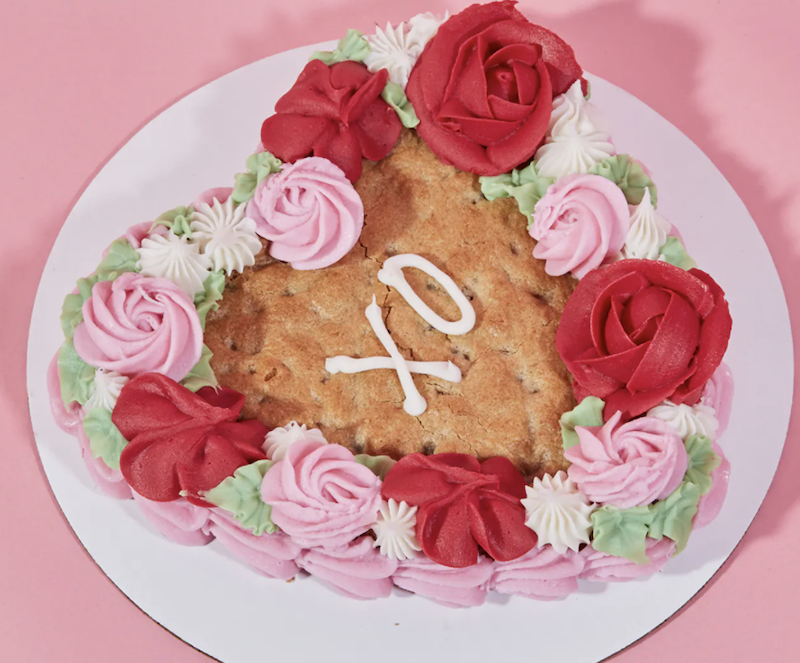 Erin McKenna's
10 Erin McKenna's Bakery
Remember when there was a Mrs. Fields in virtually every food court? Those giant cookie cakes would always catch our eye, adorned with thick roses of artificially colored buttercream. Erin McKenna's has given us a taste of sweet nostalgia with her eight-inch, heart-shaped, and gluten-free chocolate chip cookie cakes. The bakery's Goldbelly site offers this and more—from snackable strawberry jelly-filled doughnut holes to pink-glazed lemon tea cakes. Buy something for your sweetheart and a little something for you.
Find out more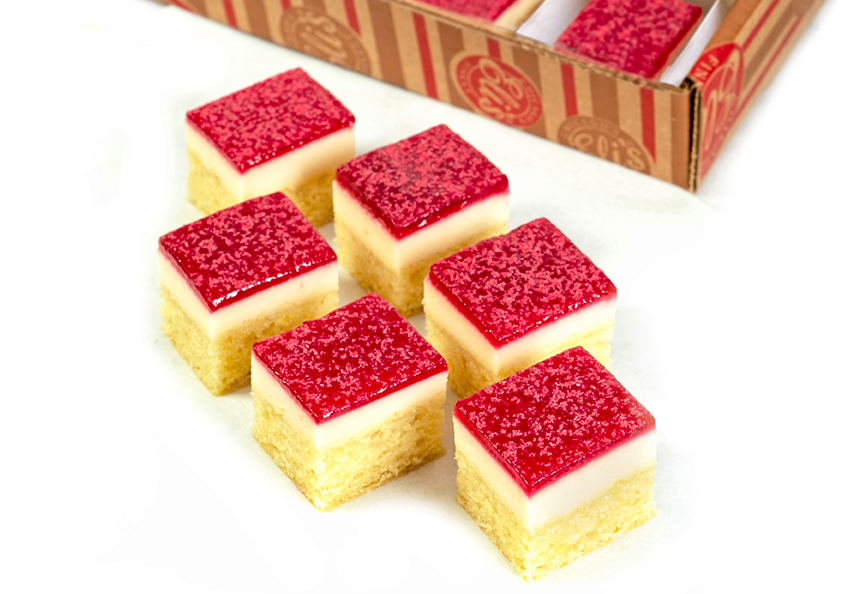 Eli's Cheesecake Company
11Eli's Cheesecake Company
Be bold this Valentine's Day. Instead of presenting your lover with an expected box of chocolates, watch their eyes light up as they open the lid and discover these adorable vegan Lemon Raspberry Cheesecake Cuties. The $69 box includes 12 one-inch-square sweet and tart cheesecake bites. The non-vegan company also offers a vegan Chocolate Cutie option for those who wish to abide by the chocolate tradition.
Find out more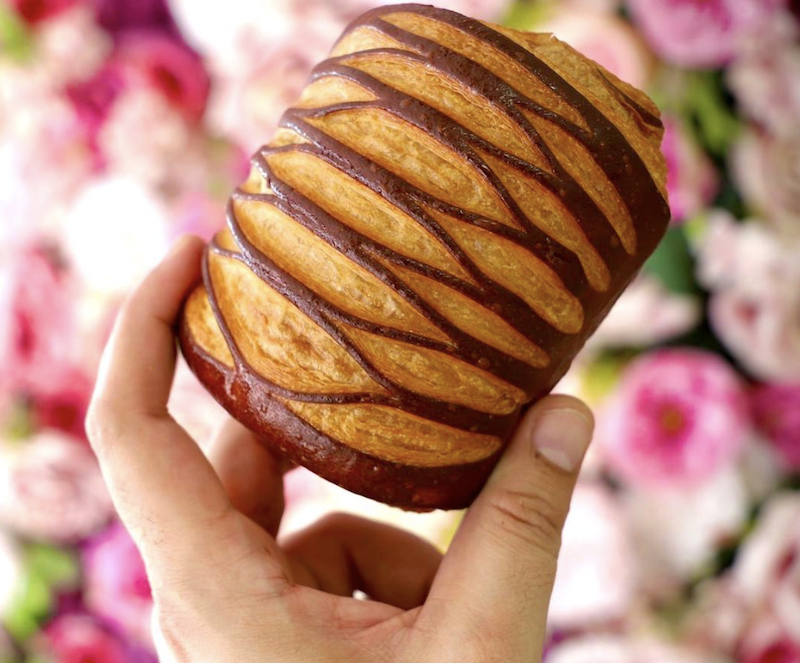 L'artisane Vegan Bakery
12 L'artisane Vegan Bakery
What's better than breakfast in bed? A plateful of impossibly flaky, chocolate-filled croissants. One buttery bite, and your significant other won't even think about all of the pastry shards flying onto the bedcovers. This Florida-based vegan patisserie also ships gluten-free macarons, cookies, madeleines, and palmiers nationwide.
Find out more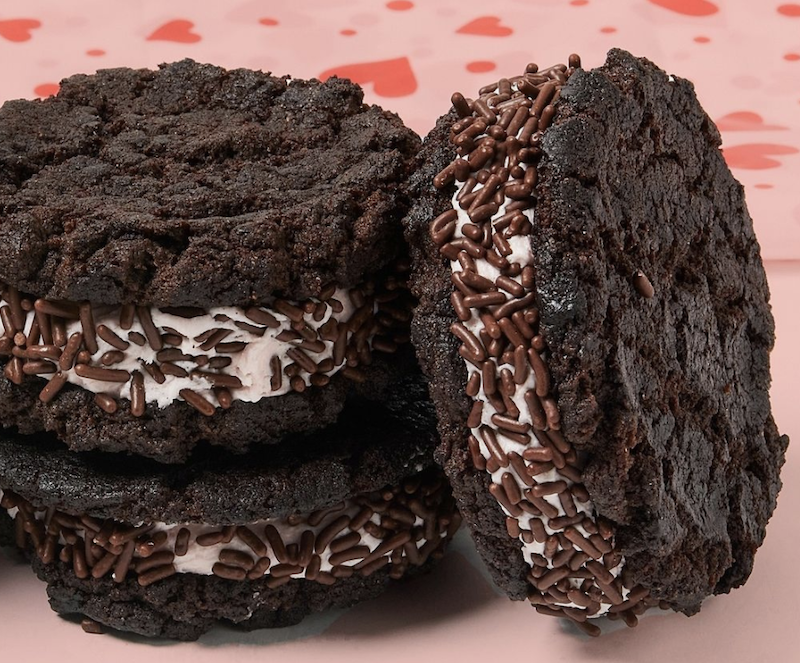 Sticky Fingers Bakery
13 Sticky Fingers Bakery
From baking mixes to thick brownie and strawberry cream sandwich cookies, this DC-based baker has something for every level of love. For the most variety, opt for the build-your-own box. The gift includes your choice of three cookie flavors (the classic cream-filled Cowvin Fudgetastic Brownies are two of our favorites) and a mix—from Spiced Pancake to Sweet and Salty Cookie mix.
Find out more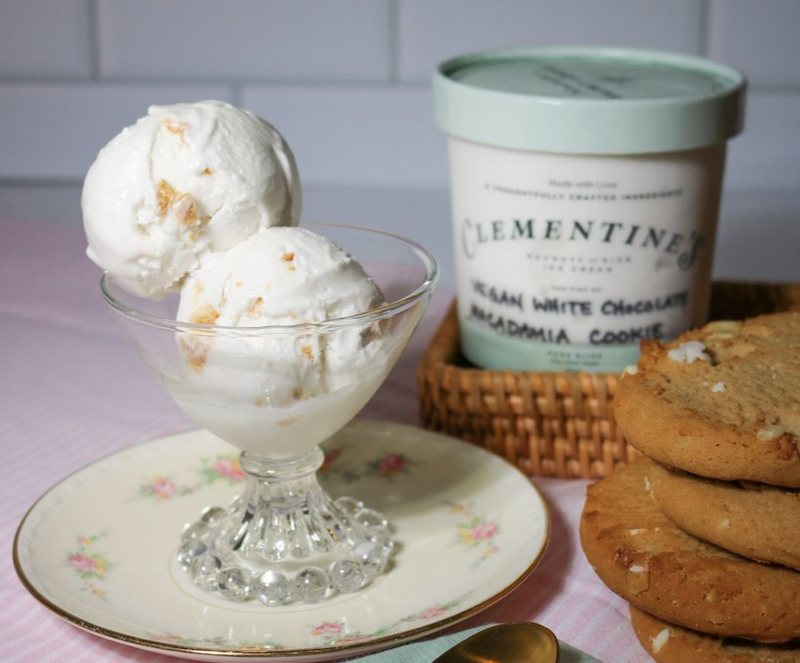 Clementine's
14 Clementine's
Named "The Sexiest Ice Cream" by Oprah Magazine's "The O List," it's no surprise this vegan-friendly creamery made this Valentine's Day roundup. Vegan pints range from supremely decadent Ba'Nilla Puddin' to delightfully fruity Vegan Strawberry Crunch. Shipping options come in four, six, or 12 pints, so do your best to order one of each vegan flavor and hope your loved one will share.
Find out more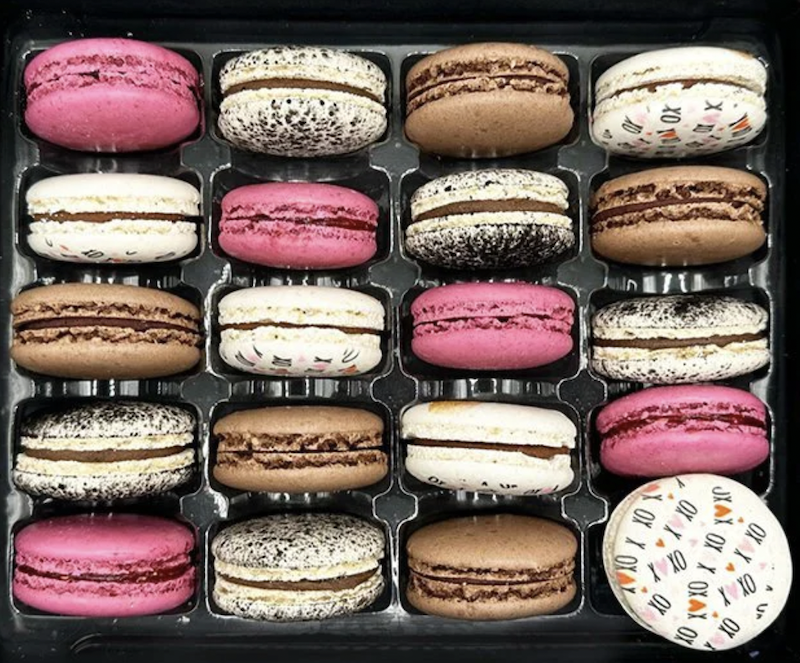 Olivia's Macarons
15 Olivia Macarons
Level up from the standard box of chocolates with a chic set of vegan Valentine's macarons. The gift includes your choice of nine or 20 plant-based macarons in four flavors along with a wood wick candle, lip balm, and body butter. Only here for a limited time, the vegan varieties include Chocolate Coconut, Mango Passionfruit, Raspberry, and Chocolate Cherry Truffle.
Find out more
For more vegan sweets, read: