There's a lot to love at Trader Joe's this month, and it's fitting as we roll into the month of chocolates, flowers, and gift-focused acts of adoration. But it's not just heart-shaped and cocoa-flavored items—the tiki-themed grocer is debuting new vegan-friendly products that are a fit for Super Bowl Sunday or any regular day. From a brand new pizza seasoning to toothsome Thai noodles, February is shaping up to be a great month for Trader Joe's innovation.
TJ regulars know that these items won't last long. The seasonality of Trader Joe's is part of the fun. Here's a taste of all the new, intriguing, and craveable vegan Trader Joe's products available this February.
Vegan grab-and-go items at Trader Joe's
Trader Joe's doesn't have a hot bar, but it does offer highly convenient and reliable meals to-go in the form of bowls, salads, and soups. Shoppers rely on that refrigerated convenience food section for office lunches, nights when you don't feel like cooking dinners, road trips, and more. If you need something fast and filling, check out these vegan options during your next TJ's haul. Pro tip: check the expiration date—you'll want a fresh one, particularly for the salads.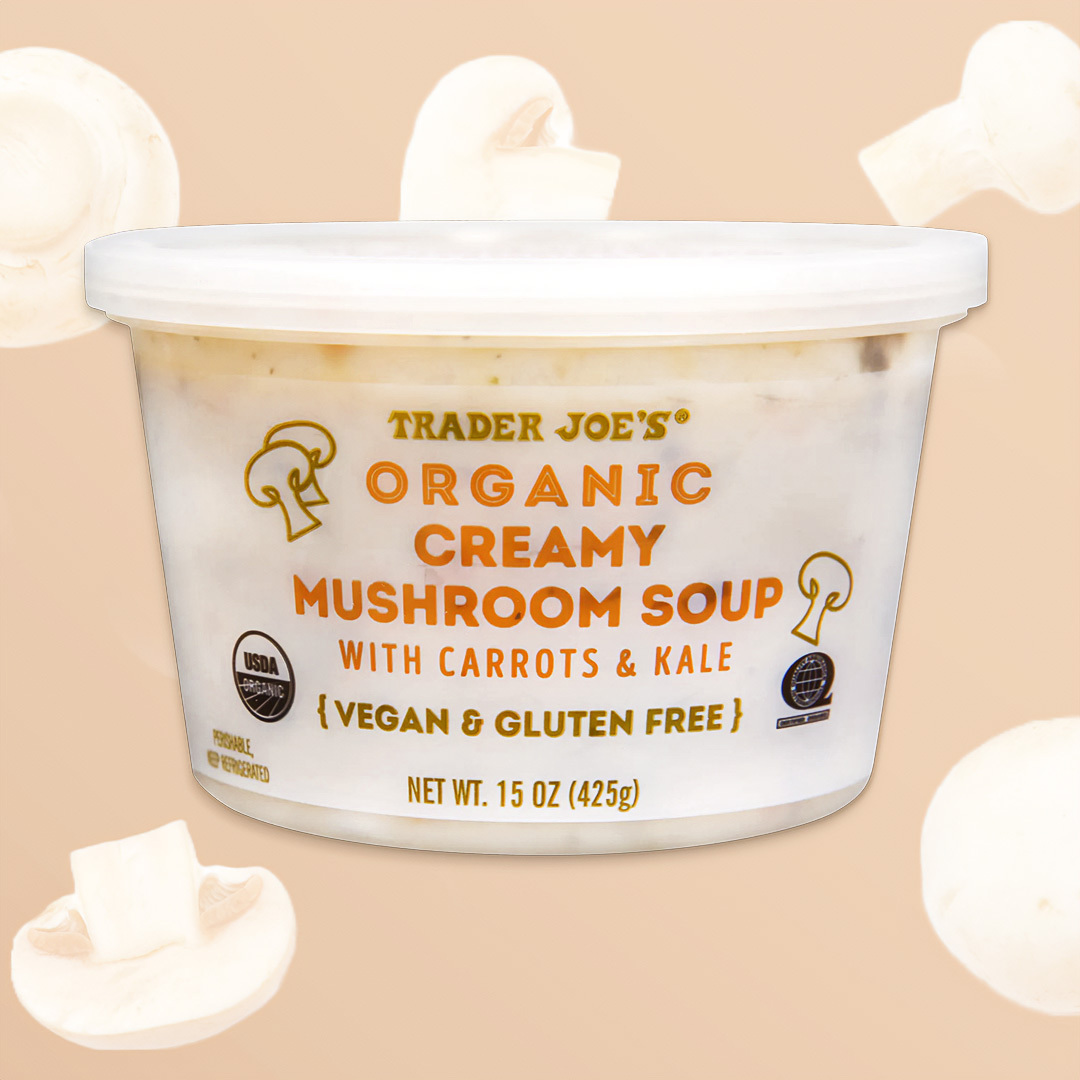 Trader Joe's
1 Organic Creamy Mushroom Soup with Carrots & Kale
Historically, the word "creamy" is an adjective to deter plant-based eaters, as it's synonymous with "contains dairy." Fortunately, TJ's hearty wintertime soup is crafted with coconut milk to deliver a velvety smooth sip. Enjoy as-is or as a secret ingredient for your next crowd-pleasing casserole.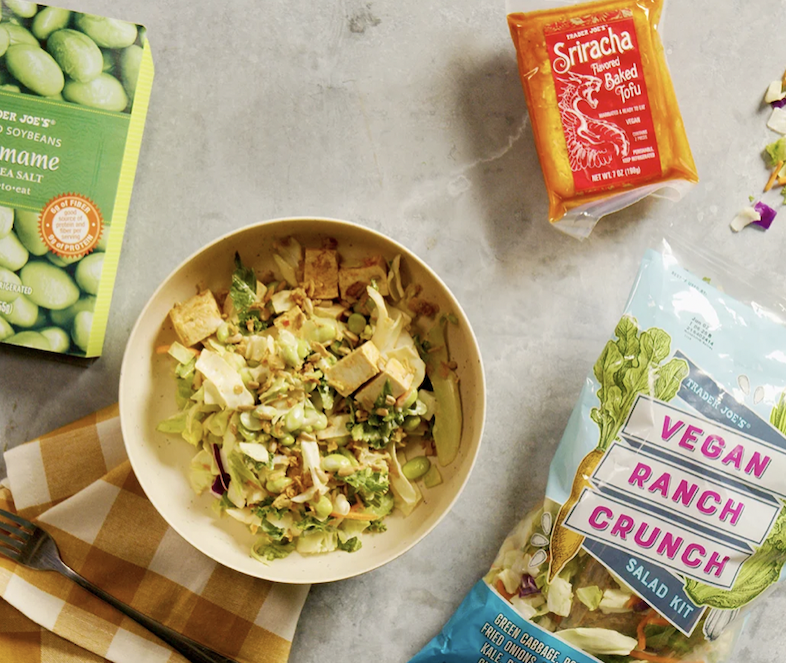 Trader Joe's
2 Vegan Ranch Crunch Salad Kit
If you plan on bringing this kit to the office, make sure you have a big enough bowl. The bag is packed with crisp romaine, toothsome kale, craggy fried onion bits, roasted sunflower kernels, bright red cabbage, and crunchy carrots. Shake it all up with the packet of vegan ranch, and you'll be far, far removed from those sad desk salads you settled for in the past.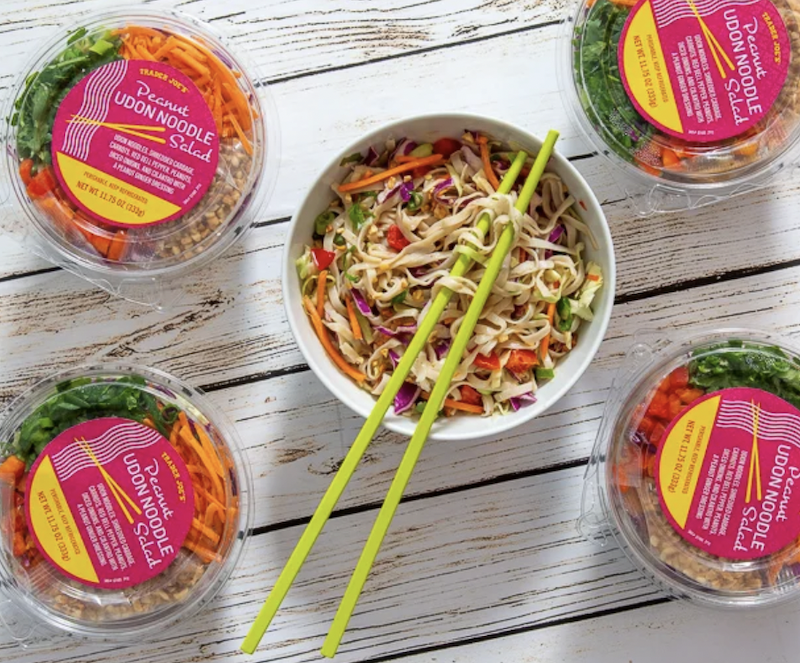 Trader Joe's
3 Peanut Udon Noodle Salad
Crave more than just greens for your meal? This nutrient-dense bowl packs in heft with chewy udon noodles and creamy, decadent peanut sauce. Sliced cabbage, carrots, bell peppers, and peanuts add textural variety and pops of color, making each bite uniquely delicious and deeply satisfying.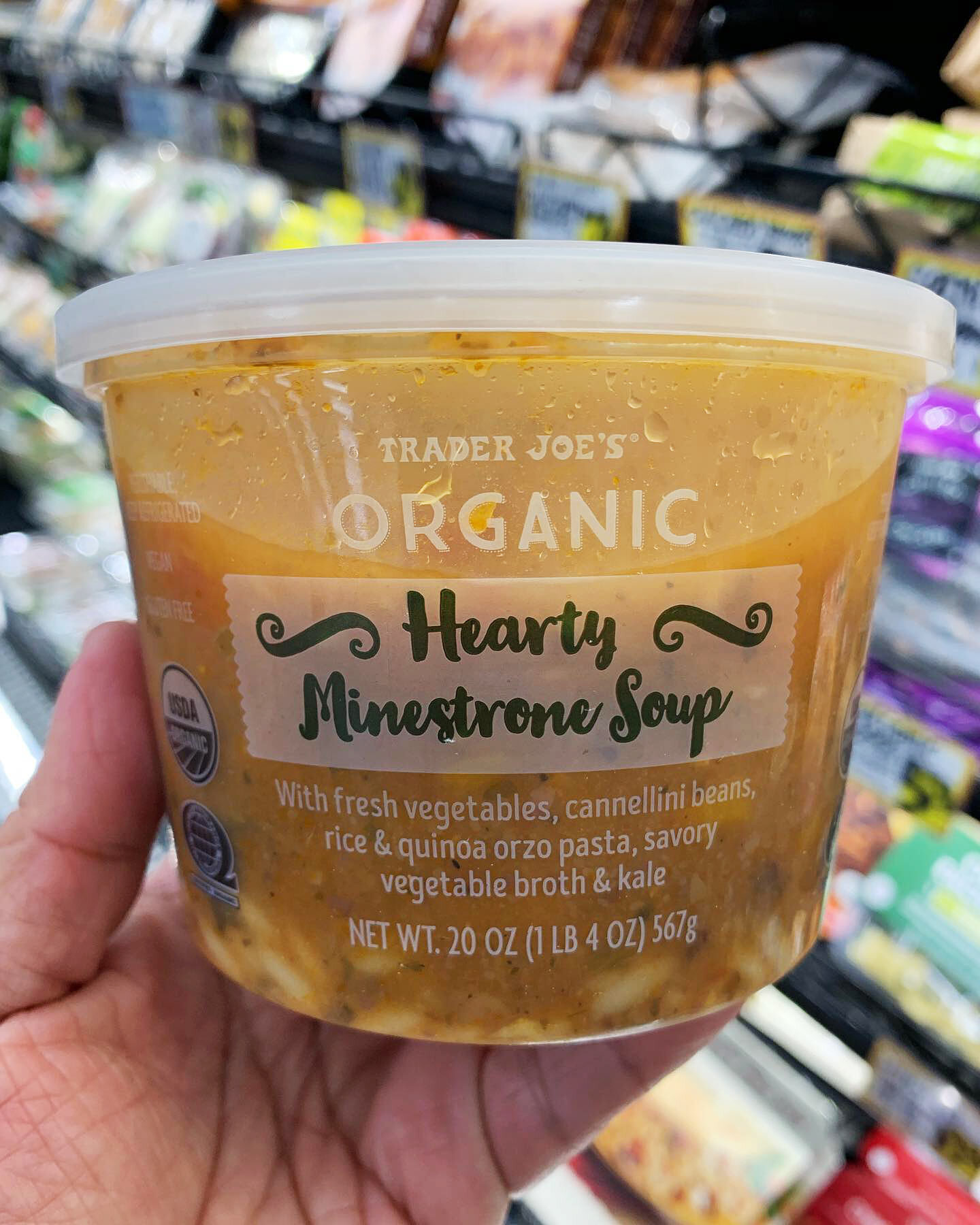 @traderjoesaficionado/Instagram
4 Organic Hearty Minestrone Soup
When eating plant-based, you often have to watch out for minestrone—it may contain hidden dairy or eggs (as is the case with Whole Food's minestrone). Trader Joe's vegetable-packed version doesn't need any animal products. Loaded with beans, orzo pasta, and a medley of tender veggies in a rich roasted tomato broth, it's a welcome pick-me-up whenever you need some nourishment, fast.
9 new vegan products at Trader Joe's this month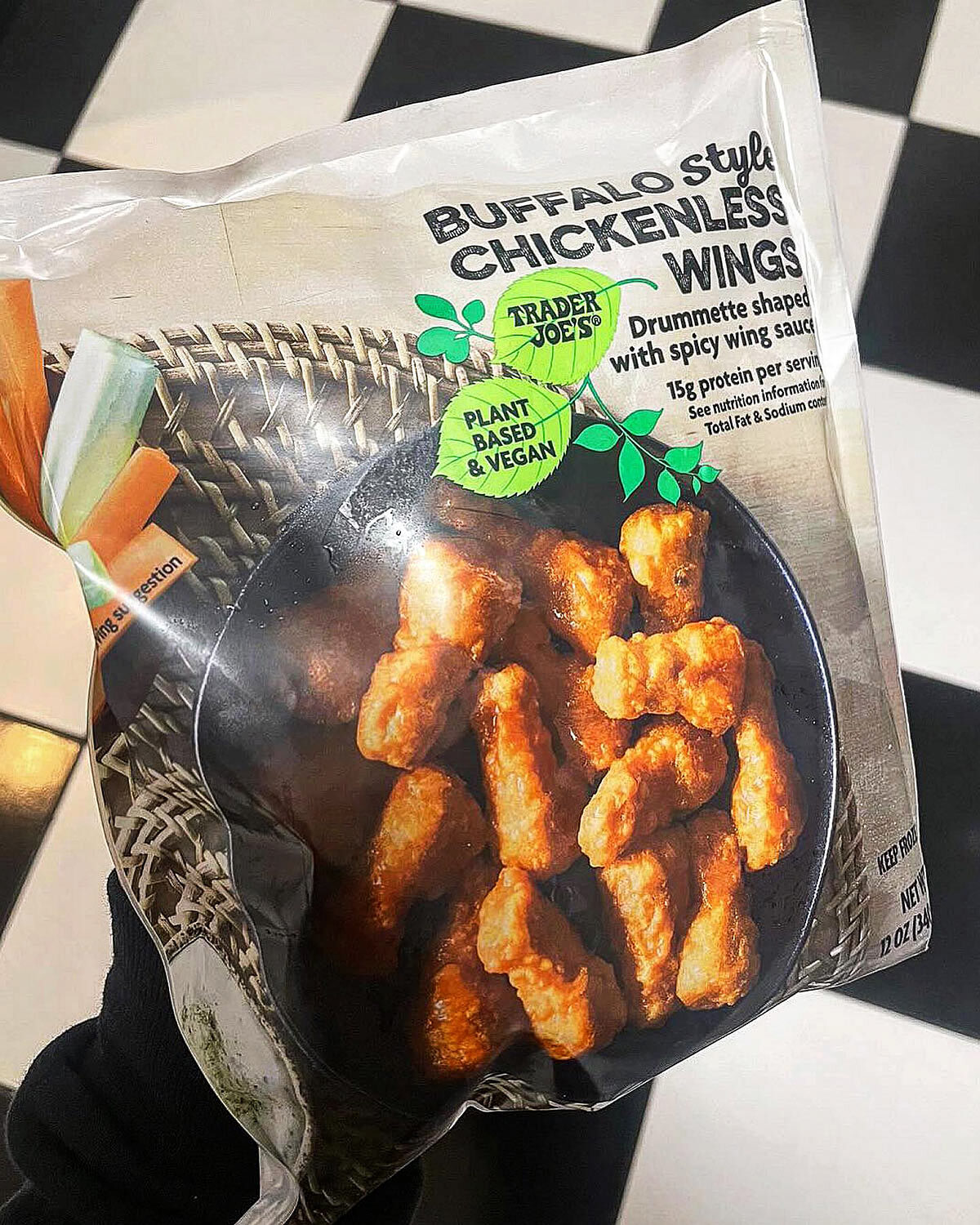 @bigboxvegan/Instagram
1 Buffalo-Style Chickenless Wings
Another delightful frozen food find has landed in Trader Joe's bunkers this month. Just in time for Game Day gatherings, these chickenless drummettes serve as easy appetizers or a solid protein choice for a main meal. They come buffalo'd, but we can't help but wonder how they'd pair with TJ's Vegan Buffalo Style Dip.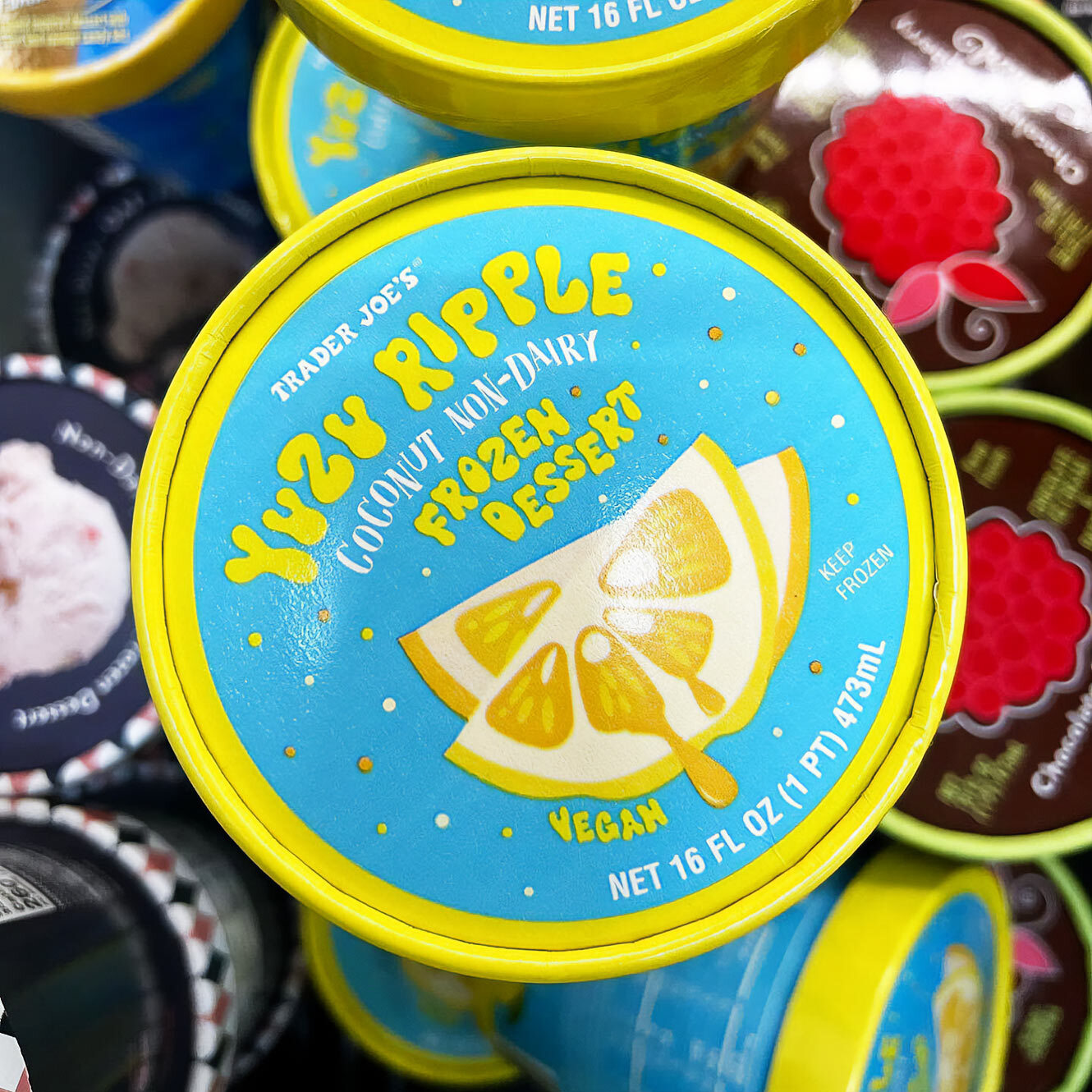 @bigboxvegan/Instagram
2 Yuzu Ripple Coconut Non-Dairy Frozen Dessert
Trader Joe's vegan ice creams tend to have ridiculously long names—we assume for liability reasons, heaven forbid they call it vegan ice cream—and this new yuzu flavor is no exception. We're looking forward to savoring a few spoonfuls of this bright and citrusy dessert, even in the height of winter.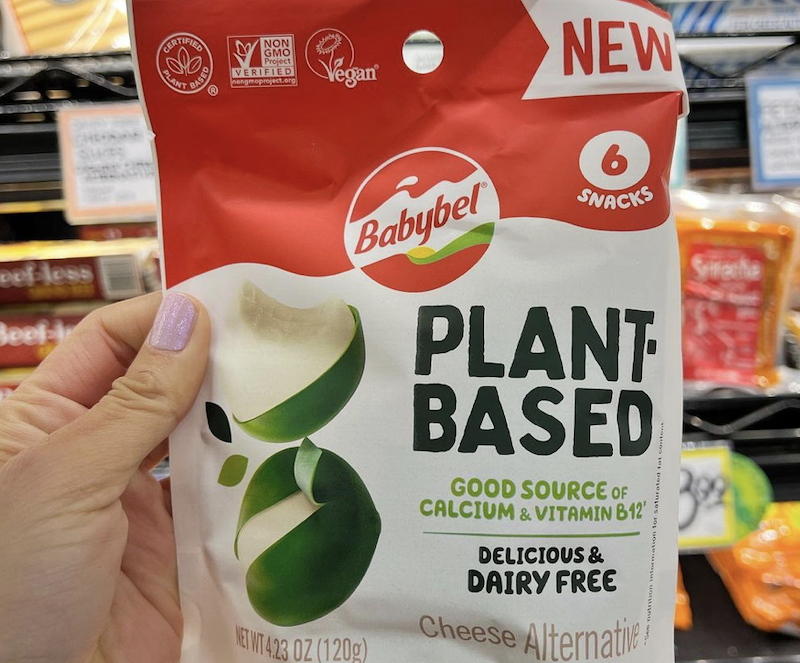 @traderjoesobsessed/Instagram
3 Babybel Plant-Based
The vegan version of these iconic wax-wrapped cheese snacks missed our early January roundup, and even though customers spotted these a few weeks ago, we had to let the people know. If you typically bypass the cheese section at Trader Joe's, you likely wouldn't have discovered this relatively new product. Grab a bag on your next TJ's outing and put this new non-dairy cheese to the test: does it taste like the OG? We think so.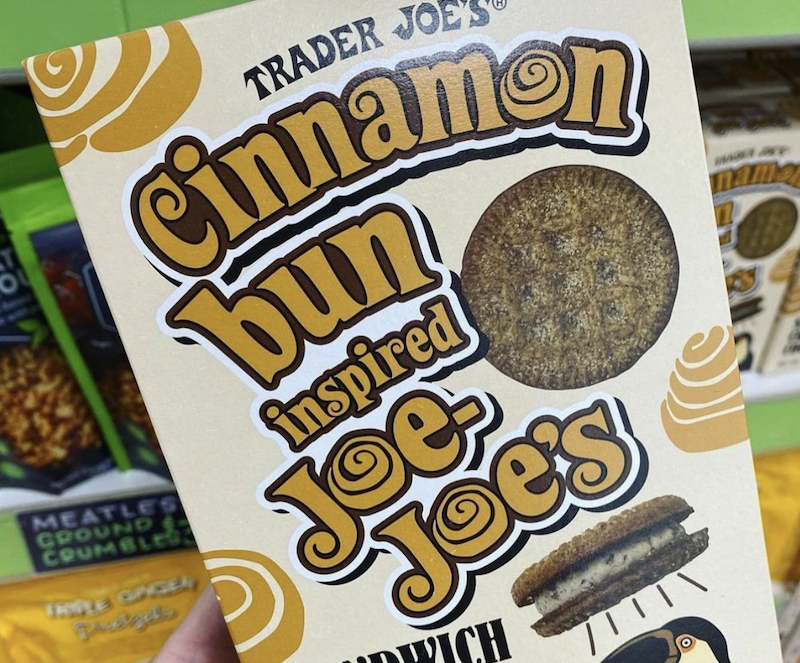 @Bigboxvegan/Instagram
4 Cinnamon Bun Inspired Joe-Joe's
We've never met a Joe-Joe we didn't like, and this cinnamon bun iteration is no exception. The flavor profile of this addictively sweet breakfast treat is recreated with cinnamon sugar-dusted graham cookies held together with a spackle of the classic Joe-Joe's vanilla crème. They're not ooey-gooey like a traditional cinnamon bun, but they are equally scrumptious in their own way.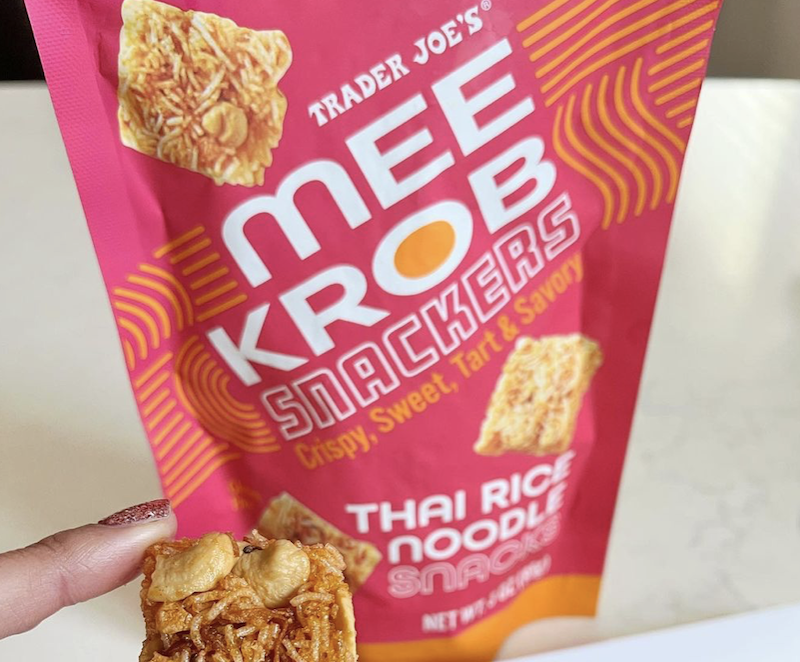 Trader Joe's Obsessed
5 Mee Krob Snackers
For those who thought salt and vinegar chips had a lot going on, this flavor combination pales in comparison to these salty, sweet, tangy, and slightly spicy crackers … er, "snackers." Each crispy square of compacted rice noodles is covered with a blend of tamarind paste, coconut sugar, chili sauce, and other flavor-bomb spices. Enjoy these as-is or crushed and sprinkled over your favorite Thai noodle dish.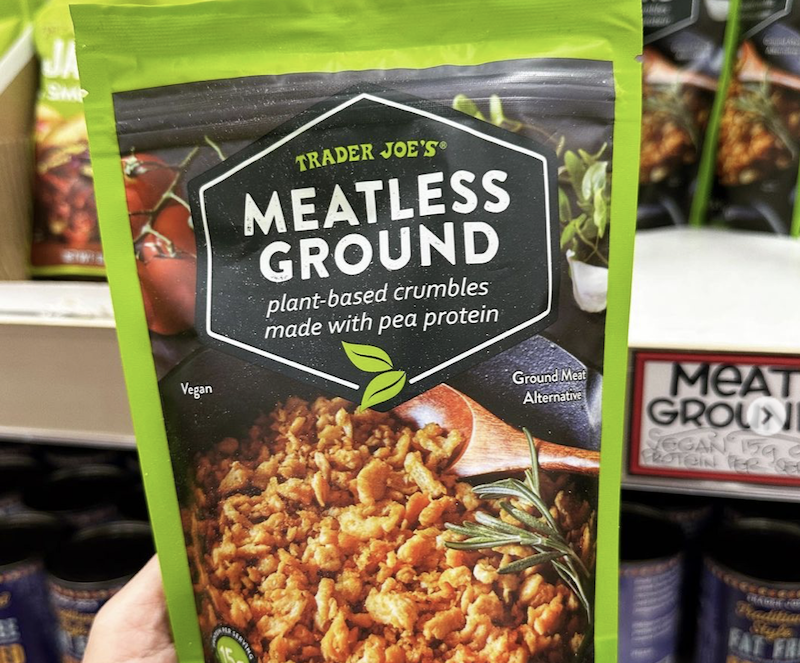 @bigboxvegan/Instagram
6 Meatless Ground
Don't expect to find this new beef-esque product in the refrigerated or frozen sections—Trader Joe's is taking it back to the days of shelf-stable "just add water" items. Think back to the old ways of TVP (textured soy protein), but with pea protein. It's been a while since we've had to reconstitute a vegan meat alternative, but the solid seasoning blend intrigues us just enough to try it.
7 Apple Chip Duo
At first, we didn't see the brilliance behind these humble fruit chips. What could be so exciting about baked, unsweetened apple chips? The innovation is in the crinkle cut. These better-for-you snacks provide that crispy, crunchy textural satisfaction of a crinkle-cut potato chip, without the deep-frying. Try one, and you'll get it.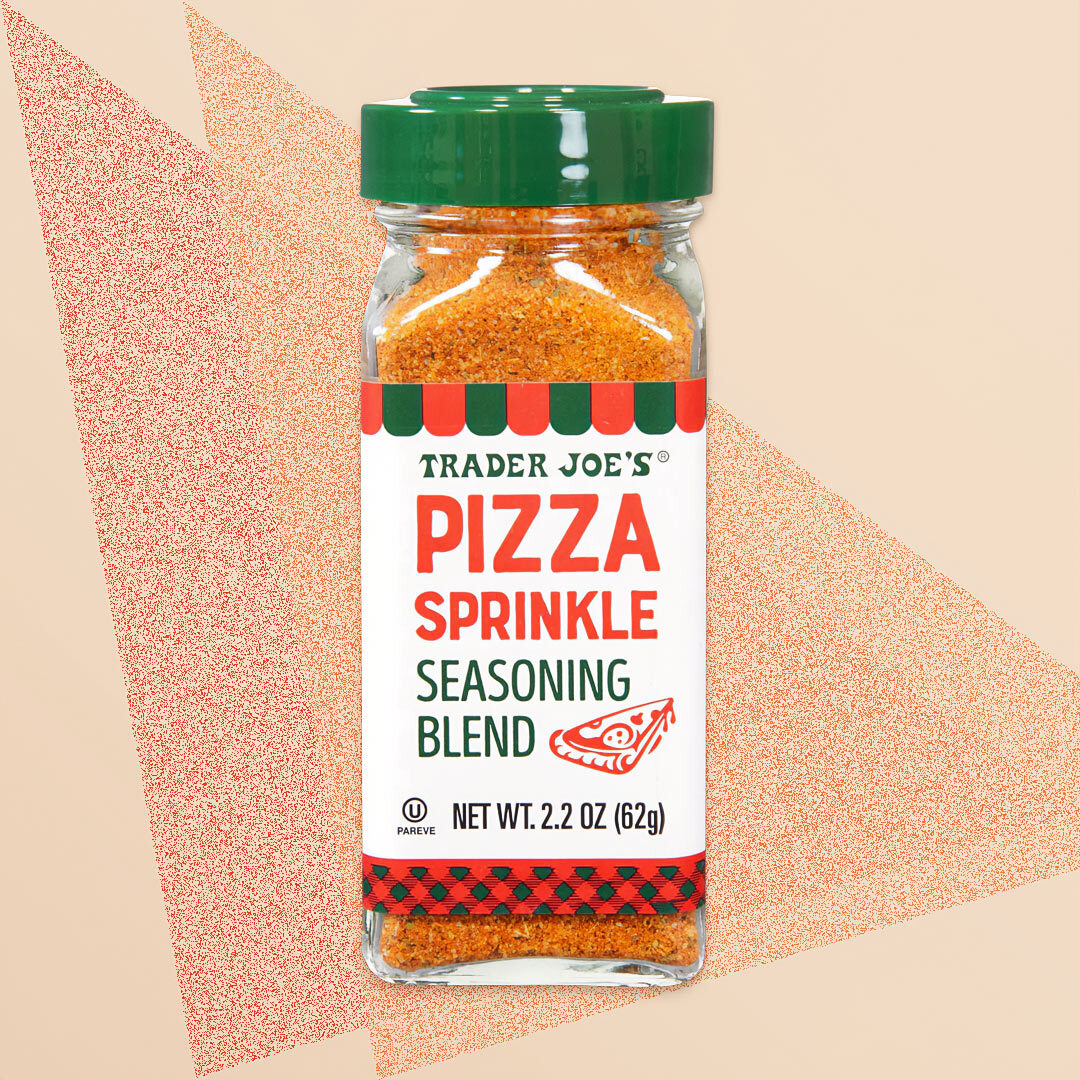 Trader Joe's
8 Pizza Sprinkle Seasoning Blend
Pizza flavor can be hit or miss, but this simple blend of tomato powder, garlic, paprika, sea salt, and herbs doesn't taste artificial or odd. We actually enjoy it on dishes other than pizza such as popcorn, soup, and vegan garlic bread. It's definitely something you have to try at least once.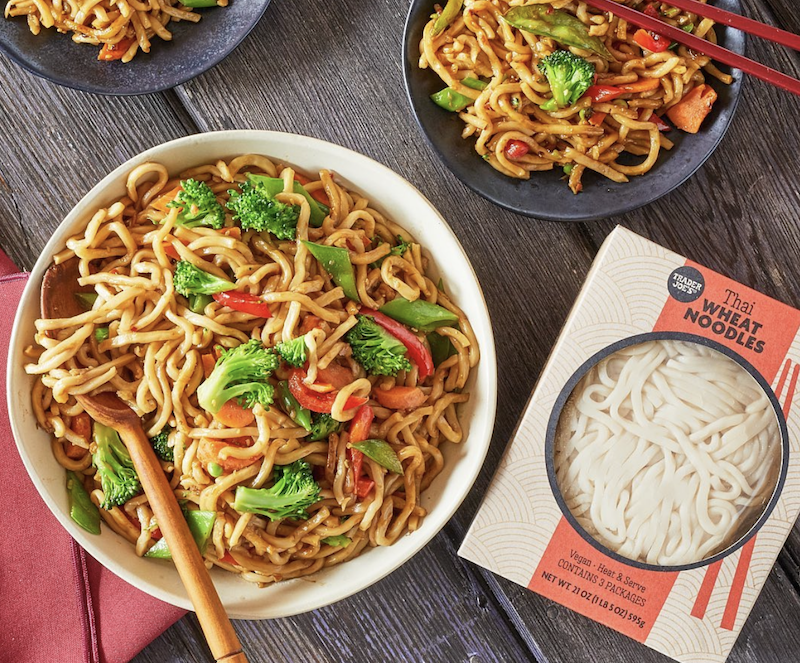 Trader Joe's
9 Thai Wheat Noodles
Once again, Trader Joe's nails convenience with these shelf-stable, pre-cooked chewy Thai noodles. Pair them with TJ's frozen stir-fried veggies and a block of baked tofu, and you've got yourself the ultimate easy weeknight meal that's nourishing and satiating. These noodles are also exceptional when coated with your favorite vegan peanut sauce or Trader Joe's Soyaki. Thanks to their delicious versatility, we'll always keep a box on hand.
For more on Trader Joe's vegan finds, read: